MMA is still relatively a young sports in Malaysia, but it's growing fast. Malaysian fight fans are a fortunate bunch; because even though MMA events does not rake in big bucks, there are still many promoters out there that are putting in good and commendable effort to organise MMA events.
Matt Pellino famed for being the host and commentator for MIMMA played the role as matchmaker and the emcee for the event. That inaugural event was launched with much fanfare by the organisers whom brought in a number of martial arts celebrities to hype up the promotion. A day prior to fight night, Charity Campaign with the Champions was held outside K-One MMA Academy which is open to the public.
This was a pro debut for both fighters, and Shem is out to make a statement to get the attention of ONE Championship. He certainly did, by winning in emphatic fashion. Bringing the fight easily to the ground. Mounted Joshua, transition to a triangle and ending with an armbar all in round 1.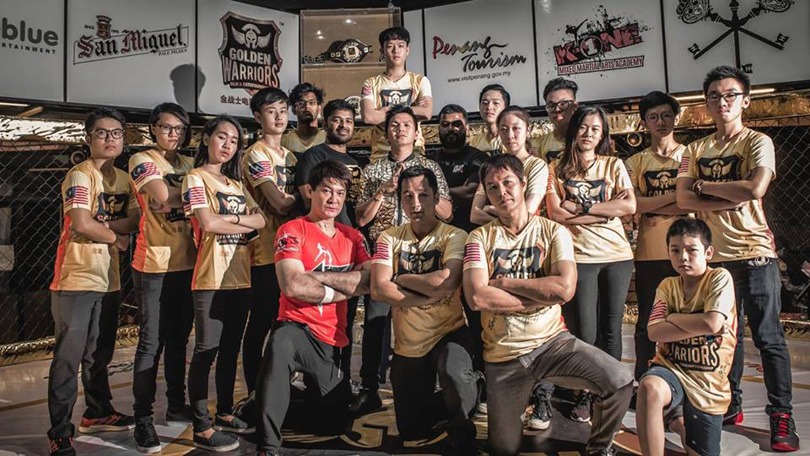 the team behind GWFC 1
After a successful launch for their first event, Golden Warrior FC 2 will be held in Penang's K-One MMA Academy this 9 Sept 2017. Tickets will be sold at RM88 and MMA fans can sit cage side close to the action or choose to watch fights from seats on elevated platform that provide a great view of the whole golden cage.
This time 4 amateur MMA fight plus 4 pro fight will go down in the fight night dubbed as The Golden Fight.
For the amateur card, the highlight will be MIMMA Superstar, 3 times Flyweight Champion Seah Zhang Yu making a return to the MMA cage to fight an opponent from India.
For the Pro cards, a Battle of Borneo is in store where two of Borneo's best flyweight will have a rematch. Mohd Hasbullah of Team Karabaw will rematch Dean Hamsah. The last time they met was in the grand final of Jesselton Fight League in 2015, Hasbullah won and became JFL's bantamweight Champion. Expect an explosive match for these two.
Monarchy MMA representative Shaqueme and Mehdi Begheri will return to GWFC. They will be feature as the top two bouts of the night.
Shem will be facing a newcomer, Ernest Tang from Hong Kong, for the co-main event. While Iranian Mehdi Begheri whom is a wrestling coach in Monarchy will face Norshewan of Pakistan
Below is the full fight cards
Amateur