ONE Championship is returning to KL tonight at Stadium Negara. It will be an important night for the Malaysian fighters feature tonight. Most of them are looking at tonight to establish a firm footing in their fighting career.
On the main card Ev Ting, the Kuching born Malaysian fighter base in New Zealand will be looking to make a statement in ONE Championship Lightweight category. Ev has 7 fights in ONE, most of it as a featherweight, winning 6 of it except one in May 2015 vs Marat Gafurov, the eventual featherweight champion. Ev is on a 3 fight winning streak ever since. Beating top notch fighter such as Honorio banario and Eric Kelly of Philipines.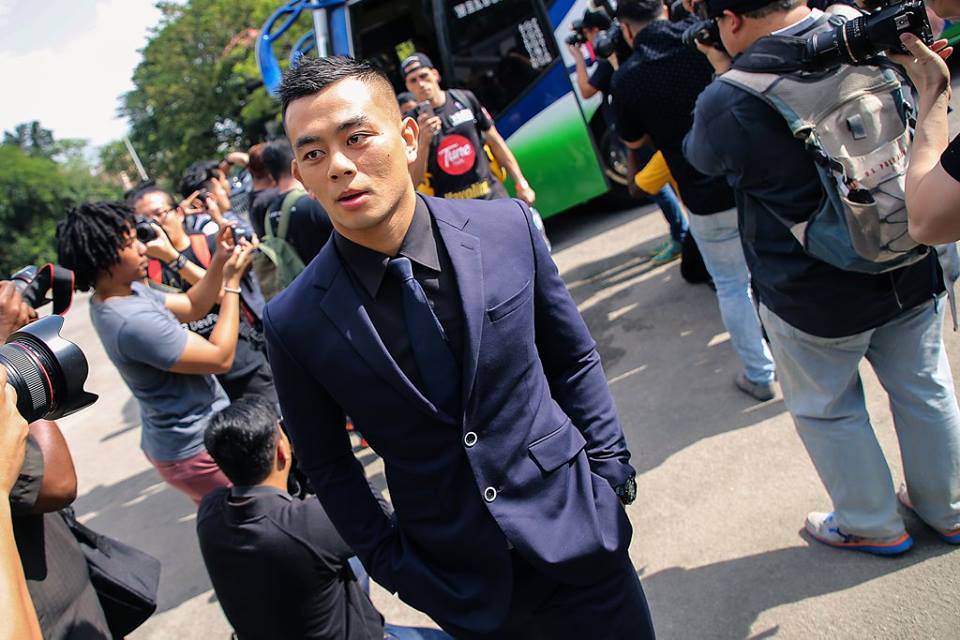 Arriving at Stadium Merdeka smart and sleek
Ev moved up to Lightweight in his most recent fight was in KL last year Sept vs Aussie vet Rob Lisita. It was a tough 3 rounds fight, but Ev managed to control the fight with his better conditioning and effective strikes to get a decision win.
Tonight will be another night he face a veteran, Kamal Shalorus of Iran. With strong wrestling, Ev may not want to challenge Kamal on the ground. Keeping the distance and peperring Kamal with shots may do the trick for Ev as he journey on his quest to achieve success in ONE's lightweight division
Ev's friend Agilan Thani is also on a roll. Fighting in ONE's welterweight division, Agilan is the product of MIMMA2 where he steamrolled through the ranks in 5 fights before meeting Ong Aik Tong. Agilan demolished Ong in round 2 with punches to became the welterweight champion.
Realising his huge talent, ONE offered him to fight pro and Agilan has not look back since. Winning 5 times, all his fight never went the distance, most end in round 1 with submission finishes.
Agilan's martial art journey began when he was 13. Getting fed up of being bullied he took up Karate, he progressed to purple belt. Growing up in Sentul, which was a rough part of Kuala Lumpur back then, he was not a big fan of studies. At 16 he discovered Brazilian Jiu Jit-Su. And from then on he kept on improving in skills, conditioning and mental strength.
Agilan said he owed his martial arts success to his first coach Samir Mrabet of Monarchy MMA, his girlfriend and his father whom encourage and motivates him.
Agilan's fightname is 'Alligator' and he likes to finish his fight in quick snap, but it was a fight in MIMMA2  semifinals against Ahmed Zareh that he felt he was in danger. He recovered and finished that fight with a choke in round 1.
Tonight could be the biggest challenge for Agilan as he faces an MMA athlete with a 6-2-0 record…Jeff Huang of Taiwan. Both of them have a win over Trestle Tan in round 1 finish. Jeff in 2015 and Agilan in last year's ONE : Unbreakable Warriors. Both are fast finishers but have utilises different way to achieve it. Jeff likes to stand and strike while Agilan prefers to take the fight to the ground with his wrestling and grappling.
Even though he has strong grappling, but Agilan considers himself a martial artist. To him every opponent is different, and to face them, he focus more on improving his own techniques and mental strength.
Ask on what he thinks to one day be able to challenge ONE's welterweight division King… Ben Askern,
" I m more then happy to fight him any time cause it's all about challenging the best there is in sports like this.
Tonight will also be a crucial night for ONE Championship female star Ann Osman. Ann raise to stardom in female MMA is trully remarkable. As a pioneer in female MMA, credit must be given to her to bring attention to the women category.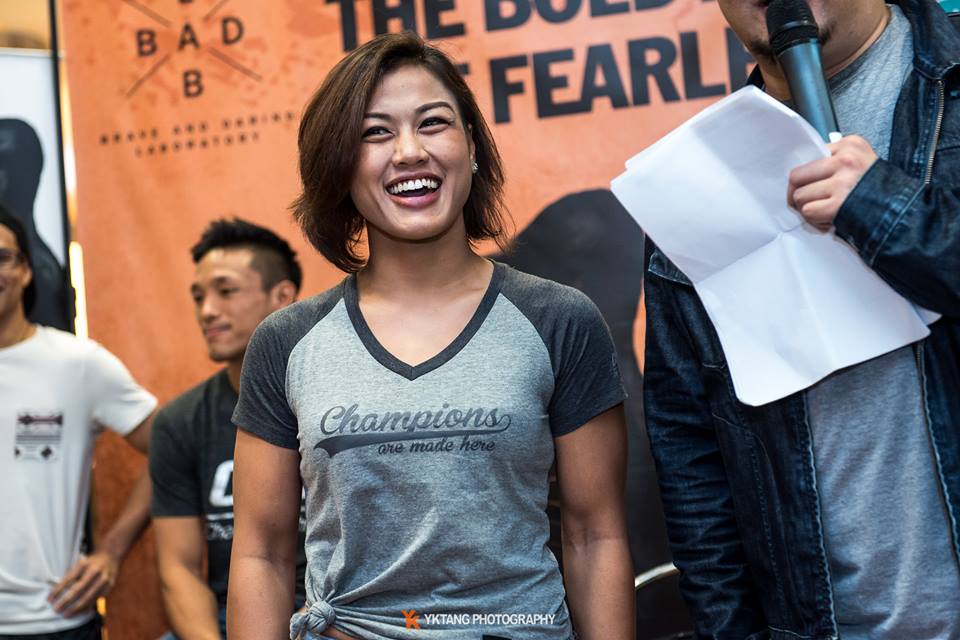 Ann  at ONE pre fight promo for BAD LAB
She paved way and inspired many other women to pick up an MMA glove and train. Ann is a multi talented women. Considered late when she debut in ONE FC 11 in 2013 when she was 27. Ann is a business women, running a tourism business and spoke person for women MMA.
Her 3 fight winning streak was broken in 2015 when Russian Irina Mazepa utilizes her superior striking to KO Ann. It was a hard loss for Ann. She took a few months off to trains and pick herself back up. Getting back to winning way when she beat Hait Farag in China in 2016.
Taking up a short notice fight two months later vs debutant April Osenio of the fame Team Lakay of Philipines, Ann took April down and exert ground and pound. A couple of reversal ensue. Ann went for a double leg take down but April was fast to wrap her arm with a guillotine when she hit the ground. She tightens the hold and Ann tapped out.
Ann does not look back…she has a warrior heart and is out to proof to her critics that she is resilient and still in contention for ONE's women flyweight crown which is still up for grabs. Tonight she intend to make a statement in this division by a dominating win when she face Cambodian Vy Sreh Khouch.
Other Malaysian MMA star on the cards are Keannu Subbha, Mohd Aiman and Saiful Merican
Warriors of Borneo wishes all of them a successful fight!