The iconic mall of Centre Point Sabah was crowded with enthusiastic spectators on 7-8 October 2017. All of them glued their eyes and focus their attention on the Muaythai ring of Fight Fest.
Fight Fest returned with it's 4th edition and again wowed the crowds with plenty of martial arts action and activities.
Event founder Johan Julian again pointed out that Fight Fest continue to work with public mall where there are ready crowds for two reasons;
1st – to give more exposure of different type of martial arts to the masses, so that their interest will be sparked and may take up classes at the different martial arts gym in Sabah which in return will grow the industry.
2nd reason; that usually fighters will be supported by family and friends, and these group of people can in return bring business to the mall. Hence a win win situation for both parties.
For Day 1 ( 7 October ), Novice Muaythai tournament was organised. More than 50 participants took part. This tournament was organised together with Persatuan Muaythai Daerah Kota Kinabalu, with the sole purpose of unearthing more new Muaythai talents for Sabah.
Sabah have numerous Muaythai gym and for those that has taken up Muaythai and have been training hard, the only way to gauge what they have learnt is to test it out in the competition ring, hence the effort to organise this tournament, to enable newcomer to put into action what the months of practice they have gone through.
Kids Muaythai was also competed, but for Fight Fest, Julian's said the kids Muaythai is more of an exhibition match to give exposure for the participants. All fighters for kids Muaythai was awarded gold medals to give them motivation and encouragement.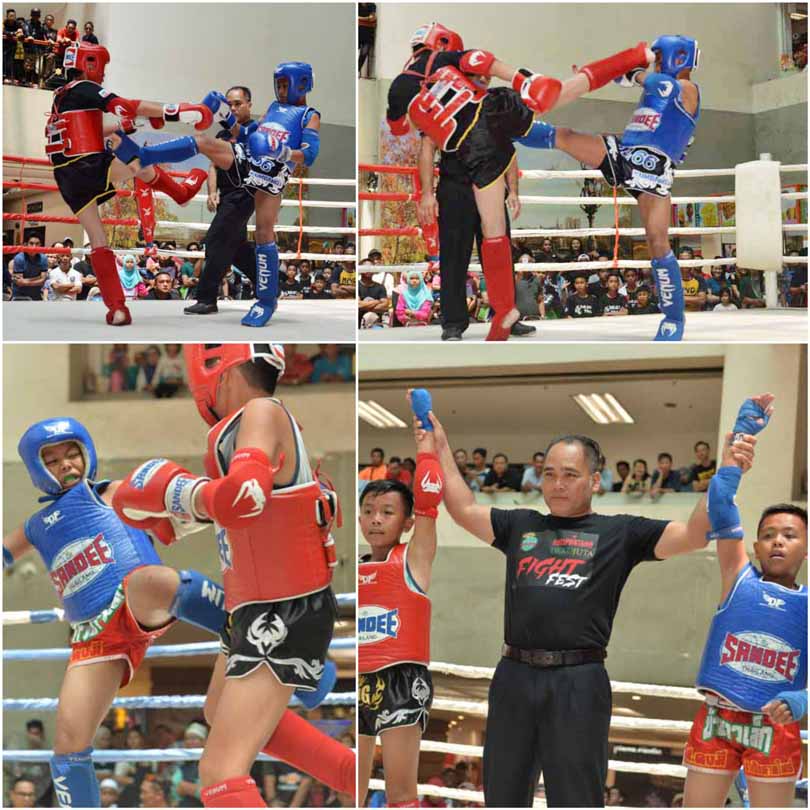 Kids Muaythai
Next to the Muaythai ring, grappling mat was set up for BJJ & Mata Leao Submission Grappling. This was oversee by the Brazilian Luta Livre Asia Pacific Union led by Antonio Battistessa and Persatuan BJJ Negeri Sabah led by Soh.
Day 2 saw the Mata Leao No-Gi Submmission grappling held. 2 category was competed. White belt Absolute & Blue/Purple Belt Absolute.
In the White belt category, emerging talent from Borneo Tribal Sq, Alexander Fong emerged as the Champion. This victory was sweet for him as he enter the category as the lightest and smallest of all the competitor.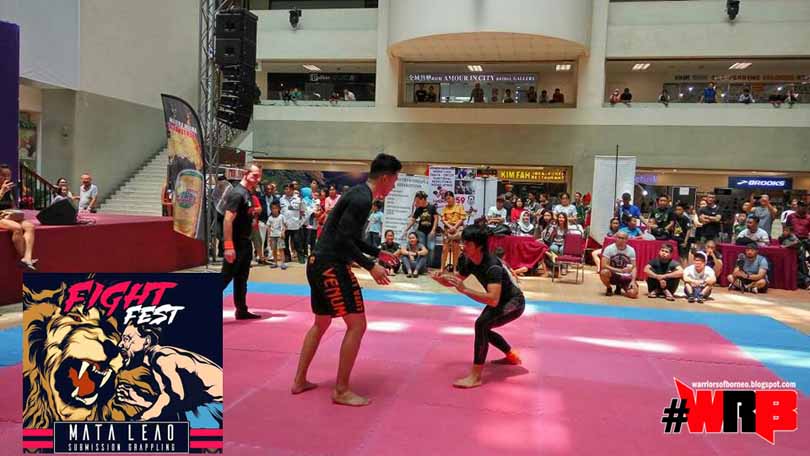 Alexander Fong in action