Alvin Chong, or popularly known as AC Poseidon has a lofty vision for martial arts in Borneo. A vision not for himself personally but for the Borneo martial arts community as a whole. He is taking the first step into making this vision a reality by organising Borneo Martial Arts Expo (B-MAEX) this 29 – 31 DEC 2017 in Palm Beach Hotel, Labuan.
The vision: to unite the martial arts community in Borneo.
When Alvin organised the 1st pro Muaythai event in Miri 7 years ago, there was virtually no big combat sports event in Borneo. He was the first doing so and he brought in 20 fighter from 9 different country, 4 of them World Champion.
Fast forward to 2017, combat sports events has become a norm. This is because for the pass 5-6 years, the martial arts industry has seen a tremendous growth in Borneo. Many combat sports event are being held from time to time and location wise Kota Kinabalu being the hotbed for many of these events.
The fastest growing sports in the world is MMA. In Malaysia MIMMA has boosted this growth. Through it's nationwide selection roadshow, has lead to many martial artists cross training between stand up style with grappling art such as BJJ, Judo and now Luta Livre. Selected qualifier will need to attend all their fights in Kuala Lumpur, which pose financial challenge for most fighters.
The demand for local base MMA promotions gave rise to Borneo Fighting Championship. Then other promotions sprouted; Jesselton Fighting Championship (JFL), Borneo Amatuer Challenge (BAC), Fight Fest and most recently Rampage FC.
Amateurs Muaythai events are very consistently held in Borneo, driven by Sabah Muaythai Association and Sarawak Muaythai Association. Fight fans also are serve with regular pro Muaythai events with D1 Fighting Championship establishing itself as a front runner.
The grappling art is also a growing segment. Pioneered by Persatuan BJJ Negeri Sabah's Headhunters, we now have Sabah BJJ open, Fight Fest – Mata Leao, and most recently two huge international event ; Sabah Grappling Quest and Copa De Borneo, which happened on the exact same dates on 9-10 Dec 2017.
K1 Kickboxing and boxing events are also on the rise. Among the promotions holding such events are STAND, FIGHT FEST and BAC.
The above list of promotions looks extensive isn't it? This does not even take into account the local Karate, TaekwonDo, Silat, Boxing tournament under their respective association.
To the outsider this looks like a healthy situation, but the fact is, it has become a problem on to itself. Why? because, generally the contestant that is taking part are of the same people. Population wise Borneo numbers are still small.
The number of competitors taking part in combat sports are only a fraction of the population and now that the concept of cross training is the norm, hence making the same competitors wanting to take part in many different promotions. This situation worsen when events dates are close to each other, worst still when they clash.
If this goes on, sooner or later, these events may face challenge in getting enough participants or crowd to make ends meet.
So how would B-MAEX solve this problem?
First of all, as a venue, Labuan serve as a perfect location as it's neutral ground and is in between Sarawak, Brunei and Sabah. As the organising chairman Alvin believe one of the way to solve the above problem is to have an event that house all the promotions, enabling B-MAEX to give recognition to Borneo's combat sports promoter. Recognise them as a pioneer, innovator and a leader in their field.
For instance, STAND – as the leading amateur kickboxing and boxing promotions. FIGHT FEST – as the hybrid event hi-lighting K1 Super Fight, amateur Muaythai and No-Gi grappling. RAMPAGE – as the progressive amatuer MMA promotions, JFL – as the premier MMA promotions with pro fights, BAC – as Labuan amatuer kickboxing and MMA event that combine referee course and seminar. D1 FC – as the region's premier pro Muaythai promotions.
With this recognition, the plan is to sit down all organisers and plan out a schedule of events that can benefit each other. Co-promoting and cross promoting, supporting each other's event.
For example; STAND can focus on boxing and have quarterly fights in a year and the champions of each quarter to meet in a year end climax in B-MAEX to crown a grand champion. Fight Fest with their Kickboxing and Rampage with their MMA.
Every organiser get to showcase their own event and all climax in a year end show down of quality fights and coming together in one event to celebrate unity in diversity.
The welcoming dinner on 29 DEC to launch B-MAEX will be the night for the martial arts community in Borneo to come together as one and recognise each other's contributions in the industry.
For Warriors of Borneo, I have shared before my own dream of having an award night to crown perhaps, Fight of the Year, Fighter of the Year, Best Rookie, Best KO of the Year, etc,…thankfully Alvin shared the same aspiration, with the first gala night in B-MAEX this year, will set the ball rolling to make the award night a good possibility in future B-MAEX.
The welcoming dinner and opening ceremony will be grace by Labuan member of parliament, YB Datuk Rozman Bin Datuk Haji Isli
B-MAEX is not just about competitions on the mat / ring, it's also about educating and sharing of knowledge. Pioneered by BAC the ISKA referee course for Kickboxing and MMA under the tutelage of Master Khoo will continue to produce more qualified officials. For B-MAEX the referee course will be conducted on 29 DEC.
On 30 DEC night a seminar will be held with speakers from various field sharing their knowledge and experience, it's free and open to all to attend to broaden their mind and learn something that will benefit the martial arts community.
I am honour to be invited as a speaker to share a topic on Relationship with Media. And feel humble to be among these great minds.
Technique workshops will also be held. For this first B-MAEX, it presents Chinese Wresting under Master Wang of China and Luta Livre grappling under Coach Antonio Battistessa
But that is not all, B-MAEX also aim to broaden the activities of martial arts in Borneo. As a representative of International Sports Karate Association (ISKA) for Borneo, Alvin has the support of his mentor Master Khoo Meng Yang (ISKA rep for South Eat Asia), will introduce new events such as free style martial arts forms performance, power breaking competition lead by Coach Adey of Brunei, under the sanctioning of ISKA. Sanda, Silat and other martial arts are also in the plan.
A pro K1 Kickboxing match, sanctioned by ISKA and co-promoted by Boxxtomoi will be the hi-light of this first B-MAEX. Just look at the fight cards, bringing the best of the best from West Malaysia, Australia, Philipines, Labuan and Sabah.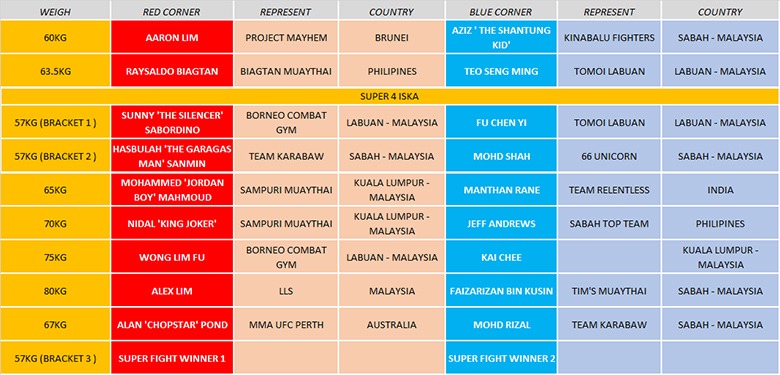 Super 4 57kg will be the main card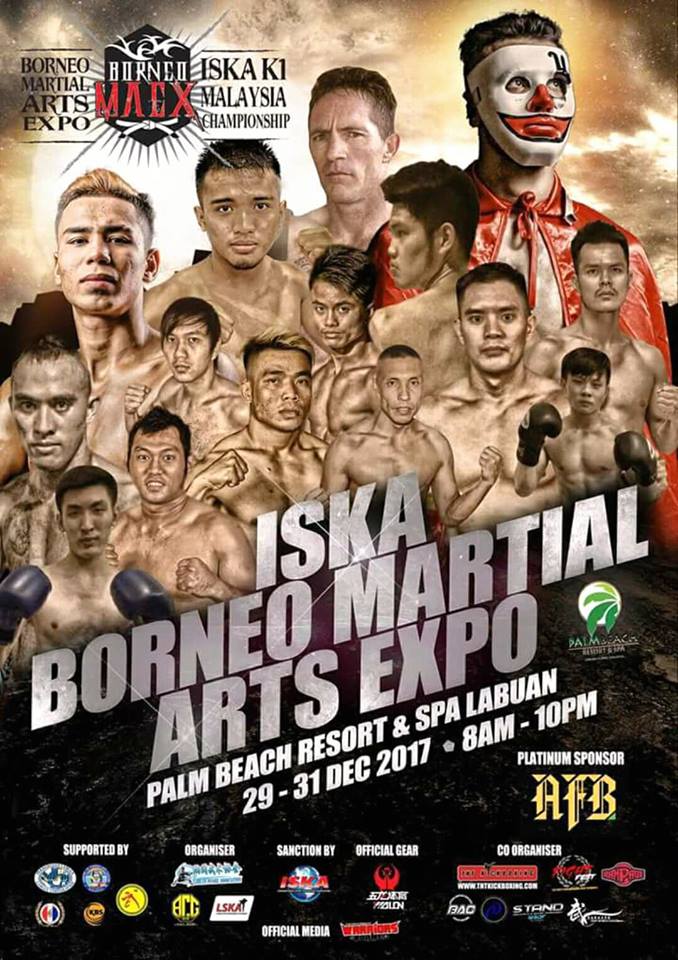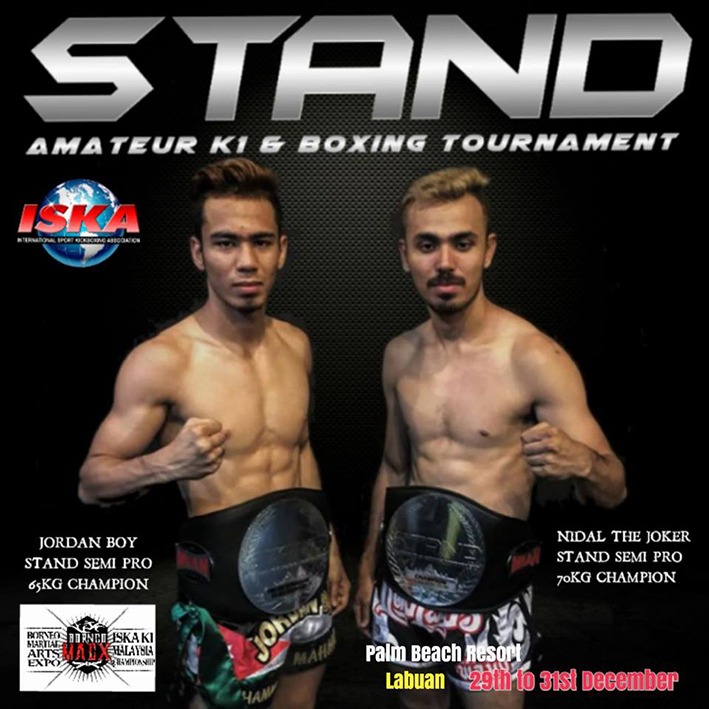 Brothers Jordan Boy and Nidal 'The Joker' of Sampuri Gym KL has won the previous STAND semi-pro belt. They will be back determine to bring back the inaugural B-MAEX pro belt
Below is the program for B-MAEX. 3 days of martial arts action, learning, will end with a year end party!
It is certainly not an easy task to make this dream come through. Aside from the coming together of all martial artist helping out, sponsors are keys in making this event a reality. We salute the sponsors in supporting this dream. This is the first step to make history in Malaysia and the region to make Borneo the center of martial arts excellence!