D1 Fighting Championship brought new height for Muaythai in Sabah during 2014/2015. As D1FC took a breather this year, the gap has been filled with new Muaythai events.
With D1FC' s chairman Haji Nazri in the helm as the President for Persatuan Muaythai Negeri Sabah, Sabah has seen a very busy year for Muaythai. In August, Elopura Fights brought the action to the Eastern side of Sabah. It was held together with Sabah's Inter-Club Muaythai Championship which saw Kinabalu Kings emerge as the Champion.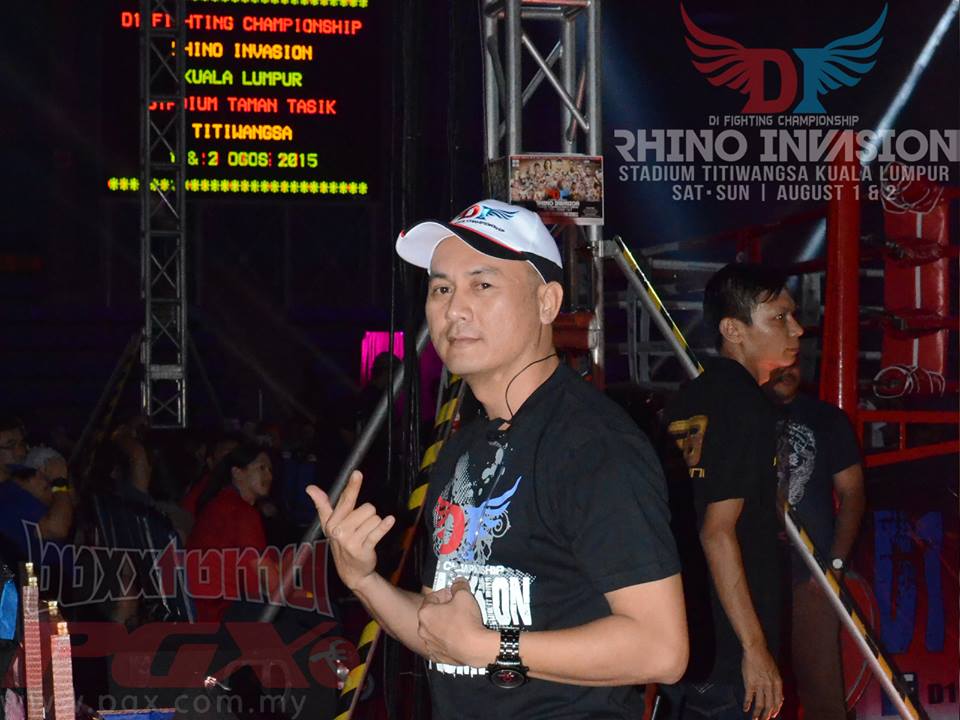 Hj Nazri
In September, Sabah Muaythai send a state team to the National Championship and brought home 6 medals (1-Gold, 4 – Silver , 4 bronze) taking the 5th placing nationally.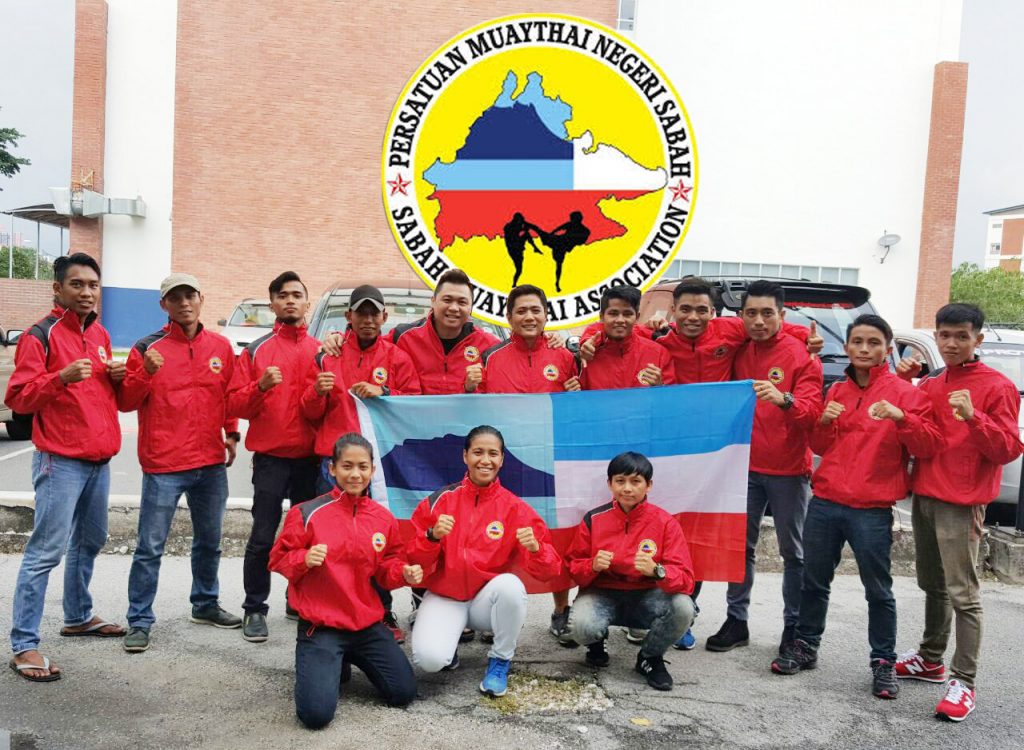 Muaythai Sabah's team to National Muaythai Championship 2016
In October, the action went back to eastern Sabah with Tawau Muaythai Championship held in conjunction with National Sports Day.
In November, Sabah Muaythai sent a team to Lundu Sarawak for the Borneo Cup challenge and emerge victorious with 2 Gold, 3 Silver and 1 Bronze to bring the Borneo Cup to Sabah.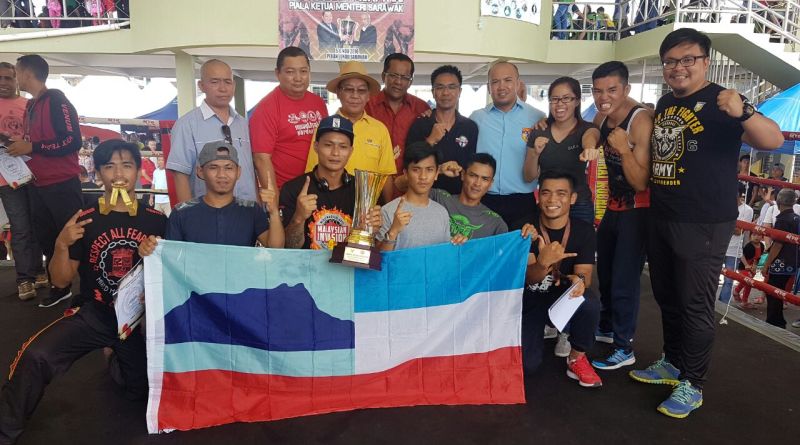 Sabah – Borneo Cup Champion 2016
Come this weekend ( 10-11 Dec 2016 ) The Inter-District Muaythai Championship will go down in Karamunsing Complex. This is held together with Sabah Fights ; pro Muaythai cards.
The inter-district will see 12 district from Sabah battling for amateur Muaythai supremacy. Will Tawau defend their title won last year?
As for Sabah Fights, these pro cards has been schedule to go down from 7pm onwards to keep fight fans occupied and inspire the young ones to perform well.
Sabah Fights is organised together with Kelab Sukan Inspirasi Kinabalu ( Inspirasi), Parliament P17 Sepanggar Office and Kaza Musa Fight Event Management.
Inspirasi and Parliament P17 organised Sabah Fights with the objective to get more youth into healthy activities especially sports, with their moto: Inspiring People Through Sports.
As for Kaza Musa or his real name Zamalani Masulin, is no stranger to Sabah's fight events. To those that does not realised that he has been managing most fight events here, you may have heard his sharp loud cheery voice over the mic in fight events. Aside from announcing for fights, his emceeing style that uses local dialect and slang plus the ability to insert humour provide entertaining value to the casual fans.
This young lad from Kota Marudu is a qualified dive instructor and started martial arts in Shotokan Karate. 4 years ago he took up Muaythai. He was among the pioneering group of people that took up Muaythai in Sabah; among them are Randal Kadayum, Dean Hamsah, Johan Julian, Maman, Erexy, Shah 66.
His passion in martial arts especially Muaythai saw him winning bronze in Borneo Cup Championship 2015 and being elected as the Muaythai Sabah's secretary general for 2015-2017. This passion also is the one that drives him to go into fight event management.
The weigh-in was done on Friday at Youth Arena, Kepayan. The planned event hi-light of Super 4 for Datuk Jumat Idris Cup has been dampen with one of the fighters, Ronny Shah not making weight for 60 kg. This is not the first time Ronny missed weigh, the most recent one was in STAND 3 Keningau.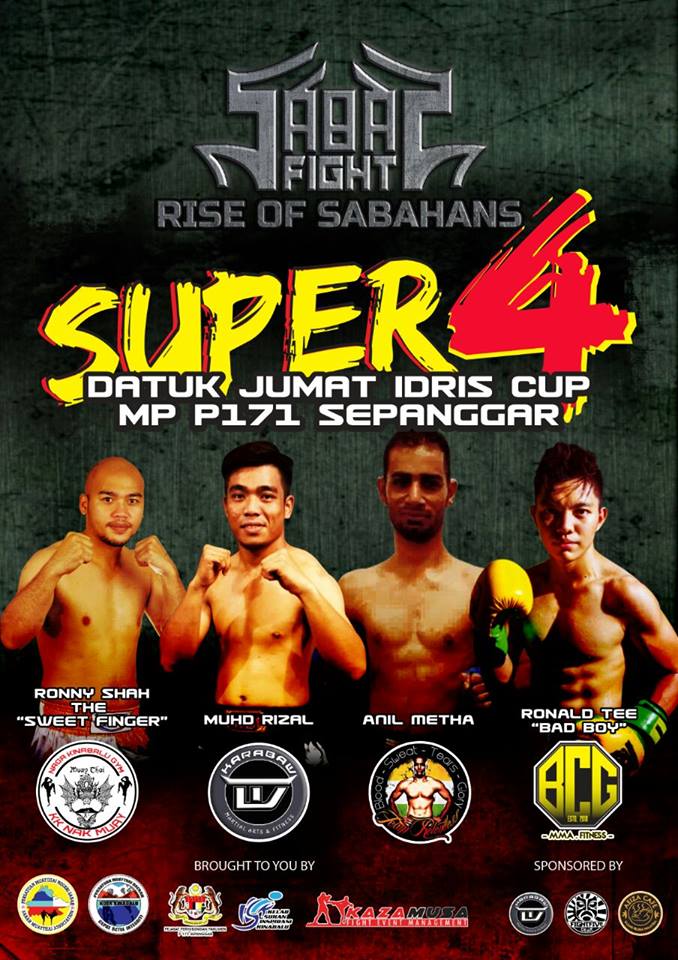 The original planned Super 4 fight now canceled
To salvage the main event, the Super 4 has been dropped and Super Fight has been arranged. The main event now will see Ronald Tee of Borneo Combat Gym Labuan (BCG) vs Anil Mehta of Team Relentless India.
Ronald Tee is only 20 years old but already posses a pro Muaythai record of 5-1 and Pro K1 Kickboxing 4-0. He started fighting pro K1 when he was 16 and Pro Muaythai 2 years ago. He most recently won in Elopura Fights against a nak muay from Kelantan in August.
Ronald works as a full time instructor in BCG under the tutelage of Coach Alvin Chong. Ronald wants to win this Datuk Idris Jumat Cup for BCG and for his coach. It was coach Alvin that help him when he turned to the dark side.
As a young teen Ronald got into fights and was a rebel rouser in high school. His notorious attitude finally got him expelled from school when he was in form 4 and he started hanging out with bad hats and spend his times in clubs partying, drinking and smoking.
For a couple of months he wasted his youth until he happen to bump into his BCG mate jogging to prepare for a tournament. It hit him hard that the partying life is not what he wants. He sucked up his pride, face up to his problem and went back to coach Alvin to apologize for his behavior. He wanted back in.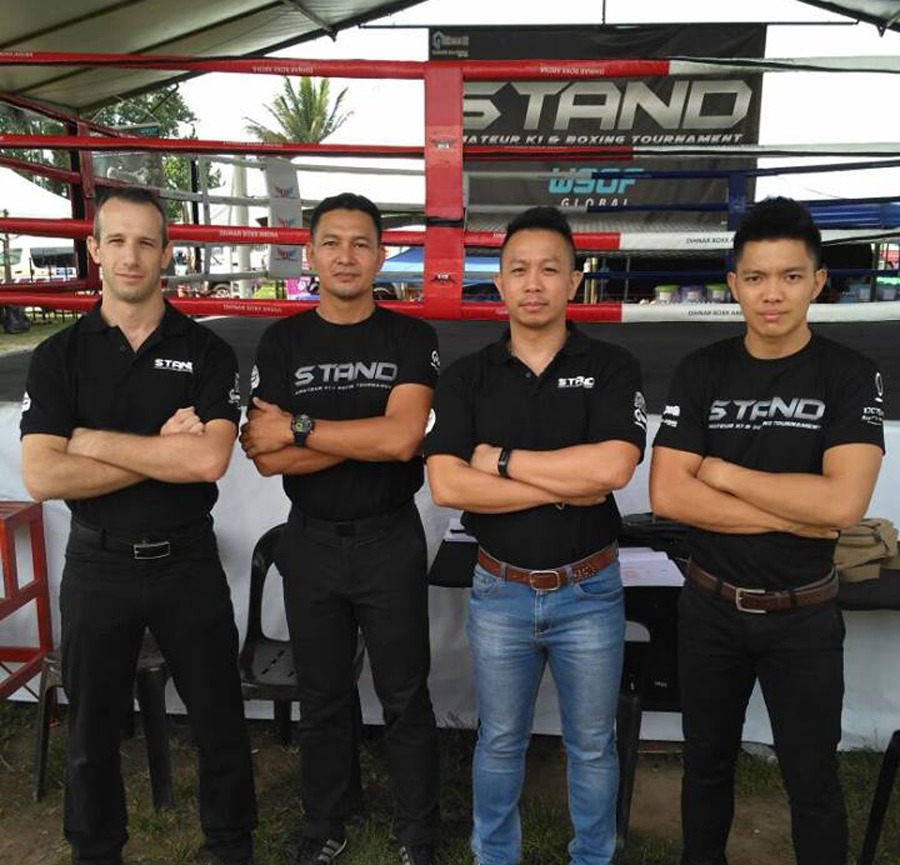 Ronald is also a qualified ISKA MMA & Kickboxing referee. Seen here with Coach Alvin ( 2nd right ) 
Alvin sees himself in Ronald as he once also went through the same problem. He took him back into BCG, helped him get into a new school to finish his SPM. and made sure he occupied himself in training and focusing his studies.
This Super fight for the Datuk Idris Jumat Cup will be a big motivation for Ronald to show the deep appreciation of what Coach Alvin has done for him. But his opponent is not easy meat. On the other end of the ring will be Anil Mehta.
Living true to his team's name Relentless, Anil serve as a police in his home state of Himachal Pradesh in northern India. He travels close to 1800 km to Mumbai to train under coach Jitendre Khare, India's MMA pioneer.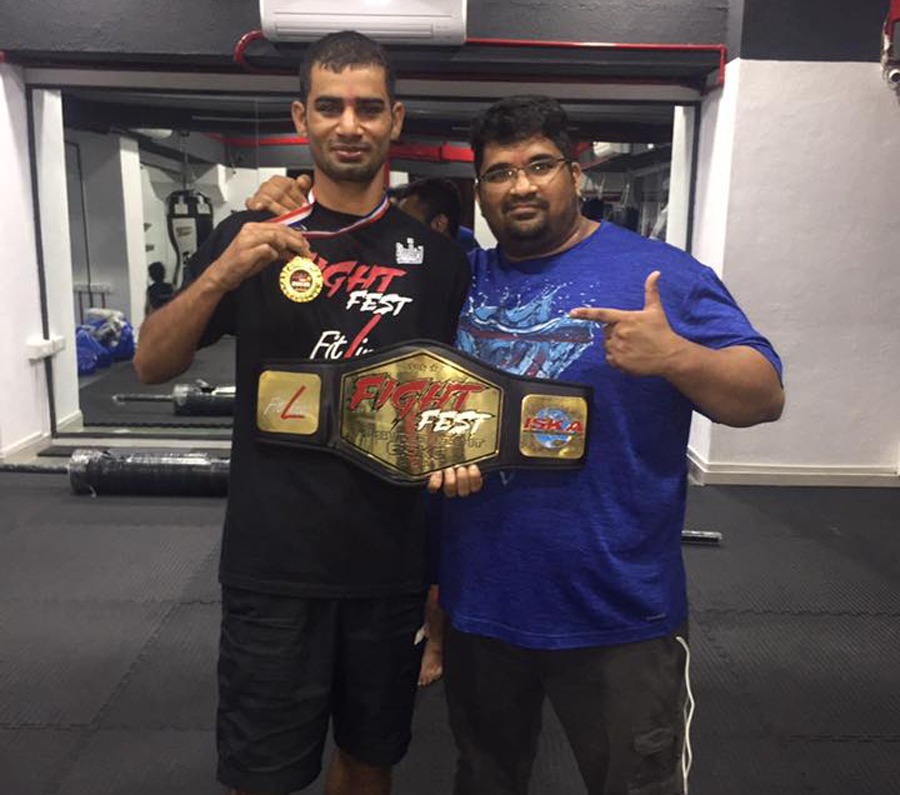 with Jitendre ( right )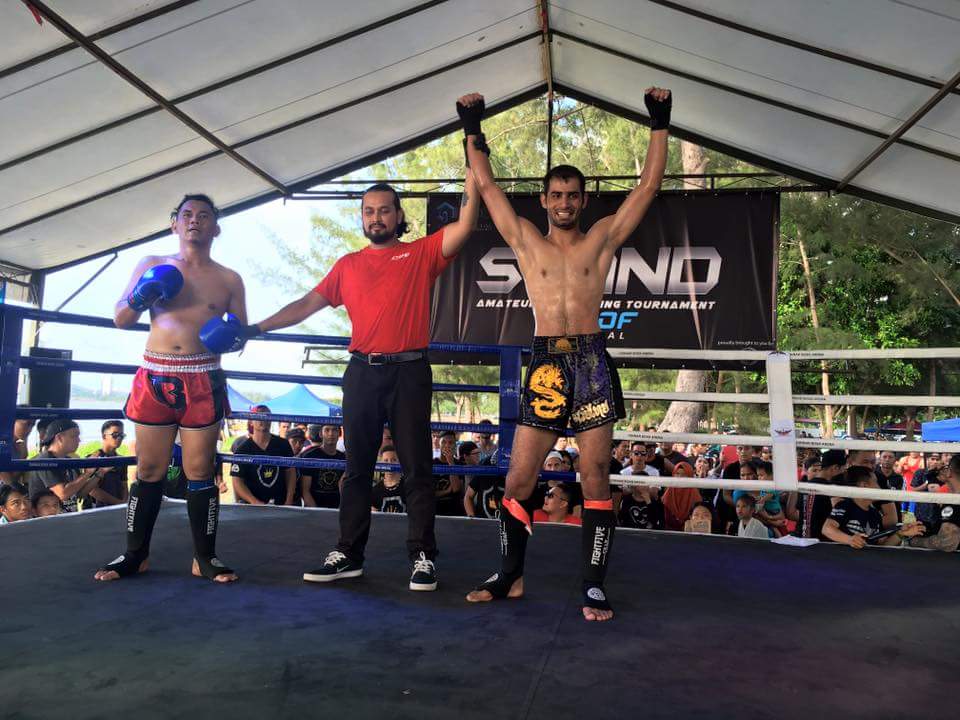 winning STAND 2, light welterweigh
In September Anil won the K1 Light welterweight fight in STAND Series 2. In October he was back in Kota Kinabalu, winning his Super Fight and brought home the Fight Fest 3 65kg title belt.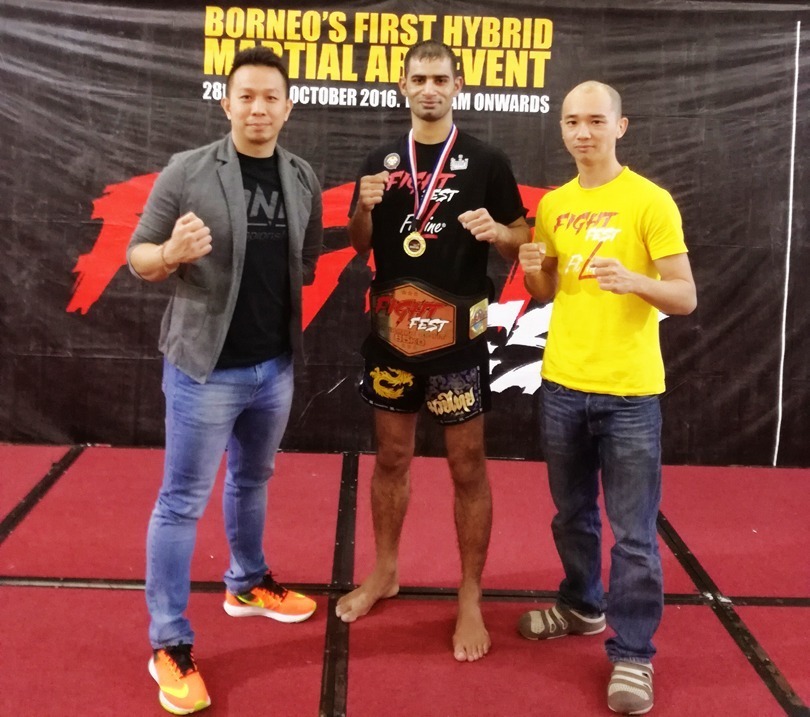 Anil winning the Fight Fest 3 title

Not wanting to stop there, he return again to Sabah in November to participate in STAND series 3 Super 8. Moving up to 70kg. But it was not third time lucky as he lost in the final by point to Nidal Mahmoud.
Now he is in KK again, with the aim of ending 2016 with another title from The Land Below the Wind.
This Super fight will be very exciting. Anil is relentless in his approach and will keep pushing forward with combos. His favorite weapons is his elbow and will maximize use his long reach to find his target. As for Ronald, shorter in height but he will be making this up with his speed. Ronald is a skill boxer and will utilise his fast hands to mess up Anil's rhythm.
This main card will be feature on 11 DEC 2016.
The co-main event on Day 2 will see Mohd Rizal of Team Karabaw fighting Madjias Lim aka Opong the Maphlindo.
Rizal 32 years this year but is still fighting fit. Working as a technician that require him to travel all over Sabah it does poses a challenge for him to get regular training, but his attitude of never say die always carry him through.He was just in Manila last week for Philipine International Kyokushinkai Karate Championship.
He started off his martial arts journey with boxing and picked up Muaythai. This will be his 2nd pro Muaythai fight, with the 1st fight in F3 Borneo Series last year which he lost by points. Rizal was in the Sabah state Muaythai team in November that won the Borneo Cup, Rizal contributing a bronze.
For Day 1 the spotlight will see seasoned Muaythai fighters Randal Kadayum of Kinabalu Fighters vs Reyan Abdul of Kinabalu Kings.
Randal has achieved a lot in Muaythai among it, winning 4 D1FC title, Sarawak TYT Cup 2015, Borneo Cup 2016 , Elopura Fights 2016. But he has a score to settle with Reyan, as he lost to Reyan last year in F3 Borneo Series.
Randal would like to end 2016 with another trophy in his collection, this time for the 66 Askar Hantu Trophy. Find out whether 'The Slayer' Randal able to slay Reyan ' The Shadow Hunter'
Women fight hi-light will see a good match up of Aurora Chai of D-30 Miri vs Nurul 'Chiko' Khairunnisa of Team Karabaw.
Judging from pass women fight, it has always been very fast pace and non-stop action, at times more action than the men's fight. This match up is good as it's a fight between a new comer in martial arts; Aurora and an experience fighter in Chiko.
Aurora trains at D-30 under Master Tang Hui Ding. She is only 16 but has a great appetite for martial arts. In Fight Fest 3, she participated in 3 events, BJJ, Kickboxing and MMA. She manage to reach semi-finals for her Kickboxing and for the SuperFight MMA, she lost a close decision to Barbara of Sabah Top team in a action packed fight.
Chiko has fought MMA numerous time in MIMMA. And in JFL she was the Grand Finalist in 2015. In Sept she won the straweight fight in STAND series 2. Chiko fight with passion and a great focus. She has a no retreat no surrender attitude.
This fight promise to provide plenty of fireworks.
Thanks to all the sponsors and the organisers, the event will be free, no ticket charge. So come down to Karamunsing Complex and support your fighters. Check out SABAH FIGHT FB for more updates.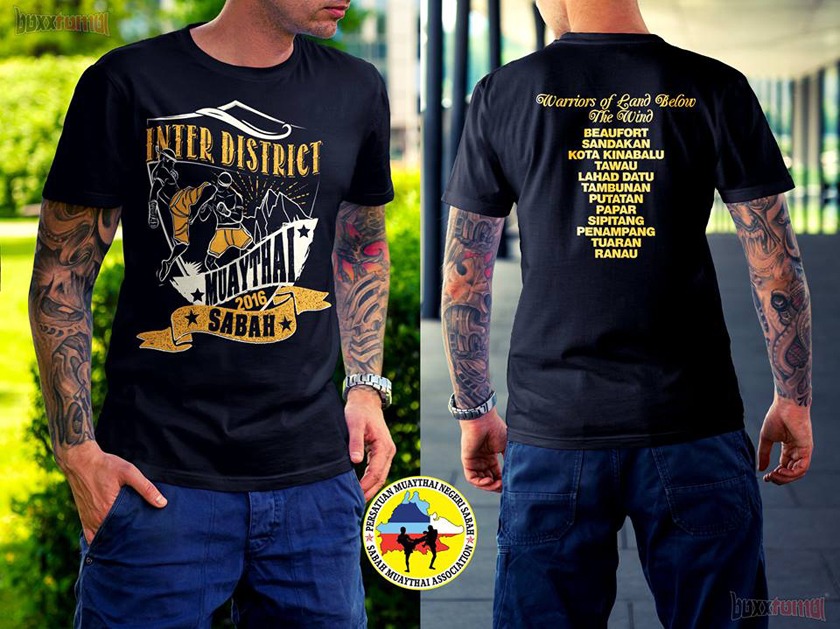 and don't forget to buy yourself a limited edition t-shirt for souvenir