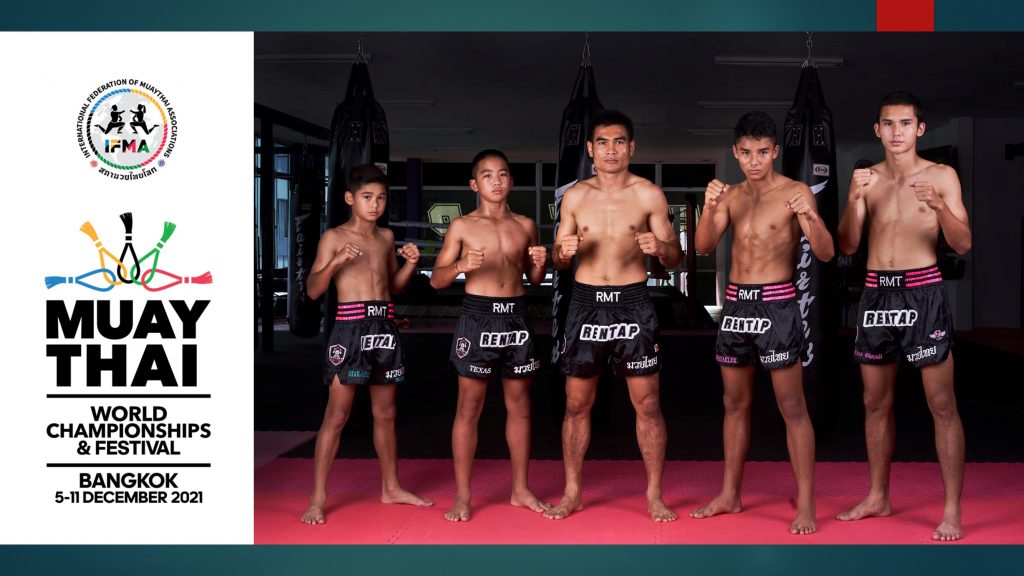 5-11 DEC 2021 saw more than 900 athletes from 91 countries competed in 2021 IFMA Muaythai World Championship in Bangkok, Thailand.  In total there was 121 delegation. Russia sent the largest delegation of more than 80 athletes.
No championship was held in 2020 due to Covid19 pandemic. Thailand was world champion for 4 years in a row 2014 – 2017, but Russia has emerged as the new powerhouse. It tops the medal tally for the last two World Championship (2018 -2019).
Again, this year Russia emerged as overall champion when they took home 70 Gold, 25 Silver & 13 Bronze. Thailand came in 2nd with 19 Gold, 23 Silver & 22 Bronze.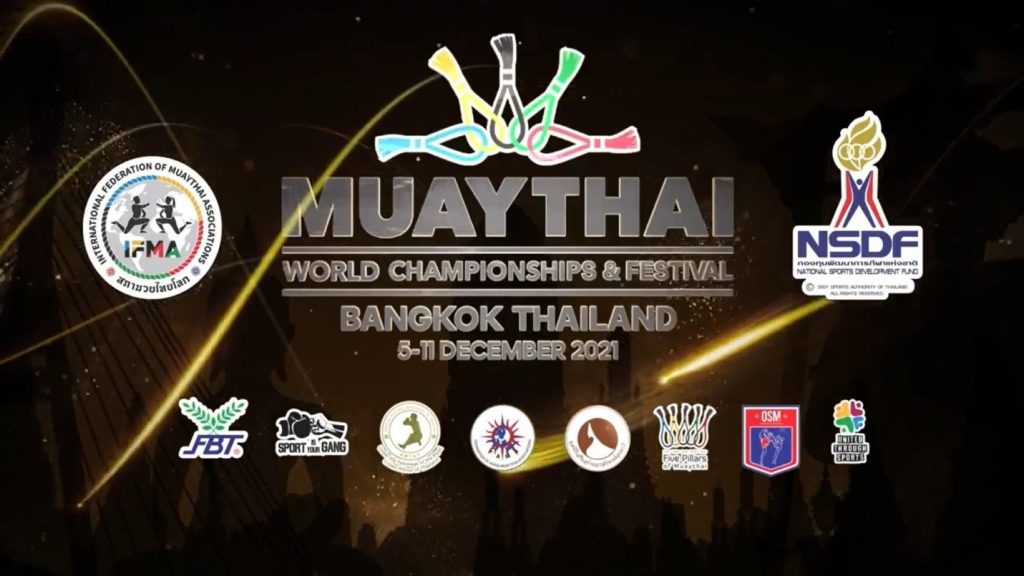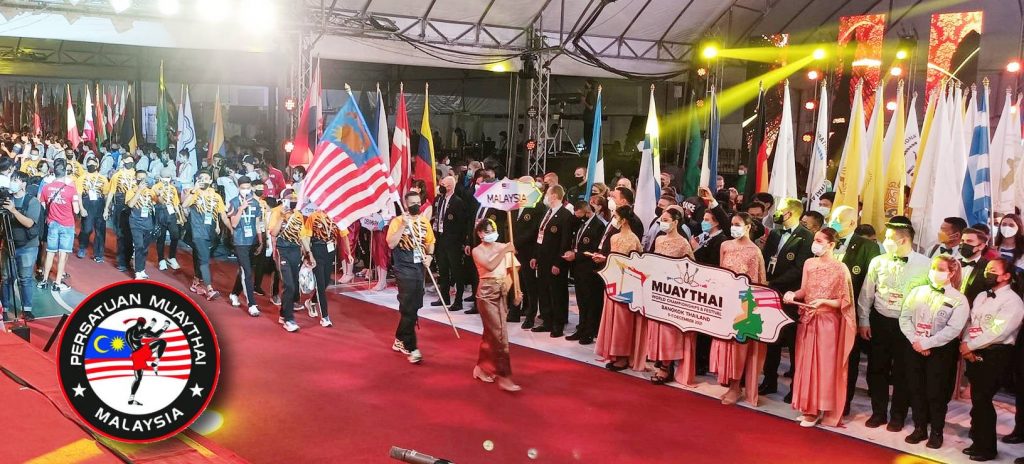 Malaysia sent 21 athletes. Team A took 11th placing with 3 Gold, 3 Silver & 7 Bronze. Team B at 14th placing with 1 Gold, 1 Silver & 1 Bronze.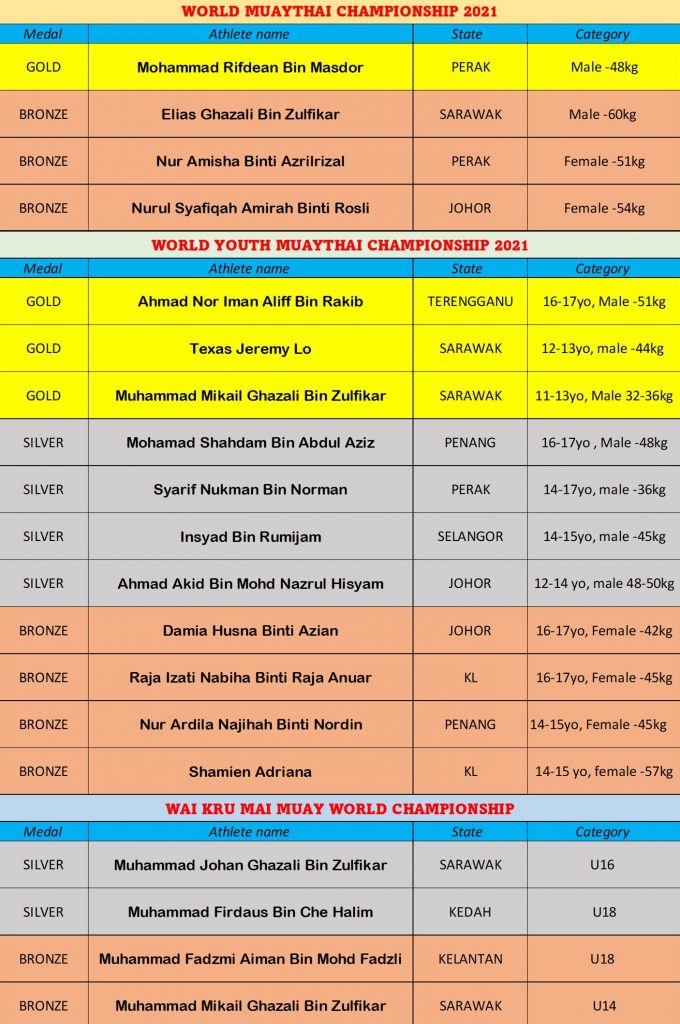 Datuk Muhammad Shahnaz Maula Azmi, President of Muaythai Malaysia said that he is very proud of Malaysian squad performance in this World Championship. The results were beyond expectation because the association didn't set any medal target as Malaysian squad was out of competition for nearly two years compare to other countries that was still active in sending their athletes to compete.
In the Malaysian delegation of Team B is the team from Rentap Muaythai of the state of Sarawak, Borneo that send 5 of their nak muay to compete. Among them are 3 brothers. Elias Ghazali Bin Zulfikar, Muhammad Mikail Ghazali Bin Zulfikar & Muhammad Johan Ghazali Bin Zulfikar.
Rentap Muaythai contributed 2 gold from Texas Jeremy Lo & Muhammad Mikail Ghazali. Elias Ghazali contributed a bronze medal while Muhammad Johan Ghazali took home a silver medal from the Wai Kru category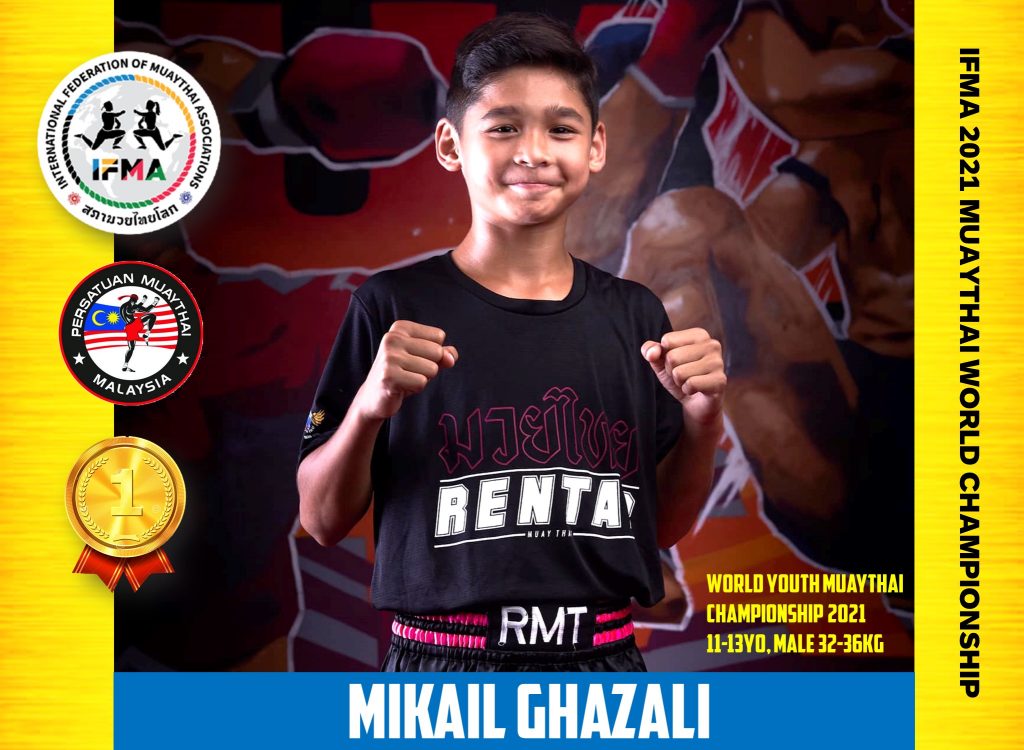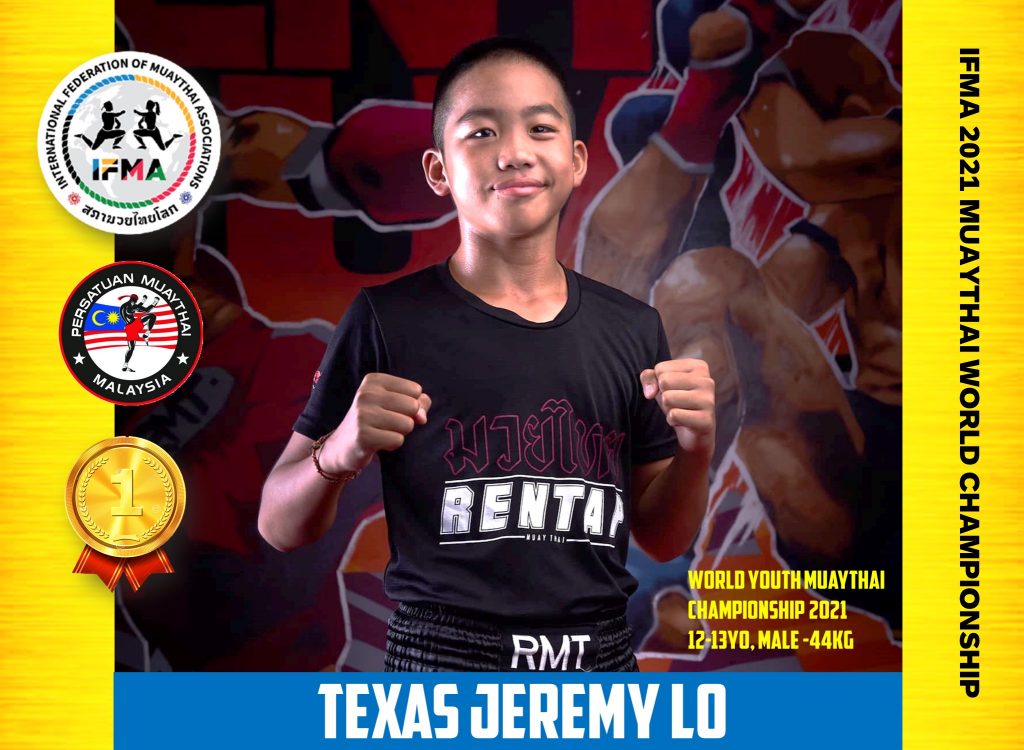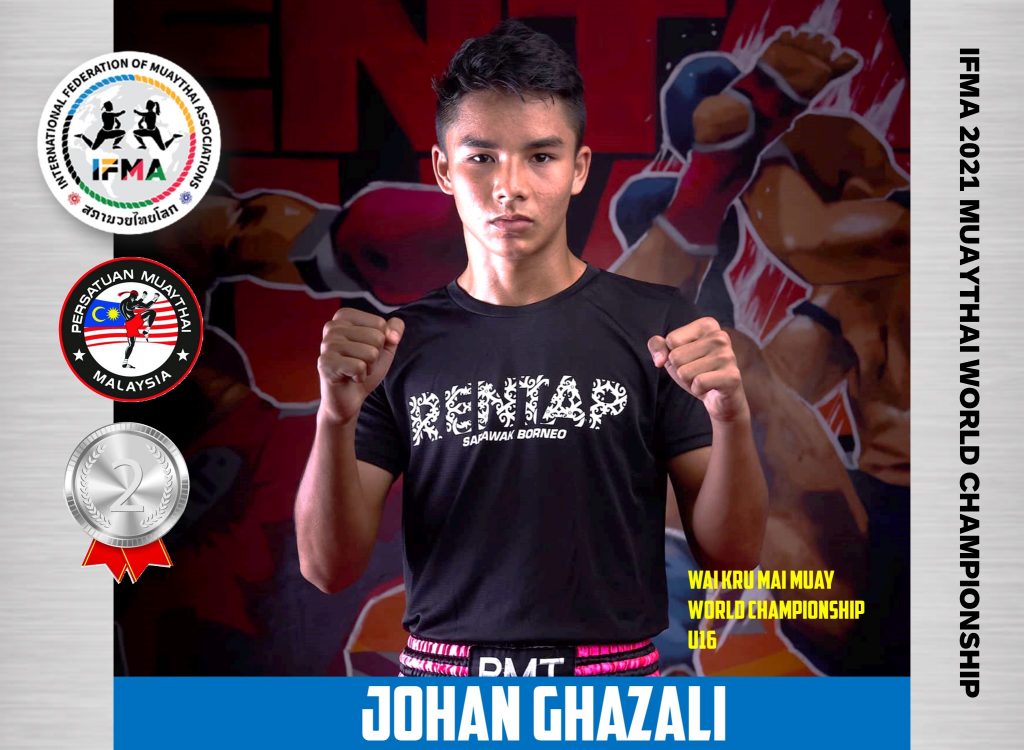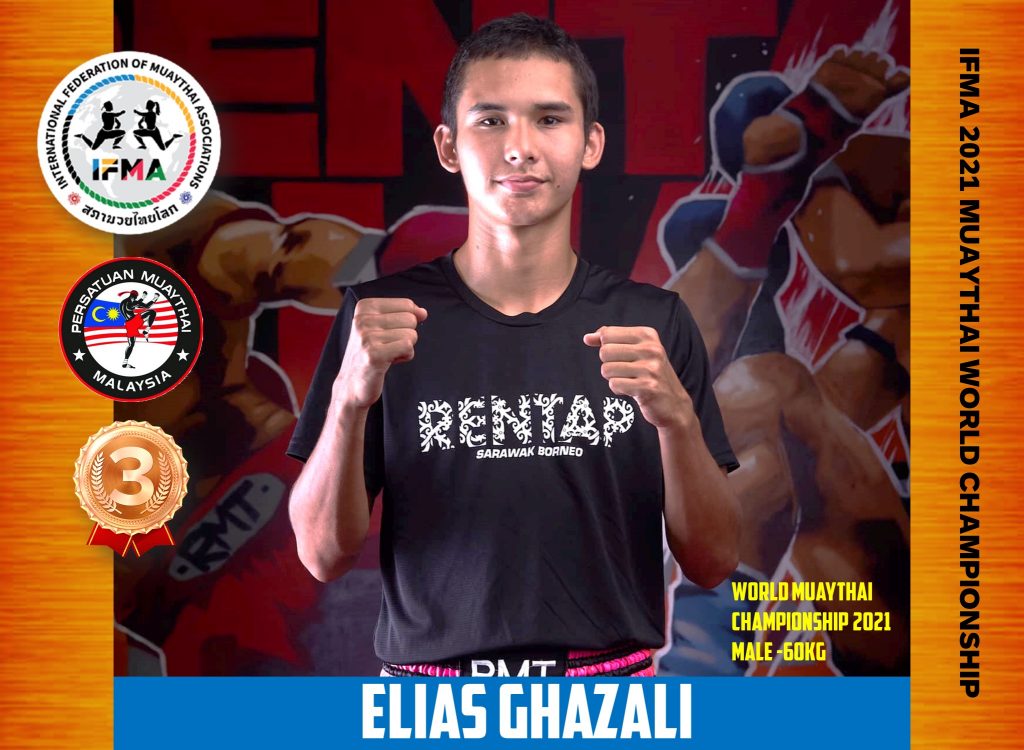 These young boys are coach by Khru Addy from Thailand. He has trained the three Ghazali's brothers for 6 years and Texas for 3 years.

The three brothers are the sons of Jennana Johnson (Jen) & Zulfikar Mohd Ghazali
"I'm from the USA & my husband is Malaysian. Miki has been fighting since he was 6. All my boys have fought international.
Johan has won several bronze medals in IFMA and he won silver in Turkey in 2019. He and Elias both won gold at Asia games in Abu Dhabi 2019. This is both Miki and Texas first IFMA" – Jennana
Both Jen & Zulfikar met in US and had their fair share of Muaythai competition. Now they impart their knowledge & encourage their children to excel in the arts of eight limbs.
They also have a daughter, although she does not train in martial arts but she is also a high achiever in sports, being a Sarawak state gymnast.
Jen co-own Muay Girl Promotions (Fight promotion/event management) and Rentap Muaythai Gym with Dolphina Walter Tony, while Zulfikar serves in the Malaysian Police force.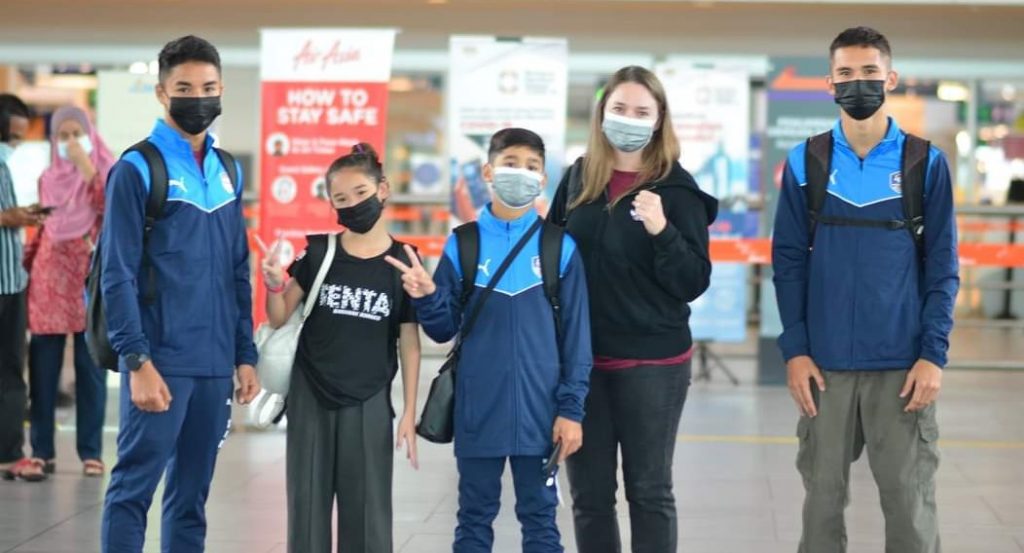 Covid19 has not been easy to deal with especially when training in combat sports, you need sparring partner & full contact action to improve. Fortunately, the 3 brothers have each other & also their parents to push them & check on their techniques at home & through on-line coaching from their coach.
As the S.O.P.s are loosen & events are allowed to be held, they immediately commit to the World Championship. They train twice a day, from Monday to Saturday. Running long distance twice a day, kicking pads, bags, sparring etc.
Jen shared some insights on her 3 boys…
"Mikail, has a happy go-lucky attitude. He is fast and agile.
Johan is the most dedicated. In the gym every day. He is aggressive, never disappoints. He will always  fight it out.
Elias is quite, very laid-back. Spends his free time skateboarding 😅. He is the most technical of the three and a good clinch fighter.
Johan is determined that this is what he wants. He has his sights set on the Olympics and One Championship.I would like to see them go to the Olympics if it gets recognition in the next few years, but it's up to them."
To Jen and her kids, this achievement would not be possible without Khru Addy. Khru Addy has been instrumental in their development since he has been coaching her three boys since 2015.
Khru Addy ( Addy Singpayak ), a Thai that has made Kuching his home has more than 35 years of experience in Muaythai from his more than 250 fights. His first fight was at the tender age of 6 years of and from there progress to be a regular fighter in the prestigious Rajadamnern & Lumpinee Stadium.
He moved to Malaysia in 2013 when he was hired by MSN ( Majlis Sukan Negara ) as Team Malaysia's coach. Eventually he moved to Kuching and coached in SS Muaythai. As a coach he has produced numerous champions for Malaysia, some are World Champion, Asian Games Champion, Malaysian Gold medalist and many Sarawakian champions.
He nows co-own Rentap Muaythai and aims to produce more Sarawakian talents to achieve Muaythai glory.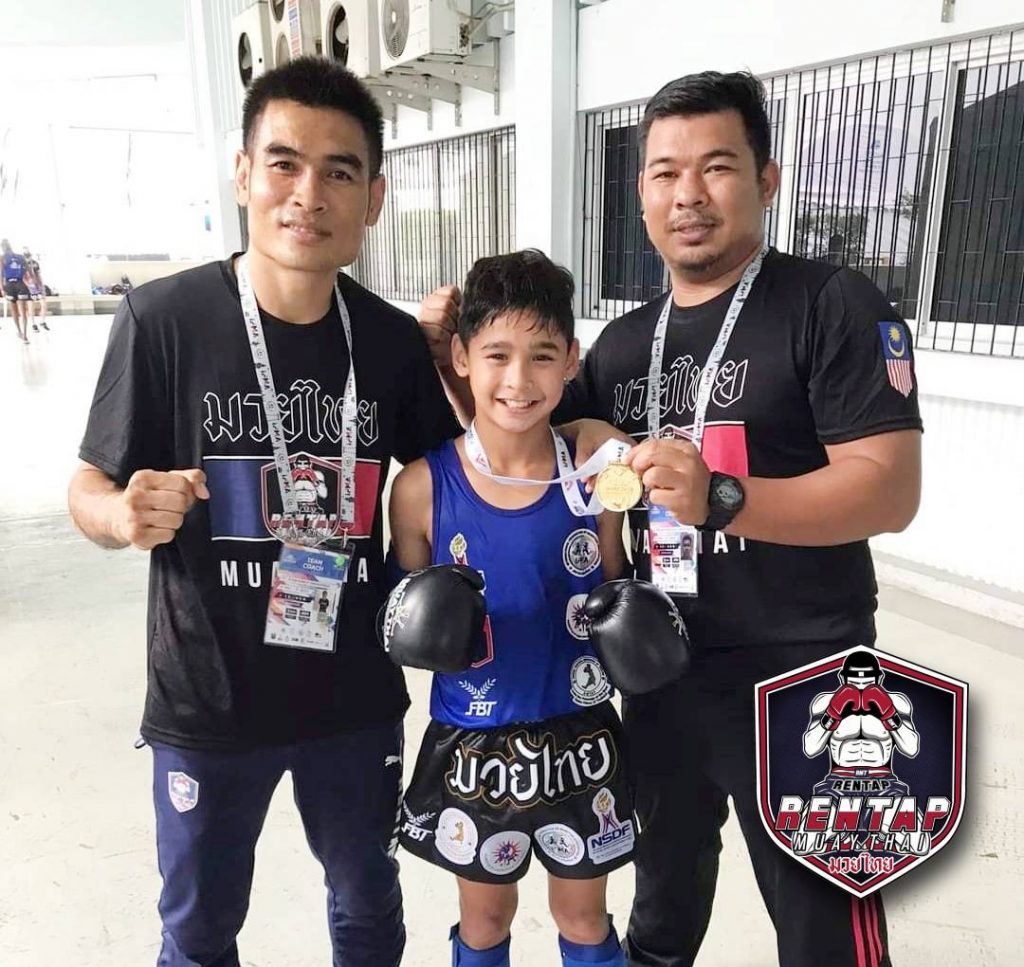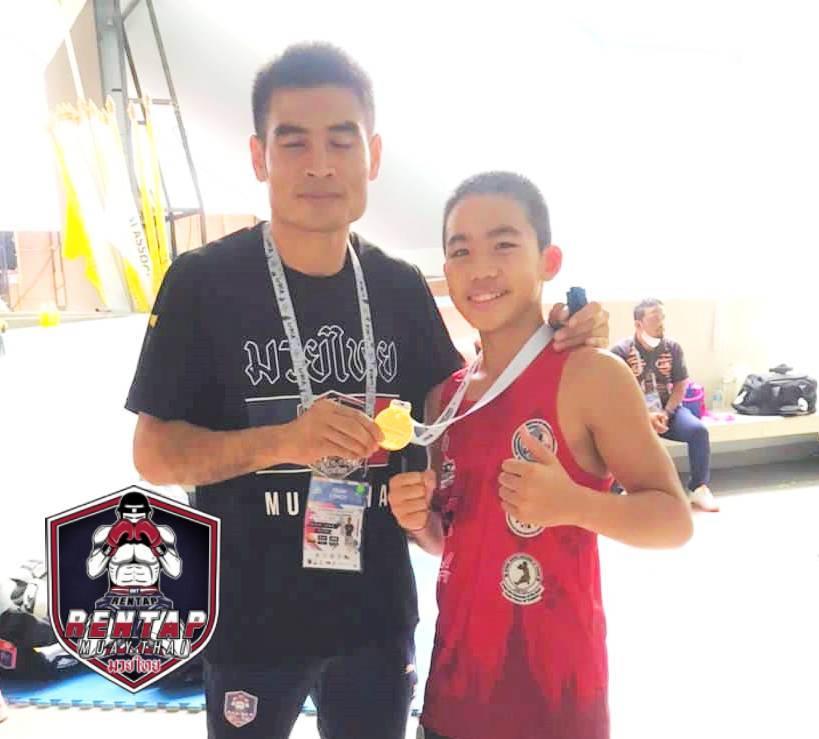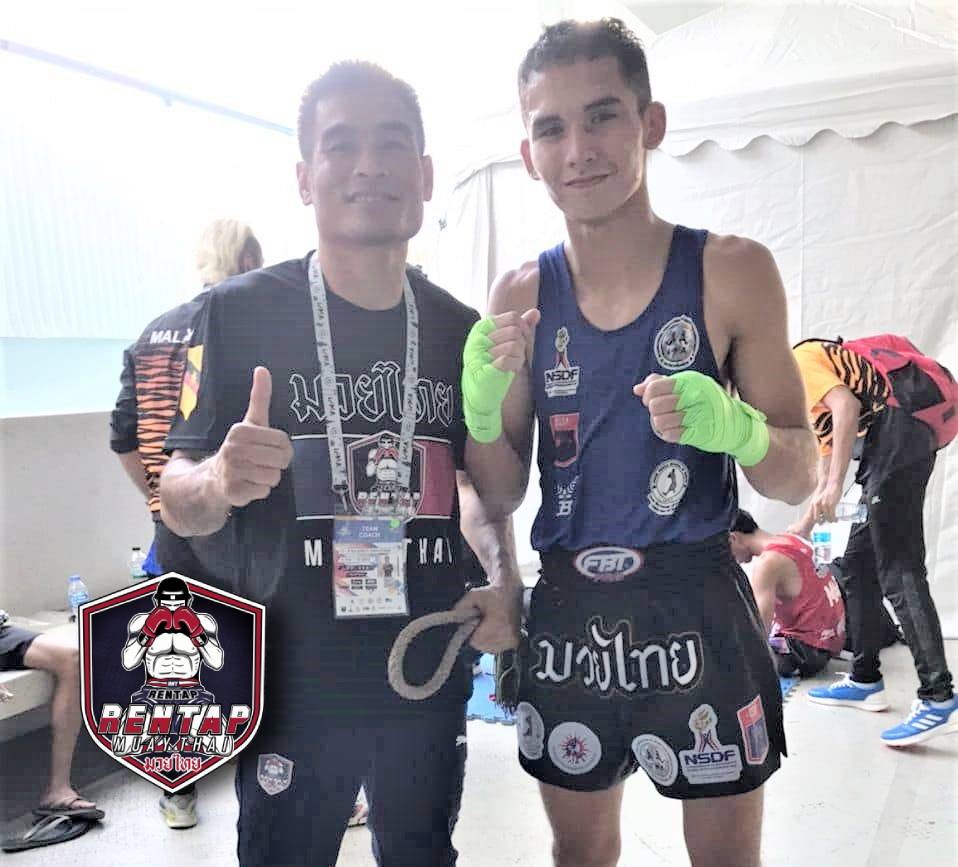 For 2022, Jen is hopeful for her kids to participate in more international competitions and also SEA Games in Vietnam.
Through Muay Girl Promotions, Jen & her partner Dolphina is also working hard in making a few international Muaythai events in Kuching a reality next year. She wants to give more exposure to Sarawakian fighters to compete in international level.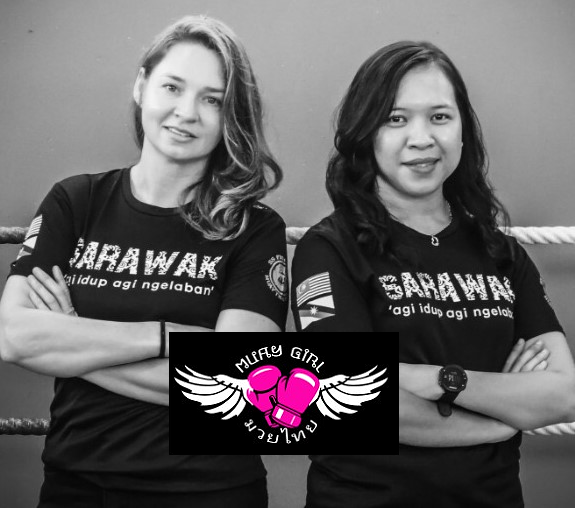 In the recent Sarawak Fighting Championship in December 2021, Rentap sent 4 new fighters to compete, bringing back 3 wins, 1 loss results. The Ghazali's boys did not compete as they were still in quarantine after coming back from Bangkok.
Sarawak certainly did Malaysia proud in the World Muaythai Championship. Asides from the winners from Rentap Muaythai, it's worth to note that Mohammad Rifdean Bin Masdor whom won a Gold, Syarif Nukman Bin Norman whom won a silver both fights for Perak, are also sons of Sarawak.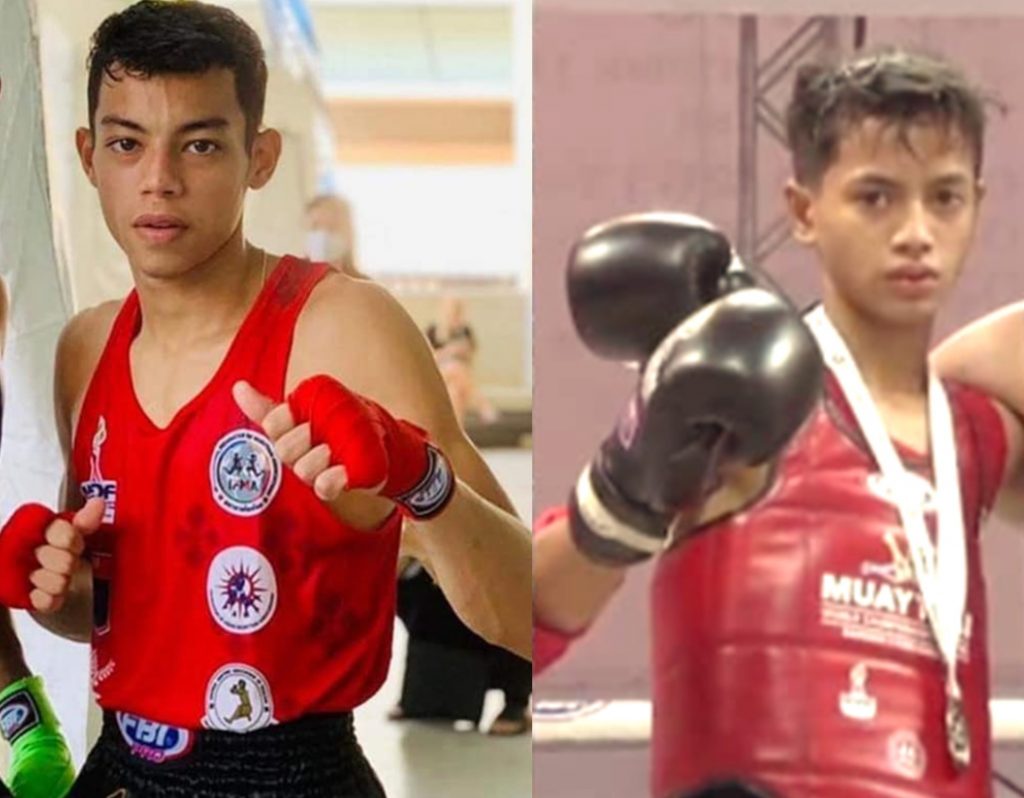 The future looks bright for Malaysia's Muaythai as the youth is showing great progress. For the Land of the Hornbills (Sarawak), with more events, good coaching and dedication from parents surely, they will become a powerhouse that produce many more talents for Malaysia.