2016 is the year of Fire Monkey. It's certainly scorching lately. With El Nino is in full effect, the weather in Sabah is so hot & dry. The local political scene is experiencing a fiery time. But there's a welcoming heat that will burn the passion of all martial artist out there. The heat from MIMMA4 ( Malaysian Invasion Mixed Martial Arts ). Fire…aptly chosen as the theme this year is exactly what it intend to do, into the 4th season, MIMMA4 continue to blaze the path as the best amateur MMA tournament in Asia if not the world.
This weekend of 5-6 MAC, happening at 1 Borneo Hypermall, Kota Kinabalu is the 2nd leg of the tryouts, after last weekend where it began at Penang.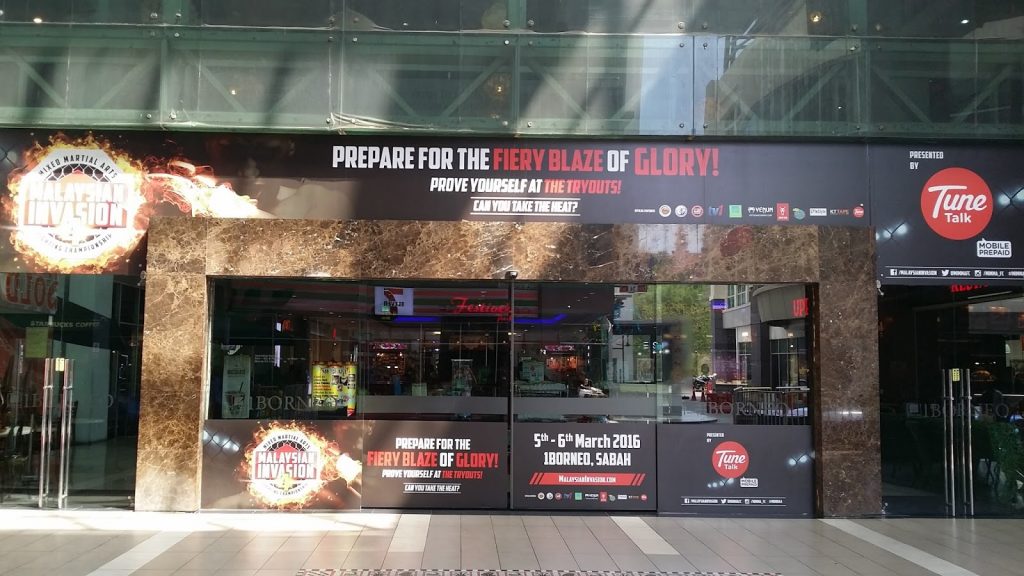 The venue; 1 Borneo Hypermall is ready to receive fighters
The spark ignited in 2013, as a platform to nurture and grow local Malaysian talents from the MMA scene, by preparing a tournament for amateurs to contend and put their highly honed skills and countless hours of dedicated training to the test. During its first season, MIMMA has managed to become the central entity for all MMA hopefuls, opening the eyes of the public about the limitless potential of the sport. Records were broken and benchmarks were forged in its second season, and in its third season history was made when MIMMA introduced two new categories ( Foreign Pride and Women MMA ) to further enhance the development of the sport in the country, sealing its stature as the gold standard of amateur MMA in the world today. 2016 will see a continuation of hard work put into improving MIMMA as a proper platform for amateur MMA hopefuls to start their journey as well as injecting new innovation to ensure the local MMA scene stays vibrant and ever-expanding.
Tune Talk is the driving force behind MIMMA. Being one of the youngest but most innovative telco in Malaysia, it extends its innovative way of doing things to MIMMA4 , where MIMMA4 will be shifting most of its operations online, fully utilizing its presence, beginning with a fully digital registration process for all amateur MMA hopefuls in order to ease the flow during the day of the tryouts.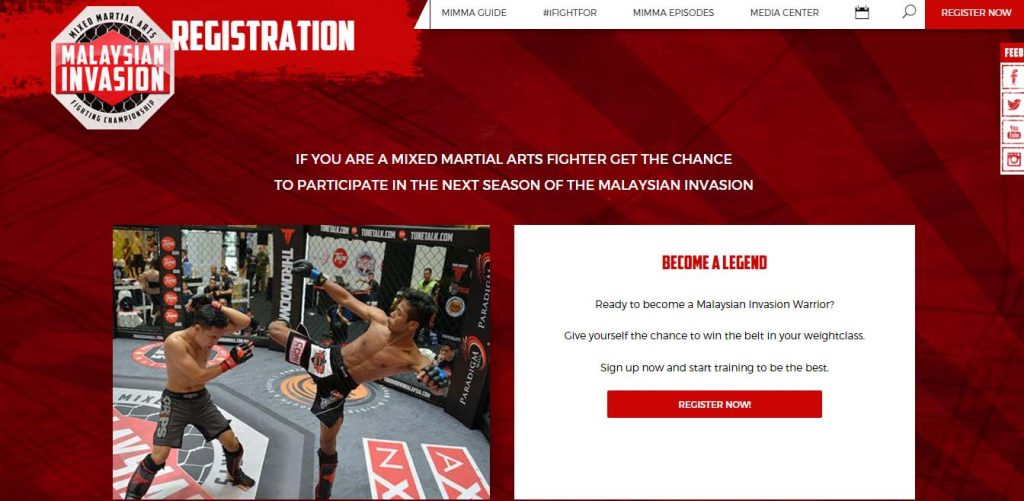 Go online to register yourself as a fighter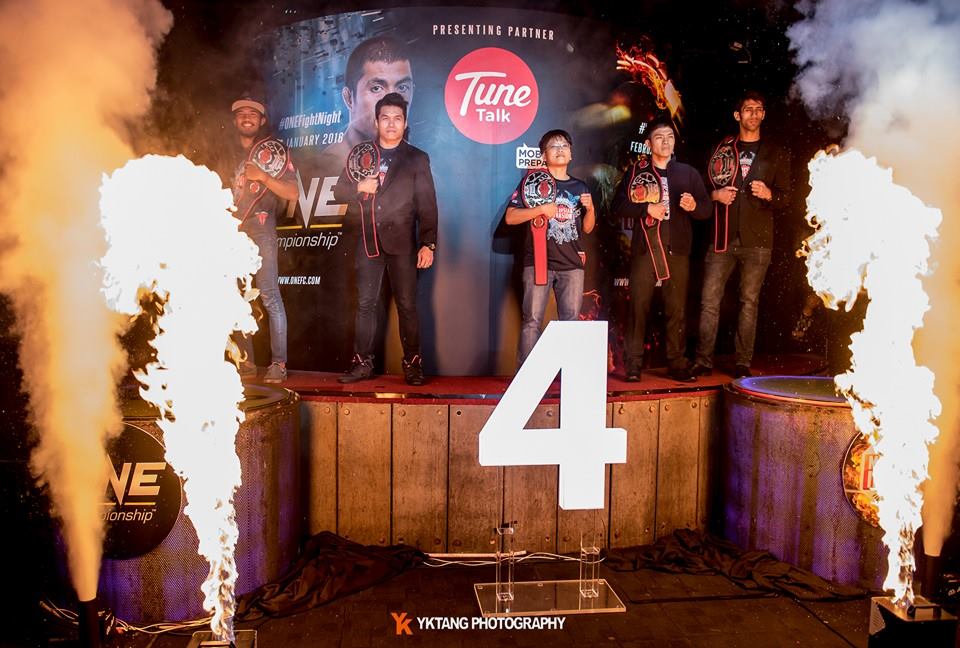 At the launch of MIMMA4 in Jan 2016, with Borneo Champion in the middle, Jace Law-Lightweight Champ 2015 & Joanna Yap Female Champ 2015 from Sarawak ( photo credit -YK Tang )
Jason Lo, CEO of Tune Talk stated, "Initially, we wanted to adopt a sport with which we could truly associate with and we felt that MMA was it for us. It is a sport that demands discipline, dedication and passion. This aligns with Tune Talk as we are also fighters in our own right, going up against the big telcos in Malaysia. Early on, we created this great relationship with ONE Championship to ensure MMA became well known in Malaysia, but that's not enough for us because there is a lot of MMA potential here. With the guidance of ONE Championship, we created the Malaysian Invasion Mixed Martial Arts."
"It is 2016 and we now have 2 MIMMA Champions fighting and making a huge impact in ONE Championship. This is just the start as we expect more champions to make the transition into fighting professionally soon. Tune Talk is now the frontrunner in both the amateur and professional MMA scene in Malaysia and this will continue as it will take the Malaysian MMA scene to the next level, ensuring our goal of making Malaysia the MMA hub of the region completely materialize in the near future," he added.
For those new to MIMMA, the tryouts is a selection process for MMA fighters to qualify for MIMMA Tournament. Fighters will be judge on 3 stage, striking, ground game and sparring, where fighters need to show how they put together skills at striking and grappling to convince the judges that they possesses not just the techniques but also the heart and motivation to fight. Selected fighters will go through the ladder match, quarter finals, semis and the contender fights at Paradigm Mall, Petaling Jaya. The grand finals usually are held in a indoor stadium sometime in Oct.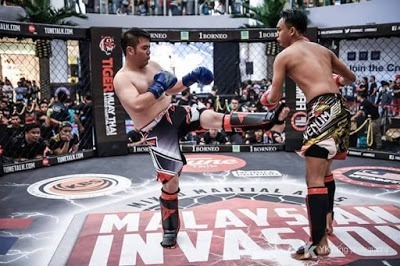 Striking ( photo credit-YK Tang )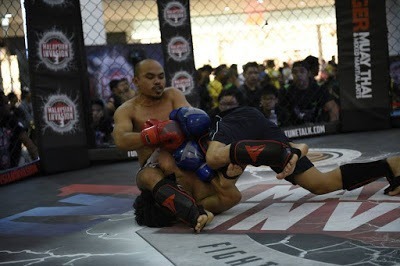 Grappling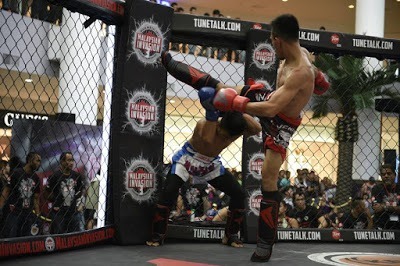 Put it all together now…
Sabah, as part of Borneo, the headhunters land has always been a succesful hunting grounds for MMA talents. In the 1st season itself, Sabahan such as Allen Solomon Chong and Adrian Tham became the inaugural MIMMA Lightweight and Heavyweight champion respectively. Sabah also is home to reknown MMA athlete such as Rayner Kinsiong, AJ Pyro and Ann Osman, whom all fought as pro in ONE Championship. In season 3 we saw, Sabahan Darren Low defending his Heavyweight belt and 3 Sabahn as grand finalist in Hafizul Hakeem, Felicia Yunus & Effendy Kalai.
Next weekend 12-13 MAC, will see a few martial arts tournament happening. The prestigious Piala TYT Sarawak for Muaythai will be held at Bintulu and Fight Fest : Mata Leao Submission Tournament at Kota Kinabalu. Perhaps this may affect the numbers of fighters coming for the tryouts. As the local fight scene grows this is inevitable. Nevertheless athletes that's interested to make a name for themselves in MMA, can still go for tryouts at other states.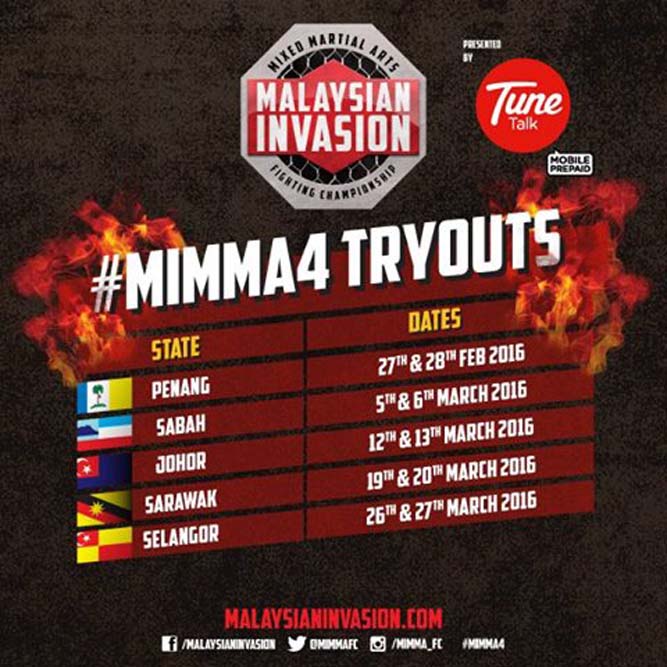 in case you miss out KK Tryouts, these are the dates for other venue
Major gym such as Team Karabaw, lead by head coach Rayner Kinsiong will invade 1 Borneo with at least 40 fighters for the tryouts. Hafizul will return again this year. Will he be able to use the experience from 2015 to secure a belt this year? Experience fighters such as Douglas Gumbilai ( MIMMA3 Semifinalist), Kent Tham ( JFL Heavyweight Champion 2015 ), Masko Franklin ( JFL Middleweight Champion 2015 ) and Erexy Emmenuel will also have another go this year.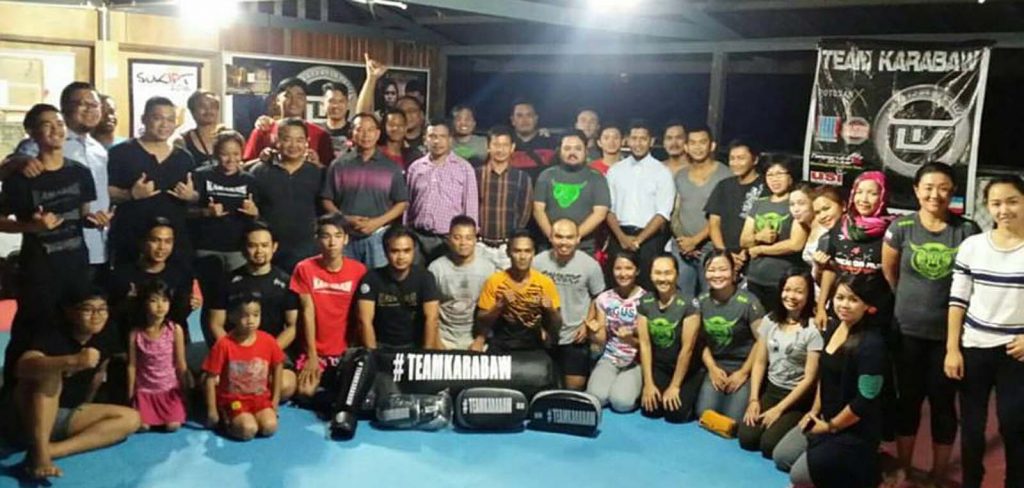 Team Karabaw, receiving a visit from Datuk Jahid Jahim last week to show support at their Tamparuli branch
Alpha MMA, founded by Allen Solomon Chong, where Felicia Yunus trains at,  this year will send 4 to 5 fighters, but Felicia will be taking a break from MMA and concentrate on BJJ this year, but watch out for Liew Ming Lun, a product of Persatuan BJJ Negeri Sabah's youth program, Liew is a BJJ prodigy and has been working hard on adding striking to his arsenal. Liew just turn 18 and is very determined to achieve glory in MMA.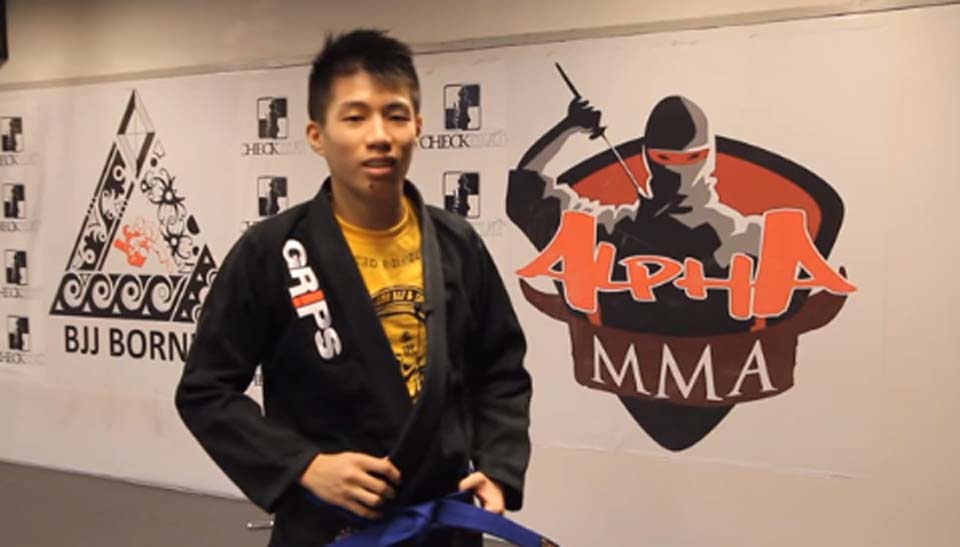 Liew Ming Lun…dream of being in the UFC one day.
Meanwhile from the gym that produces Malaysian 1st female pro MMA fighter-Ann Osman, Borneo Tribal Squad, will see 4-5 fighters participating.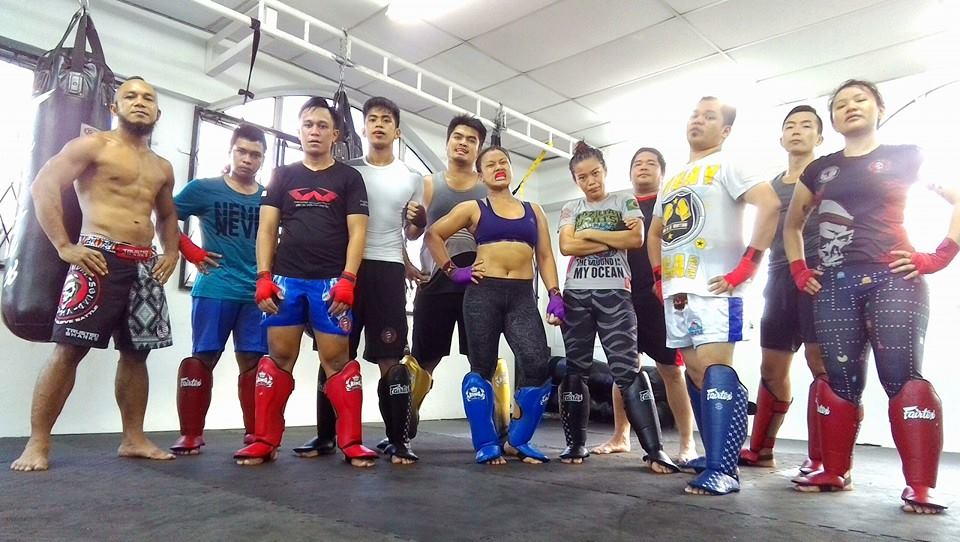 Borneo Tribal Squad
Sabah Top Team lead by Italian pro fighter Antonio Battistessa, whom is a regular in MIMMA as one of the officials will be sending 10 fighters.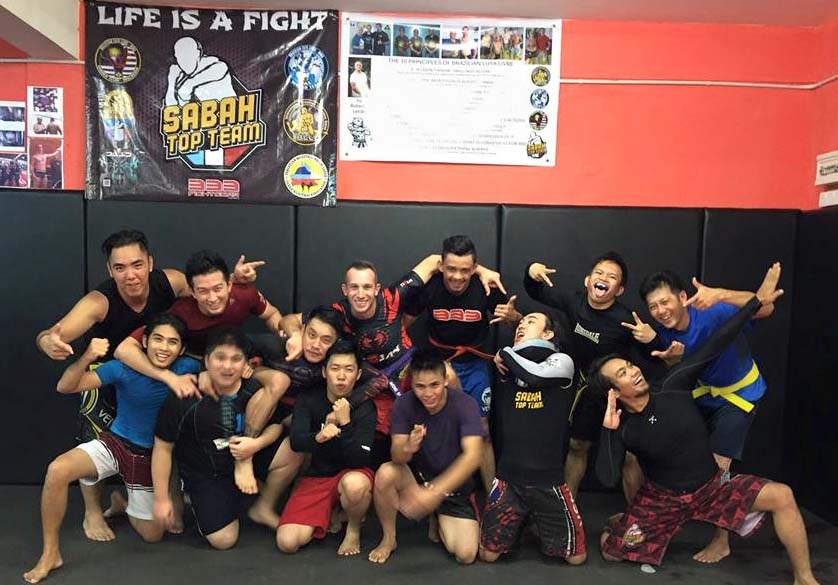 Sabah Top Team
Meanwhile from Keningau, KMMA, will send 4 fighters. One of them being the Jesselton Fight League (JFL )Bantamweight Champion – Hasbullah Sanmin. The ferocious fighter has develop well ever since his lost in ladder match in season 3 due to inexperience in grappling. He has improve by heaps in his ground game through the tutelage of his coach Mohd Bakri and will be the one to watch for this season.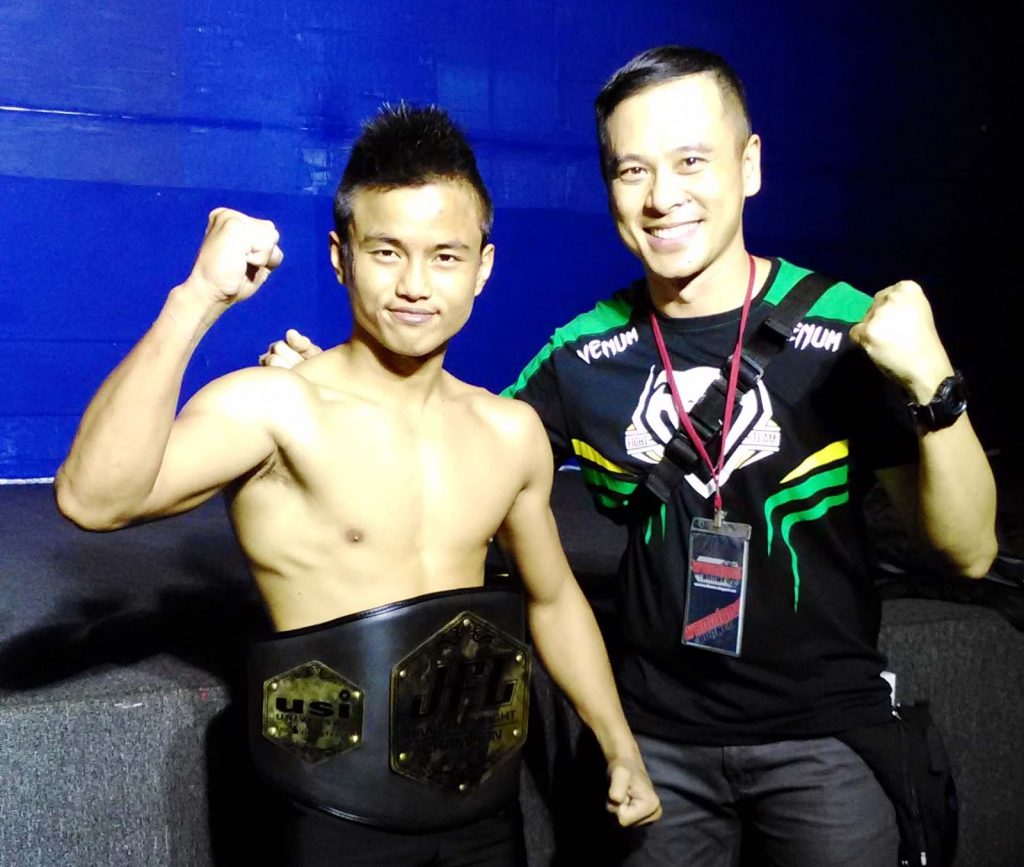 with Md Hasbullah when he emerge as JFL Bantamweight Champion in 2015
With the help of MIMMA, MMA has become more popular and as more fights gym opens, more fighters are born. Gyms are also bringing in experience foreign coaches to enhance the skills of locals and to elevate local MMA standard.
The early seasons may see many fighters are basically either striking or grappling dominant, be prepared to see this 4th season where fights will be more technical and where fighters are more well rounded in all aspect of martial arts. Many who come will be experienced fighters as some would have participated in the many local tournaments that was held througout the year.
Fighters that presevere and do not give up will eventually reap the reward, just look at what Muhammad Aiman has achieved. He was the finalist in Season 1. Reached the Grand Finals in Season 2, but had to withdraw as he miss weight. In Season 3, he started all over again and eventually emerge as MIMMA3 Featherweignt Champion!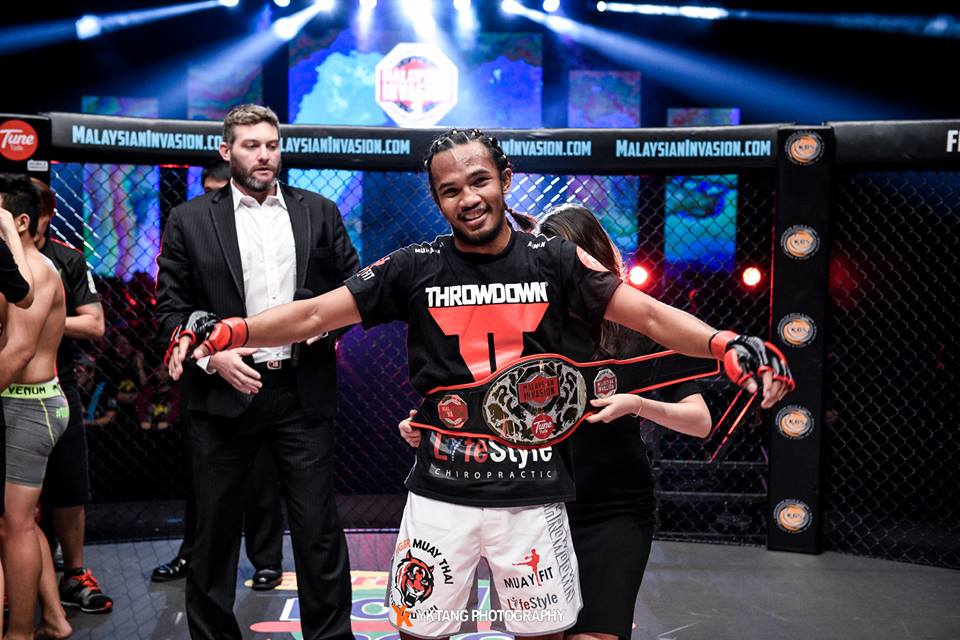 ( photo credit-YK Tang )
Another good example is Jace Law from Sarawak. Not satisfied of reaching the semi finals in Season 2, last year Jace came back with a vengeance to dominate the Lightweight division with his signature JKO finishes and become the MIMMA 3 Lightweight Champion.
On branding sides,  making a first time appearance at MIMMA will be VENUM and AMNIG. Venum debut as the official apparel sponsors and AMNIG as the official apparel sponsors. Potosan Corner as the sole distributor of VENUM will set up stall to sell their products.
Bring on the HEAT!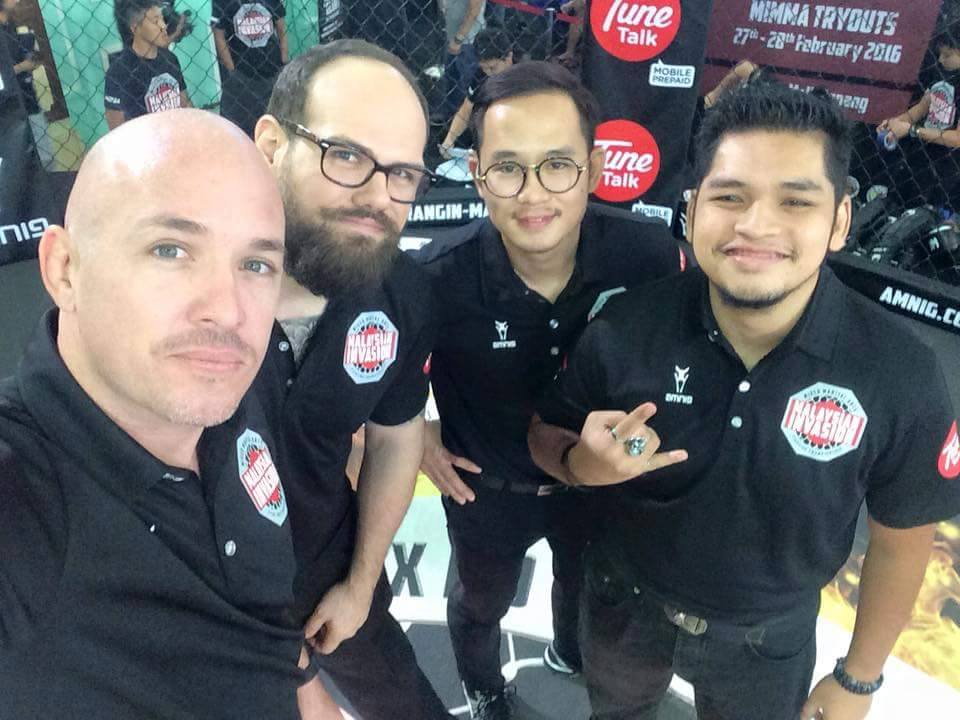 wanna look dapper like these MIMMA referees…..

…get your AMNIG apparel at MIMMA Tryout- KK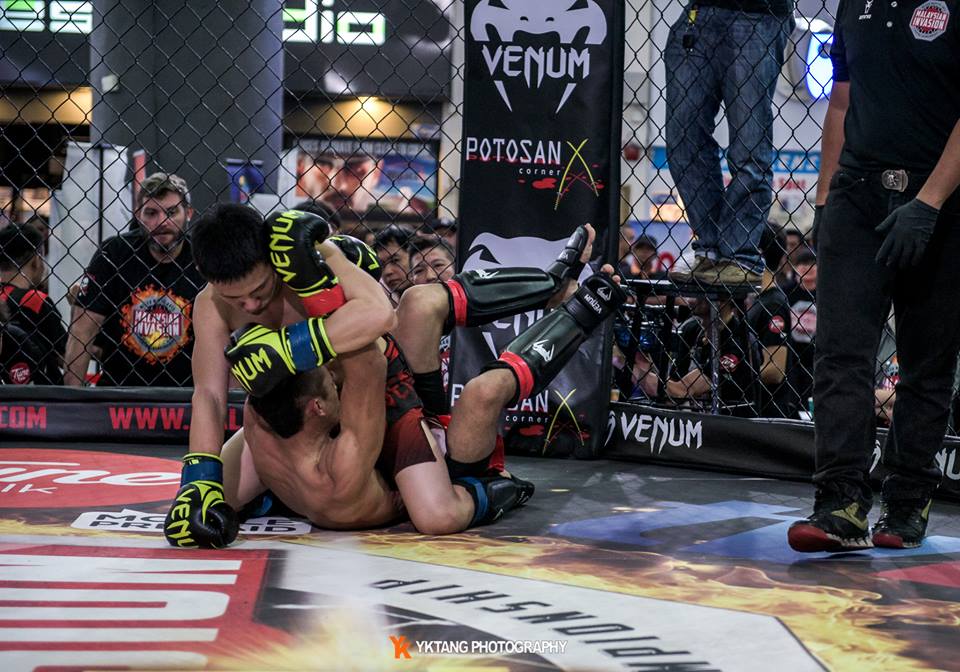 wanna fight like a champion in the cage….( photo credit-YK Tang ).

…get your VENUM fight gear from POTOSAN CORNER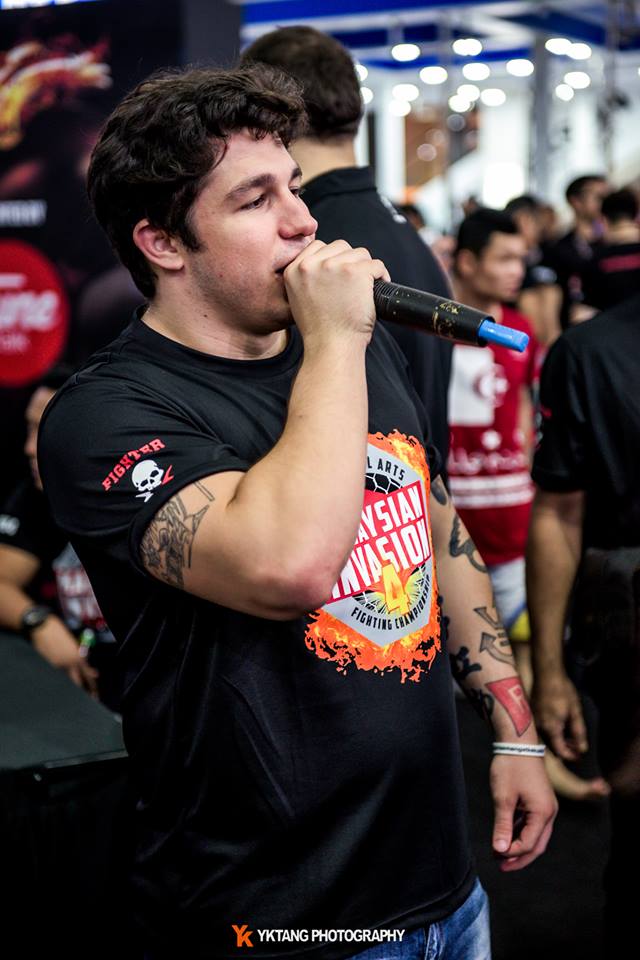 …but if you just wanna look cool like Matt Pellino…. ( photo credit-YK Tang )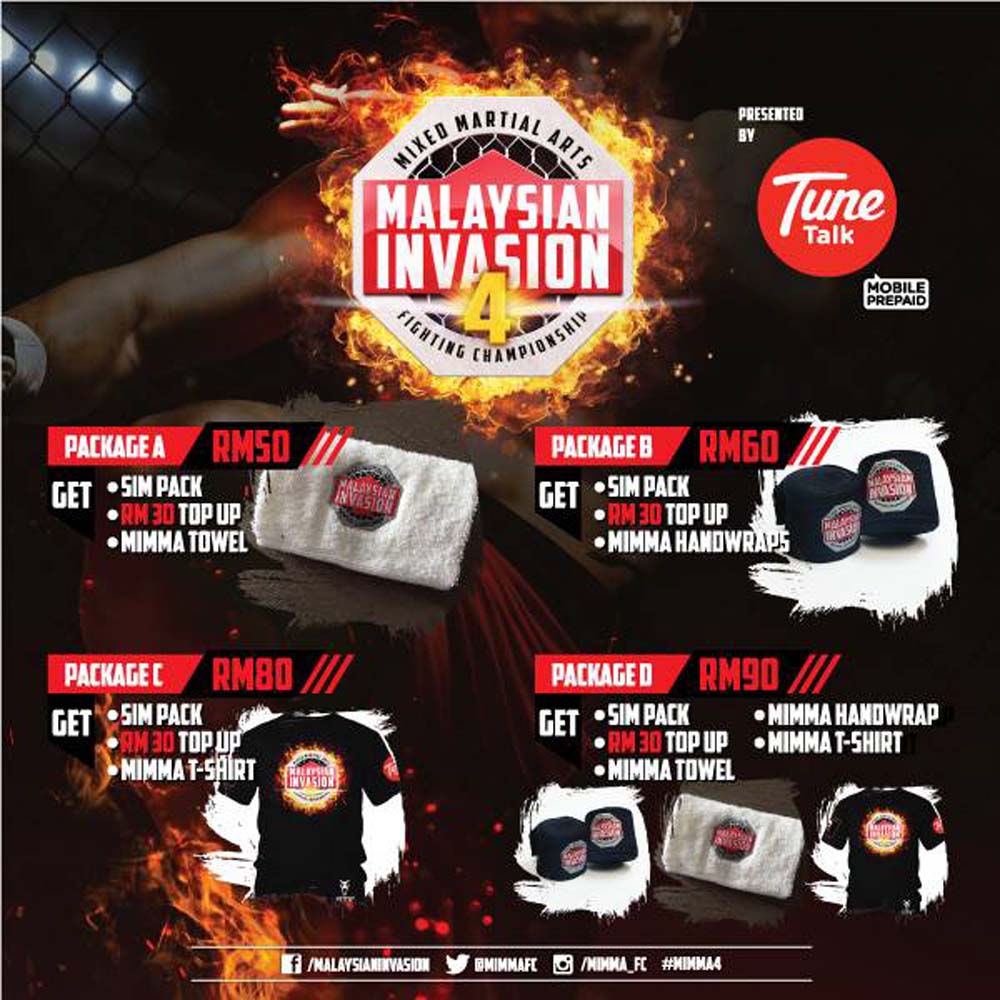 …then come on down to 1 Borneo at MIMMA4 Tryouts for some awesome MIMMA4 merchandise

Much thanks to all the sponsor, as without them we fight fans will be deprive of MMA action