Fight Fest 3 lives up to its name as a festival of fights with different types of martial arts competition going on in two days over the Deepavali weekend of 29-30 Oct 2016.
Day 1 saw Shogun Brazilian Jiu-Jitsu and the prelimanry rounds of K1 Kikcboxing beiong competed.
Day 2, Mata Leao – Submission Grappling was competed in the morning and in the afternoon Kickboxing finals was competed and MMA superfights was on.
As the closing and main event of the day, saw the Superfight for 65kg, between Malaysian Muhd Afandi and Anil Mehta from India. It was a scheduled 5 rounds championship bouts at semi-pro rules for the K1 ISKA FITLINE Championship Belt.
( read about the pre-fight story here )
Overall, Anil was the faster and stronger of the two. Using his longer reach to his advantage he was able to connect with his boxing and kicks. Afandi was put on the defensive as Anil charge forward with decisive attacks.
Afandi did landed a few clean shots with his hands but could not fend off most of Anil's charge.
At the 36 seconds mark, Afandi fell on floor in pain as he claim Anil delivered an illegal knee to the groin. Fight was stopped to give Afandi time to recover.
In the 2nd round at the 1:06 mark, a high knee by Anil, again Afandi fell on floor cringing in pain as he claim Anil knee his groin, which Anil denied. Referee gave Afandi time to recover. FIght continue with Afandi on the defensive as Anil put on a barrage of attacks. Afandi fell on floor as referee gave him a 10 seconds count.
3rd round saw the fight ended when Afandi fell on the floor again in pain as he claim another illegal blow at 1:50 mark. Medical attention was given, but he could not continue the fight and the judges declared Anil the winner.
Anil put off celebrating Deepavali which falls on Saturday 29 Oct 2016 as he was preparing for this fight. he was ecstatic for this win as this is his 2nd victory in Sabah. He won his debut in K1 Kickboxing last Sept in STAND Series 2 in Tanjung Lipat, Kota Kinabalu.
Anil is looking to collect a third win when he comes back to Sabah in November for STAND series 3 in Keningau Sabah.
In his after fight interview, Anil said this victory was dedicated to his coach Jitendre Khare of Team Relentless. From his home state of Himachal Pradesh in northern India, Anil needs to travel closed to 1800 km to Mumbai to train under Jitendre as back in his home state there's no martial arts gym. Mumbai's Team Relentless is India's finest with numerous champions.
Anil admits that he has always been a hardworking athlete when he started boxing in his home state, but without much success. Jitendre is the one that trains him to be a winner by putting him in a right direction for training and right frame of mind.
Anil also dedicate this win to his beloved mother, whom he said was the one that gave him full support in continuing his martial arts journey. When he was not achieving much success in boxing and everyone ask him to stop, his mother was the one behind him and supported him all the way in continuing his passion for martial arts.
In India, Muaythai and Kickboxing is not a popular sports as compared to cricket or other martial arts such as boxing, judo or wrestling. These are the sports that receive better coverage in the media and hence are more well known and popular.
Anil's aspire to be go pro one day and wants to be the first Indian athlete that brings honour to India through Muaythai & Kickboxing. He hopes to raise the popularity of Muaythai & Kickboxing in India by winning more championship.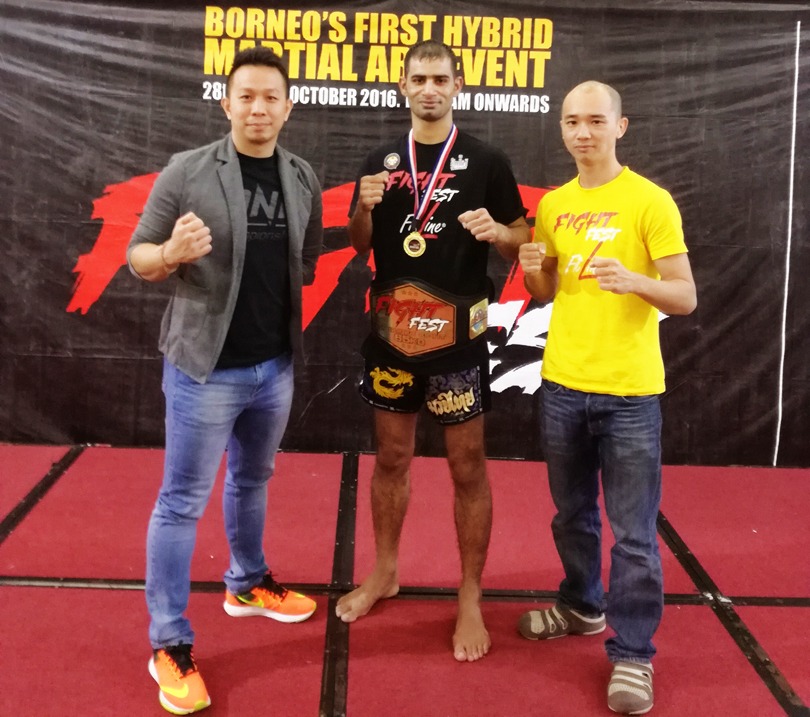 Anil with ISKA East Malaysia rep Alvin Chong (L) & Johan Julian, FIght Fest founder (R)
Anil felt that Sabah is going on the right direction having many sanctioned ISKA Kickboxing tournaments and competition. He said local Sabahan are courageous and believe they can  improve very well in Kickboxing.
Even though his Deepavali celebration was delayed but Anil was happy as he felt the hospitality from the Sabahan people makes him feel comfortable. He also extend his appreciation and thanks to Fight Fest organiser Johan Julian for the hospitality and the opportunity to fight for the championship belt.
Anil will be back to Sabah for STAND K1 Kickboxing in Keningau, Sabah 26-27 November.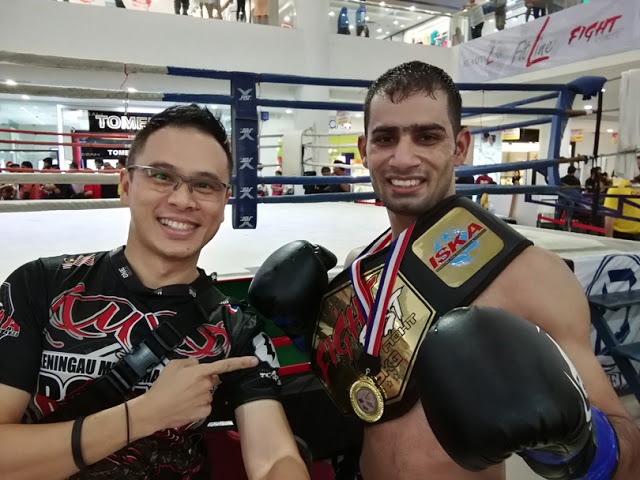 I'm with the champ