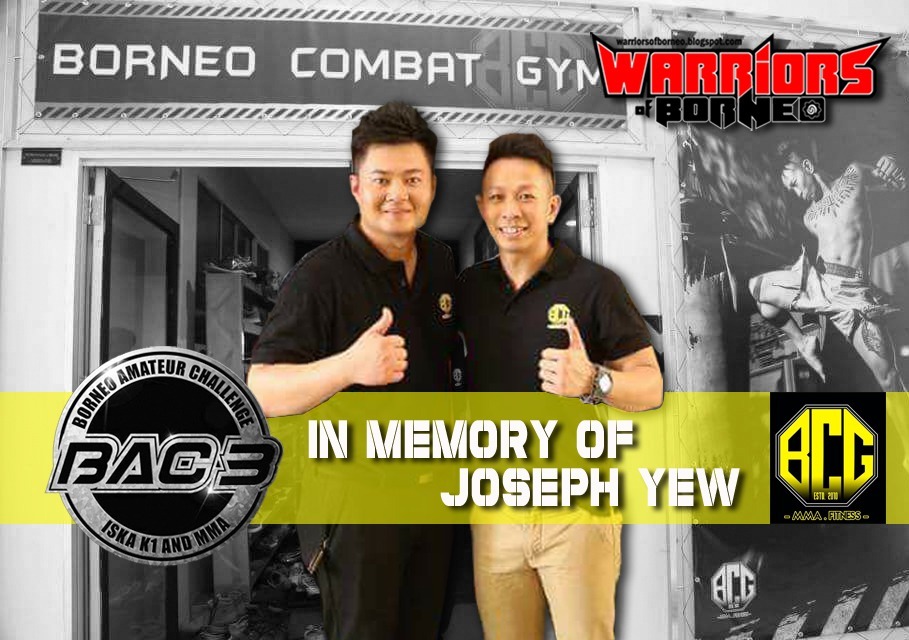 In a short period of 1 year, Borneo Combat Gym's (BCG) new premises in Time Square Labuan was already a venue for 2 successful Borneo Amateur Challenge (BAC), in January & June this year.
BAC will return this weekend for it's 3rd edition. BAC has established itself as an amateur tournament for K1 Kickboxing and MMA that combines with referee course.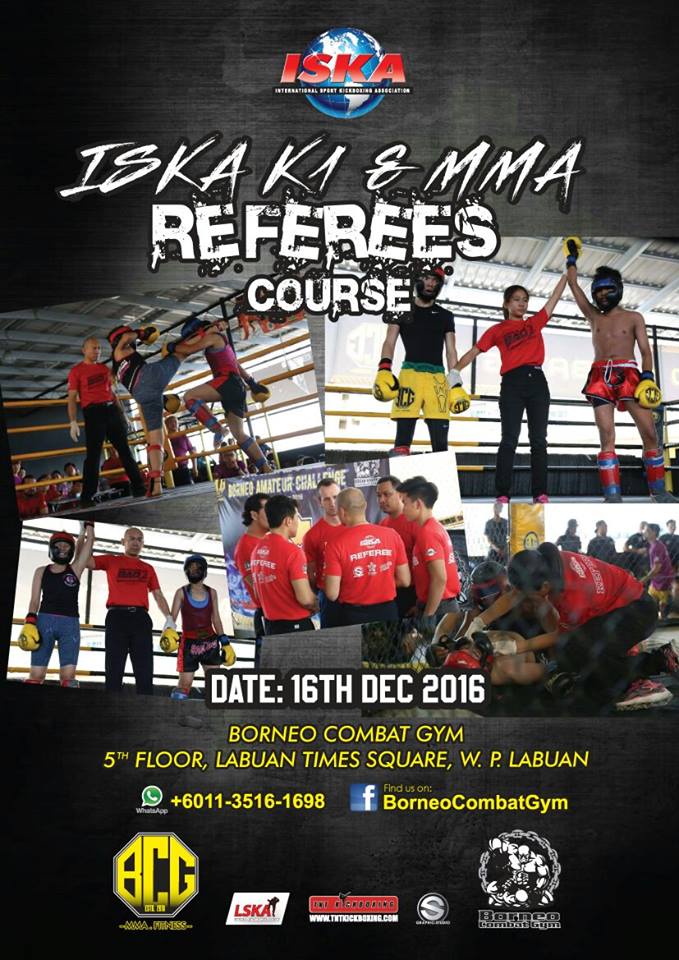 As an International Sports Karate Association (ISKA) representative for Borneo, BCG's founder coach Alvin Chong has envisioned a plan to produce many more capable referee for Kickboxing and MMA in Borneo.
Together with his mentor master Khoo Meng Yang of TNT Kickboxing ( ISKA Rep for South East Asia ), Alvin wanted BAC to be a platform for referee to continue to learn and improve themselves.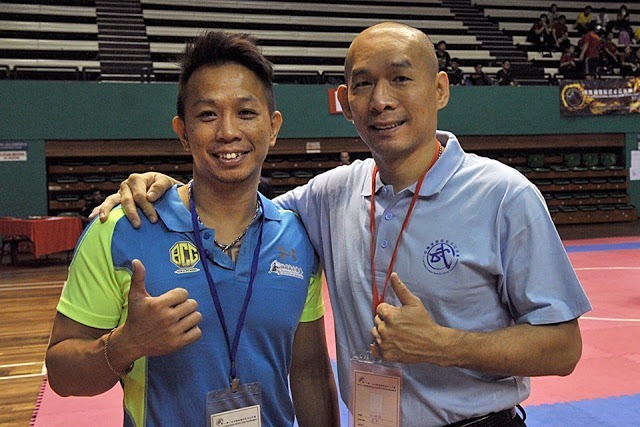 Alvin with Master Khoo
He believes that Borneon can lead in Kickboxing and MMA, be it as an athlete or official and BAC is his way of providing Borneon an avenue to learn, apply, improve and excel.
Through BAC, Alvin also use it as a platform to train his staff and team on organising and management skills. Every BAC will have a different committee to ensure that everyone has the opportunity to learn, contribute and execute their plan.
According to BAC3's spokeperson Maureen Choo ;
"In our management perspective, we aim and encourage our BCG members to be involved and be part of the committee to run BAC events. This will definitely give the member some good exposure and opportunity to manage an event. Subsequently, it helps BCG management and its member to foster a closer ties and mutual partnership in long run."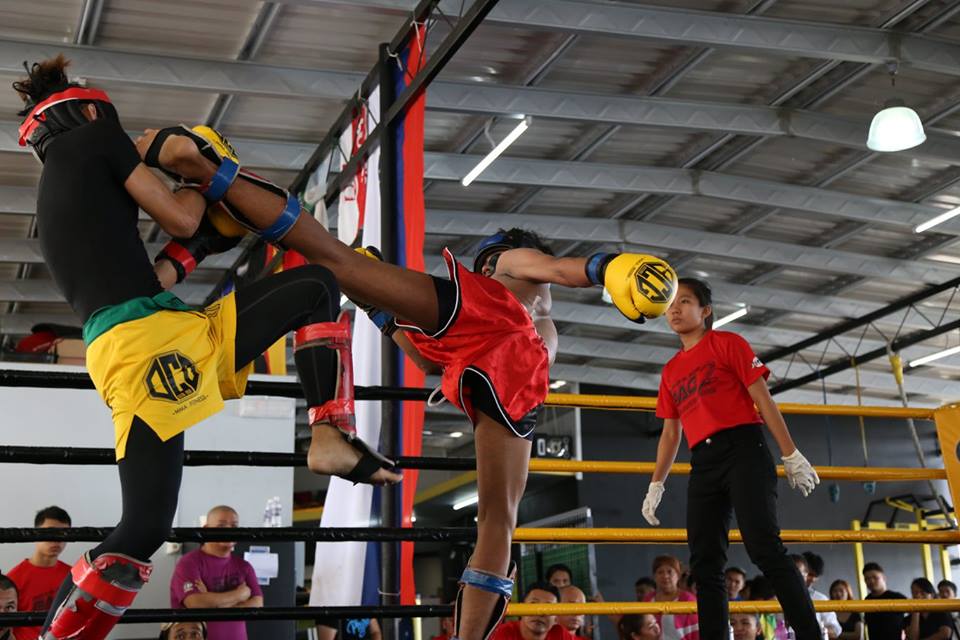 Maureen further adds;
" We have seen increases in number of participation from Labuan, Sabah, Sarawak and as well from Brunei in BAC 2. The response is encouraging and, we hope to see and draw more martial arts artists to showcase their talent and skills in the fight competition/challenge.

Our objective is to groom local talents and to ensure the fighters readiness for ISKA standard. At the sametime, to promote Labuan as one of the potential hub to host combat sports and martial arts event."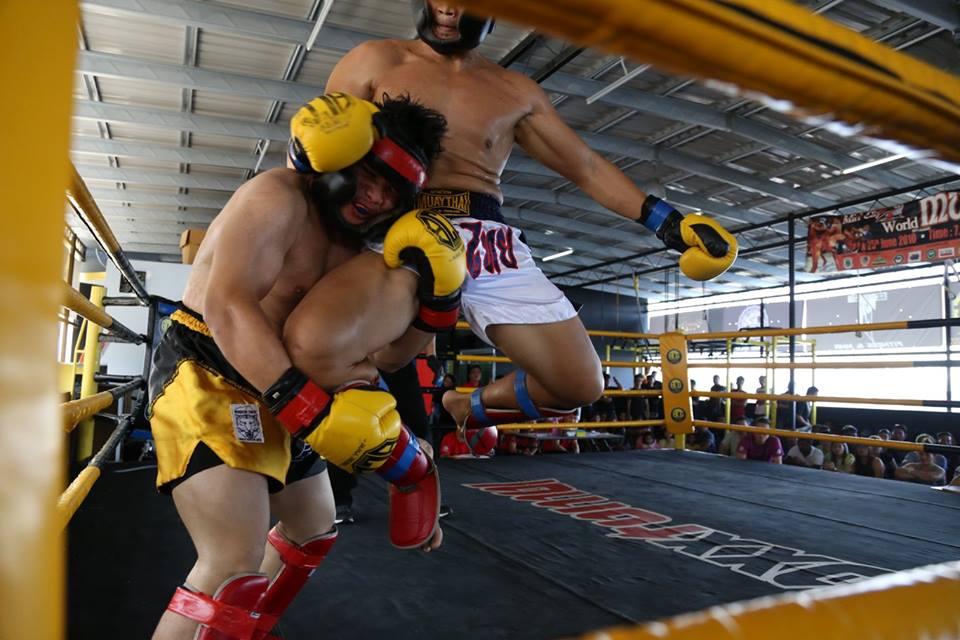 This 3rd edition will be special. As it will have a Super 4 K1 Kickboxing tournament, winner will win the inaugural Joseph Yew Cup (JY Cup).
This Cup is created in memory of  Alvin's personal friend and co founder of BCG, Joseph Yew whom died of cancer two weeks ago.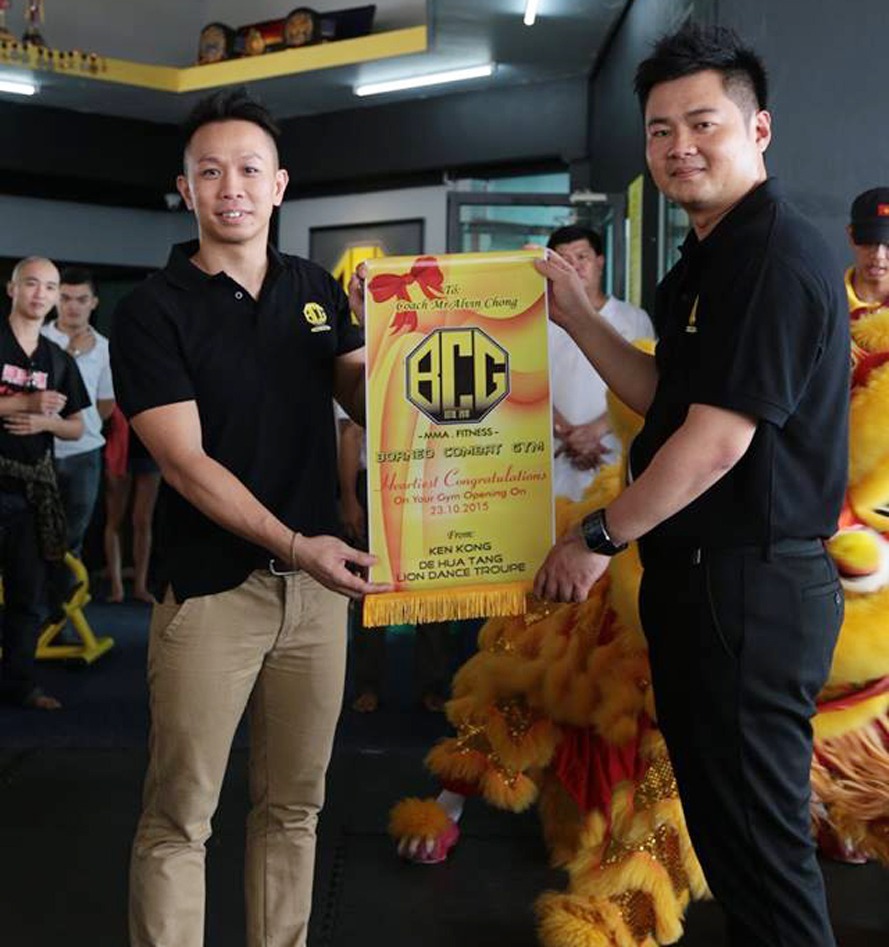 Joseph and Alvin in 2015 Oct at BCG 's grand opening
Alvin got acquainted to Joseph through some renovation work he did for BCG. As the two became friends, Alvin shared his vision and ideas of BCG with Joseph, his vision of making BCG as the center of healthy activities for Labuan's youth and the young ones.
He wanted Labuan to not only be well known for it's tax free liquor and night life but also be known as a place where martial arts skills and value can be learned to improve oneself, and these ideas are well accepted by Joseph.
Joseph as a successful businessman in Labuan was also a person whom believe in giving back to society and he knows through BCG, this can be done. He fully supports Alvin's ideas and vision.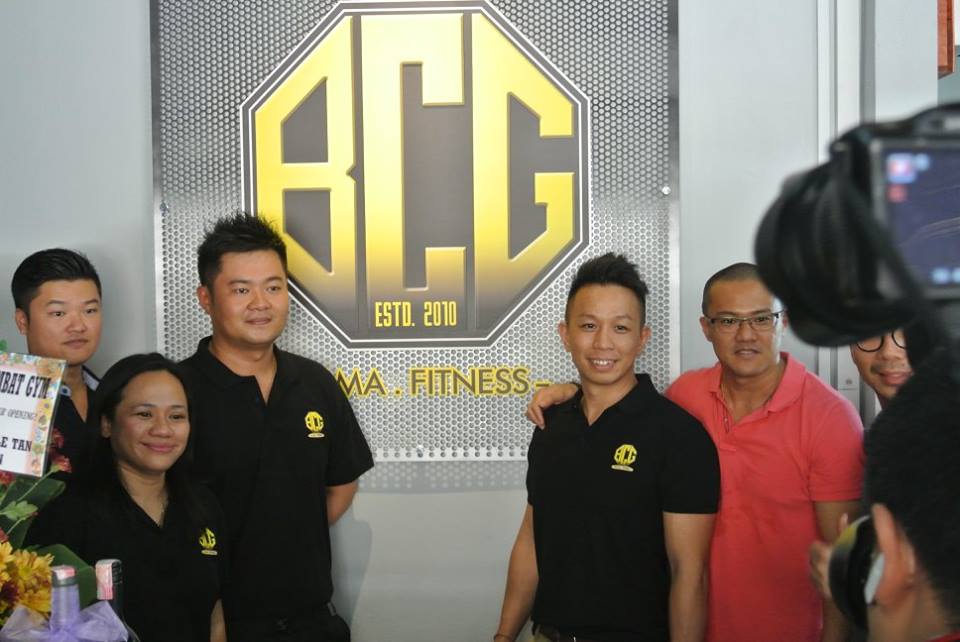 Together with Alvin they made it happen by moving BCG to 5th floor of Labuan Time Square last October; making BCG the 1st gym in Malaysia to have a great harbour view. They put in good quality gym equipment and facilities and built the 1st MMA cage in Labuan.
Alvin ensure that manpower wise they get very capable local Labuanites to be the coaches and the management team.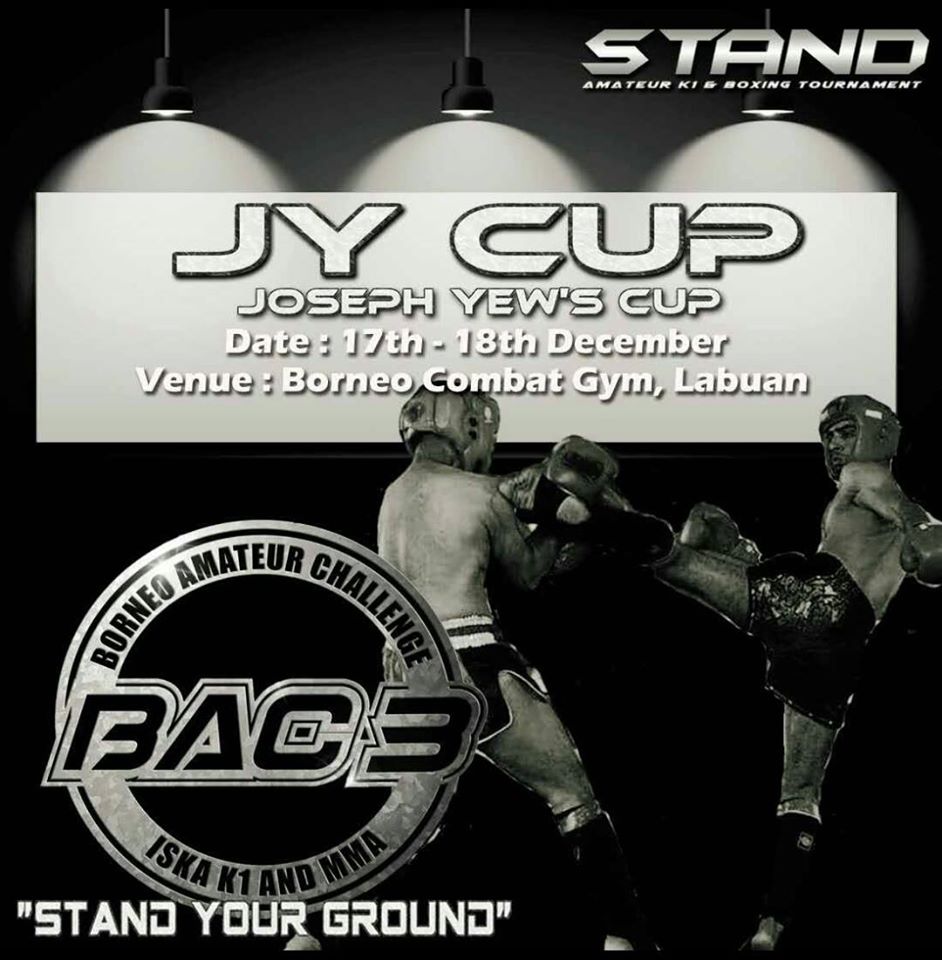 JY Cup is to honour Joseph Yew, in which Alvin said without him BCG would not become what it is today. Alvin said this Cup will ensure his friend's legacy lives on as BCG continue to strive to improve the lives of Labuanites.
The JY Cup Super 4 will see a fast pace and explosive flyweight Kickboxing fight among Borneo talents. Mohd Dinie of Brunei, Writh Kataposan of Keningau, Morris Hii of Miri and home grown BCG talent Elto Jai Alisad.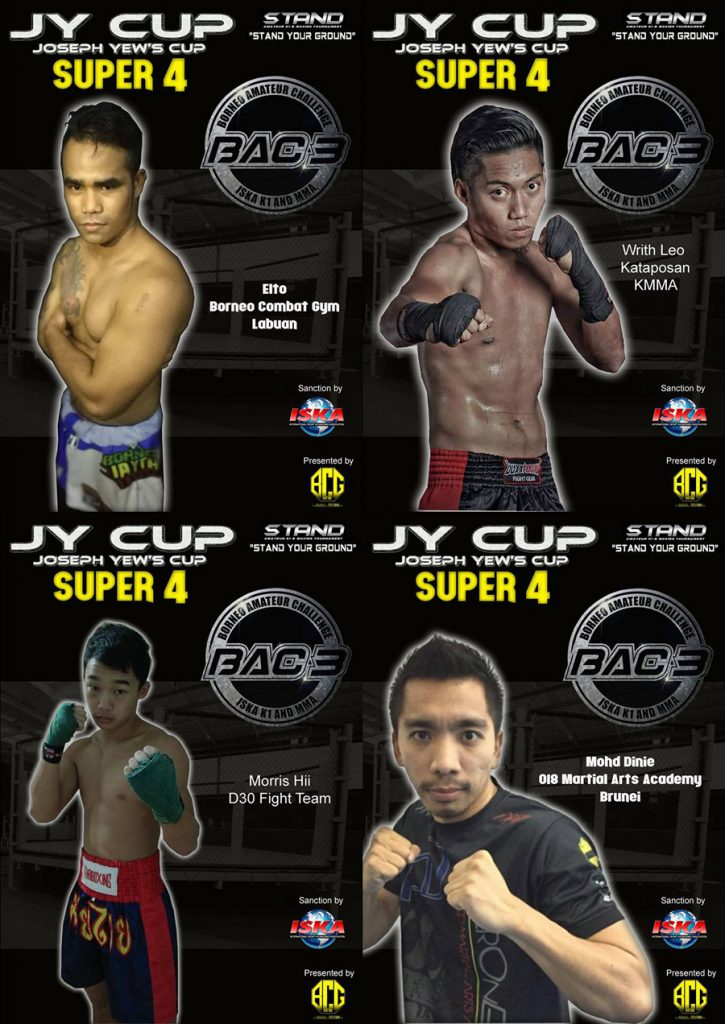 Elto Jai Alisad, age 29 known by his nickname as "Baby Pacquiao" through his biggest admiration towards one of the best boxing champion Manny Pacquaio. Hailed from Zamboanga, this Filipino has been working in Labuan for the past 7 years at a local restaurant. With his has deep passion and love towards martial arts since young, he decided to enroll to BCG 2 years ago and ever since then, he never looked back.
He is now one of the trainer at BCG. Although he has been juggling between working in the restaurant and BCG, this never stop Elto from training and focusing in the gym to realize his dream of competing in martial arts competition.
Elto's fight record to-date is 3, with 1 MMA (BAC 1), 2 K1 (Stand 1 & BAC 2) and BAC 3 will be his 4th fight and he will continue to participate in fights to gain more experience and enhance his skills.
Writh Kataposan of Keningau MMA was supposed to fight in the main card of MMA amateur bouts in Jesselton Fight League this 16th DEC, but as JFL was postponed he decided to not let his training go to waste by participating in BAC3.
Writh most recently won the boxing tournament in STAND 3 in Keningau. He is also an MMA athlete, reaching the semi-finals of JFL in 2015, losing to eventual JFL flyweight champion Eddey Kalai. In BAC 2 he won the final amateur MMA, beating the experience Johan Julian.
Writh is a fighter that does not fear any style the opponent throw at him, he is very willing to trade blows and will keep on moving forward. Working as a bartender till 2am daily, he does finds it a challenge to put in time for training, but he is glad that his boss has acknowledge his interest in martial arts and encourage him to train well.
Writh is a Sabahan of Filipino Bisaya heritage. At the young age of 5 he lost his parents and as an orphan was taken care by a Dusun family in Keningau. He started to work to earn a living at 13 when he finished his primary school education.
He started training in Muaythai at Jacky Fitness Keningau 6 years ago but move on to Keningau MMA in 2013 under the coaching of Mohd Bin Bakri whom has help him a lot in improving his skills.
Morris Hii of D-30 Miri is a fighter that don't talk much. Just finished his SPM recently in Riam Road Secondary School. He lets his hands and feet do most of the talking. He already has a K1 amateur record of 3-2 and semi pro 0-1. Amateur MMA record of 1-0 and Muaythai amateur 3-2-0. Just last Sunday Morris debut his pro Muaythai. In Sabah Fight superfight and won against a very experience opponent with a TKO strikes with knee.
Morris fighting style is aggressive. He always look for the finish early. But an interesting fact is that he is also a competitive swimmer. Winning the gold in Brunei Open Swimming Championship in 4x200M freestyle and silver in 4x100M. This year, he took the bronze in Brunei age group championship for 100M breaststroke and silver in 200M breatstroke.
JY Cup Women Superfight will see the battle between Riyana Razman of TNT Kickboxing, Kuala Lumpur vs BCG's own, Cindy Martin.
Cindy Martin, age 21 known by her nickname as "Dark Princess". The name was chosen due to her vibrant personality and fearlessness in the ring.
Hailed from Sipitang, Sabah and has been in Labuan since 2012. Currently working in the hospitality industry. She has been with BCG for about 5 months and been training hard as to realize her dream of becoming one of Borneo's best female fighter.
Her inspiration and role model comes from the world famous UFC female fighter, Ronda Rousey.
Cindy's first fight was in Stand 3, Keningau where she clinched the victory as champion for female 60kg K1 Amateur. Cindy is like a machine when she fights, unstoppable and possessed good cardio and will keep pushing the pace of the fight.

BAC is also a colloboration with Sabah's premier K1 Kickboxing tournament, STAND. As ISKA rep for Borneo, Alvin hope to see more colloboration between local Borneo base fight event to avoid clashing of event and also to establish Borneo as a powerhouse for K1 Kickboxing in terms of producing skill fighters, quality referees and well organised events.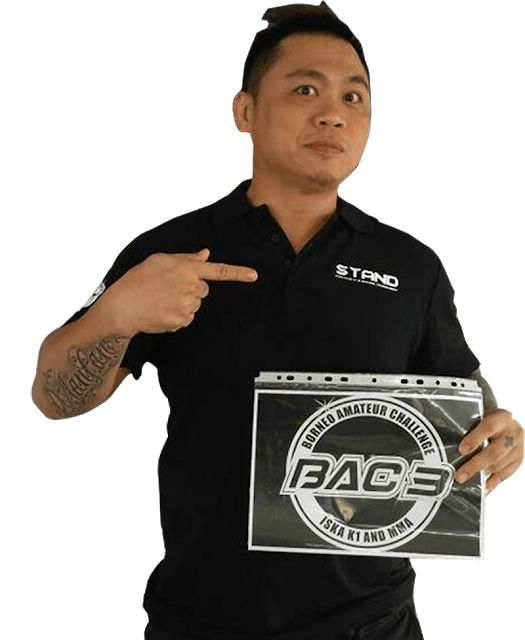 Rayner Kinsiong, founder of STAND endorsing the colloboration with BAC