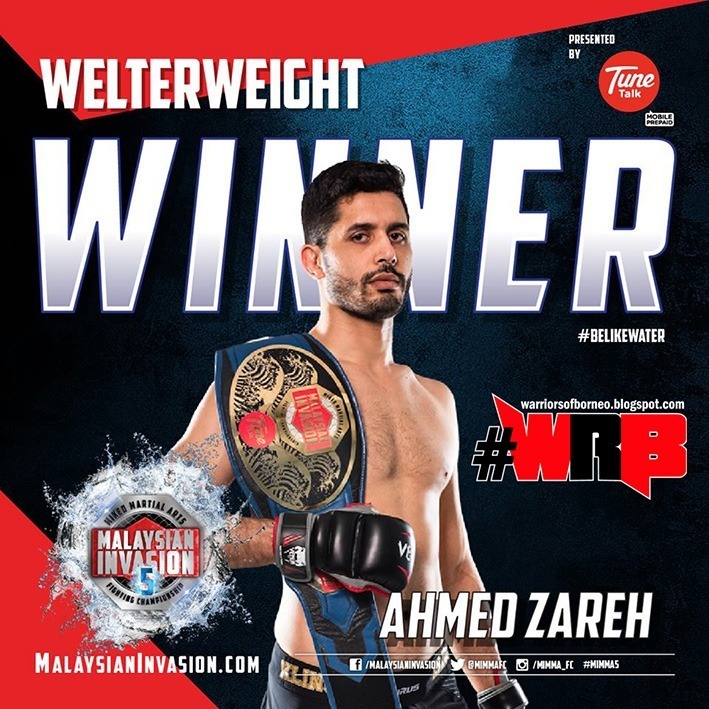 In 2015, MIMMA 3 saw two brothers enter the cage. It was for the contender fight to see who progress to the grand finals. It was a very emotional fight as both fighters Naimul Amal & Dhiaaul Amal was two high caliber athlete. Eventually Dhiaaul won the fight to challenge for the flyweight title.
This year in 30 March, another momentous fight went into the records of MIMMA. In the welterweight division saw defending champion Theeban Gobindasamy fought his martial arts brother, a good friend and team mate Norahmed Ali Zareh for MIMMA 5 championship belt. These two had been training together for a few years in the same gym.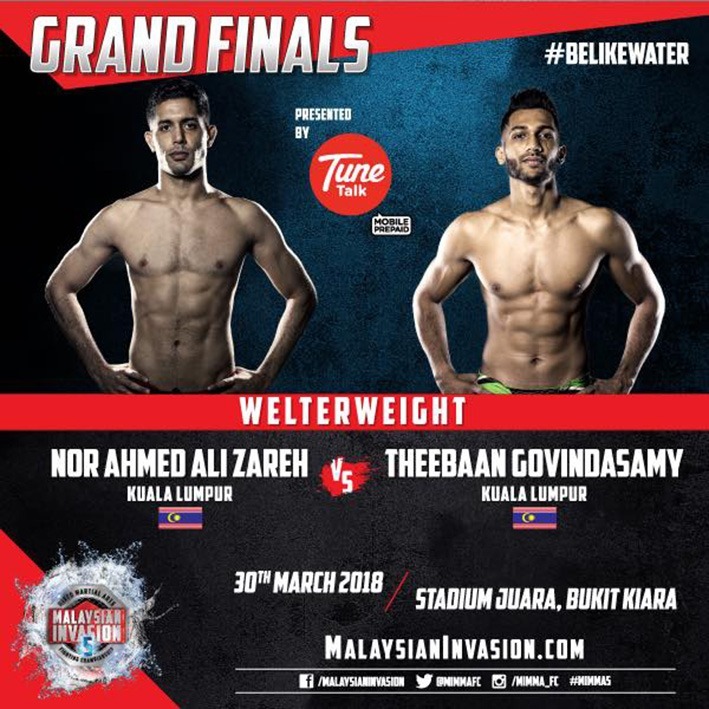 The fight went all 5 championship round as both fighters showed tenacity, good exchanges of techniques and warrior spirit. In the end Ahmed Zahreh hand was raised, marking the change of waist for the welterweight title but maintain at the same gym as they both represent Klinch MMA.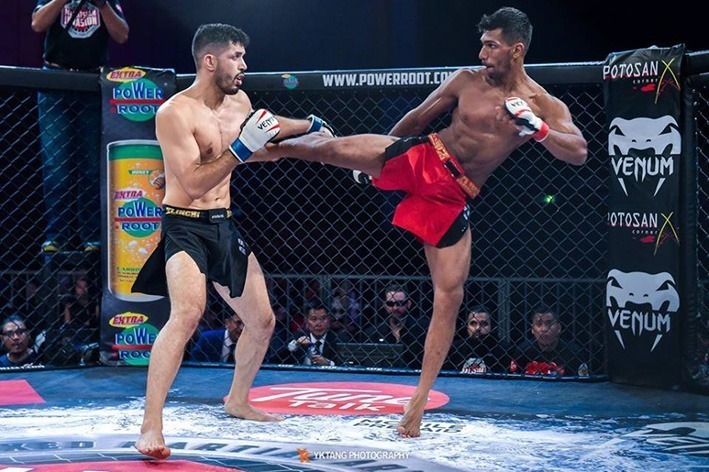 ———–#WRB————
Let's get to know
Ahmed Zahreh
, the new MIMMA Welterweight Champion
As a Sabahan writer that started this blog to promote Borneon martial arts, but eventually expanded to whole Malaysia; it gives me a good feeling to always finds some Sabahan connection to the fighters I interview. As for Ahmed, he is half Sabahan from his mother side whom is a mix Chinese Malay. He got the middle eastern look and height from his Iranian father.
His parents met in USA, and he was born in San Francisco California. They moved back to KL when he was a toddler but soon moved back to USA and Ahmed grew up studying from primary schools till his tertiary education there. He graduated with an architectural degree from Cooper Union Uni in New York.
His first exposure to martial arts was when his mom enroll him and his sister in Karate when they were young.
"I wasn't very good at team sports, and I tended to space out a lot, so individual sports seemed like a better option. I found the katas (patterns) boring, but I loved sparring, and I continued karate until secondary school." 
His first intro to MMA was from his late uncle whom showed him a few old VHS tape of PRIDE & UFC. Ahmed didn't show interest then as he finds it very barbaric. It wasn't until he enters Uni that he fell in love with MMA.
As the new MIMMA champion, Ahmed currently holds a record of 7-1 ( amateur MMA ). 2-0 in amateur Muay Thai and 1-0 in professional Muay Thai. He has competed in a lot of BJJ competition as a white belt and blue belt, winning several regional tournaments.
Ahmed remembers that he lost badly in a competition when he was a child. He recall being embarrass about it very much.
" So as an adult, I was scared to try. I knew I was competitive in training, and I would push myself as hard as possible, but the thought of losing in front of family and friends terrified me. "
As an adult, his first competition was in Bangkok Open BJJ in 2013. Competing as a white belt in a bracket with 70 competitor. He was so nervous that his hands was shaking badly. But looking across the mat, he noticed that his opponents was shaking even worse. This realization that everyone was equally scared gave him the confidence to dive in. After 6 matches, he won a silver medal…after this he was hooked!
"Everyone handles competition differently. Personally, I keep a very cold, calculated aggression. During the match I don't see my opponent as a person, but as a problem – a puzzle that I have to rip apart and solve. After the match it's all respect, but during the match I'm cold and ruthless."
———–#WRB————
Back in KL towards 2014, Ahmed and his younger brother Ehsan was looking for a gym to train. Klinch MMA became their choice. After a couple of sessions they were ask to compete in MIMMA2 and they just say yes.
It was a good debut for the brothers. Ehsan reached the quarter-finals and Ahmed reached the semi-finals, where he lost to Agilan Thani- current ONE Championship welterweight contender. Till date, that's the only blemish in his MMA record.
After that first stint in MIMMA, work took over his life. His work as an architect took him to Singapore. He engross himself in work and martial arts took a back seat. But the itch never did go away. Ahmed felt that he came close to win the belt in 2014 and toy with the idea of getting back in the scene. This idea became stronger as he moved back to KL and after settling down and getting back into training.
"During the day I wear many hats. I'm running my own architecture and interior design practice – CAN Design – that is rapidly growing. I also work for a developer, doing conceptual direction for development projects. It's a lot of work to manage, and I definitely look at training as the time I can destress."
Work stress became an excuse for him to train and he gave the same focus and attention to training as he did for his work.
————#WRB————-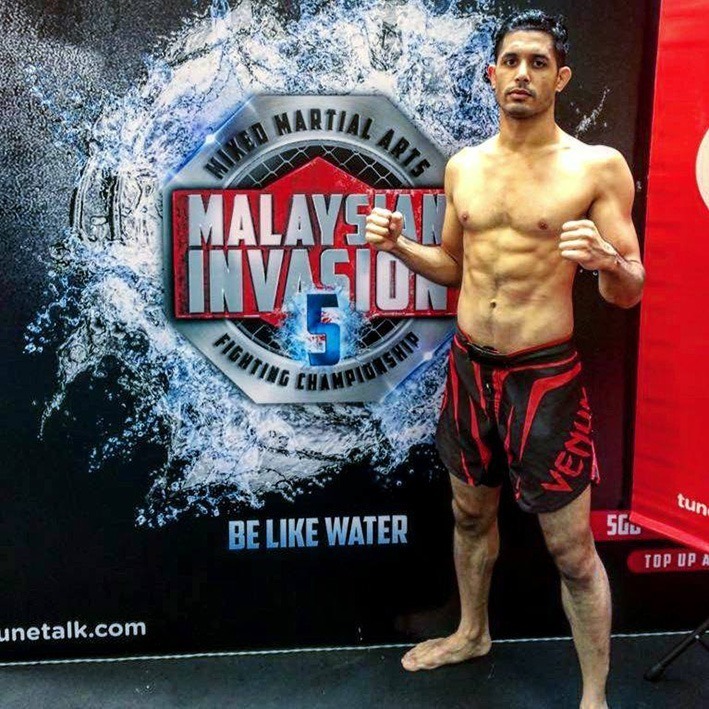 I talked to Ahmed to find out about his MIMMA 5 journey.
What was the toughest parts about MIMMA5? Which fight did you find the hardest and which win was your most satisfying?
The toughest part of the league is how bloody long it takes. After signing up I was horrified to find out that the tournament was almost a year long. That's so much of your life, dedicated to monthly fights. It's a lot of stress on fighters, both physically, mentally, emotionally and professionally. When you know you have 8 fights until the end, it's exhausting.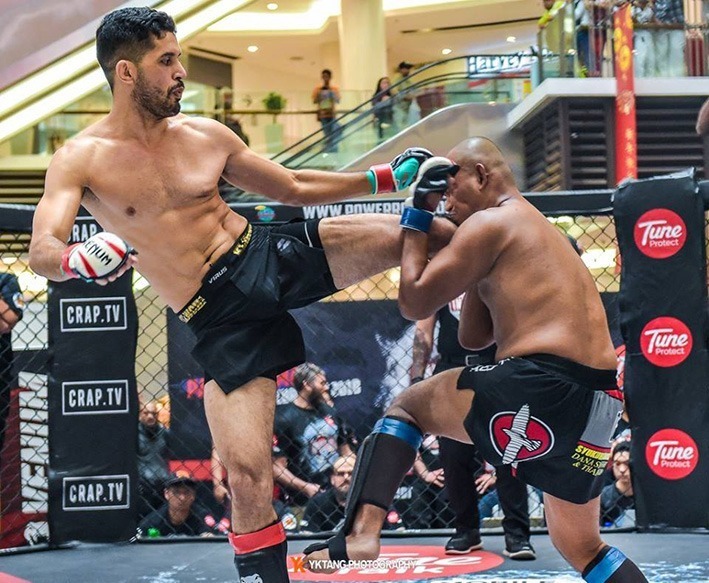 enroute to the final, Ahmed scored a hilight reel knockout of Hasrul ( MIMMA2 lightweight champion)
The two toughest opponents for me were Teh Kah Wei and Theebaan. Throughout the tournament, I wasn't really training hard, due to work commitments, life events and such. I had gotten married the month of my fight with Teh Kah Wei, so I hardly trained, and I was full of marriage weight. It was a brutal fight, and I was relieved I got the win. After that figh,t I pushed myself to train harder.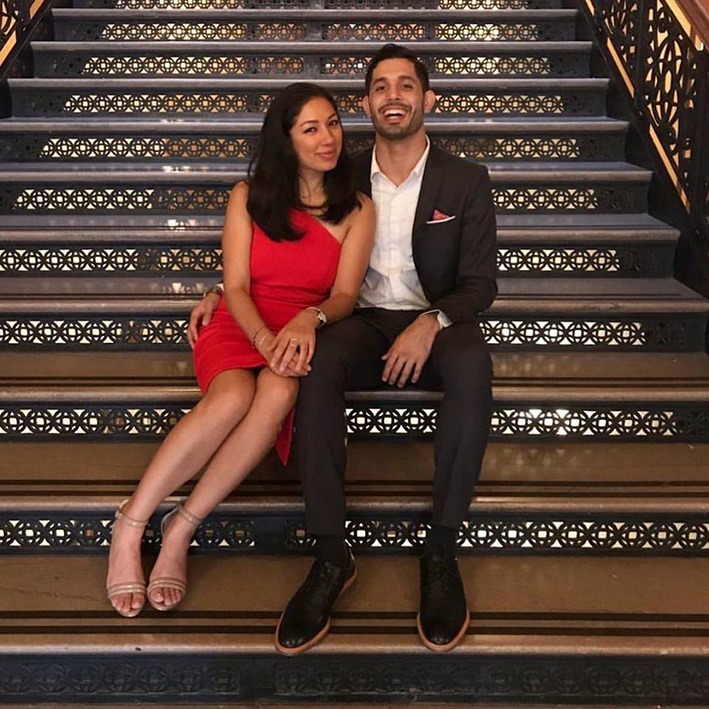 Ahmed and Khaleelah got married in Sept 2017
When I faced Theebaan I felt much more in shape, and he still pushed me to my limits. He was bigger, stronger and faster than me, and put me into very bad situations. I felt proud getting the win, but even more proud knowing we put on a good show for the fans and our fellow teammates. 
I am really impressed that you are able to take the time to train, with your wedding last year, and working as a archi / interior consultant.
Yeah, I don't sleep much. I work all day then I run straight into training, so I'm usually exhausted in training.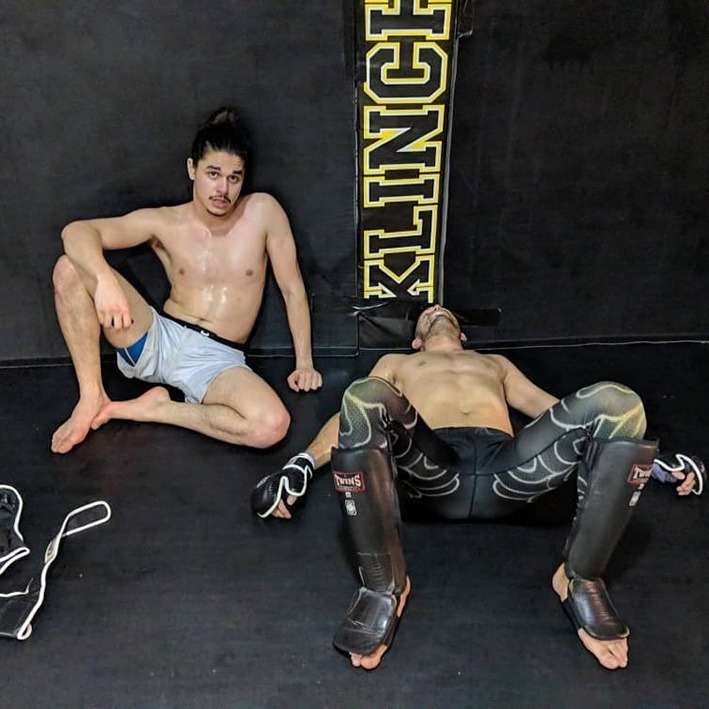 pouring out blood sweat & tears…with his brother cum coach Ehsan
What kept you going? What supplements you on man?
Haha hardly any supplements. Cod fish oil, amino acids for recovery and magnesium for sleep. And coffee, lots of coffee. The coffee is always kopi c kosong ping, or kopi kaw! Always strong!
You have good gene. Must be your Persian DNA… LoL
Very possible. My dad is a workaholic too, who runs marathons in his free time. He doesn't like violence, but he's very competitive. We get our competitive streak and work ethic from him.
What about your mom? Tell me her attributes.
I think I got my mental game from my mom. She's very analytical, and very calm approaching problems. I try to bring that mentality into my fights and my fight prep.
She always says – I don't want you to fight. But if you do, you better win
———#WRB———-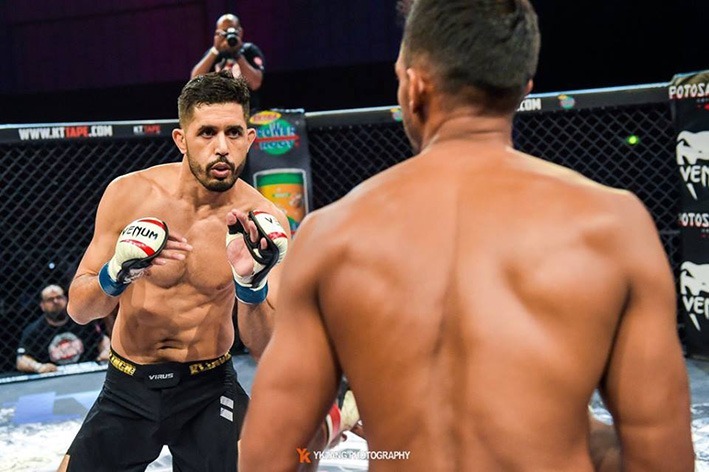 When you started in season 5, did the thought of fighting Theeban for the title cross your mind?
Of course. We both felt that we could beat everyone else in the league. We had a talk at the beginning of the tournament, and we decided we would help each other clear the division and then fight each other for real.
You didn't fight each other during league matches, was it deliberate?
Yes. We didn't want to fight each other if it wasn't for a belt. When the championship was on the line we could both fight each other with everything we had. Otherwise it didn't seem worth it.
Take us through the fight in finals… you seem to have the upper hand in grappling and have more in the gas tank. Was it according to game plan or you need to adjust somewhat.
That was very much the game plan. My brother – Ehsan Zareh – put together a game plan for us, built around grappling and taking the fight to the mat. We knew that in a striking match Theebaan would give us trouble, but we would have the advantage in an MMA match.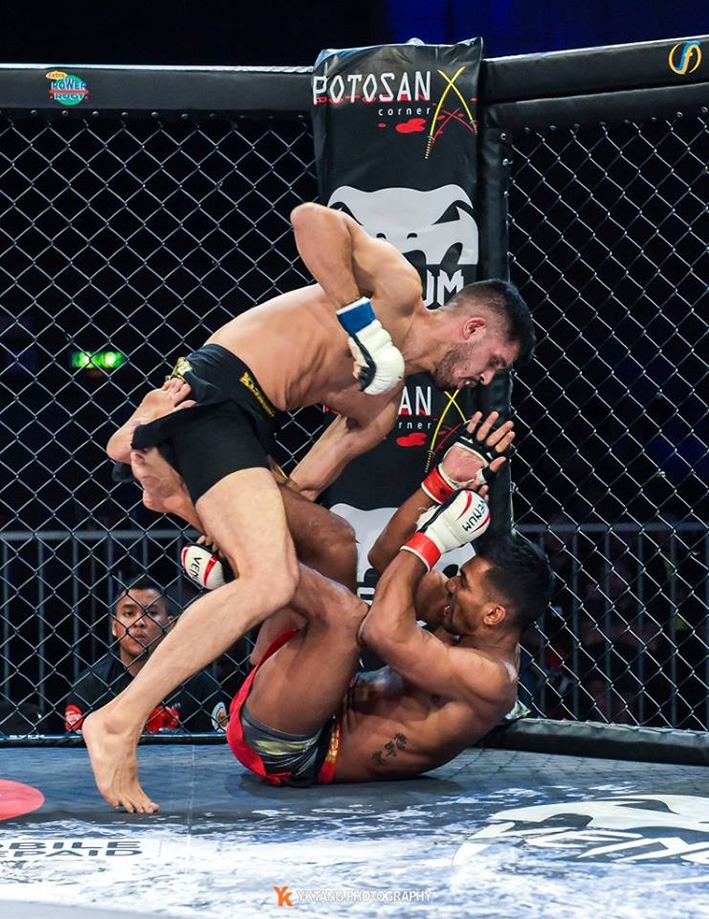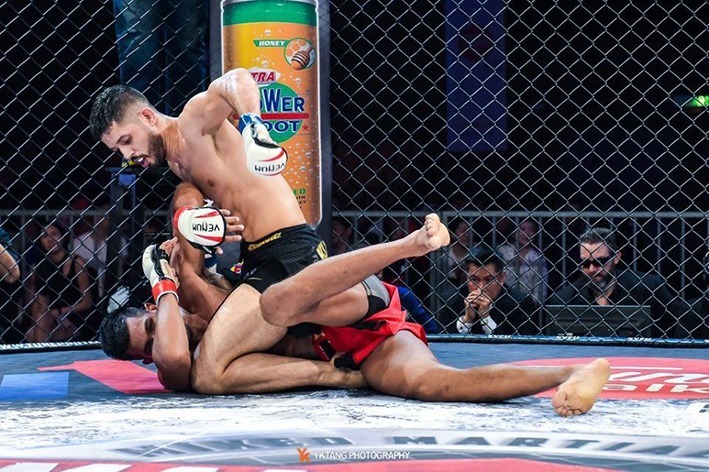 Ehsan's strategy was to use angles to enter into exchange range, and either shoot or use the threat of takedowns to land strikes, back into takedowns. Once on the ground, just deal damage and control. I expected to fight five rounds, so we tried to develop the cardio to be able to wrestle and box for five rounds straight. Theebaan is strong, and wrestling with him was draining, so I had a harder time implementing the footwork, but overall the strategy worked.


I was at your corner and I can hear your corner shouting you instructions. They gave good and specific instructions which is very technical. Who's at your corner?
The bald American is my friend Luke Leasure. He's a pro MMA fighter, BJJ brown belt and American wrestler. He and I used to train together in Singapore, and he came up to support and corner me for this fight. He's EXTREMELY loud, so he's a great corner.
The other guy is Ehsan is my younger brother. He's my junior of ten years. I actually got him into martial arts as a child, and later got him into BJJ and Muay Thai. He's a BJJ blue belt (I'm a purple), but he's a really good wrestler and a much more talented BJJ exponent. When we participated in MIMMA 2014 together he was only 17!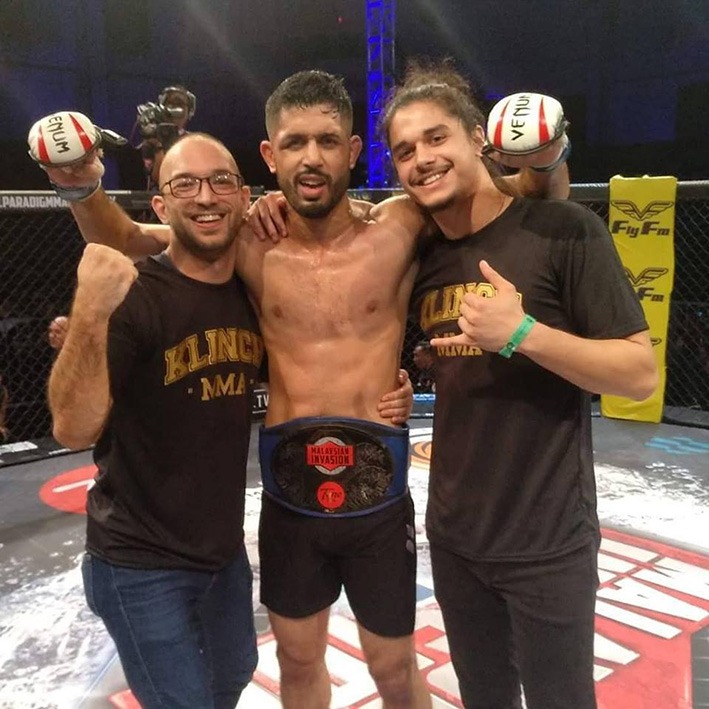 with Ehsan (R) & Luke (L)
Who coached Theeban for the finals? Did you get to choose who your coach is between the two of you when you know you going to fight each other? 
Theebaan and I had to find our own coaches for the final, but we agreed that we would split the gym and its resources. Both of us could use the same training partners in the gym, and both of us could use the facilities (at different times). For me it was fairly straightforward, as my brother has been coaching me for the last couple fights, so he continued coaching me for this fight. 
We worked on strategies, conditioning and code-names for this fight. Theebaan worked with another one of his friends and long time training partners. Both of us worked closely with our training partners in the gym – Syamir, Vlad and Chris. Everyone remained impartial and supportive of both of us. 
Tell us your relationship with Theeban before and after your fight?
Going into fight camp against Theebaan it was all business. I have to shut my mind off from my opponent. I was polite and friendly, but the closer it got to the fight, the colder I got. It's all business, and I had to treat it like business. After the fight we went back to being homies. We hugged it out and went back to joking and chatting like normal.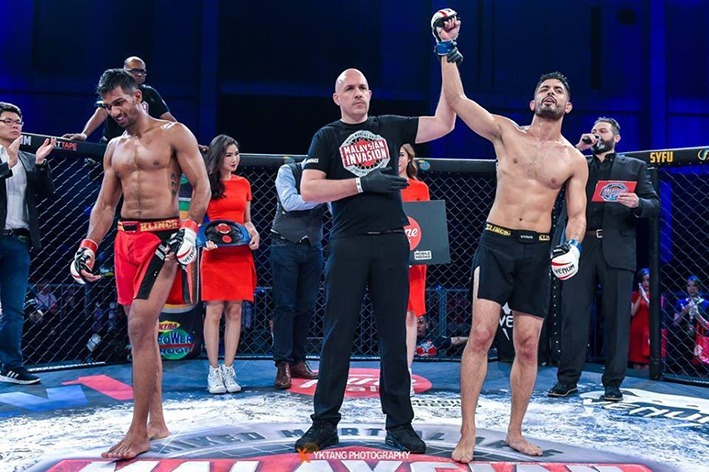 How did you celebrate the win? How much does this title means to you?
We went straight to a fried chicken place and binged on ayam goreng (fried chicken). Theebaan still owes me a session of fried chicken and karaoke (my treat).
It's been a long journey to the title – 4 years of training, building experience and skills, and one intense year of training and fighting. It's a milestone for me as a martial artist. I've been practicing martial arts so long, and this is my first championship belt.

Will we see more of you in MMA? Since season 6 may not be until 2019. 
This season has taken a lot of me. I'm not thinking about competition right now, and I'm trying to focus on my work and my family.


Tell us about your walk out song. What makes you choose it?
I walked out to 'Ultimate' by Denzel Curry . I wanted a crazy, hype song to get the crowd going and to pump me up. I wanted something wild to get the energy up!
Tell us what you do for leisure? How you unwind after a hard day training?
Believe it or not, I work so much that fighting is my leisure! When I have time I'm training, but if I'm not training I'm drawing. I love to draw and write – I've been drawing my whole life. ( check out some of Ahmed's work in his website KufikDesign.com) 
Let's talk a bit about MIMMA5. How do you feel about the league format, which was design to give more cage time for fighters to build experience.
I don't think fighters needed more fights, I think fighters need better preparation. I think the way forward is two fold:
1st – divide the MIMMA pool between feeder league and high level league.
At this point we have enough fighters that have experience. We can put together the high level fighter into a league of their own. With proper ranking. Fighters who are just trying out can go through a single elimination tournament, because they still need to filter the mediocre from the talented.
This ensures higher quality fights, better entertainment value and less mismatches. Also, fighters within this 'big league' can be reimbursed and promoted.
If you have 32 figures in each weight class, and 60 percent aren't very good, how do you promote any? How do you create star value? It's not good for the business.
2nd – LESS FIGHTS.
By separating the levels you can create less events, but promote these events better. Make 4 big shows a year, stack them with well matched fights and promote each fighter. This will mean more eyes on MIMMA, more career opportunity for fighters and – most importantly- more fighter safety.
Fighters should not fight 10 times in a year. It's not healthy, and it's unsafe. CTE ( chronic traumatic encephalopathy) is a real problem, and providing unprepared amateurs financial incentive to put their health at risk is not responsible
That's a good perspective and a good proposal for MIMMA to think about.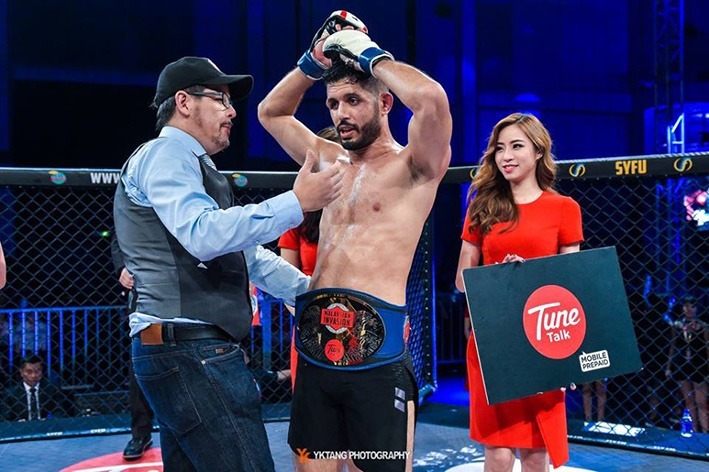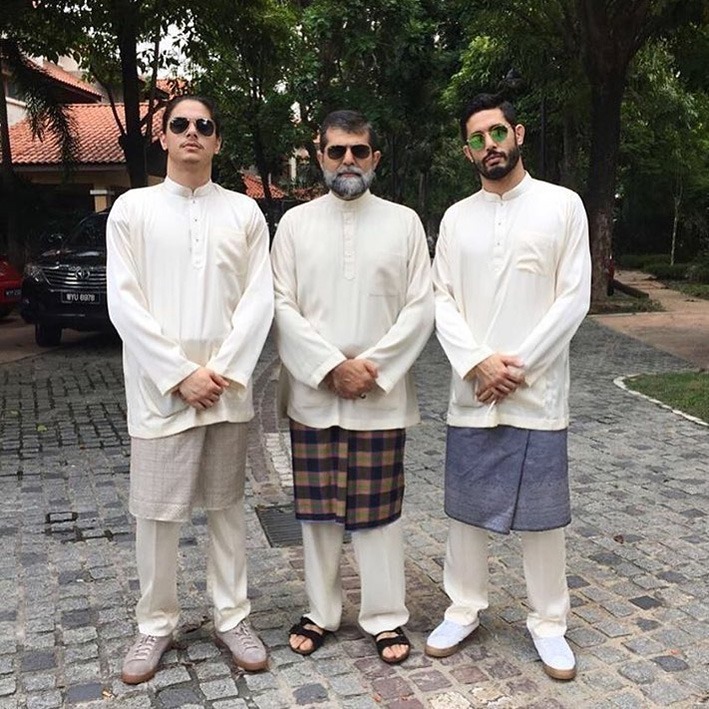 Ahmed, Ehsan (R) and their father (center) – wishing all Muslim a Happy Ramadan

Lastly who do you wanna thank for this victory.
I'd like to thank my wife and family, Klinch MMA for the support, TAGS Spine and joint for making sure I could make it to the fights, and my partners and colleagues at CAN Design, my new design company.