pix on right by Ong Chen Fai
Many martial artist would be familiar with ADCC ( Abu Dhabi Combat Club Submission Wrestling World Championship ), the prestigious grappling championship started by Sheikh Tahnoon son of United Arab Emirates leader.
Come 12 to 19 November, the world's attention will again be at Middle East, this time for Mixed Martial Arts as The Kingdom of Bahrain, a tiny but progressive middle east country that lies in the middle of the Persian Gulf will be hosting the largest event in the history of amateur MMA at the Khalifa Sports City Arena; The
2017 IMMAF World Championships.
This 4th edition of World Championship is set to be the biggest event in the history of amateur Mixed Martial Arts with more participants than all the previous years and representing nations from all continents, and it is also the first time
IMMAF
is organising this event outside of Las Vegas. The pass four events in Las Vegas is usually organised as part of the annual UFC International Fight Week.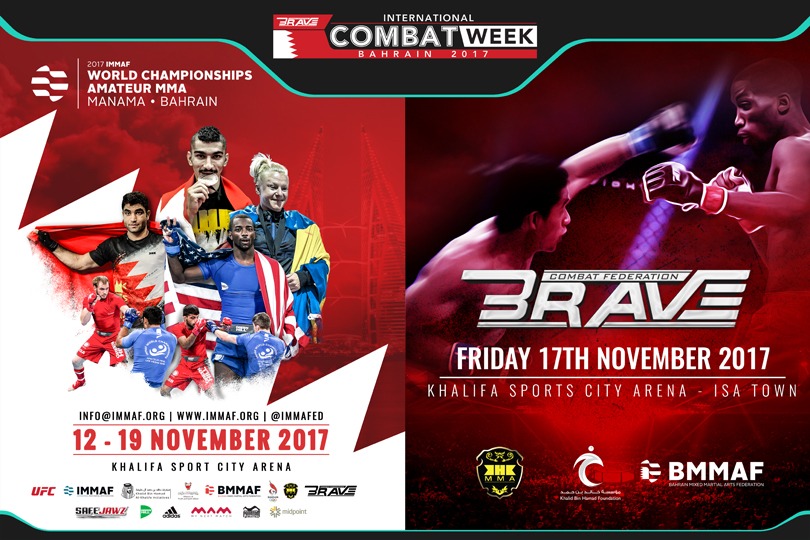 This World Championship is hosted by Bahrain Mixed Martial Arts Federation (BMMA) and endorsed by the Bahrain Olympic Committee. More than 250 athletes from 40 countries from around the world are expected to compete in the World Championship.
The success of Bahrain being granted as the host for this year owes to the pivotal role and efforts of His Highness Sheikh Khalid bin Hamad Al Khalifa to strengthen the Kingdom of Bahrain's position in the sport of MMA globally.
His Highness Sheikh Khalid efforts also helps the formation of BRAVE Combat Federation, the premier MMA promotions in Middle East formed in 2016. On 17 November IMMAF World Championship will break for a day for pro MMA action under the BRAVE banner. Hence the week of amateur MMA and pro MMA is called the International Combat Week Bahrain 2017, which will have other activities such as sports expo and food carnival.
The IMMAF World Championships commences with an Opening Ceremony and Tournament Draw on the evening of 12 November at 7pm. It then comprises 4 days of preliminaries from 13 to 16 November (starting 3pm on 13-14 Nov; starting 2pm on 15-16), pausing for professional MMA event,
'BRAVE 9: The Kingdom of Champions'
on 17 November, and culminating with IMMAF's Finals and Medals Ceremony on 18 November (at 3pm).
Brave held it's first 2 event in it's birth country Bahrain. On a course of going international and making BRAVE a global promotions it has been held in Brazil, India, Khazakhstan and Mexico. BRAVE 9 will be the much-anticipated return to the Kingdom of Bahrain after almost a year. It will have 16 pro bouts, headline by the Lightweight title fight between Ottman Azaitar vs Alejandro Martinez.
The 2017 IMMAF World Championships is set to be IMMAF's biggest yet and spans 14 weight categories, from Strawweight to Lightweight for women, and Flyweight to Super Heavyweight for men. Check out the provisional list of National Teams and Athletes (click here to view)


This year, Malaysia will be participating the World Championship for the 2nd time. The first time we send athlete was in 2014. That was the time when MASMMA (Malaysia MMA Association) was formed. Malaysia is the first country in Asia to formed a MMA association which is affiliated to IMMAF.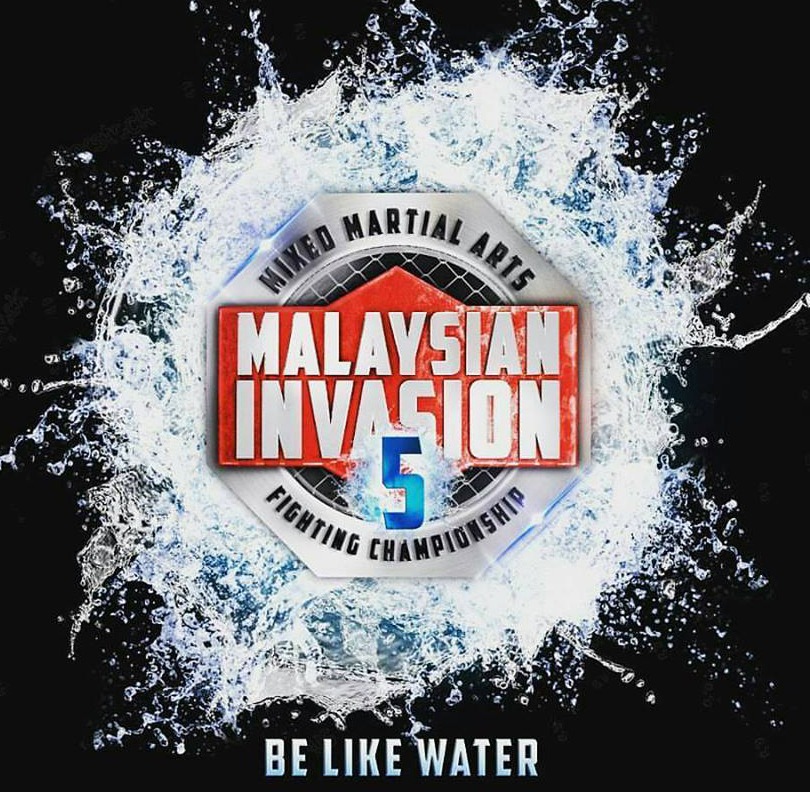 Thanks to MIMMA, Malaysia was one of the earliest country in the world to have a well organised nationwide amateur tournament. Started in 2013 and from it's roster of inaugural champions, 5 were selected to represent Malaysia to IMMAF's first World Championship in 2014. The team comprised of Allen Solomon Chong, Adrian Tham, Keanu Subba, Prabu Somainadu and Chong Jing Yi.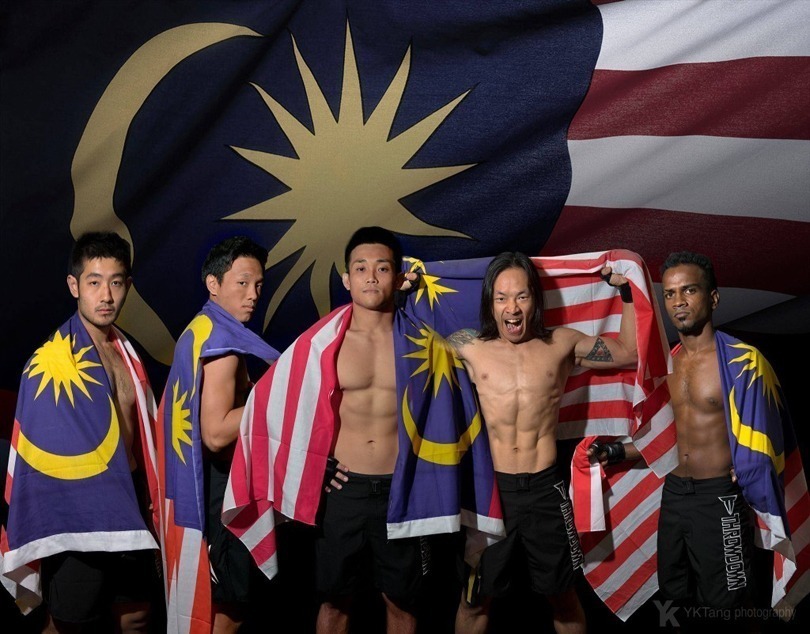 Team Malaysia – IMMAF World 2014
IMMAF takes athletes safety seriously, hence they have a strict rules which emphasis strongly that athletes competing in the World Championship are strictly prohibited to have any pro combat sports record. Due to the unregulated MMA event in Malaysia during the formative years and when MASMMA was not formed yet to help regulate the sports, most of the Malaysian athlete was not able to compete.
According to Brent Yap, MASMMA secretary, it was a huge learning experience which they take positively to grow MMA in Malaysia. MASMMA now works very closely with MIMMA to further grow Malaysian MMA at amateur level. With Tune Talk as the main sponsors, MIMMA is now in it's 5th season and has over the years produce many outsanding MMA prospect for Malaysia, some of which has turned pro.
For the pass 4 season, MIMMA was competed with a tournament format. Fighters have to get it all right every time they fight because only victor get to progress to further round. This does not provide athletes with enough chance to fight and gain experience in the cage, hence in an effort to build fighters by giving them more fights, the league system is introduce this year, pitting fighters in their weight class to fight each other to collect points.
This brings a whole new ball game into the fight. Now fighters and his team needs to have strategy and study the weakness and strength of their opponents.
IMMAF also organised regional Championship such as European Championship, Africa Championship and most recently in Singapore for the Asian Championship in June.
Closer to home, enable Malaysia to sent a team which comprise of Jace Law (MIMMA4 Lightweight Champion) and Jihin Radzuan (MIMMA4 Female Champion). Chong Jing Yi (MIMMA1 Middleweight Champion) and Amirah Najwa.
For this year's edition of IMMAF World Championship, Theeban Govindasamy has been selected as the sole Malaysian athlete. Theeban is a former national Karateka. In MMA, he is a genuine product of MIMMA. He first fought MMA in MIMMA season 2. The following season in 2015, he made it to the Semi-Finals.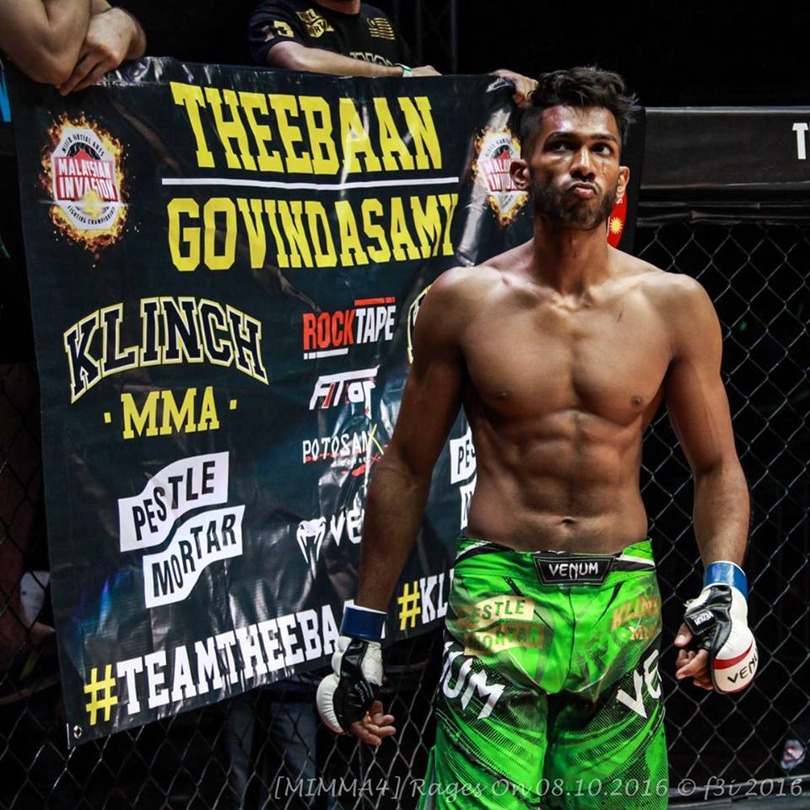 Last year's season 4, Theeban moved to welterweight and manage to fight all his way to emerged victorious as the Welterweight Champion. In this year's MIMMA League, he has fought 4 times and is leading the pack in his Welterweight category.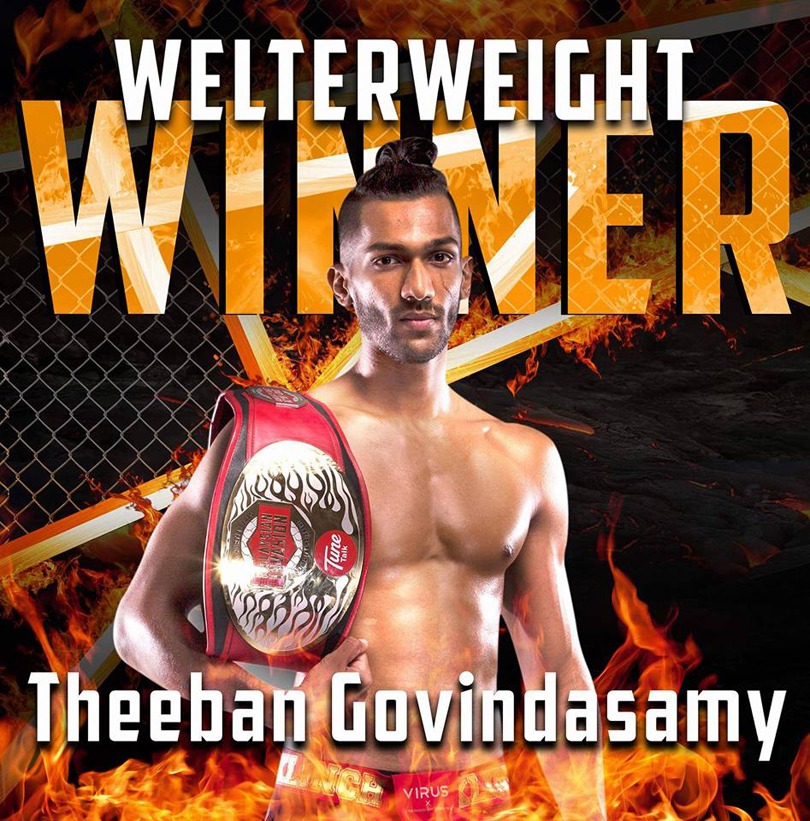 Theeban brings to the cage great striking, owe to his years of Karate. For his MMA & grappling, Theeban is training at Klinch MMA with David Hulett, an American pro with more than 30 MMA fight under him.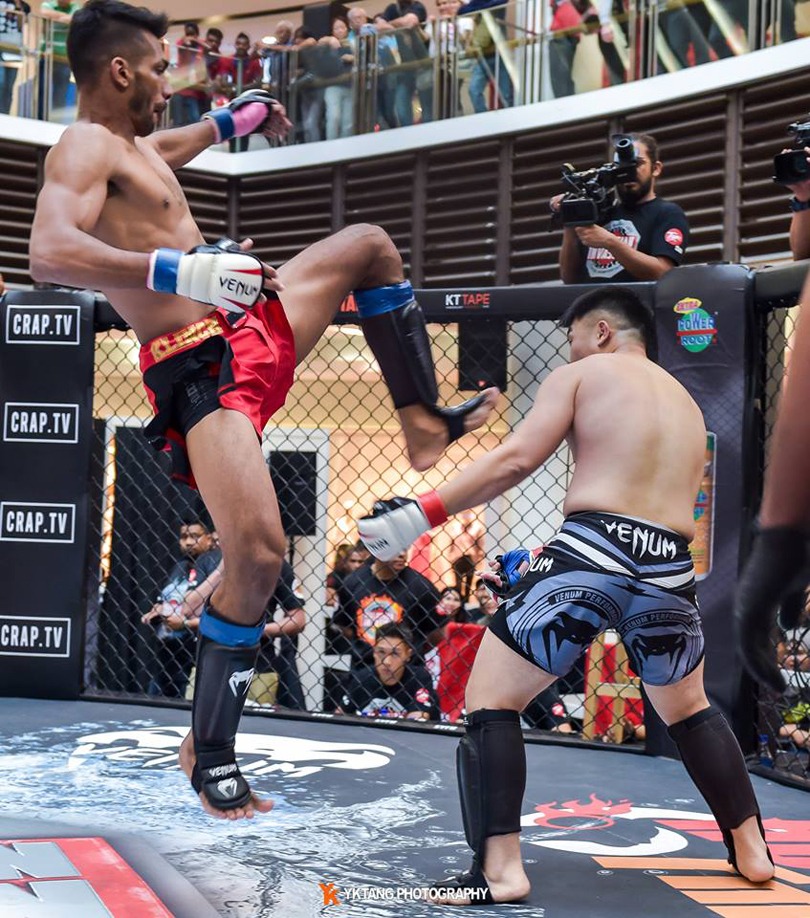 Theeban in MIMMA5 league ( pix by YK Tang )
For IMMAF World Championship Bahrain, Theeban is moving up to Middleweight. This is to reduce the stress of cutting weight as the Championship is a tournament format over a period of one week.
Joining him at Bahrain is Prem Kumar and Syarul Raziff. Both are officials with MIMMA, Prem playing the role as coordinator and match maker and Syarul in the medic team. They are at Bahrain as IMMAF officials and will be busy applying their expertise at this World Championship.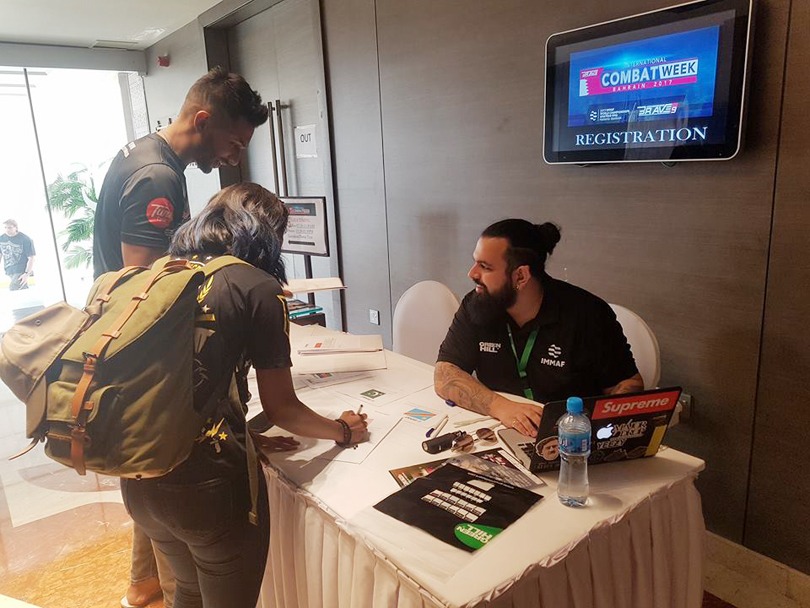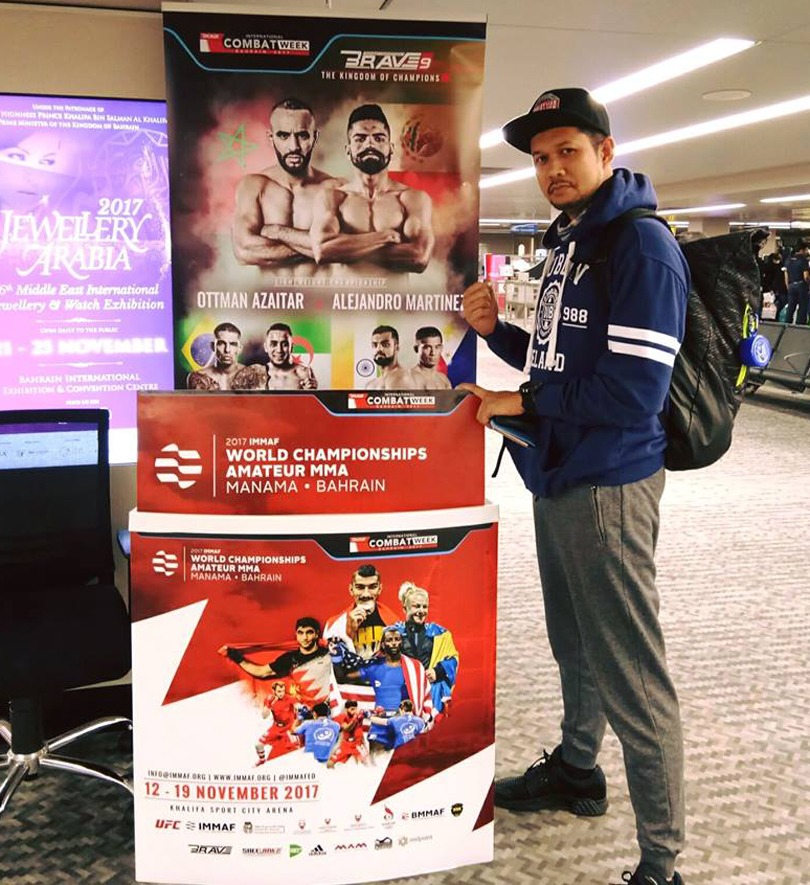 Prem Kumar and Syarul at Bahrain – IMMAF World Championship
According to Brent, this is surely a good exposure for them and MASMMA are always open to expose more Malaysian officials for an event this large a scale.
"We need to not only develop MMA athlete but also officials, so that we can grow in all aspect of the MMA sports"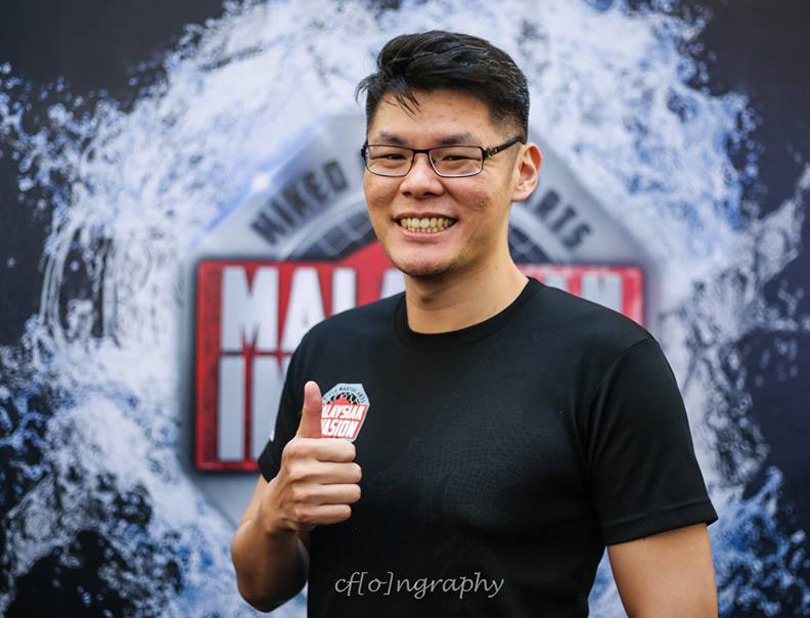 Brent Yap MASMMA Secretary ( pix by Ong Chen Fai)
As the fastest growing sports in the world currently, IMMAF is on it's mission to bring MMA into the Olympics. The structure has already set in place for Malaysia to excel and grow in this sports. Many gyms are growing and new ones being formed as more and more people takes up martial arts and delve into MMA.
We are now already not in the stage of educating about MMA, as previously MMA has an image of being a brutal and violence sports. MASMMA and MIMMA has played its role in providing the strictest standard of safety and medical care. RTM1 has broadcast MIMMA's fight regularly and through mainly social media the awareness of MMA has imcrease leaps and bounds.
Let's hope and contribute in whatever way we can to help produce more MMA talent in Malaysia. For this year, let's all lend our support to Theeban Gobindasamy as he fly the Malaysian flag in Bahrain. All the best Malaysia!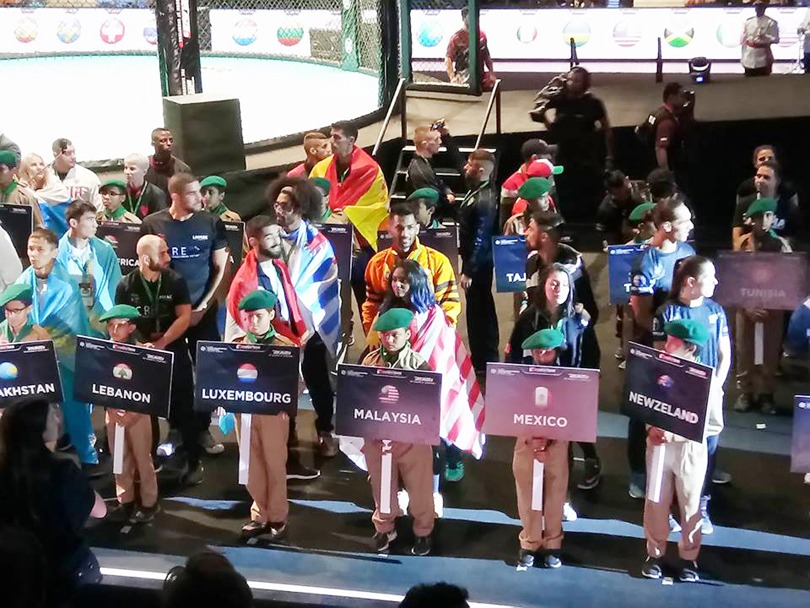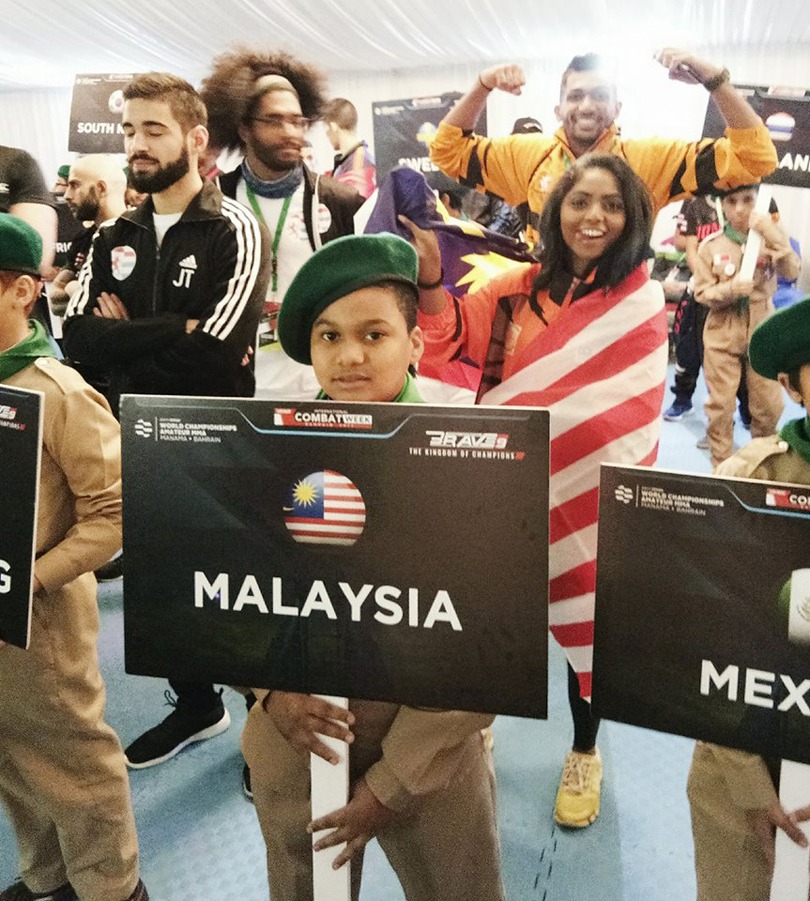 Theeban at the IMMAF 2017 World Championship Opening ceremony accompany by his girlfriend Darshanaa
LIVE ONLINE INTERNATIONALLY
Download the Bahrain TV app onto your mobile device to view the full 5 days of the 2017 IMMAF World Championships live.
The Bahrain TV (Ministry of Information and Affairs) app is downloadable from iTunes and Google Play.