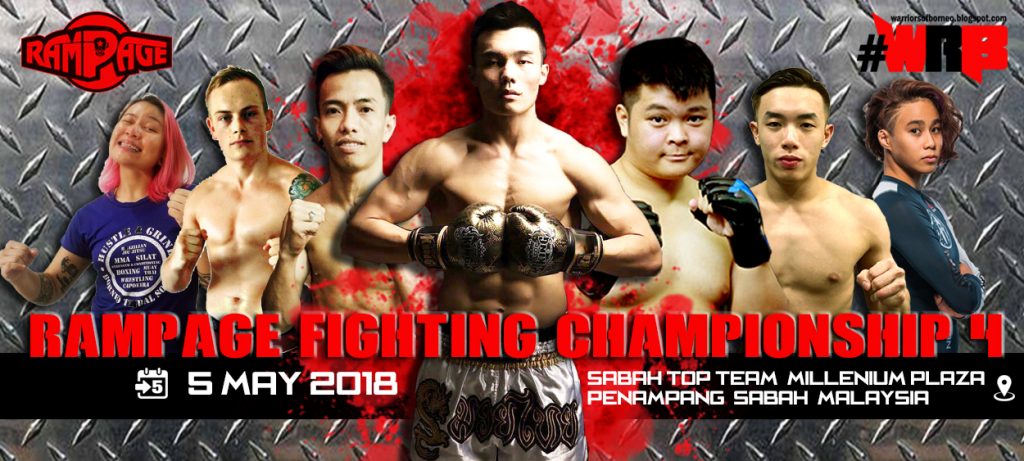 4 more days to go! This 5 May 2018, Rampage MMA Championship will be held at Sabah Top Team in Plaza Grand Millenium, in Penampang, Kota Kinabalu.
Rampage MMA was created by Coach Antonio Battistessa, an Italian Muaythai/MMA coach that founded Sabah Top Team; to promote his fight gear brand RAMPAGE.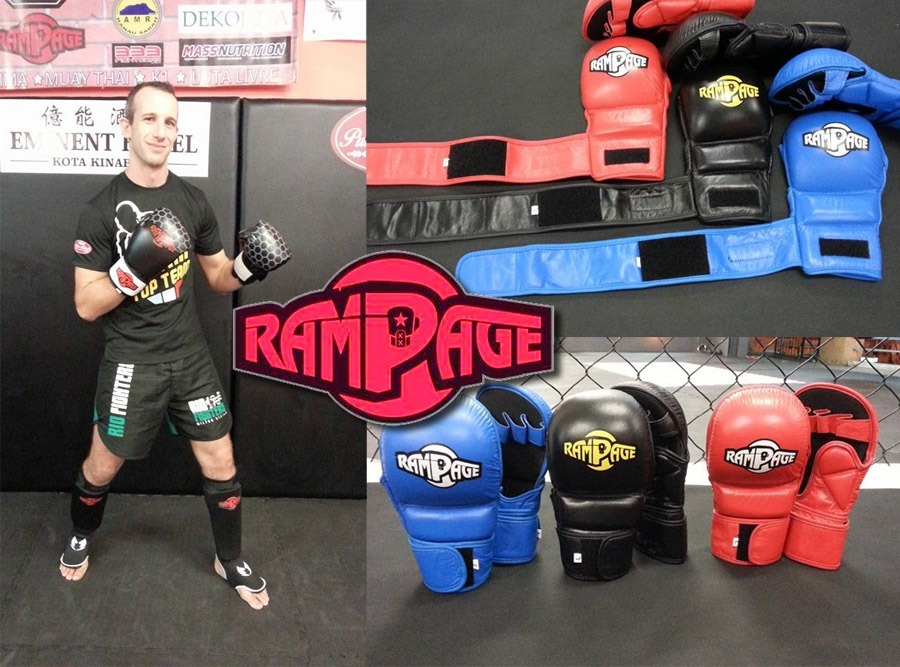 Coach Antonio with his RAMPAGE fight gear
This amateur MMA championship was organised to give newbies a taste of competition and to keep the interest in MMA alive in Borneo.
In just a year's time, Antonio has managed to organised 3 event. This Saturday will be the 4th edition.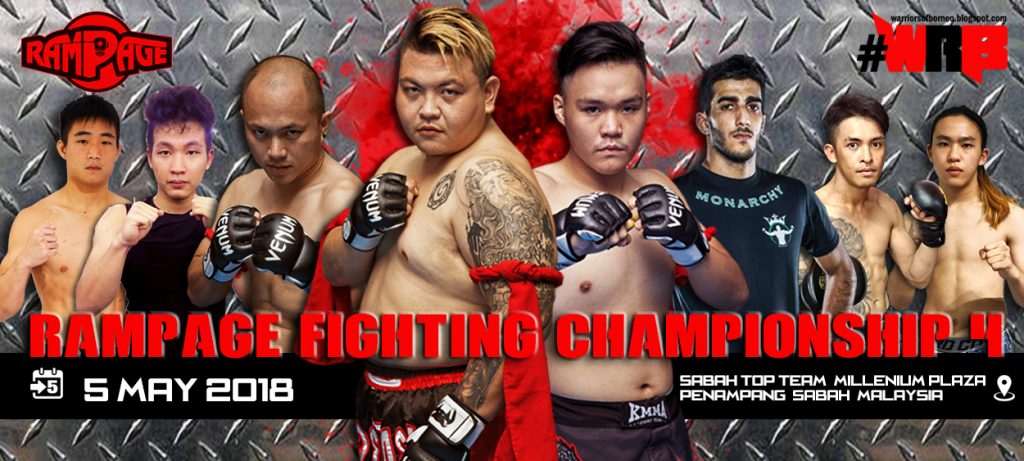 ————#WRB————-
This 4th edition will see a cards full of new faces across many different countries. A total of 14 bouts will be competed. Check out the fight cards below: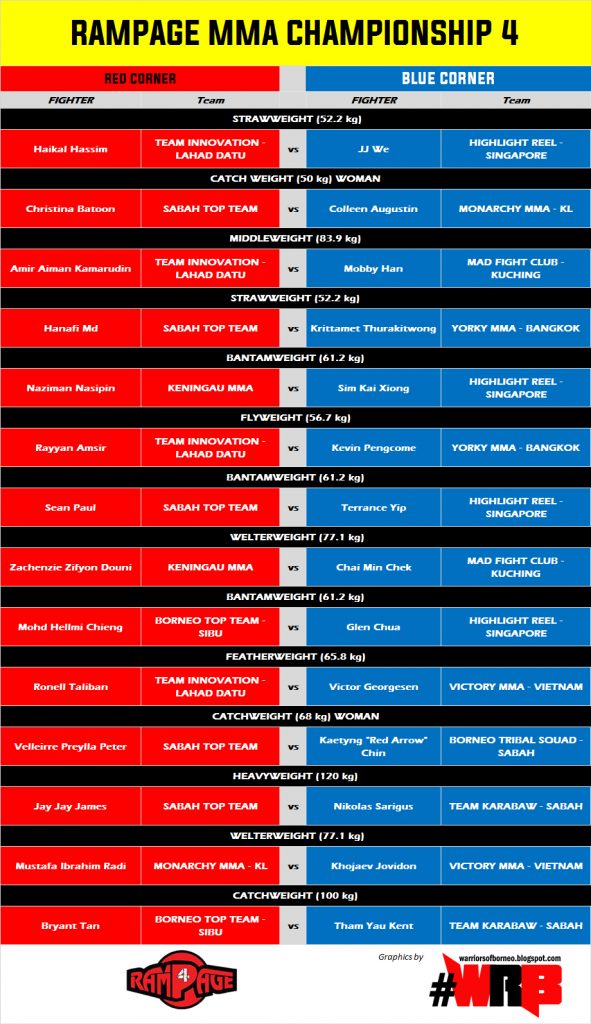 —————#WRB—————
The main card of the night will see the meeting of two MIMMA veteran. Bryant Tan of Sibu representing Borneo Top Team was MIMMA 4 finalist in 2016. He's also a pro Muaythai fighter. He took a break from competition in 2017 and came back to the scene late last year by winning the Golden Gloves Malaysia in Boxing. ( read about his come back story here )
He beat Tham Yau Kent for the Golden Gloves title. And this Saturday at Rampage 4, they will meet again.
Kent may have lost to Bryant in boxing, but in MMA, Kent is a true veteran. Two times MIMMA semi-finalist, main card fight in Rampage MMA 2, and Jesselton Fight League 1 Heavyweight Champion in 2015.
This fight will be at Catchweight 100kg and expect a explosive fight to close the night.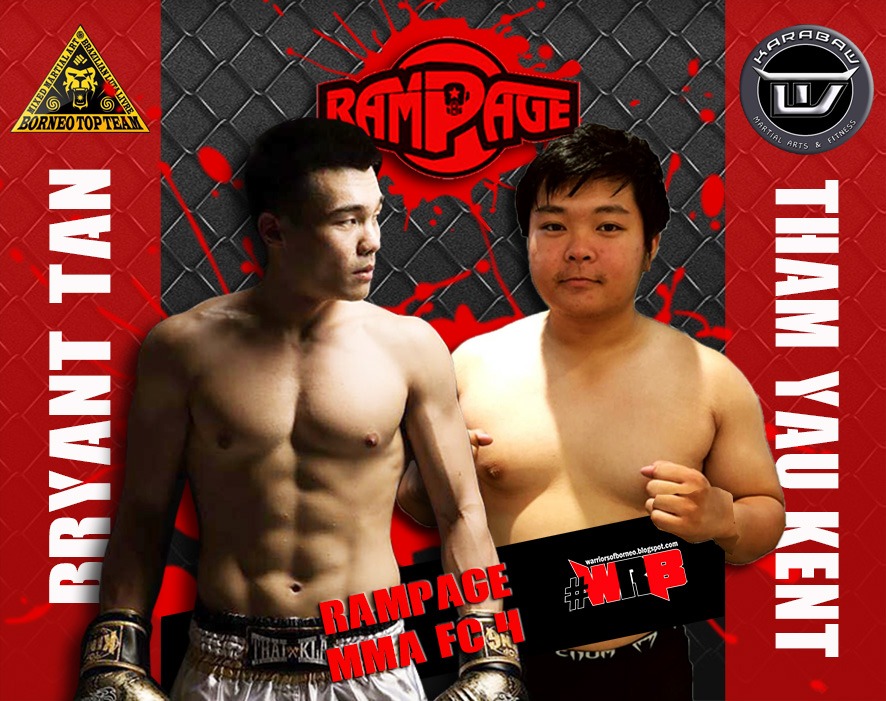 Rampage 4 MMA Main Card.


CATCHWEIGHT 100kg


Name : Bryant Tan 
Age: 24
Team :  Borneo Top Team ( Sibu, Sarawak )
Country : Malaysia
Height : 183 cm
MMA amateur record : 4-1-0 
Dominant style : Muaythai, Boxing
Pass achievement : MIMMA 2016 Middleweight finalist. Golden Gloves 2017 Champion


Name : Tham Yaw Kent 
Age: 26
Team :  Karabaw ( KK, Sabah )
Country : Malaysia
Height : 172cm
MMA amateur  record : 4-3-0
Dominant style : Boxing
Pass achievement: Jesselton Fight League 1 MMA H';eavyweight Champion. Golden Gloves 2017 Finalist




————–#WRB————-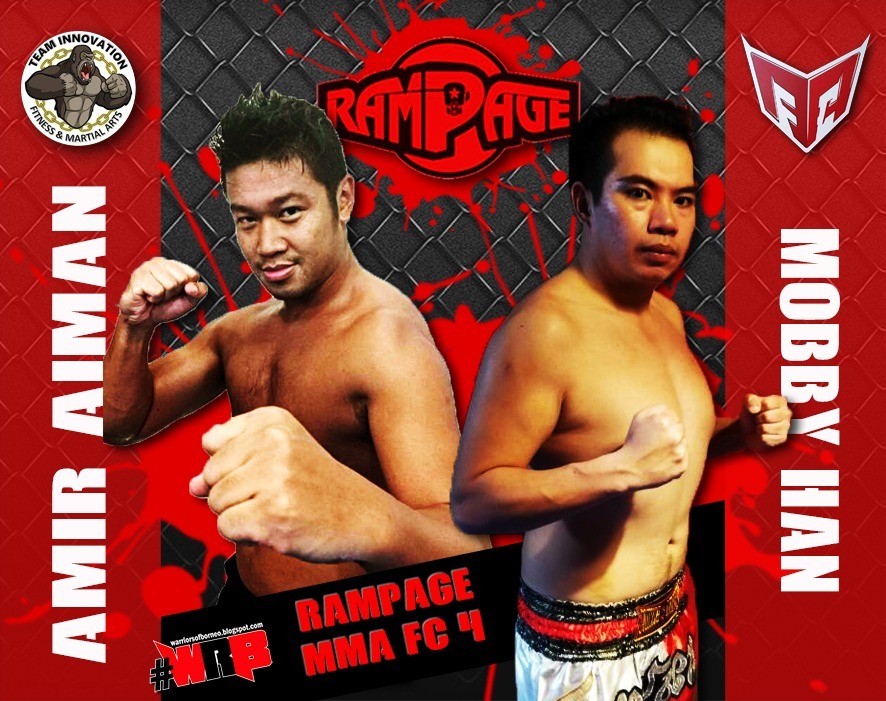 MIDDLEWEIGHT (83.9 kg) 


Name : Amir Aiman Kamaruddin
Age : 28
Team :  Innovation ( Lahad Datu, Sabah )
Country : Malaysia
Height : 175 cm
MMA amateur record : 2-4-0
Dominant style : Boxing & Luta Livre


Name : Mobby Han 
Age : 30
Team :  MAD Fight Club ( Kuching, Sarawak  )
Country : Malaysia
Height : 173 cm
MMA amateur  record : 0-0-0
Dominant style : Kickboxing
————–#WRB————-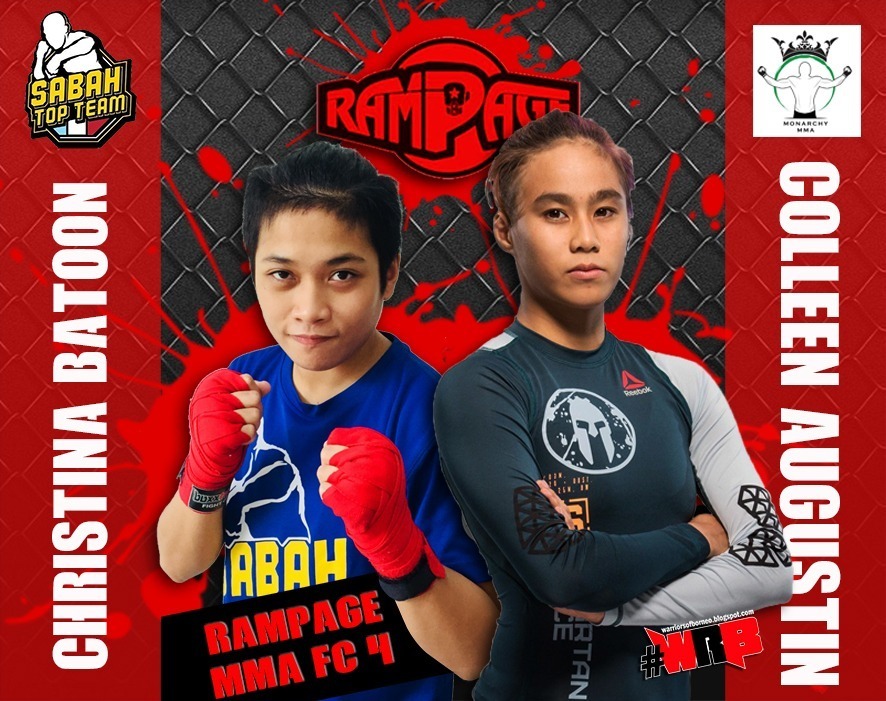 CATCH WEIGHT (50 kg) WOMAN


Name : Christina Batoon
Age: 22
Team :  Sabah Top Team( KK, Sabah )
Country : Philipines
Height : 155 cm
MMA amateur record : 1-0
Dominant style : MMA
Pass achievement : MMA & Luta Livre


Name : Colleen Augustin
Age : 19
Team :  Monarchy MMA ( Kuala Lumpur  )
Country : Malaysia
Height : 165 cm
MMA amateur  record : 0-0-0
Dominant style : All rounder pressure fighter
Pass achievement : 2-0-0 Muaythai, ADCC Grappling champion,  Dumau Champion, COpa de Malasia Champion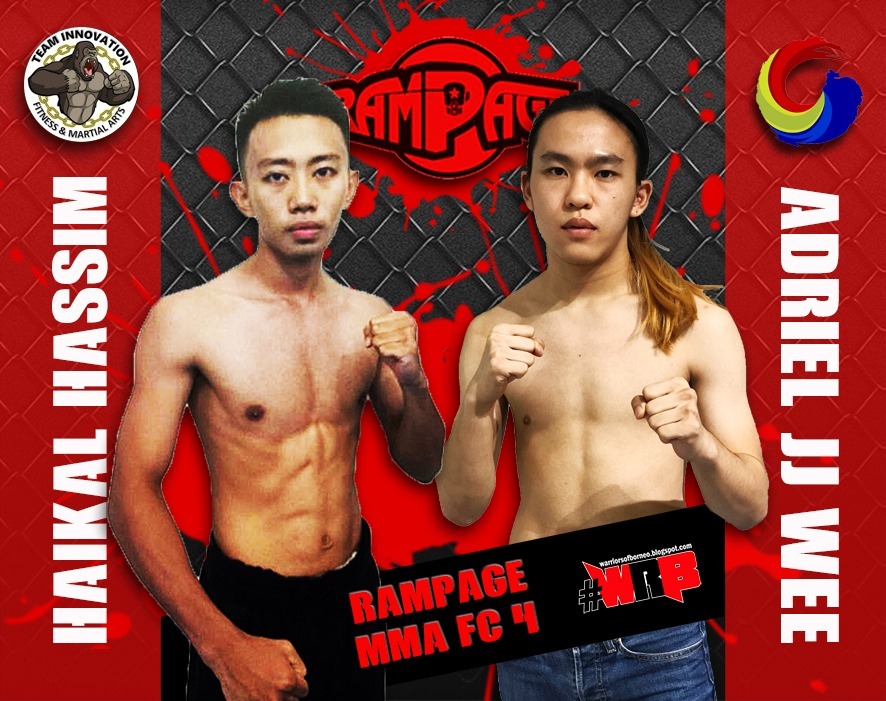 STRAWWEIGHT (52.2 kg)
Name : Mohd Haikal Hassim
Age: 18
Team :  Innovation ( Lahad Datu, Sabah )
Country : Malaysia
Height : 168 cm
MMA amateur record : 0-0-0
Dominant style : Boxing & Luta Livre
Pass achievement : Boxing
Name : Adriel JJ Wee
Age : 21
Team :  Highlight Reel ( Singapore )
Country : Singapore
Height : 161 cm
MMA amateur  record : 2-0-0
Dominant style : Taichi
Pass achievement : SubZero Grappling Tournament Flyweight Champion
————–#WRB————-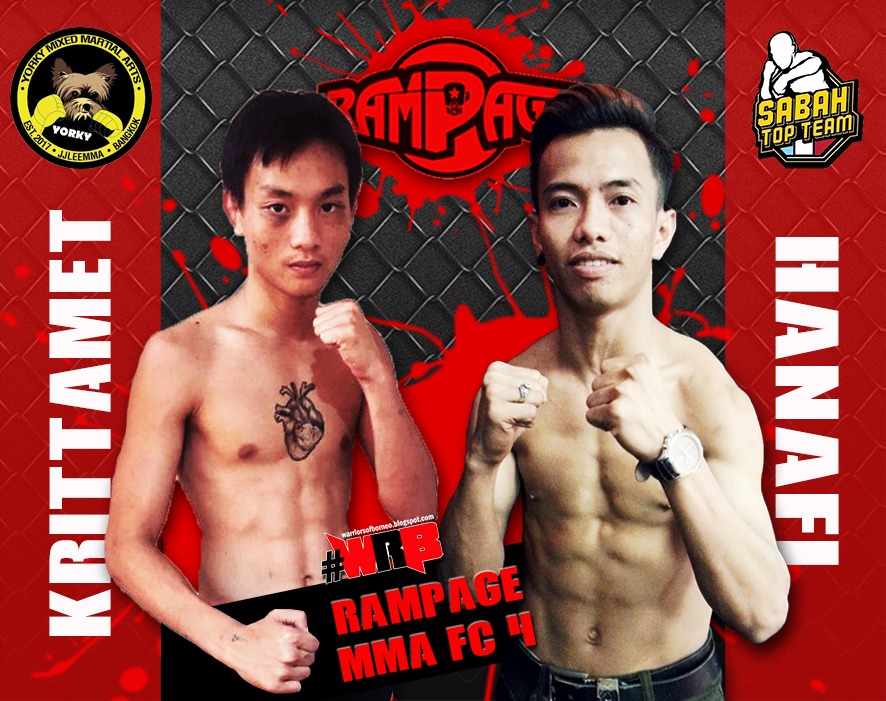 STRAWWEIGHT (52.2 kg) 
Name : Krittamet Thurakitwong
Age: 18
Team :  Yorky MMA ( Bangkok, Thailand )
Country : Thailand
Height : 174 cm
MMA amateur record : 2-0-0
Dominant style : MMA
Name : Hanafi Md
Age: 21
Team :  Sabah Top Team( KK, Sabah )
Country : Malaysia
Height : 160 cm
MMA amateur record : 1-0-0
Dominant style : MMA
Pass achievement : King of the Cage Borneo win
————–#WRB————-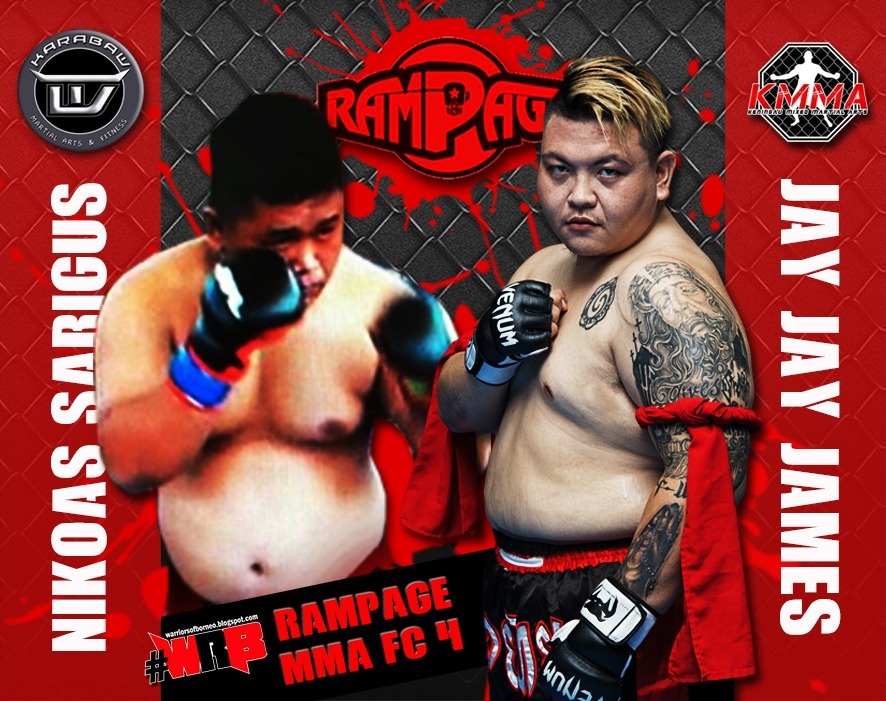 HEAVYWEIGHT (120 kg) 


Name : Nikolas Sarigus
Age: 28
Team :  Karabaw ( KK, Sabah )
Country : Malaysia
Height : 168 cm
MMA amateur record : 2-1-0
Dominant style : Boxing
Pass achievement : Jesselton Fight League 1 semi-finalist


Name : Jay Jay James
Age: 29
Team :  Keningau MMA( Keningau, Sabah )
Country : Malaysia
Height : 163 cm
MMA amateur record : 0-0-0
Dominant style : MMA
Pass achievement : Copa de Borneo Gold



————–#WRB————-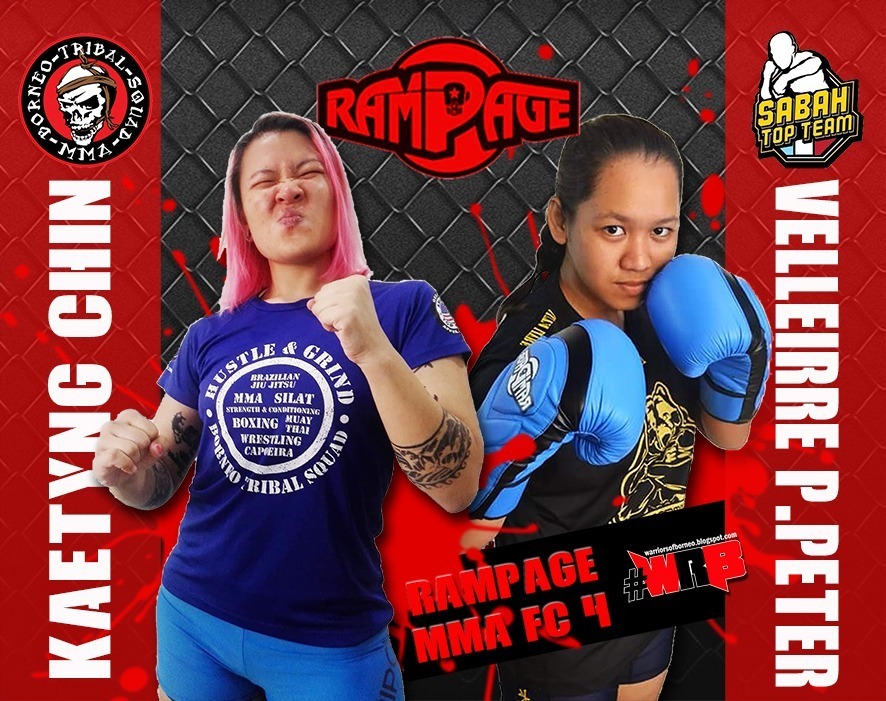 CATCHWEIGHT (68 kg) WOMAN


Name : Kaetyng 'Red Arrow' Chin
Age: 28
Team :  Borneo Tribal Squad ( KK, Sabah )
Country : Malaysia
Height : 159 cm
MMA amateur record : 0-0-0
Dominant style : Grappling & Boxing
Pass achievement : Sabah Grappling Quest Blue Belt Absolute Champion


Name : Velleirre Preylla Peter
Age: 22
Team :  Sabah Top Team( KK, Sabah )
Country : Malaysia
Height : 158 cm
MMA amateur record : 1-0
Dominant style : MMA
Pass achievement : MMA & Luta Livre





————–#WRB————-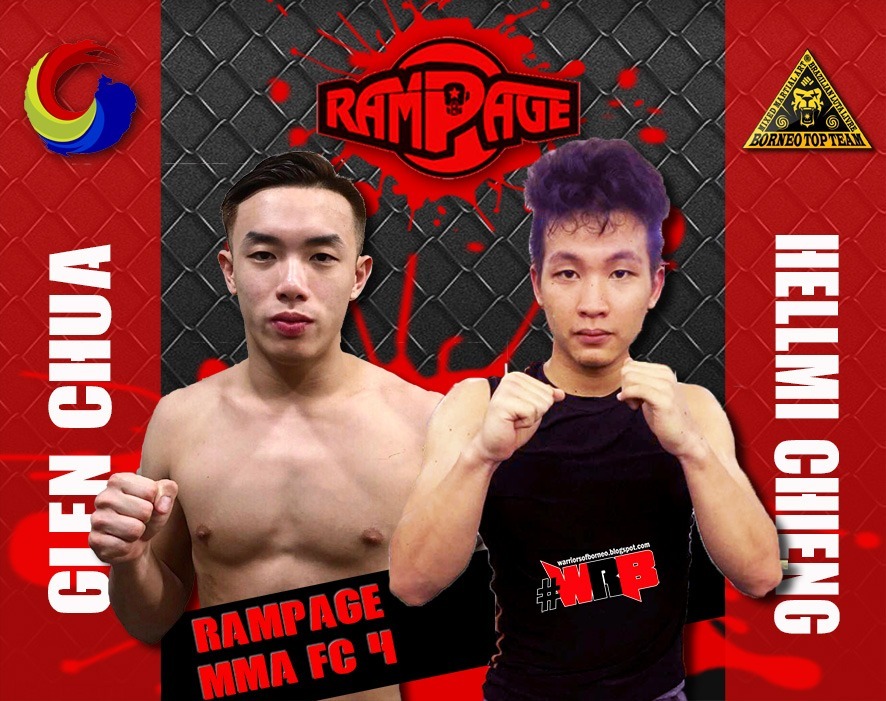 Name : Glenn Chua
Age : 24
Team :  Highlight Reel ( Singapore )
Country : Singapore
Height : 161 cm
MMA amateur  record : 0-0-0
Dominant style : Taichi


Name : Mohd Hellmi Chieng
Age : 19
Team :  Borneo Top Team ( Sibu, Sarawak )
Country : Malaysia
Height :  172 cm
MMA amateur  record : 0-0-0
Dominant style : MMA
————–#WRB————-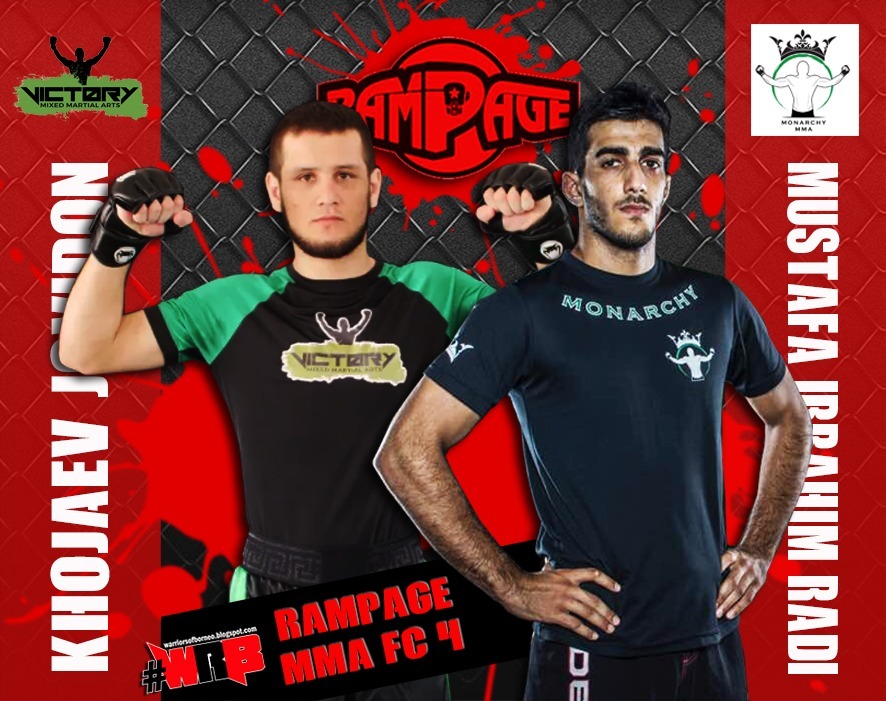 WELTERWEIGHT (77.1 kg) 


Name : Khojaev Jovidon
Age : 19
Team :  Victory MMA ( Ho Chi Minh, Vietnam )
Country : Tajikistan
Height :  183 cm
MMA amateur  record : 0-0-0
Dominant style : MMA
Pass achievement : Candidate of Master Sports of Tajikistan. Champion of Tajikistan grappling (youth). 2nd place All Russian Kudo tournament. Champion of St. Petersburg in Japanese Jiu-Jitsu.


Name : Mustafa Ibrahim Radi
Age : 
Team :  Monarchy MMA ( Kuala Lumpur  )
Country : Jordan
Height :   cm
MMA amateur  record : 
Dominant style : MMA
————–#WRB————-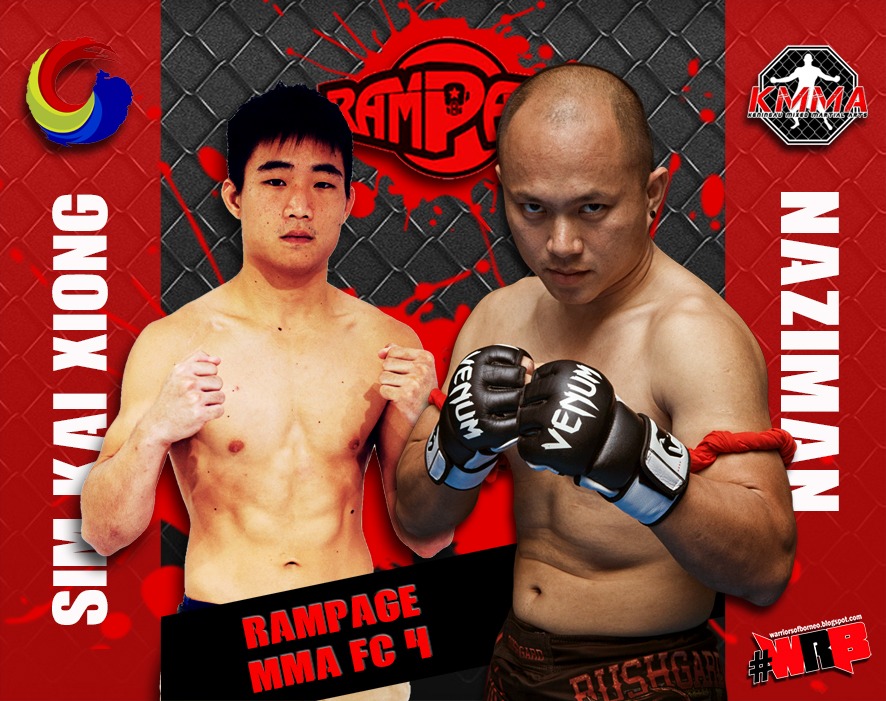 BANTAMWEIGHT (61.2 kg)
Name : Sim Kai Xiong
Age : 21
Team :  Highlight Reel ( Singapore )
Country : Singapore
Height : 170 cm
MMA amateur  record : 4-1-0
Dominant style : Taichi
Pass achievement : Singapore Fighting Championship Featherweight Champion
Name : Naziman Nasipin
Age: 30
Team :  Keningau MMA( Keningau, Sabah )
Country : Malaysia
Height : 157 cm
MMA amateur record : 2-1-0
Dominant style : MMA
Pass achievement : Rampage FC 1 Bantamweight winner
————–#WRB————-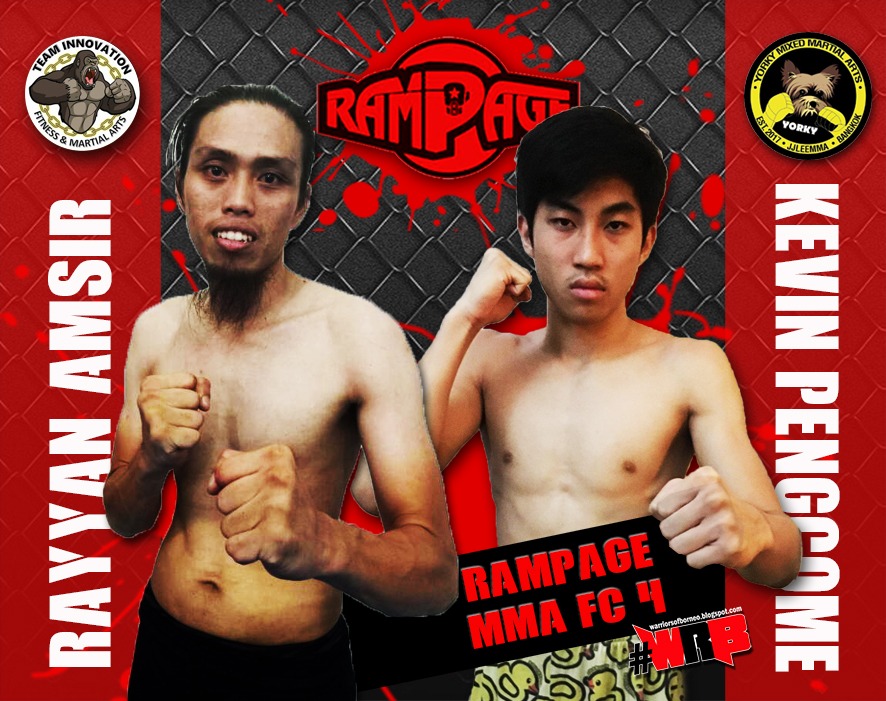 FLYWEIGHT (56.7 kg)
Name : Rayyan Amsir
Age: 32
Team :  Innovation ( Lahad Datu, Sabah )
Country : Malaysia
Height : 165 cm
MMA amateur record :0-0-0
Dominant style : Boxing & Luta Livre
Name : Kevin Pengcome
Age: 19
Team :  Yorky MMA  (Bangkok, Thailand )
Country : Thailand
Height : 178 cm
MMA amateur record : 1-1-0
Dominant style : MMA
————–#WRB————-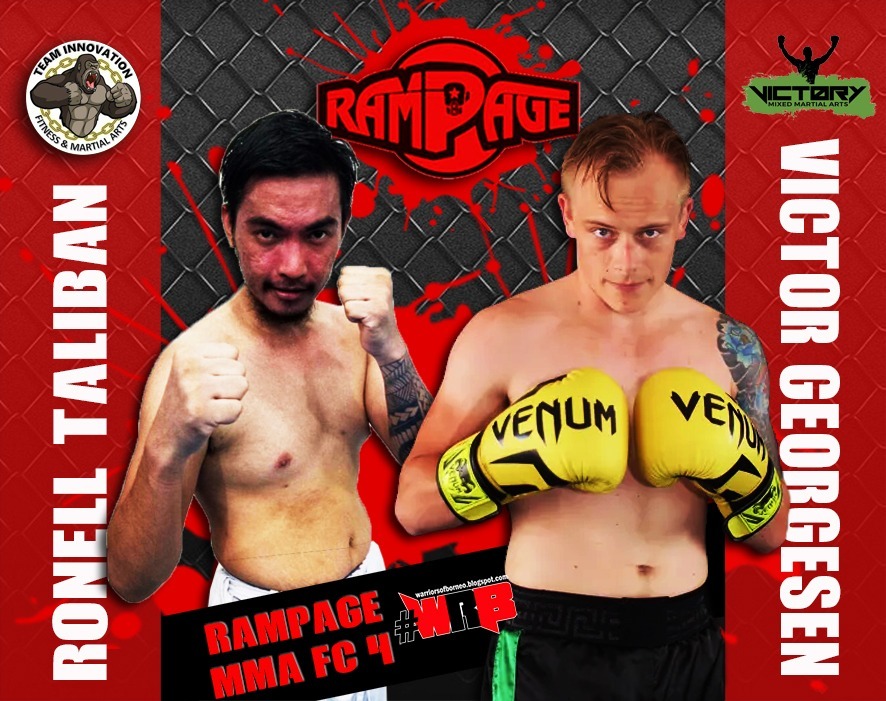 FEATHERWEIGHT (65.8 kg)


Name : Ronell Taliban
Age: 30
Team :  Innovation ( Lahad Datu, Sabah )
Country : Malaysia
Height : 163 cm
MMA amateur record : 0- 0-0
Dominant style : Karate & Luta Livre
Name : Victor Georgesen
Age: 25
Team :  Victory MMA ( Ho Chi Minh, Vietnam )
Country : Denmark
Height : 171 cm
MMA amateur record : 0-0-0
Dominant style : Boxing
Pass achievement : Amateur boxing 1-0
————–#WRB————-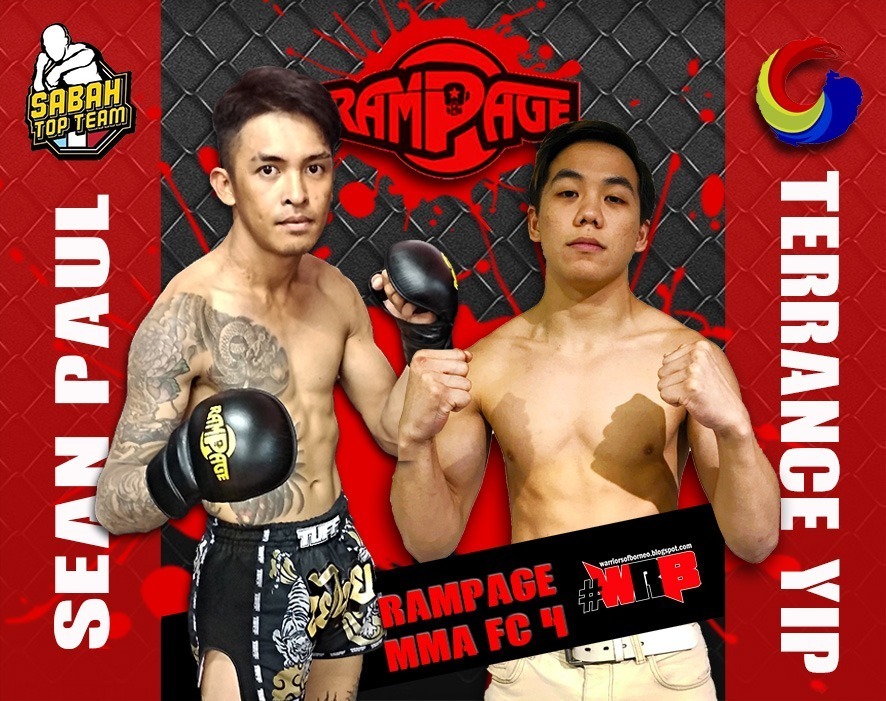 BANTAMWEIGHT (61.2 kg)


Name : Sean Paul
Age: 27
Team :  Sabah Top Team ( KK, Sabah )
Country : 
Height : 166 cm
MMA amateur record : 1-1
Dominant style : Striking
Pass achievement : Muaythai


Name : Terrance Yip
Age : 20
Team :  Highlight Reel ( Singapore )
Country : Singapore
Height : 168 cm
MMA amateur  record : 0-0-0
Dominant style : Taichi
Pass Achievement : Grapple Asia Champion





————–#WRB————-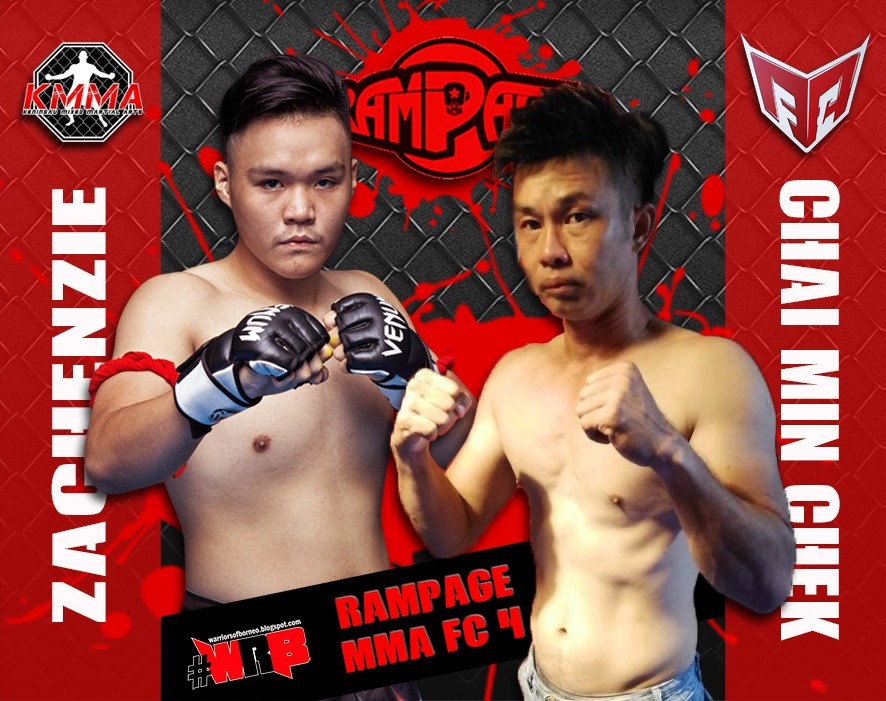 WELTERWEIGHT (77.1 kg) 


Name : Zachenzie Zifyon Douni 
Age: 18
Team :  Keningau MMA( Keningau, Sabah )
Country : Malaysia
Height : 179 cm
MMA amateur record : 0-0-0
Dominant style : Striking Stand up
Pass achievement : Kickboxing Gold & Silver
Name : Chai Min Chek
Age : 41
Team :  MAD Fight Club ( Kuching, Sarawak  )
Country : Malaysia
Height : 183 cm
MMA amateur  record : 0-0-0
Dominant style : Kickboxing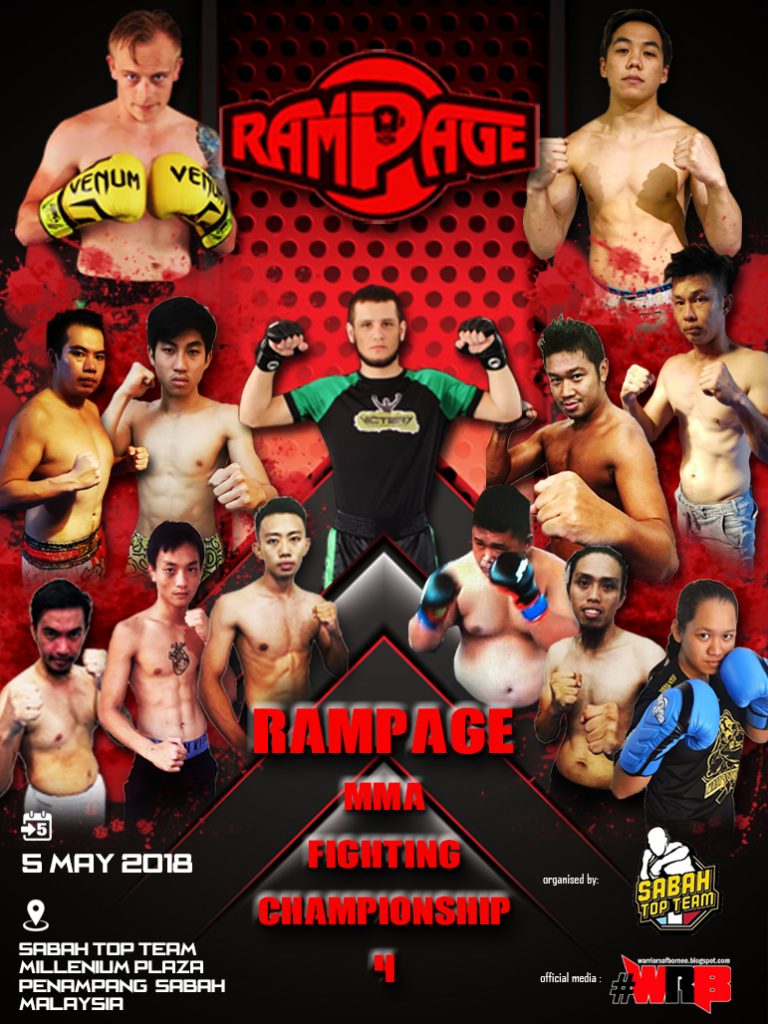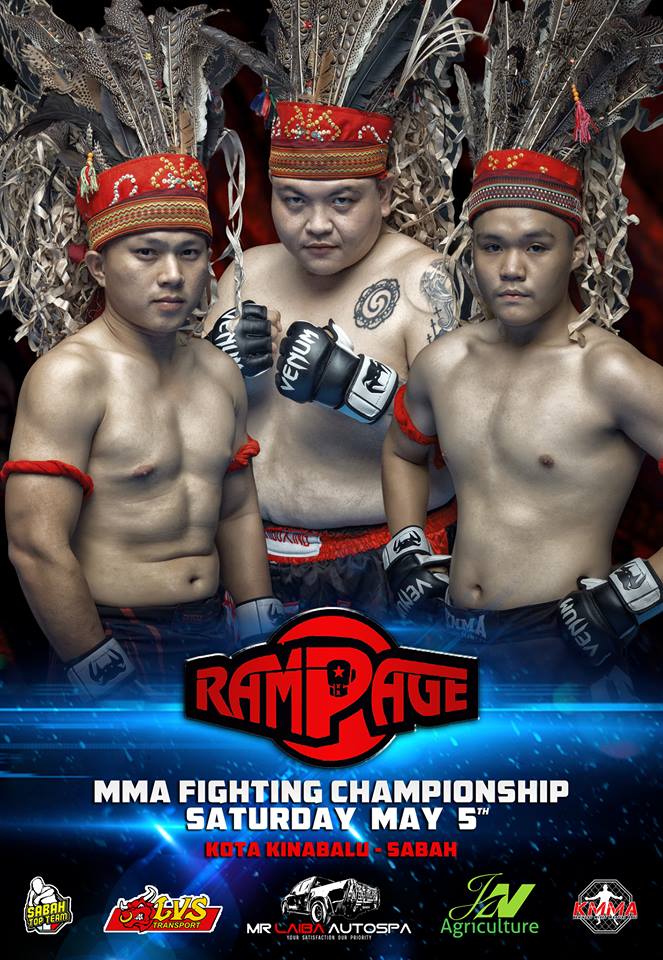 check out the awesome poster design by  Keningau MMA for their fight team, featuring the Murut warrior headgear
————–#WRB————-