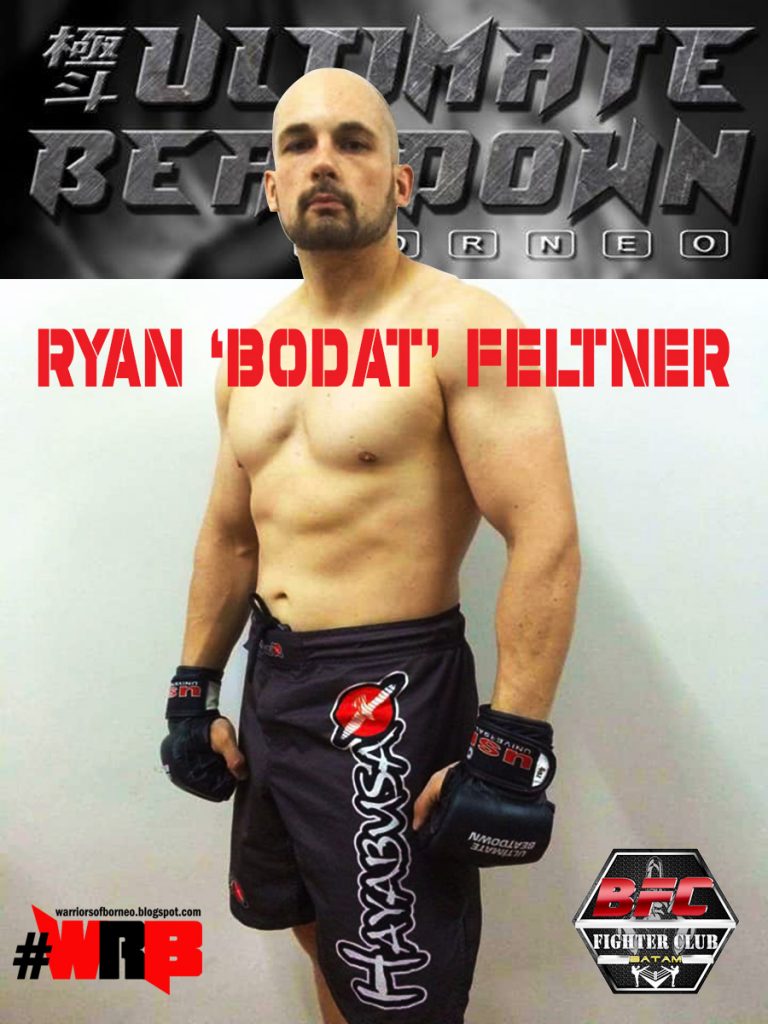 Redemption. It's on Ryan Feltner's mind. He wants to wipe off the horrible lost in FMD 13 last year. It was a 5 second lost via TKO. Ever since then, American Ryan 'Bodat' Feltner has been focusing on training to get better and seek a fight to erase that nightmare in Bangkok.
Come 12 May, he will have his chance. Ryan will be featured in the main card for ULTIMATE BEATDOWN 28 : BORNEO. He will be fighting pro at middleweight against local Malaysian from Sabah pro debutant Mike Sidis.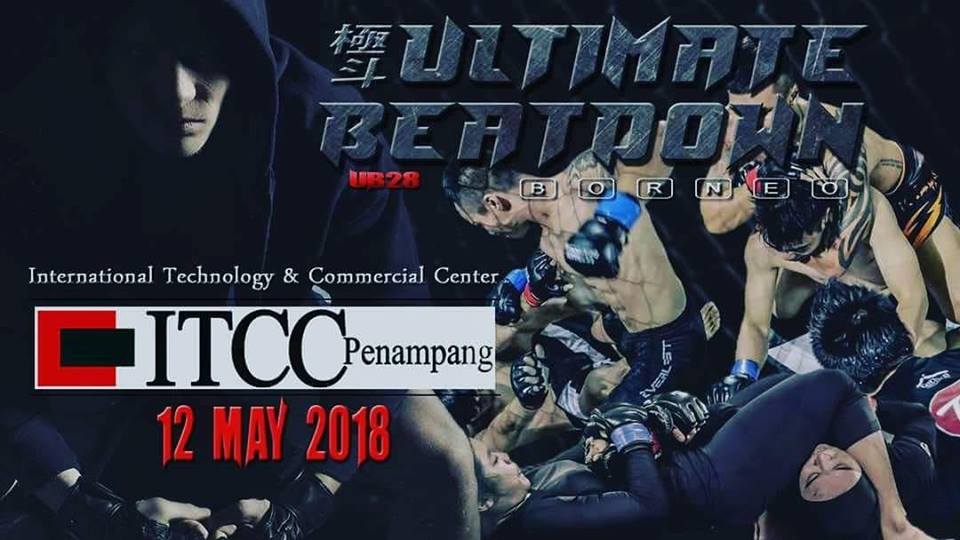 ————#WRB————-
At 29 years old, Ryan has 4 MMA fights experience. 1-1 at pro. But his journey began when he was very young. At 8 years old struggling to focus on his studies and getting bullied regularly, his aunt signed him up for Taekwondo classes.
When he turned 11 he moved from Arkansas in the south to Michigan in the north, but things didn't gets better. The bullying got worse, mainly because southerners speak a different slang than northerners.
It was on a fateful day in a playground that 7 older kids jump him. Ryan did not concede defeat, he fought back even though the odds was against him. He managed to knocked out 3 of them before he was taken to the ground as they kicked and stomped on him. It was fated that the teacher on duty that day, Mr. Hutchinson saw what happened and came to break off the fight and chase the delinquent away.
He sat Ryan up and asked whether he was okay. He said Ryan was really tough and brave but that he need to learn control. Turned out that Mr Hutchinson was the school's wrestling coach. From then on he joined the after school Wrestling Club program, in which he gets to train with the high school wrestlers.
" I'll never forget the act of kindness and understanding that coach Hutchinson showed me. It paved a way for me to become a better person."


Ryan didn't compete in wrestling when he was in Michigan because he started at a considerably late age compare to others in Michigan where they train at a very early age and the local competition circuit is very high level at his age group. But the exposure and the chance to be able to train with other athletes gave him a good foundation in martial arts.
Ever since then Ryan has trained in American Kenpo (considered as one of the first MMA systems introduced to North America consists of Goju-Ryu Karate, Chinese kenpo and Judo.) He has also started training in BJJ 3 years ago along with Muaythai, Sanda and western boxing.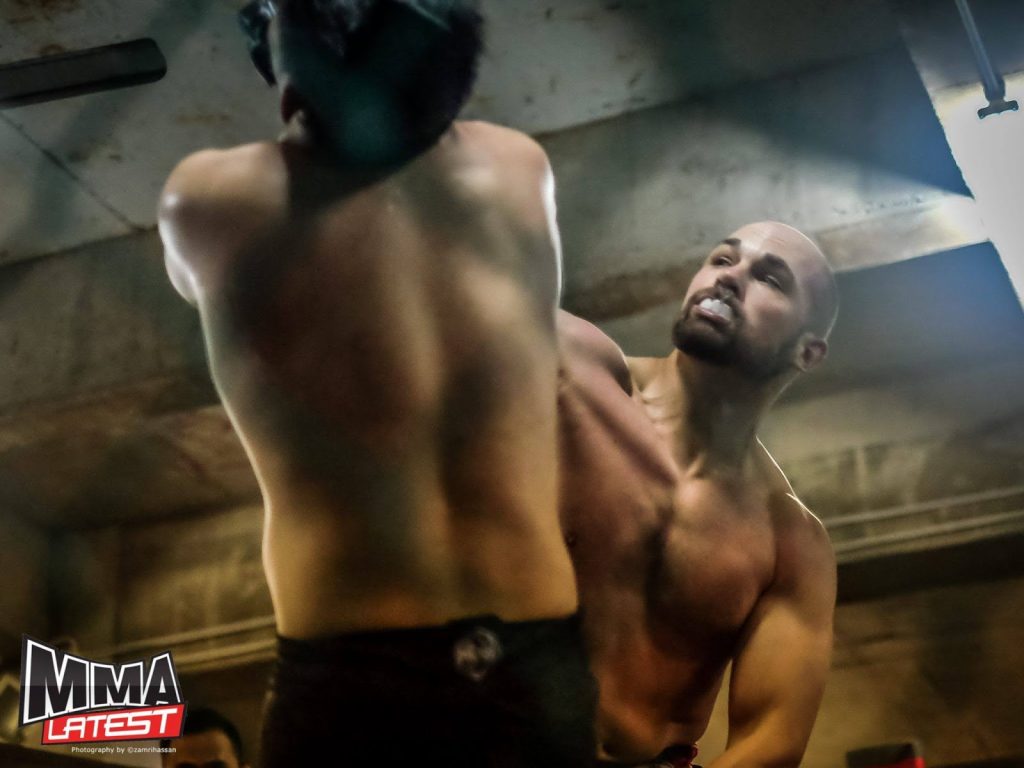 Jobs opportunity was tough back then and he being a person with high principle and an independent attitude, Ryan at one time was homeless and live out of his truck. He even experience rummaging through garbage bin for food just because he does not want to beg for food.
Making a huge decision one day to just leave America and use whatever little money he has, he board a flight to Malaysia. Seeing that Malaysia MMA scene is growing, Ryan felt that he found a place close to his heart, he found a place to develop his art and also to contribute his knowledge to the local Malaysian combat sports. It is also a place that he found love, where he met his wife from Penang.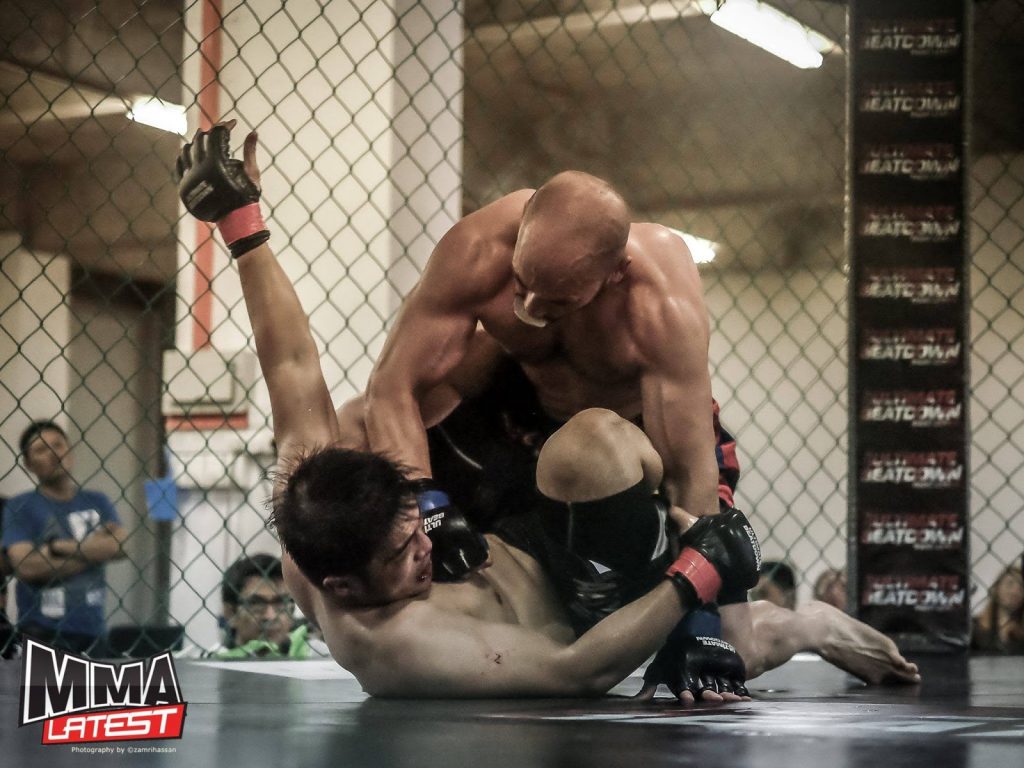 ————–#WRB————–
He is now a certified personal trainer and specialize in nutrition and rehabilitation. He is currently training at Batam Fighter Club with 70kg Indonesian One Pride MMA Champion Jeka Saragih.
Recently Ryan travelled to the north eastern part of Thailand ( the Issan province close the the Lap border). It is where many Thais start their careers as Thai boxers. The training here is more raw and hardcore but not many gyms here openly accept foreigners. He search around and was rejected by all until finally he found Kru Kreed.
Ryan considered the experience with Kru Kreed as the best striking coach he ever had.
"He said I can kick and punch but I'm not using any technique. So he started me from very basic training and in my one month my technique got better than from a year of training anywhere else.
But it was not easy. The training was very hardcore and intense. My legs was bruised and battered so bad, I could hardly walk."
But it was a no pain, no gain journey for Ryan. He felt his striking improve leaps and bounds.
Ryan is looking to showcase what he has learn from Thailand on Saturday night, combining his improved striking with his strong grappling.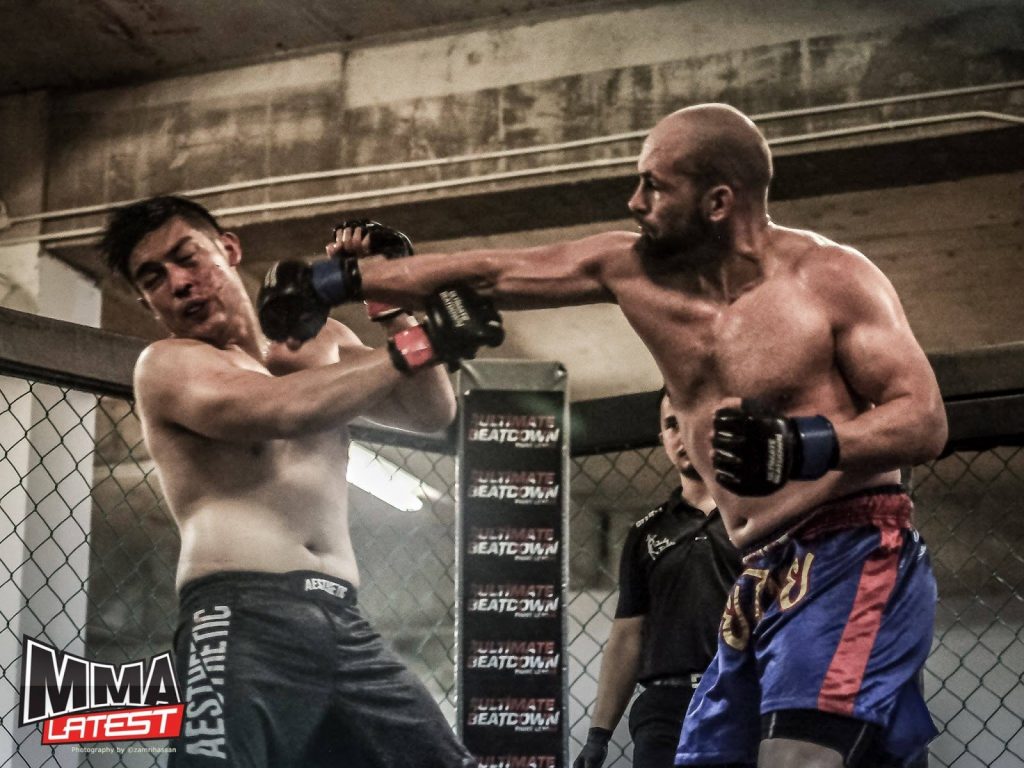 ———–#WRB—————–
On his fight with Mike Sidis,
"It's a classic match-up between striker and grappler. I have worked extensively on my submissions and to refine my stand-up techniques. 
I understand that my opponent is a kickboxer. You never want to underestimate someone but I've watched his tape and I'm not really impressed with his stand-up skills.
I am confident of victory. I feel I'm more athletic and more experienced and more well-rounded. I have the ability to take the fight to the ground and keep it there. Fighting against a strong wrestler is completely different than a BJJ guy. There's nothing more embarrassing than getting thrown like a child and being held on the ground knowing you can't get back up."
Ryan says that he believe that people are underestimating him quite a lot because they are judging his ability based on his last fight, the 5 second loss in FMD 13. He does not mind being the underdog. It gives him more motivation to proof them wrong.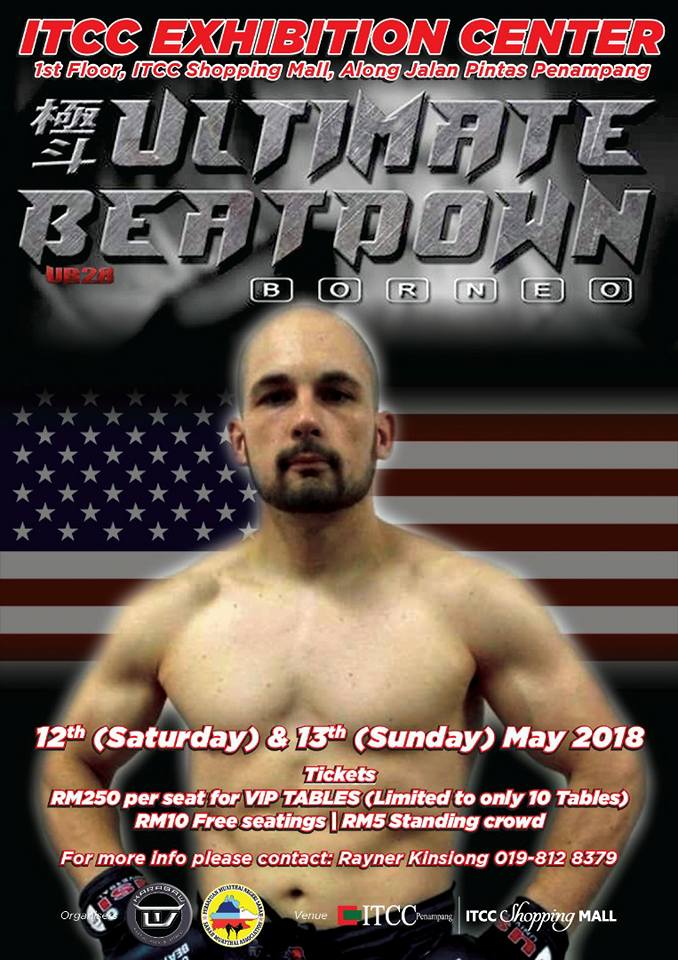 ————#WRB—————–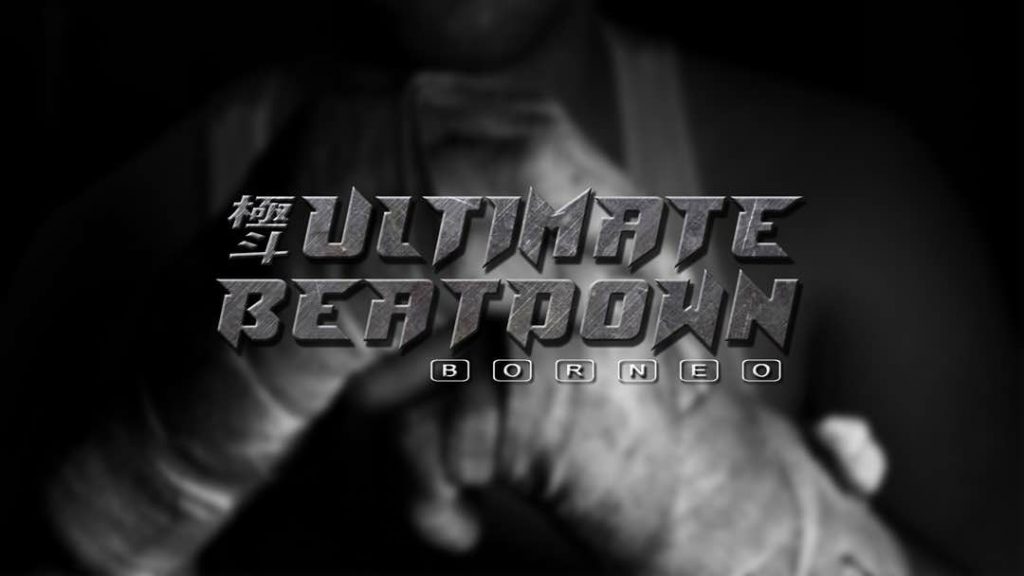 About Ultimate Beatdown
Ultimate Beatdown
is base in Johor Bahru. It is the most successful and the longest running MMA promotions in Malaysia. Founded by
Melvin Yeoh
, former
ONE Championship
fighter and widely considered as the pioneer of MMA in Malaysia. It started off as an MMA only promotions, but has these pass few events evolved to a multi style promotions which include cage boxing and Kickboxing. There was even a cage grappling super fight in pass event.
This Saturday event is the first time UB venture out of Johor. Working together with Team Karabaw lead by Rayner Kinsiong, this special edition will be located at 1st floor, convention center of the new high-tech mall – ITCC in Penampang
Come and experience the new Ultimate Beatdown Borneo edition this Saturday 12 May. UBB will feature 14 bouts of Amateur Cage Kickboxing. 10 bouts of Cage Boxing. 10 Amateur MMA . It promise to be a night full of actions as many season fighters from Sabah, Brunei, Sarawak, Japan and from India will showcase their skills and showmanship.
Fights starts at 1pm to 6pm. 6pm onwards is MMA bouts.