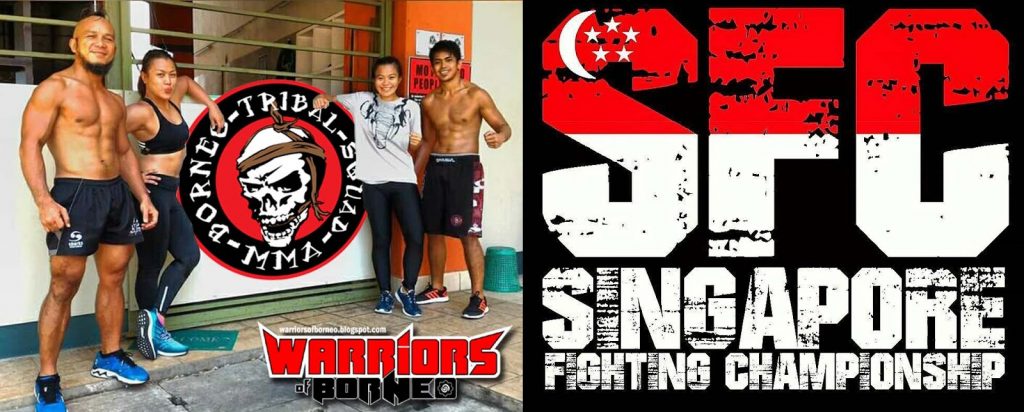 By end of tonight 20 FEB 2016, history will be created in Singapore where for the 1st time WBF
( World Boxing Federation ) Light Heavyweight Boxing will be crown in a Super-4 tournament.
This will go down in La Danz Ballroom at 
Singapore Fighting Championship 2
.
Representing Malaysia will see veteran MMA specialist, Jian Kai Chee feature in the main card of 75kg Pro K1 Kickboxing. Jian will face another veteran MMA fighter, ex UFC fighter Will 'The Kill'  Chope, whom many considered to be the most active fighter in Asia.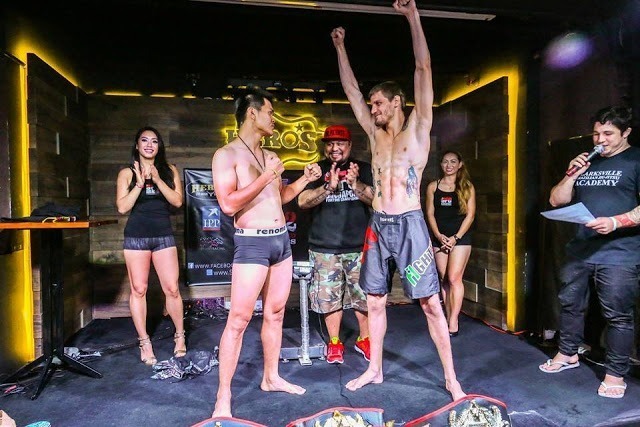 Jian Kai Chee vs Will Chope – K1 Kickboxing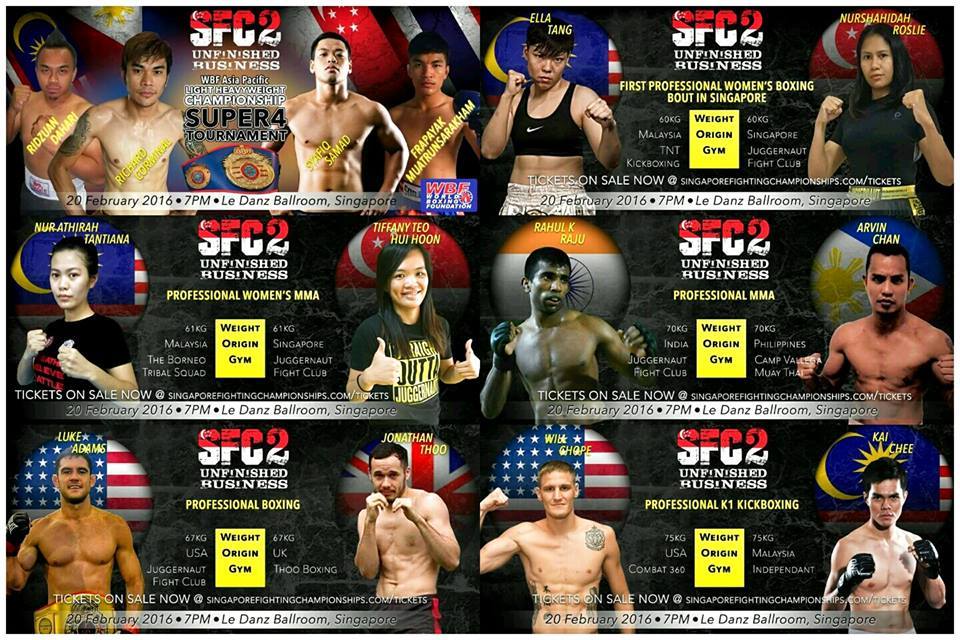 Pro Fight card
Carrying the Malaysian flag will also see two fighters from Sabah, both representing Borneo Tribal Squad ( BTS ). The reknown gym from where AJ Pyro and Ann 'Athena' Osman is from. Hisyam ' Zephyrus' Sam took up a last minute call up replacing an injured fighter to fight for the WBF title. In the 4 man tournament, Hisyam 1st match will be against Richard Cominal of Philipines in Bout 4.
Hisyam team mate, Nur Athirah ( Tira ) will be debuting as a Pro MMA fighter, going against another debutant …Tiffany Teo of Singapore representing Juggernaut Fight Club.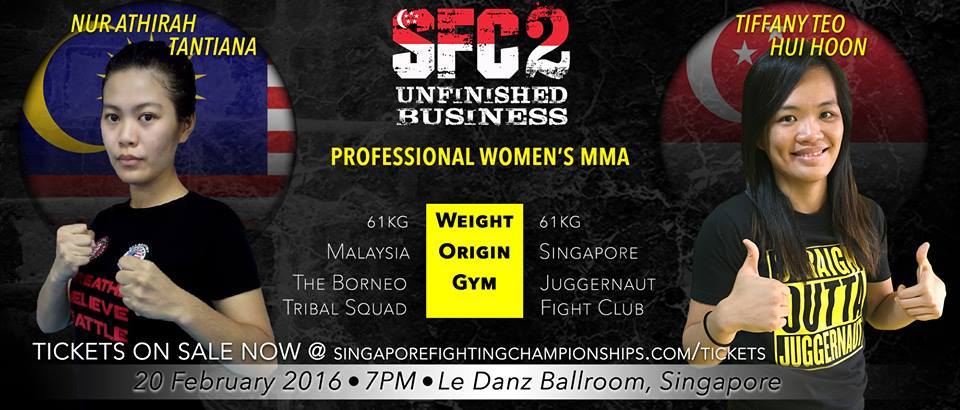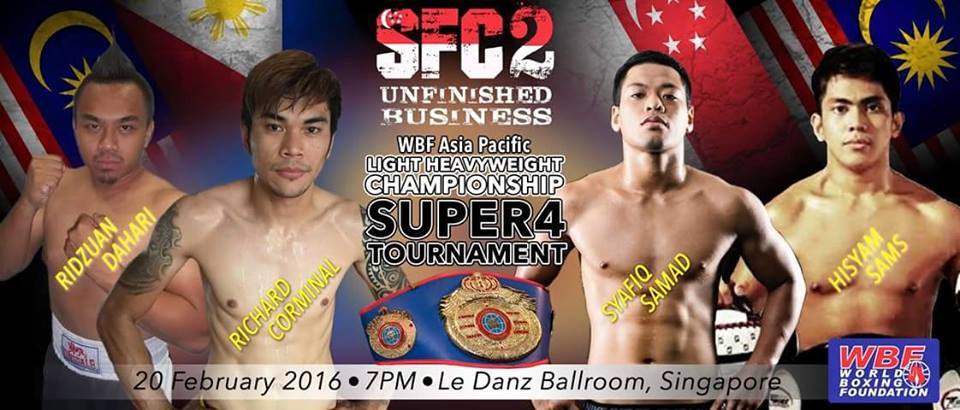 BTS is one of the most active gym in Borneo and has produce many pro fighter. The founder himself, AJ Pyro is no stranger to the MMA scene in this region. Coming from a silat background, he was the 1st Malaysian National Champion of ONE Fighting Championship. In BTS list of Pro fighters are AJ himself ( MMA, Silat, Muaythai ), Ann Osman ( MMA ), Natalie ( MMA ), Samuel Lai ( Muaythai ), Audrey Laura ( Silat ), Tira ( MMA ), Hisyam ( MMA, Silat, Boxing )
Warriors of Borneo blog is thrill that Samuel Lai ( Jesselton Fight League 2015 Grand Finalist, MIMMA Lightweight SemiFinalist ) took his time to contribute a story featuring his BTS team mate Hisyam and Tira for SFC2. Below is the story.
————————————————–
Although Borneo Tribal Squad was formally established in 2008, but it already began as nothing more than a dream, a lil dedication and a lot of hard grinding. Its founder and chief instructor,
semi-retired pro fighter, AJ 'Pyro' Mansur (ONE Championship Malaysian National Featherweight Champion and former national Silat Champion) started teaching Muaythai in 2009 starting at
CORE Fitness
. And it was here that a young kid walked in hoping to lose some weight but more than that, he has since turned pro in MMA and Muaythai and on 20th February, he will debut in his pro boxing career.
( catch previous posting on Hisyam preparing for FMD7 here )
Fast forward several years from 2009 and in walked a young lady also hoping to lose some weight. About a year plus later, she too will be making her pro fight debut in the same fight card as that young boy, but in MMA.
Ladies and gentlemen, Borneo Tribal Squad presents to you Muhammad NoorHisyam Samsudin aka ZEPHRYUS and Nur Athirah Tantiana Jumahat aka TIRAMISU. This is their side of the tale.
Interview with Hisyam.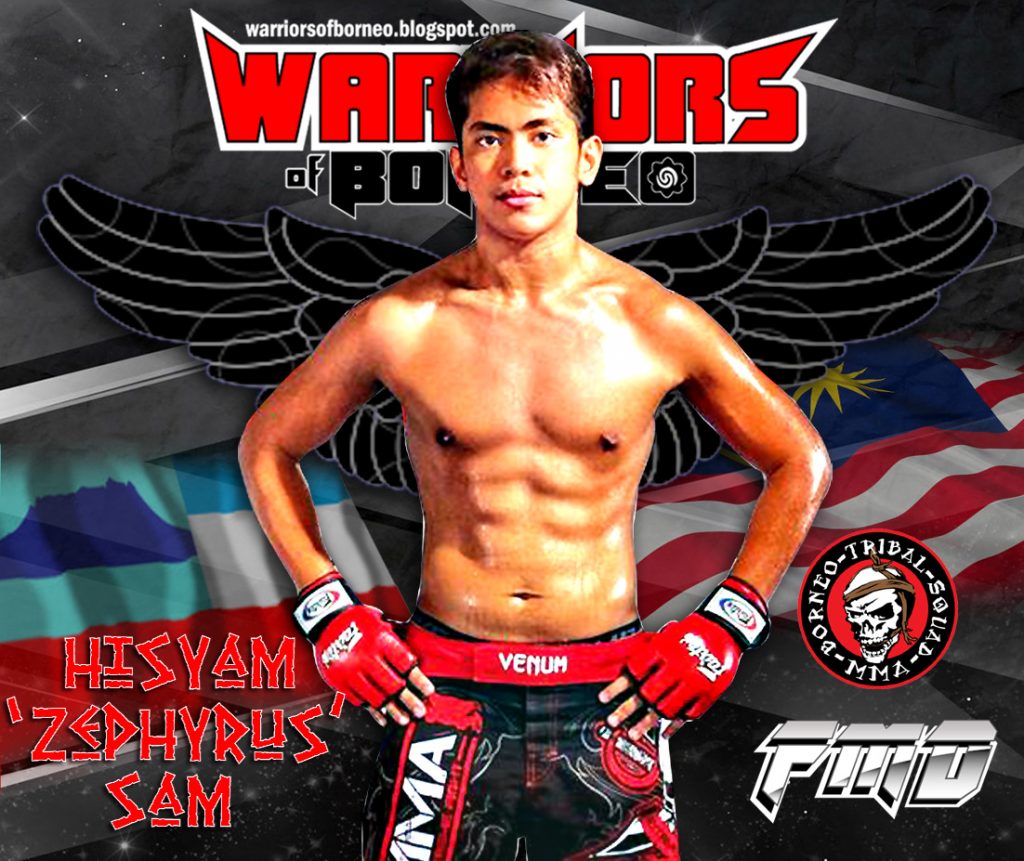 Briefly intro yourself and how/when did you get involve in martial arts.
I'm Muhammad Noor Hisyam Samsudin also know as Hisyam. At first I went to the gym only to lose weight and yes to have a 6 pack. I saw coach AJ first when he teach Muaythai at CORE Fitness gym and it looks interesting so I joined. At first only thinking I can lose more weight. Instead I fell in love with Muaythai and started training hard. This was in 2009, so I'm involved in martial arts for almost 7 years now.

How did you join AJ/ BTS?
One day coachAJ approach me and ask if I want to fight and the rest is history.


How was the beginning experience like?
Not going to lie. In the beginning, it is extremely hard because it was my first time and I never train like that before.
What is it like to train under Sabah's first Pro MMA fighter- AJ?
It is an honor to train with coach AJ. But honestly at first it was hard to adjust with his hard training. He can be very strict sometime but he only do that to push me to be at my best condition. So I thank him a lot for being a great teacher to me.
Sabah's first Pro Female MMA fighter – Ann Osman is also your team mate, what is it like to train alongside her (do you feel in awe/nervous/excited, etc)?
We join BTS almost at the same time, so we've been training with each other for a long time. She's a big inspiration for me and my teammates because of the hard work she showed us in training and when she's fighting. Feel so lucky to have her in our team.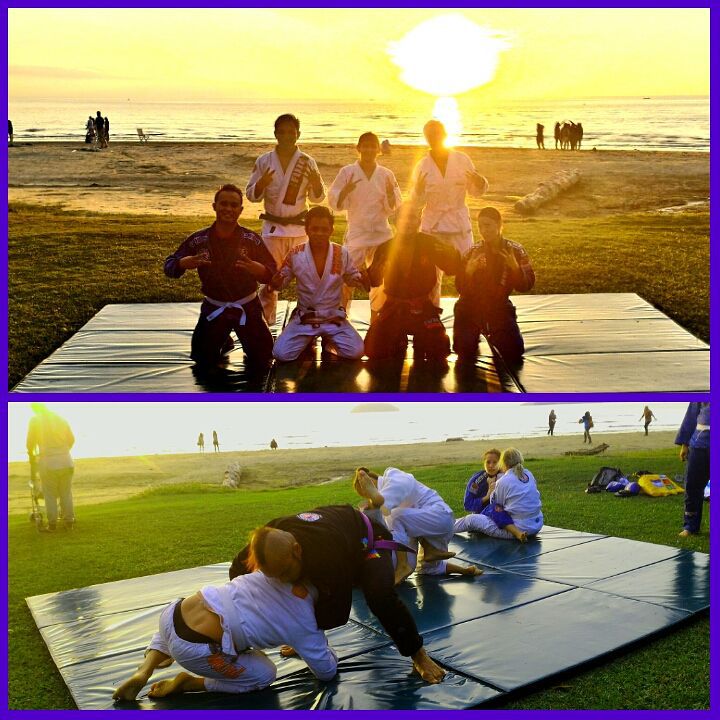 Always on the move…BTS regularly conduct training outdoor to give fighter a breath of fresh air and constantly motivate them

How was the preparation like or what is a typical 'BTS Day/Evening' of training like
I've been training everyday even if I dont have a fight, so that I'll be ready all the time. So when SFC2 wants me to replace a fighter at the last minute, I just said yes becausez i know I'm ready. Some of the training camp was at Stadium Likas a.k.a BTS Spartan Training! Only 'orang gila' like us would be crazy enough to train under the hot sun at 10am in the morning. Doing sprinting and stairs run and if the coach bring the elevation mask… well good luck to you lah!
BTS has hosted several professional fighters and high level skilled grapplers (some, leading up to their next fight), how has such experience benefitted you and your teammates?
It benefits us a lot. It helps us to improve our techniques and that's important. To me having good techniques is better than just having power.
What is it like to have BTS going under the guidance of Prof. Adam Kayoom especially since he also co-cornered you in your last two pro MMA fights?
Prof. Adam Kayoom just like coach AJ is a really great teacher. He always gives motivation and always inspire us with his humble character.
Any final words for your opponents??
I would like to say sorry in advance because I'm going to take the belt back home.
Anybody you liked to thank?
I would like to thank to my family in Tawau for being so supportive with what I do. Thank you also to coach AJ, my teammates and all my BTS family for always helping and pushing me to train my best. Without them I don't think Ican do all this alone. Not forgetting all the people who always give support from day one till now. You guys are really AWESOME!!
Ok, quick shot questions:

Milkshakes or Floats?    
Milkshakes
Coffee or tea?    
Coffee
Jordan or Maradona?   
Maradona ( I dont play basketball. Sorry Jordan)
Ferrari or Porsche?   
Ferrari
Pink or Yellow?   
Yellow ( Colour of Bugis warriors! )

Hisyam and Tira proudly wearing their new walk out T-Shirt
———————————————————
Interview with Tira


Briefly intro yourself and how/when did u get involve in Martial arts.
My full name is Nur Athirah Tantiana Jumahat but called me Tira. At first it was only for fitness to look good and having a great body but when I try martial arts classes, I became addicted to it.
How did you join AJ/ BTS?
A friend suggested me to go to BTS, that's how it all started.
How was the beginning experience like?
Sore ! It was tiring and exhausting
What is it like to train under Sabah's first Pro MMA fighter AJ?
I feel really honored, amazed and still feel WOW until now to train under him. He's a great mentor, he knows what his doing and while doing that he really takes care all of his fighters and other BTS members.

Sabah's first Pro Female MMA fighter- Ann Osman, what is it like to train alongside her (do you feel in awe/nervous/excited etc)?
Having Ann Osman as my teammate has helped me throughout my camp. Having her share her experience and training with her definitely makes me more confident in winning this fight.

BTS also have several local pro fighters (MMA and Muaythai) as well as other up and coming amatuer fighters. What is it like to have them as training partners?
It's good to have them as training partners because it's open my mind that everyone has their own style and by that it improve mine.


Having chosen to go pro in MMA, what inspired you to do so?
It has always been my dream to fight pro MMA especially with support and encouragement by my coach and my teammates at Borneo Tribal Squad and support from my husband and family.
You are BTS 4th female pro fighter but Sabah's 2nd Pro Female MMA fighter. How do you feel about that?
I feel overwhelmed and nervous, it's hard to say what I feel about it but mostly it made me feel eager to learn more and really need to improve more.
Does having Ann Osman as your teammate played a factor in your decision to go pro?
Maybe.
Any other individuals who inspired you leading up this fight?
I'm not saying this just because they are my teammates but honestly, yes…every team mates inspired me for this fight.

Ok. So, how has training camp been for you in preparation for your pro debut?
Training camp is tougher than I imagined, its pushing my own limit and going beyond my expectation.

How do you feel about tearing up another individual's face…legally??
Can't wait for it !

Any last words for your opponent?
I'm going to take that win!


Any people/group you would like thank?
I would like to thank my Coach AJ for the training, support and guidance. Thank you so much to my BTS training partners and members, my husband for letting me joining this, Jumahat family and friends for their unstoppable support. Also special thanks to my sponsors SJY Sports, Team HHCS and Odd One Graphic Printing.
Quick shot questions
Viking or barbarian? 
Coconut Water
Linkin Park or One Direction? 
Linkin Park
Tokyo or NYC? 
NYC
Tiramisu or ABC with Haagen Daaz
Both! Its food, its hard to choose.
Interview by Samuel Lai.
Warriors of Borneo Blog again would like to thank Samuel Lai for contributing this story above.