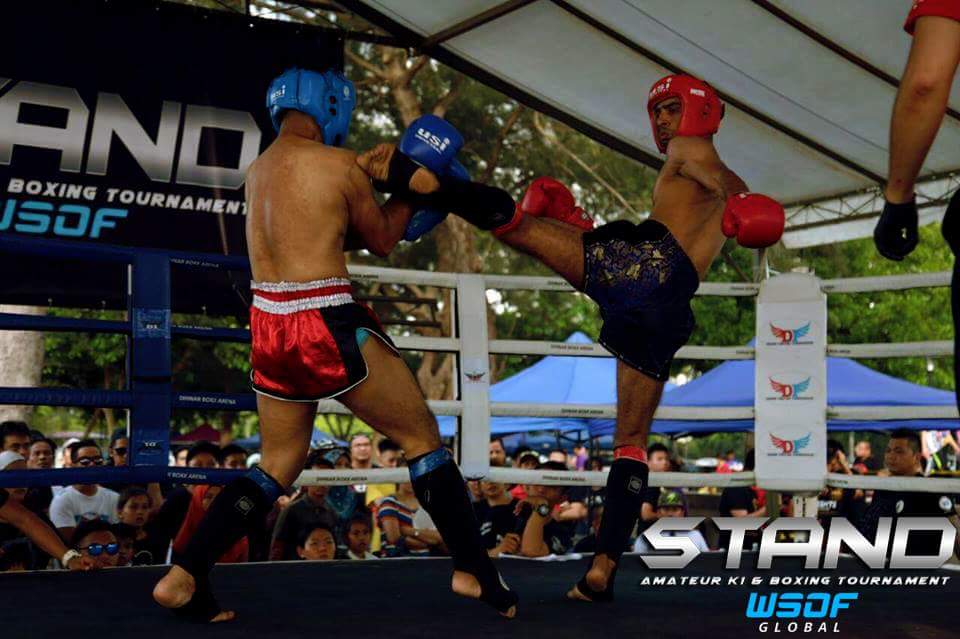 The beach front fight concept continues as STAND K1 & Boxing series 2 was organised at the Tanjung Lipat beachfront in Likas Kota Kinabalu on 3-4 Sept 2016. The first STAND was organised in April this year in Karambunai Beach Resort which was a resounding success. Close to 200 athletes took part.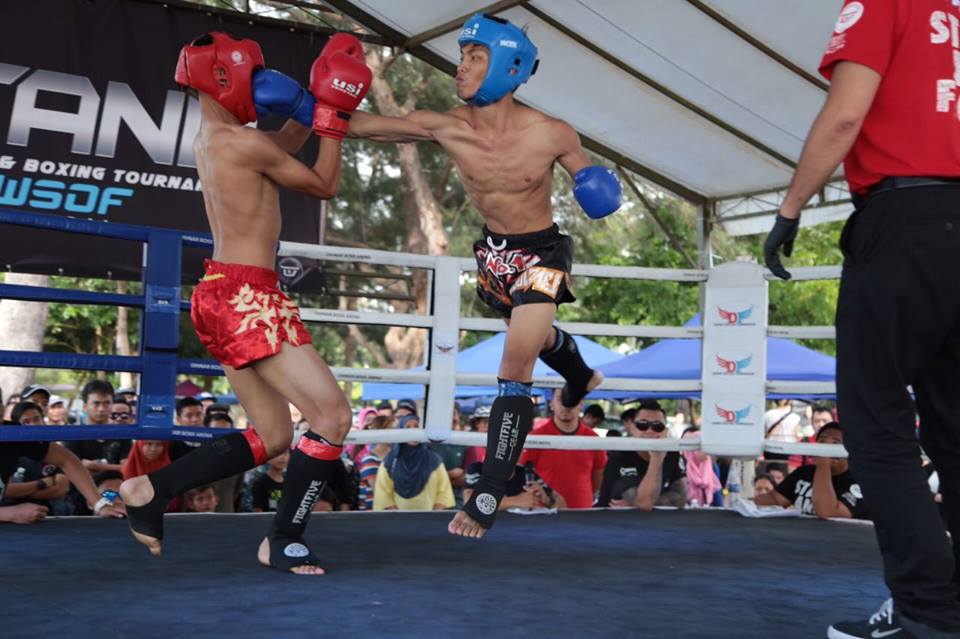 For the 2nd series more than 100 participants from various team around Sabah, Brunei, India, West Malaysia and Labuan participants. It was organised together with the Siok Bah Beach Carnival organised by ProEve Sabah, in which a Strongman Challenge, Cycling, Zumba, Fun Fair and many other activities was held.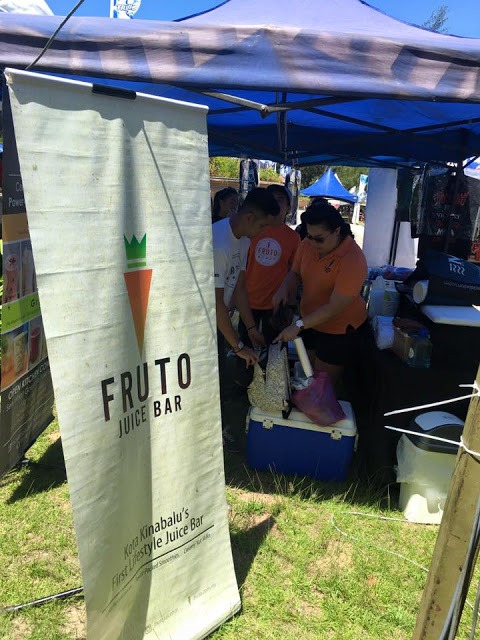 Fruto Juice Bar is a regular in most combat sports and fitness events, providing healthy and nutritious fruit juice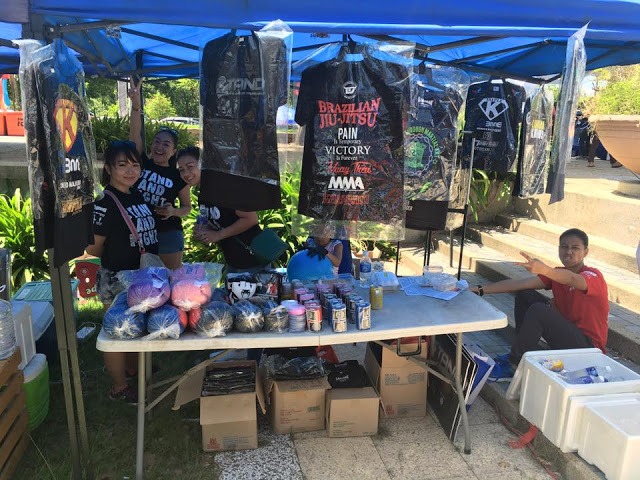 Fight apparel and gear on sales by SoDoWe
Although funds was not insufficient but organizers
Team Karabaw
said the show must go on. According to
Rayner Kinsiong
, the event director, STAND was created to give a platform for amateur fighters to fight and gain experience in combat sports, in this case it's KickBoxing and Boxing. He thank Borneo MajuBina and the other sponsors such as Fight Five and
ProEve
that made the event possible. He said that the event must go on to ensure fighters that have train hard have an opportunity to showcase their skills but more importantly to build their fight experience.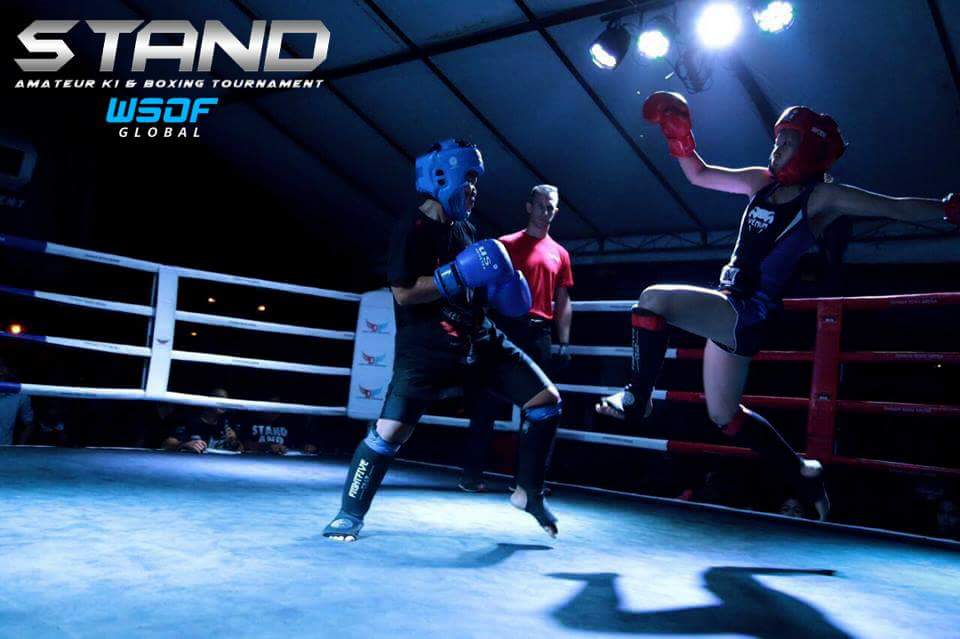 Last year fighters was able to take a break in the pool of Karambunai, this year the beach front which is just a few steps away was a welcoming sight and the fresh breeze from the seas certainly refreshes the mind and sooth sore muscles.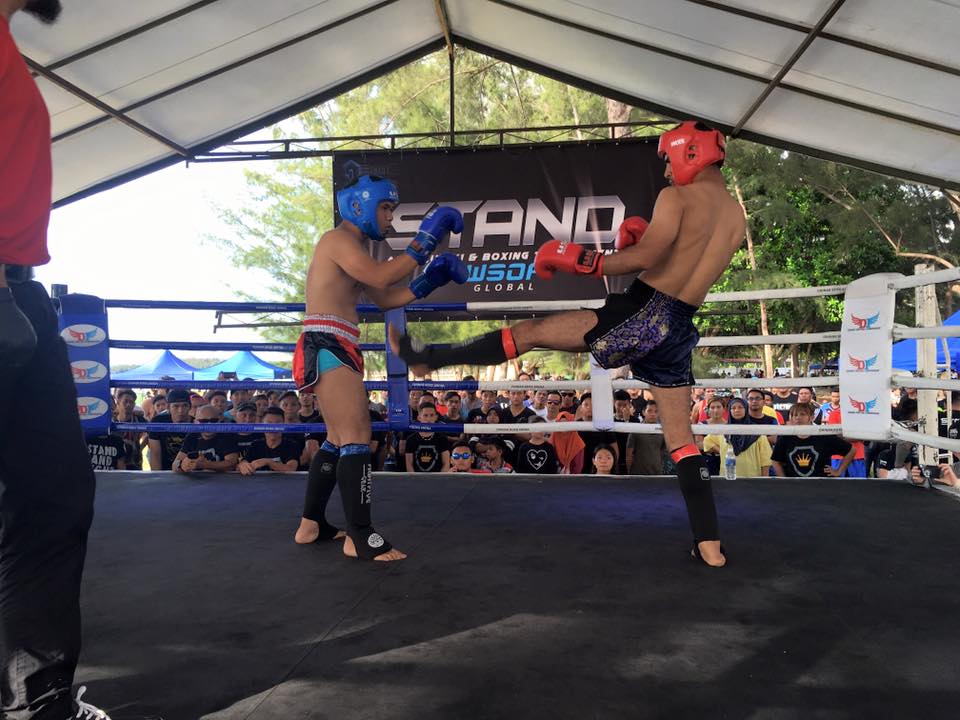 STAND's K1 Kickboxing was sanctioned by
ISKA
(International Sports Karate Association). According to ISKA East Malaysia representative –
Alvin Chong
of
Borneo Combat Gym
, K1 Kickboxing is where all different types of martial arts practitioner can compete. Striking style martials arts such as Karate, Muaythai, TaekwonDo, Silat, Wushu, etc can compete under a common rule of K1.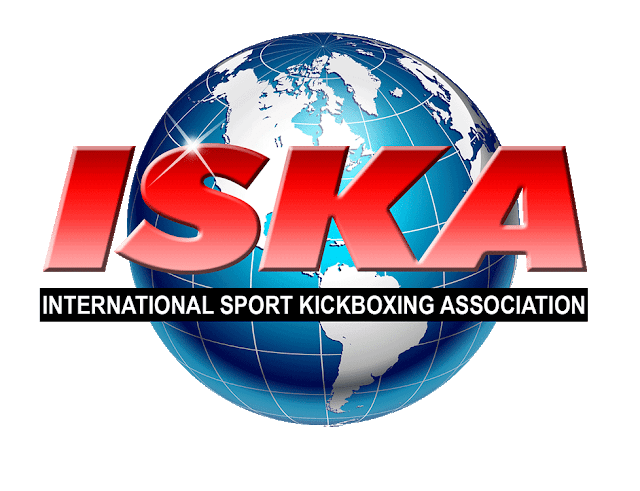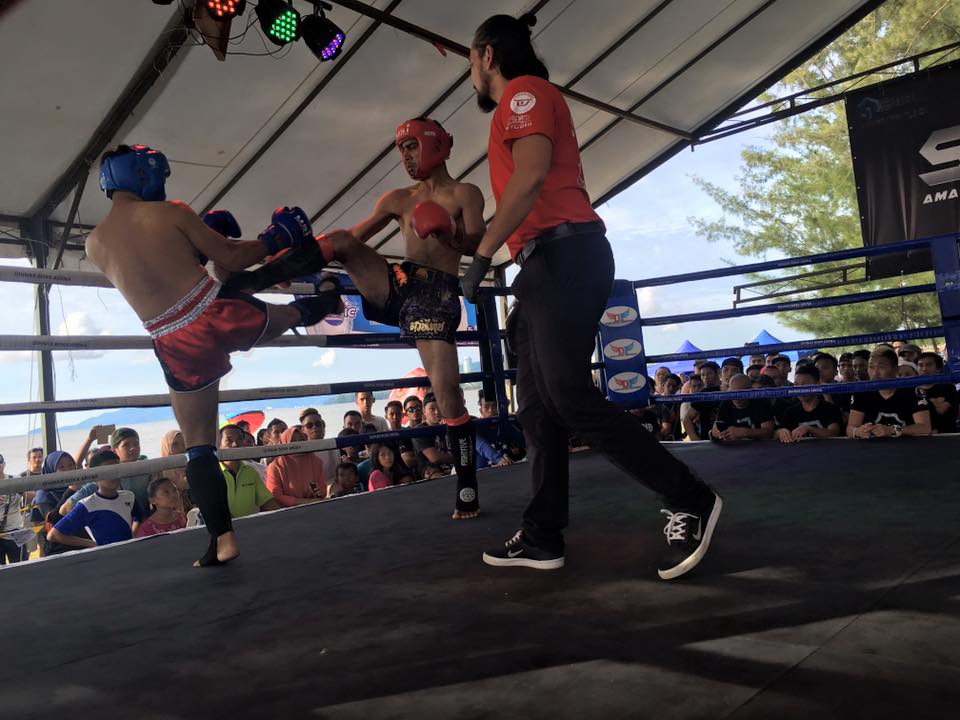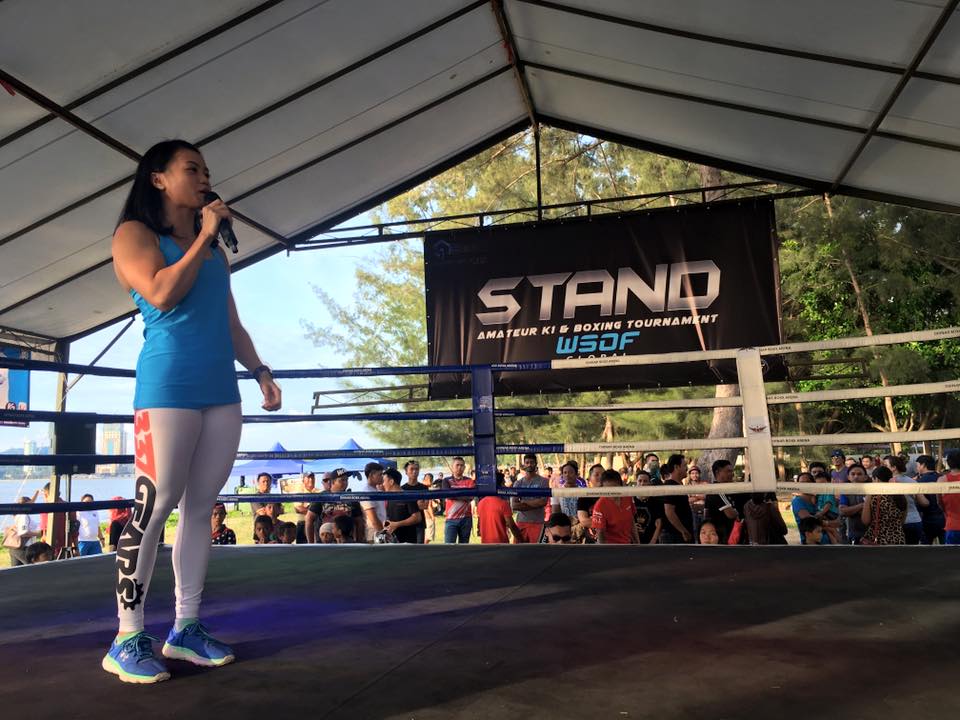 Adreanna Joyce, local fitness celebrity making an appearance to conduct a fitness challenge
The 2nd series of STAND is also the first Kickboxing and Boxing events from Malaysia affiliated to
WSOF
( World Series of Fighting ). WSOF is in support of local regional combat sports events to help promote it to a bigger global audience. Fights will be video and kept in their fight library and any fight fans in the world can log on and pay a minimum fees to enjoy a full library of fights from around the world. These gives local fighters more exposure and also at the same time promote the venue of the events. Rayner believe this is great opportunity to promote Sabah as a great sports tourism destination.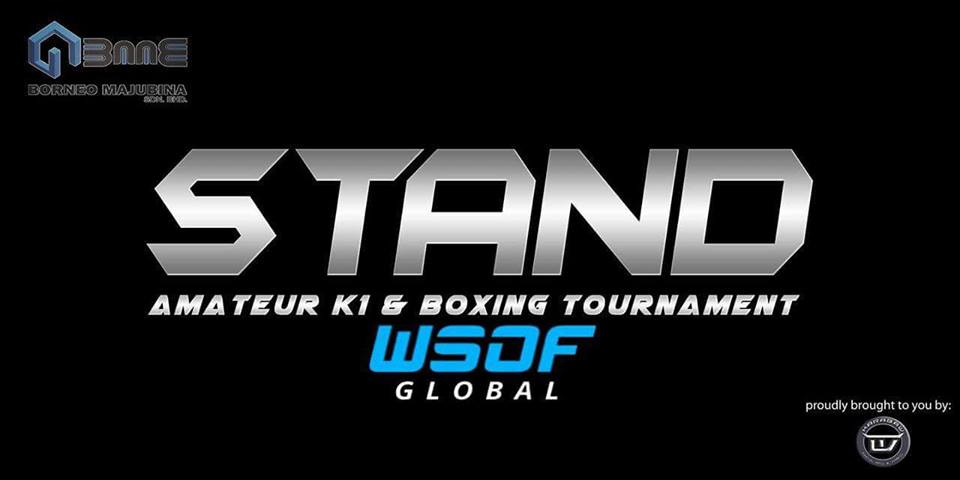 Below are the full results:
K1 KICKBOXING Feather Weight
1.Md Shah (66)
2.Nizar Arsad (KARABAW)
3.Vino A/L Valthumanan (REVOLUTION)
3.Muliadan Danny (66)
Light Weight
1.Addy Raisal (KINABALU KINGS)
2.Md Shazmiel (KINABALU KINGS)
3.Valton George (KARABAW)
3.Maizan Uzma (BORNEO PHONIX)
Light Welter Weight
1.Anil Nelta (RELENTLESS)
2.Md Syahrine (KINABALU KINGS)
3.Darrel Wong (SABAH TOP TEAM)
3.Jason Tan (KARABAW)
Welter Weight
1.Henry Charles (KARABAW)
2.Jobly Padan (KARABAW)
3.Greg Speedy (SABAH TOP TEAM)
Middle Weight
1.Liew Teck Seng (BORNEO TIGERS MMA)
2.Vallent Pierre (SABAH TOP TEAM)
3.Jainal Abidin (REVOLUTION)
3.Terence Eyok (RF)
75 Above
1.Micheal Sidis (BORNEO COMBAT GYM)
2.Tham Yaw Kent (KARABAW)
3.Md Saify (CLOWN BOX)
3.Md Wanruzahar (KARABAW)
Women Straw Weight
1.Nurul Khairunisa (KARABAW)
2.Siti Zuriah (KARABAW)
3.Murhima Edde (CLOWN BOX)
3.Cyviline Angian (RHINO FITNESS)
Women Fly Weight
1.Ainah Libbie (REVOLUTION)
2.Clayrisa (KARABAW)
3.Zaryatie (REVOLUTION)
BOXING
Middle Weight
1.Antuque (KARABAW)
2.Azrunizam (RHINO FITNESS)
Feather Weight
1.Alingas Carlou (KARABAW)
2.Mohd Sukandar (3RMR)
3.Jonathan Quan (RHINO FITNESS)
Light Welter Weight
1.Mohd Malik (3RMR)
2.Aran Majanji (KINABALU FIGHTER)
3.Saravanan (MONARCHY)
Women 53-56kg
1.Khalilah (BRUNEI)
2.Amanda (KARABAW)
Super 4
K1 Women
1.June (KINABALU FIGHTER)
2.Nur Naznerah (BORNEO PHOENIX)
3.Baeby (KITAKITANI)
K1 Teens
1.Areen Khan (KINABALU KINGS)
2.Md Syafique (KITAKITANI)
3.Md Nasir (JAGUAR MUAYTHAI)
3.Md Syahrul (BORNEO PHOENIX)
STAND will return in 26 November. Tentatively planned to be held in the interior town of Keningau.