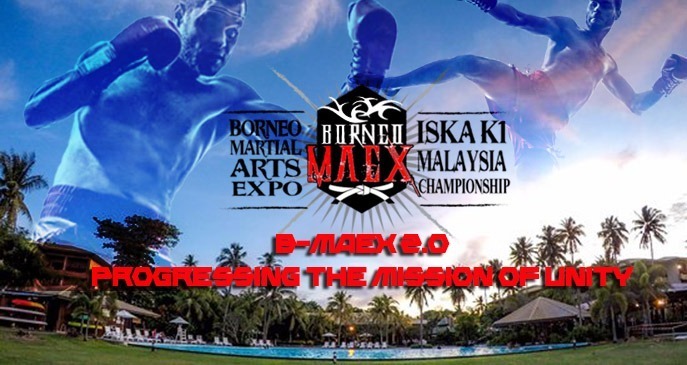 Unite we stand, divided we fall. The idea to unite the martial arts community in Borneo is truly a noble one. Borneo has recently for the past few years seen tremendous growth in martial arts. Combat sports events are aplenty. Every one or two months or so there will be an event. Martial arts gym has grown in numbers. Number of participants are growing as can be seen in various championship that received good numbers of participants in the amateur categories. But sometimes too many of events can have negative effects. Participants becomes selective of events and quality of organisation may be affected too.
To further the growth, the community must unite. Unite in a sense where events are plan out in a orderly manners and ensuring no clashes of dates. Good events management ideas and best practice are shared among peers. Safety and fair rulings are implemented. Inculcate a culture of respect, sportsmanship and humility among martial artist.
These are the vision and objectives of B-MAEX (Borneo Martial Arts Expo). The idea that is started by Alvin Chong of Borneo Combat Gym Labuan and ISKA representatives Borneo has seen it materialised in Dec 2017.
( click here to read the story of 1st BMAEX )

The foundation was laid in the inaugural event last year where it was launch by Labuan member of parliament Datuk Rozman Isli. The event was successfully held in Labuan's Palm Beach Hotel. In that event. Aside from the hi-light of the show – ISKA National Championship, where pro fighters compete for various title belt, an amateur tournament was also held. Expo of Wushu, Silat, Capoiera, Karate forms was performed. The 1st tiles breaking contest was held. Technique workshop was also held and a talks on various martial arts topics was held given by 8 speakers.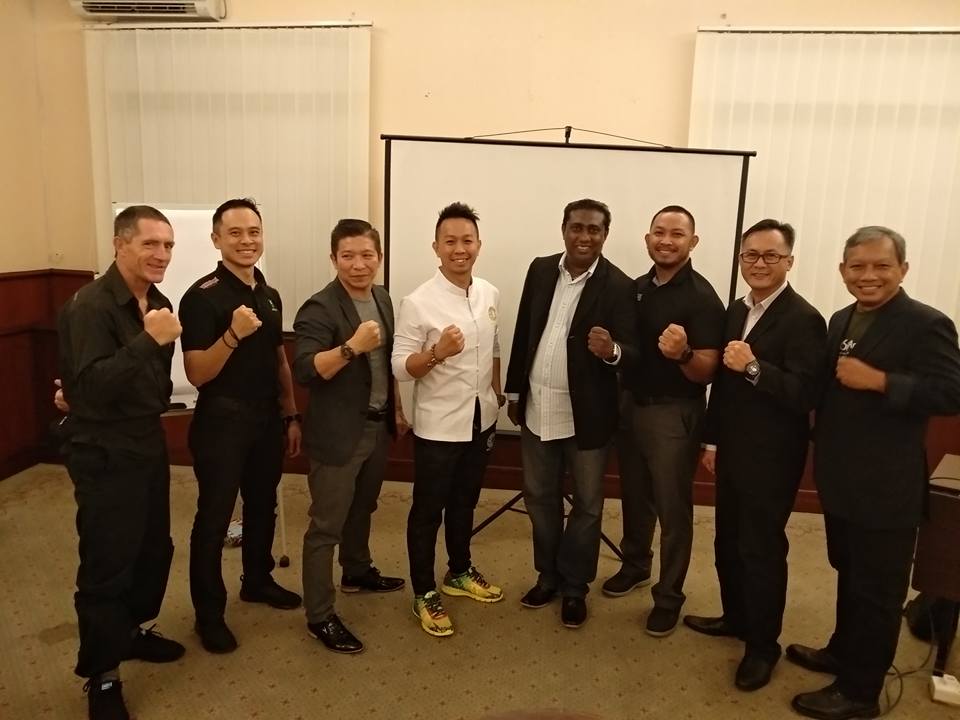 Alvin Chong and the speakers presenting various topics in 2017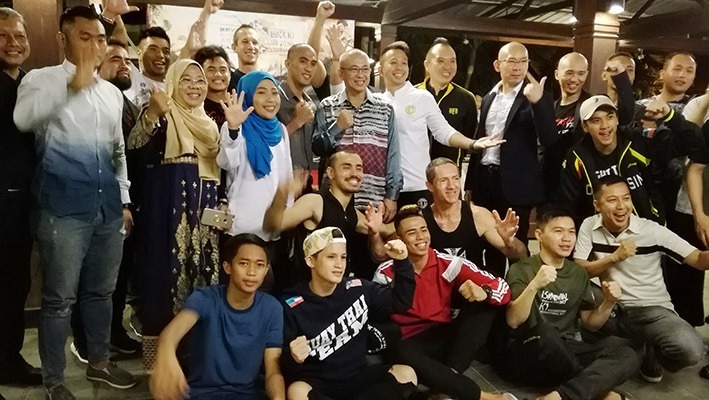 Datuk Rozman with some of the fighters at the launch dinner (2017)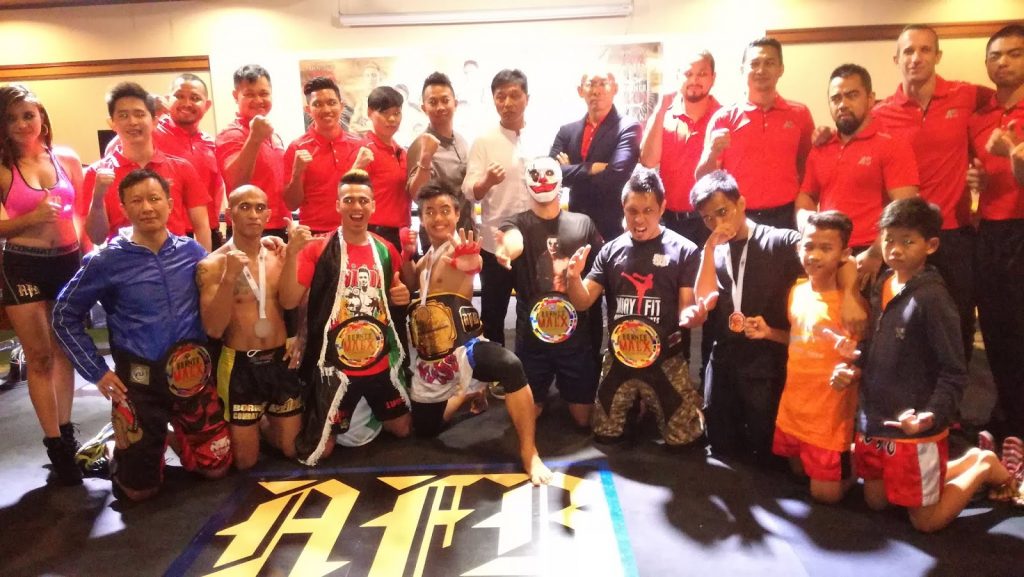 Winners of the Pro Kickboxing category in 2017
Kickboxing is chosen as the main combat sports competition for BMAEX due to it's simplicity of rules and common techniques used, which means any martial arts stylist from either, TaeKwon-Do, Karate, Sanda, Silat, Muaythai can participate, this is part of the uniting factor advocate by BMAEX.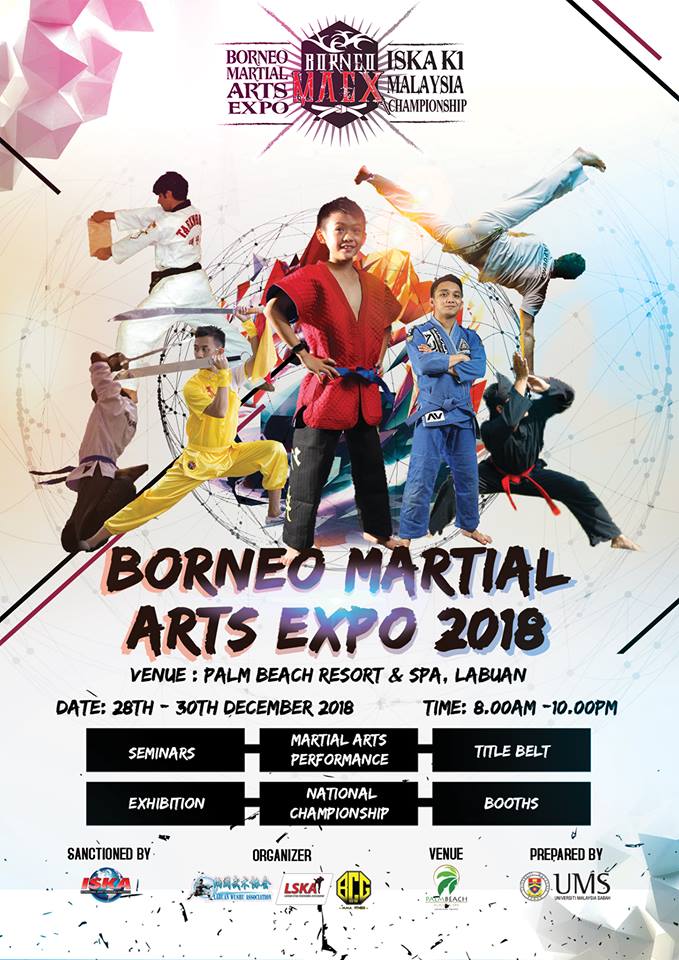 This year, the 2nd edition will be held again in the beautiful venue of Palm Beach Hotel on 28-30 DEC 2018. Labuan is chosen as it's seen as a neutral ground and this island present a ideal place for a year end get together to celebrate the year's achievement. Participants have the opportunity to enjoy sunny time at the beach, delicious seafood and endless shopping for duty free goods.
A second edition National Kickboxing championship will again be held with invitation to various countries to participate. This year will see fighters coming from Borneo, West Malaysia, China Australia & Philipines.
ISKA
Borneo representative and BMAEX founder further adds that BMAEX aims to build Borneo as a powerhouse in Kickboxing. Muaythai is synonym to Thailand, Wushu Sanda to China, why not Kickboxing for Borneo. He also said that he plans to grow the championship to South East Asia level next year and following that to Asia and eventually World level competition.
To celebrate the beauty of martial arts, forms ( or pattern ) competition will also be held. It will be divided into traditional category and free style categories. This promise to be an entertaining shows as martial artist needs to display their chosen style in a strict traditional forms and then can apply the basic forms to create creative entertaining styles ( unarmed or with weapons ) with heart pumping music.
Workshop and talks will continue to be a mainstay as BMAEX aims to not just be a platforms for fighters to showcase their skills but also a place for event organiser, fitness industry players, health food brands, tourism sector to come together to share ideas and best practice to further grow the industry. Celebrity martial artist Andy Teh and will share his experience together with Stanley Charles (Olympic Council of Malaysia), Brent Yap (MIMMA secretary), Dato Shah (president of MuayThai Malaysia), Nazri Abd Razak (President-Sabah MuayThai), Warriors of Borneo will be the official media partner and will together with ISKA make an official announcement on ways to go forward to standardise events results and collection of data to create the first ever Kickboxing fight records in the region.
According to Tan Chee Haw , this year's organising chairman in the press conference held on Wednesday (18 Oct) , BMAEX aims to be a place to gather all martial arts enthusiast to come together in a positive environment to learn from each other. Also to promote Labuan as a hub for sports tourism.
At the welcoming dinner, various contributor to the martial arts community will be presented with a B-MAEX momento. This is to recognize their contribution to the development of martial arts in the region of Borneo. In near future, Warriors of Borneo is working with B-MAEX to make an award night a reality in the near future.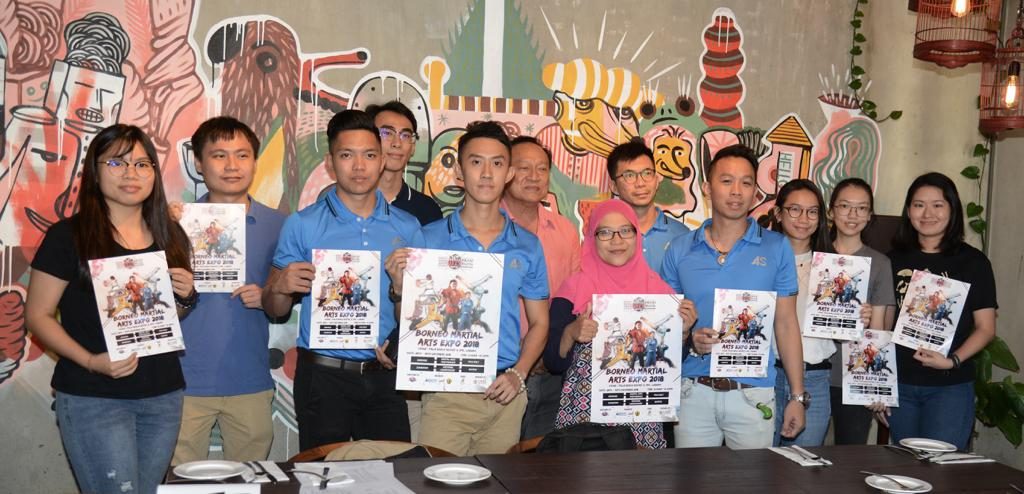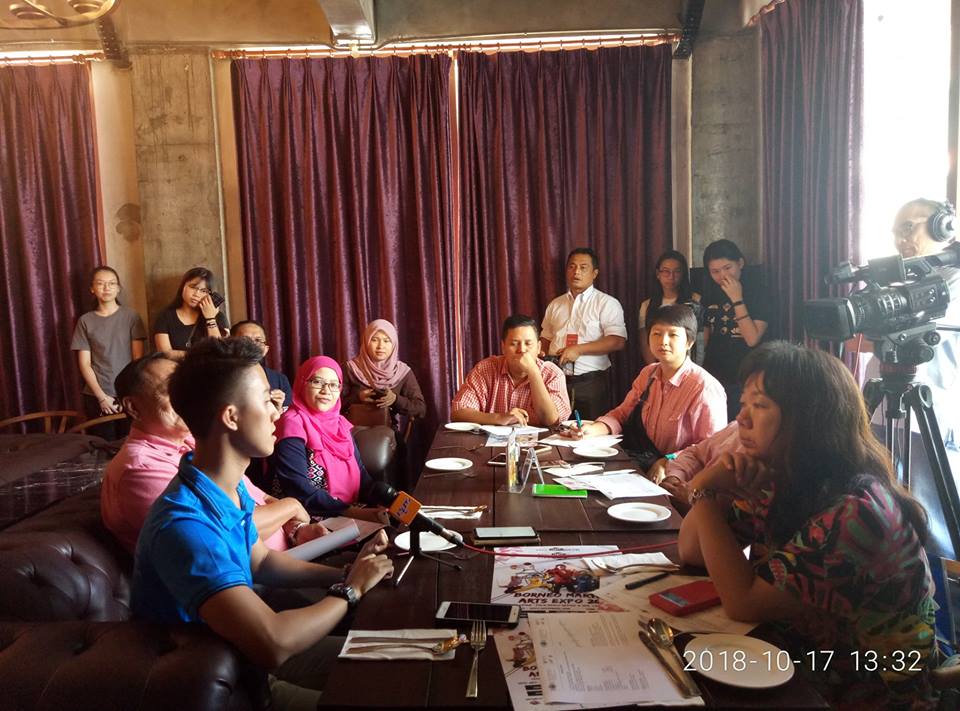 Tan Chee Haw speaking to the media at the press conference
B-MAEX is Jointly organised by the Labuan Wushu Association, Labuan Sport Kickboxing Association (LSKA) and Borneo Combat Gym (BCG). Sanctioned by the International Sport Kick Boxing (ISKA) Borneo and supported by Youth and Sports Department here, Labuan Corporation (LC) as well as Universiti Malaysia Sabah, Labuan campus (UMSKAL).
———–#WRB———–