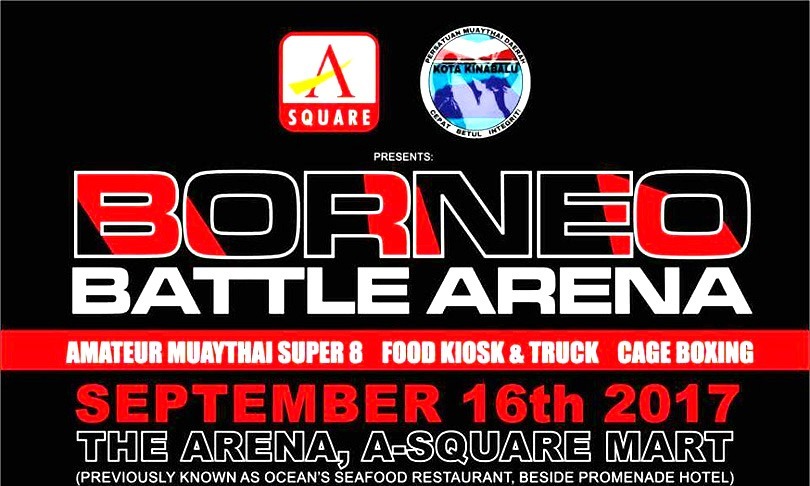 The martial arts scene in Sabah is alive and kicking! On Malaysia day 16 Sept 2017, the birth of Borneo Battle Arena.
Check out the intro video below.
Johan Julian
of Fight Fest explained that this project main objective is to grow the combat sports scene in this region. Fight Fest already have a running cooperation with PMDKK on Muaythai tournament, so this project is to further enhance the cooperation by organizing a Super 8 Muaythai competition.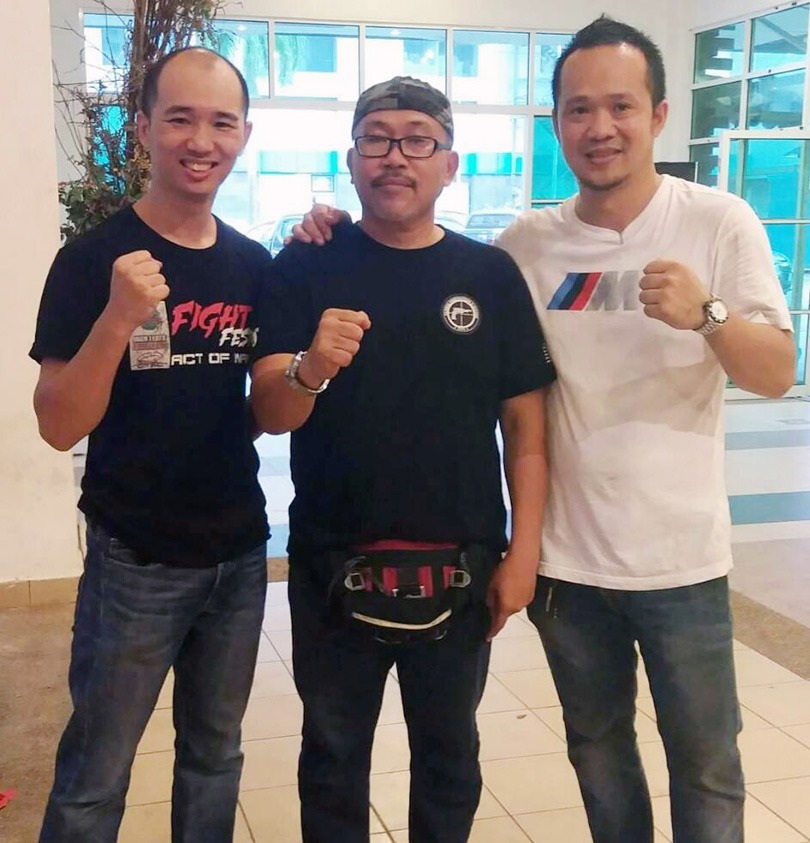 from (L to R) Johan Julian, Muslee Tuah PMDKK President and Edmund Lai of Axtrada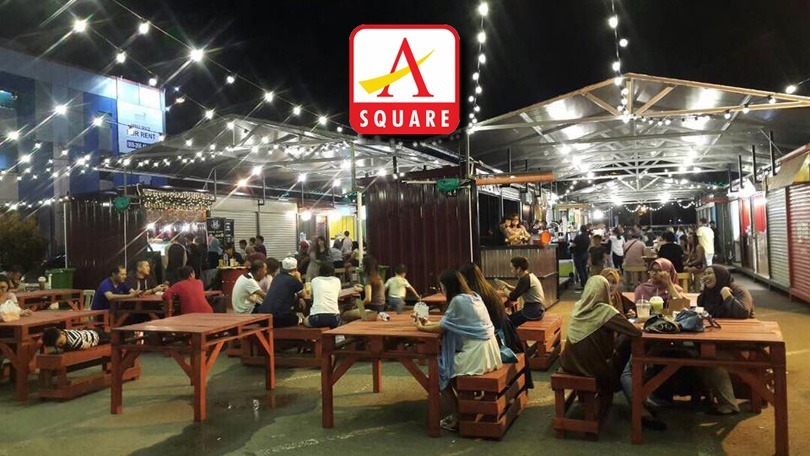 Axtrada came in as the sponsor for venue. The venue which is name
A Square Mart
is a new unique concept of night market – food court in Borneo; where food kiosk are place inside special designed container. These food kiosk are specially selected for their food uniqueness and specialty.
The food kiosk is located in an open air car park while the fight event is located inside a hall just next to it. This venue was previously the popular Ocean Seafood Restaurant, which is situated next to Promenade Hotel.
Visitors that came to watch the fight were able to get delicious refreshment from the food kiosk and as for those who came for the food only was in for a nice surprise to experience watching combat sports.

Inside the hall, a MMA cage and a Boxing ring was set up. The octagon shape MMA cage is where cage boxing is held and the Muaythai Super 8 under amateur rules was conducted inside the square boxing ring.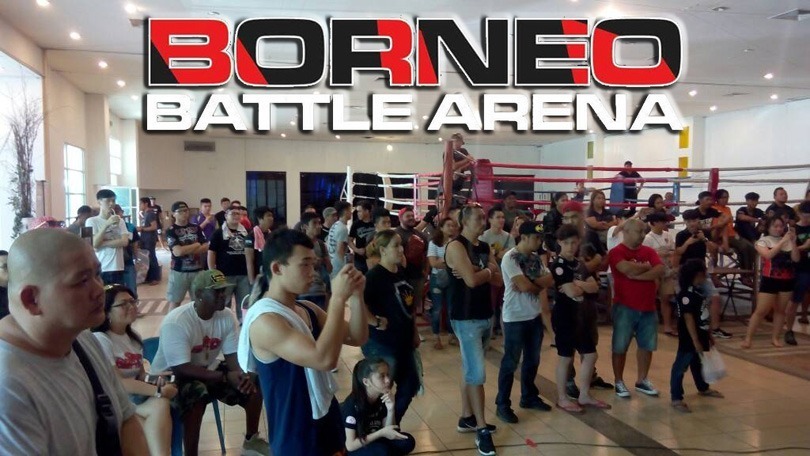 The Super 8 Muaythai, which is contested under amateur rules, saw a very stacked card. A mixture of newcomer and experience exponents. In fact 60kg is considered the most stack and challenging category in Muaythai.
Every fighters gave a good show and it's a matter of who had their best day on 16.9.2017. In the final saw the meeting of a veteran Mohd Shah of 66 Unicorn Sandakan vs young talent Morris Hii of Miri's D-30 Muaythai team.
Shah rested for 5 months to recover from an injury after winning the D1FC Main Title in May against a formidable Robin Catalan of the Philipine. For Borneo Battle Arena, Shah came in underweight, but his fighting spirit was over the chart.
Shah fought twice to reach the finals. Win over Jijie in the early round and then in semis fought & overcame Dean Hamsah. Morris path was defeating the experience Madjais in the early round and then in semis secure the win over Sean Alexander.
In the final, Shah executed clean techniques to bring home the Championship trophy. The trophy was sponsored by Fight Fest.
Shah is a multiple Muaythai Champion and a veteran in the sports. This was his warm up fight before he goes to Johor in October. He will represent Sabah in Johor Open Muaythai in 28 October.
As for Morris, this young up-coming fighter is an ex Sarawak state swimmer turned fighter. He is a regular with his team D-30 from Miri in the combat sports scene in Sabah. A multi discipline martial artist, he competed in Muaythai, MMA, JiuJitSu & Kickboxing. We hope to see more of him and his team in action in the future as they continue to improve.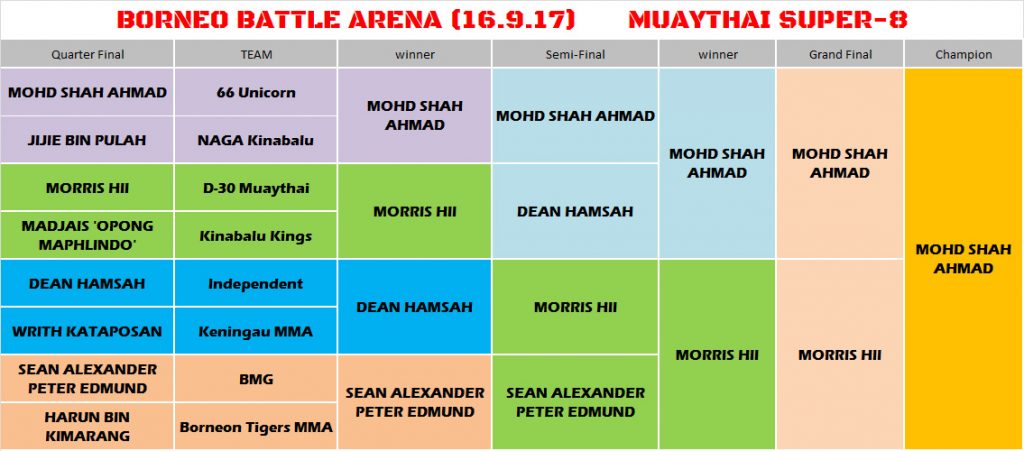 Muaythai Super-8 full results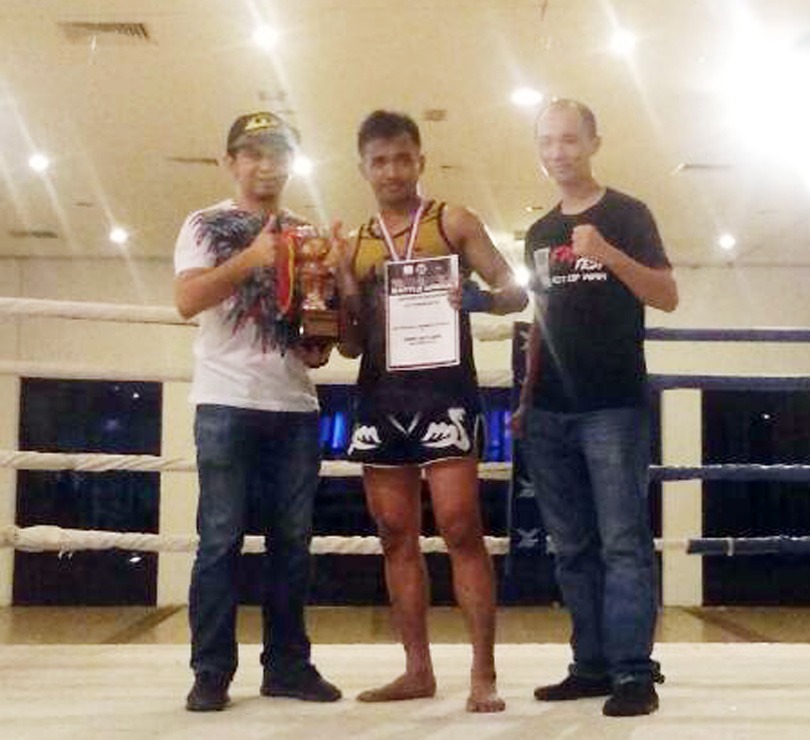 Shah with 66 UNicorn Team manager Maman (L) and Johan Julian (R)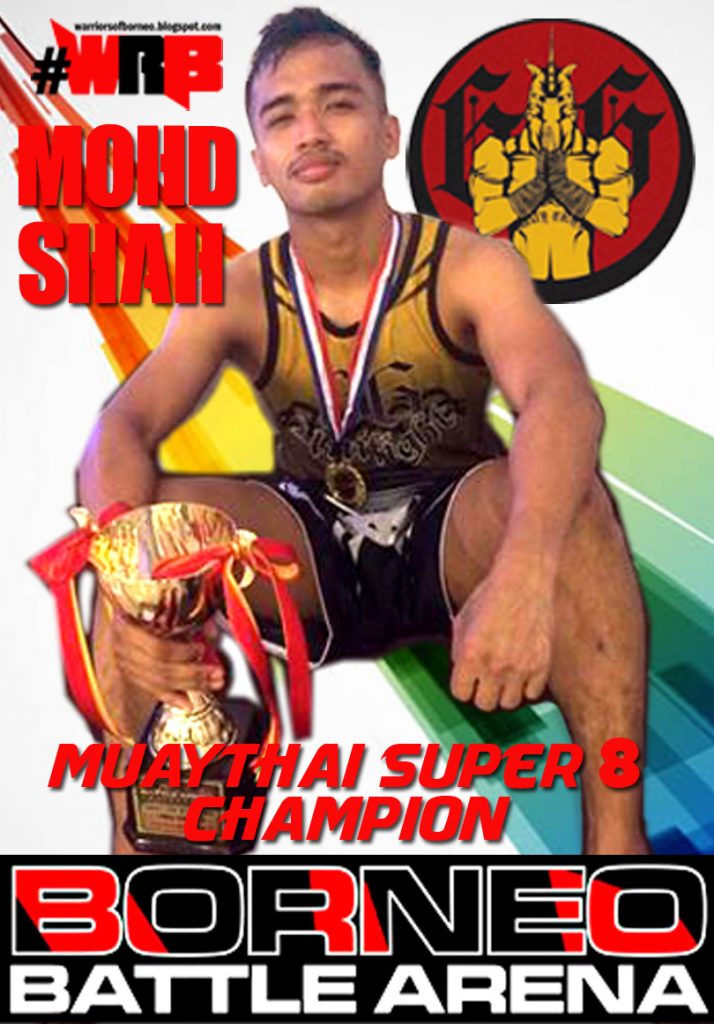 Savouring the moment with his hard earned trophy
As for Cage Boxing, this is the 2nd time we see it happening in Borneo. The first time was in Jesselton Fight League 2 years ago in their Grand Final event. For Borneo Battle Arena, there was 11 total bouts for Cage Boxing; 3 female and 8 male. It's 3 rounds with 3 minutes per round.
In the female bouts, an exciting bout between boxer Stephanie Vung of Kinabalu Fighters and Muaythai specialist Baeby of Borneo Red Lion. Stephenie executed more volume and techniques, but Baeby brawling style had cleaner and accurate shots which earned her the win.
One of the highlight for Cage Boxing was the bout between veteran boxer and Muaythai champion Randall Kadayum and Lesley Albert of Team Karabaw whom debuted as a pro boxer in WBC Boxing Fest in July.
Lesley with some heavy shots was able to drop Randall twice in round 1 which he was given an 8 count. In round 2 & 3, Randall rebound and using slicker techniques and better game plan to score more points to take home the win.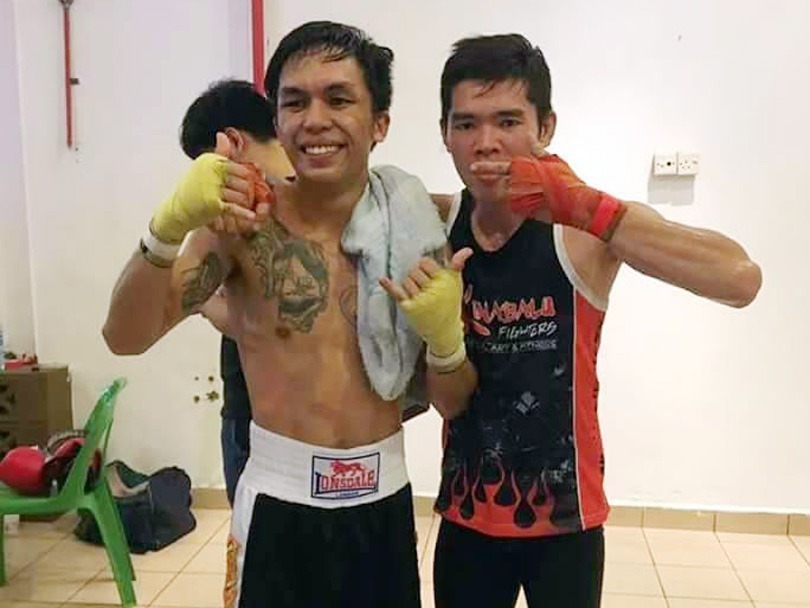 Lesley (L) with Randall
One of the bout that received attention was between Zamalani Masulin or better known as Kaza vs Glenn Elvin.
Kaza is well known in the combat sports scene. You might have heard his voice and funny commentary in local Muaythai event, STAND and Fight Fest. Last year Kaza and his team organised a successful Sabah Fight Muaythai.
After a year of involving as a secretary for Sabah Muaythai Association, he concentrated on his diving instructor career. He last fought representing the Sabah team in 2015 Borneo Cup which he got a bronze medal. This was his come back fight after a long hiatus.
Glenn himself also works in the tourism industry as a Zipline operator and he also freelance as z boxing and fitness instructor.
He trained before at Monarchy MMA gym, trained under ex national boxer Eddey Kalai and also learn Luta Livre from coach Antonio Battistessa of Sabah Top Team. Glen is on a personal journey of continuous improvement in boxing and grappling.
The winner of the bout was Kaza. This fight for Glenn was a step for him to test himself and measure his own capabilities. To him this is a learning ground. Glen mentioned that it was an honour to be able to step into the ring to fight Kaza. They have mutually agree to both give their best in the fight to push and test each other.
We hope this fight will be a spark to light the fire inside both of them to be back competing actively in Borneo's fight scene.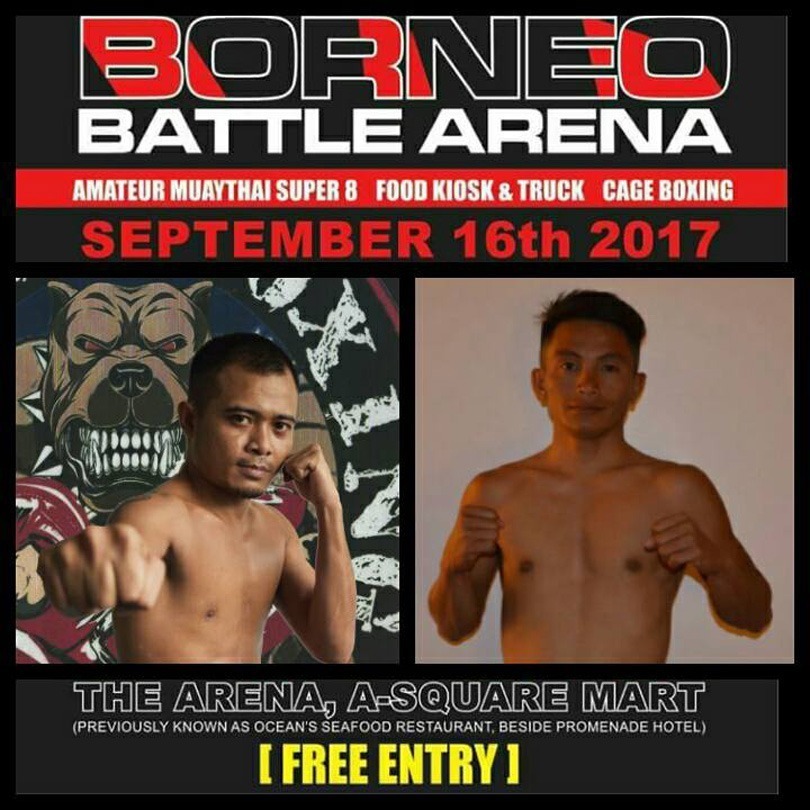 Glenn Elvin vs Kaza Musa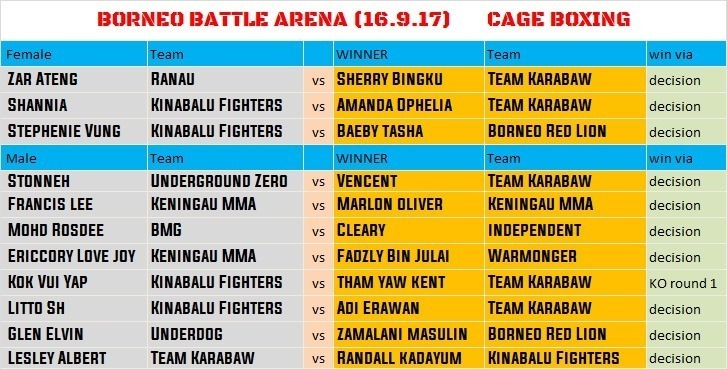 Cage Boxing full results
Axtrada, PMDKK and Fight Fest are all happy with their first event and will be planning for future event at the same venue. They hope the venue can be a center for combat sports. The hall will be call The ARENA and the aspiration is that it can become the Sabah version of Lumpinee Stadium .
Axtrada is also continuously getting more interesting food vendor to open up offering unique food and we hope they will further improve on the hall facilities to make the place more condusive for visitors.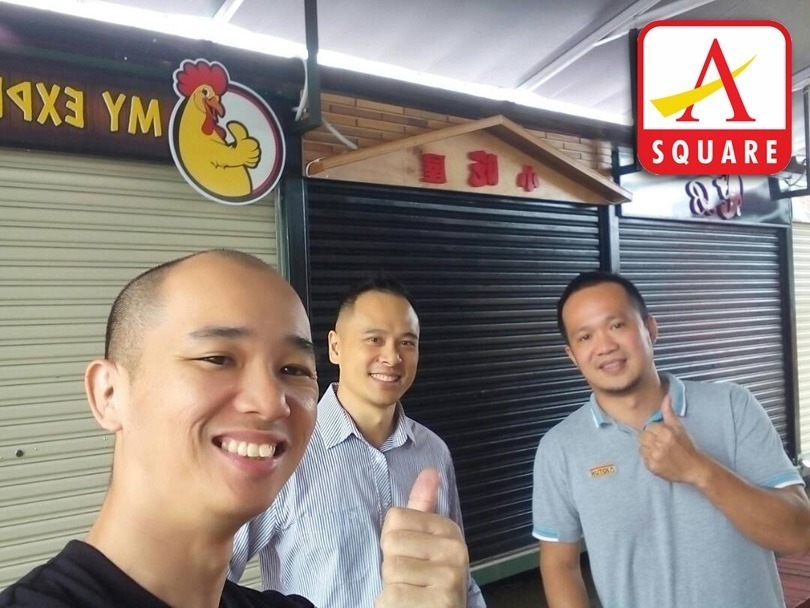 Me with Johan Julian (L) and Edmund Lai of Axtrada (R)