Rumble in the jungle of Labuan for the ISKA BMAEX 67kgs Title is between Malaysian Sabahan veteran Dean Hamsah vs Australian veteran Alan Pond.
——–#WRB_———
Dean or his full name Saharuddin, born at the town of Kundasang, at the foothills of Mt. Kinabalu to a Indonesian mother & Malaysian father. His mother practically raised him up single handedly and driven by her hardworking and never give up attitude, Dean took up Muaythai in 2011 and has been addicted to it ever since. It has become his source of income as he teach & fight.
He has competed in amateur Muaythai more than 30 times & only lost 5 times and possessed a 9-2-0 in pro Muaythai and 7-1-0 in Kickboxing. Dean also actively competed in MMA and holds a record of 5-3-0 (amateur). He took gold for IFMA Muaythai amateur tournament  60kg – 63kg
& won the 60kg Trophy at Tawau Muaythai Championship. Recovering from an injury in 2016 he came back in 2017 & fought pro MMA in a rematch with Mohd Hasbullah in Penang.
At age 30 this year Dean is considered in veteran in the Malaysian combat sports scene. He has recently focus hard and making a comeback, headed to Bali MMA to pick up some great training & on schedule to fight in the main event of Brunei's first Kickboxing promotion – STRIKE. But unfortunately the event was called off due to a commotion on the first day which is pending court case.
He then signed up for Philipine Fighting Championship in Dec but that event was moved to Jan 2019. Don't want to let his training go to waste, finally it was a confirmed deal for STRIKE to be featured in BMAEX. The pro am STRIKE title against Bruneian Saufy Jaman will be featured on 29 Dec, then Dean will challenge Alan Pond for the ISKA BMAEX pro title belt on the 2nd day.
Dean has not won a title belt yet throughout his fighting career, but he is one fighter that does not back down and always give his all, proven by many of his fights that were barn burner and crowd favourite. In 2018 BMAEX, Dean now has the opportunity to win two belt in one event.
He is not taking both this fight lightly and has devise a well thought out game plan with his coach Rayner Kinsiong of Team Karabaw.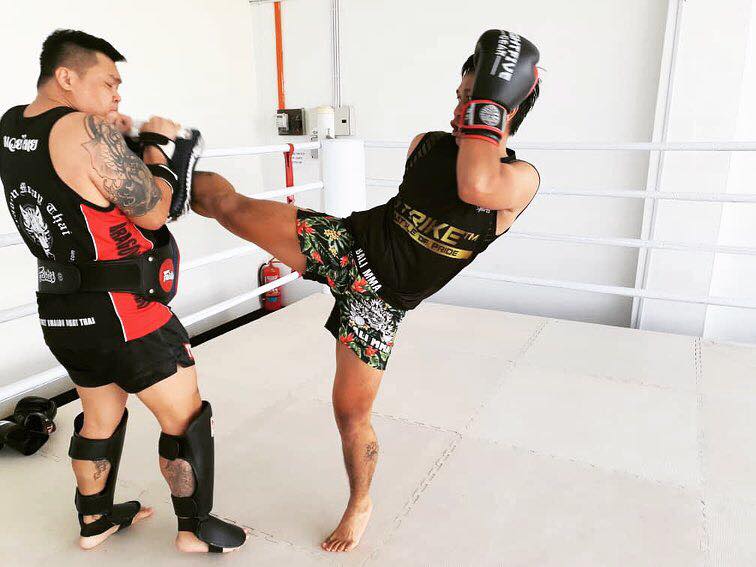 training with Rayner Kinsiong
————#WRB————–
Alan Pond can be describe as an wily old fox. At 48 this year, Alan will proudly says that he is 28. I am convinced because I have personally seen how he perform in BMAEX 2017 ( read about the story here ). It was a night to remember as Alan fought against tremendous adversity and emerge victorious against a Malaysian prolific striker Mohd Rizal.
Alan born in Perth and raised by his mother. He left Perth and headed to the Eastern side of Australia but got into trouble early with drugs and mixing with the wrong crowd. Back at Perth he took up boxing & Kung Fu. It totally changed his life as it gave him a purpose to work hard for.
Alan wanted to build himself into a lethal weapon and he train extensively. He achieved success in Boxing and represented Australia in the early 90s. He then refocus back to Kung Fu and began his attention on full contact combat sports and achieved great success winning: He won WMC WA State Muay Thai title, IKBF AUS Kickboxing title, IKBF AUS K1 Rules title, IMTF AUS Muay Thai title, IKBF Australasian Kickboxing title, ISKA South Pacific Oriental Rules title, IFMA Worlds Bronze Medal & Kings Cup Bronze Medal in Muay Thai.
He has also help the sports by being a promoter and refereeing many fights.
He returned back to the ring this year to fought Malaysia Muaythai sensation Mohd Mahmoud aka Jordan Boy. He lost that fight but he treated it as a warm up for his eye to win another BMAEX title before 2018 comes to an end.
Alan has a very calm & relax attitude towards a fight but inside the ring display years of experience by unleashing damaging combo at the right moment.
His motto; to WIN, SING & PARTY, be prepared to hear him sing when he wins on 30 DEC in BMAEX.
Alan will also have his student Marco Tentori in Labuan as both of them will be fighting to get a title belt back home to Australia.
————-#WRB————-
BMAEX is a event that aims to unite all martial artist in this region by giving all styles a platform to perform & excel, with many martial arts activities such as expo, forms competition, breaking challenge, wushu & amatuer kickboxing tournament, seminar & workshop. All this happening from 28-30 DEC at Palm Beach Resort Labuan.
The climax is the 10 title fight in K1 Kickboxing rules happening on 30 DEC 2018