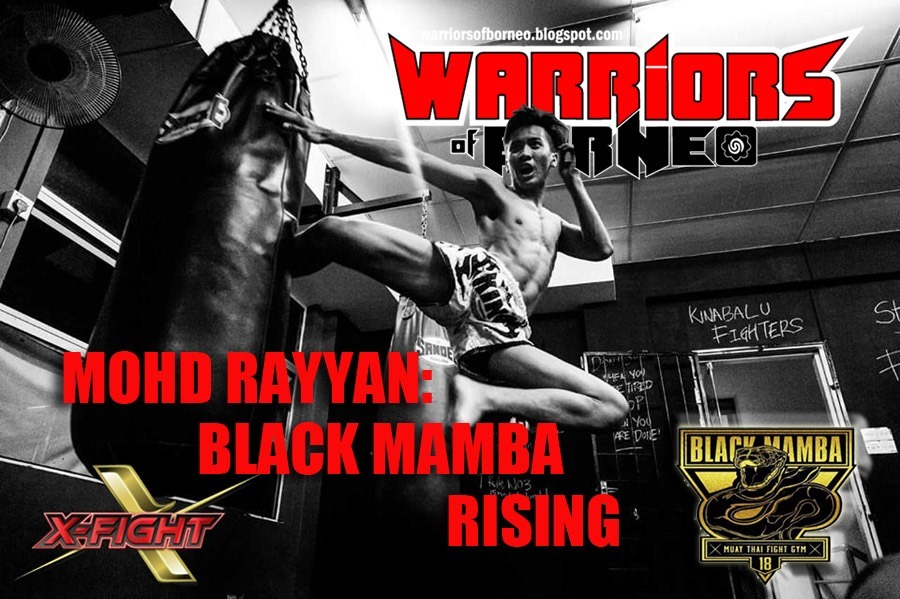 Tonight ( 21 Apr 2017 ) will be an important night for a young Muaythai athlete from the Land Below the Wind – SABAH. His name is Mohd Rayyan aka The Black Mamba.
Rayyan will be representing Malaysia in Hong Kong's
X-Fight
, a new combat sports promotions. Rayyan will fight in the main card to battle for the Intercontinental Champion Belt. Fighting at 51kg Rayyan will face Hong Kong multiple Muaythai Champion Kenneth Yueng.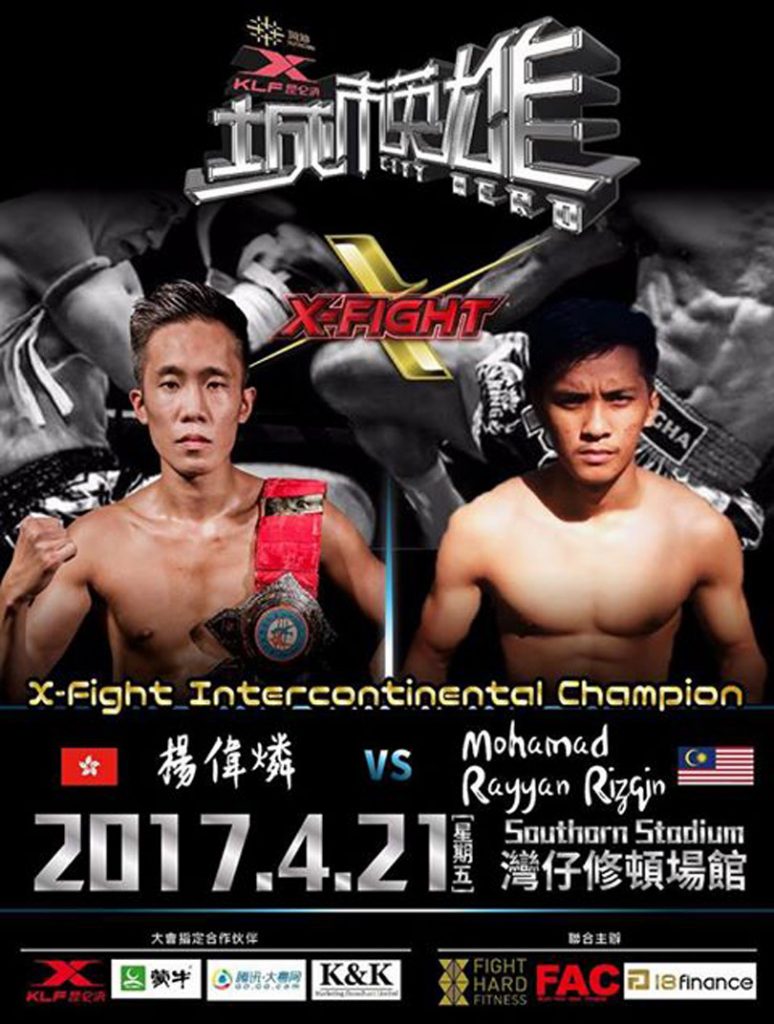 Turning 19 this year, Rayyan has already accomplished a lot for his age.
Some of his accolades includes:
Borneo Phoenix MuayThai Amatuer Challenge 2014
– Champion 42-45kg 

Dihnar D-1 Mount Kinabalu MuayThai Challenge 2014″The Game is On"
-Silver 48kg

Kejohanan Sabah MuayThai Challenge"The best Of Sabah"
-Silver 45-48kg

D1 Fighting Championship Rhino Warriors: The rise of Rhino Warriors
– 45-48kg Champion

Kejohanan MuayThai Piala Borneo
-45-48kg borneo champion

The Golden Rumble .MuayThai Championship
-48-51kg champion

Kejohanan MuayThai PMM Antara Kelab kebangsaan(National level)
-Silver 45-48kg

Tawau MuayThai Championship Pro
-Silver 52kg

F3 "borneo series" semi pro
-Champion 51kg
Borneo Kickboxing & MMA Amatuer Challenge 2
-Champion 52kg

Elopura Fights Pro 2016
-52kg Champion

Tawau MuayThai Championship Pro 2016
-52kg Champion

Kejohanan MuayThai Amatur Piala Borneo 2016
– 51-54kg champion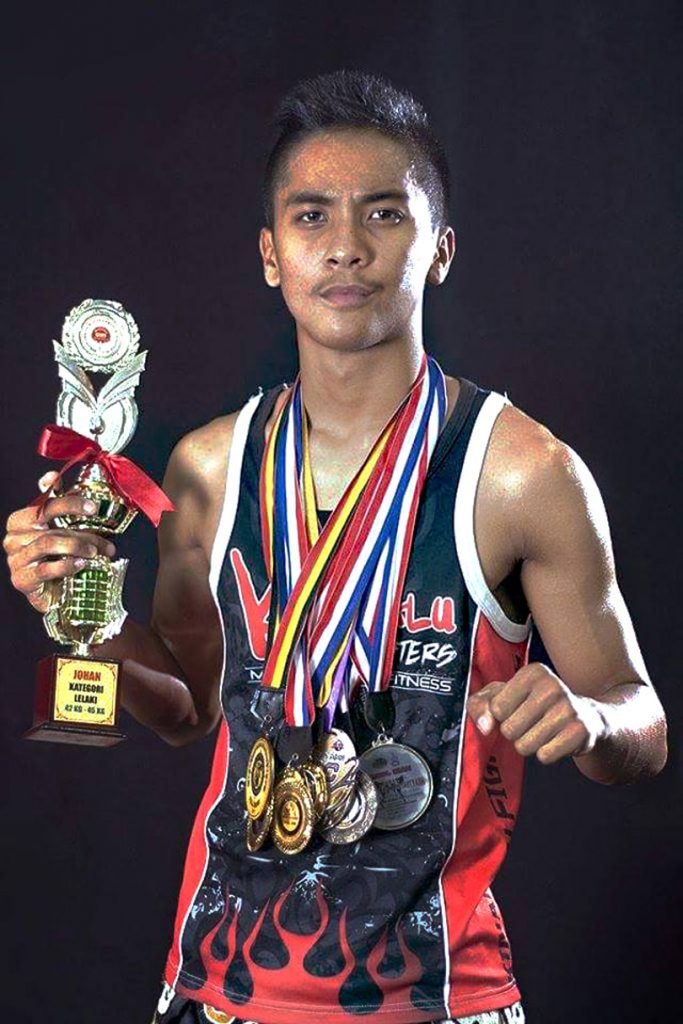 He started off at the age of 12 in Wushu and Taekwondo. But always had the desire to take up Muaythai. Then he walked into Kinabalu Fighters gym. He took up boxing class at first and later on their Muaythai class.
He and his close friend Aziz went together to Kinabalu Fighters. They are both pro Muaythai fighters now and always help each other in training. But Rayyan remembered in one of the early lesson with coach
Randal Kadayum
, in a sparring session, even though it felt like torture but this further fuel his interest in Muaythai.
At a young age his parents was divorce and having a tough time to deal with this he turned his energy into martial arts. Rayyan dad's is Brunei Malay and his mother is of Bajau heritage but he speaks fluent mandarin from his days in chinese primary school SRJK Chung Hwa Likas.
He lost his father a few years back and his mother remarried. Knowing his passion for martial arts they gave him full support in his pursue of greatness in martial arts. Rayyan now fights motivated by the support from them and the memory of his late father.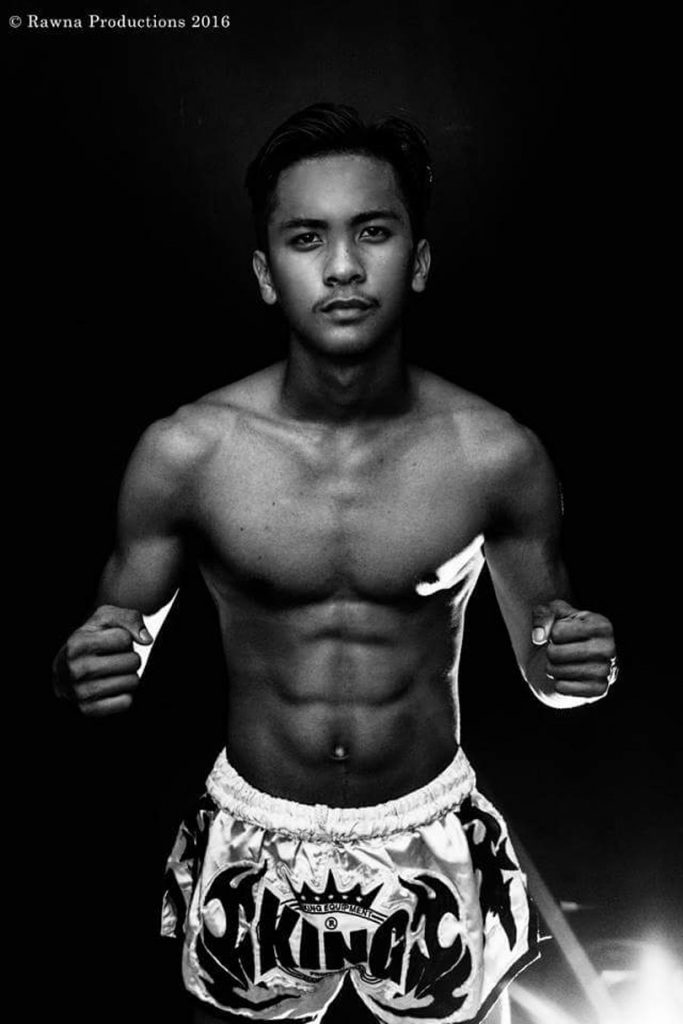 pic by Anwar Iddris
He now is the owner of Team Black Mamba gym. At 19 he is the yougest owner of a gym in Sabah. This opportunity was given to him by his mentor Johan Julian, founder of Kinabalu Fighters.
Last year, Dihnar gym was vacant and Julian decides to setting it up running again…but with the plan of training and grooming Rayyan. As Rayyan shows signs of leadership and commitment he decided to let him took over as his own gym.
With the money his late father left him, Rayyan took on the challenge and bought the gym over from Dihnar and henceforth the birth of Black Mamba Gym which is located at Kepayan, Kota Kinabalu.
Julian recalled seeing him the first time in Kinabalu Fighters gym. A skinny young lad but with big hearts full of determination.

" He showed early signs of maturity and good discipline since young and is hardworking. I always wanted him to be more than just fighters. He already have a trainer certificate and thus being a gym owner will be the biggest learning of his life.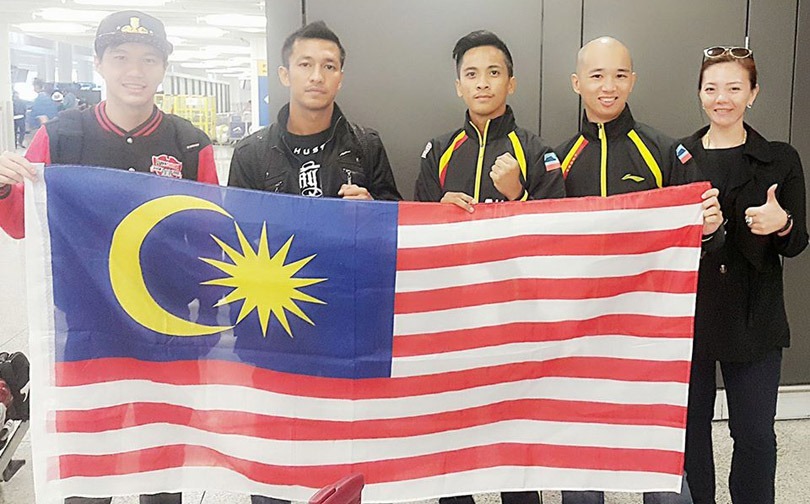 Mohd Rayyan (center) will be cornered by coach Julian (R) in X-Fight Hong Kong.
I made sure his gym has a good support system. We placed coach Rudy in his gym ( an accomplished Muaythai trainer and respected national referee ) whom I knew for awhile and seeing that Rayyan's family supports him fully made me believe he has a good foundation.
Even now as he trains for his fights, despite the busy preparation, his gym is looked after by his staff & senior students."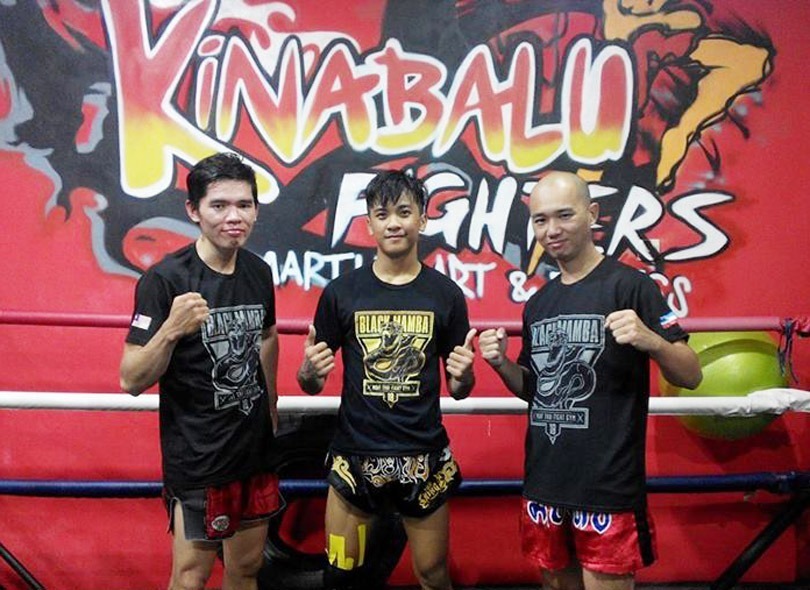 with coach Randall (L) and coach Julian (R)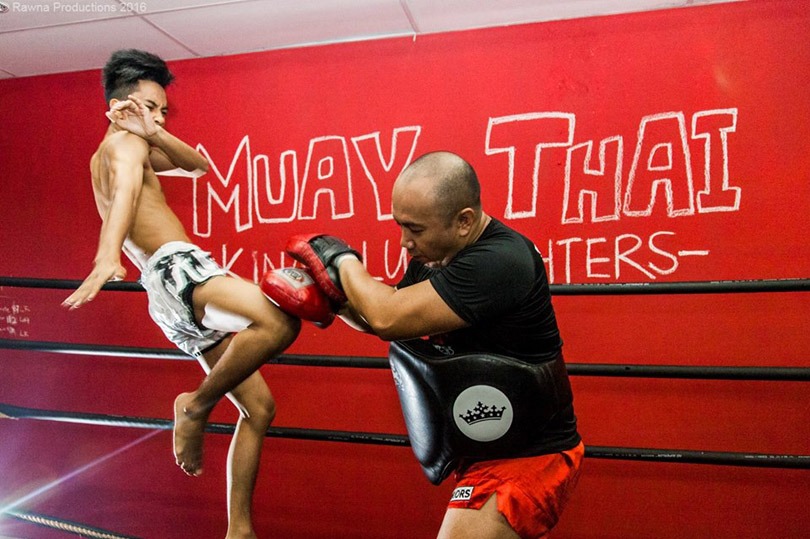 training with coach Rudy (pic by Anwar Iddris )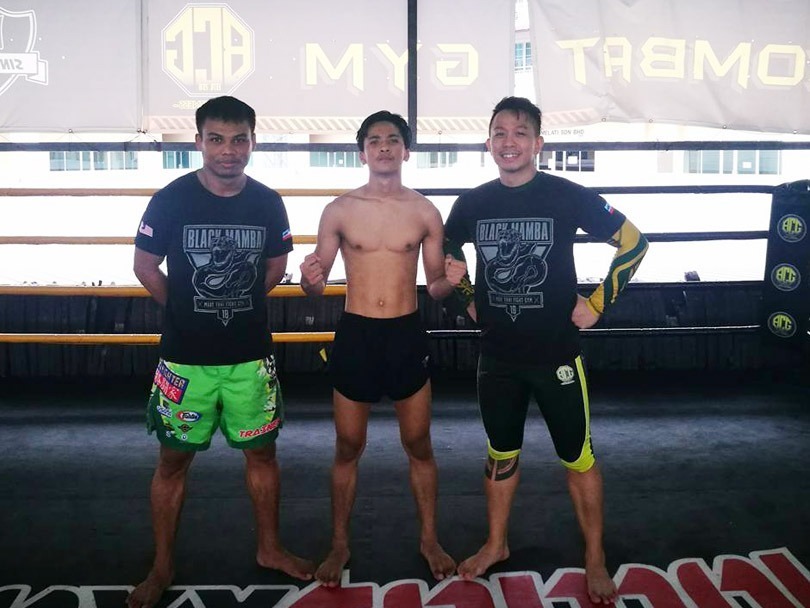 training at BCG Labuan with coach Alvin (R) and Bow Suweilek (L)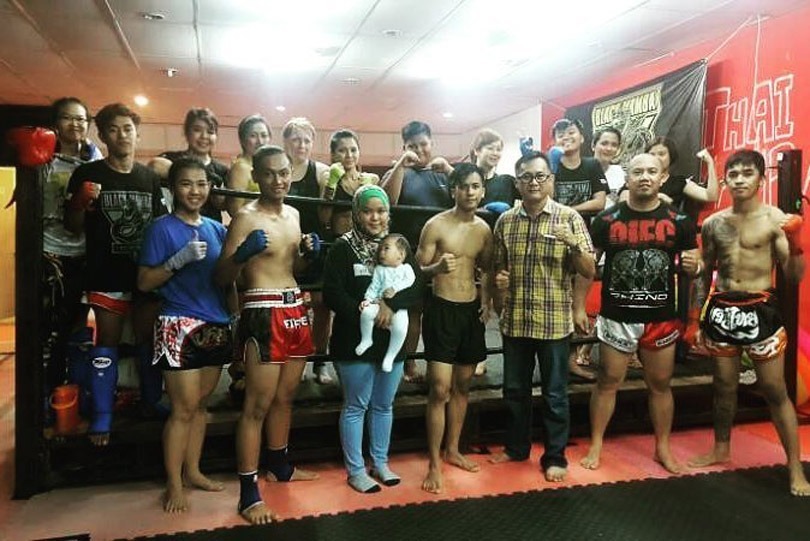 Hj Nazri Razak, (in checkered shirt ) President of Sabah Muaythai giving Rayyan the support.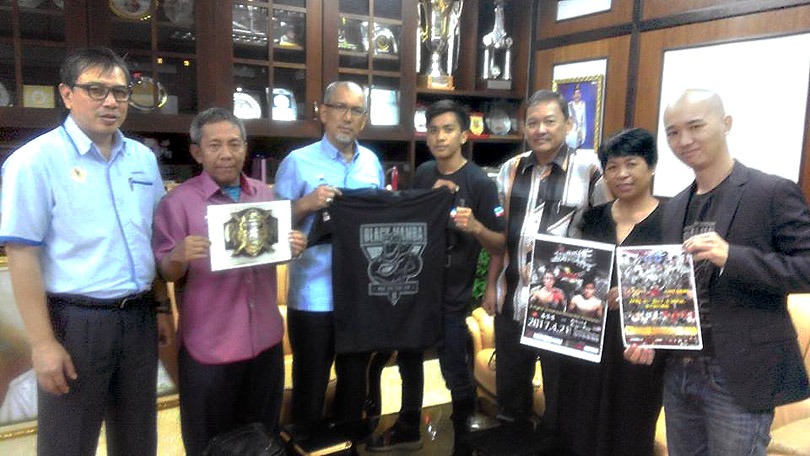 Rayyan paying a courtesy call to Datuk Haji Tawfiq-Sabah Youth & Sports Minister (on Rayyan's right )
To be stepping up to the ring to challenge for the Intercontinental Belt is certainly an honour for Rayyan and for this, he would like to say…
" I really wanna thank everyone that is involved especially to my coaches – coach Julian for setting up this fight for me and helping me in tons of things , Coach Rudy for doing a good work of taking care of me and Coach Randall for all those years of teaching me Muaythai …Secondly I would like to thank my parents for their blessings and support .
To my girlfriend thanks for being here for me …my teammates and friends for the endless support…my sponsors Boon Sin Furniture , Martial Bay , The Big Support from The Ministry of Youth and Sports (Sabah) , Persatuan Muaythai Sabah , a good friend of mine Sherzali.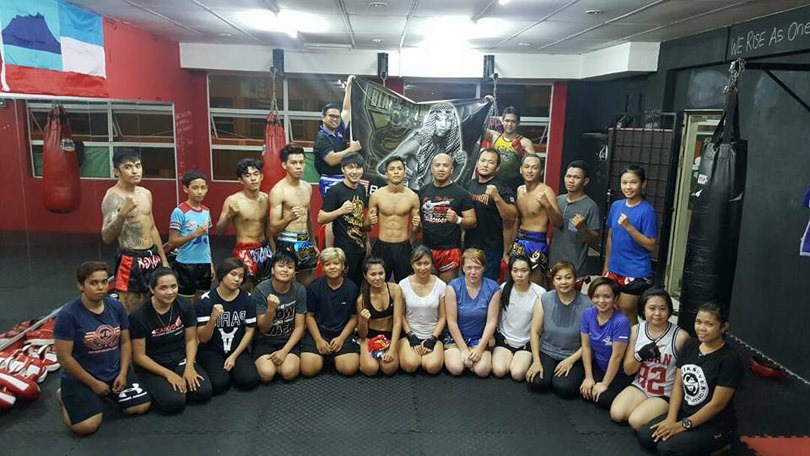 full support from his Black Mamba team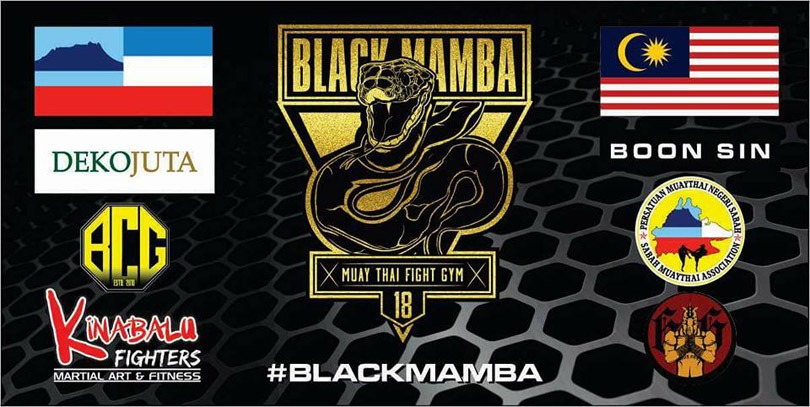 thanking all his sponsors
Warriors of Borneo wishes Rayyan a great fight tonight, fight hard, fight smart, fight with all your heart!