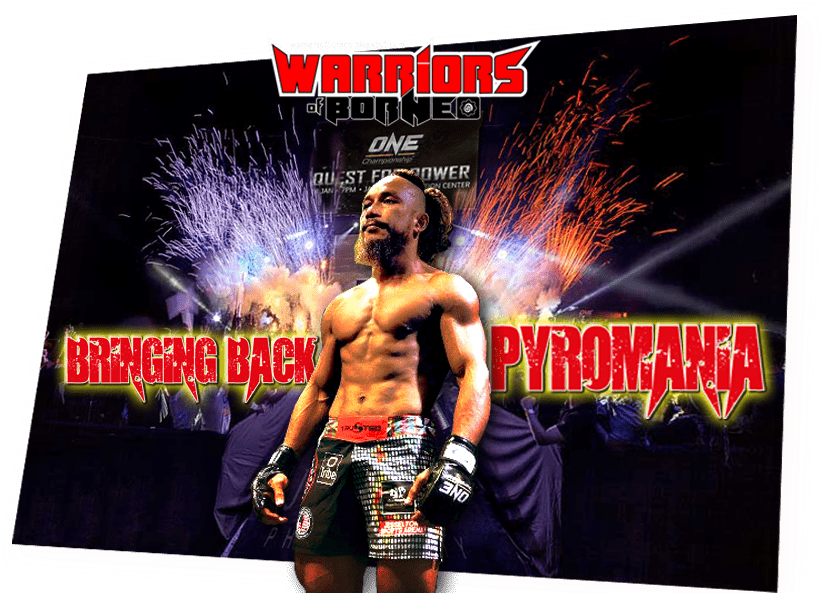 AJ proudly wears his fight shorts that has bears the unique design of Sabah's Borneo native of Bajau & Dusun 
It's been around 3 years since Lias Mansor last MMA fight. What a fight that was in Nov 2013. Lias or more fondly called AJ by his friends fought Melvin Yeoh, Malaysia's pioneer in MMA in ONE CHAMPIONSHIP : WARRIOR SPIRIT. He overcame Melvin with an unanimous decision win and became ONE's Malaysia National Featherweight Champion.
It was sweet victory as prior to that, in Feb 2013, AJ lost to fellow Muaythai specialist, Jian Kai Chee. It was a controversial decision lost as AJ was dominating Jian in the 3 round fight with effective take down, superior cage control and better ground game.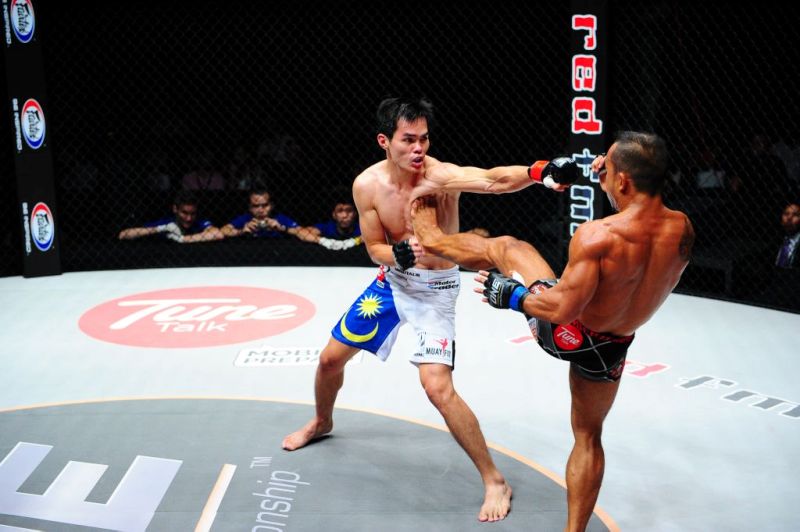 AJ vs Jian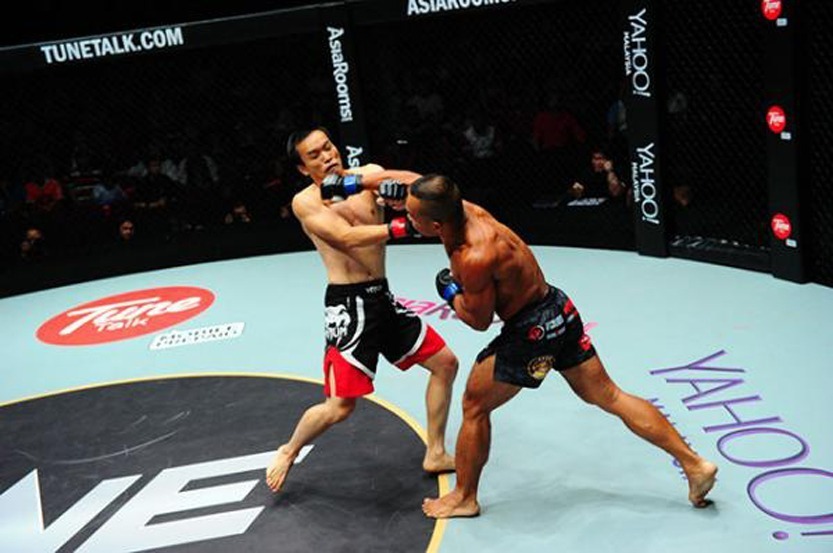 AJ vs Melvin Yeoh
The fight with Melvin was offered to AJ as Jian was not able to take the fight. That win as Malaysia Featherweight Champion became the hi-light of AJ's sports career and AJ made it more memorable and meaningful when he donated his winnings to the victims of typhoon Haiyan of Philipines.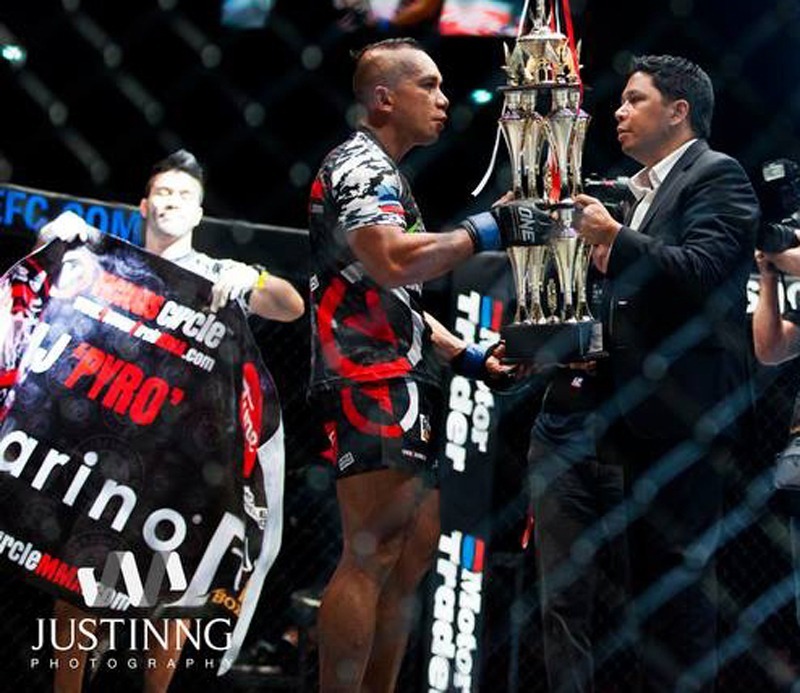 Receiving his featherweigh trophy from Victor Cui. ( pix by Justinng Photography )
AJ is from Sabah, the Malaysian state at northern Borneo. His sports life  started since his school days. He took up Silat and became national champion. He also took up rugby and played actively in the national team.
After winning the featherweight title, AJ focused on his team Borneo Tribal Squad (BTS). He pour his focus and attention to the many great prospect in the team he founded with his wife Emily Barner in 2008.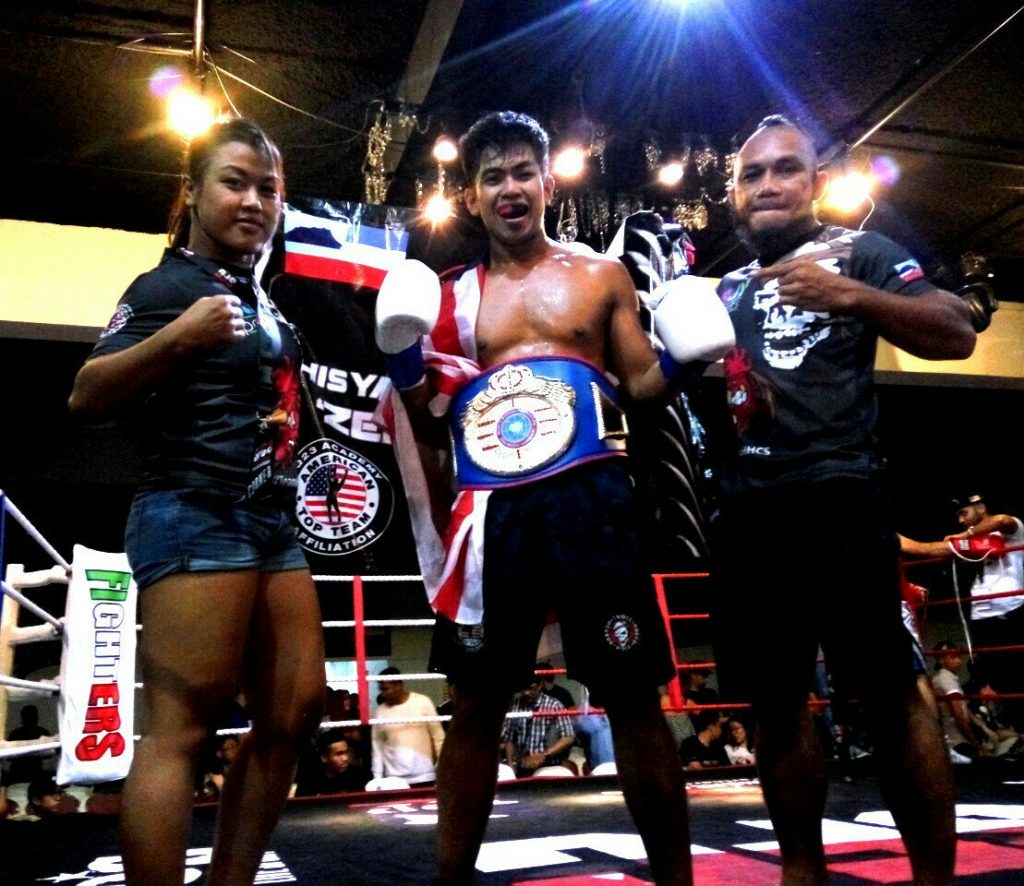 Coaching Hisyam Samsudin to winning the WBF Asia Pac Boxing belt. At left is Ann Osman
BTS has produced many high caliber warriors. Among them Ann 'Athena' Osman, whom is certainly a big name in the region as pioneer of female MMA in Asia. BTS is also home to other professional fighter such as Saharuddin Hamsah, Kelvin Ong, Audrey Laura and Tira Tatiana.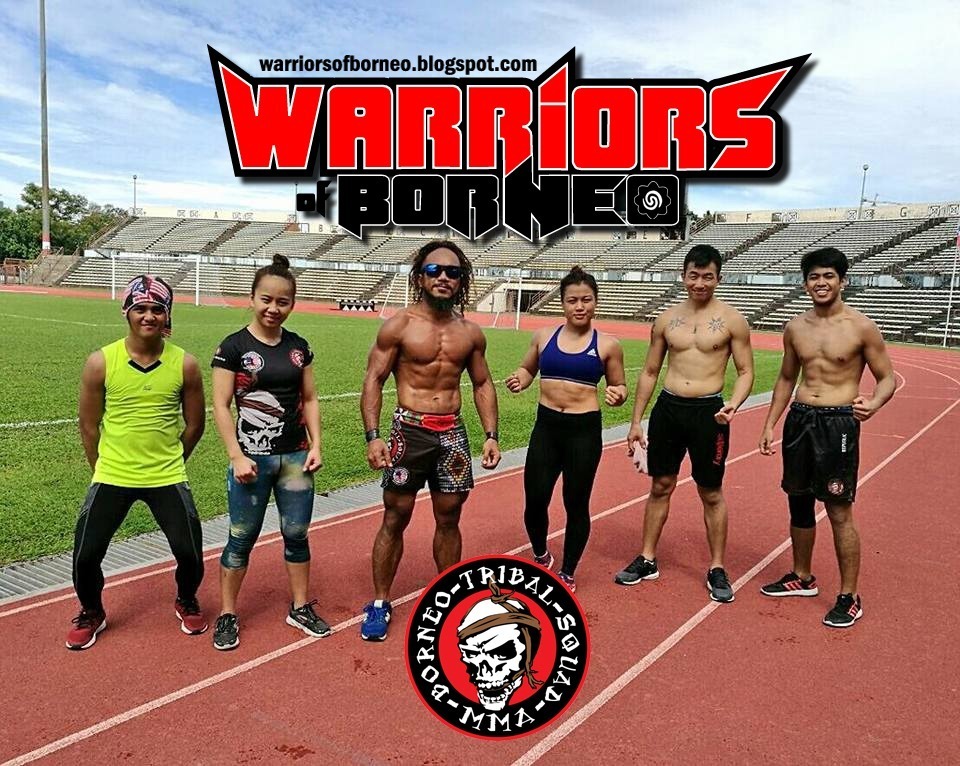 While coaching and developing his team, AJ himself never stop training and improving. Teaching is something that comes naturally for him, coming from the background as a school teacher in his early working life. As for his personal development and conditioning, he regularly participate in grappling competition around the region, actively spar with his team and played rugby regularly.
Come this Saturday 14 Jan, AJ will be back into the MMA cage. His fight name is Pyro, and you can bet plenty of fireworks will be seen as he face Indonesian prospect Anthony Engelan.
Warriors of Borneo is honored that in AJ's pack schedule of fight preparation & media commitment for ONE, he was able to grant me an interview.
Your last fight was when you won the ONE FC Malaysia National Featherweight title. What motivates you to take up this fight in Jakarta after a 3 years hiatus?
As a martial artist, I am always learning and always training. I have also always been a competitive athlete. So this opportunity came up and I feel good, in shape. It is a great challenge and I wanted to seize it!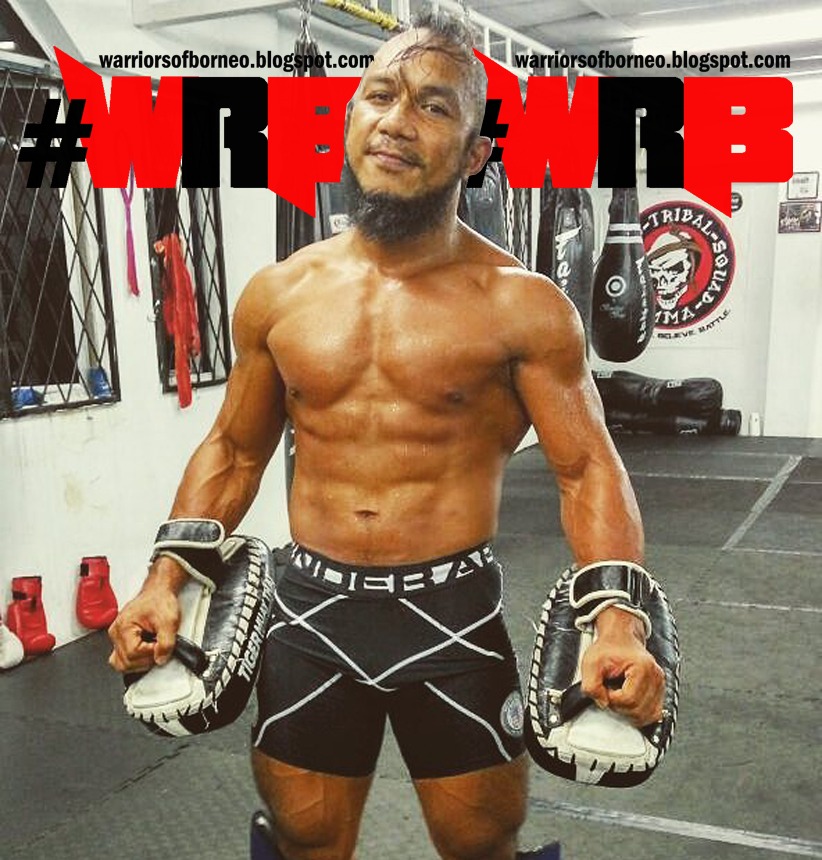 AJ is always in shape…eveready for action
After your competitive MMA days in 2011-2013, you have been focusing on developing your BTS fighters, so how does it feel to be back in fight camp yourself preparing for your own fight?
It's exciting!! I have been coaching, preparing my fighters for fights since my retirement in 2013, and now I am coming back as the fighter, so the process is unique and interesting.


You always look lean & ripped even when off season…what is your training philosophy? Can you share with us what kind of diet do you follow when off season?
I am into martial arts, and this encourages you to live and eat healthily – not just train. So even 'off season' I believe in staying healthy, training daily, eating clean and if I indulge it is in moderation. My diet…stay away from sugar!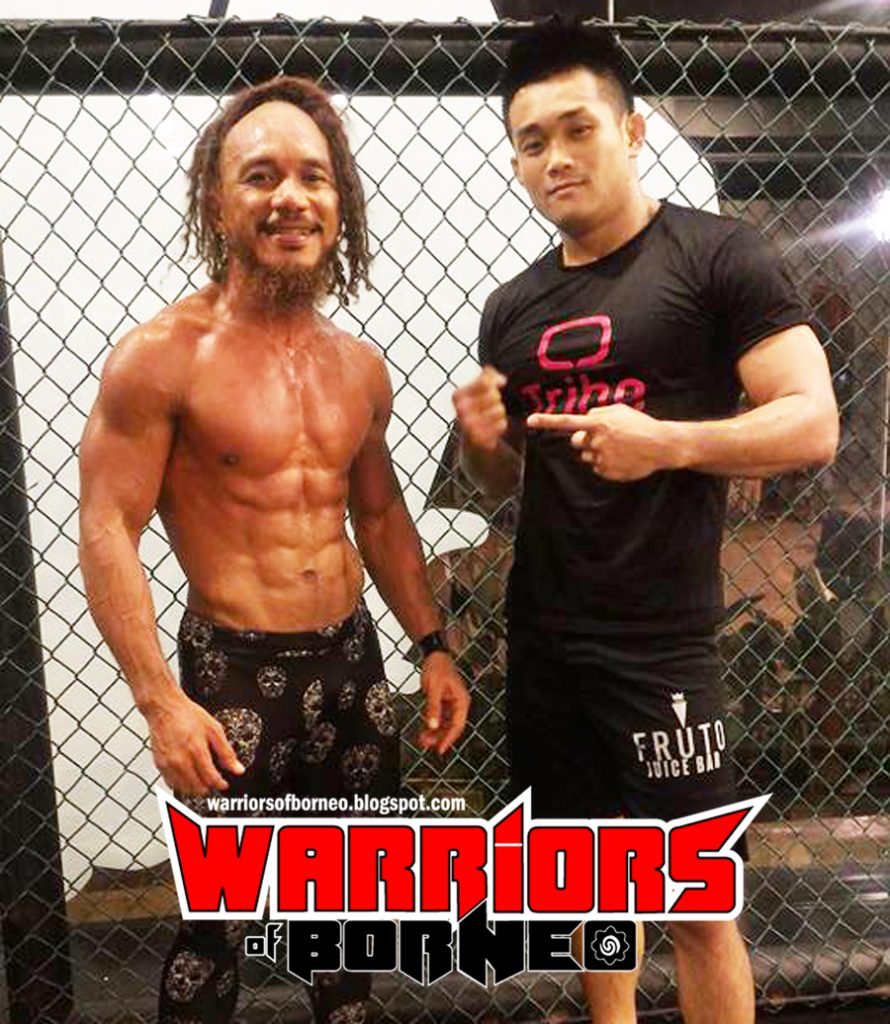 In AJ's corner in Jakarta will be Adrian Tham, fellow Sabahan and Jesselton Fight League Champion


Few years back in MENSHEALTH interview you consider yourself a striker, with your growth in BJJ and wrestling…do you still consider yourself one?
Yes. But I am well-rounded now – this is the main goal as an MMA fighter to be proficient in both striking and grappling.


MMA is such a impactful and demanding sports…at age 42 how do you keep up physically? Does diet/supplement and yoga plays a huge part in your training and maintenance? 
What about the mental aspect?
Mental strength is the key. Desire and discipline are important. As mentioned, I live a healthy life daily – this is important to me, my passion to train daily, eat clean, and encourage others to be healthy. By most people's standards I should have 'expired' as a 42-year old athlete, yet I am still kicking ass!


Going into this fight,.do you still train at the intensity level as compare to 3 years ago?
I have been training hard even off season. Then close to the fight, I train smart.


Outside of martial arts, you still compete in rugby, tell us what about rugby that makes you indulge in this sport so passionately since your school days?
It's in my blood! I feel great satisfaction from rugby as it tests you as a person mentally and physically. It is a real man's game. Plus it's a team sport – where you get to train and play together. A bit different from MMA, where you train together but fight alone in the cage!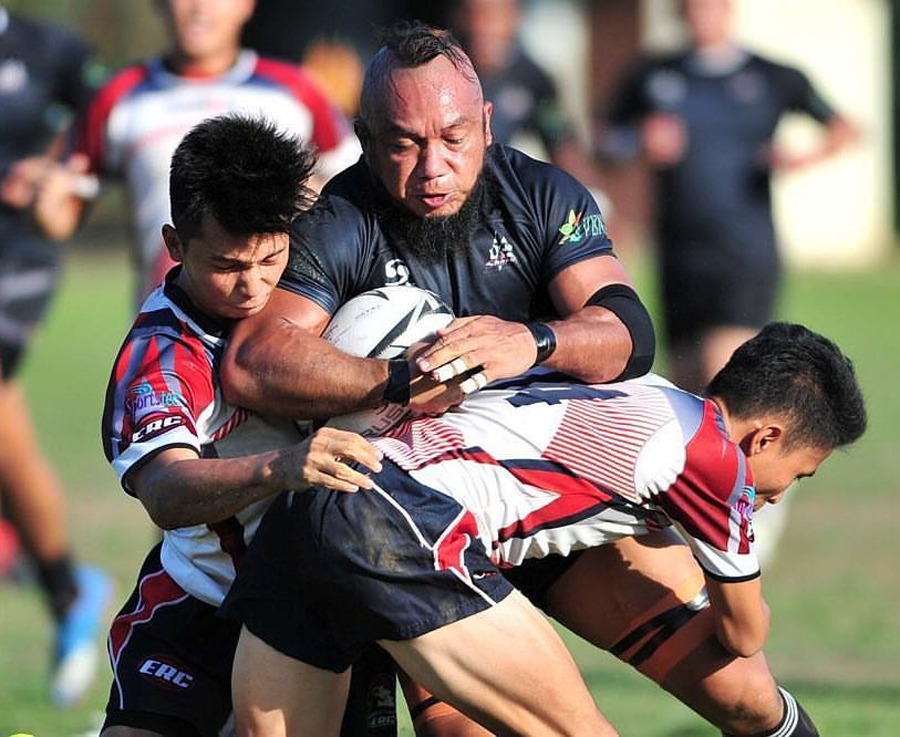 You have been doing a lot of volunteering in SPCA KK & also have adopted a cat in BTS…tell us about this part of your personality. What do you see in the animals that makes you wanna help out at SPCA?
I just love animals, and always have been since I was a small child. I used to take home stray animals when I was a kid and hide them because my mom would get upset – not because she didn't like them but because we couldn't afford to feed them.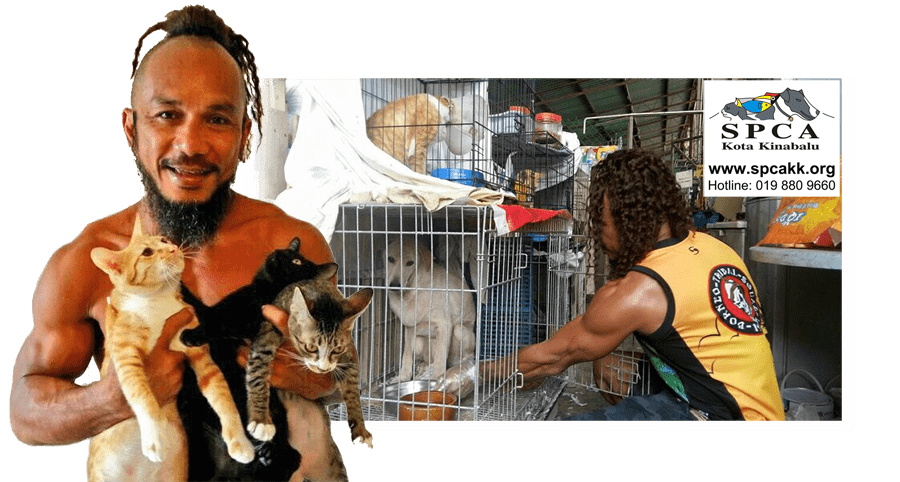 Now I have adopted 3 stray cats. And going to SPCA is another way for me to help these animals who all deserve love and safety. I encourage more people to help volunteer as well as to give a stray a caring, loving, safe home! #adoptdontbuy


You will be the only Malaysian in ONE : QUEST FOR POWER, vs Anthony Engelen at his home crowd in Jakarta, are you worry about cage rust? What kind of pressure do you feel and how you cope with it?
I have no pressure. I think my experience helps a lot. In fact, I am really excited to come to Jakarta to fight and get the win!


Judging from Anthony's past fights, he stands & trades to get close to use his grappling, …How do you think your fight with Anthony will go?
I am an all rounded fighter, so I am comfortable wherever he wants to go.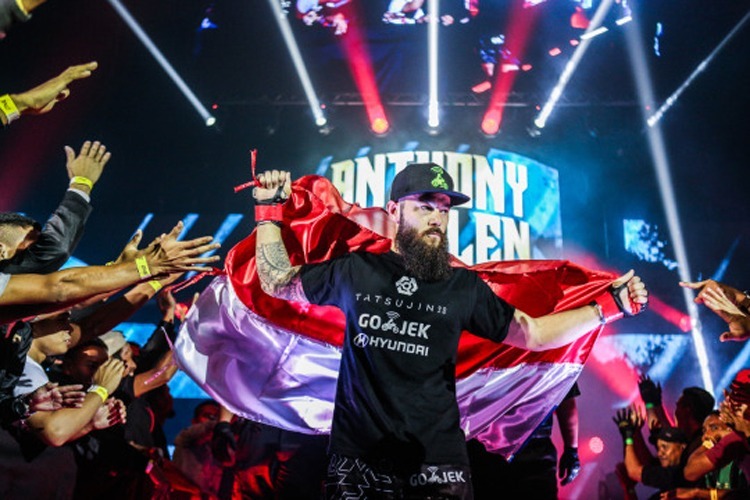 Anthony Engelan will be facing AJ on Saturday in the ONE cage


Will you use this fight to kick start your career again? Will this be a beginning of the 2nd coming of Pyro?
I have never left! I have been a martial artist since I was a child – martial artists never stop learning, ever. I have always been training whether or not I have a fight. I have continued to stay active while I have been developing new athletes (fighters).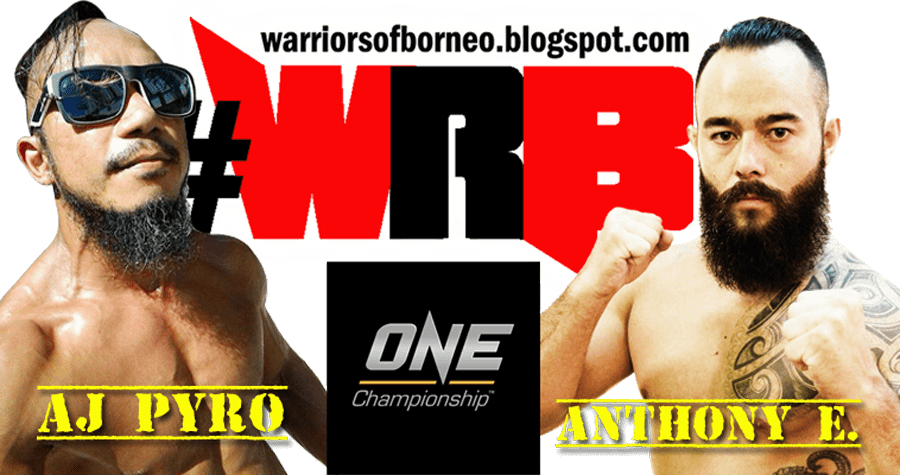 I have still been competing around the region in a variety of sports including BJJ – so maybe you haven't seen me in the cage, but I have never stopped and I cannot wait for this upcoming match – I have never felt more ready physically and mentally!


You seems to be always training, even when on holidays…What type of music gets you going during workout how do you unwind? How do you unwind ? What type of music or activities relaxes you?
I listen to everything! One of my favourite ways to relax is to go to the cinema! I love watching movies!!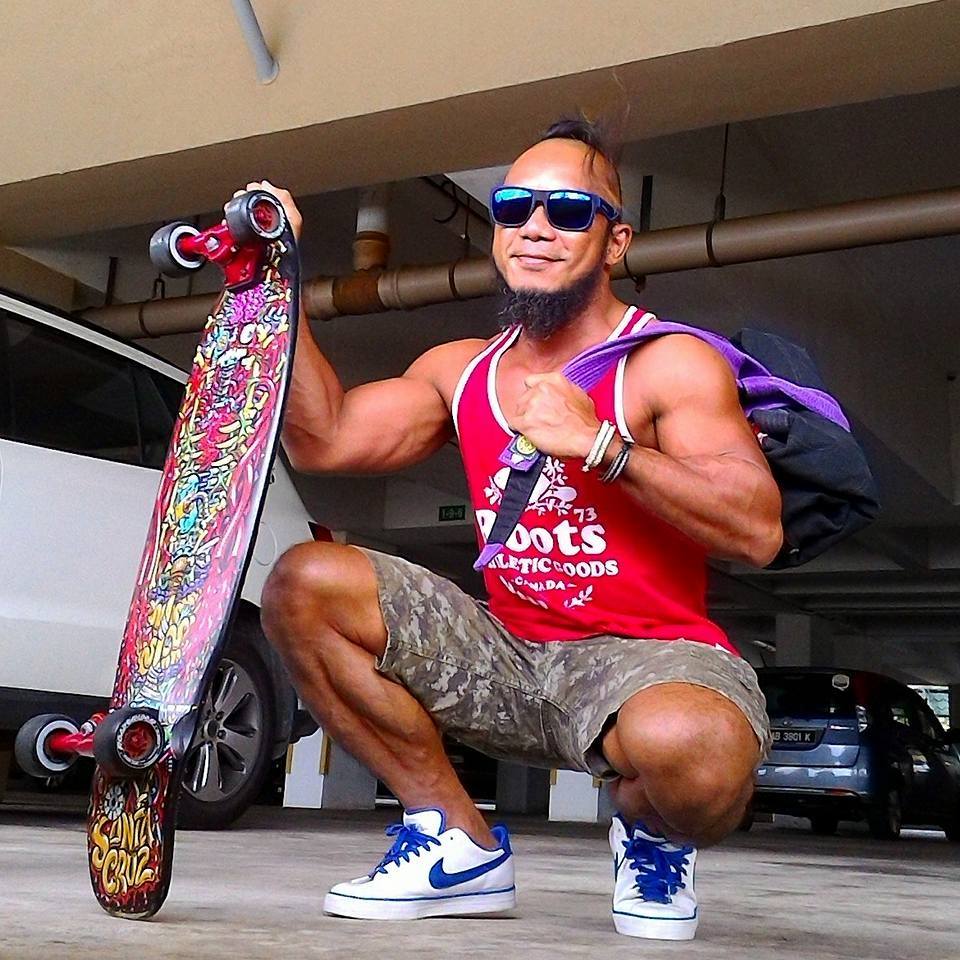 AJ also skate to unwind and relax


I know its no fun talking about food while you in the last phase of cutting weight, but as a Sabahan, what is your favorite local food ?
Ikan masak ampap is my favourite local dish


What about favorite cheat day food?
Favourite cheat day food is carbonara pasta and waffles!!!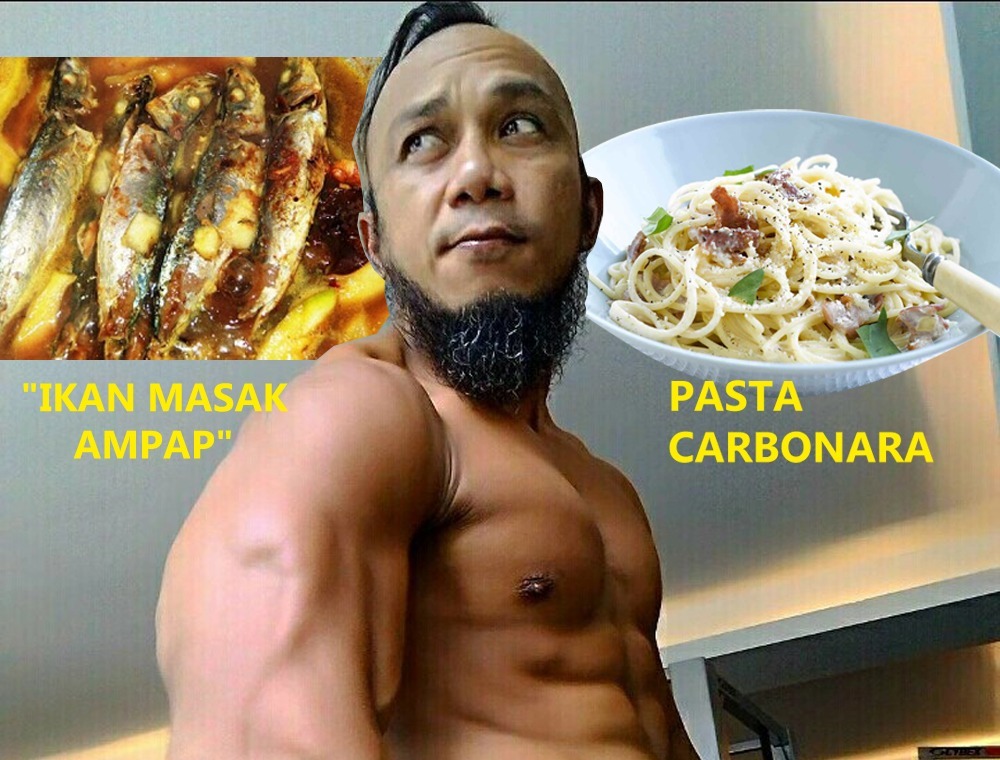 ?? Choices, choices,…which shall I go for?


Where is your favorite place to hang out in Sabah?
Anywhere we can enjoy the beach & sunset!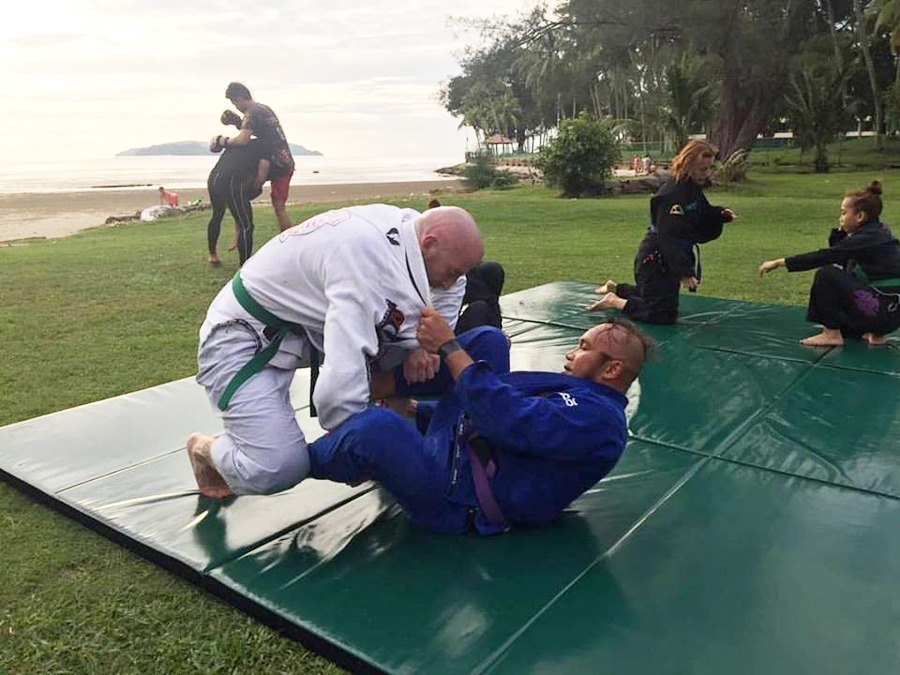 Rolling in front of Kota Kinabalu's scenic beach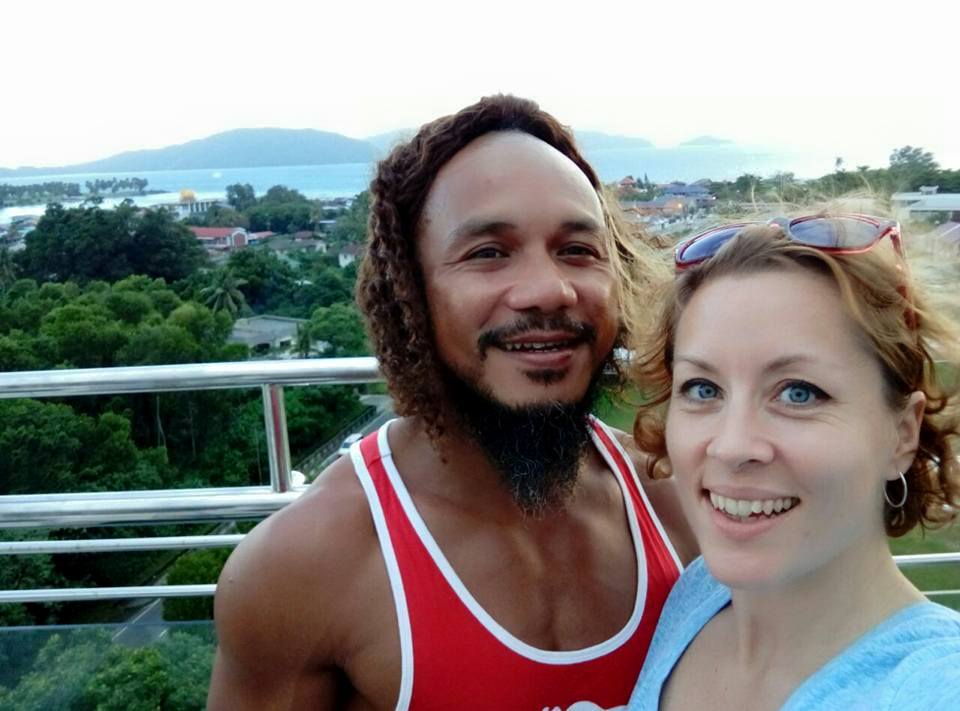 One of AJ's favourite spot, hanging out from his condo with his wife Emily where they have a great seaview


Anything you wanna say to Anthony?
I am going to get you!


The Sabahan spartan will unleash Pyromania in Jakarta. Warriors of Borneo wishes AJ a successful fight!