The state of Sabah in Malaysia, which is known as the Land Below the Wind has produce a number of  Pro MMA fighters. From the likes of pioneering Malaysian MMA athletes such as AJ Pyro ( Malaysian National Champion of ONE Championship ), Allen Solomon Chong ( The Ultimate Fighter China alumni ), to Ann Osman, Marc Marcellinus, Rayner Kinsiong ( all ONE Championship fighters )…. Sabah continues to progress in this relatively new sports.
Little is known of a young lad that has turn pro last year as a featherweight fighting in Full Metal Dojo (FMD) #3 in November 2014. Muhammad Noorhisyam Samsudin or better known as Hisyam Sams…hails from the Tawau, 3rd largest city in Sabah located at the east coast. He fights out of Borneo Tribal Squad (BTS) in Kota Kinabalu, Sabah, the gym founded by AJ Pyro.
Hisyam is 25 this year and grew up in Tawau. Looking fighting fit, standing lean at 178cm and covered with a wash board abs, package with a face that would look at home in a men's magazine cover and a personality that is down to earth and cheery, you would not believe he was an overweight kid in his teenage years. At one point reaching 114kg!
Doctor advised Hisyam to lose weight as obesity would pose health risk to him at a young age. He landed at BTS doorstep in 2008. AJ put him in a muay thai program to lose weight. With zero martial arts background, Hisyam nevertheless took it seriously as his main goal is to shed the pounds.
AJ would give his students nick name…initially it was Big Tree for Hisyam as he was big and his movement rather stiff.
AJ continue to add more program for him, with boxing and MMA and Hisyam obsorbed all these new knowledge like a sponge and grew in skills, his movement became more fluid and speed increase…and with all those training obviously the pounds came off.
Hisyam needs a new nick name.
AJ changed it to Zephyrus…God of the West Wind in greek mythology, and AJ felt it's time for Zephyrus to take his first flight.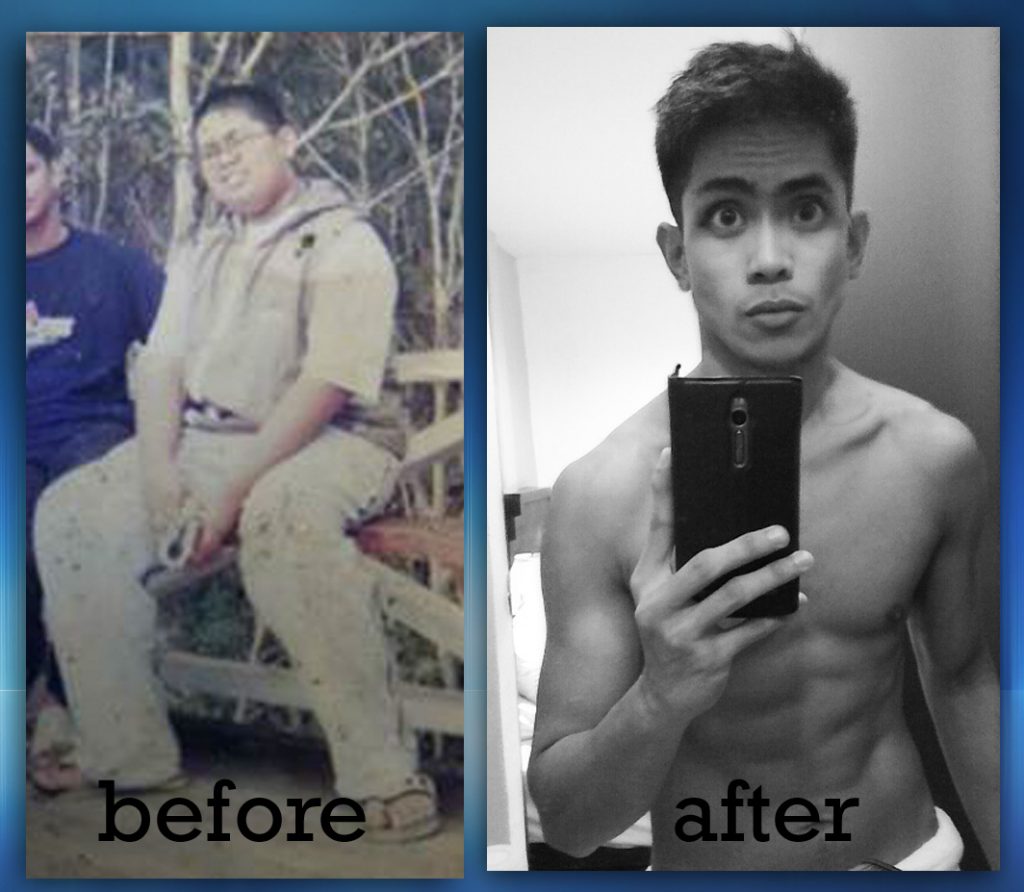 The chubby days of his childhood is now replaced with a lean, mean fighting machine
Taking on his 1st pro fight in D1FC muay thai fight and won in Sept 2014. Hisyam progress to his 1st MMA fight in Thailand's FMD #3. This was a big decision as FMD feature some really seasoned regional fighters especially muay thai fighters. Even though these fighters may have not polished their ground skills but their stand-up are usually brutally sharp as diamond.
Hisyam won the featherweight fight vs Thossawat of Thailand via submission in round 1.

Winning his first FMD in Nov 2014
Following this up, AJ signed him up at the 1st ONE SILAT Championship. A tournament featuring Pro Silat fight. Closely similar to MMA fights, ONE SILAT fights is a full contact with strikes, throws and joint manipulation allowed. Fighting at Lightweight, his fight vs Khairul Anwar of Singapore was the co-main event of the night which Hisyam won by points.
Even though he graduated with a diploma in Medical Lab but he does not like to be confined to a job in a lab. He nows work as a coach in BTS. This gives him more focus in building a full time career as a fighter. But he does put his academic experience to good use, by applying an analytical approach to his fight. Going through the movement in his mind and analyses each techniques to ensure maximum effectiveness.
Hisyam fight this Saturday 31 OCT 2015 on Holloween night is against a Thai – Veerayut Yut Uttapan. Yut possesed a muay thai fight records of over 200 fights and has also build up BJJ skills by training at Raw BJJ Bangkok. With a MMA fight record of 1-1-0, Yut has fought in FMD 4 & 6 with a submission win in the former and an unanimous decision loss in the latter.
Hisyam acknowledges Yut's formidable stand-up, and will be looking to take the fight to the ground and look for a submission win.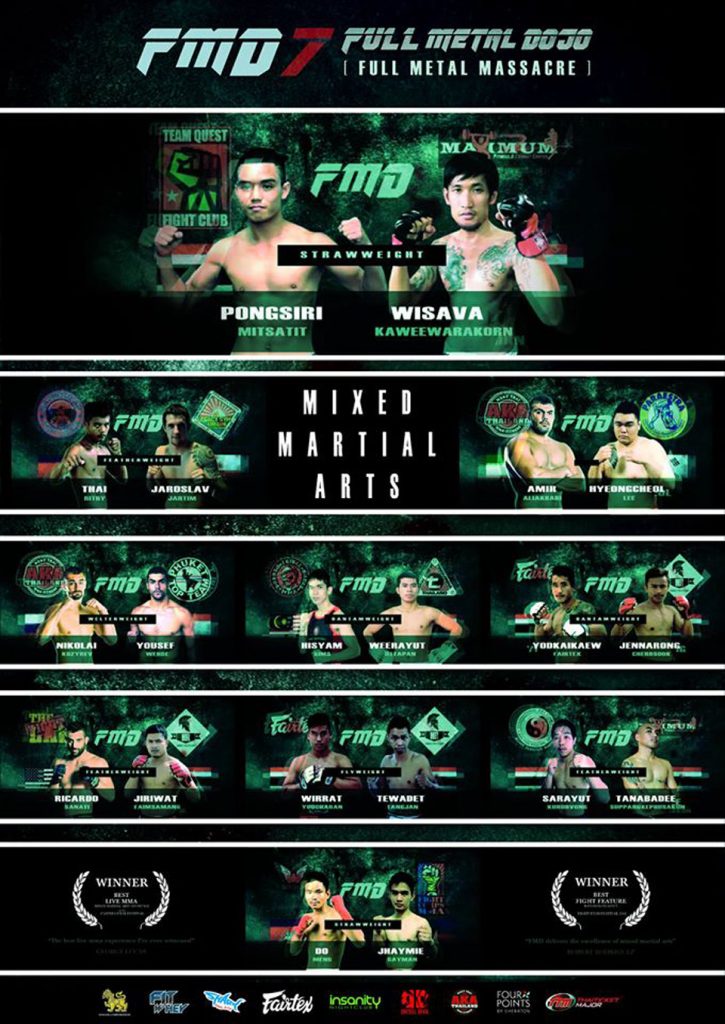 Hisyam will be the only Malaysian in a stacked Pro fight cards of international fighters

Halloween madness in a cage!
Fighting at FMD is trully an unforgetable experience. FMD fights are held inside nightclub. This Saturday will be at Insanity Club Bangkok. FMD is the first MMA championship in Thailand and feature many seasoned muay thai fighters from Thailand that is transitioning or trying out their first few MMA fights. Action are usually fast pace and high impact as these seasoned fighters usually have top notch stand-up game.
The founder Jon Nutt will host the event with his charismatic persona and crazy humour. With a theme of Full Metal Massacre for this coming event, expect some crazy action in the cage and some wild party happening during and after fights.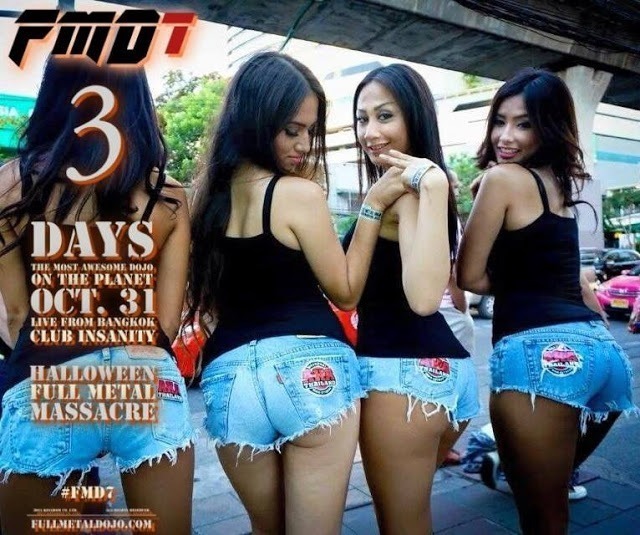 FMD does know how to grab viewers attention…well known to have the best ring girls in an 
Asian MMA promotion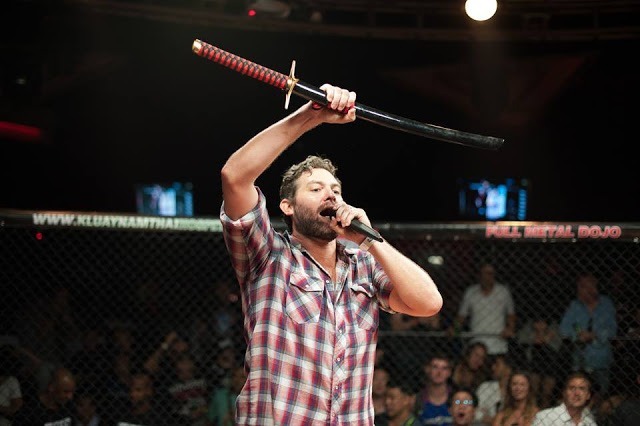 Jon Nutt – FMD founder…yup you need to to have big nuts to organise a MMA promotion that is unique. Here Jon brandishing the FMD Katana that is the trophy for the champion…who needs a belt when a sword is way cooler
Favorite moves? Hisyam likes to keep it simple. 1-2 left hook. ( Left jab, right straight with a quick follow up of left hook ). He favours this technique as it can be apply easily and add on with a kick or take down in the end.
His favorite training routine is the one he hated most. It is BTS' s Spartan Training with hill sprint.
" It is the worst but it is the most useful. This training will help me the most in the ring. I always tell myself and even my teammate -if you hate it means its working, so train harder until you love it! "
Hisyam get thru this Spartan Training with his earphone blasting his favorite workout tune – Strenght of a Thousand Men by Two Steps from Hell.