Today is Malaysia's national day. Everyone is celebrating a day off from work. Malaysia is also celebrating a record gold medal haul of 145, as yesterday's closing of SEA Games 2017 in Kuala Lumpur saw Malaysia emerged as overall champion.
Meanwhile in a small town name Tamparuli at the outskirt of Kota Kinabalu Sabah; in the acclaimed Karabaw Tamparuli gym, a young 21 year old MMA athlete is still practicing his striking combos on the heavy bag.  His name is Syabtu Aumazza Zaayon Bin Denno Umat, or better known as Jayen.
Jayen is preparing himself for his pro MMA debut. It is certainly a huge giant step for Jayen as tonight he will pack his bags and tomorrow, will travel over 7500 km to Lebanon to fight in CFC – Cedar Fighting Championship. CFC 4 will be featuring many Lebanese fighter vs MMA fighters from all over the world. In the main card is for Superheavyweight, Diab vs Asker
CFC 4 welterweight bout initially planned for Igor Montes of Germany to fight Lebanese star Georges 'The Bulldozer' Eid. But Igor had to pull out a month ago due to injuries. Jayen's head coach Rayner Kinsiong sealed a deal for him to replaces Igor. Jayen is eager to step up and showcase the improvement he has put into his game. Also to show his coaches, especially his Karabaw Tamparuli coach, Vallerio Gumbilai that all the guidance and knowledge they have impart on him will bear fruit.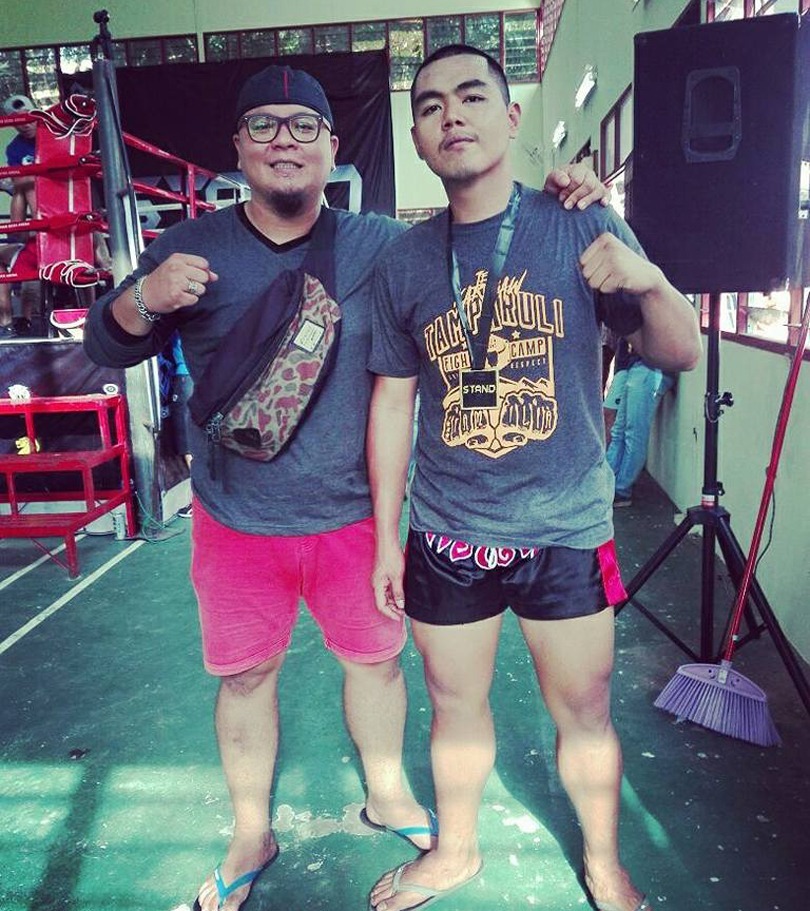 Jayen with coach Vallerio ( left )
Jayen was an overweight kid growing up. High school time was spend loitering around and hanging out with friends. This really angered his mother whom was at wits and trying to figure out how to help Jayen to be more responsible. After finishing his high school he followed his friends to Karabaw Tamparuli Gym. It was initially just to try out as martial arts was cool to him and his friends.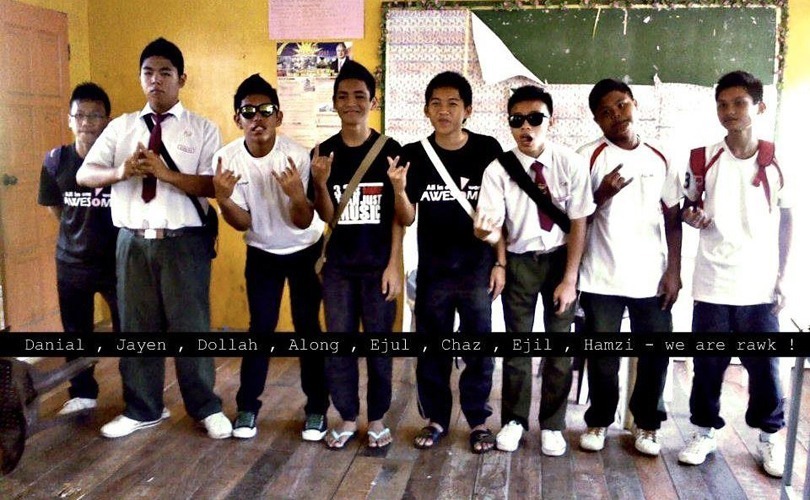 memories of Jayen's high school days
The step into Karabaw Tamparuli may as well be the best thing that happened to him. He began to come regularly and build a serious interest in martial arts. With no background at all in sports, his mother was doubtful that he will do this seriously and was expecting Jayen to change interest very soon.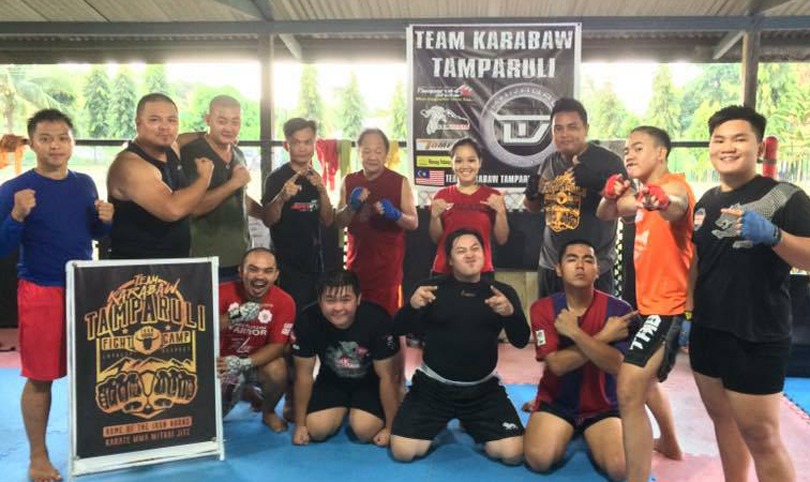 Jayen and his Team Karabaw Tamparuli team mates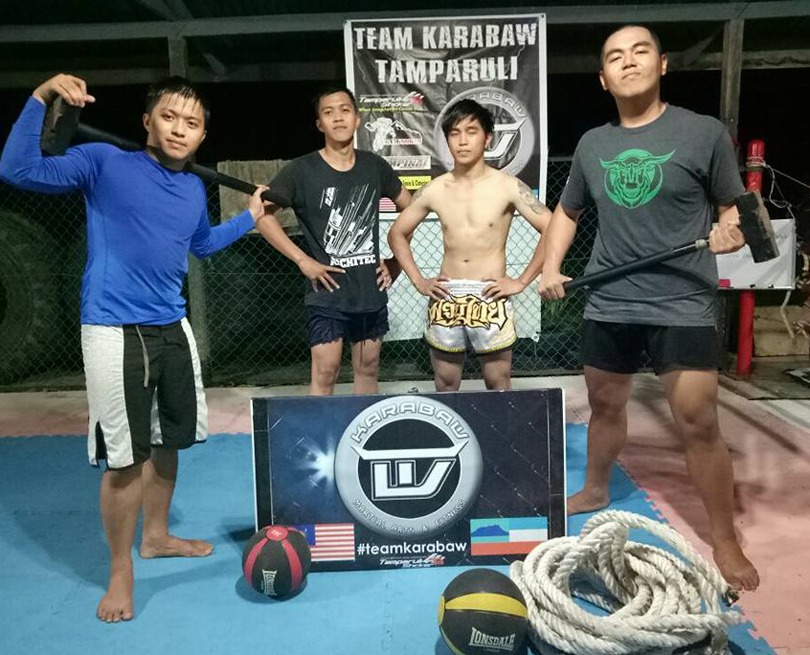 But day by day, under the watchful eyes of Vallerio, Jayen not only improve on his physically fitness, he picked up techniques and gain more skills. His attitude also change. Hanging out with some of the senior fighters, he began to show better commitment and develop good discipline. It was certainly a positive change that surprise his mother.
Two years ago, Syabtu went for Malaysian Invasion MMA (MIMMA) tryout. he was selected and competed in the heavyweight category. He lost that fight to eventual MIMMA finalist, Tsan Nieng Khai.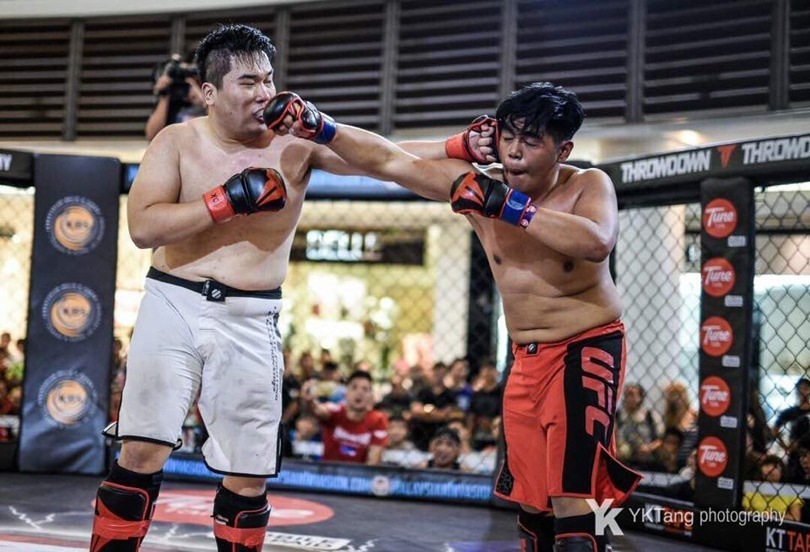 vs Tsan in MIMMA 2015
Syabtu didn't stop there, he continued training and joined STAND K1 Kickboxing tournament. He also participated in Labuan's Borneo Amateur Challenge ( BAC ), picking up some wins to improve his amateur record.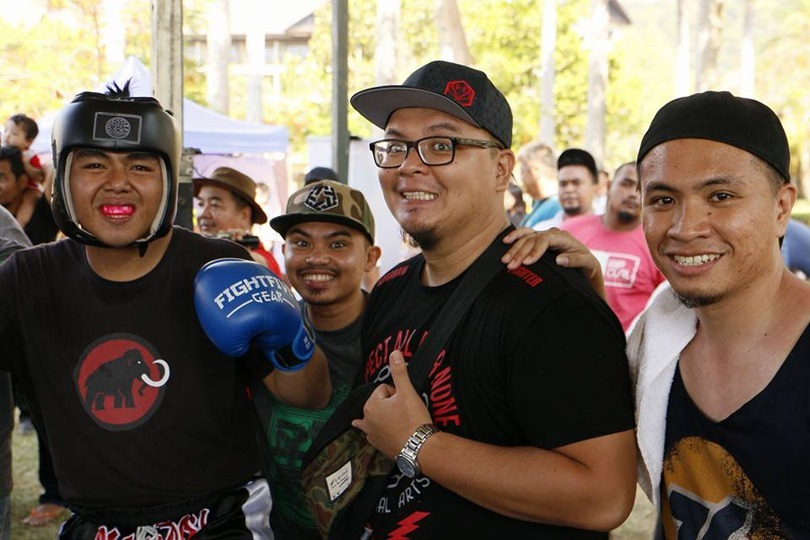 Jayen in STAND K1 with coach Vallerio (2nd right) and his Karabaw Tamparuli team mate. Douglas (far right) , Jason Gaban ( 3rd from right)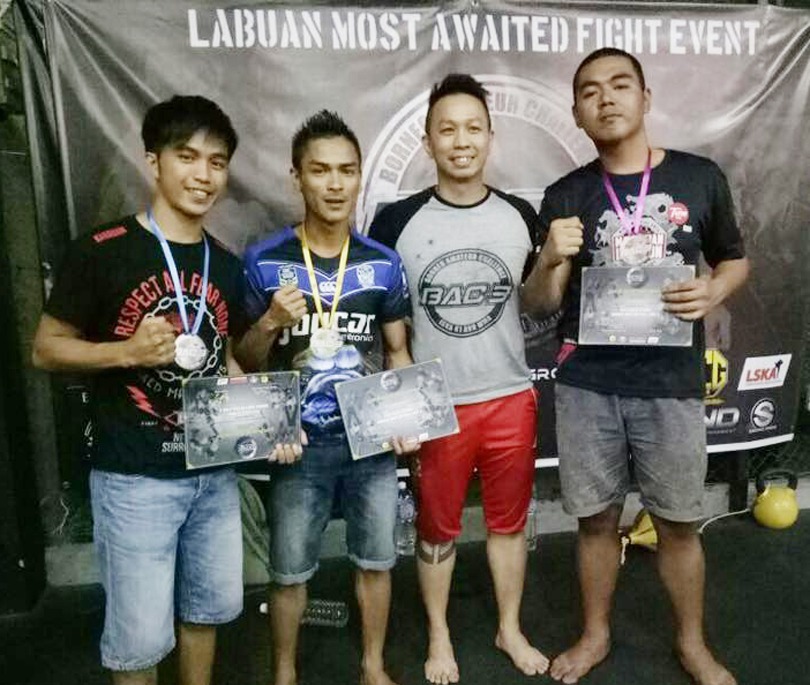 with founder of BAC – coach Alvin Chong ( 2nd from right) and his Karabaw Tamparuli team mates
Going against Georges Eid will be an uphill battle for Jayen. Georges represent Tristar Gym Lebanon. If that name suddenly ring a bell, well yes that's the same name as Tristar Gym in Montreal Canada. The fame gym under coach Firas Zahabi whom is the head coach for UFC's welterweight legend Geoarges St Pierre. Tristar Lebanon is affiliated to Tristar Canada.
Georges Eid was a former CFC's welterweight title contender and holds a current record of 4-2-0.
Jayen is certainly a huge underdog for this Sunday's CFC's welterweight bout. But opportunity like this does not come often. Jayen's team firmly believe that the best learning experience is to fight at the top level. Thrown into the lion den, the learning curve will be very high.
Jayen fully expect the odds are against him especially fighting a local Lebanese superstar. But he is fully prepared for war and will want to put up a good fight to give a good account of himself.
Warriors of Borneo support Syabtu Aumazza aka Jayen for Cedar Fighting Championship.