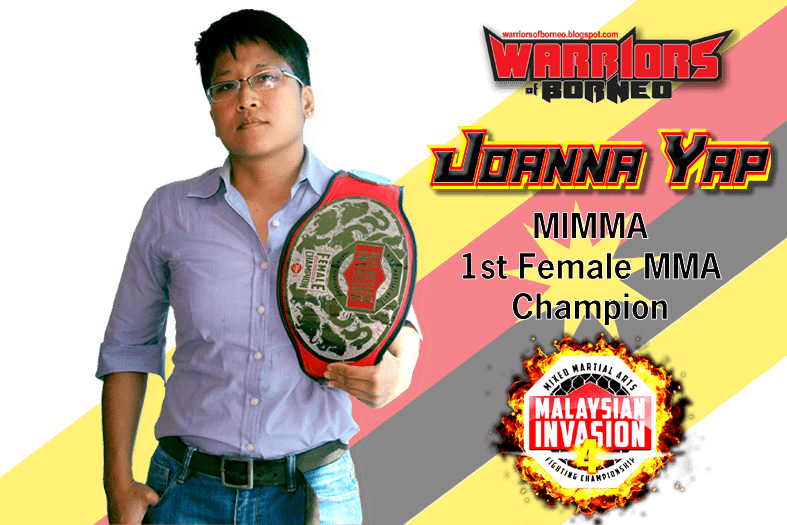 Joanna Yap from Kuching created history on 10 OCT 2015, when she became the 1st Female MMA Champion of MIMMA. MIMMA decided to introduce two new category in season 3, the Foreign Pride & Female category. This was a very smart decision as many Malaysian women are taking up martial arts and has cross train in various discipline, enabling them to compete in MMA. Style wise in Season 2, we saw the dominance of BJJ ( Brazilian JiuJitsu ) as both Grand Finalist , Joanna and Felicia Yunus ( from Sabah ) are BJJ specialist.
Joanna qualified for the Grand Finals after collecting 3 wins. In the Grand Finals fight, both finalist went all out. Joanna was more dominance in her cage control. Joanna's owe her ground game skills to Coach
Albert Lim
of
Studio 23
, Kuching. Going the full 5 rounds certainly show how great the endurance of both fighters was. Joanna emerge champion by getting the unanimous decision.
The interview below was done after Joanna's win last year. It was always a great pleasure to interview Joanna as her career as a journalist with
The Borneo Post
really shines in the choice of words she uses and the amount of information she gives; which helps in my blog's objective of promoting local MMA talent, so the more infor from the interviewee, the better readers can know about them.
I hope with the interview below, reader's ( especially those trying out for MIMMA 4 today at Kuching ) can be motivated and learn from Joanna's experience and preservere and hope to see more champion emerge from Sarawak.You can also learn more about Joanna in my pre – MIMMA3 Grand Final story on her, click
here
Tell me about the fight vs Felicia. You control her at the cage, striking time the flurry seems to caught you a few times, but you remain strong, tell me how does it feel at that moment?
Felicia landed a number of good strikes, but in the heat of the fight and with adrenaline running, I didn't feel much of the impact (I had a black eye the day after though!). 
Throughout the fight, my mind was just focused on implementing our strategy. She had great grappling defense and she didn't always let me do what I wanted to do. There were times Felicia had the upper hand, and at other times, I had the upper hand. However, in the last couple of rounds, I felt I had more success in imposing our game plan.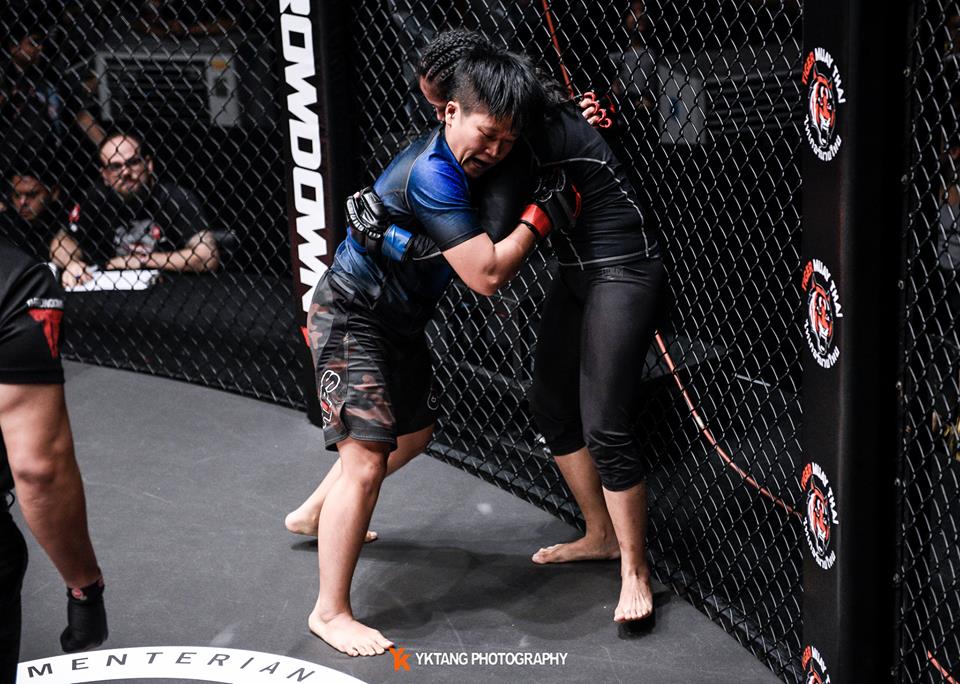 Is there a point in the fight that you think you need to change game plan or stick to it?
The fight was more or less going the way my team anticipated it might, so there wasn't any real need to change. As the fight progressed, there were certain things I needed to pay more attention to like keeping my defense up, and my team made sure to highlight them in between rounds. I tried to do my best to follow their advice.
Were you confident of having your hand raise when waiting for the annoucement by Jon Nutt?
At the end of the fight, I felt Felicia and I both had a 50-50 chance of winning. It was a pleasant surprise when it was announced the judges had awarded us the unanimous decision, as I thought it could have a been a split decision that could have gone either way.
After the fight, how did you celebrate your win?
By eating! It's the Malaysian way. I had a crazy bunch of ex-classmates who flew over from Kuching and Singapore to KL for the fight, while others who were working in KL and other parts of West Malaysia also came to watch. My mom came over to watch too. So after the fight was over, we met up at the Subway outlet just outside the stadium to eat, catch up and take photos as that was my only opportunity to see some of them before they returned back to where they came from.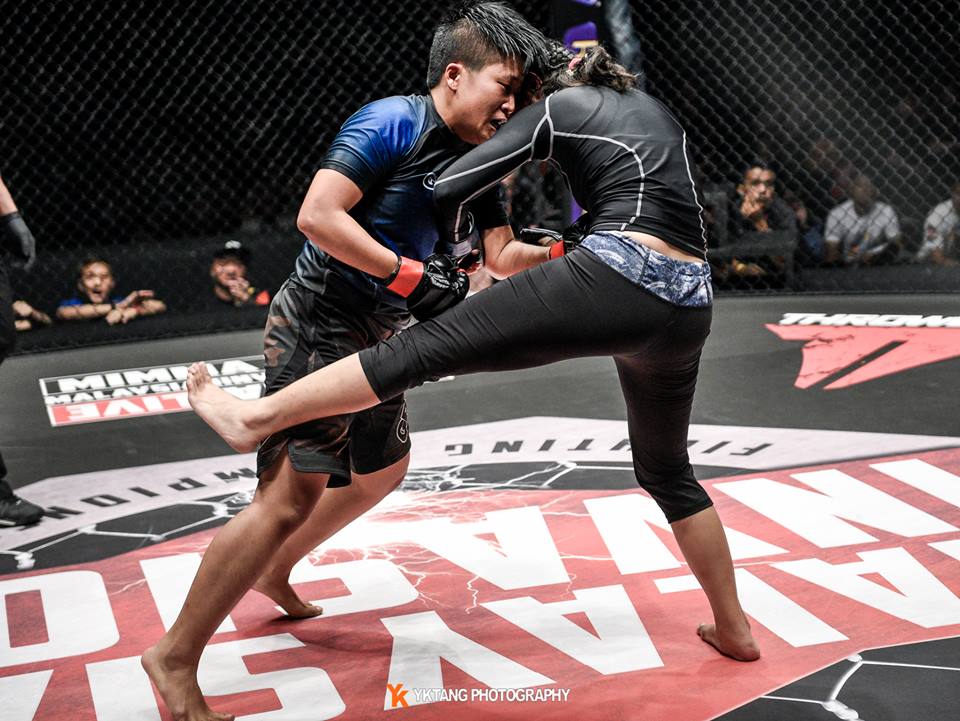 You have build a rather close relationship with Felicia and also fellow fighters Gladys Molling, 
tell me more .
We definitely share a unique friendship because of the experiences we have gone through – not just as the first batch of female fighters in MIMMA 3, but also individually as female competitors in combat sports where women are often the minority. I think that's what helps us to click quite fast with each other because we have gone through similar experiences.
I was very happy when they both decided to visit the studio ( Studio 23 ) when they were in Kuching recently. It was great to be able to spend time with both of them. They are women I look up to because of their skills, positive outlook on life, strong fighting spirit, and passion for their martial arts. I hope to be able to return the favour and visit them in their home gyms to train with them one day.
How does your colleagues and bosses treats u after becoming MIMMA's 1st Female Champion?
Not much difference, to be honest. They congratulated me and then it was back to work for all of us, haha. Journalists and editors have seen and gone through many things in their line of work so it takes a lot to get a reaction out of them. I brought the belt to the office to show a couple of my colleagues and they had some fun taking photos with it. Other than that, it's business as usual.

Do you think MIMMA4 should stick to just one female category?
It would be nice if at least one more weight class could be opened to cater to the lighter weights. Another option is to split the current catchweight into additional weight classes. The MIMMA 3 female competitors had to compete in 48kg to 56.7kg catchweight, which actually encompassed three different weight classes. I think adding another weight class would encourage more women, especially the lighter weights, to try out. Ultimately, it will be up to MIMMA to decide.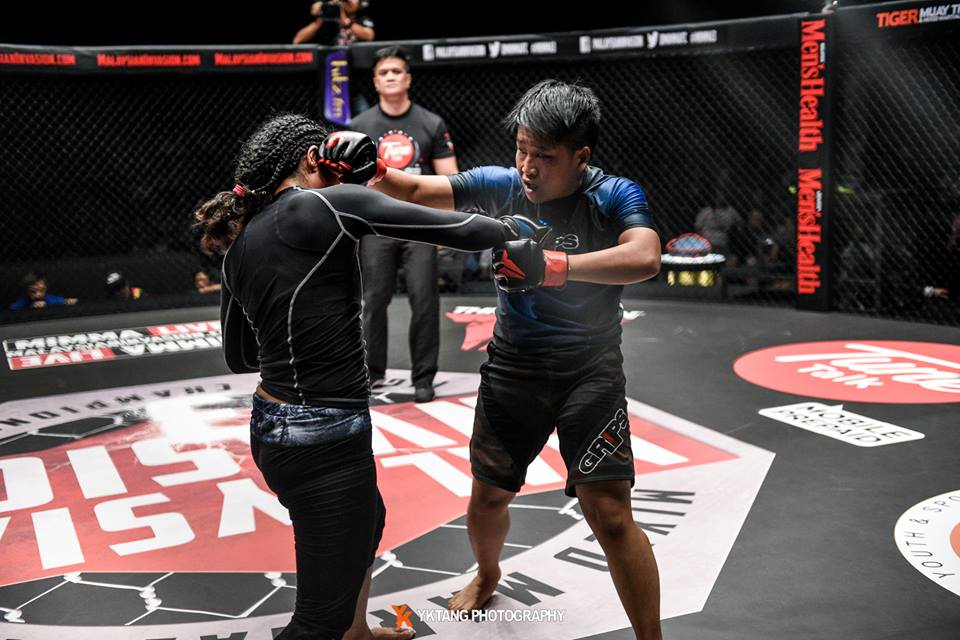 Regardless of whether a new weight class is added, women have to do their part to take advantage of the opportunity and turn up for the MIMMA 4 tryouts to show the numbers are there to justify adding additional weight classes. I think there is definitely more interest and participation from female competitors in MMA, BJJ, muay thai, boxing and kickboxing competitions in Malaysia over the last couple of years, and the trend appears to be growing as more competitions are being held. MIMMA 3 has already unearthed some very good, promising female MMA fighters and I hope more women will come forward for MIMMA 4.
Defending it in 2016, what in your game that u feel need to improve on?
Plenty of things, especially the basics! Everything starts with a good foundation, so I will be spending a lot of time working on building good technique and unlearning bad habits. There is a very long way to go between where I am now and where I want to be.
Who contribute most in your preparations during MIMMA3 ?
It was really a team effort. I couldn't have done it without all my coaches and teammates from Studio 23 and SS Fighters. They gave a lot and sacrificed a lot to help me prepare. I am very blessed indeed to have them in my corner.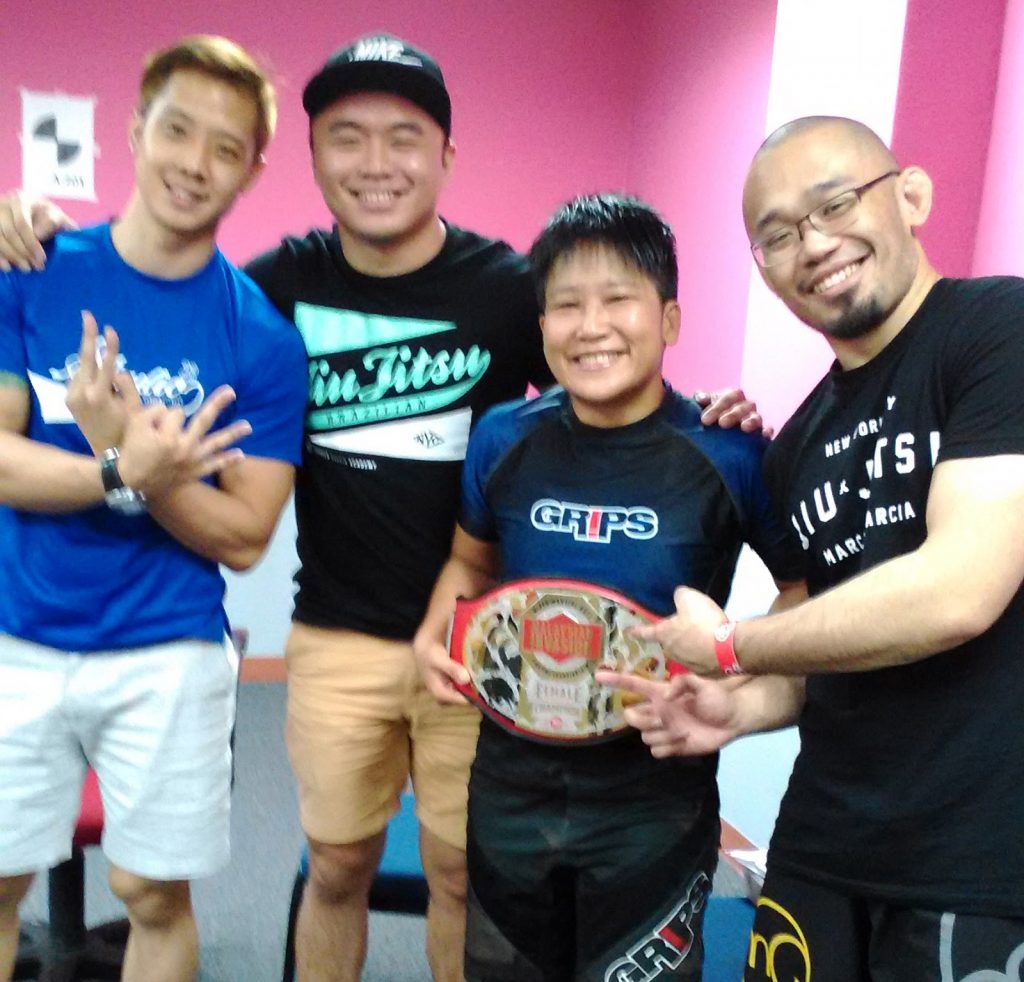 Backstage after her win with her coach Albert Lim ( right ) and friends 
Now that you are not in competition mode, how is training like?
After the competition, I had to scale back my training so that I could concentrate on my job. Am gradually picking up the pace again. My main goal at the moment is to fully recover from an injury I got during training a couple of weeks back and also on getting enough rest and staying healthy. It's the flu and cough season in Kuching so there's a need to be extra careful as I'm planning to compete in a BJJ competition in KL in early January.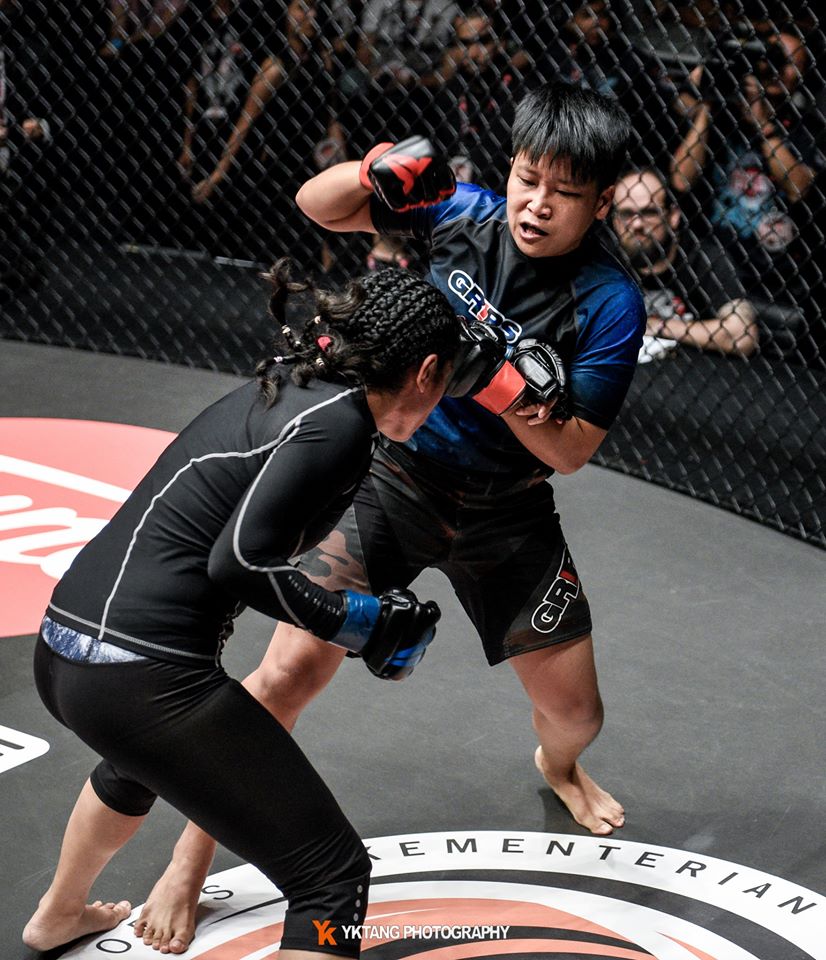 By becoming Female Champ, what is the thing you hope others will learn from this?
Firstly, I hope it will encourage the women who are already in martial arts and combat sports to continue to pursue their paths, and for those who are thinking of starting, to be bold to try something new. Women and girls have the right to be the mats and in the ring just as much as men and boys. Being a good fighter has very little to do with what gender you are.
Overall, I hope it will inspire more women to be more confident in expressing themselves and to do the things which give them joy no matter how old they are or what other people think – whether it's fulfilling a childhood dream like learning how to dance or trying something new which puts them out of their comfort zone. I think women tend to second-guess themselves a lot with reasons like "I'm too old", "It's not practical", "I'm not good enough", "What will other people think", etc. But if you don't try, you'll never find out if things will work out. You don't have to be exceptional to have permission to do what you enjoy and enjoy what you do. I am not a natural athlete, but competing in and getting better at martial arts is something which makes me happy and I think it would be a path I would be content to travel for the rest of my life. If I happen to get very good at it, it's just icing on the cake.
Will you be joining more MMA fights to keep active before MIMMA4 Grand Finals come? Do you see yourself turning Pro?
I don't have any plans yet to compete in MMA before the grand finals but I hope to be taking part in other martial arts competition to keep myself in the game mentally and physically.
As for whether I see myself turning pro, I'm open to the idea, but I think it's too early to say for sure. People forget I am still a relative newcomer to MMA in terms of training and fight experience. I would like to spend more time strengthening these two aspects first.
Does people recognise u in the street or during your work as reporter ?
So far, I don't think anyone has recognised me when I'm at my job (if they did, they didn't say anything to me, haha), but there have been a few people coming up to me during muay thai class at SS Fighters to offer their congratulations and to say how excited they are that the first MIMMA women's champion is from Sarawak. It's a lot of fun to hear them share how much their interest in Malaysian MMA have grown because of what they saw on TV1 and on the www.malaysianinvasion.com website. The MIMMA film and production crew led by Yi Kin Hong have really done a top-notch job of telling the human stories behind the fights and fighters, which has helped to raise public interest in MMA.