E.T. in Borneo
Ev Ting, the raising star of ONE Championship and belt contender for featherweight drop by in Kota Kinabalu, Sabah in March for a seminar at two of Sabah's top martial arts gym; Alpha MMA & Team Karabaw.
Ev was in Sabah at the invitation of Sabah's fighter Adrian Tham, Rayner Kinsiong and Allen Solomon Chong, as both Alpha MMA & Team Karabaw collaborate to organize Ev's seminar.
It was certainly great to have a young successful fighter of Ev's calibre to share his techniques and knowledge among Borneo's fighter; giving them inspiration and motivation to excel. Having a heart of gold too, as the seminar fee's was not fixed and participants pay on what they feel is worth. And all the proceeds will be channel to local charity.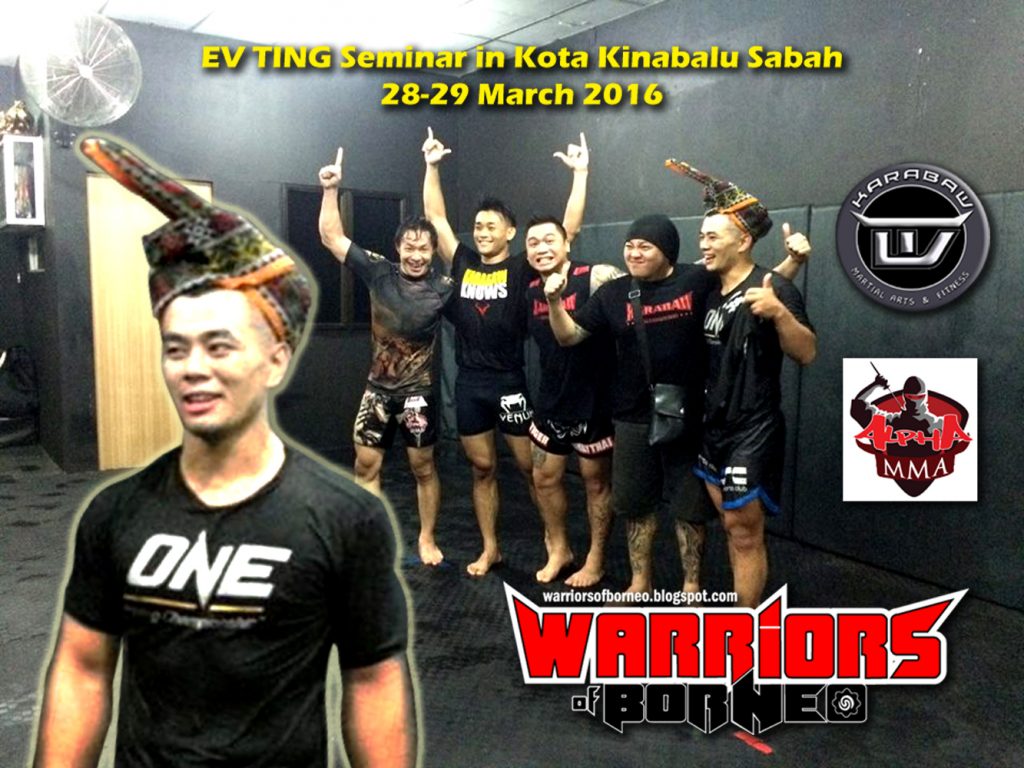 Eve received a memento from the Sabah's warrior –  'tanjak' a local Sabahan natives headgear. 
Ev 'ET' Ting holds an MMA record of 11-3-0, Ev currently has 5 wins in ONE Championship.
He's on a two fight winning streak after dominating wins of submitting two well known fighters from Philippines with guillotine choke in his last two fights. His only defeat was at the hand of Marat Gufarov, the current ONE Championship featherweight champion, which was back in May last year.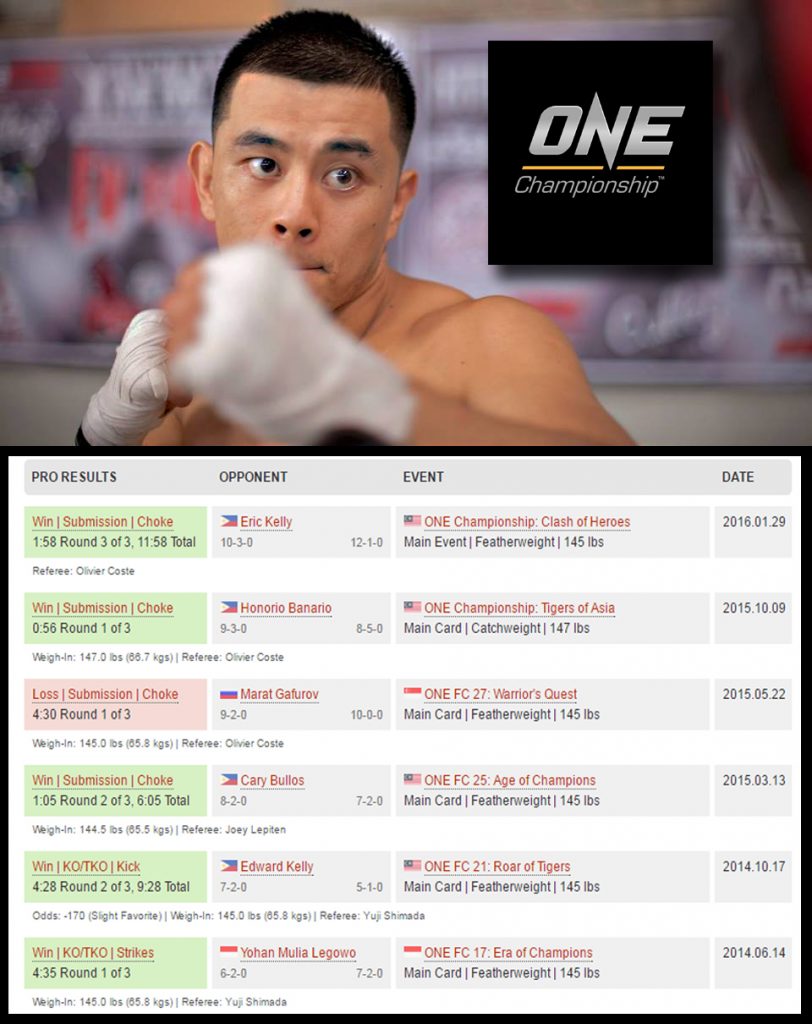 Fight record from tapology.com
Ev was born in Malaysia 26 years ago. Both his parents are Sarawakian and after graduated studies in England started a family in Kuala Lumpur. Eventually Ev's dad sold off his share in a timber company and grab on a opportunity to migrate to New Zealand. In this new land of the Kiwis, Ev's involvement in sports started with football. Actively playing throughout his teenage years, Ev won various award such as MVP ( most valuable player ) and Most Improved Player; but personally to him his great highlights was being captain in his final year of the first XI and placing second in the season ever in the schools history.
After completing high school, his family moved to different suburb in Auckland. Being distant from friends and familiar team, Ev's stopped football but he wanted to stay active fulfill his urge to compete. At this juncture an individual sport like martial arts really made sense to him. So it all fell into place and he enrolled in martial arts classes at Auckland MMA. 
"Once I joined, I never looked back. I've always had a interest in martial arts but never got to fulfill it until I started competing which fired my interest for MMA even more."


Warriors of Borneo managed to got hold of Ev during his time in Sabah for an interview.
Any fond memories of your early years in Malaysia? 
My best memories in Malaysia was playing on the streets with over 10 of my neighbour's kids, racing around on our bikes. One fond memory was when a monkey broke into my house and broke alot of things, but later befriended with me for a day before animal control came and collected him.
My personality through my up-bringing and experiences allows me to be very direct and have a straight-forward and positive attitude. 

You started your MMA in Auckland MMA, is MMA well develop in NZ? How is it compare to the Malaysian scene?
MMA in NZ has been around for over 10 years. It never had the spotlight Malaysia has now on it with it only going big in the last 3 years.
There are similarities between the two scenes, all fighters can be very hearty and almost stubborn at times. The differences would be in NZ we could care less about logos or looking good, we just want to fight. However, I can blabber for hours on the positive benefits of martial arts contributing to our community wherever we are in the world 🙂 The Malaysian scene is coming up quick with stars like Gianni, Keanu, Aiman and Agilan coming up real quick.

You also have been training in Vietnam & Bali right? What about Malaysia? Tell us about this?
Currently I am a coach at Saigon Sports Club in Ho Chi Minh City, we have a good gig going there and the gym speaks for itself if you go look it up.
Bali MMA is full of monsters under 155lbs, this was where I spent my last training camp, I have a good network with the team there and I believed in their suitability and skills to help me peak for my camp for my last fight.