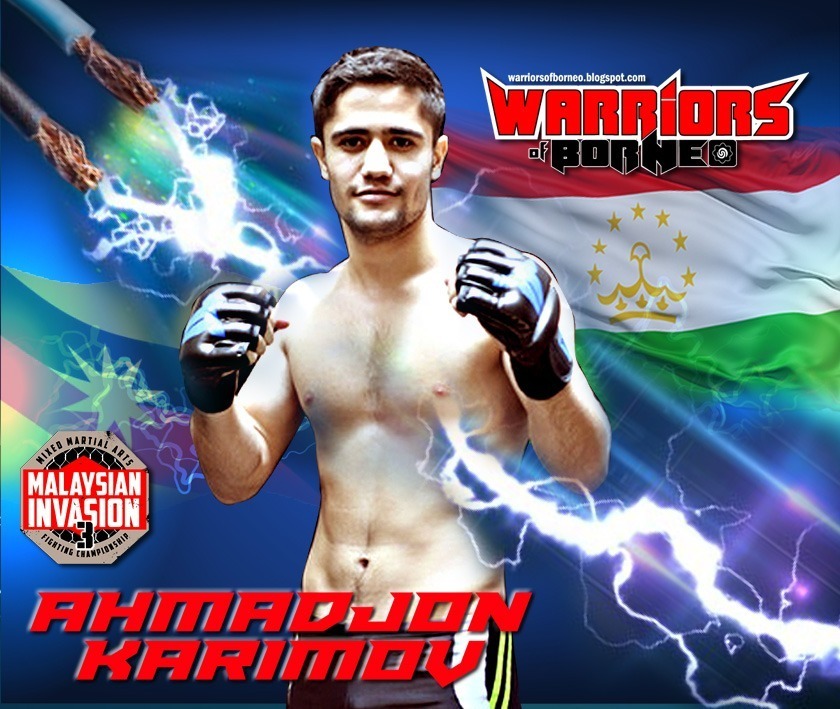 Hailing from a landlock country of ex Soviet Union – Tajikistan. Ahmadjon, or Jon as his friends call him is sharp and fast with his hands from his early days doing boxing. But he also have a good ground game as he trains under Matt Pellino an American wrestler and pro MMA fighter, of GymBox in Kuching.
Jon participated in Jesselton Fight League in Sabah in 2014 at the tryout. In 2015, he defeated local favourite Effendey Kalai by TKO in the ladder match. But he stumbled at the Semis with a decision lost to Muhd Hasbullah in a very even match.
Learning much from the JFL experience, Jon shift his focus to MIMMA.In this year's inaugural Foreign Pride category for MIMMA, Jon defeated Samai from Thailand in the ladder match with a triangle choke. He progress to quarter but didn't fight as he's opponent didn't step up and he won by walkover.
In the contender fight, he met Muhd Nazri of Singapore. Nazri lost the fight as he was DQ with illegal knees to the face.
Nazri before this defeated Mardonov, Jon's team mates in Gymbox and also countryman.
Jon has sparred with A- Karadech before in the Kuching tryouts. He knows Karadech is a MuayThai specialist and will be wary of his viscious Thai clinch and thunderous knees
Jon is a student in a Uni in Kuching. He loves it in Kuching as he felt at home with the beautiful place and also the friendly people in his Uni and most importantly his GymBox team mates.
——————————————-
What's your heritage? How is life in Tajikistan?

To be honest I don't know what to answer about what's my heritage. My family is an average family, I mean not rich or poor. I am the only son in family, I have two younger sisters. 
Back home life is good, because there I am with family, in my own town and old friends.
How did you end up in Kuching?
Well, it was time for me to choose Uni to study so my choice was to study in my country at the capital.
But then, there was an agent who introduces us with Malaysia's Uni (Segi College) so I kinda liked the idea to study here in Malaysia, as a Muslim person when you know the country is a Muslim country you will be interested to further your study there. So I choose to come here and study.
It was a tough challenge for someone like me whose English knowledge was zero, but I accepted the challenge and came here to study and so far I did not regret it.
Tell me about your martial art journey?
I begun with wrestling when I was 10 or 12 years old, but it didn't last long. Ii did wrestling only a year then moved to Judo and trained like for 6 months only. After that I joined Football Academy when I was 14 and I trained for nearly a year.
Then I end up with Boxing where I trained 3 or 4 years. Once I had surgery with broken nose my family didn't allow me to further with boxing. So starting from 2011 till 2014 I was not doing any sport because I was learning English here in Kuching so I was kinda busy with study then 2014 January I joined GymBox.
When did you started doing MMA?
I am doing martial art (MMA) over a year only, it all started with Jesselton Fight League in 2014
Did you get much attention in Uni for your appearance in MIMMA? What about back home?
I don't really get much attention at Uni because not everyone knows about MIMMA, because from my point of view guys at my Uni are not really into Martial Arts.
Back home they do know I have a few MMA fights but they don't know about my journey in MIMMA, I prefer to not tell them for the time being. But when I get the belt then I will let them know but not now.
What do you think of A-Karadech? You think you have better ground game than him?
He is a Muay Thai Coach. He is a Thai guy, he is tough but I am confident on my standing, if standing doesn't really work I will go for take-downs and yes I am confident on my ground game, I wouldn't say it is better than his but I know what to do.
Your MMA fight record?
My MMA fight record is 3 0 in Tapology.com but it is 3-1 because I lost my fight in JFL Semi-final.
What is your toughest MMA fight so far?
Toughest fight was JFL semi-final vs local Sabahan Mohd Hasbullah, which I lost via decision.
Any fight which you are satisfied with?
Satisfying win was against Effendy Kalai in JFL ladder match, because I won someone who has name in Sabah and I won it in Sabah plus it was main event so I think that is most satisfying.
MIMMA brought all finalist to Phuket to train at TMT, Why didn't you made it there?
I was not able to go to TMT because I had some issues with my visa.

Do you think your opponent gain advantage by being there?
Even if he gets more knowledge there it doesn't affect my game plan. Of course mentally I was so upset that I couldn't make it to TMT but I have overcome all those stress.
Your opinion on MIMMA?
Well, it is a good organization who gives huge opportunity to local and foreigners to participate and show what they got. I respect and appreciate this opportunity.
What's the MMA fight scene in Tajikistan?
There are amateur and pro fights in TJK(Tajikistan) but I have never participated there, I only watched from Youtube.
How is training preparation like for you?
My training schedule is tough. But I don't complaint. I am doing my industrial training now so basically I am in office from 8am to 5pm then 6pm to 9pm at gym. So it's very tiring and I don't have enough rest but I am ready for my fight.
What happened in the contender fight vs Nazri?
The fight was good in contender fight but I am not satisfied with the outcome ( illegal knees DQ ), it was not the way I wanted to win the fight but accidents happen.
After all the hard training, how do you unwind?
I only stay at home and let my body rest and that would be every Sunday.
Is making weight easy for you?
My normal weight is 65-67 so I don't have to cut but instead I need to gain.
So what is your message to your opponent?
My message? Well, I hope he is ready for this fight, this is MMA so hope he will show an MMA fight not only MuayThai,
I am ready and I will do everything that takes me to be a Champ!