When it comes to selling a fight, Allen Solomon Chong is the man. ( read about Allen's profile in my previous post  here) His penchant for showmanship is bringing attention to a sports that is growing steadily in Malaysia. No doubt a lot of fighters will say that they will let their fighting skills do the talking in the cage, but at this age of digital news and widespread use of social media, a fighter has to do more than just fight. What a fighter does before and after a fight is also key to building up a brand for himself.
Allen when he first started his MMA career in MIMMA1 2013, already know how to use this. Always with a cheerful and witty persona, he manage to gain many fans and attention to his fights. Appearing in the face-off for his MIMMA1 (2013) grand finals, he already work up a unique style as his image. Going with his nick name Orang Utan Sabah, he brought out two bananas & point it at his opponent in the face-off.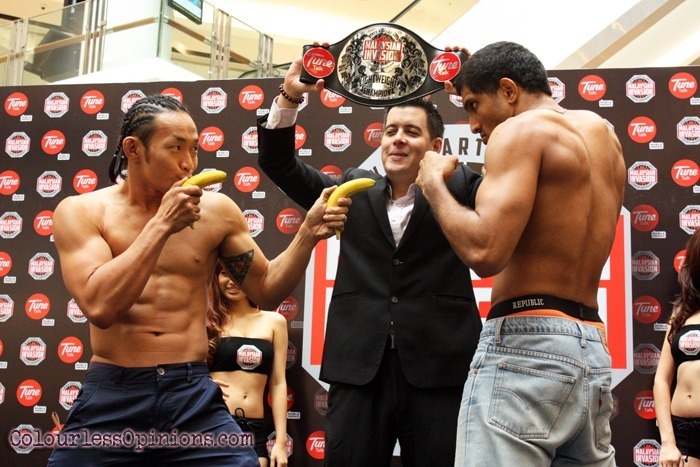 MIMMA1  Grand final face-off. Pix credit: Colourlessopinions.com
Fight promoters is in need of personality like Allen as it help them sell fights. It is definately good for sponsors too as this brings more coverage for the fighter they sponsors and ultimately more awareness and attention to their brand or products.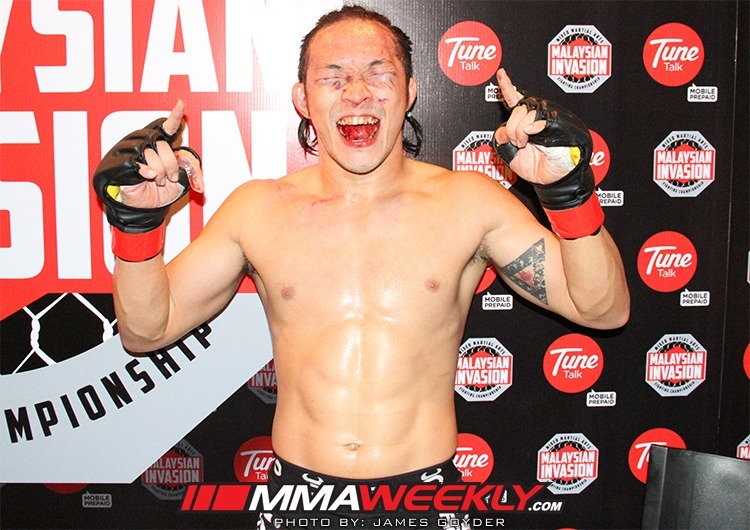 All busted up but still manage to smile…Winning the MIMMA1 Lightweight belt. Pix credit: MMA Weekly
With his marketability plus his BJJ skills Allen was selected as the only South East Asian for The Ultimate Fighter China.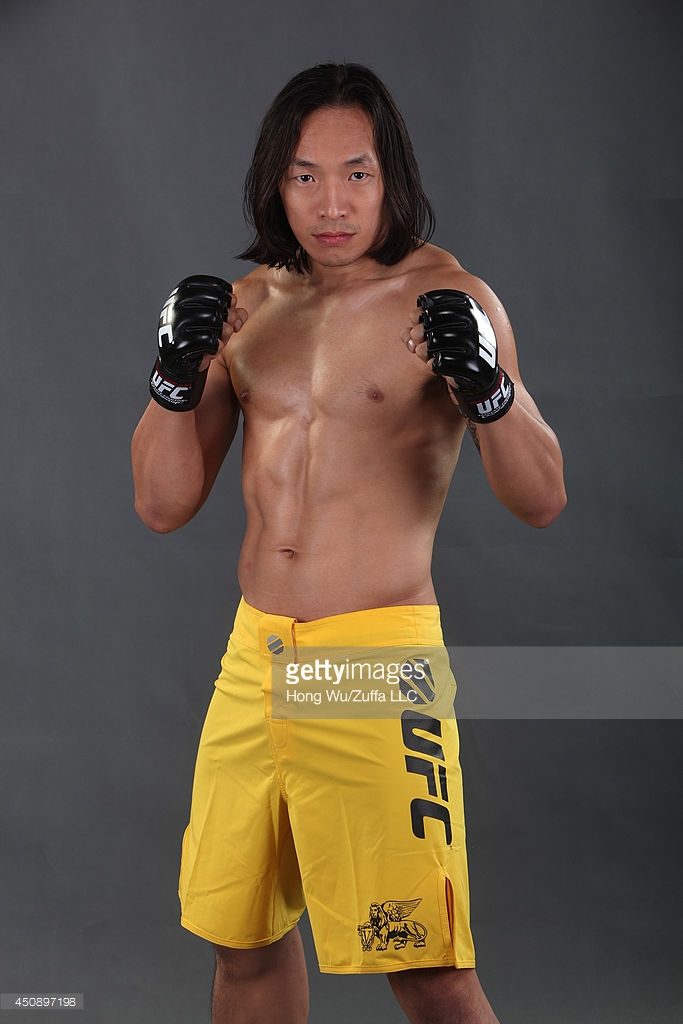 UFC's The Ultimate Fighter photoshoot. Pix credit: Getty Images
In Allen's Pro debut at Johor's Ultimate Beatdown-15, he went all Super Saiyan, cut his long hair and appear with a new blonde hairdo.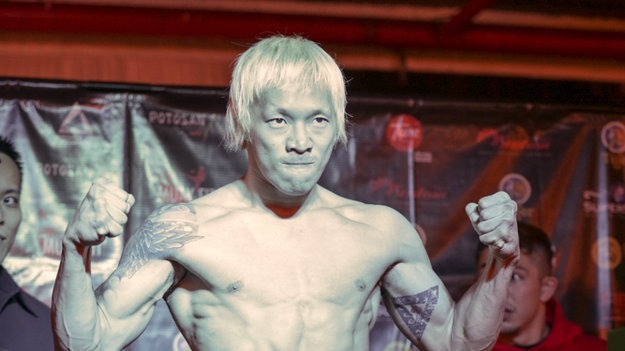 Super Saiyan time in Ultimate Beatdown
Fighter is also a product. A product that need to be sold. Sold to the audience. Because ultimately a promotions need viewers, be it live, pay per view or in news media. And the more viewers a promotion gets, the easier it is for them to bring in sponsors. Same goes with individual fighters, the more you sell yourself, either by fighting very well or build up a persona that is marketable. If you can have both, that's a perfect combo for success.
Just look at Conor McGregor. Not everyone may agree with his style, but what he does definitely boost his name and I don't have to tell you who he is, I bet you know him. We can't deny his fighting prowess is good to begin with, but when he was coming up in UFC he was not fighting with anyone in the big league, dominating other fighters easily. Before his big fight with Jose Aldo, Conor fought and dominate Diego Brandao, Dustin Poirier and Dennis Siver. But he uses his trash talking to bring attention to himself and got himself a title fight vs Jose Aldo.
UFC management notice that a whole lots of people wants to see him fight, not because everyone likes him, but equal amount of people who hates him wants to see him fight too, expecting his opponent to shut him up in the cage, but all this ultimately bring in viewers.
Just look at Mighty Mouse Demitrious Johnson (DJ). Pound for pound he is the best and is the only champion that is still undefeated, the other category championship belt has all change waist. But when it comes down to pay per view, DJ's fight is one of the lowest. Partly because he is so dominating that no flyweight in UFC rooster are able to give him a significant challenge, hence viewers find that his fights are not exciting. But partly also DJ is the type of person that does not call attention to himself.
Allen's media weigh-in and face-off on 23 Sept 2016 for Jesselton Fight League was an attention grabber. Going back to his MIMMA1 style, Allen again surprise everyone in 1 Borneo when he flipped out two bananas to his opponent Joben Superales of Hyper MMA, Philipine. Later he offered the bananas to Joben as they feed each other crossing arms.
I got three bananas!… I mean two!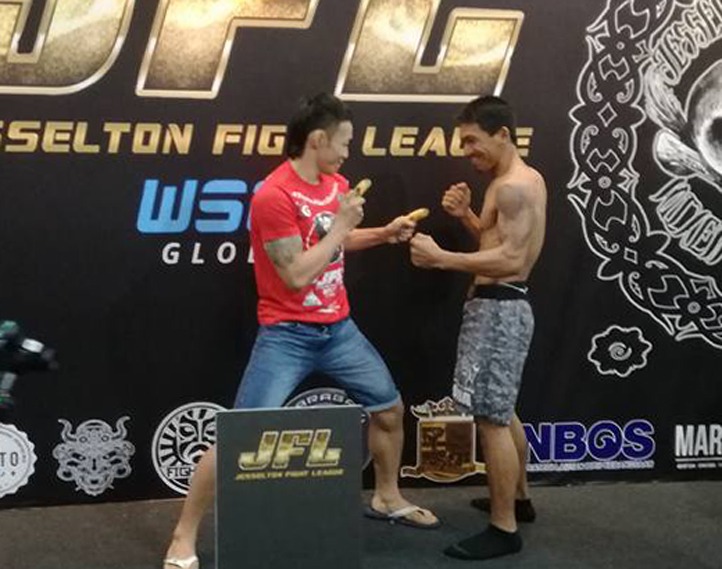 Hands up!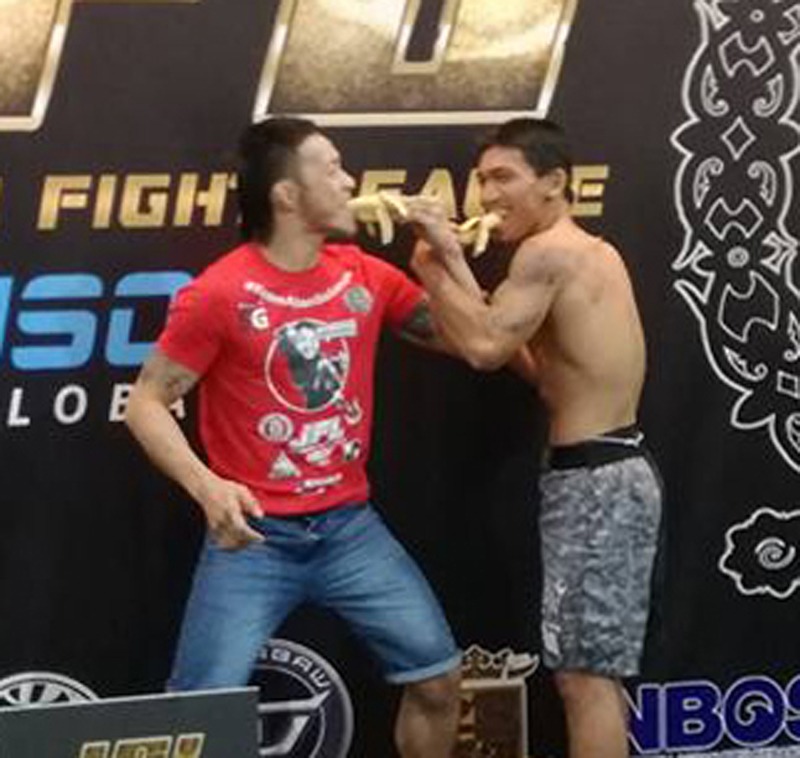 "Don't worry,  I didn't lace it with laxative,heheh. Pisang Sabah is healthy and nutritious, good for energy after cutting weight"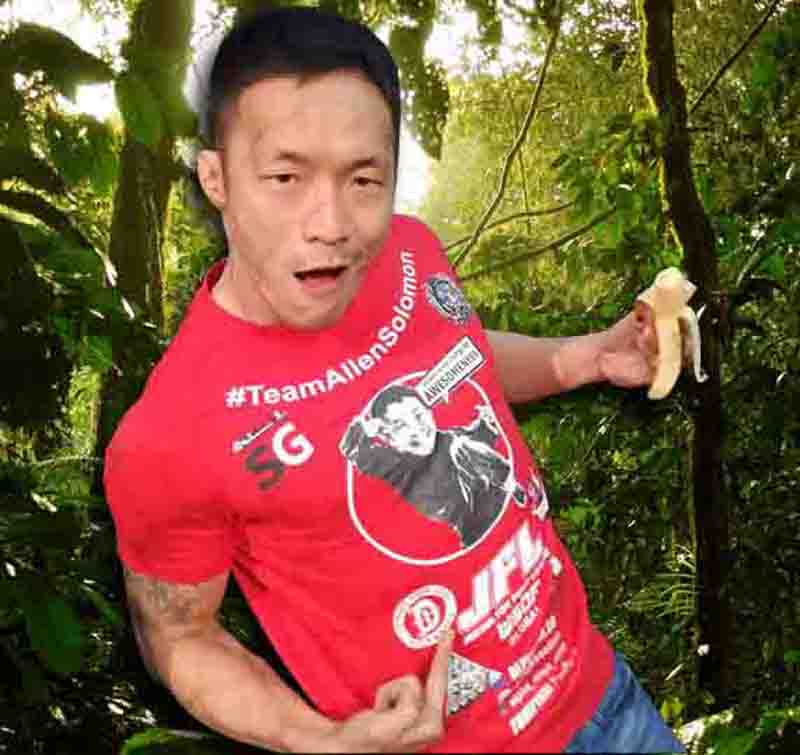 It"s gonna be Kung Fu in the Borneo Jungle…limited edition Team Allen shirt
Warriors of Borneo wishes Allen and Joven a good fight, bring on the action, go for Fight of the Night!