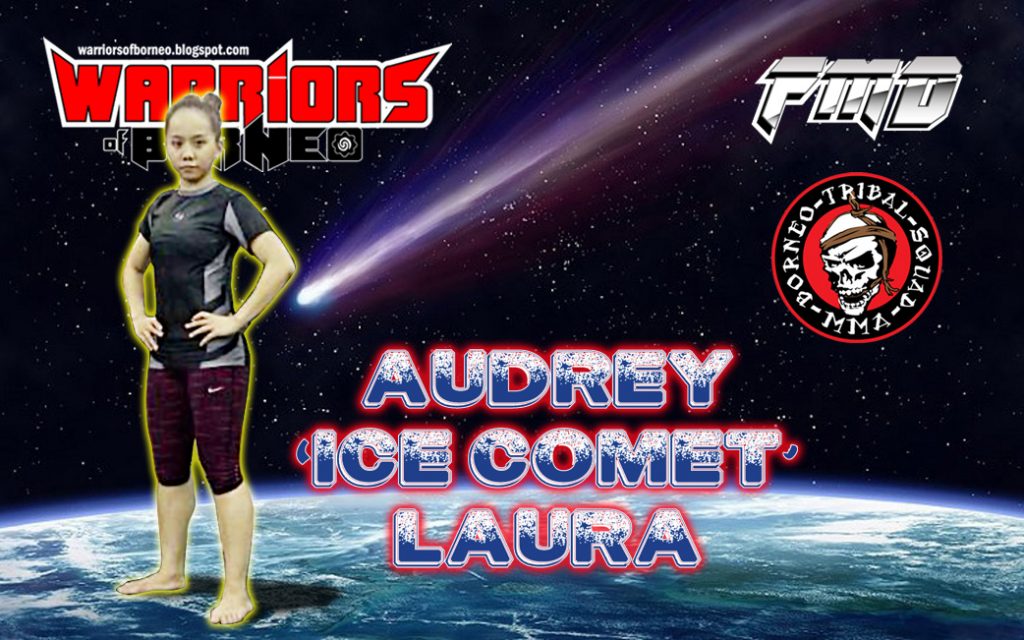 As the state of Sabah celebrate the harvest Festival in the month of May with family gathering, singing, dancing and drinking…a petite girl from Papar, Sabah, Malaysian Borneo has been putting in many hours of hard training in her gym Borneo Tribal Squad. She is preparing her self for battle in a cage
Come 4 June 2016, as Malaysia celebrate it's King's birthday…this girl will be fighting for Malaysian pride. Happening in Bangkok for Full Metal Dojo 11. This is her debut MMA fight, going against Sunisa Srisan, a Thai in her homeground.
Her name  is Audrey,… Doctor Audrey Laura Boniface.
Audrey understand very well how brutal an MMA fight can be as she is a practicing medical doctor in Queen Elizabeth Hospital in Kota Kinabalu Sabah, in the emergency department. She has seen many trauma and emergency cases in real fights and sports, during her work; but this does not deter her, in fact it gives her the boost and motivates her to improve her skills to be a more efficient fighter.
Below Warriors of Borneo caught up with her before she flew to Bangkok on Thursday night.
Can you tell us some background about yourself?
I am 27, a Kadazandusun from Papar , Sabah
I went to SK.Langkawit, SMK Benoni Papar and graduated from University Kebangsaan Malaysia.
I currently have Pro-Fight record of 2-0-0 (under One Silat). I have several amateur competitions as well in BJJ, Kick Boxing, etc.
How did you started martial arts? Were you an active person during school/uni?
I was quite active in school as an athlete since I was a little kid – be it track & field, hockey, futsal, netball, volleyball. I have always loved outdoor activities – especially being a Sabahan surrounded by such amazing nature to enjoy all the outdoor sports!
I started martial arts in university where I studied Taekwando and got my black belt 1st dan, as well as a few medals in Taekwando tournaments where I was competing together with my teammates.
After I started my job as a Doctor here in KK approx. two years ago, I become seriously involved in mixed martial arts (MMA) with the Borneo Tribal Squad.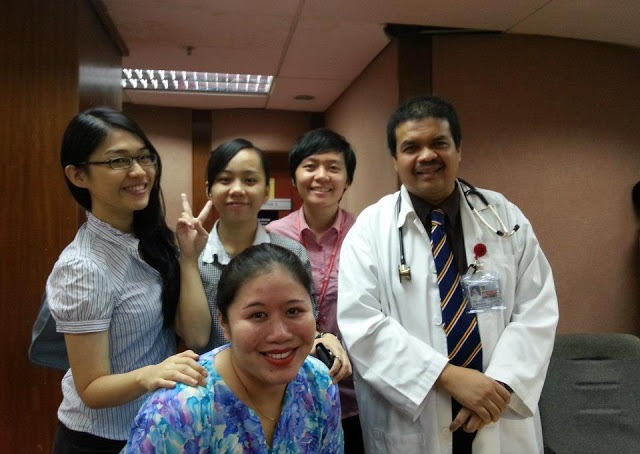 What makes you choose Borneo Tribal Squad ( BTS )? 
I love the family environment in BTS. Everyone genuinely cares about each other not only in the gym but outside of the gym as well. My family (parents, siblings) live in Johor Bharu and may feel far away to me, but I have my brothers and sisters here in BTS which means the world to me. Their support and friendship are incredible!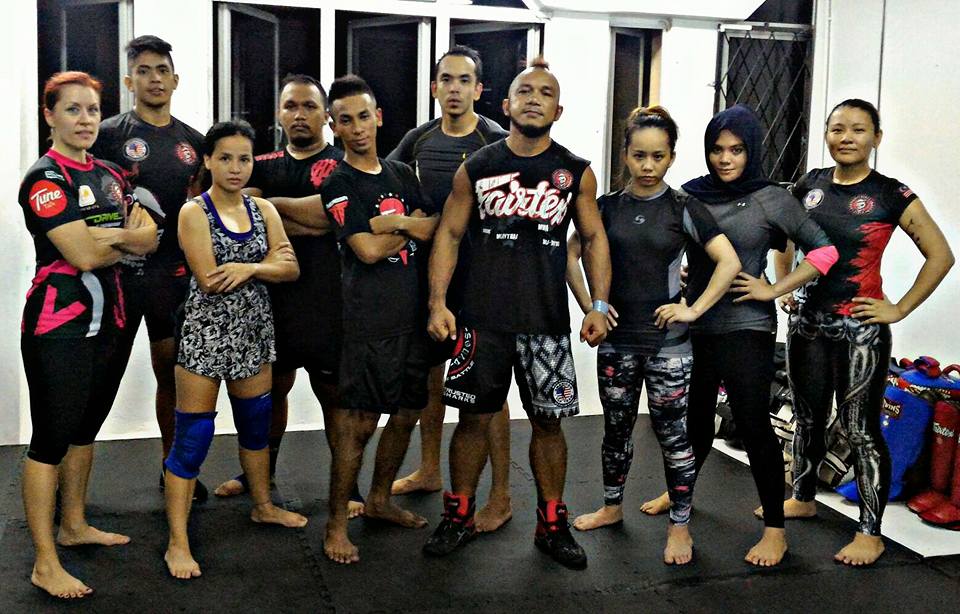 You have have fought Pro in Silat twice…what makes u decide to do a Pro Silat fight? Did you fought MMA before?
To be honest, I never once thought about being a fighter. But Coach AJ approached me one day with the opportunity to go for a Pro-fight in One Silat. I immediately said yes! I took the challenge, I love exploring new things, and this forced me out of my comfort zone – to be bold and go for it! 
I am glad I did. 




As a Doctor how do you squeeze in time for training?
I have a hectic work schedule as you can imagine! Pressure at work, still have exams, and I work shifts – then I still need to schedule in my training. I always try my best to come to training, even for 1 hour – what ever I can fit in and any time I have a break. It gets easier, you just need to prioritize tasks and time, stay focused, and I am so blessed to have a coach and teammates who are really flexible and sometimes come out to train around my work shifts! 
When you have a fight coming, does work affect your training schedule? 
I would be lying if I said no! It does, but i will usually try to maximize my training time during fight camp. Again, it involved a lot of time management and I am lucky to have a coach and team who are so flexible to train around my schedule.
How does your family view your fighting career?
They give their full support now, even though at first my mom wasn't too happy about me getting involved in this so called brutal sport of MMA. They are very proud of me and I feel really fortunate to have them behind me.
As a fighter do you prefer to keep a fight standing or bring it to the ground?
I love both! And my game plan ultimately depends on my opponent.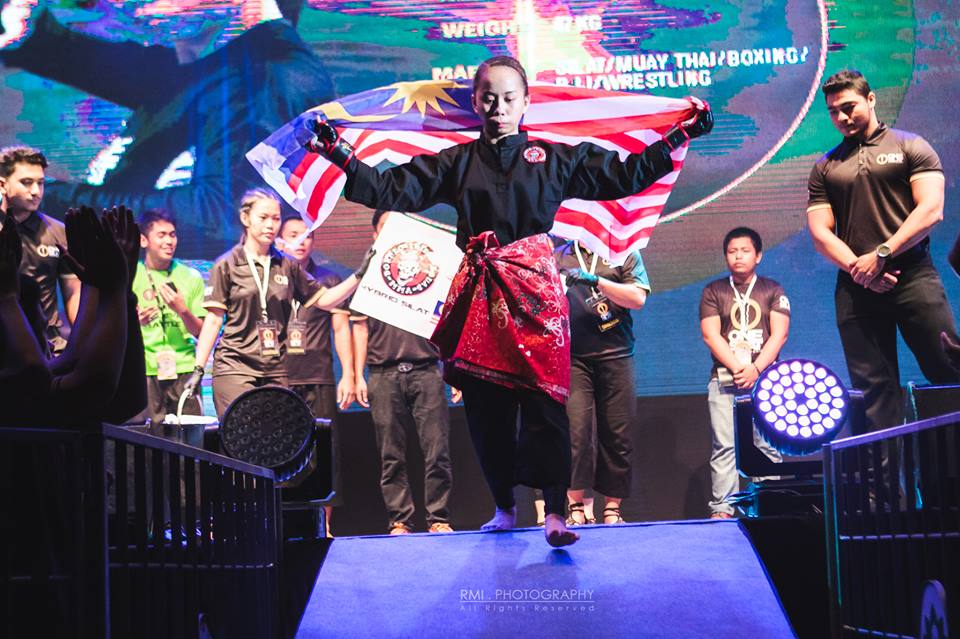 Who's your biggest influence in fighting?
My coach AJ! Without him, I would never have dreamed I could compete at this level. He really believes in all of us and helps push us out of our comfort zones to higher levels. Then the team, we support each other in pushing to be better each day.
What makes you decide to fight at FMD?
Much like my One Silat fights, Coach AJ came to me and said there is an opportunity to fight in FMD and I immediately said I'm in!
Fighting in FMD is rather interesting,…coz it happens in a Bangkok nightclub and has that feel of an underground events…does it intimidate you? 
Instead of feeling intimidated, I feel super excited! I cant wait to be there and feel the fun in the cage! I want to absorb the energy there and use it in my fight.


Who will you be fighting in FMD? What is your outlook on the fight? Have u got opportunity to study ur opponent? 
I am fighting a home town Thai woman, so that can be tough to be the outsider or foreigner. But I am excited that my Q23 Bangkok/American Top Team family under Professor Adam Shahir Kayoom will be coming out to support me at FMD – I will still have people there to support me which is awesome and I have all my team in my heart as I travel to Bangkok!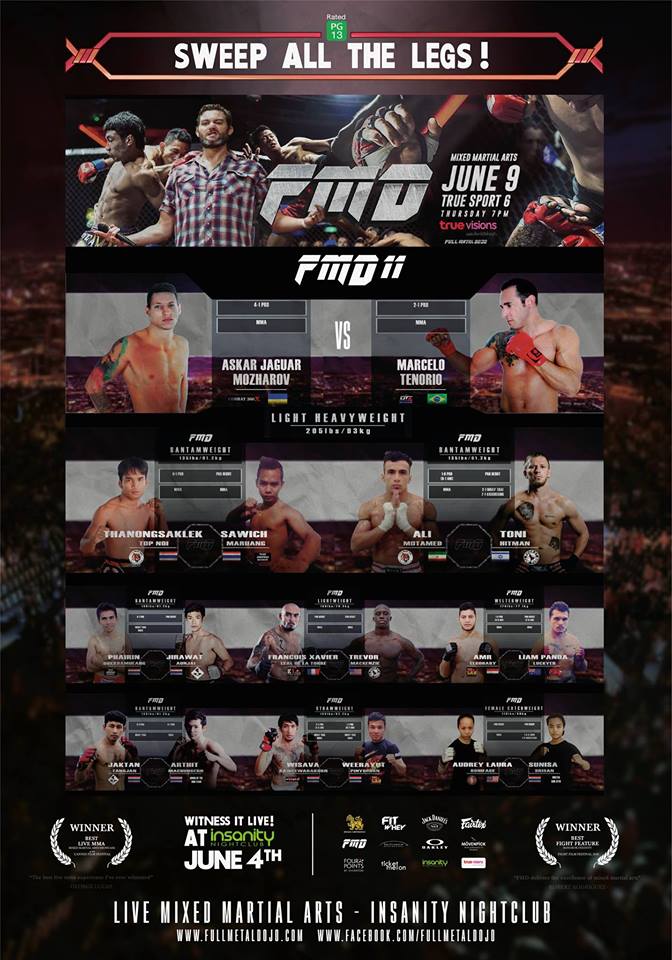 What do you think is your strength? 
My mental strength. To be able to do my job as a doctor and as a fighter being mentally tough is very important. I use this in my competitions.

How far do u want to take up your fighting career?
Well, as long as I'm alive!!! As long as I can still stand on my own two feet! God's willing, I will continue to fight.
At the Pan Asians in Manila last month, I saw a man competing in BJJ who was in his 70s or 80s. This really inspires me – I plan to stay active for decades to come!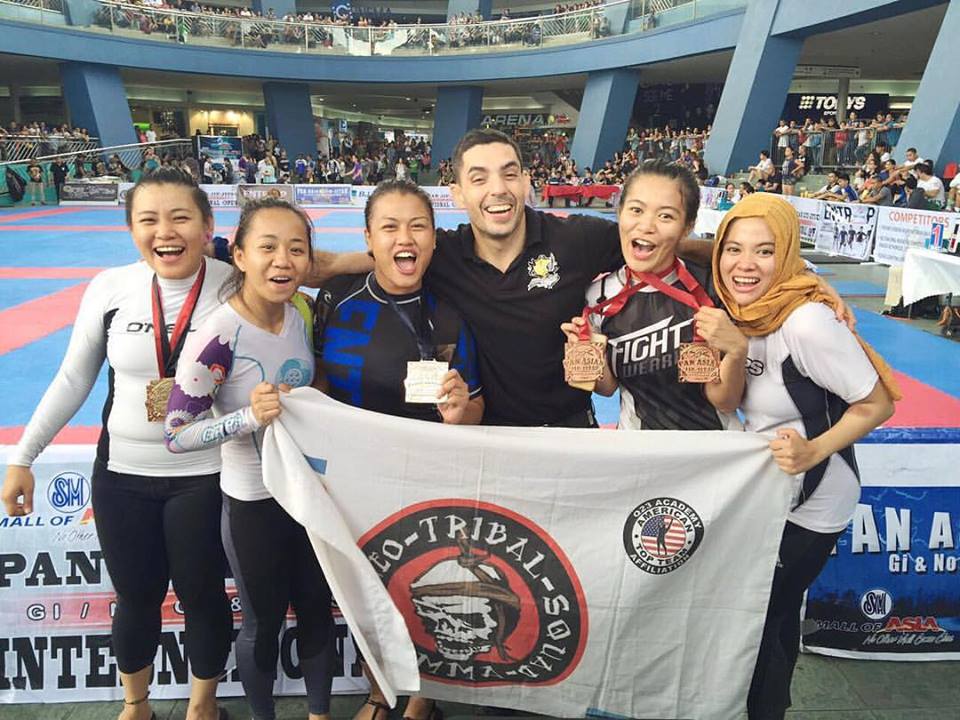 What is your most memorable moments in your fighting career so far? 
The smiles of my teammates, especially my coach when the judge raised my hand alone in the cage at the end of the fight. Just the most incredible feeling!


What is your typical diet when fighting? What about your cheat meal? 
I usually don't cut weight for my fights! I just eat healthy diet and avoid any junk food – which is really important for peak athletic performance. For my cheat meals I really just 'cheat' once in a blue moon 🙂
How do you unwind from your job as a doctor? How do you unwind after a hard training?
After years doing the same routine, back and forth being a doctor and martial artist everyday…by hook or by crook I learn how to focus and be in the moment. I am Dr.Audrey when I'm at the hospital and I'm Audrey 'Ice Comet' during training. To unwind, time relaxing and laughing with friends and catching up with rest!
Fighting pro looks like only can happen out of Sabah…how do you feel about this in terms of financial commitment and convenience? 
MMA is growing around the region. I am sure their will be local pro opportunities soon. I enjoy the travel to go fight. Financially being a fighter can be tough, coaching, supplements, gear, travel, etc quickly add up. For the most part the team and sponsors have really helped me a lot and I know they play an incredibly critical role to the success of all my teammates!
Do you believe that doing a local fight camp in Kota Kinabalu ( KK ) or will be thinking of training other place to gain experience? Do you think in KK you can get good sparring partner? 
I believe the coaching and strength and conditioning are top notch here at The Borneo Tribal Squad. They bring in a variety of coaches – local and foreign, and other pro fighters come do their training camps here with us too, so it shows that the training is good. We also have a growing number of pro-fighters on our team, so we are constantly trying to bring each other's levels up.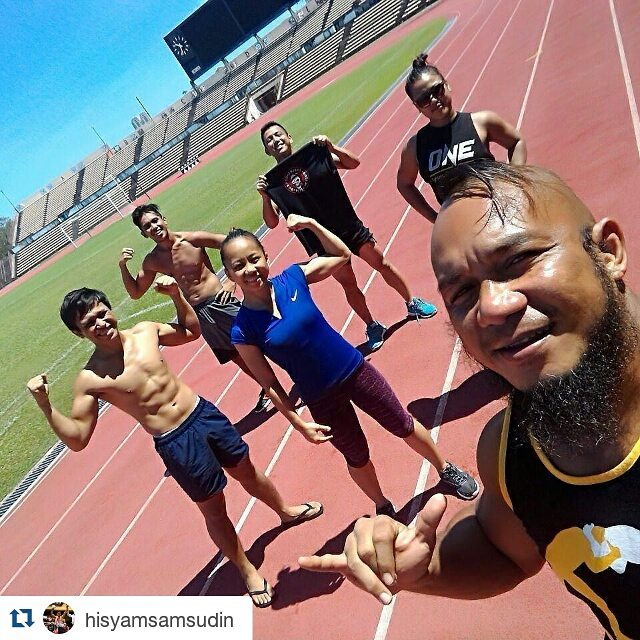 Get a taste of the crazy fighters training by BTS
How do you feel having Ann Osman as your team mate? 
I am grateful and lucky to have her on the team. She is not only my senior teammate but she is also now my non-blood related sister!!! She is really a big sister to me and such an incredible support in and out of training!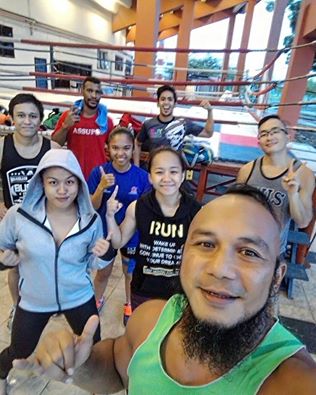 How do you feel having AJ as coach? 
I am super lucky to have AJ Pyro as my Coach. I don't think I can find any other coach who would understand my hectic working schedule like he does. I know I always give him headache as he has to alter training to suit my working schedule but I am very appreciative of his patience, understanding and also of how much he is always pushing me to be better in side and outside of the cage.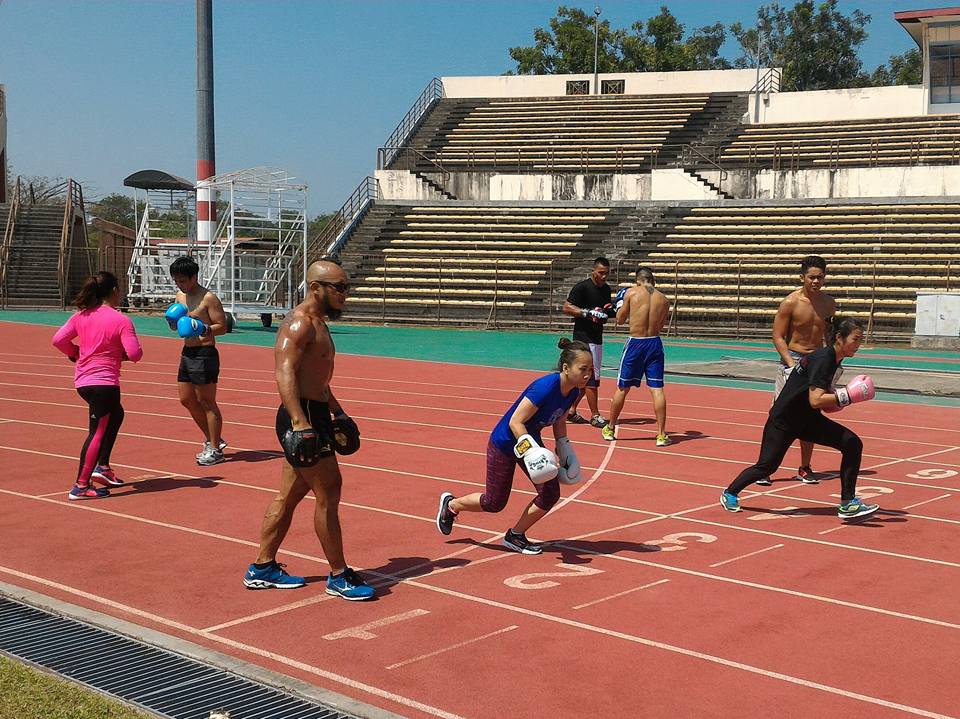 Do you have any habit / ritual that you do pre fight? 
I always believe in prayer, it is powerful. So every time before I step into the ring/cage I pray and I tell my self I got this! I am BTS pride…we always say 'BREATHE BELIEVE BATTLE' – take a breath, say a prayer, believe in yourself and go to battle!

What's your go to technique? What's your favourite combo? 
I always love simple combos. Simple but deadly effective. Every combo that ends with knockout is always my favourite!
Does practicing martial arts benefit you in your career as a doctor? 
Yes,it helps a lot, physically and mentally. It boosts my confidence, it helps me stay focused. It also teaches me a lot about respect, discipline, time management and punctuality.
Describe your own personality? And what you value in life? 
I value the typical relationship between family and friends. I feel that the people around me are very valuable and should be cherished deeply.
Who gave u the nick name ICE COMET? What is the meaning? 
Coach AJ gave me this fight name. He says I am "cool as ice, and fast and dangerous like the comet shooting by!"
What is your fav food in Sabah? Where is your fav place to visit?
Traditional food has always had a big place in my heart – Tuhau n bambangan! My fave! I love travelling. I don't have any specific favourite country or state to visit, I just love to travel and see new places….BUT my ultimate favourite place is my parents house!!!
——————————————————————–
Warriors of Borneo also manage to speak to Coach AJ Lias Mansor, Audrey's coach. AJ is the founder of BTS and head coach there. He is a Silat Champion and the ONE FC Malaysian Featherweight Champion.
What do you see in Audrey that makesyou let her fight pro?
AJ: I have my own standard for my fighters before they turn to pro. She already went through some amateur fights and tournaments in grappling, MMA and kickboxing. She's already pro in ONE Silat (MMA rules with 2-0 record). Most of all, she shows outstanding commitment towards here training with a positive attitude. Audrey has a hectic schedule as a medical doctor serving at a government hospital, but always fits in and commits to her training.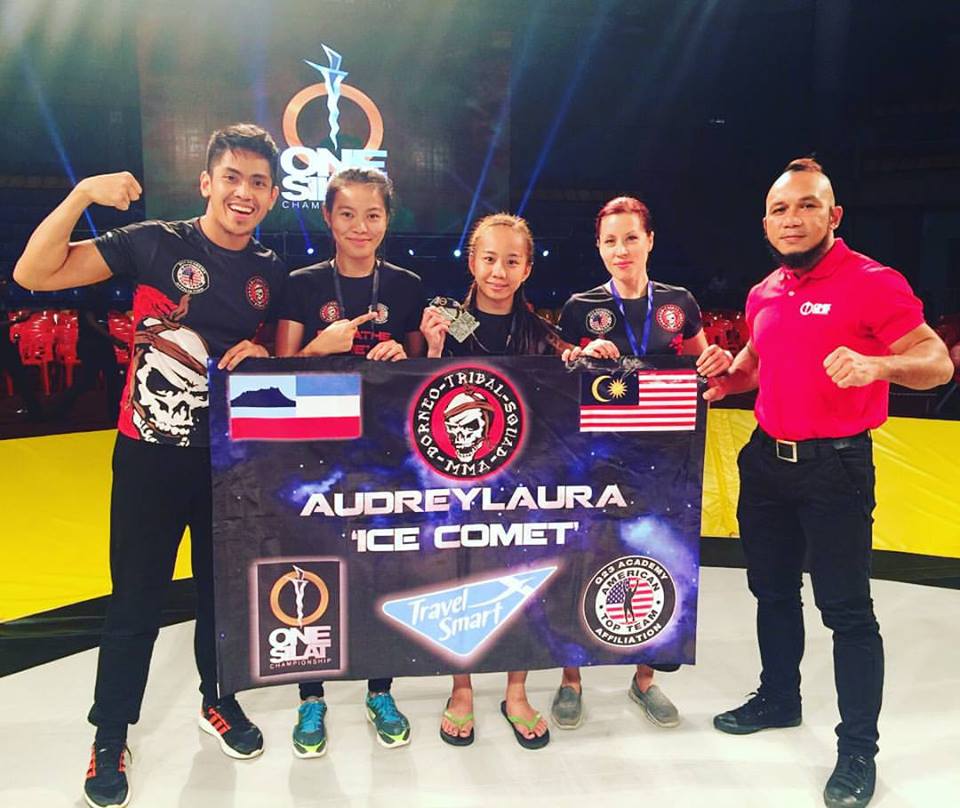 Who will be cornering her in FMD? 
AJ: Professor Adam Kayoom and I will corner her. 

Who is the sponsor for her FMD fight? 
AJ: It's sad, but there is no one sponsoring her fight. I will be using my own pocket money for her supplements and some other expenses, plus when I work with the fighters, I cut down my work/income to focus training them. It's not always easy to find sponsors for all the fighters, especially when they are relatively new, and the reality is the cost of training camps (coaching, supplements, training gear and extra expenses around travelling to the fight) really can add up. The fight purse for most fights, even pro-level, are still very minimal, we all do it out of passion!

How did the FMD fight came about? 
AJ: The Borneo Tribal Squad has developed a strong network and reputation for the quality of fighters we deliver, and we have already been working with FMD for years!!! So FMD asked for our fighters. Audrey already as a good reputation and visibility, especially through her One Silat fights – they were excited to match her with an opponent for the June card in Bangkok.

BTS has build itself into a gym that produces many pro fighter, especially females, what is your secret? 
AJ: My experience as a school teacher, as a brother, years of experience as a personal trainer and I studied sport psychology in University. Females are unique and special human beings who are often dismissed for combat or other 'rugged' sports typically dominated by men. I think many coaches/teams don't have the understanding to develop women into the amazing high-level fighters they can be.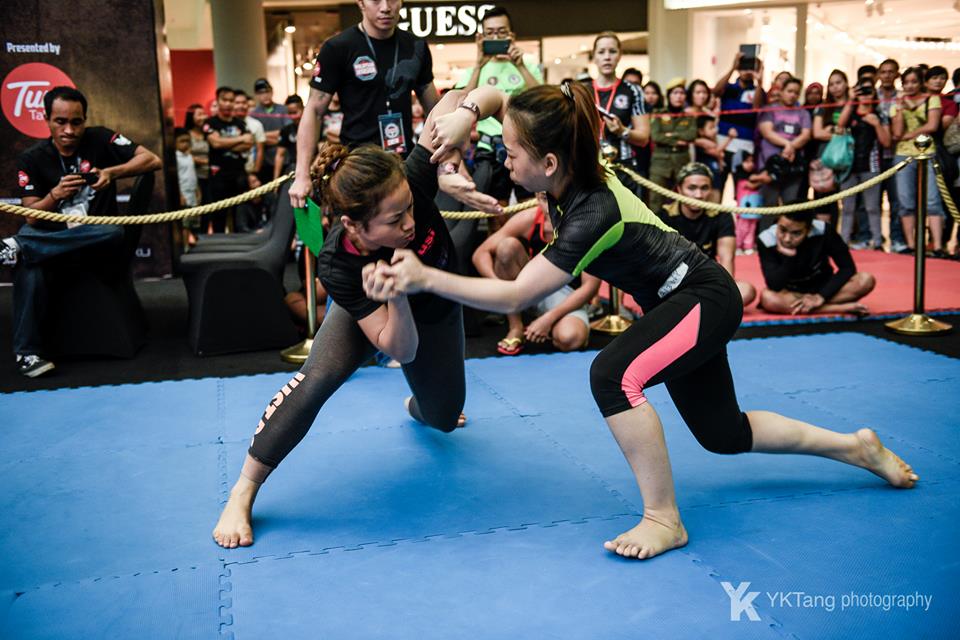 What character do you look for in a fighter? 
AJ: Willing to make sacrifices, a positive mindset and attitude, and HEART.

Tell me about the 1st day you met Audrey, how u met her and how was her 1st class at BTS? 
AJ: Her first day in BTS gym, she tagged along with a friend who was already training at BTS.