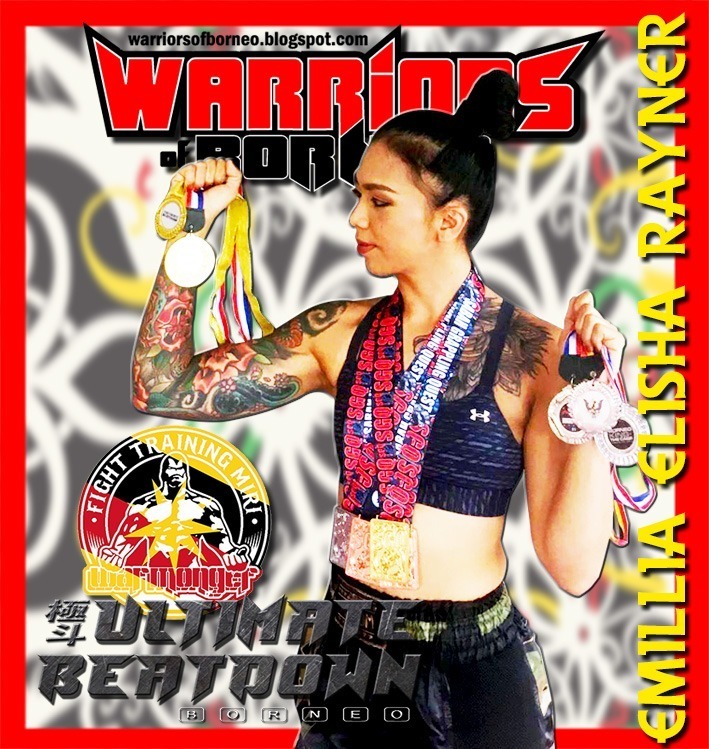 ———-#WRB————-
May was the month of Kaamatan ( Harvest Festival ) in Sabah.  In the brand new mall of ITCC in Penampang, Sabah on 12 May Ultimate Beatdown Borneo was organised at the event hall.
Ultimate Beatdown is acknowledge as Malaysia's pioneering MMA promotion. The Borneo edition is the initiative from Rayner Kinsiong of Team Karabaw to bring the Ultimate Beatdown brand for the first time to Borneo. Rayner is the founder of Jesselton Fight League and has rebrand JFL to UB Borneo
Although started as a MMA promotions, it has progress to a multi style promotions, offering Boxing, KickBoxing and even grappling. For the first UB Borneo, 13 Kickboxing bouts, 8 Cage boxing and 12 MMA bouts were on the cards.
One of the stand-out fight was female straw weight MMA, between Emillia Elisha Rayner of Warmonger Miri vs Magdelina Meding of Tomoi Labuan. The fight was very close and each women giving their all in the age. Emillia won the fight by decision.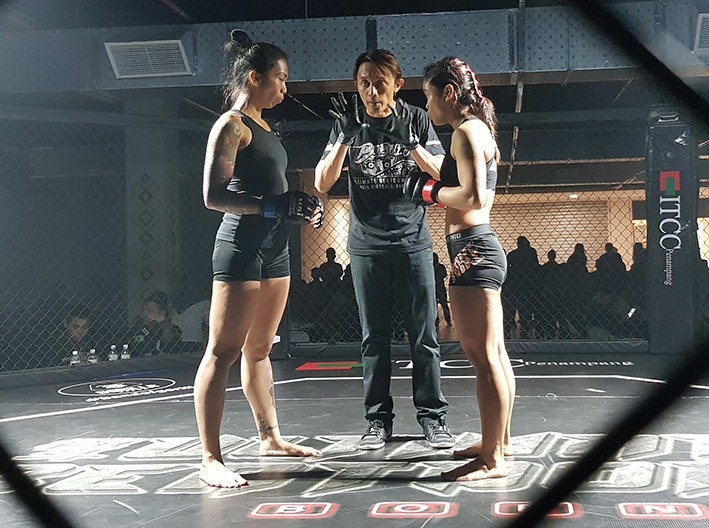 ———#WRB———–
Warriors of Borneo talked to Emillia to get to know her better.
Emilia was born in Serian but she grew up in Miri, the oil town of Sarawak. She studied in Miri until 2003 and then moved to Labuan with her parents. In 2006 she went to Kota Kinabalu to continue her tertiary studies in University Malaysia Sabah.
Emilia is of mix heritage. Her dad is Melanau from Kampung Sg. Kut, Dalat and her mother is of Iban heritage from Serian, Kuching.
"I love that I come from a mix parentage.. I can celebrate both Gawai and Christmas. Now I can even celebrate Hari Raya since my sister converted to Islam."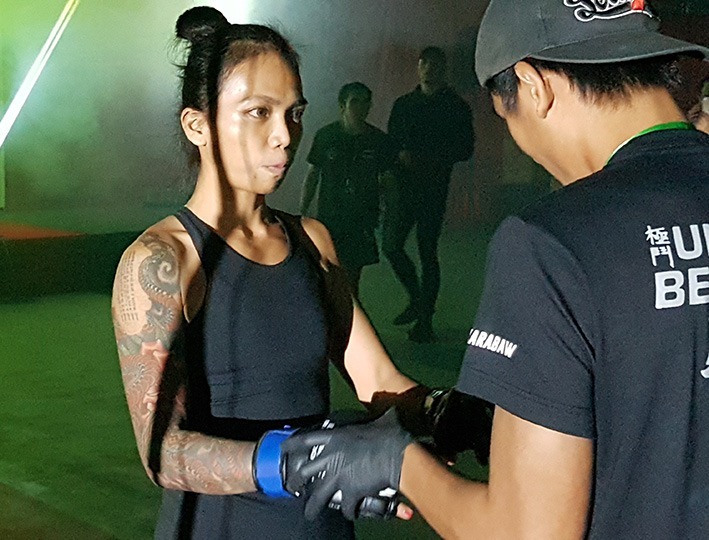 Emillia posses winning attitude. When she put her mind into something she will do her best in it. This was evident when she first got into into martial arts at 9 years old in Tang Soo Do. She was successful in it, winning Malaysia Tang Soo Doo Championship in Free Fighting Category for 2 consecutive years. But when she moved to Labuan, her martial arts training stop. She switched to bowling. In bowling too, her dedication saw her representing Labuan in SUKMA.
Currently Emillia works at Velosi (M) Sdn Bhd as a QHSE Officer & Management Representative. An oil & gas company specializing in inspection and maintenance throughout Malaysia. In the male dominated industry and stessfull work enviroment, it's very common that workers in this field spend their after work hours drinking in the pub. Especially when Labuan offers very cheap booze.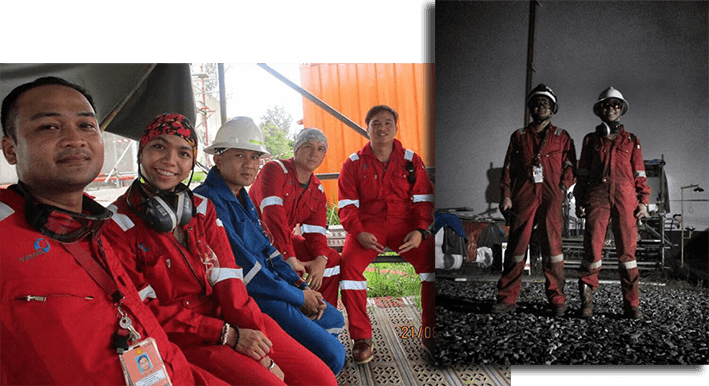 She became a heavy drinker. At one project in Labuan, she spend 2 months consecutively drinking liquor after work, in the likes of 2 bottles per night. Eventually her body gave her the warning signs to stop. The warning was in the form of a mild heart attack. It may be mild, but it was a big jolt to her to realise that she had to stop that lifestyle and take steps to improve on her health. Not just for her ownself, but for the sake of her two young children whom was 4 & 6 years old at that time.
Back in Miri in 2016, her journey of fitness brought her to
Warmonger Gym.
Although her job requires her to travel a lot, but she put in her best effort whenever she can. Instead of being at the bar at 4pm, now she is at the gym at 4pm. Martial arts has changed her life and she is proud to have make the change.
———-#WRB———–
In Warmonger she trains under Sarawak's top notch Muaythai specialist – Trevor Salang and MIMMA 5 Lightweight champion Nathaniel Imang Lakai.
"Warmonger is a place where I normally get bullied in a good way…especially by Nat. He's the king bully of all time. And also Trevor and Gavin…as I'm always the 'stubborn' one in the team, haha"
"One thing about Warmonger is that, everybody we treat like family. We train together, eat together, drink together, etc. Practically everybody is like a brother to me. When you're a family, you have the tendency to push each other to their best. In Warmonger, everyone are welcome. The doors are always open."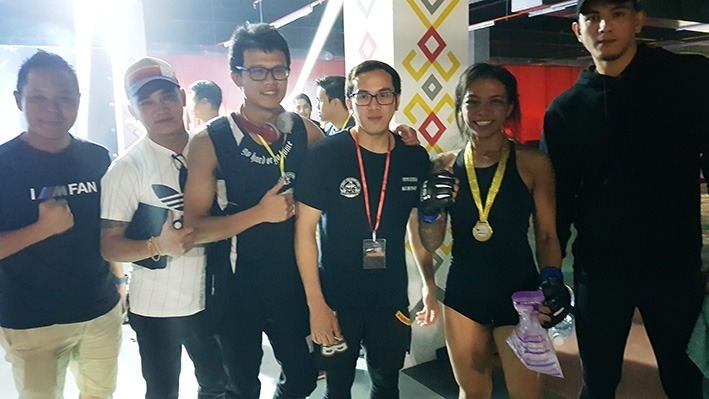 Just 6 months into her training, she decided to join Fight Fest to compete.
"I love fighting because it's the only place where you can punch people in the face without getting arrested…LOL. 
What motivates me to fight? I don't know.. maybe its about me testing my own limits. On how far I can go."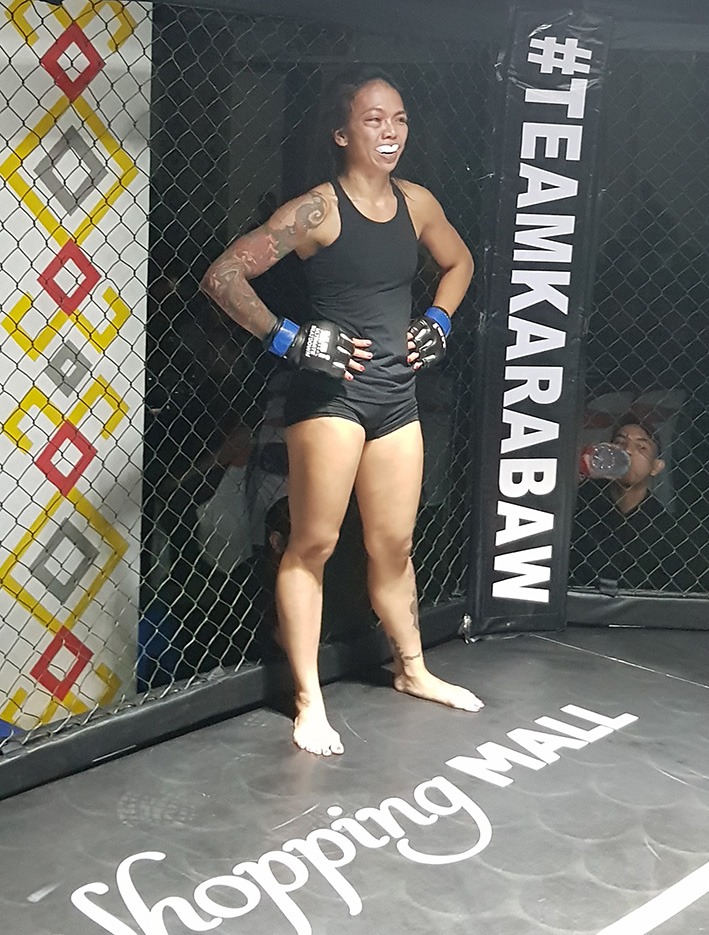 Ask on her UB Borneo fight.
"It was a close fight. No doubt about that. I give credit to Mag for a good fight.. that's when we can learn more and improve "
On what went through her mind in that fight."
"I want my Guinness back LOL, because the fight took me away from my stout! "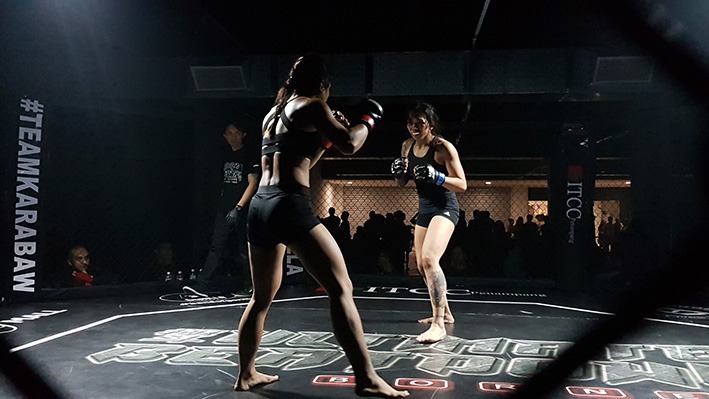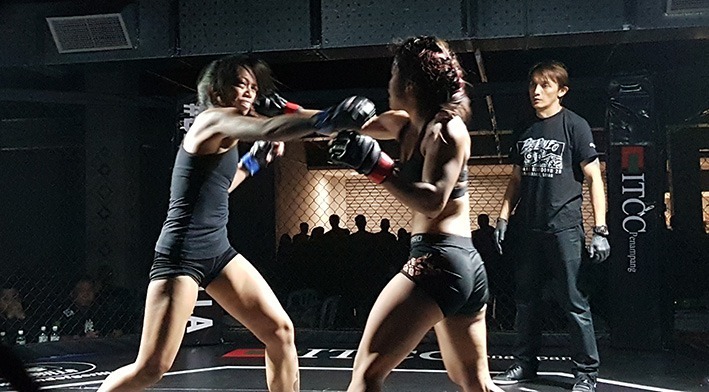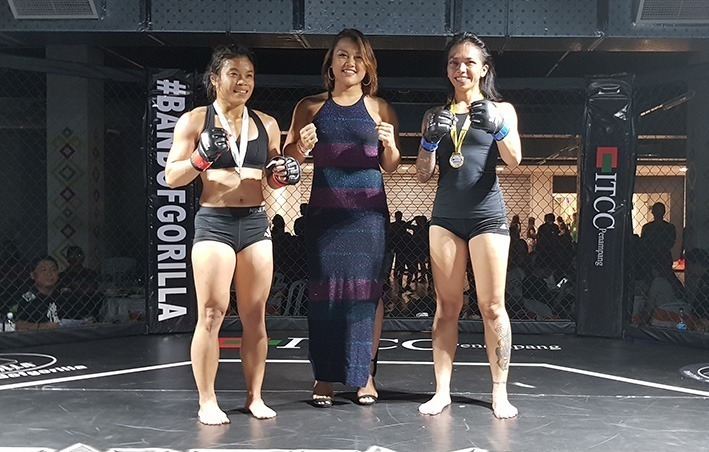 Well she certainly got her Guinness stout back. Warmonger got 3 MMA win and 1 Kickboxing victory from Ultimate Beatdown Borneo. Emilia and her team mates celebrated at Waterfront KK with plenty of stout and long session of karaoke till the wee hours of the morning.
The next day Emillia decided to get a new tatoo right after her fight. She had a lion tattoo done on her left shoulder by Reen Rebecca from Deadlights Tattoo.
"My first tattoo was back in 2006. My first tattoo was a rose, initially to cover up my appendix scar. And I got hooked from then. As for my latest tattoo, it was pretty much spontaneous."
The lion represent herself as a Leo, symbolizing strength, heart and courage. These are quality she embodies as even in life she has to face lots of stereotyping from an early age. She have her dad to thank for believing in her and supporting her to break the gender stereotype.
At 31, being a mother to two young kids and working in a male dominated industry and competing in combat sports surely needs a strength of a lion to go through.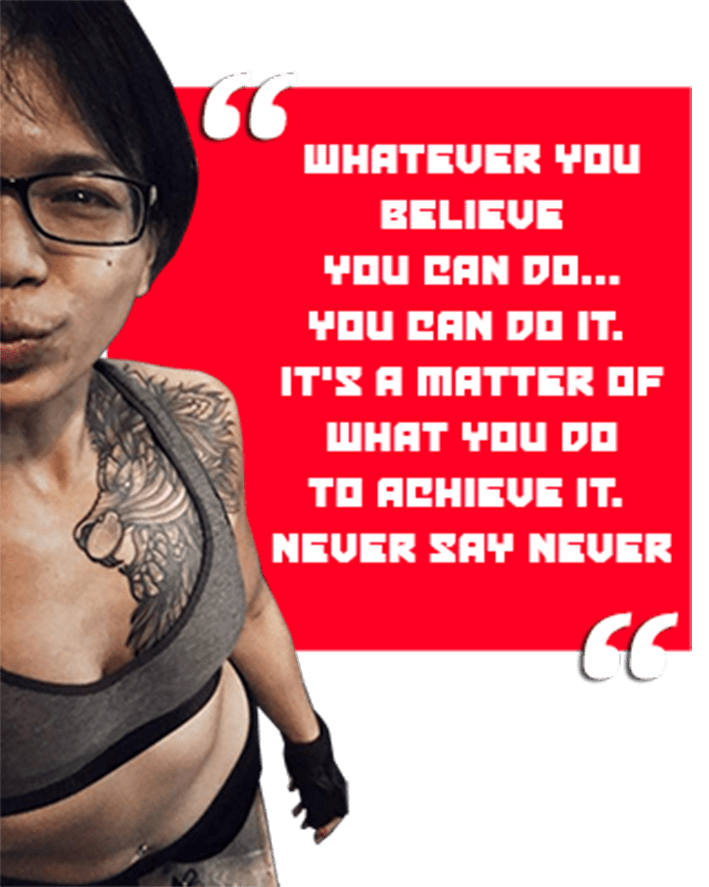 Emillia's life principle
Emillia now have a record of K1 4-1, Semi-pro Muay Thai, 0-1 MMA 1-1, BJJ 1 gold 1 silver 2 bronze.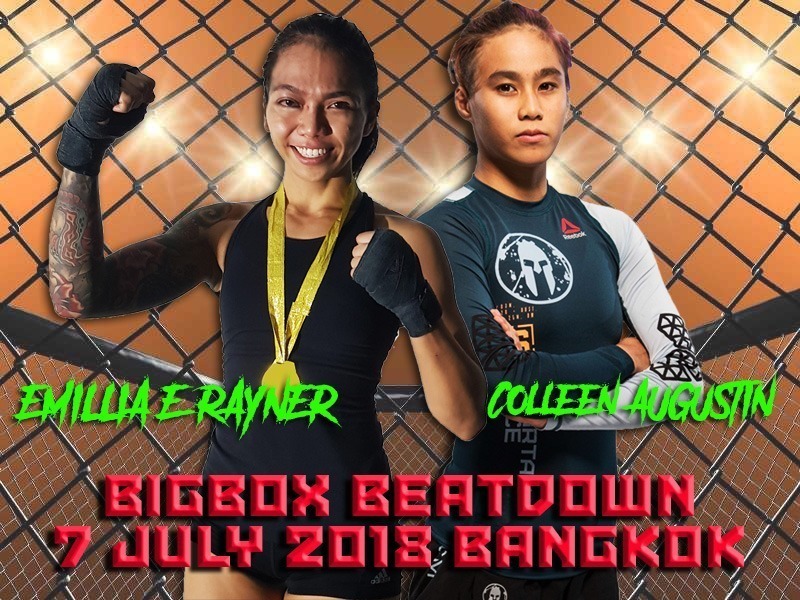 ————#WRB————–