When we talk about Special Forces movie, generally the name Green Beret, Navy SEALs, British SAS will pop to our mind first. Those are the Special Forces in US & UK. In Malaysia, the name GGK (Grup Gerak Khas), VAT69 would mostly be recognisable. Little are known about another elite group in the Malaysian military, which is our Navy Special Force call PASKAL (Pasukan Khas Laut). This will soon change when PASKAL The Movie go on nation-wide premier this 27 Sept 2018.
"They would wake us up early in the morning to go for karate class when all I wanted to do was watch cartoons! 
A graduate from University Putra with a degree in Petroleum Chemistry. He now trains full time in Klinch MMA. Holding a current 12-5-0 in MMA, he became Malaysian Invasion MMA (MIMMA) Season 4 Welterweight Champion in 2016 defeating Gino Tan with guillotine choke.
He told me about his experience in Hong Kong for the award night on 15 Sept.
After the gap of 4 years from your first movie, do you have to take acting lessons?
Tell us about your character Shailesh in PASKAL?
"I did not take acting lessons but the rest of the cast were more than supportive of the fact that I'm a new actor and gave me as much guidance as they could.
Shailesh or his military call sign – Misi in the movie is part of the Alpha Team, lead by their commander Lt Arman Rahmat a.k.a Jerung. Misi is the medic in the team of 7."
How much does your martial arts background help in preparing for the role ?
How much fighting scene you have to do in the movie? Who choreograph the fight scene?
I believe you are the one with most experience in martial arts among all the main characters…did you teach them a move or two?
"My martial arts background definitely helped in the sense that I would never give up on a particular scene and also constantly try to get the best take by taking in as much input as I can. But for fight scenes there were professionals to help choreograph. 


They could, however, give me anything and I could pretty much do it.
The lead actor, Hairul, is very experienced in stunts himself so the two of us would show the team some tricks."
How many stunts you have to do by yourself?
The movie also is about friendship among the characters…tell us about the actual friendship you build among the stars / crew / production of PASKAL.
"All of my co-stars and I are extremely tight right now. The guys have known each other for a hell of a long time by the time I got into the picture but they were so very warm and welcoming toward me."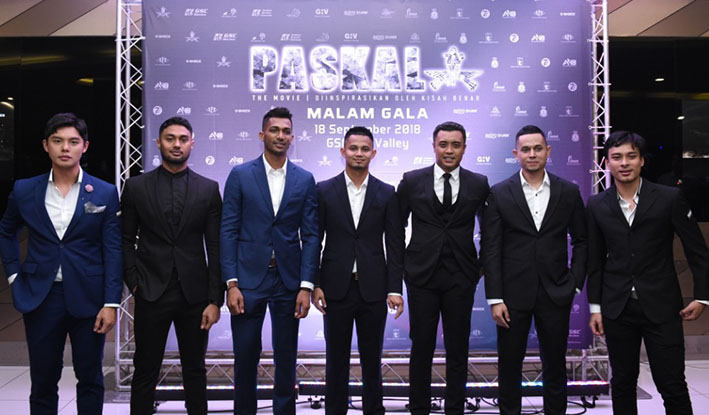 From left:Henley Hi, Ammar Alfian, Theebaan G, Hairul Azreen, Taufiq Hanafi, Hafizul Kamal, Gambit Saifullah

"We still hang out and do things other than just attending press releases and interviews together today.