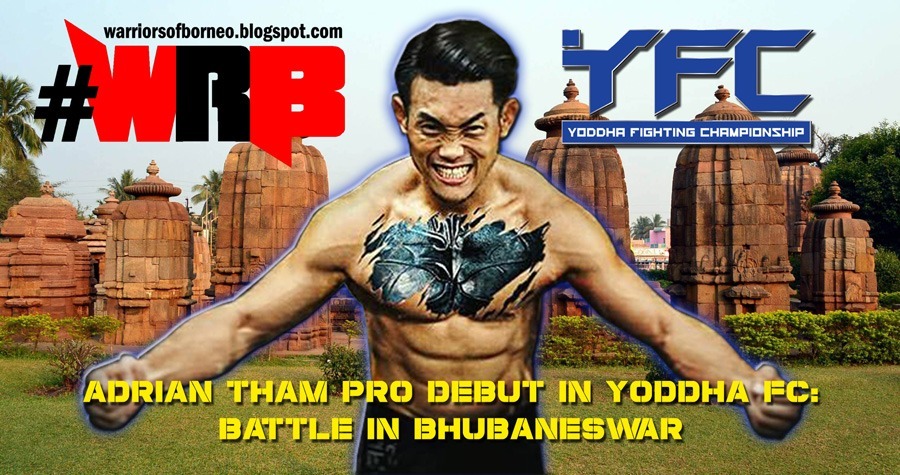 original Adrian Tham Batman photo by Deb gauges
Bhubaneshwar is the biggest city in the state of Orrisa, east side of India. It is often referred to as a "Temple City of India", with lots of historic and architecturally magnificent temple. This is the place Sabahan Adrian 'Tuck Man' Tham choose to debut his pro MMA fight.
Adrian is no stranger to the amatuer MMA scene in Malaysia. Being the 1st MIMMA heavyweight champion in 2013. He took a break after that to get married, but came back to fight in at K1 Kickboxing at Fight Fest 1. Wanting to improve his amatuer MMA record, Adrian joined Kota Kinabalu based Jesselton Fight League (JFL) in 2015 and emerged as the Welterweight Champion, demolishing all his opponent in round 1 by submission.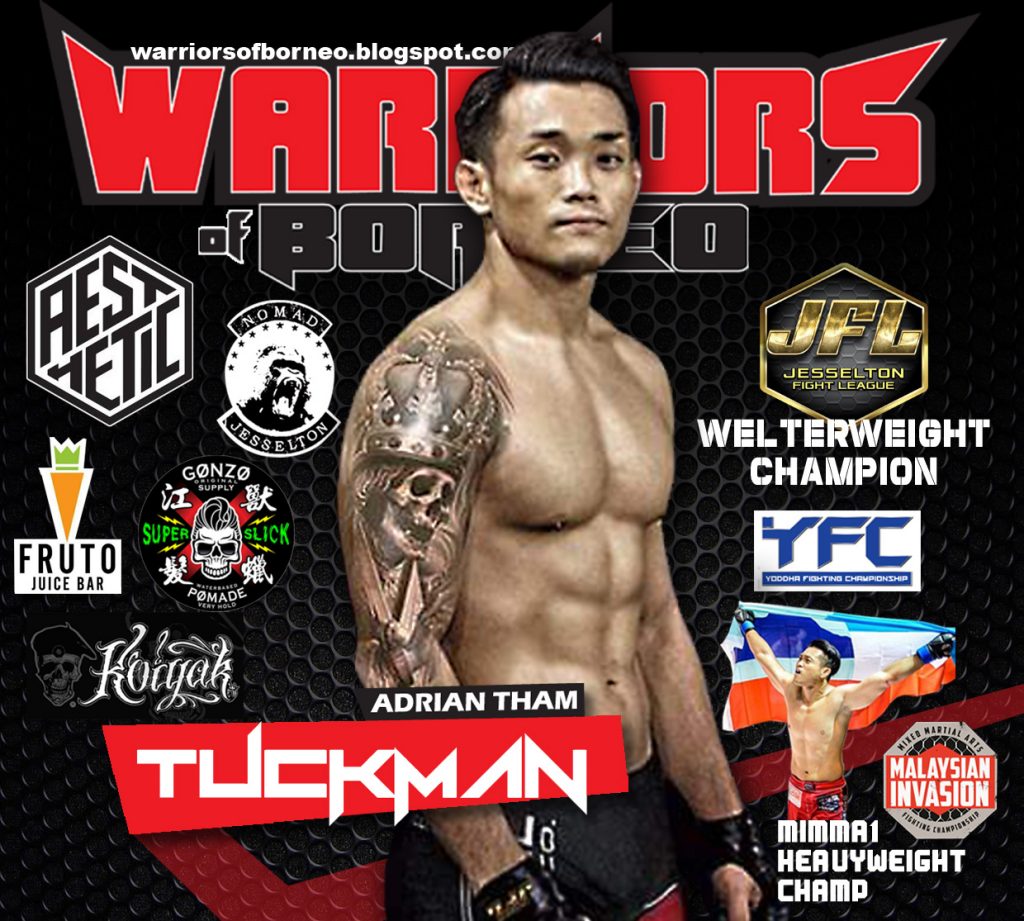 shout out to TUCK MAN's sponsors
He was offered a feature fight vs fellow Karateka, Theeban Govindasamy in last year's MIMMA3 Grand Finals and manage to secure a win by using his superior ground skill. A pro fight in ONE Silat in May was planned but organizer had to postponed the date…and Adrian was left without a fight after all the hard training and cutting of weight.
JFL series 2 was annouced in April as the 1st Malaysian MMA promotion to be affiliated to WSOF Global Championship and Adrian was signed on to debut as pro by JFL's founder Rayner Kinsiong. Looks like Sept is too far away and Adrian is itching for a throwdown.  Talks started with Yoddha Fighting Championship (YFC) and here we have it, Adrian has choose to fight at lightweight as he felt at 175cm, he has an disadvantage in welterweight.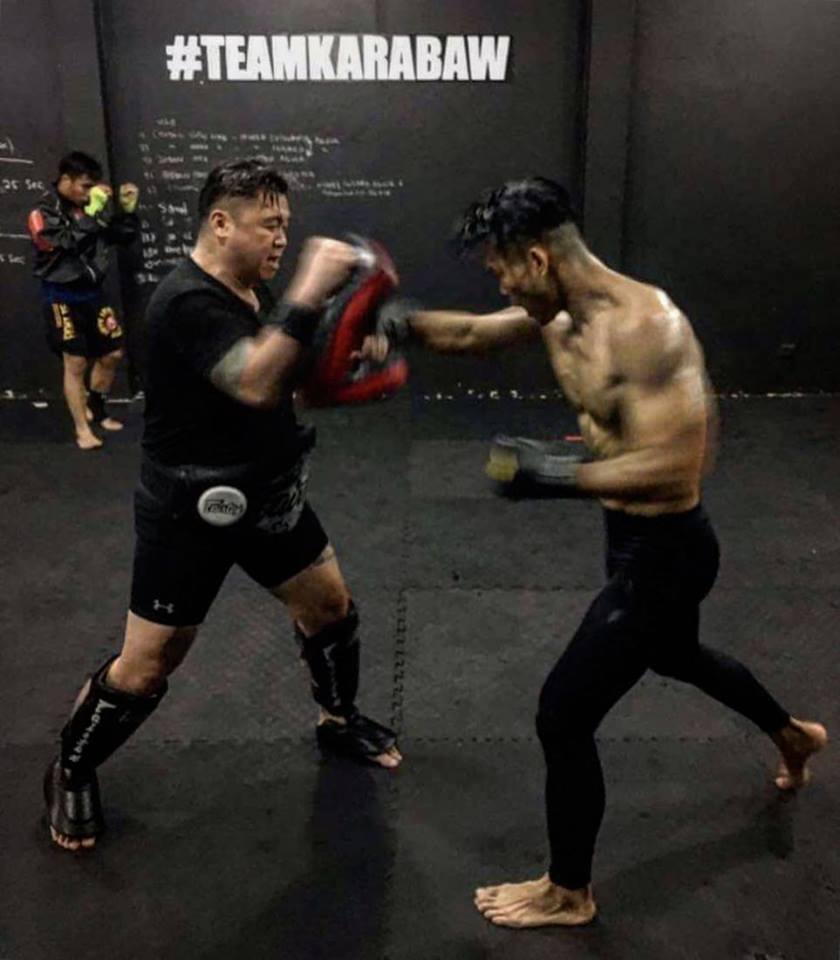 Sparring session with Rayner Kinsiong. photo by Deb Gauges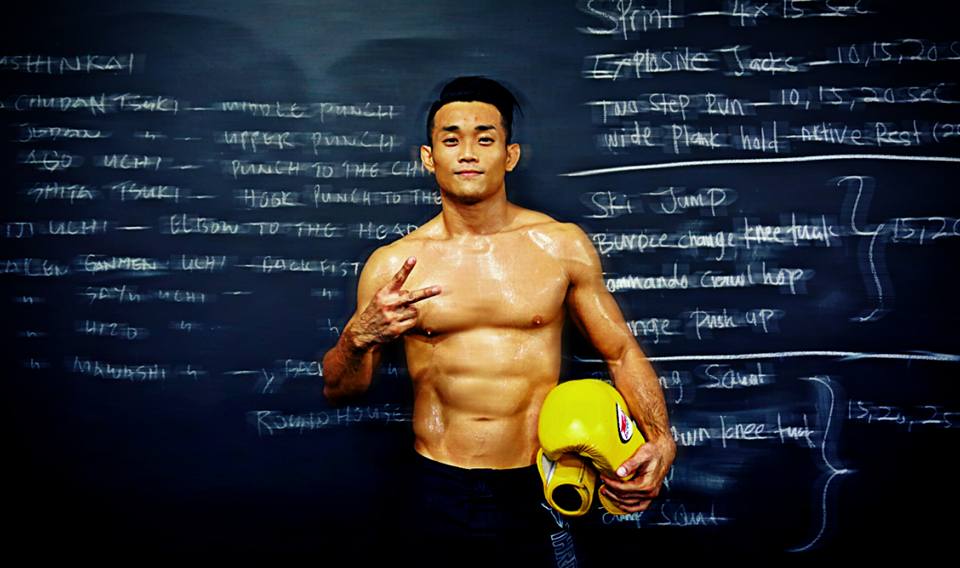 photos by Deb Gauges
The fight camp at Karabaw Gym has gone well, with many sparring session with local Sabahan fighter such as Rayner Kinsiong (ONE Championship fighter) and MIMMA1 Lightweight Champion, Allen Solomon Chong.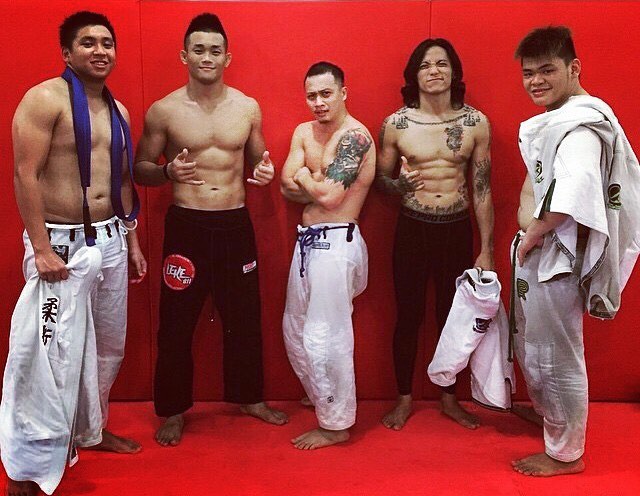 Adrian and his Team Nomad
Yoddha in Hindi means someone that is experienced or trained in warfare. It is based on this fighting spirit that YFC intend to bring MMA to the fight fans of India. India has a long ancient history of martial arts. Martial arts such as Silambam, Kalaripayat and Kushti (wrestling) has been practice since ancient time for warfare and self defense. The story of how a monk name  Buddhabhadra teaches the chinese monk a series of exercise is widely believe to be the origins of Kung Fu, and Buddhabhadra is an Indian.
As the 1st MMA promotion in India and the first to hold tryouts to unearth new talent in India, YFC is associated with World Series of Fighting Global Championship (WSOF-GC) for a year now and strives to cultivate in India what WSOF-GC is doing for MMA internationally.
Hosted by the renowned Utkal Karate School in Bhubaneshwar. The media sponsors for YFC are Prameya News7 and the outdoor sponsors are Team Admark. Safety of the audience and fighters is paramount to YFC and keeping this in mind, not only are the safety measures of the highest standards, they have also got on board as medical partners Sunshine Hospitals, Bhubaneshwar. And more importantly, given the growing popularity of sports other than cricket today in India, Karbi Anglong Morning Star FC (KAMSFC), the football club also extends its support to YFC as a sponsor.
This 6-7 Aug round is the quarter finals bouts. In addition to these amatuer level quarter-final bouts, the exhibition fights put on by pro-fighters are an added bonanza to this hi-octane event. Fighters like Marcio 'Gracinha' Cesar, Lito Aidwang, Ralf Francisco, Dindo Camansa, Biswa Dev, Srikant Shekhar and India's very own champ, Chaitanya Gavali promise to light up the arena with Spartan-like action. Warriors of Borneo are proud that Adrian will be one of them.
Chaitanya Gavali has been the only Indian MMA fighter to win two international belts outside India and has just returned from a training camp at Greg Jackson Academy in the US. He represents Team Relentless of India and takes on Dindo Camansa from Philippines. Chaitanya or Chai as he is known, is fighting on Indian sol after 4 ½ years of fighting internationally.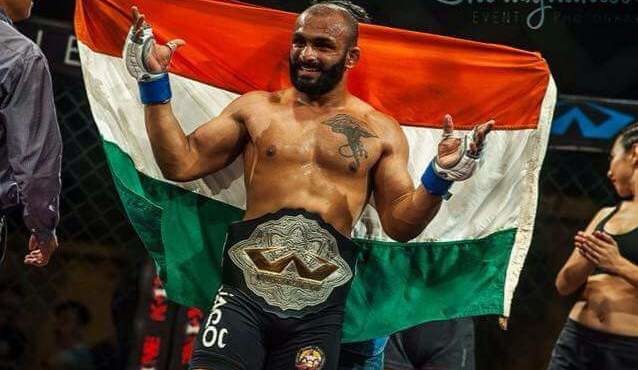 Bringing home the WARRIOR FC featherweight belt
Chai made his name in Malaysia. After debutting in India's Super Fight League (SFL) in 2012, he fought and won in Johor's Ultimate Beatdown in 2013. In 2014, he was in Sabah, winning the fight in round 1 TKO vs Arvin Ballares of Philippine in Borneo Fighting Championship 2. Then following year he became Ultimate Beatdown first featherweight Champion defeating Irish Keith Aiden. In 2015 again Malaysia is a successful place for him when he defeated Canadian Gary Espinar for Warriors FC bantamweight Belt.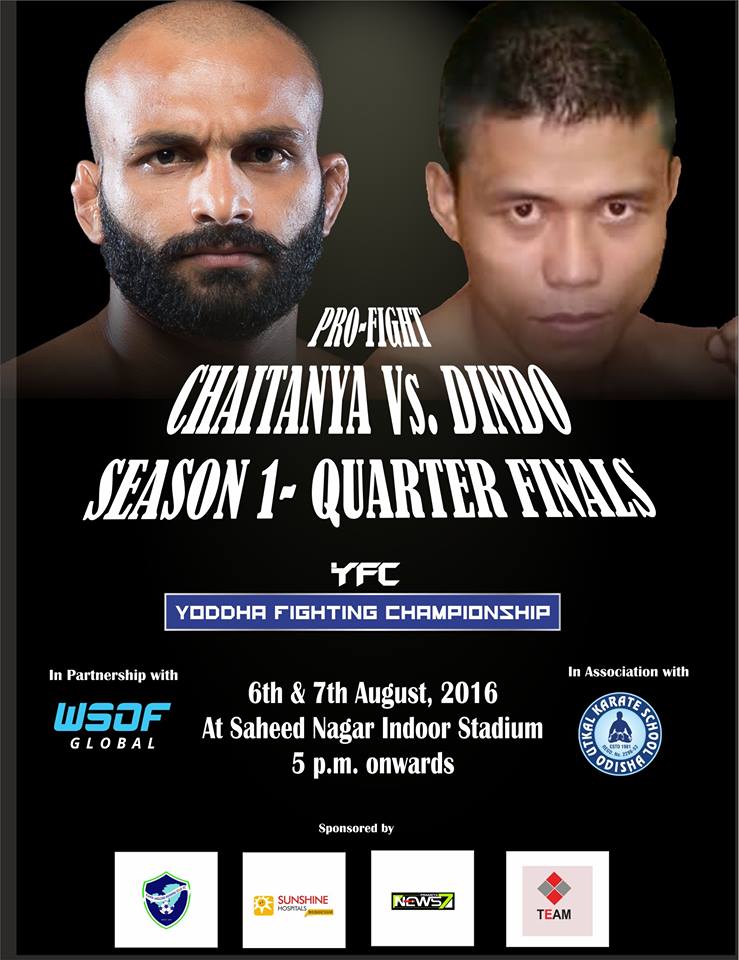 main card : Chaitanya vs Dindo
What about Adrian's opponent Srikant Sekhar? According to Tapology.com he use to fight at middleweight. He will have a slight height advantage at 180cm vs Adrian's 175cm. Srikant is a trainer at Swatik Fight Club and has a 2-4-0 record. He mostly SFL, and will represent Team Indian Combat Sports Academy. Srikant has good wrestling and a heavy hand.
Warriors of Borneo wishes Adrian Tham a successful debut in India! May Yoddha give you the force!