The Borneo states of Malaysia; namely Sabah & Sarawak is deeply rooted with the heritage of head-hunters warriors from the native tribes of Murut & Dayak. These two states have also been producing many talented athletes for traditional martial arts such as Taekwondo & Karate. With the popularity of MMA catching on like wild fire, a number of gyms have sprouted up like mushrooms and many martial arts practitioner has been cross training in different styles.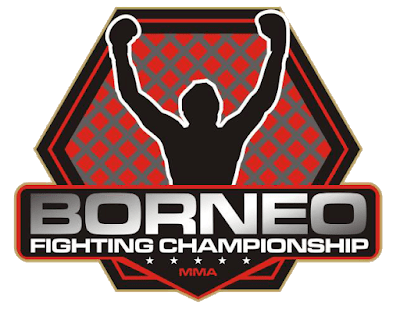 The first amateur MMA event in Borneo was Borneo Fighting Championship back in 2014 saw many fighters eager to test their skills, not only fighters but the support of the crowds was incredible. But when it comes to unearthing and new fighters and developing current ones, Borneon fighters faces a challenge as there's was not much event being held here. Bigger events in Malaysia are mostly organized in West Malaysia and the cost of flight and accommodation limits more Borneon to participate
Recognizing this issue, Rayner Kinsiong (former ONE Championship Lightweight fighter) decided the time is right for another MMA promotion to be held. And this is how JFL was born. JFL was mooted as an idea by Rayner to serve as a platform for amateur MMA fighters to gain experience and build their records. JFL is named to pay homage to Kota Kinabalu's old name from the British era.
In its maiden year, 2015 saw over 180 fighters took part for the tryouts. Matches progress from ladder match, quarter-finals, semi-finals and climax at the grand finals which saw 9 weight categories champion being crowned in 4 October 2015. They were: Eddy Kalai (flyweight), Mohd Hasbullah (bantamweight), Khairul Anwar (featherweight), Mardonov Mekh (lightweight), Adrian Tham (welterweight), Masko Franklin ( middleweight), Wun Yit Vun (lightheavyweight), Tham Yaw Ken (heavyweight), Valerian Rosario ( female strawweight).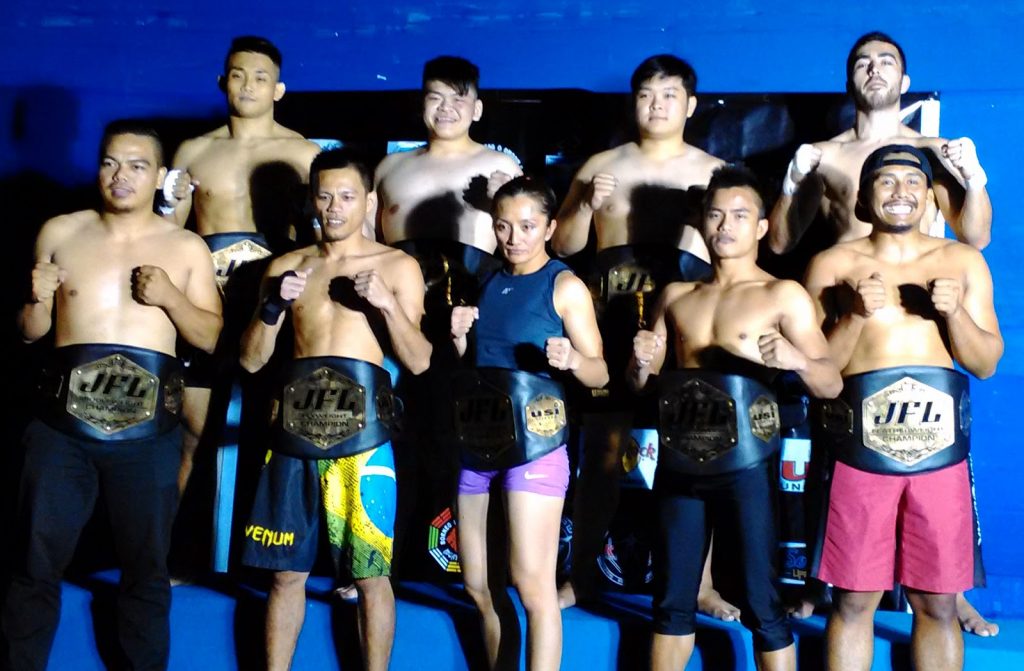 2015 JFL champions
This year JFL achieved the unprecedented for MMA event in Malaysia when it was announced by WSOFG (World Series of Fighting Global) as the first Malaysian MMA promotions to be affiliated with the world body.
Realising the potential of such events to promote Sabah as a sports tourism destination, Ministry of Tourism and Culture Malaysia (MOTAC) – Sabah Office came in as main sponsor. And to top it off, it's director Mr. Awang Ahmad Zaki will himself enter the cage to fight local Sabah singer & musician Appy Tots in a celebrity fight match-up. This will certainly boost interest among casual fans to come and watch.
JFL was originally planned to be held inside a dance club and fight fans will need to pay to enter, but with the support of MOTAC and other sponsors, enable the organisers to move the venue to 1 Borneo Hypermall and open to public.
The main event will feature pro fighters from Philipines, Indonesia, Singapore and USA and also local Sabahan favorites Allen Solomon Chong and Adrian Tham.
The main event will see Allen, whom is the former MIMMA1 (Malaysian Invasion MMA) lightweight champion and an alumni of The Ultimate Fighter China challenging Pinoy fighter Joben Superales in a bantamweight match.
Allen is eager to bring home a win after his loss in June at Melbourne's Hex Fight Series. It was a short notice fight vs Aidan Aguilera with a lost by uppercut. Being a prolific BJJ exponent, Allen is not taking any chances this time. He is boosting his striking skills and to do that, he is taking his time off from his architectural career to focus on his fight camp. He runs his Alpha MMA gym in Kota Kinabalu, but has been cross training in Kuala Lumpur at top gym such as Monarchy, Klinch and Muayfit.
As a person with a penchant for showmanship Allen plans to put on a great show.