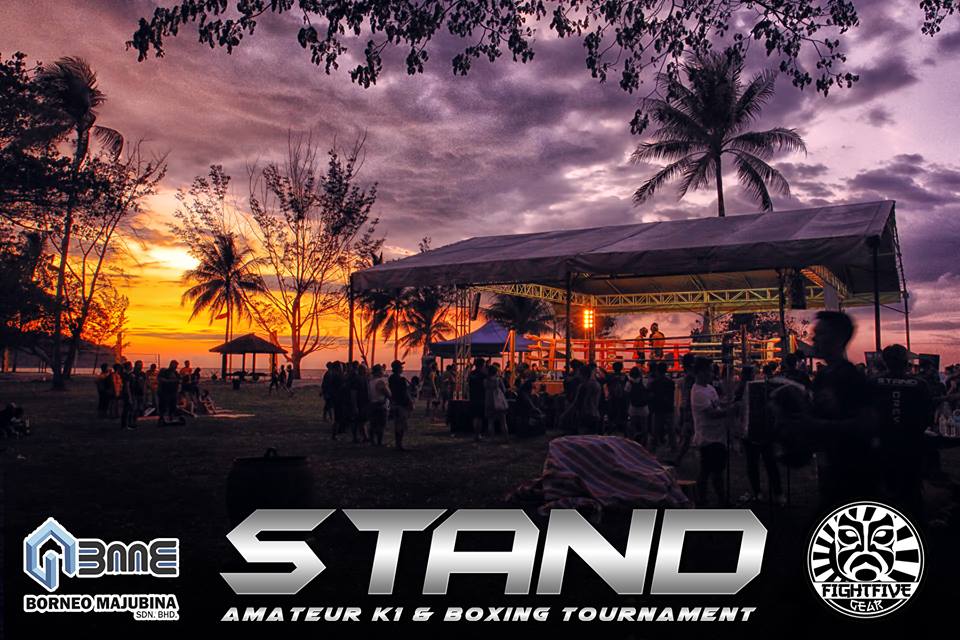 pix credit: Matt Buvart 
STAND happened on 21-23 April 2016. Brought to us by Borneo Majubina and Fight Five Gear. With the view of white sandy beach, blue wave from the sea, coconut tree leaf swaying with the background of Nexus Karambunai Resort certainly present a fresh new settings for fight event in Malaysia.
184 fighters registered, making it possibly the biggest fight event we have seen so far in South East Asia. 31 martial club/gym took part, out of which, 8 gyms from outside Borneo participated.
STAND offered two categories of fights, amateur K1 Kickboxing and amateur Boxing; With an event highlight of Super8 Pro Am Featherweight title belt Kickboxing. A total of 172 bouts were held and fights begins from morning till late night on Saturday and Sunday.
The dizzying numbers of fights was certainly a huge task to organize. The limitation by venue sponsor to allow bouts go beyond 10pm resulted in fights in day 2 had to be shortened per rounds in order to finish all bouts. Kudos to the management and the team of judges that work hectically throughout the tournaments.
Event Director & STAND founder Rayner Kinsiong of Team Karabaw invited a number of VIPs to witness the event. On 21 APR ( FRIDAY ), weighing-in day saw the presence of YB Datuk Hjh Jainab, Sabah's Minister of Community Development and Consumer. Member of Parliament of Sepanggar Datuk Jumat Idris watch the fights on Saturday. Datuk Yaakob Khan & Datuk Raiman Unggi witness it on Sunday.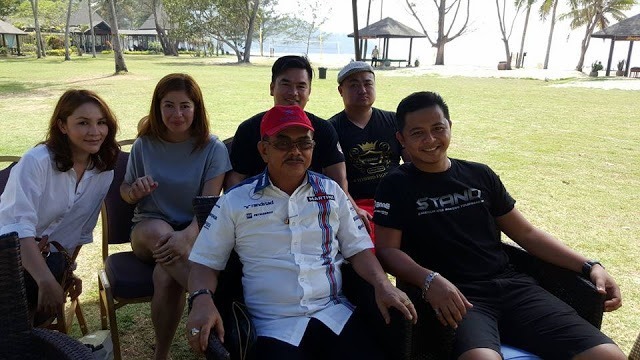 VIPs in attendance
These invitations was done to expose to the authority the potential of fight event as a tourism product and to showcase them the martial talent pool that is available locally.
The venue of Nexus Karambunai Resort was a drawing factor for lots of participants to join this event, with good room rate offer, which fighters and team stayed in and had a weekend break at the same time. Some fighters can be seen chilling out at the pool and some laying under the big rain tree on the field with their family and friends as they take a break to recover before the next fight.

A new concept of fight event in Borneo…fight and chill
Fights aside, personally I felt a number of things could have made the event better. Example; the surrounding area of the ring that places the apparel booths, drinks stalls, and where crowds hang around, if it were lighted will make the atmosphere more inviting. Also the original idea of having BBQ food stalls, if it was allowed would be a total blast! But Alas, due to some differences with venue sponsor, this didn't materialized.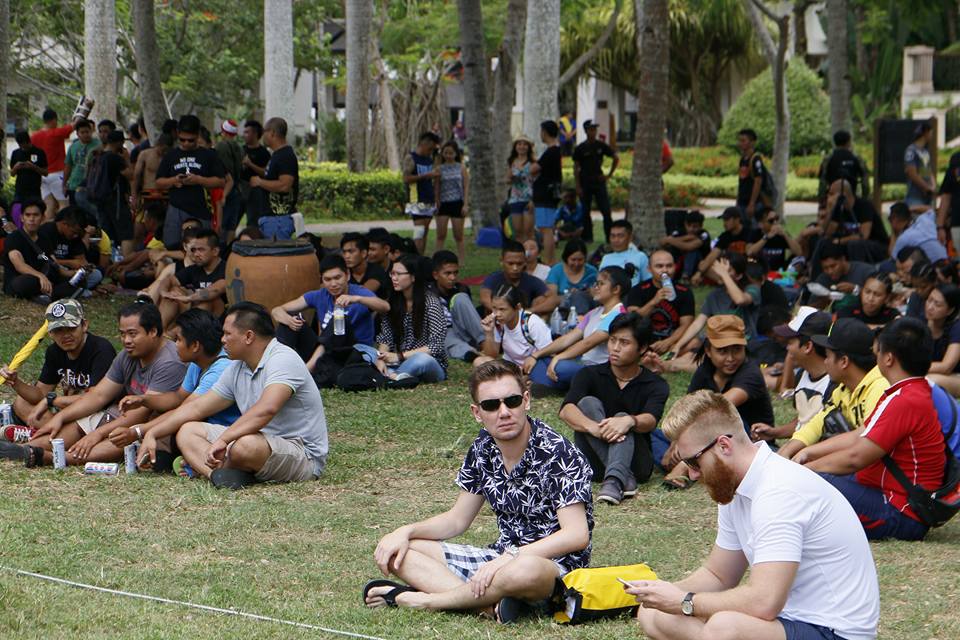 Pix credits: Alex Faezi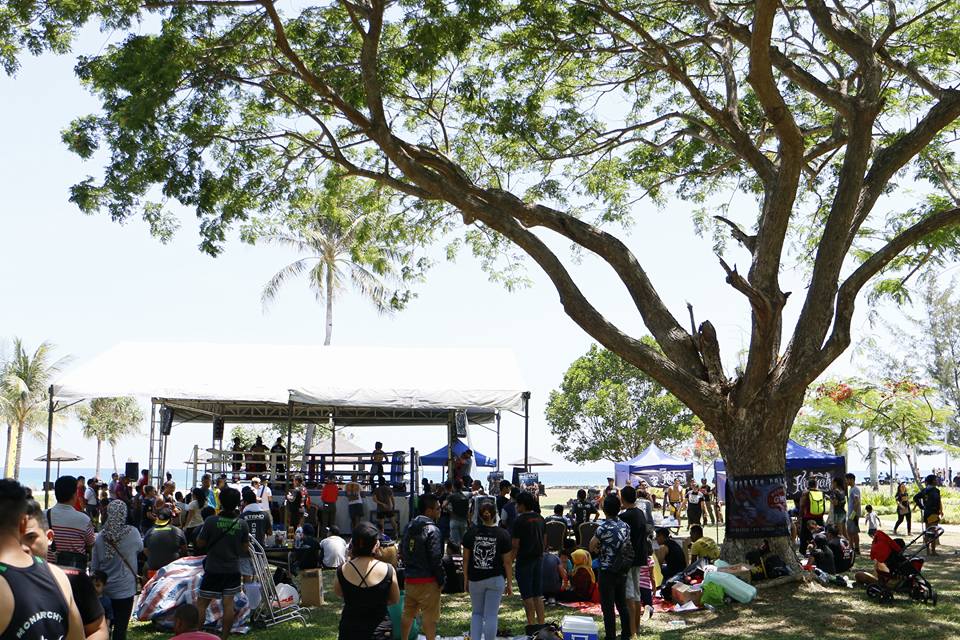 pix credits – Alex Faezi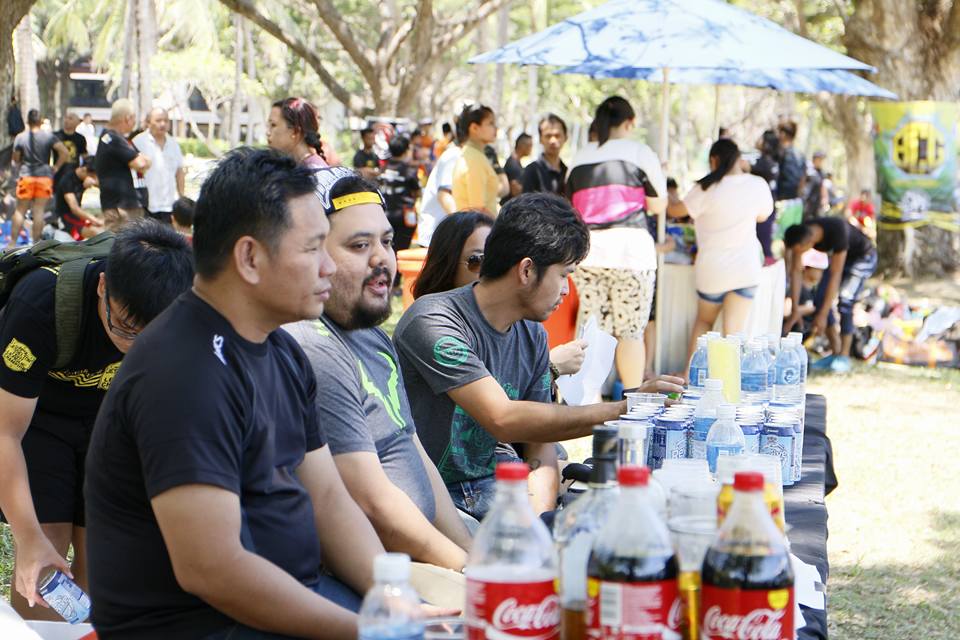 pix credits – Alex Faezi
On to the fights. The day 1 action was hard and fast. Many fighters pull no punches in the early rounds which saw plenty of action but also plenty of injuries. With a tournament format that may see fighters fight 3-4 times per day, 2nd day saw a few bouts was won by walkover as injuries took its toll on fighters.
But there were still plenty of good bouts. The highlight was the Super8 featherweight fights. Crowds gathered whenever bouts for this category were on. This was a semi-pro bout, fighters only wore shin guard without headgear. Mohammed B. Mahmoud aka Jordan Boy of Sampuri Gym KL won it defeating Uriel French of Muayfit KL. Being an experience pro Muaythai fighter, Jordon Boy had a fairly easy semifinals bouts defeating Muhd Afandi from Team Revolution, en route to the finals. Uriel's semi finals against a game Ronnie 'The Sweet Finger'of Kitakitani may have tooked out some gas from him.
Jordon Boy fellow Sampuri team mates and brother, Nidal Mahmud won the 75kg K1 Middleweight vs Vallent Pierce of Sabah Top Team. Nidal executed a good counter game and plenty of knees; some of which was given warning by the ref as he executed it with a double hand muaythai clinch which is not allowed in K1 rules.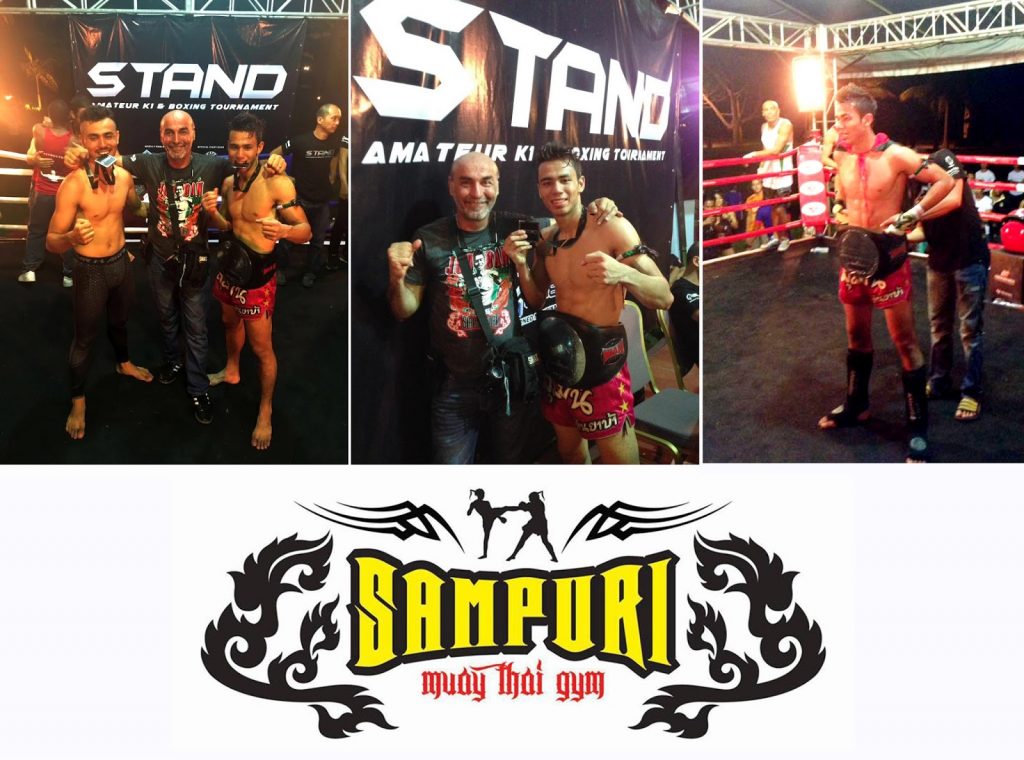 Jordan Boy and King Joker with their trainer and father Mahmoud Omar 
Monarchy MMA Gym sent a team full of experience fighters. Led by ONE Championship fighter Samir Mrabet, the team won all their fights. Conrado Roveri, winning welterweight boxing. The towering Xavier Martinon winning heavyweight boxing. Lee Ai Jin winning women flyweight boxing. Samir himself won by walkover for middleweight boxing as his opponent was injured.
Some memorable fights, in heavyweight boxing semi-finals, Bartholomew from Kinabalu Fighters showed lots of heart in his fight vs Xavier Martinon. No doubt the experience & technically superior Xavier didn't go all out, but Bart showed no fear even with a bloodied nose he still kept coming. For a guy that had a desk job and took up boxing just less than a year ago at Kinabalu Fighters to lose weight, Bart certainly showed courage and heart.
Xavier went on to win in the finals meeting Mursalin of Revolution Gym.
Bart's team mate – Stephanie Vung also fought her hearts out in the women flyweight boxing, going against Ai Jin of Monarchy whom is a SEA games boxing vet.
K1 56kg Featherweight female saw Nur Athirah of Borneo Tribal Squad square off against Zaryatie of Revolution Gym. It was fireworks! Zaryatie started strong with many hooks and spin kicks that landed. Athirah weathered the storm and kept her composure with good head movement. Eventually Zaryatie's aggressive style looses steam and Athirah was able to score points in the later round to secure the win.
K1 female Straweight saw Nur Nurnaznerah of BP battle out vs JFL 2015 Finalist Nurul Khairunisa of Karabaw. It was a back and fourth battle but Nurnaznerah won with her speed and combos.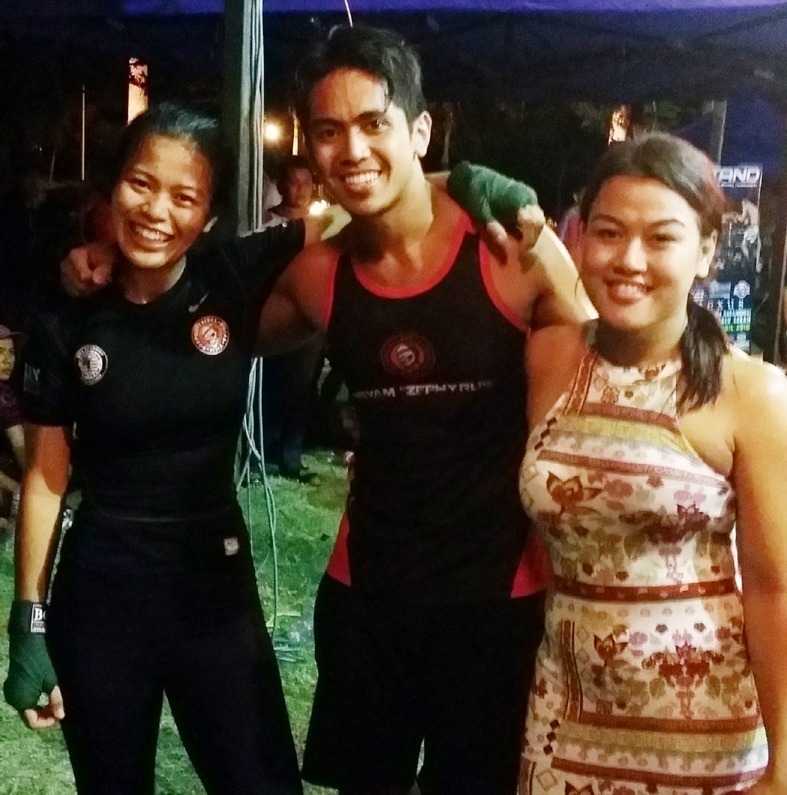 Athirah clebrating her win with team mates Hisyam & Ann from BTS

Fightfive gear making it's debut in STAND
Welterweight boxing semis was an entertaining match between Conrado of Monarchy Gym vs Elto of Borneo Combat Gym Labuan. Elto of Philippine descent has plenty of supporters cheering him on, calling him little Pacqaio. Going against Conrado was not easy as he possessed good footwork that enable him to throw combos that hit high and low on the body and was quick to move out of danger when Elto counter. For Lightweight boxing, Ronald Tee of Borneo Combat Gym Labuan showed much technical prowess as he darted in & out and excellent head movement to win against Abu Qusairy of PBG.
Kudos to Rayner Kinsiong of Karabaw, Mohd Bakri of Keningau MMA and Kaza Musa Fight Management for organizing another ground breaking combat sports event in Borneo.
I believe the huge participants for STAND proof that there is a huge potential for fight tourism and there's a huge talent pool of amatuer fighters that is eager to test their skills to gain more experience. This type of event is rightly a good platform for Borneo fighters to develop without sacrificing much time & finance to travel out of Borneo to look for fights.
Not only are fighters numbers increasing but also the crowds which include the family, friends, supporters and the general public. This certainly augurs well for potential sponsors to support local events which can expose their brand to the right target market.
According to Zamalani of Kaza Musa whom manage the bouts, many popular weight category such as flyweight, featherweight, lightweight was divided into team A & B to facilitate the high numbers of participants. For the 2nd STAND, winners from the 1st STAND will be invited to battle it out again.
The 2nd installment will probably be held around JULY in PAPAR as the organizers are gearing up to give us another action pack showdown!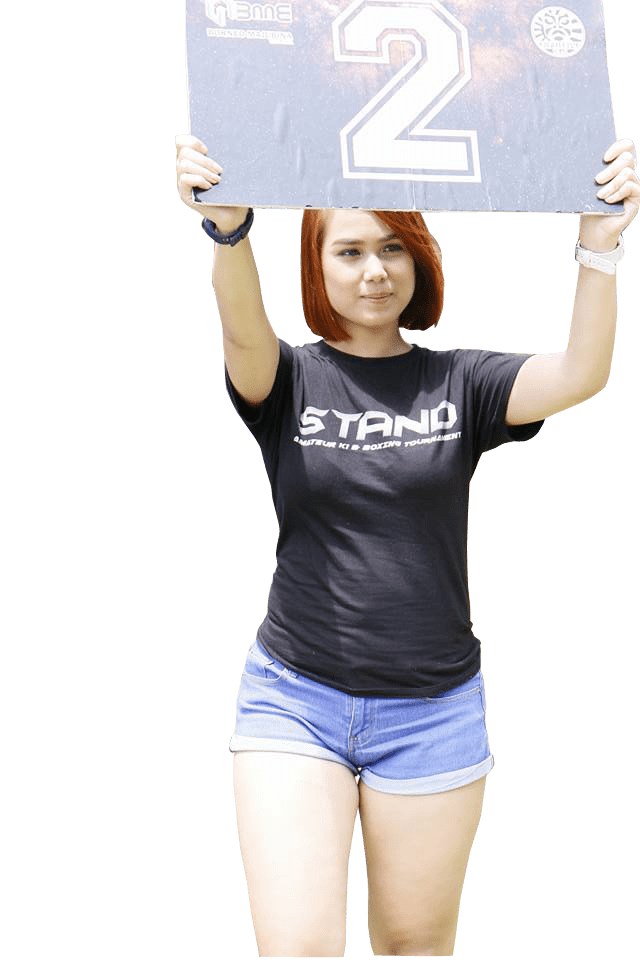 Are you ready for STAND 2?