July 2015, Kinabalu Fighters – Martial Arts & Fitness Center (KF) celebrated their 3rd anniversary. As a gym KF has been around for 3 years, but as a group KF come together 6 years ago.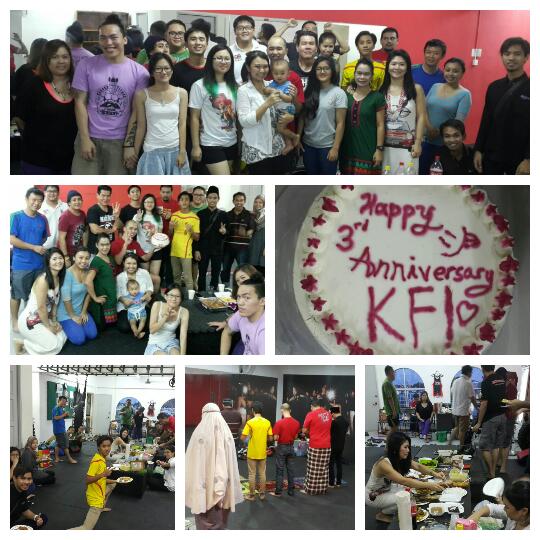 The 3rd Anniversary celebration in the Ramadhan month 
In Sabah, back in the days (pre 2000), generally martial arts training center mostly consist of clubs or association, and these places usually teaches one specific martial art, such as Karate, Taekwondo, Judo etc.
But as MMA gain more exposure and the interest level increase, martial artist from various clubs started to seek out each other to cross train, exchange techniques & learn from one another.
This was basically how KF started. Founder – Johan Julian Lee Abdullah was one of these martial artist. He started his martial art journey in Shotokan Karate. In 2009 seeking to continue training & expand his martial art knowledge, Julian began to look for sparring partners from different background, the rest as they say is history.
Below is the excerpt of the interview with Julian on Kinabalu Fighters,… the beginning, the development and the future.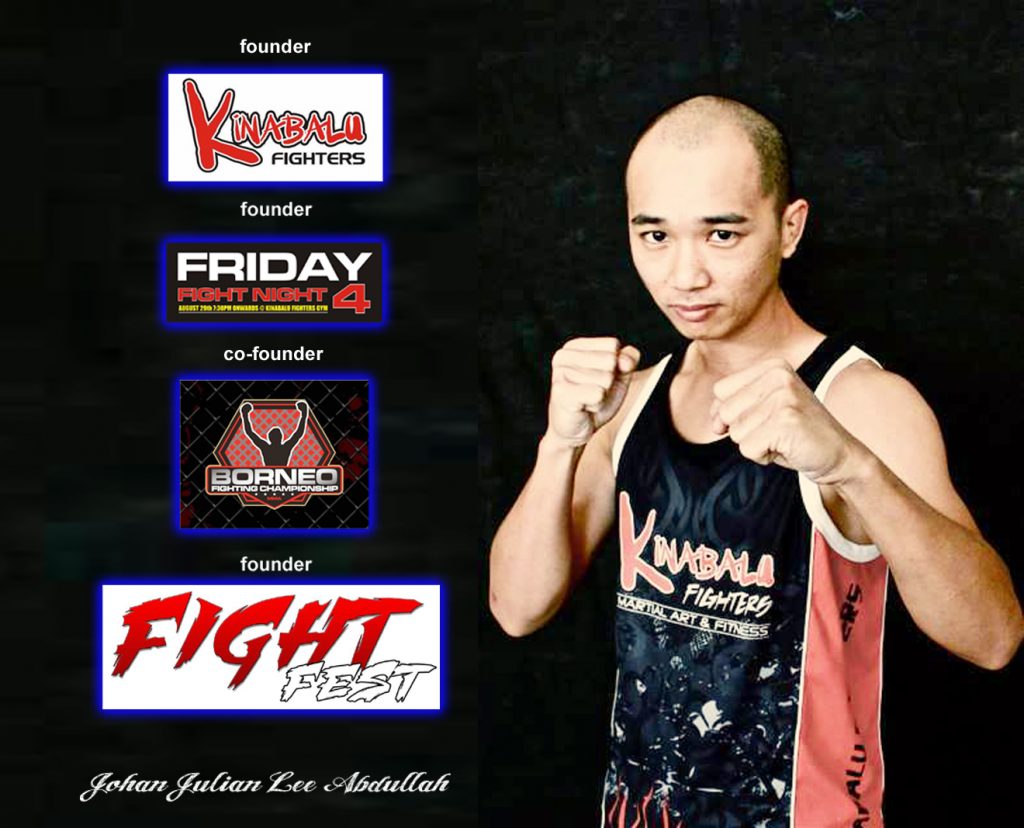 ———————————————————————————
How did KF started?
It's kinda like the story in "Fight Club".
KF started in 2009, with me looking for a sparring
partner & got a respond from a friend
(Kyo Kaede). We began by
sparring at the stairs above the Likas Sports Complex gym with boxing. As time went by, more
people started joining us: black belt karatekas, SUKMA boxers & even the casual martial art fans.
As the numbers grew, we moved to a few locations and in
the end I figure it was time to establish a gym for all to call home.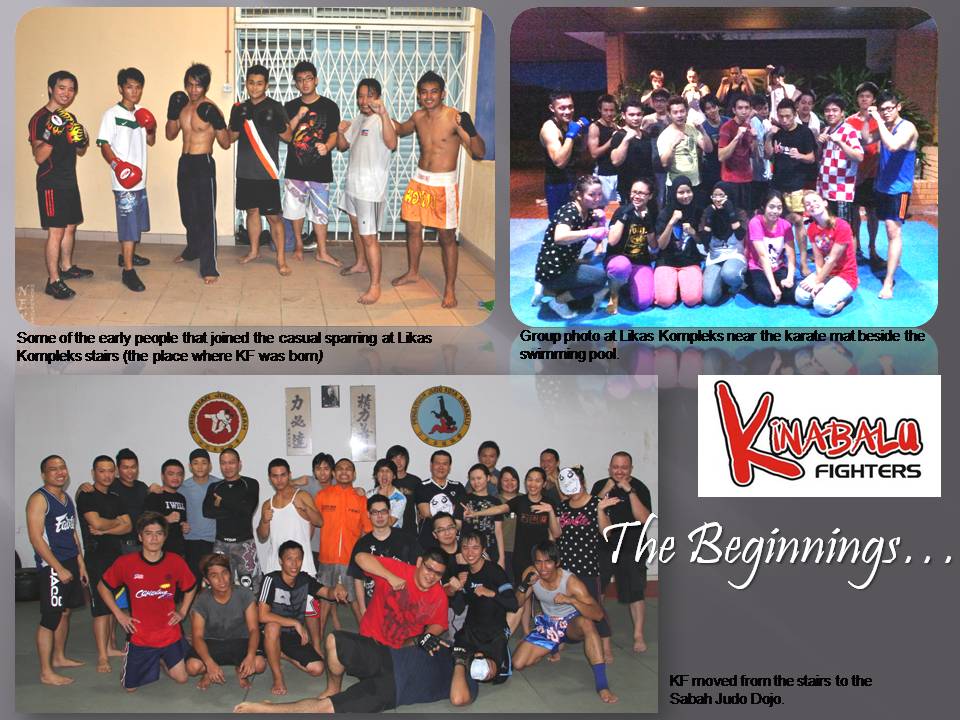 Why did you start these sparring sessions?
I was a Muaythai fitness student under Tankhead Muaythai in CORE Fitness.
After the instructor went back to the US, I didn't want to completely stop training. Thus posted
on Facebook if anyone was
interested to try sparring. A friend responded and then things started rolling.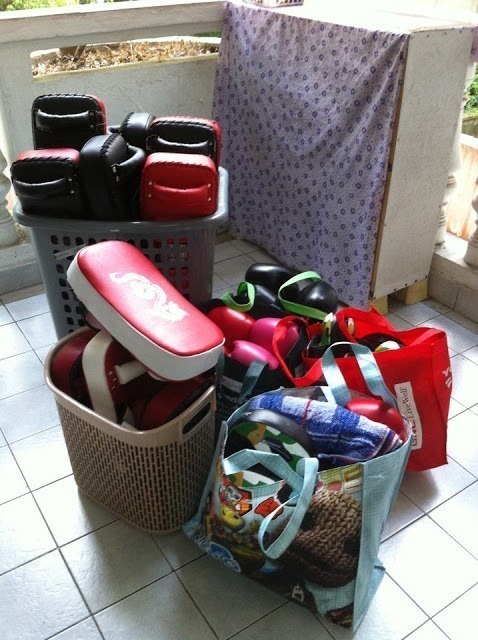 Back in the early days
Julian & friends would buy all the Thai Pads, Gloves & Focus Mitts and provides free training every Monday& Wednesdays at Likas Kompleks. Such was the passion.
At times when you have these sparring sessions in Likas, are you not
attached to any club? Did you stop Shotokan training?
Yes I stop karate training at 13 and was into basketball
for that time. At the time of training I was not under any clubs
What is your martial arts background?
I was in Shotokan Karate till Blue belt, I am currently a ISKA level 2
trainer for Muaythai Kickboxing.
Currently trains casually in BJJ & LutaLivre.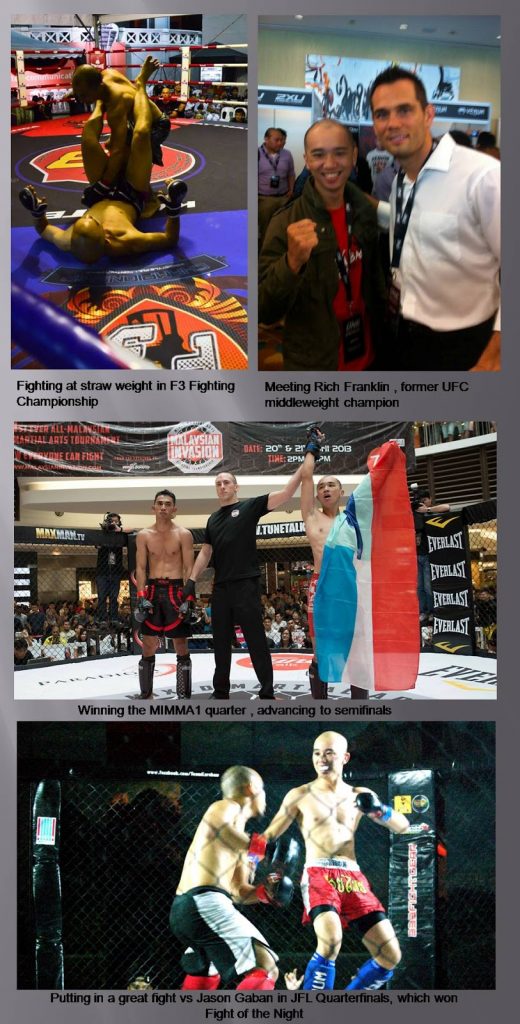 You also started Friday Fight Night at KF right? Tell me
more?
Back when we first started there weren't many
competitions for our boys to join thus Friday Fight Night was a way for all
gyms to come together & test what we trained in sparring. It was also a
venue to try MMA in a controlled environment.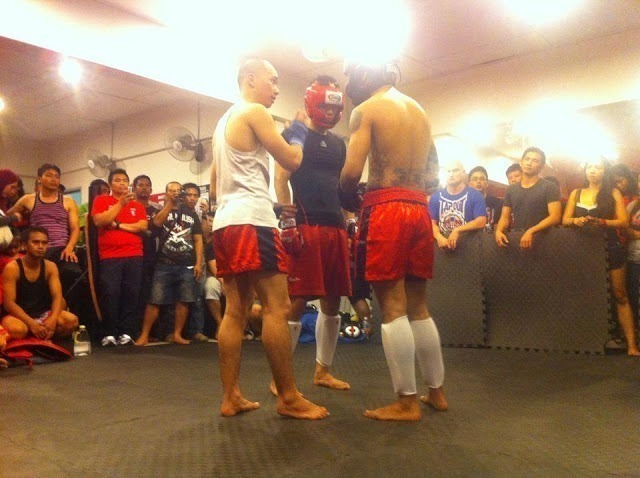 Friday Fight Night I (FFN) an inter gym friendly match that also hosted the 1st inter-gym MMA sparring.
Is running KF your full time career? Do u see running a martial arts (M.A.) gym as a stable career in Sabah?
Yes, it's a fulltime job.
You won't be rich,…haha, but it is a very fulfilling job watching others get
better.
I believe trainers need to do more than just running regular classes,
that's why I offer PT 1:1 Training, that pays better
Do you see new M.A. gym coming up as competition?
Not really, mainly because KF is not solely Muaythai or Boxing or BJJ, we
are kind of a mix of many things. Also we know our training methods &
philosophy are different from other gyms.
What makes KF different from other M.A. gym?
Our gym pushes member to never give up. It is shown in
the attitude of our fighters & even our casual members. "Strong
Heart" & "Fight till the end" are our motto.
These are two
concepts we want our members to apply in their training, their fight & in
their life.
KF started with one studio? When did you increased it to
two?
We open a second studio in 2014, mainly to create a
strength & conditioning classes & also for grappling. A lot of our
class concept were later emulated by other gyms thus we are always improving
and sticking to what the public wants.
Who's the high achiever/potential that KF have produce.
Who's the coaches in KF?
Coach Randall "The Slayer" Kadayum is the current Muaythai Best of Sabah
Champion.
He holds an undefeated pro record if 6-0 currently. He is also a
local boxing champion & sanda wushu champion.
Aziz Hoo GwoJye & Mohd Rayyan are both our youth Muaythai champions.
Both are
under 21, both won at least 3 local championships and are recently the Borneo Muaythai Champions of their
category.
June is our female Muaythai Champion, she has an undefeated Muaythai record & has
recently started to try kickboxing.
Aran Manjaji is our Boxing SAGA
champ.
Randall's wife Stephanie Vung is a 3 times boxing champion in local competitions.
Maxwell Majalang is among the Sabah Judo 2015 representative from our
gym.
Our other champions include TS Wong, Christian Emmanuel
& Fadzli Hisham in Muaythai.
We also have a group of youth training to better their
fighters profile: Brandon Chong, Fazdiana, Mizie & more to come.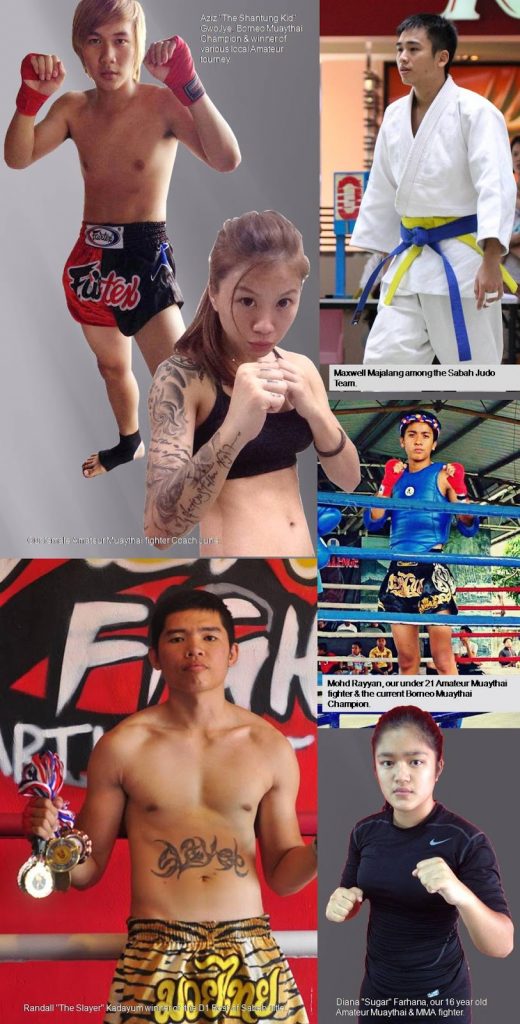 Any special program or equipment that you have that
stand out from other gym?
We offer ladies only classes for kickboxing. Our Muaythai is very specific in
which it is for beginners / fighters or for fitness. Currently we are
introducing the new Ladies Abs & Booty class.
We also have a number of free weights like kettlebells, battle ropes,
sledge hammer, tyres & a boxing ring
to help with members training.
KF strength seems to be Muaythai, is this deliberate? Are you looking to expand your MMA
/ BJJ classes ?
Our gym have won some medals in recent BJJ competitions
& some of our members have won up to semifinalist level in MIMMA, but our
gym would like to be a little realistic about the matter and  would like to have a strong foundation. For
now it is about finding good coaches that are good in both skill &
character. KF is not a MMA gym & we do not want to assume we can teach it
either, thus having a good foundation of grappling & striking first is
important.
Sometimes it's also a balancing act: MMA is glamorous to
hear but in reality not something the public will pay and train consistently.
Thus hiring a MMA coach that is qualified might not be the best business
decision.
For now we would like to concentrate on training (cross
training with other gyms) and join small competitions for experience.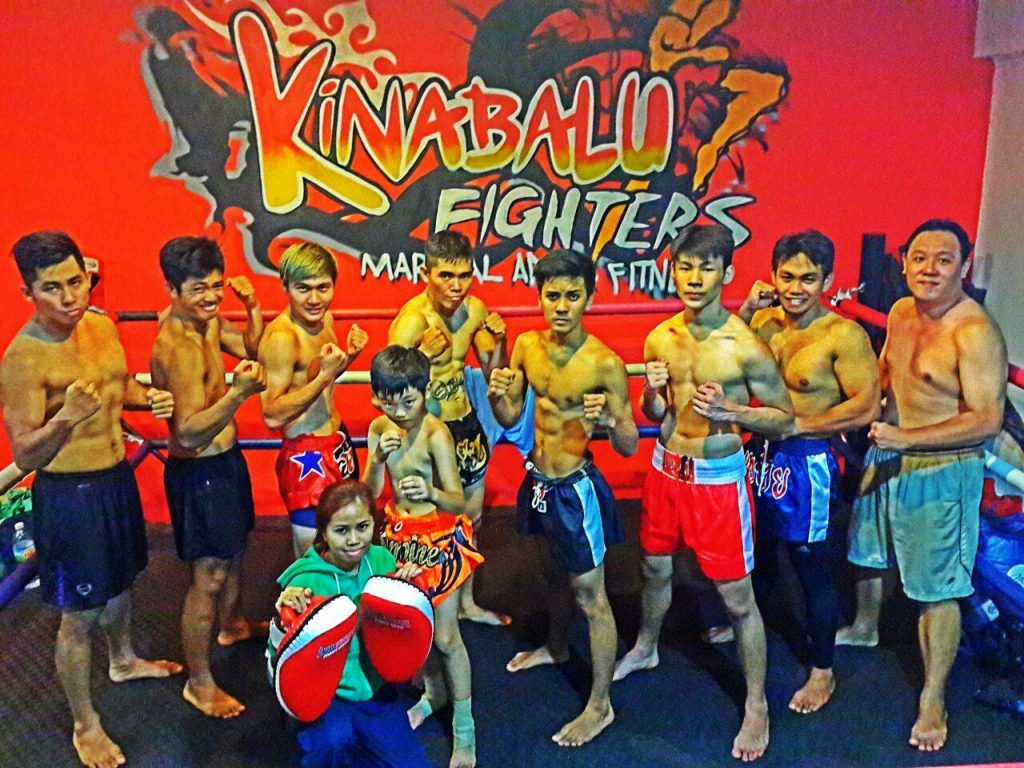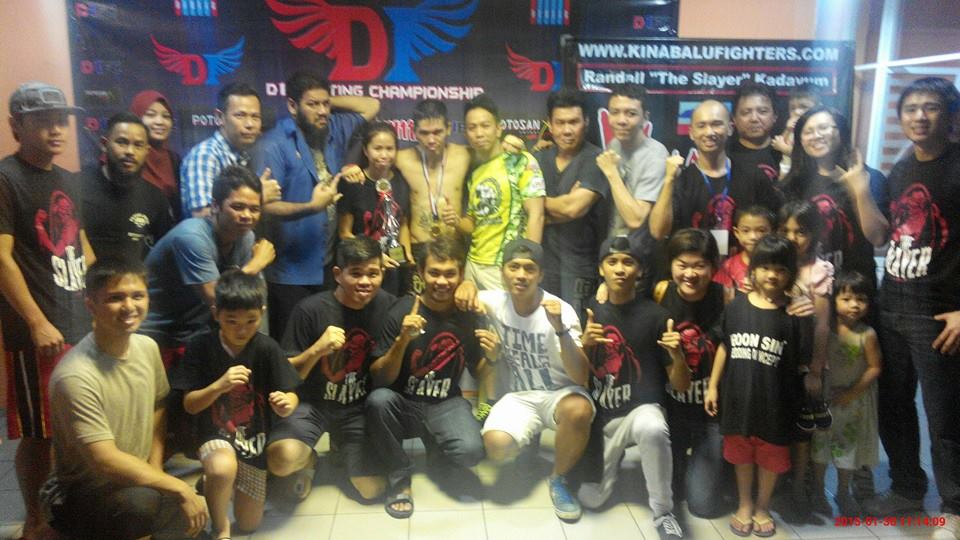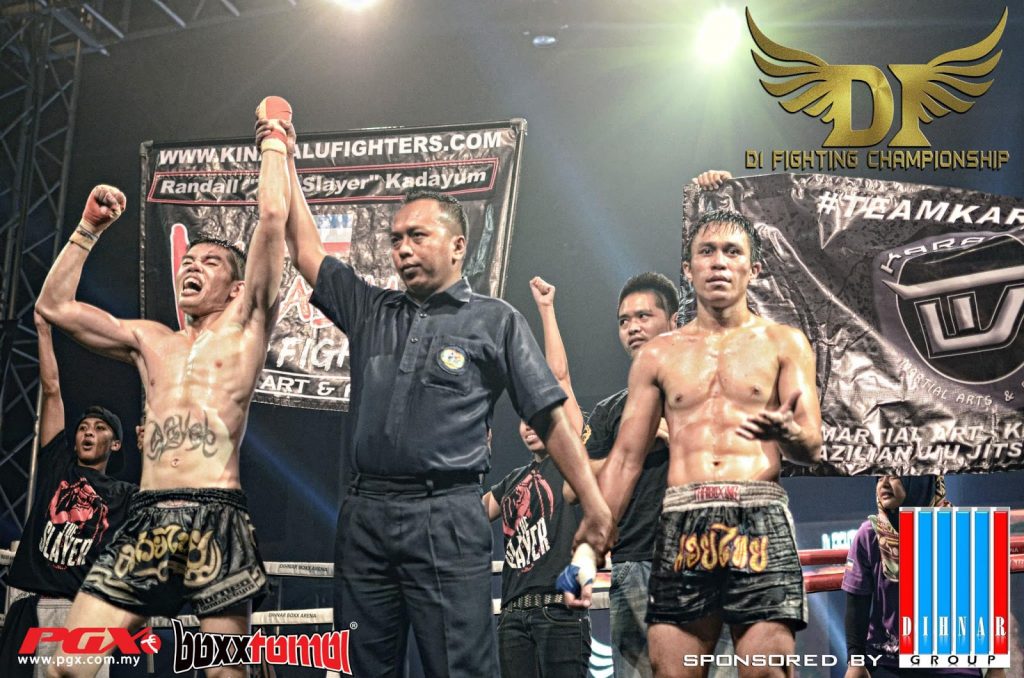 Coach Randell winning the D1FC best of Sabah Title
Is No Excuse Fitness a branch?
Eve No Excuse fitness is not a branch but is an
affiliate gym that uses our trainers and service.
We have a very good
relationship working with thei
r boss Eve & her members.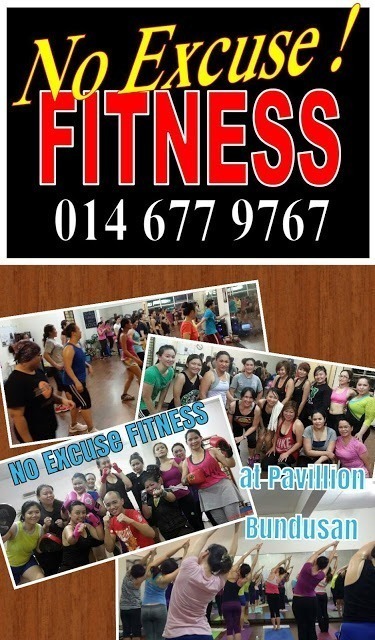 What is your aspirations for KF
My aspiration for KF has evolved along the way from its
"pure sparring" roots. After meeting coaches like Kru Azman from Muaythai Naga Api, Master Alvin Chong
from Borneo Combat Gym & Master Khoo of TNT Kickboxing, I came to the conclusion that
martial art is a healthy lifestyle to promote fitness, mental toughness &
also as a means to promote positivity / charity & self confidence.
I'm no longer aiming to only send students for fights,
but I want the gym to remain as a place people come to have fun, lose weight,
meet friends and be happy.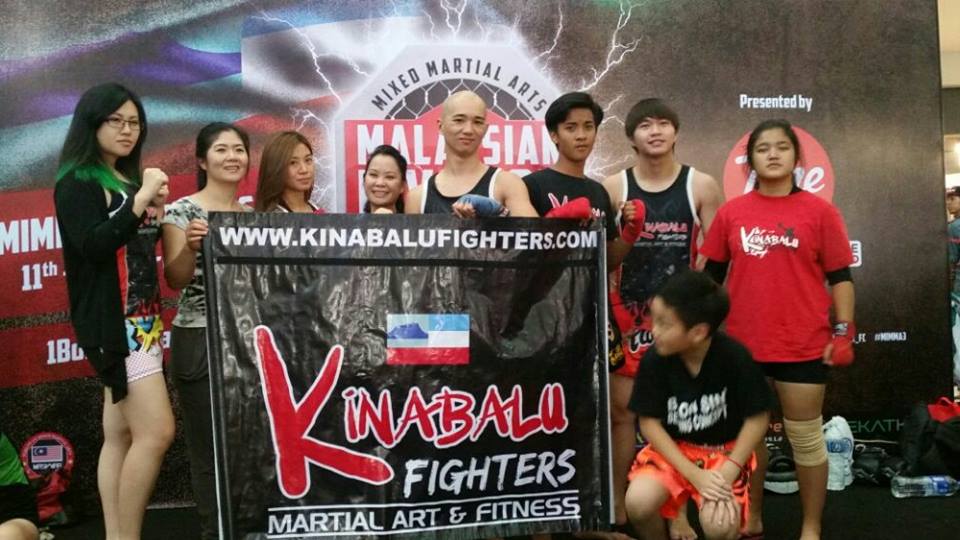 At MIMMA3 Sabah tryouts 2015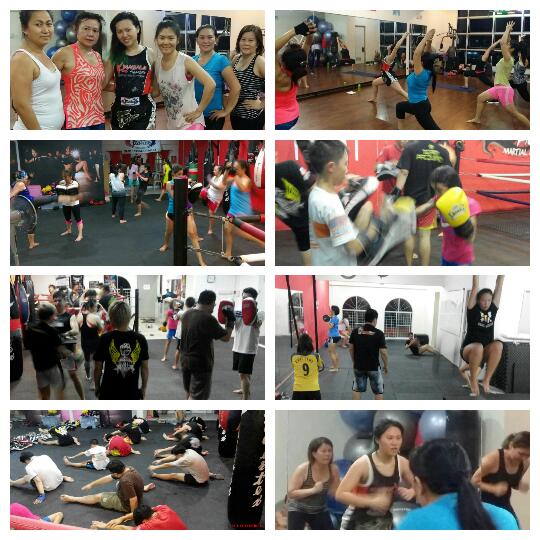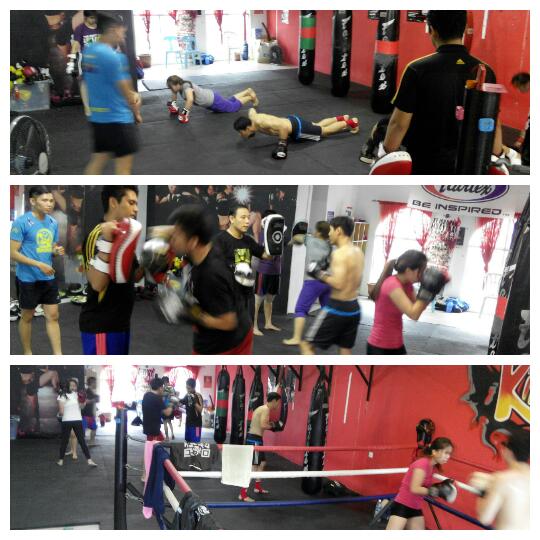 A typical busy day at Kinabalu Fighters & Eve No Excuse
What you have in plan for the future of KF?
Continue to upgrade the trainers, staff, find more youth
fighters & continue to keep current members happy & stay healthy.


———————————————————————————-


Warriors of Borneo , wishing Kinabalu Fighters a great 3rd anniversary and many more great years to come!