D1FC Rhino Invasion this coming 1-2 Aug 2015, have lined up some awesome match up.
The organisers managed to bring in accomplished and exciting fighters from Thailand, Ukraine, Italy, Sweden and of course not forgetting the local Malaysian muaythai pro fighters.
One of the highlights is Jom Kitti vs Rafi Bohic. This this for World Muaythai Council – D1FC Title Belt at Junior welterweight division
Jom Kitti is a Thai national representing Muaythai Fitness Lab of Kuala Lumpur
where he is also the head coach there.
At 34 years old, he is a veteran with over 500 fights in his records.
Some of his pass achievement includes:
WBC Champion 124lbs (Sapa Muay Thai) 1999
King's Cup Champion 1999
Bangla Stadium Champion 2009, 2010, 2011
F3 Muaythai Champion, Malaysia 2012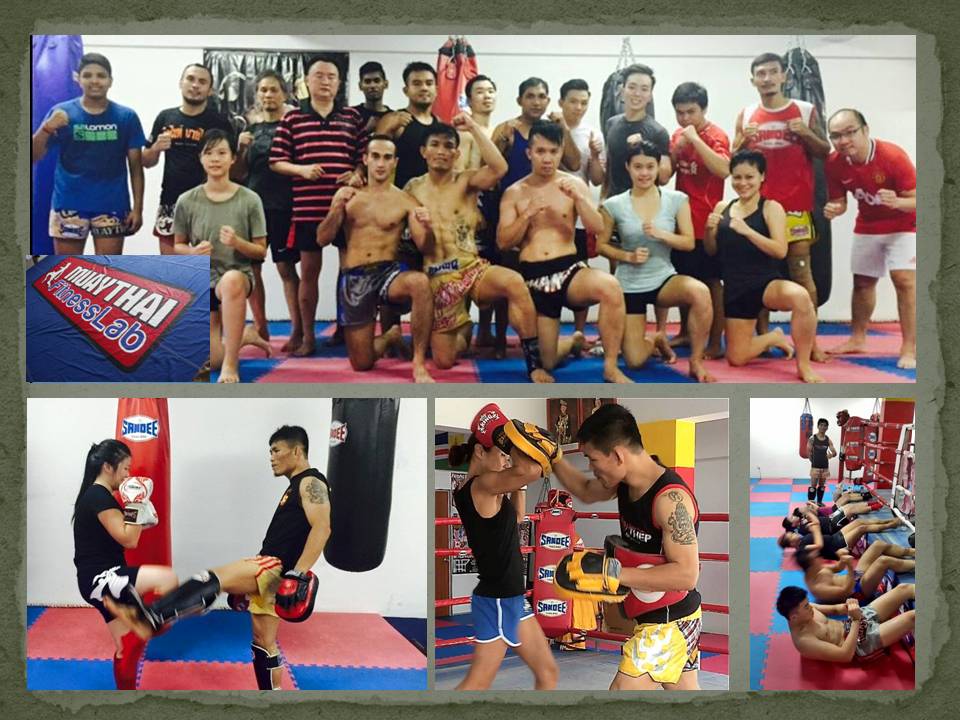 Jom Kitti coaching his students in Muaythai Fitness Lab in K.L.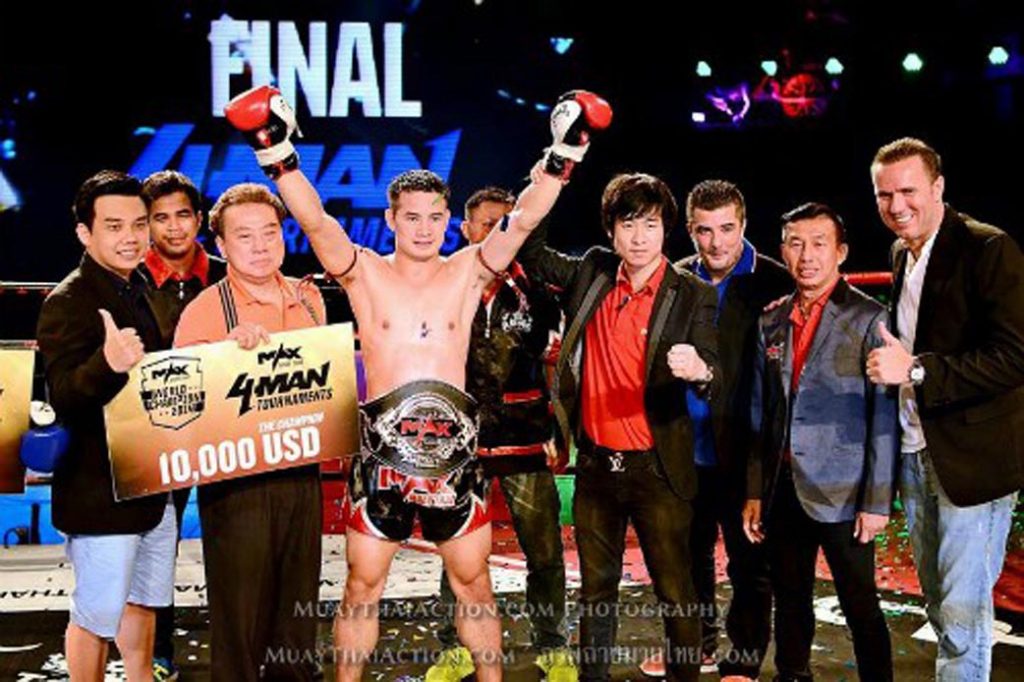 Rafi winning the Max Muaythai Superfight belt
This 24 years old fighter carries a record of 54 Fights : W – 47 L – 0 D – 1 (21 K.Os),
His accomplishment includes: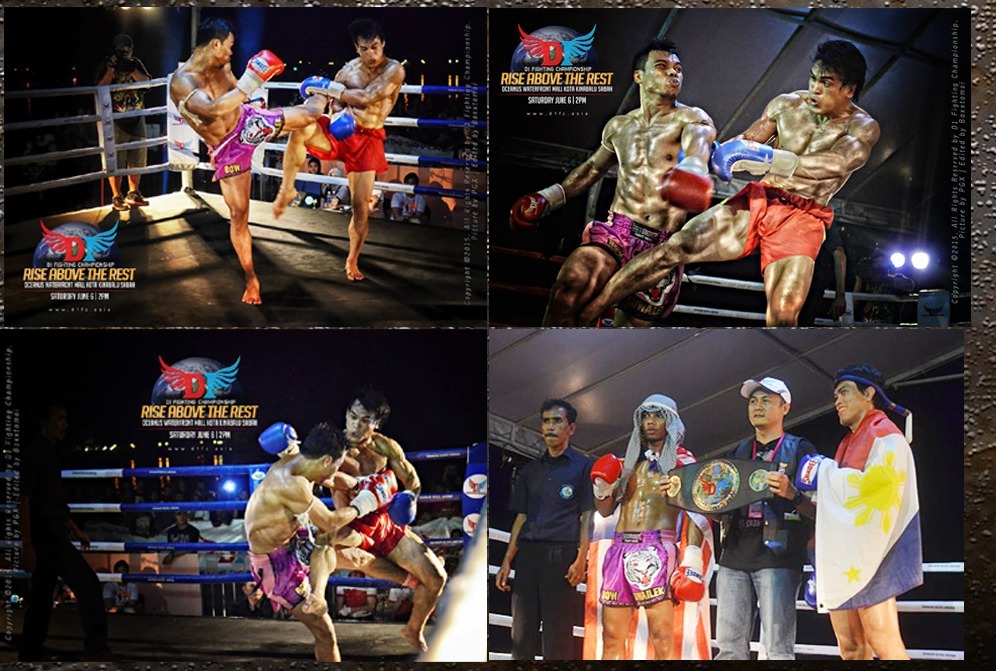 Bow winning the D1FC title belt at Oceanus Mall Kota Kinabalu in June 2015
Achievements:
D1FC Oceanus Title Belt Champion, 67kg, 2015
Super Fight Champion D1FC 67kg, 2015
Super Fight 67kg Champion, 7th Royal Kedah Muaythai Challenge
Super 4 Champion, Night of the Tiger 1, 2013
Pencita Challenge 67kg Champion, 2013
Z1 Super 4 World Champion 66kg, 2006
14 Province Thailand Champion 65kg, 2005
This has certainly show positive sign with quality of skills has increase and interest level for muaythai is on the high at the moment in Sabah.
Florian Breau uses the fighter name of Namsaknoi Lek. This is refering to the legendary Namsaknoi Yudtagargatom. Namsaknoi is well known for his devastating knees which Florian seems to possesed the similarity. Florian like Namsaknoi's fighting style and hence when choosing a fighter's name, Florian pick Namsaknoi lek, which means young or small Namsaknoi.
Florian's achievement:
Dubai Super Fight
Champion Malaysia 2014
Phuket Champion
France Champion
Muaythai Fury Champion
Warriors of Borneo managed to grab Florian's time from his busy training shcedule for a short interview.
…………………………………………………………………………………………………
Are you base in France or Phuket?
I have been living in Patong City at Phuket island for 2 and a half years.
How long have u been practicing Muaythai? Where did u started it?
My story started when I was 15years old.  I stopped school (it's earlier for French people) because I didn't like it.  I worked around 2 years and when I reached 18, I stopped, because I was young and clueless. I wanted to stay with my friends and just laze around.
This Ukranian beauty stand at 167 cm is 28 years old. Fighting out of Union Gym Ukraine, she has been fighting since 13 years old and has chalked up an impressive records of win & title: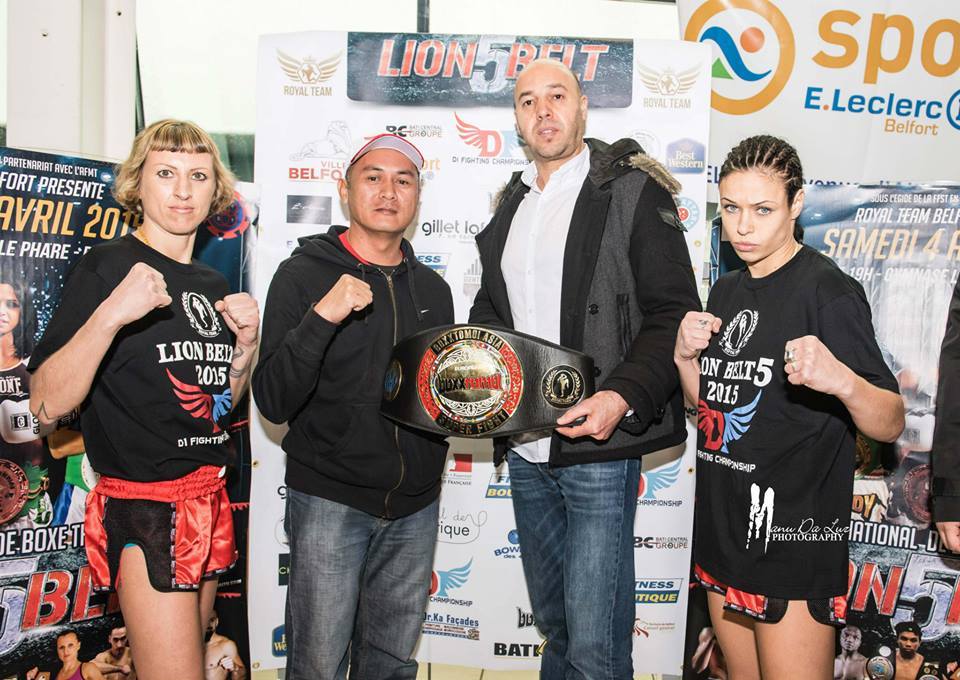 At LION BELT 5 in France
Feast your eyes boys, whip up your appetite for some muaythai action!
Patrizia Gibelli hails from France. At 36 years old , she has a fight records of:
Muaythai, K-1 47 Fights W – 28 L – 16 D – 3
Amateur Boxing 7 Fights W – 4 L – 2 D – 1