The 2nd edition of Elopura Fights went down for 2 days ( 10 -11 Mac 2018 ) in Sandakan. Organised by Sandakan Muaythai Association and held at Sandakan's Hakka Association Hall, it was 2 days of Muaythai action that saw the day part occupied by amateur and semi-pro fights, while the night time saw the pro fighters came out and display their arsenal of the 8 limbs.
For pre-event story, click on the link here:
Elopura Fights 2: Defenders of Elopura
In total 30 amatuer/semi-pro bouts was contested with Team Karabaw leading the winners tally with total 9 victories, followed by home team, 66 Unicorn with 5 and D-Sha of Tawau with 4.
It was good to see for the first time 4 participation from SMK Pulau Gaya. A school in Gaya Island that is 30 minutes boat ride from Kota Kinabalu. Recently Muaythai Sabah has activated a few intro classes to recruit new fighters and it's a good start to see the pool of Muaythai fighters in Sabah growing.
Many were happy with the venue as it's clean, comfortable and have good ventilation. Although there was a slight hiccups when there was a blackout on the first day, all due to the misscom of venue owner with Sabah Electricity but was promptly rectify.
Check out the amatuer results below
The night time pro fights was highly anticipated, as some of Sabah's best fighters are pitted against the best from Sarawak & West Malaysia.
Mohamad Ajman Ajmain ( Maman ), the president of Muaythai Sandakan, lead his team of 66 Askar Hantu ( 66 Phantom Soldier ) in putting up a great show for the crowds. His team was assisted by Boxxtomoi Asia and they light up the nights with colourful lights, smoke machine and energetic music, that made the entrance of each fighters a hi-light upon itself.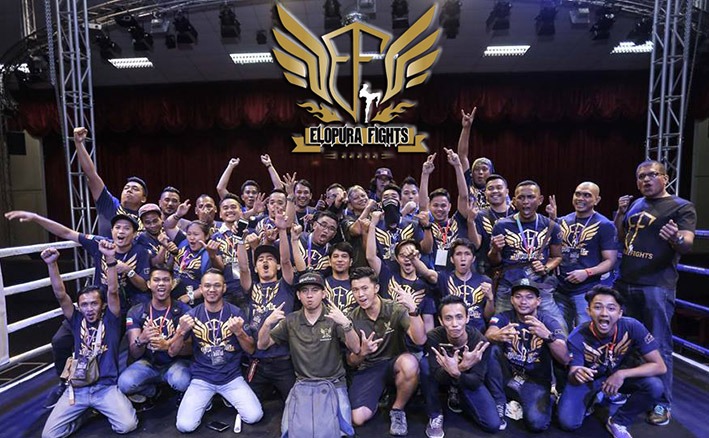 Maman in the center with his 66 Askar Hantu ( photo by Ahmad Jimmy )
For that, the best entrance award should go to Addy Raisal of Kinabalu Kings. As the mysterious Undertaker music began and the lights was focusing on the stage, all eyes and cameras was on the stage, as they watch a figure in a hoodie came out, after a few moves he reverese back and disappear behind the curtain. All of a sudden the lights shine on the ring and there he is – Addy suddenly appear in the middle of the ring!
check out the results for the pro fights below.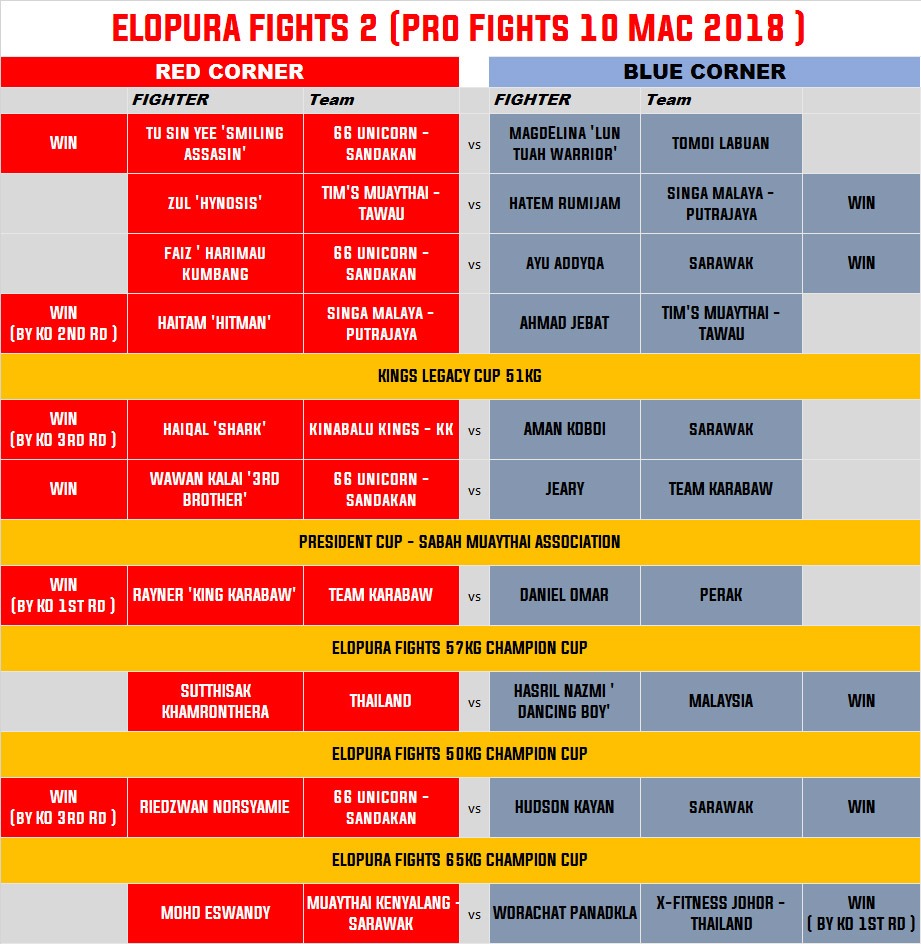 Day 1 Pro results
Check out the video hi-lights of Day 1

10 pro bouts competed on day 1 with 5 bouts ending with a KO. Rayner Kinsiong, ex-national Karateka and ONE Championship's MMA fighter made a come-back to the ring against Daniel Omar of Perak. It was a swift victory as Rayner unloaded a series of combos that ended the fight via KO in just 27 seconds in the 1st round, winning himself the Sabah Muaythai Association President Cup.
Kinabalu Kings kingpin Bee Jay said this time he sponsored The King's Legacy Cup, to encourage and motivate his fighters to excel. His fighters went on killer mode and got the wins via KO in round 3 in both their fight. Haiqal 'Shark' against Aman Koboi in day 1 and the flamboyant young Shah Aryan ' Killer Prince' against Ayu Arash in day 2, both opponent from Sarawak.
The pro main card on day 1 saw Eswandy of Sarawak taking on a short notice fight against a MAX Muaythai Champ Worachat Panadkla. It was a one sided affair as the experience of Worachat whom holds more than 100 fights proof to be a level above his competition, winning via TKO in round 1.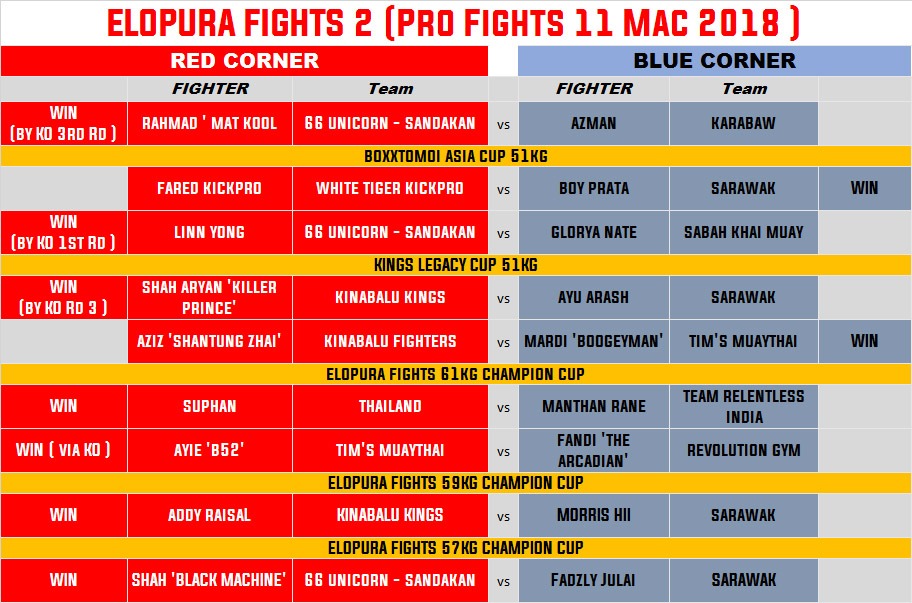 Day 2 Pro results

Day 2 event saw an international bout of Suphan of Thailand against Manthan Rane from Team Relentless India. From the outset, Manthan, seems to control the fight with powerful kicks and punches. Suphan was non chalant and occasionally mock and tease Manthan and counter fire.
But at end of 5 round for the 61kg Champion Cup, Suphan was annouced winner by split decision. Manthan clearly upset but acting very professionally he accepted the judges decision.
Manthan is Yoddha FC MMA Flyweight champion, currently studying for his college degree, he travel alone from India to Sandakan for his pro Muaythai debut. After the fight , he said
" I thought I did enough to win, although I am dissapointed but this result taught me that I must be more aggresive in future fights and go for the kill to end the fight by KO and not leave it to the judges. This is a good lesson for me and I will improve from here onward."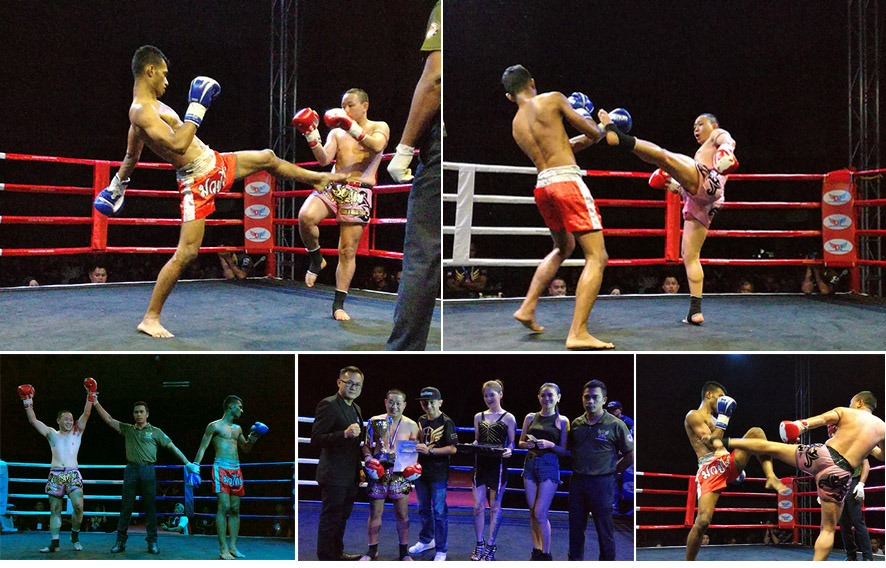 Manthan vs Suphan
I must say my personal favourite fight was Addy Raisal of Kinabalu Kings vs Morris Hii of D-30 Sarawak. Both came in aggresive. Throwing everything but the kitchen sink. Fight stop twice as Morris forehead was bleeding. After the check by ringside doctor, the green light was given to continue. Morris was unfazed by the cut as he continue to throw bombs. Addy had the upper hand with crisp technique and accurate shot and earn himself a hard fought 59Kg Champion Cup.
Sandakan home team 66 Unicorn recorded great success. Aptly proof that they are 'Defenders of Elopura' as the tagline of this 2nd Edition of Elopura Fights suggest.
Female pro debutant Tu Sin Yee, open the pro fight event with her win over Magdelina of Tomoi Labuan in the 1st bout of day 1. But young talent , Faiz ' Harimau Kumbang' lost his match to Ayu of Sarawak.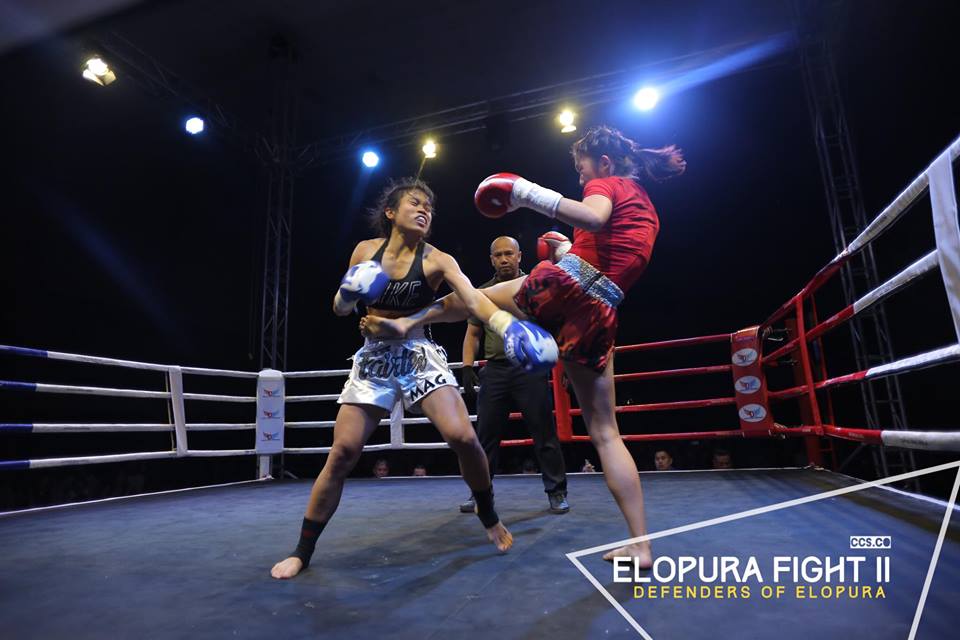 Tu Sin Yee (in red ) winning her pro debut . pix by Ahmad Jimmy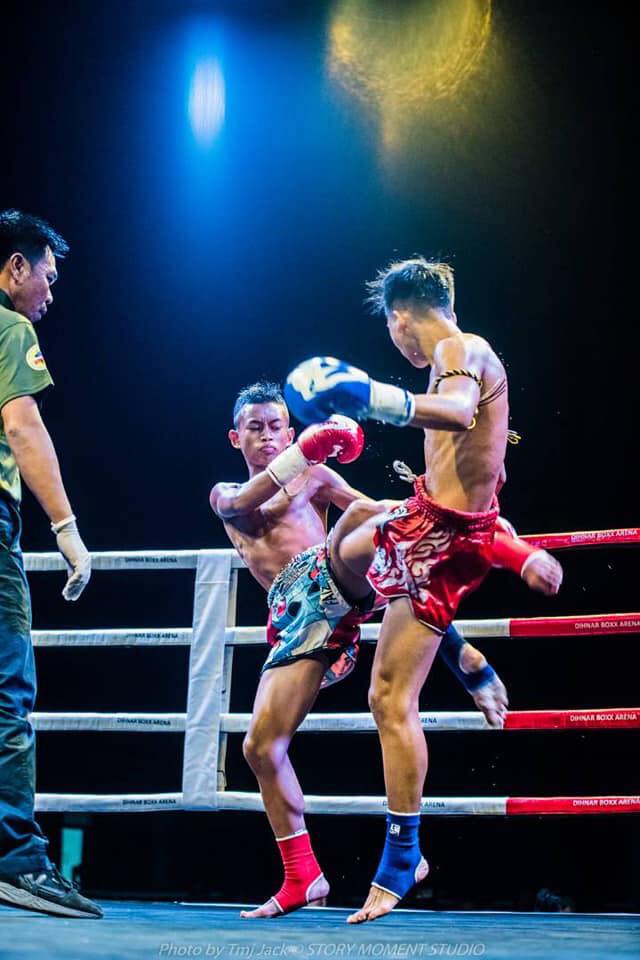 Faiz's fight – pix by Jack Tmj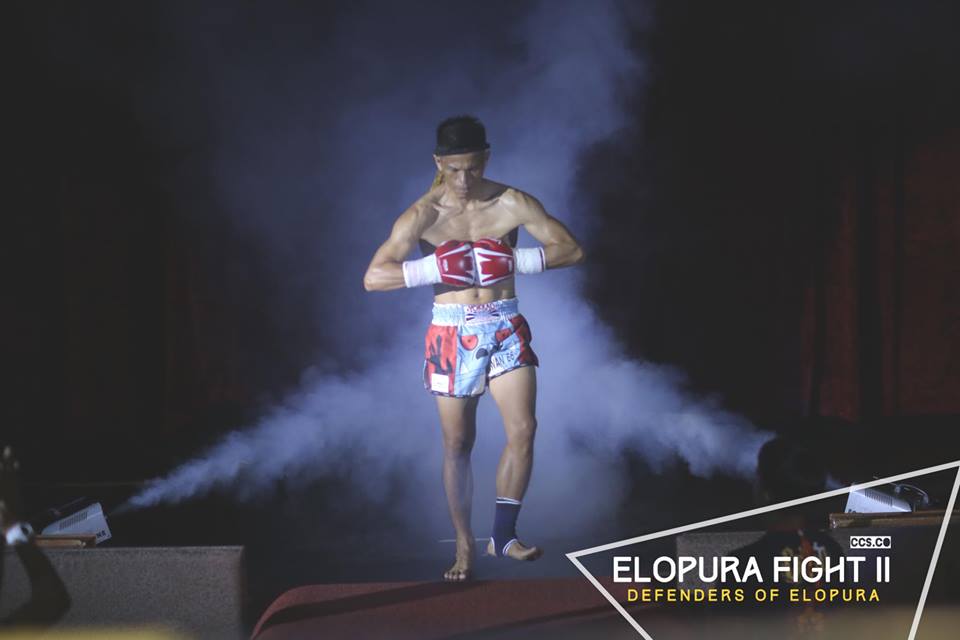 Wawan Kalai – pix by Ahmad Jimmy
Wawan Kalai, a senior member of 66 Unicorn move them back into the win column by winning the King's Legacy Cup at 51kg.
Follow by Riedzwan Norsyahmie, collecting a KO win in round 3 against Hunson of Sarawak, thus winning him the Elopura Fights 50kg Champion Cup. Adding to his bronze medal at IFMA World Youth Championship, Bangkok and gold medal at World Youth Martial Art Mastership, South Korea, both from 2017.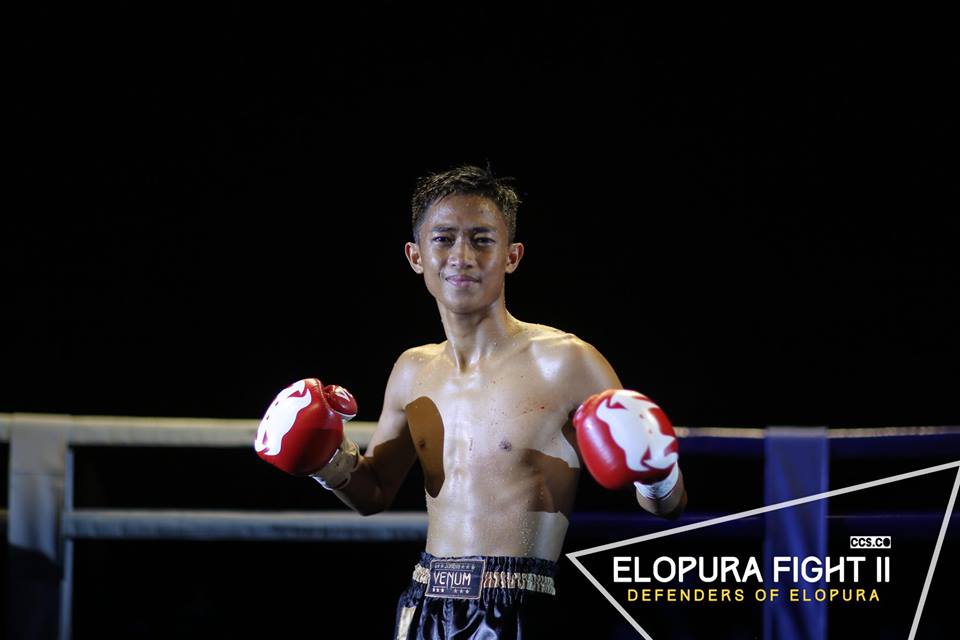 Riedzwan Norsyahmie – pix by Ahmad Jimmy
In Day 2, Rahmad 'Mat Kool' again open the fights with a victory over Azman of Karabaw. Another female pro debutant from 66 Unicorn – Linn Yong, stamped her mark of dominance in winning her fight with a KO in round 1 against Glorya Nate of Sabah Khai Muay.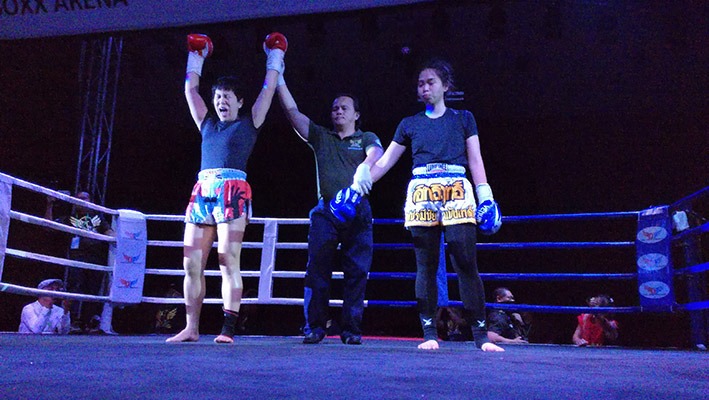 LinnYong, having her hand raise in victory
66 Unicorn close the night with a victory from their prize fighter Shah 'Black Machine'. Shah was slated to fight Sarawak's Muaythai Champion Trevor Salang, but Trevor was replaced by his student Fadzly Julai.
The 5 round fight title fight for the Elopura Fights 57kg Champion Belt initially started at a slow pace. But from round 3 onwards, after the fight was stalled as fadzly was given time out for a low blow, he seems to try to break his underdog status and began to rev up his enginge. Shah remain calm and managed to connect important shots to seal the victory and get the title belt wrap around his waist.
Shah in his after fight interview said he was proud to represent his home town Sandakan and this win is for his mentor Mohamad Ajman Ajmain and his 66 Unicorn team mates. He was prepared for a hard fight against Trevor. Although that match up didn't materialised, he was glad Fadzly stepped up and commended him for taking the fight in very short notice.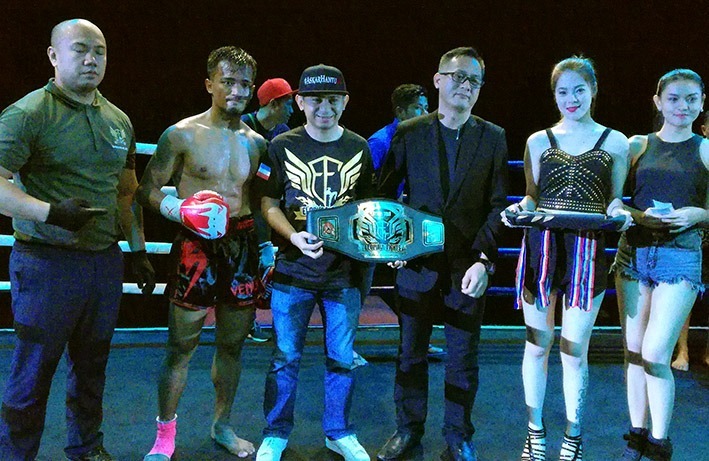 The victory in Elopura Fights 2 is important to him as he suffered a lost in Labuan's B-MAEX Pro Kickboxing. Before Labuan, he was also nursing an injury and lost in a Muaythai event in KL. He has recently graduated in sports science and will continue to pursue his fighting career and perhaps one day be able to go into coaching.