Welcome fight fans to Sandakan. The former capital of Sabah ( during the British colonial era ). The biggest city in the east coast of Sabah, Sandakan is also widely promoted as the nature city with many natural attractions for visitors to enjoy.
This weekend 10-11 March, will see close to 100 Muaythai fighters converge in Sandakan for the 2nd edition of Elopura Fights.
Mohamad Ajman Ajmain or fondly known as Maman is the president of Sandakan Muaythai Association. He is also the deputy president of Sabah Muaythai Association and has been working passionately developing Muaythai in Sabah.
Elopura Fights is organised by Sandakan Muaythai Association and supported by the Ministry of Youth and Sports Malaysia, Malaysia Muaythai Association and Sabah Muaythai Association
Let's get to know more about Maman, the man behind Elopura Fights.
Maman was born in Tawau in 1979, another city in the east coast of Sabah, around 4 hours drive from Sandakan. His interest in martial arts began during his childhood. Having a father whom was a martial arts instructor certainly helps.
Maman works as an immigration officer and ever since he got promoted is now base in Limbang in the state of Sarawak. Which is 10 hours drive from Sandakan. But this does not deters him from making sure Elopura Fights are well organised. With a strong team that supports him at Sandakan, all things gets done. He name his reliable team AskarHantu 66.
"Because they are like ghosts. They are mostly active at night and when they do their work, you don't notice anything today, but suddenly in the morning the work is done."
Warriors of Borneo talks to Maman about Elopura Fights.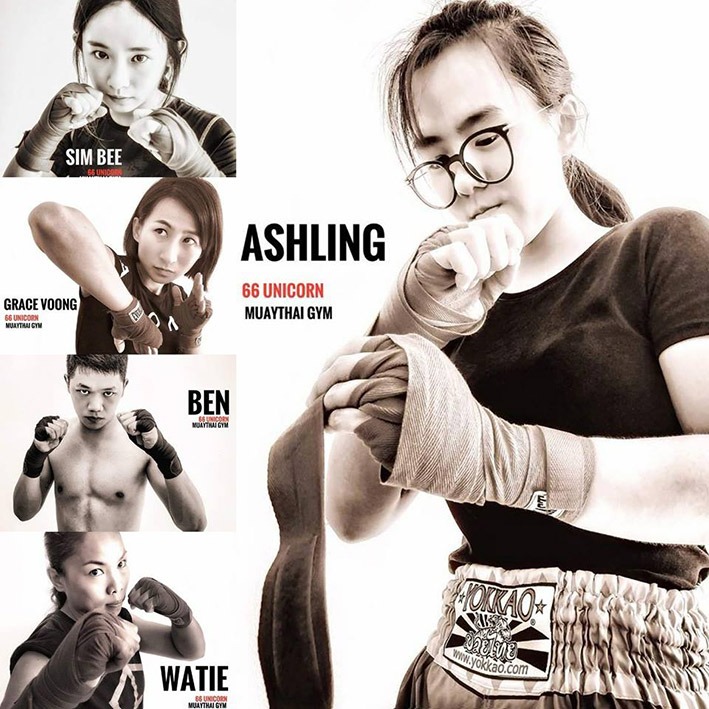 Some of the Defenders of Elopura from 66 Unicorn will see action in amateur fights ( come and support – ammy fights is free entrance )
Yes we do have a team of juvenile fighters and newcomers. We have been doing the same thing since the beginning. We emphasize on the strong foundation of Muaythai. We don't do fancy stuff. We do basic, basic and basic.
• Riedzwan Norsyahmie 'Golden Shin' 17yo
• Faiz 'Harimau Kumbang' 14yo
• Rahmad 'Mat Kool' 14yo
These are the upcoming fighters that will be a force to be reckoned with in Sabah Muauthai scene in my humble opinion.


How do you go about promoting EF2? Any assistance from government agency ?
We have full cooperation from Sabah Sports Commisioner, Ministry of Youth and Sports Sabah, Sandakan Municipal Council and the Police. Our promotion is going on smoothly.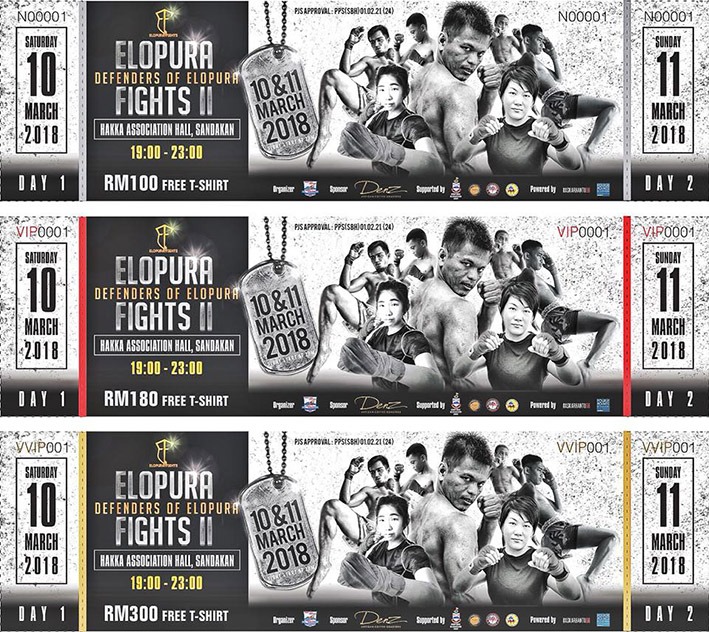 Amateur fights in the day time is free entrance .
For the Pro fights to get your tickets please call:

Tea Library: +601116043075
Herman Bin Usman: 0128423785
Frank Setter: 0128014589
Mienn Manyon: 0145503066
Rioo Alexandria: 01110032302
Rams Thokke: 0178383996