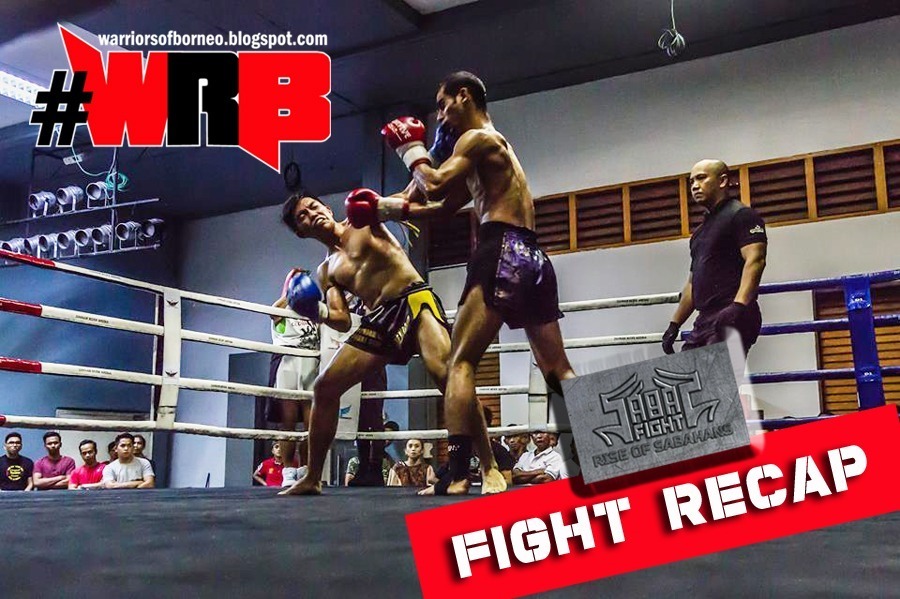 picture by Sabai Desosza
On 10-11 DEC fight fans in Kota Kinabalu was treated to plenty of Muaythai action. Day time saw amateur bouts that went on for the Sabah Muathai Inter-District Championship. Come night time, the action got more intense with pro fights under the banner of Sabah Fight. Click here to check out my previous posting on the winner
In total 10 bouts was presented by Kelab Sukan Inspirasi Kinabalu, Parliament 171 Sepanggar, Sabah Muaythai Association and Kaza Musa Fight Management.
Day 1 started with the Teens Superfight 46kg between Areen "The Heart Break Kid" Khan (Kinabalu Kings) vs Mohd. Nashruddin "The Valiant" (Jaguar Muaythai), which is won by Nashruddin.
Bout 2 was a highly anticipated female Superfight at 51kg. Aurora Chai (D30 Miri) vs Nurul "Chiko" Khairunnisa (Karabaw). Both came into this fight eager to get a win after their lost in the last outing. Aurora lost a close decision in a amatuer MMA superfight in Oct to Barbara Gloria of Sabah Top Team. Meanwhile Chiko lost in Keningau's STAND Series 3 to another Sabah Top Team member, Gloria Isabelle Hoong in Women 48kg amatuer Kickboxing.
Both were willing to trade strikes when they got close. Aurora initiated most of the attacks and threw higher volumes of strikes. Aurora managed to find target with her high kicks to the head and a well placed teep to the body in 2nd round. Aurora Chai wins the fight but Chiko gave her a parting gift of a huge swelling on Aurora's forehead due to her elbow.
Bout 3. is for 70kg Men Superfight. Lu Yi Ran (D30) vs Liew Teck Seng (Borneo Tiger MMA). Liew also came into this fight trying to erase the lost to Nidal Mahmoud in STAND 3 Super 8. He came well prepared and really focus.
Lu also look better physically compare to his last outing in Fight Fest 3 in K1. His technique is sharper and faster. But Liew's was able to exert more force and impact in his strikes. In round 1 Liew landed a huge right that staggered Lu backward and got a standing count.
Liew win this 5 round fight.
Bout 4 co-main event 54kg Men Superfight of Muliadan Danny (66) vs Alexander Fong (Borneo Tribal Squad). Alex has just moved to BTS and this is his comeback fight after a long period away from competitive Muaythai.
In first 2 rounds Alex manage to connect with a couple of overhand right. Alex was the aggressor. Controlled in the clinch and he got most of the sweeps and throw to break Mualiadan's rhythm. But in 3rd round Muliadan starts to control the ring, attacked more with harder roundhouse.
In 3rd round Alex seems to get back his groove, but as he push forward for an attack, they clinched and in the scuffle, Muliadan connect with an elbow to back of Alex head, Alex protested as he pause and referee gave a verbal reminder to Muliadan on the illegal strike.
Last two round was rather even, but Muliadan attacked more towards the end of round 5 to clinched the victory.