8 OCT 2016 is upon us,…and  It's fight night!
This year's venue will be back to Stadium Negara. The venue where season 1 & 2 Grand Finals were held. Season 3 were held at Stadium Putra Bukit Jalil, back to back with ONE Championship: Tigers of Asia. Stadium Negara is a historic venue for many sports events and live concert. Most recently it was the venue for ONE Championship: Unbreakable Warriors brought to us by Tune Talk in 2 Sept 2016.
Since season 1, MIMMA has brought to the Malaysian public a great format, by touring the whole nation for tryouts and then proceed to series of rounds in Paradigm Mall and climax at the Grand Finals. It has undoubtly become known as the biggest amateur MMA tournament in Malaysia and Asia.
The Grand Finals has always been very well organize and is truly a grand spectacle to experience. Emerging from the MIMMA cage, many Malaysians MMA superstars has been born.
Fighters such as Keanu Subba, Mohd Aiman, Agilan Thani, Allen Solomon Chong are already a household name in Malaysian martial arts scene. Indeed a great team is needed to put this grand show all together for us fight fans to enjoy. So todays' article I will focus on the people behind the scene of MIMMA.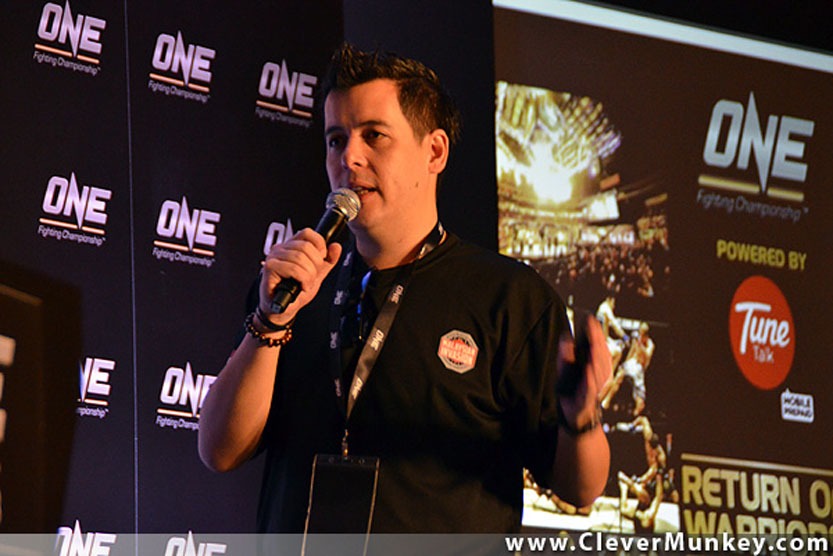 Let's start from the boss. Jason Lo. In 2006 he teamed up with Khairy Jamaluddin (currently Minister of Youth and Sports Malaysia) to formed MyTeam. This reality TV show brought together a squad of unknown soccer players selected at trials held around Malaysia to form a team to take on the Malaysian national football team in an exhibition match. It was a huge success. Bringing back the love of football for the grassroots and creating a formidable team that played in the Malaysian league.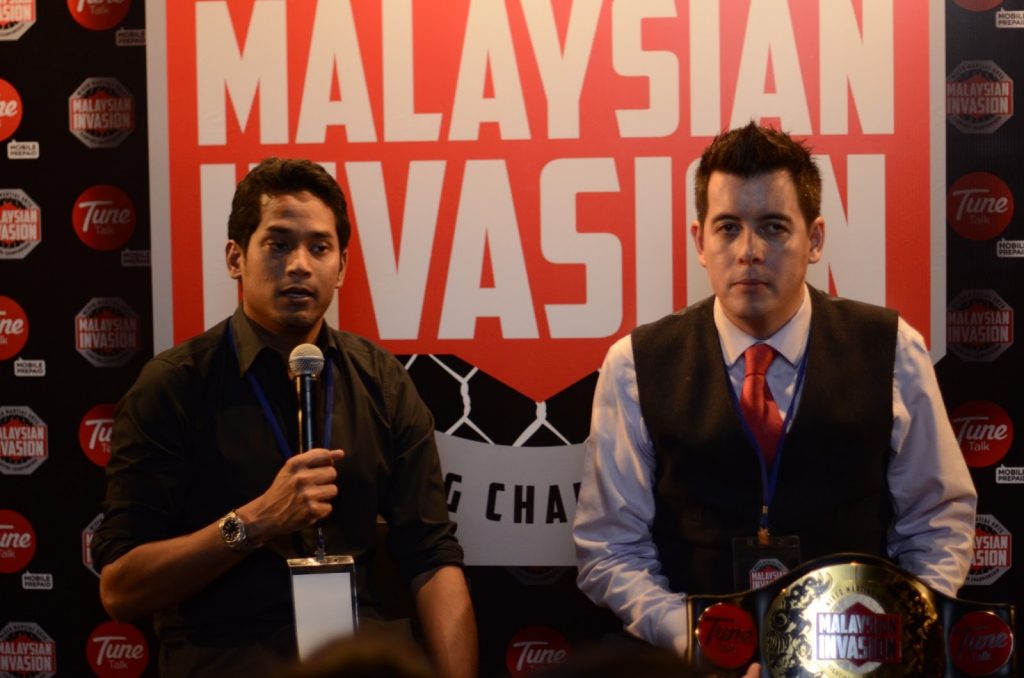 In 2007 Jason was appointed the CEO of Tune Talk. This innovative telco is the largest mobile prepaid mobile virtual network operator (MVNO) service provider in Malaysia. Tune Talk started in 2009, its aim as a prepaid service provider is to offer low, flat-calling rates and incentives to what was an under-served segment of the market.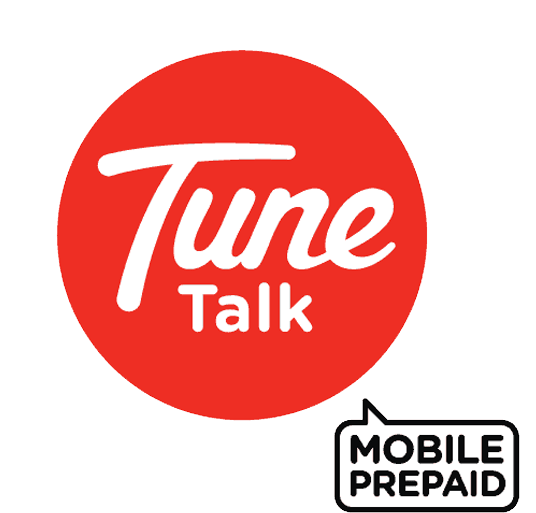 With the experience and learnings from MyTeam, and again with the huge support by YB Khairy Jamaluddin, Jason embarked on a new project, mixed martial arts. Strongly backed by Tune Talk.
Jason Lo stated in the launch of MIMMA Season 4 early this year…
"Initially, we wanted to adopt a sport with which we could truly associate with and we felt that MMA was it for us. It is a sport that demands discipline, dedication and passion. This aligns with Tune Talk as we are also fighters in our own right, going up against the big telcos in Malaysia. "
"It is 2016 and we now have 2 MIMMA Champions fighting and making a huge impact in ONE Championship. This is just the start as we expect more champions to make the transition into fighting professionally soon. 


Tune Talk is now the frontrunner in both the amateur and professional MMA scene in Malaysia and this will continue as it will take the Malaysian MMA scene to the next level, ensuring our goal of making Malaysia the MMA hub of the region completely materialize in the near future," he added.
Interesting facts: Jason is a Sarawakian and began his career in music. He was a singer and producer. Produced 3 top selling album in the Malaysian English song segment, in the early 2000.
———————————————————–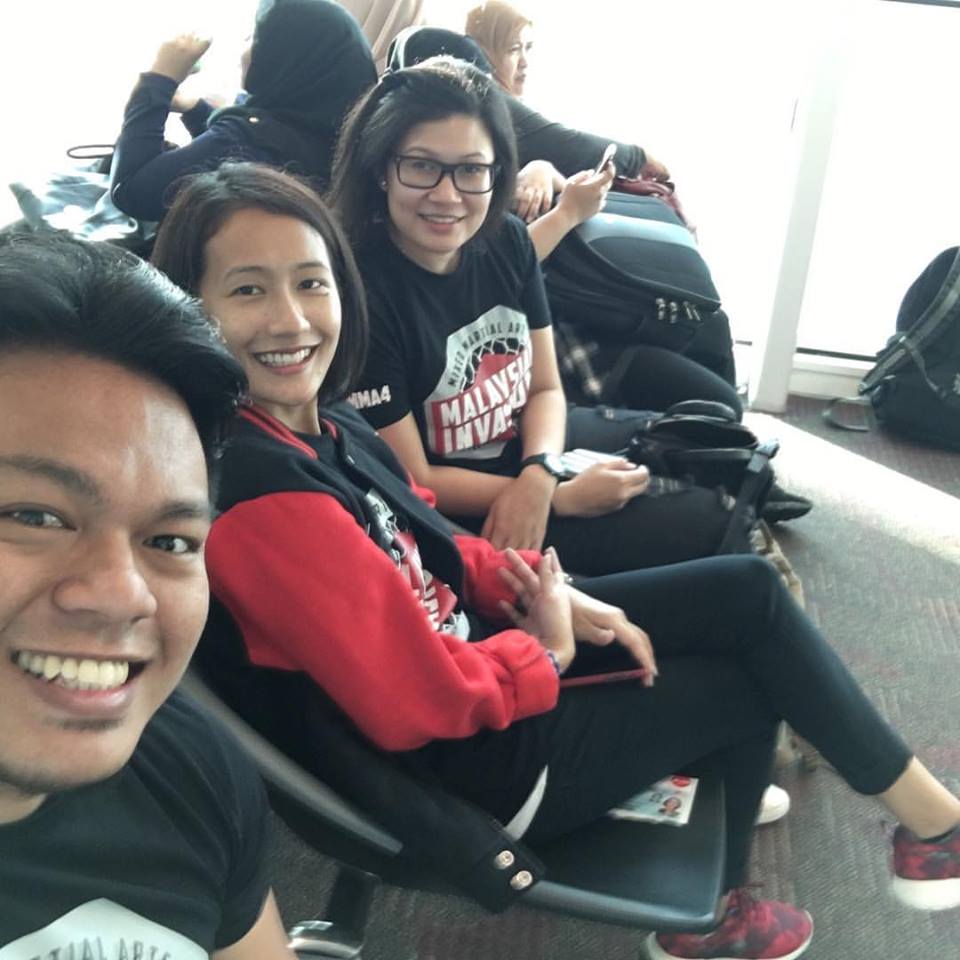 Tune Talk Corp Comm team lead by Fara Hasan
What we see and hear about MIMMA in all channel of media is through the hard work of the Corporate Communications team of Tune Talk. Headed by Fara Hasan and her primary team which include Alief Esmail and Aina Azizi; together they ensure the MIMMA brand is presented in a cohesive, informative and consumer friendly manner.
Corp Comm deals with releasing news to various media and also managing the public relations side of the organization. It also ensures the identity of MIMMA is presented in an ethical and favorable way. All the visuals of the fight cards, the TV coverage, interviews of fighters, the media release, the set-up of venue, etc has to have the consistent and cohesive brand image of MIMMA. The element for season 3 was electric and this year fire was chosen to signify the spark that started 3 years ago is now burning brightly in a huge flame.
———————————————————
The operation team is considered the engine room of any organization. The operation team's role is huge. Before fight days, fight cards has to be fixed and fighters are monitor for their preparation. Fighters travelling and accommodation also has to be sorted out so that they can be on venue on time.
On fight day, venue set up must be tip top. Safety is utmost priority. Cages are checked and double check to ensure no loose end or sharp hard edges that can hurt fighters. Announcers and production crews are brief and ready to capture and present the action as it unfolds bouts by bouts. Crews prompt fighters their fight time and get them ready to enter arena. Referees and medic team goes through their motions ensuring safety, and judges keep scores of fights.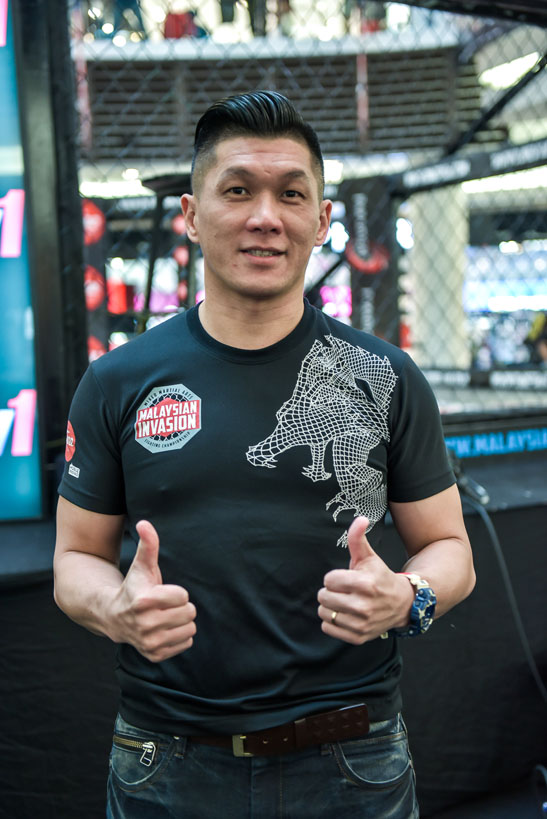 Alex Wong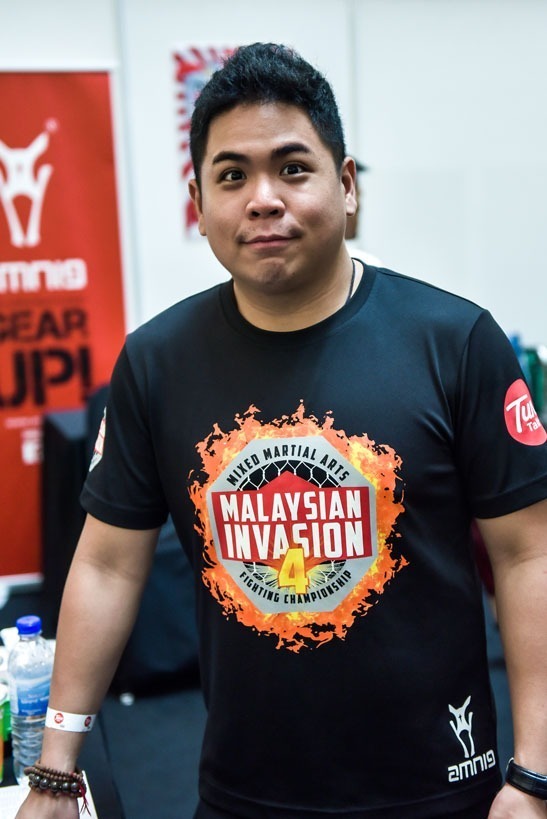 Henry Goh
The familiar face of Henry Goh, leads the operation. He's always busy ensuring all crews are on top of things. Henry together with his mentor Alex Wong and Brent Yap formed the core of the MIMMA operations team. They have put up a team of capable staff that functions like clock-work.
Henry shared his thoughts..,
"I'm very proud of what MIMMA has achieved. Through the years, together with TuneTalk, we were able to build a MMA community. From there fan base was formed, and from there onward we successfully create a strong association of TuneTalk brand with mixed martial arts. Through MIMMA, TuneTalk users also grow leaps and bounds close to 1.6 millions today."
Henry further explained,
" We always strive to improve. Last year we have introduced the Female and the Foreign Pride category. We are the only organization in this region that produces 9 Champion in one season. MIMMA is already the gold standard or benchmark of MMA tournament in this region. We want to develop our champion into world class athletes. 


Already we have a few that have transition successfully to ONE Championship as pro fighters. But for those that want to continue to grow their amateur career, we are looking into bringing our champions to fight with champions from other organization. We are still planning the collaboration with other promotions in Asia."


————————————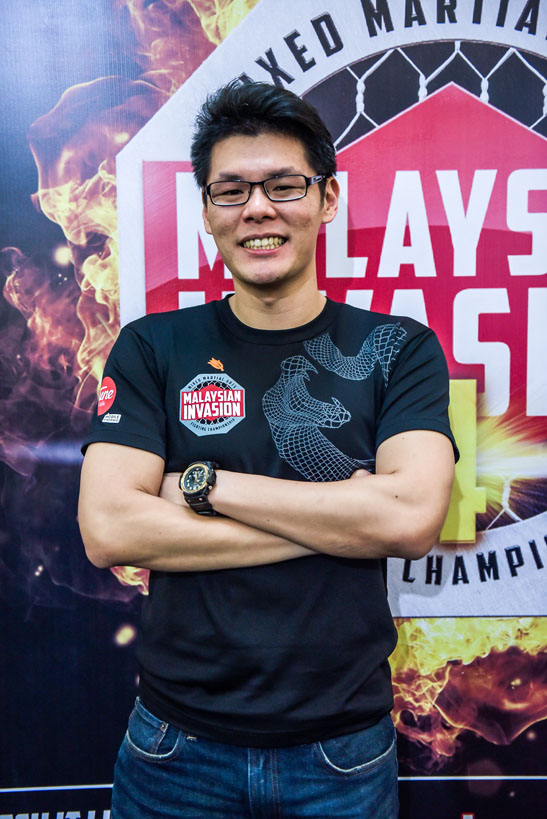 Brent Yap
Brent Yap, a lawyer is part of the core team. He is from Kuala Lumpur and obtained his law degree from University Malaya in 2001.
Can you explain to the readers your role and your team's role in MIMMA?
I am the matchmaker of MIMMA where I helped to recommend the best match-ups during each MIMMA competition. I have also put up some good fights (in my opinion!) including the professional fights in Season 2 Grand Finals between Kai France (who is now contesting in the TUF reality show) and the region's best free agent at the time, Mark Striegl. I am glad things worked out for both of them after their appearances in MIMMA.
Yourself how long have you been involve in MIMMA?
I have been helping to organised MIMMA since the beginning in 2013. I was brought into the MIMMA organising team by my good friends Alex and Henry.


Outside MIMMA, what is your full time job?
I am a lawyer and is practising from my partnership law firm based in Sri Hartamas, Kuala Lumpur. My areas of practice include acting for my clients in property transactions, and advising foreign expatriates on the legalities should they wish to move to Malaysia. I also review and draft out business, commercial and civil contracts.
What is the most memorable experience you have ever since you join MIMMA?
There are too many memorable experience since each season brings new experiences and good memories to savor.

I met with a young mother who was waiting with her infant during the MIMMA2 Penang tryouts. I was quite curious to see how she felt about her infant witnessing the amateur MMA violence inside the cage. To my surprise not only was the young mother perfectly fine with it, she told me she actually encouraged her husband to go for the tryouts and he was awaiting his turn!
Do you yourself practice martial arts?
I took up Muaythai lessons with a gym based in Petaling Jaya for a couple of years. If I do actually fight, I suppose I would have a lanky style due to my height and my secret weapon would be a flying knee to the gut as my Kru used to wrapped up the training session by making me do ten (1) flying knee reps.
What is the best fight personally for you?
I always like the stories that come with the fights. In random orders, the memorable ones for me include the following:
Bryan Lim vs Md Zakhir fight in 2013, Md Aiman vs Bryan Lim fight in 2013, Bantamweight final in 2013 between Md Aiman with Prabu Somanaidu , Ooi Aik Tong's final in 2013 with Sam Chan, Keanu Subba's final in 2014 versus Joshua Khiew because this was Keanu's final appearance in MIMMA and Joshua did look like Bruce Lee at that point,
The flyweight classic between Zhang Yu Seah versus Dhiaul Amal in 2015
And the one stand-out for me was the brothers' rivalry between Naimul Amal and Dhiaul Amal in 2015 which culminated in an all important showdown. The level of maturity and respect shown by both brothers to fight each other and the emotions left a deep imprint on me. It proved to me that a lot of fighters in Malaysia will make the necessary sacrifices to be the best in Malaysia.
With many other regional MMA competitions like Ultimate Beatdown, Warriors FC, F3, Jesselton FIght League, Fight Fest, how do you see this all fit into a bigger picture with MIMMA? I mean with the clashing of schedule sometimes & injuries and only small pool of people that participate, eventually do you see these events competing with MIMMA?
My dream is to have a local MMA grand prix where the champions of each event will compete with each other in an annual spectacular. I do not see these events as competitors, rather we are creating a healthy ecosystem where the best amateur fighters can find enough platforms to improve their skill sets. 


After all, MIMMA is completely focused on building the future by organising this grassroots amateur MMA tournament. What I am always confident is that the promoters in the country acknowledge the improvement in the local amateur MMA fighters. We are working together to hopefully create sufficient events with ideally one event in each state to provide a strong continuity to assists the amateur athletes to make the breakthrough to the international level.
Which fighters have impress you most this season?
The finalists and champions are the best this season. Although bad luck and injuries did rob us of some fighters who could go all the way. But these things do happen. To these injured fighters, I wish them the fastest recovery so they can return to MIMMA to pick up where they left off..
Are you a coffee type of person to perk you up or an energy drink type?
I love my coffee!
How do you celebrate after a successful good show? 
Over a pint of stout with the MIMMA guys.
————————————————-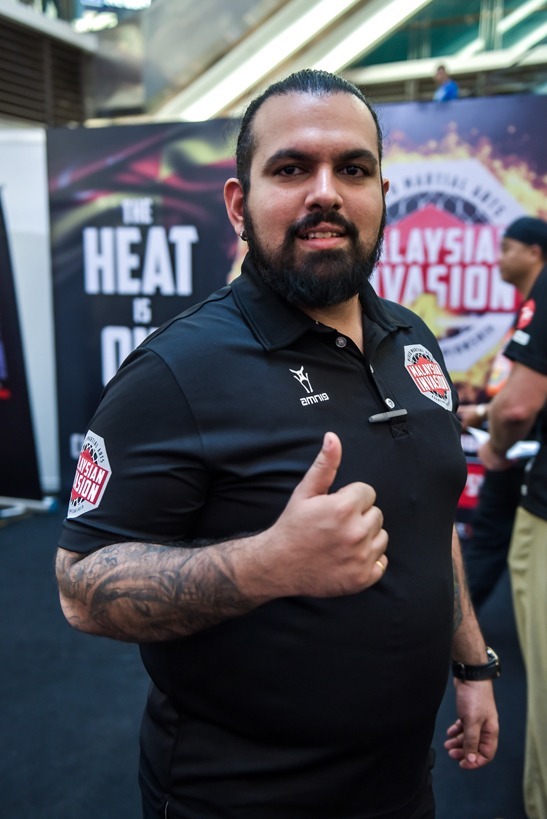 Prem Kumar
Another familiar face in the MIMMA Operation team is this friendly face guy with a beard. Prem Kumar. Prem is from Taiping Perak. Grew up there till he left to further his studies in HELP University College.
Can you share with readers your role in MIMMA?
I coordinate the show backstage and cageside for MIMMA. In my team we usually have 8-10 people. Backstage operations is lead by Eshton, and I do place a few officials cageside too to help out. Most of the time we have Hanniel, Andrew, Alex, King, Julianna, Cyril, Wei Beng and Syazwan, these are the guys that help us out cageside and backstage, sometimes if they can't make it I do have a few other replacements on standby
My main role in MIMMA is to make sure the event flow's smoothly especially the transitions from fight to fight and making sure the fighters are all ready backstage. I also coordinate the cageside operations, and work with the Judges, Referees and Hosts. Plus, this year I got to help out with the match-making too, which was kind of fun.

My team has been divided into a few different roles, they basically make sure the fighters are all equipped backstage, make sure they obey and follow the pre-fight rules, as well as maintaining order with the coaches and cornerman backstage as well as cageside during the fight. 


We also have guys to make sure the cornerman obey the rules during the breaks and get them out in time before the next round, and of course we always have timekeepers to keep track of the action and take down the official results.
How long have you been involve in MIMMA?
I have been involved since the 1st ever show. I have done all the roles that my team members are doing and now I'm leading the team in making sure the show runs smoothly.
I got into this because of my cousin (Arvind "The Juggernaut") mostly, he brought me along to the first ever One Championships in KL, and after that I helped him out at smaller shows in Singapore and eventually even went on to work for bigger international promotions in Singapore and China. This eventually led to me being asked to join the MIMMA crew in helping them out.
Nowadays, I still do work as a professional cutman for other international mma shows, and a few boxing and kickboxing shows as there aren't many professional cutmen around in Asia.
What is your full time job?
I'm a Para-legal at my dad's law firm currently.
What is the most memorable experience you have ever since you join MIMMA?
Coordinating the grand finals last year at Stadium Putra, it was our largest event to date, we even used the One Championships cage for the show, and I even had to help wrap hands backstage before the show started.
Do you yourself practice martial arts?
Yes, I do. I used to do Tae-Kwon Do growing up, then I moved on to Muay Thai and Kickboxing.
What is the best fight personally for you? There are a lot of best fights around, but one of the best fights we ever had in MIMMA would be Zhang Yu vs Dhiaul at the grand finals of MIMMA3, those two warriors went at it for 5 rounds and the action didn't slow down at all.
What do you think MIMMA has done right?
MIMMA has paved the way for amateur MMA here in Malaysia, before that we had smaller shows with almost no exposure for the guys who compete at and those shows. They didn't even know the difference between amateur and professional rules back then, now thanks to MIMMA we have a proper amateur platform for guys to compete at before advancing to the professional stage. Besides that, we have seen the talent pool here in Malaysia evolve since MIMMA started, the competitors are getting more well-rounded and improving their game constantly.
Of course MIMMA will improve next year, we always do take into account feedback from the grassroots level, especially the gym owners and other promoters on how we should improve the show.
Which fighters have impress you most this season? 
This season, Eddey Kalai did impress me and he finally made it to the Grand Finals, so did Theeban and Keng Fai.
What is the hardest or most most challenging part of your job?
Making sure everyone else does their job and shows up on time.
Are you a coffee type of person to perk you up or an energy drink type?
Energy drink kind of person definitely, thank goodness we have Extra Power Root to keep the show going.
How do you celebrate after a successful good show?
I usually go grab a meal and some drinks nearby with the rest of the crew, and just chit chat about the show and how we could improve things for the next shows to come.
—————————————————
One of the most important role in MIMMA is the referee and judges.
A referee need to be well verse in the amateur rules of MMA. Illegal moves such as kicking an opponent while they are down, elbow, soccer kick, neck crank are techniques that referee need to understand and watch out for it for the sake of fighters safety.
For the referee to do his job well he needs to have good judgment, quick reflexes, patience, fairness, excellent timing, split second decision making and the ability to handle a stressful situation, especially when a ref gets booed due to a call the crowd thinks is wrong.
However, referees often see things the person in the stands or who is sitting on the couch at home does not, because they are in the cage as the third person. Things like if a fighter's eyes roll back in their head, or if they are trying to call it quits, or there is a flash knockout, which even the cameras don't always catch. Ultimately, more than anything else, that fighter's life is in the hands of the referee and it is his or her job to always put safety first.
MIMMA's head judge / referee is Olivier Coste assisted by a couple of qualified officials. Olivier also ref for ONE Championship and resides in Thailand. He actively trains in martial arts to understand the game better, hence improving his refereeing work.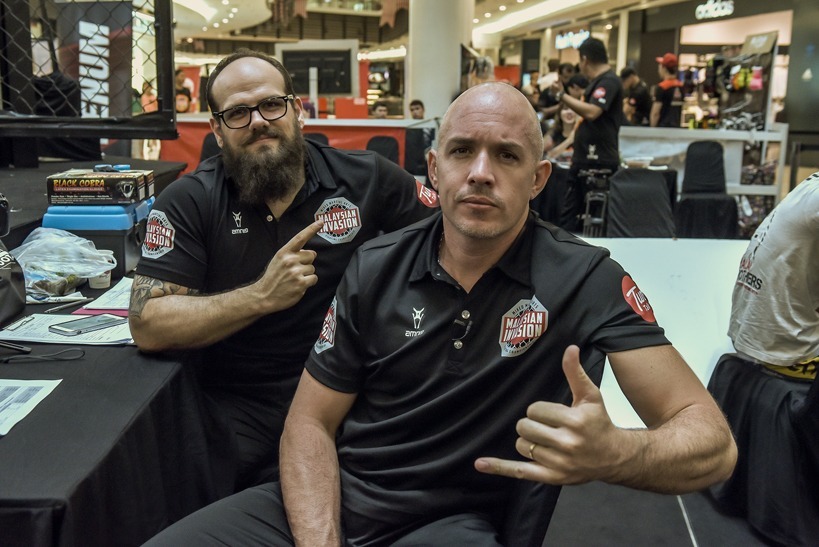 Olivier Coste (front) & Dana Blouin (back)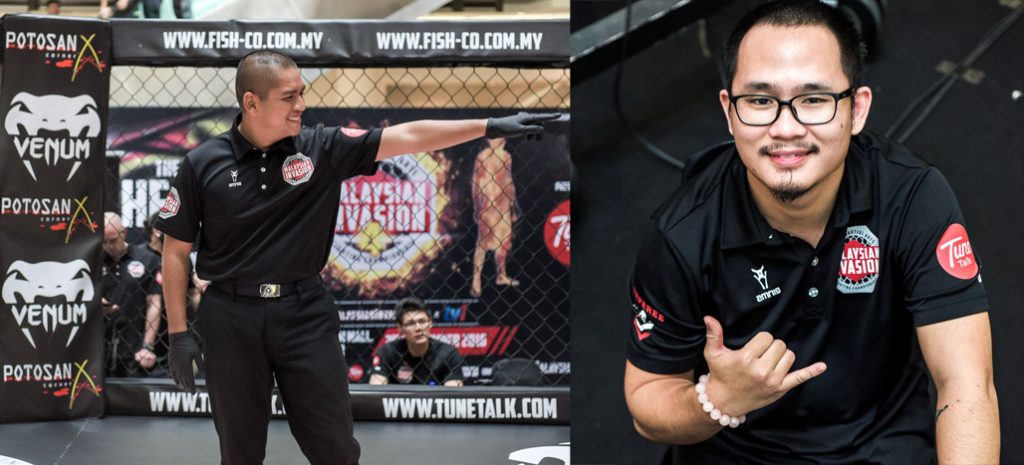 Among some of the judges: Raja Azlan (L) Isaac Yap (R)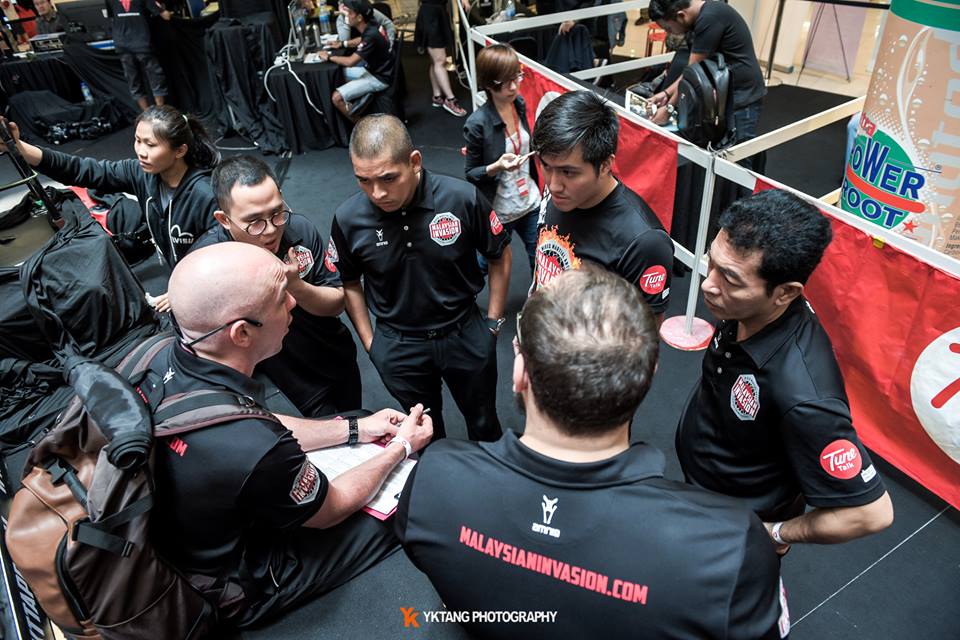 Olivier briefing to his team
———————————————————————
MIMMA is successful in educating the general public partly due to the work of the dynamic duo of Jon Nutt and Matt Pellino. They are the announcer and emcee.  Both these two not only entertain the crowd with their jokes and antics but also keep the crowd educated by explaining the rules, what's going on in a fight and elaborating on fighters strategies and techniques.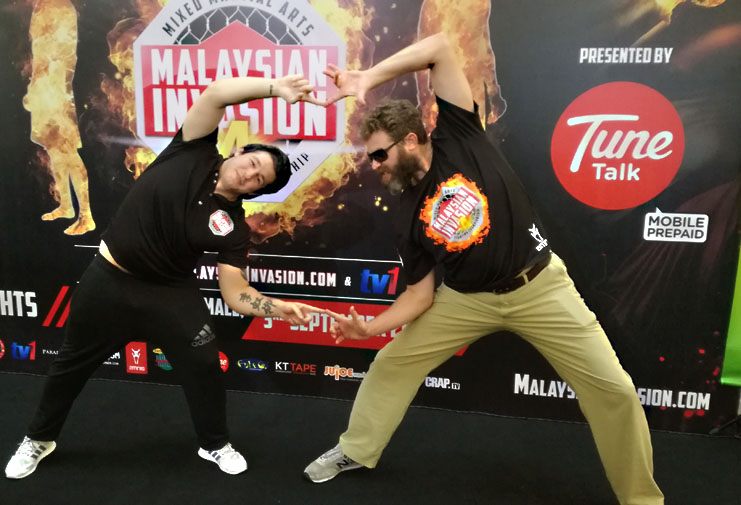 Jon Nutt does his job well because he knows the need to keep the crowd inform. He himself is a MMA promoter by having founded Full Metal Dojo in Bangkok. Himself also step up twice in his own promotion to fight in the cage. You can rest assure with his voice and style, the crowds will be kept well informed and entertained.
Matt is a former wrestler in the US. He came to Malaysia to impart his knowledge of grappling and wrestling. Building the core work for fighters such as Keanu Subba & Jace Law. By understanding the fight game, Matt is able to clearly communicate what is going on in a fight to the viewers. At times when the fighters are stuck in limbo as they grapple each other, Matt would analyse the fight and explained what they should do and fighters do take note and apply what he said and got out of a difficult spot.
Matt has been with MIMMA since season 1 and has become the voice of MIMMA by doing voice over in it's video and advertisement.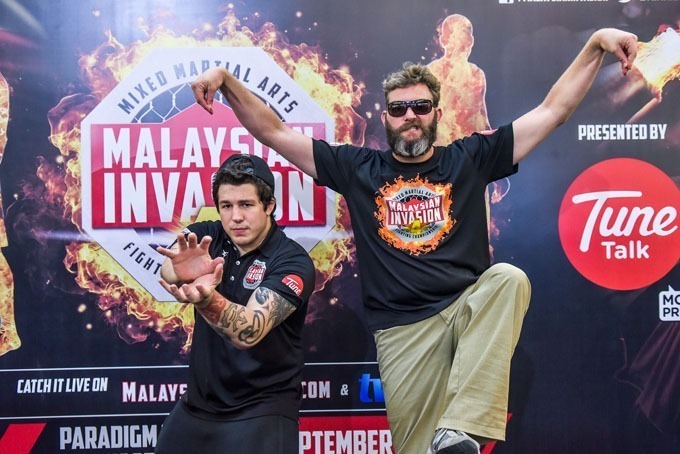 The dynamic duo of Matt Pellino and Jon Nutt
——————————————–
MMA is a fast and close contact sports. Injuries are very common. It is the role of the medic team to have emergency treatment to fighters. Anything can happen in a fight, hence medic team need to be prepared for any circumstances. Sometimes fighters does not realise the extend of their own injuries. partly because of the adrenaline surging in their system, or at times because the will to win and not dissapoint their team is too strong. This is the time the medic team need to make a judgement. If they find that the fighter's injury is too high risk, they will advice the referee to call off the fight.
Cut man is also an important role to ensure fighter's safety. He is responsible for preventing and treating physical damage to a fighter during the breaks between rounds. Cutmen typically handle swelling, nosebleeds and lacerations (commonly called cuts).
The rules of combat sports stipulate that these injuries can be a cause for premature match stoppage, counting as a loss to the injured fighter. The cutmen is therefore essential to the fighter, and can be a decisive factor in the outcome of the match.
Before the fight, cutmen will usually put petroleum jelly on the most likely areas of impact, especially the fighter's face, making the skin more elastic and slippery, and hence less likely to tear. It is not considered good practice to use large amounts of petroleum jelly, since during the fight it is likely to end up on the gloves of the opponent, and later in the eyes of the fighter if the opponent lands a punch close to their eyes.
Cutmen might also tape fighters' hands, which helps protect the bones and tendons. Wraps are used during training but are illegal during competition, though people still commonly use the term "wrap" in error to describe the taping method of using gauze and tape.
During the fight, cutmen try to control any swelling or bleeding during the breaks between rounds. Since cutmen are not doctors, and have a very short period of time to treat the fighter, their treatments are limited to advanced first aid treatments.
MIMMA's medic team lead by Syarul Raziff.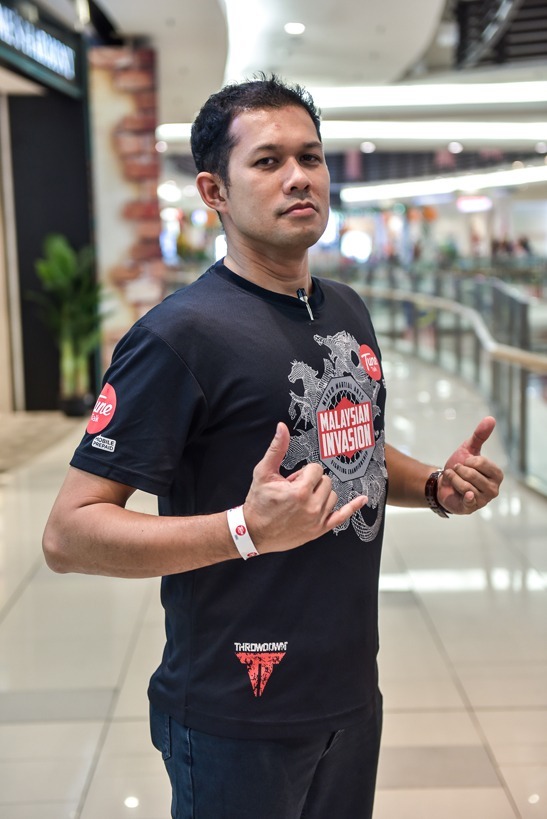 Syarul Raziff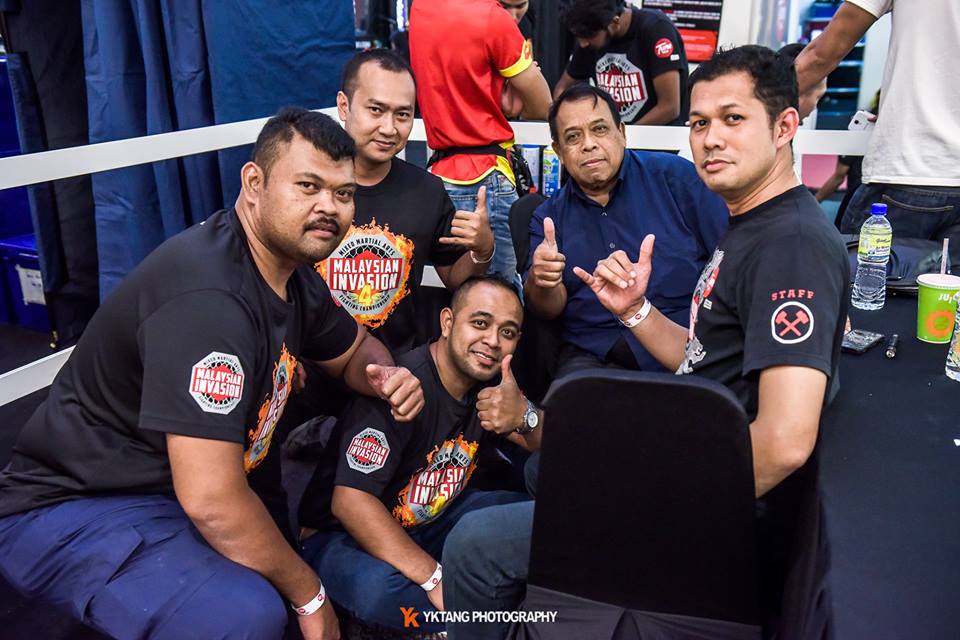 …his medic team
——————————————————-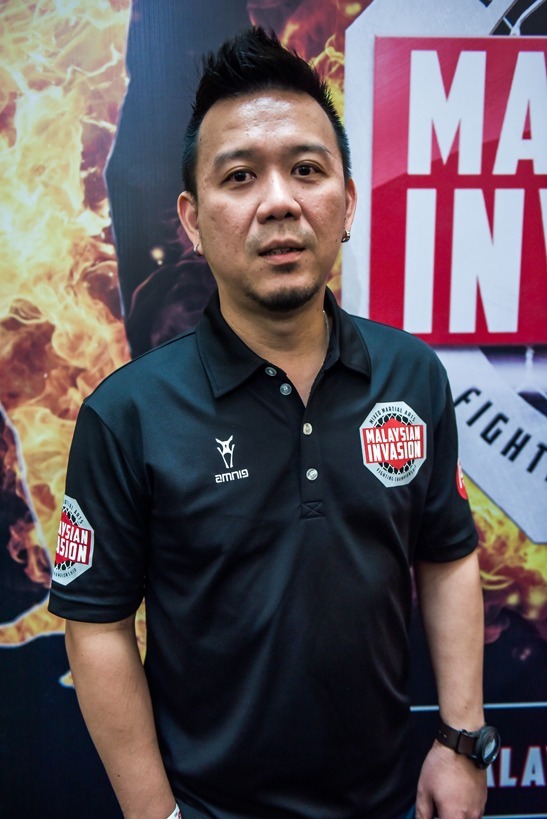 Yi Kin Hong
The role of the production is essential for a good show. Yi Kin is the producer. Basically MIMMA is a reality TV show.  It follows the athletes from the tryouts rounds right up to the grand finals. Videos are taken on them during their fights and interview are conducted to let viewers at home to have a closer feel as though they are present there at the events and standing next to the fighters.
Yi Kin also plays the role of Profile Director. In which athletes are profiled on their background, their lifestyle and the gym they trained at. The aim is to tell stories about these fighters and promoting MMA gyms and to educate and create better awareness for the general public.
From these stories, fan base are created and a following are build. From there a community are formed and this is what makes a campaign / project last for long term. RTM TV1 7 CRAP.TV is the broadcast partner and footage of MIMMA is available at those channel.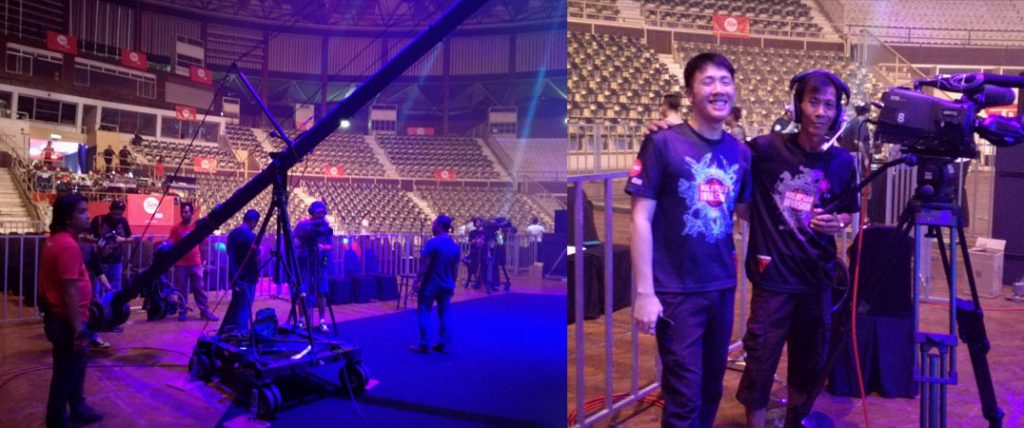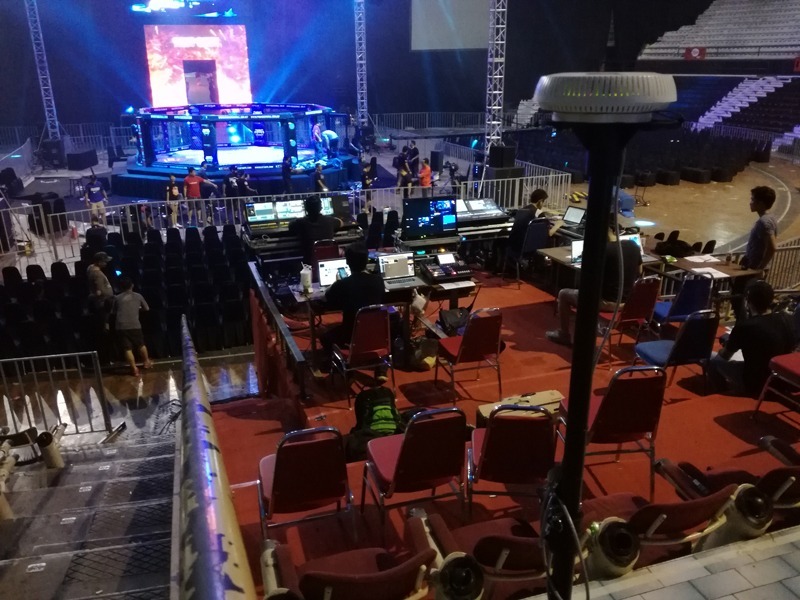 Check, double check and triple check…production crew making sure all system are go!
Production crew are super busy on Grand Finals fight night as the level of production are on a higher level and expectation are high. Yi Kin's team need to be perfectly on cue and need to have the lightings and video camera all ready and spot on.
—————————————————-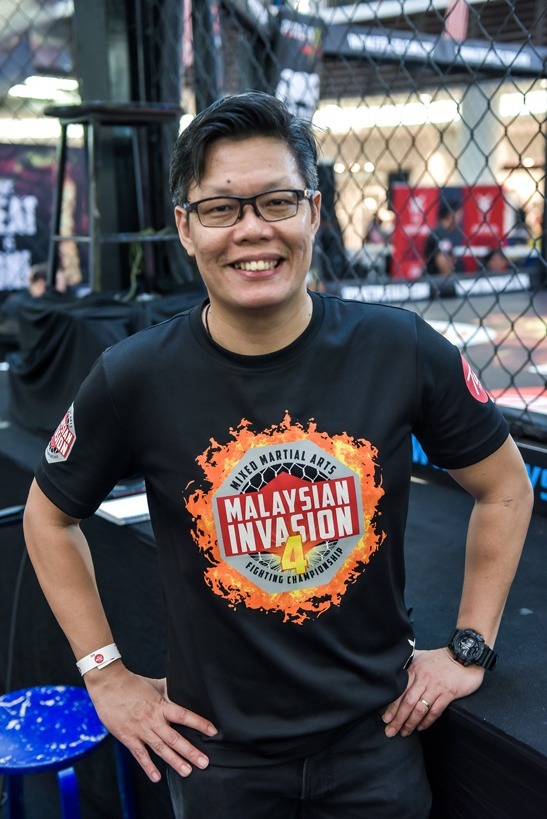 YK Tang – fight photography maestro
MMA is such a dynamic sports and the action can sometimes be split second and it needs a skill photographer with an eye to anticipate the action. YK is the official photographer and from his great work, we fight fans are able to enjoy all the fast actions freezed in still photos.
YK and his team provide fight visuals for us to see in the social media, and also print media.
Let's have a chat with YK, to find out more about his work.
Can you introduce your self and your team members in MIMMA's Photography team. Can you give me your profile.
My name is YK TANG. I am married with 2 kids, a boy and a girl. Currently based in KL, but my hometown is in Rawang. Started having interests in photography since the early school days, but those days were all 35mm film SLR camera, where buying rolls and rolls of films cost me a lot of money, not mentioning the developing the photos. Right after Digital SLR emerged in the market, I started to pickup the hobby seriously. started shooting almost everything from landscape, to baby photos, etc. 
 A desperate call from a friend looking for a wedding photographer last minute actually started my photography business. Even since, I have been involved in a lot of genres, but because of the interests in MMA, i am currently focusing a lot of my energy as a Fight Photographer.


Currently for MIMMA, I am assisted by a group of core team members shooting at the cageside together with me. Since the MIMMA cage can only have a maximum of 4 photographers (before it getting too crowded), all of them are working on a rotational shift. The core team members are Mahesan, Adrian Tan, Ong Chen Fei and William
Can you explain to the readers your role in MIMMA?
Basically our role is to capture the moments of the whole event, with the main emphasis on the cage fights. However, it's just like any other events, we are there to capture photos of the surroundings, fight fans, cornermen, supporters, crews, sponsors, and others. All these photos will be used in the MIMMA social media page for promotional activities and other printed materials if necessary. As usual we will have to portray what a MMA sports is to the public through our images, therefore it is our duty to capture not only the fights, but also the emotions behind it, etc.
Yourself how long have you been involve in MIMMA? and how did you get into this in the first place?
I have been with MIMMA ever since they started, which is the MIMMA1 in 2013. How I got into this was rather a long story. It was in 2012, when I just won myself a VIP ticket to watch the ONE Championship fights in KL. i had no idea what is MMA sports then. Being a photographer, mainly shooting landscape, weddings, and others then, I just brought along my camera to the stadium. 
My first taste of MMA photography wasn't that impressive, as I was shooting at the VIP area, where most of my shots weren't close enough and also I didn't know what to anticipate in the cage fight, therefore could not really catch the fast actions / movements. Came back, disappointed, and felt that I want to improve more. In 2013, when MIMMA was announced, I wrote to the management (Alex Wong and Henry Goh) and introduced myself, showing some of my previous photos taken in ONEFC, and to cut it short, I was called to join as the cageside photographer. That was the beginning of my journey as the Official MIMMA Head Photographer.
Are you doing this full time?
I am actually running my own corporate training provider firm. I started photography as a hobby, and slowly due to my free time in between my business, I gradually moved the photography as my second business. 
Now, I am concentrating in fast moving photography, and as you know, I am a Fight Photographer in Malaysia, but I do focus on other genres during the non-fight week, i.e. dances, corporate events, and even weddings..:-)
5. What is the most memorable experience you have ever since u join MIMMA?Getting to know most of the fighters, gym owners, supporters, and of course working closely with MIMMA crews from all departments. It has been really a fun experience working with the MIMMA family
What is the best fights you have seen
Wow, that's a tough question. Every fight is unique, and has its own 'excitement'. They are some fighters who are good with stand fights, and they are some will be focused on ground fights. Walking in to shoot a MMA fight is really an experience, as you will see different techniques, different moves, etc.
What kind of improvement or development have you seen since the 1st MIMMA you joined? 
As for myself as a Fight Photographer, I personally felt that I have gained so much knowledge in term of what to shoot and when to shoot the fights.


Through the years, I have improved my knowledge in MMA photography, particularly how to shoot moving subjects through the net at high speed, using just ambient light only (no flash) and yet maintaining the sharpness of the photos. Over the years, it has given me enough opportunity to tweak my camera setting to get some best photos of each fights.


Shooting fights inside a mall is a bit tricky, as the environment light keep changing from morning to evening, thus I will have to anticipate and change the camera setting accordingly.
I have also understand more about the MMA fight techniques, be it stand or ground fights. For example, when I first started shooting MMA, I do not even know what an armbar submission is. When I heard the commentator mentioned about armbar submission, I was like not sure what to shoot and where to focus. Now, when I am shooting any fights, I will try to open my ears and listen to what the MIMMA commentators got to say, so I can focus my lens on a certain areas etc.


As for the fighters, I have seen more and more local fighters getting the interests to join in our very own amateur fights, and even I have witnessed some fighters improving their fights year-by-year. For example, some of the fighters may be weak in their ground fights, and lost in previous MIMMA, and they have actually learned from their mistakes, and improved their ground games, and came back for the next year session.
As for the organizers and sponsors, I have see more improvement in term of the quality of organization, security, fighters management, etc,
What do you do when you are not shooting photos?
Haha.. as mentioned earlier, I run my training provider company, thus some of the times will be devoted to the business. If you are referring to right after an event, most of my time will be selecting, editing photos, and making sure photos are out on time. The rest of the time, will be definitely spending quality time with my family. 
At times, I will ensure I upgrade my photography knowledge by watching 1-2 youtube tutorial on photography related matters. Why youtube? Because it is short (probably around 8 mins), and with the video, I will be able to understand the concept better (I am a visual person)
How do you take a break after a long day shooting?
Hmm.. break… coffee.. my favourite. Else just relax at home, with family… probably catch a movie..
Tell us on the work after the fight, the editing, cropping, selection…what do you look for?
My workflow is pretty standard. Right after the shooting, I will transfer all the photos to my harddisk (to avoid any lost of photos due to memory cards corruption, etc) , labelled them according to the event dates and title. Once done, I will open them up in Adobe Lightroom software. 
I will run through all the photos, and given star rating to the photos I liked. Once done, the software will filters off those unnecessary, and I will only work on those selected. I do not do photo manipulation on events photos (i.e. not adding or subtracting anything). I will only do a photo enhancement, i.e. exposure, brightness, color, clarity, sharpness, cropping etc. Once done, photos will be exported according to their usage, i.e. for social media usage, or for large print or newspaper print purposes. Photos will be backed up in2 locations to avoid any harddisk failure.
As for selection of photos, generally what I will look for are:
1) sharpness / focus of the photos
2) the actions (whether stand fight or ground fight)
3) emotion of the photos (winning, losing, pain, happy, sad, etc) of the fighters, or even the cornermen
4) generally, I will look at it if the photos able to tell a story, whenever someone is looking at the photo. Photo tells a thousand words, 🙂
As for cropping, depending on what I am trying to show,.. if I am trying to show the overall environment, i will leave it wide, but if I wanna show the power, emotions, the fight between 2 fighters itself, I will try to crop it tighter. i know photography has a 'Rule of Third", but I don't really follow it 100% for my cropping. I basically look at the screen on my iMac, and if it looks good to me, I will crop it accordingly..ahaha
Photo manipulation using Adobe Photoshop will only be done for those commercial poster, profile photos, etc.
What does it take to be successful to be a action sports photographer?
Personally, i felt that to be a successful action sports photographer, the most important thing is to understand the sports. Understand what you are going to shoot. A lot of people thought the having a good camera, good lens, and somehow knows and have been shooting some other events should be sufficient. 
That's totally wrong. Shooting sports, is totally different from shooting a non-moving subject. You need to have a fast reflex, and knowing what to anticipate. Therefore understanding the sports, and what you are going to shoot before attempting to shoot is very important. Most of the action sports even do not allow flash photography, therefore sometimes you have to shoot in low light (or ambient light) and in fast shutter speed mode.


Actually, it is the same in any genre of photography, knowing your subjects, knowing what to shoot and anticipate what to shoot are important. No point pressing the shutter release button all the way, and pray that you have one nice shot along the way. Try to expose yourself to the MMA sports, look at some video, photos, or even go to some of the fights events to see what to be expected. Try to understand some basic movements in MMA so you can anticipate the next move from the fighters.
——————————————-
And let's give our support to the main sponsors for bringing MIMMA to us live and throughout the year! We all know how important and crucial the support of sponsors in making an event happen, let alone a grand event like MIMMA. Without them we fight fans will be deprived of MMA actions.
Let's give a shout out to the main sponsors!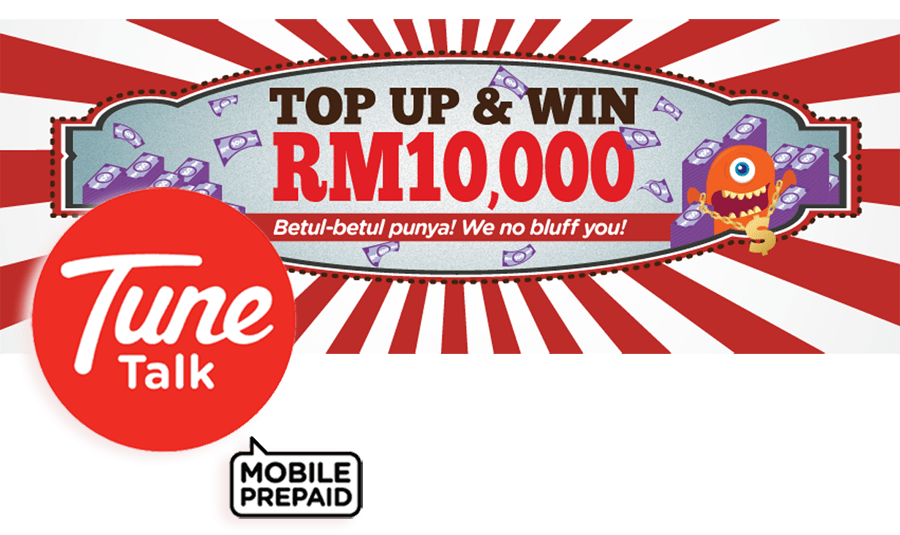 MIMMA is brought to us by main sponsor TUNETALK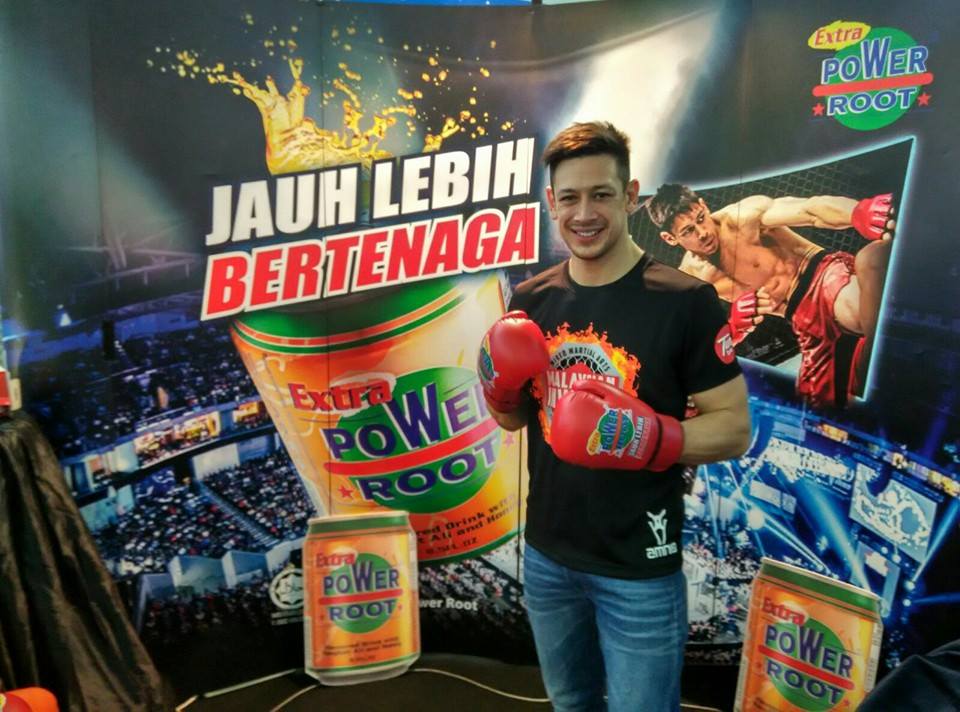 Official energy drink: POWER ROOT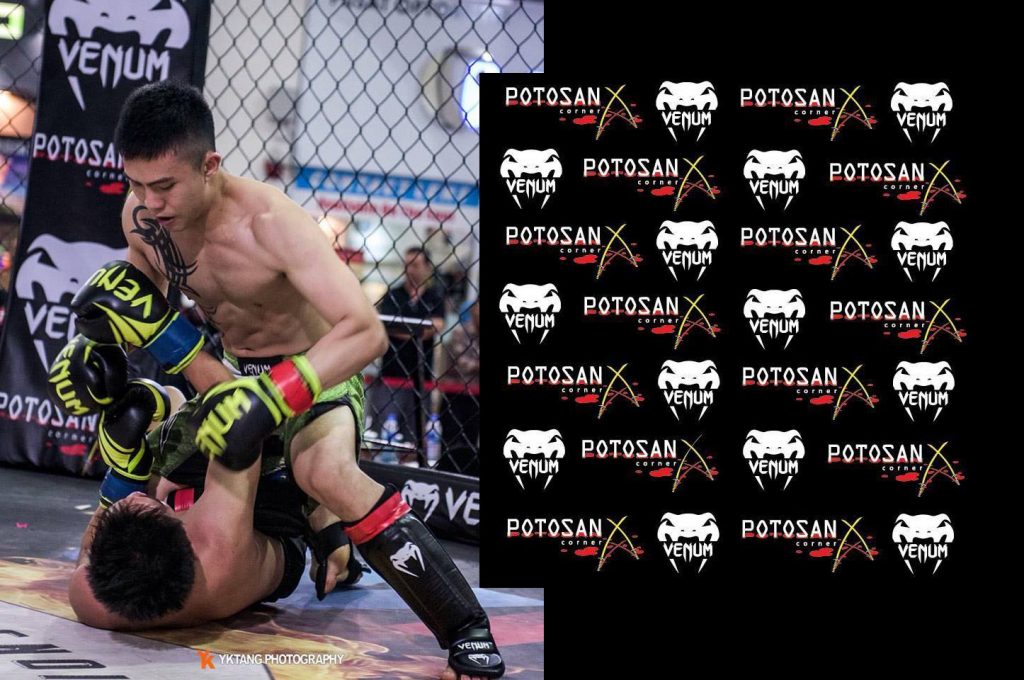 Official fight gear : VENUM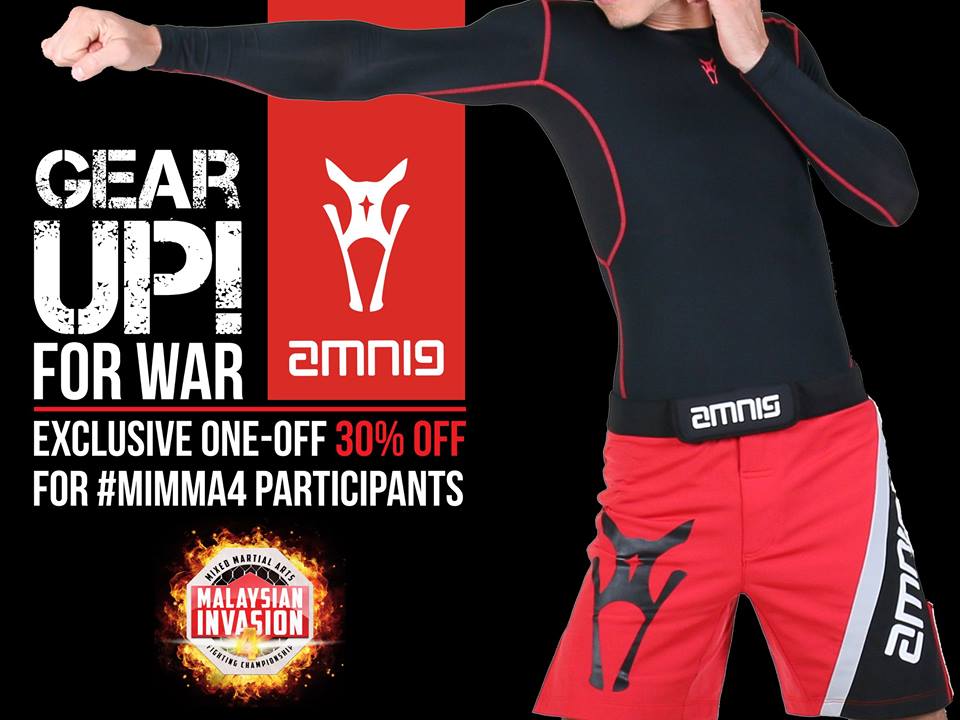 Official apparel : AMNIG
——————————————————————-
MIMMA is a huge production that needs a very capable and efficient team to make it happen. Everyone from the top management to the event crews all play their role perfectly to bring us fight fans great MMA actions.
They may be many other people involve that I may have miss out and not able to mentioned…..
but we know your contributions are irreplaceable…and without all of you, we the fans will not be able to enjoy the best and biggest amateur tournament in Asia!
Thank you MIMMA!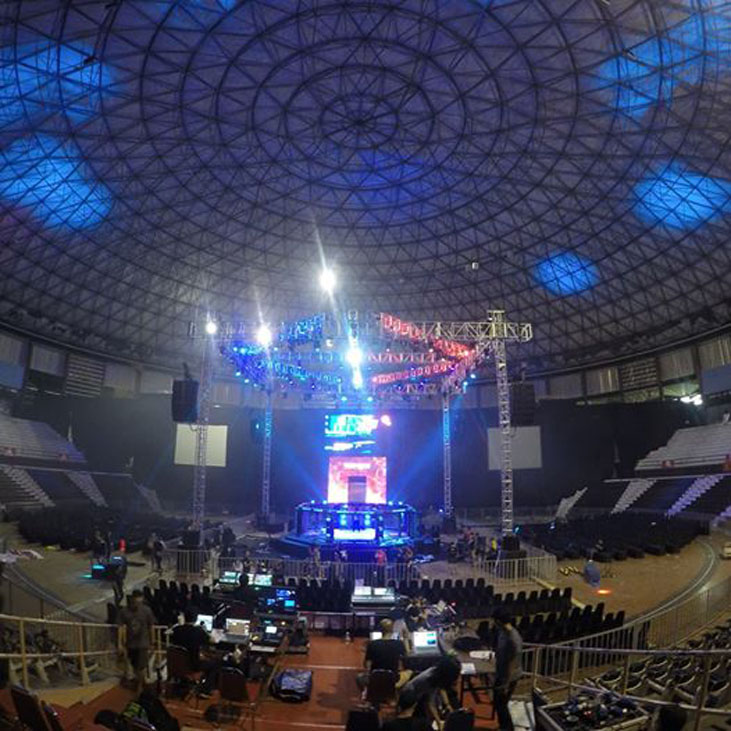 Pix by YK Tang