In it's 4th season now MIMMA has come a long way. As a tournament that was structured towards unearthing and building Malaysian MMA talent, it has undoubtly achieved this successfully. Fighters such as Keanu Subba, Agilan Thani & Mohd Aiman has transition successfully to fight as a pro in ONE Championship. MIMMA 1 champion ; Allen Solomon Chong and Adrian Tham is active in the regional MMA circuit in Asia, and many amateur fighters are training hard and eagerly waiting for their chance to make an impression in MIMMA 2017
At the beginning, in the the first & second seasons, most fighters are either good on stand up or ground. But as it progress to the 4th season now we see standard of fights has improved. And most fighters already cross train in different discipline to be a more complete fighter.
This Grand Finals on Saturday will have 12 bouts. 9 championship bouts and 3 feature fights.
Hafizul bring a 5-3-0 record into this fight. Hafizul comes from Sipitang, a small town 2.5 hours drive from Kota Kinabalu. Last year he went all the way to the grand finals meeting Muhd Aiman but suffered a round 1 lost. This year he came back strong & reach the semi-finals where he met Joseph Yap. Controlling the fight in round 1 and early round 2, looks set to win but Joseph manage to capitalize on a small window of opportunity and executed a good arm lock to win it.
Hafizul has much improve on his game since last year. Noticing the potential in him, MIMMA offered him this feature fight. Thrill at this opportunity to represent the country, Hafizul decided to train at  AKA Phuket, to add more arsenal to his skills.
Riko is a BJJ specialist. He won over fellow Indonesian Alfred Leko in the feature fight of MIMMA 4 contender fight. Hailing from Medan Indonesia, Riko was one of the selected few who won the scholarship MMA program run by K-One MMA Academy. Training there as a full time fighter.
Back in Medan, Riko frequently got into many street fights. Joining a proper gym and fight legally in the cage is his way of managing his anger and at the same time giving him a direction in life.
Mentally, Seah also has proven himself, when in season 2 after a lost to Muhd Aiman in the semi-finals, he was called back to fight in the finals as Aiman failed to make weight. Within a few days he need to make weight and he went on to KO Kenny Yap to emerge as season 2 champion. Last year he battle it out for 5 rounds vs Dhiaal Amal in a thrilling back & forth fight, to defend his belt.
Eddey is from Sandakan, Sabah. A policeman and ex national boxer. He represent ELITEZ MMA and KALAI BROTHERS BOXING. Eddey always has a smile and likes to joke, hence his nick name 'The Clown' but once the fight starts he will put together slick combo, fluid head movement to avoid strikes and a much improved grappling game to bring the fight to the canvas.
Andy believe that the fight with Seah will be an exciting match where good exchange of punches & kicks will fill the rounds.
Jace Law was creating waves in last season MIMMA, knocking opponents out left right and center. He lived up to his monicker of JKO. This year, Jace stayed low key. Focusing on his training away from media attention.
WRB catched up with Jace
Its been sometimes since we last hear from u what have u been busy with?
Busy with other projects, spending time with the people that matter most to me etc…even so I've never skipped training since winning the belt. I'm at the gym everyday its crazy… and by gym I mean the best gym around town, The Gymbox Kuching. "Wink"
Do you still train under Matt Pellino? How has your preparation been?
Matt is off doing his own thing, he will be back soon, but as for this fight camp nothing has changed…. all the training routines from last year has been implemented in this training camp. And this time I have more training partners to spar with me and push me to my limits in training. Guys like Stephen Onn, Aaron Tan, Aaron Lo, Steve Kong, Vincent Voon, Tsan Nieng Khai, Samuel Ng, Henry Eng, Jimmy, Allan Goh, even guys from other gyms like Mohd Eswandy, Tingang Bulan and my fellow grand finalist Bryant Tan! Just have to give these guys a shoutout and thank them for helping me out! 😉
What do you think of the finalist from season 4 this year…aside from your own match…which do you think will be explosive?
Some familiar faces and some new faces. All good guys, and ladies of course 🙂 I think Darren Low vs Tsan Nieng Khai will be explosive, two big guys going at it… The cage better be reinforced for this match up!
What is training at Phuket Top Team like? What is the difference from TMT last year?
PTT was cool, much smaller than TMT but the level of training is around the same level, if not better. I mean each camp has their own special something y'know? It was a great experience overall especially sparring with high level fighters there. The Thai coaches were great too! But I'll say this though the food at TMT is way better!
In PTT since its cater for all the finalist and you are away from your own coaches who understand your style vs coaches that you just met…how do they prepare you for your own fight?
Its more about us experiencing how these high level fighters train. We were there for only a week, getting a sense of how world class fighters prepare for their fights is kind of the main point of us going there. So we could push ourselves even further by taking their work ethics and implementing them into our own training routines when we go back home.
Did you expect Hui Keng Fai to reach finals?
Kinda did. Predicted it since the MIMMA4 shortlisted names came out on MIMMA's FB page.
Do you feel the fight will go the distance?
Who knows? Anything can happen in a fight. It might last a few seconds and it might go the distance. And I always prepare myself for the worst. That being said I will do whatever it takes to keep the belt around my waist.
Do you feel being away from the cage gives you cage rust?
No, I don't believe in ring rust or cage rust.



WRB also had a chat with Jace's challenger for the lightweight belt.
Featherweight: 
Cheah Wen Khyn VS Joseph Yap
Joining Effendey and Eddey in the grand final is another ELITEZ stalwart; Joseph Yap. Joseph is a martial arts prodigy. At 25 this year, he only started seriously training in Jan 2015. Under the careful guidance of ELITEZ MMA founder Andy Teh teaching Joseph MMA and coach Effendey Kalai in boxing and Ngeoh Jian Cong in Brazilian Jiu Jitsu, Joseph soaks it all in like a sponge. In March 2015 he debut in his first MMA match. Going in like a dynamite in Ultimate Beatdown 15 winning by TKO with punches.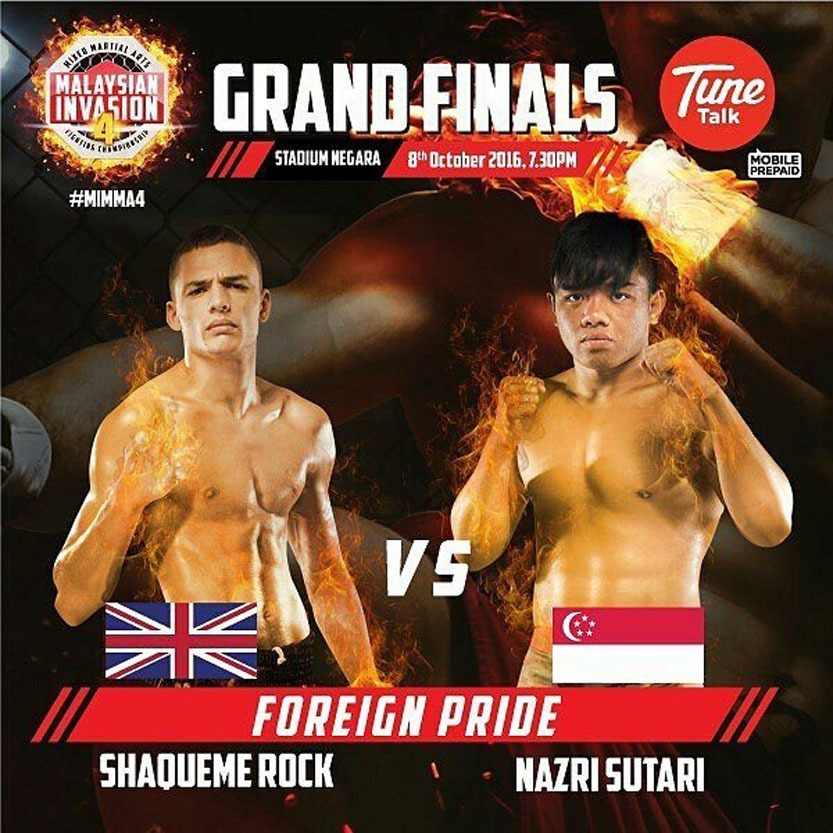 As Saka's business improve in Malaysia, he decided to bring Shaqueme over to Malaysia, away from the rough neighbourhood. He supported Shaqueme and gave him a place to stay. When he was 13, Shaqueme watch the first UFC where Royce Gracie was able to submit bigger guys with ease, that's when his interest in BJJ grew. But he never had a chance to learn. Till he step foot in Malaysia. As he was wondering the street, he came across a signage offering BJJ class. Stepping into the door of Monarchy, he took Prof Bruninho Barbosa's BJJ class and has been hooked since.
Shaqueme took classes from Prof. Conrado Furlan for Muay Thai. Prof. Jonathon Clamons for Boxing and learn MMA from ONE Championship fighter Agilan Thani and Peter Davis. Also occasionally trained with Monarchy founder Samir Mrebet. With such a talented pool of coaches guiding & training him, Shaqueme grows quickly as a martial artist.
He won his first two fights in MIMMA 4 with by KO. The last fight vs Palestinien Don Sulaiman was a tough one, although he dominated all round and attempted many submission, the tough Sulaiman was not easy to finish. Sulaiman's hand was raise at the end. But after a judges discussion, the decision was overturn to a victory for Shaqueme. Which moved him to grand finals.
Shaqueme is like a son to Prof Bruninho. He sees this talented kid winning MIMMA 4 on Saturday
Prof Bruninho backed this up by pointing out that Shaqueme's recent outing at Johor Open JiuJitsu, he won 3 Gold medals. All his 10 fights was won by submission and the dominance he showed by not having a single point scored against him.
Prof Bruninho also describe Shaqueme as a very discipline student and very humble. Always being respectful to everyone he meet.
This fight will be very interesting as two different style will clash. Will the muscular and explosive Nazri be able to use his striking, take down and ground control to shut down Shaqueme's game? Or will Shaqueme's lanky limb and prowess in submission proof to be Nazri's Achilles heel again?