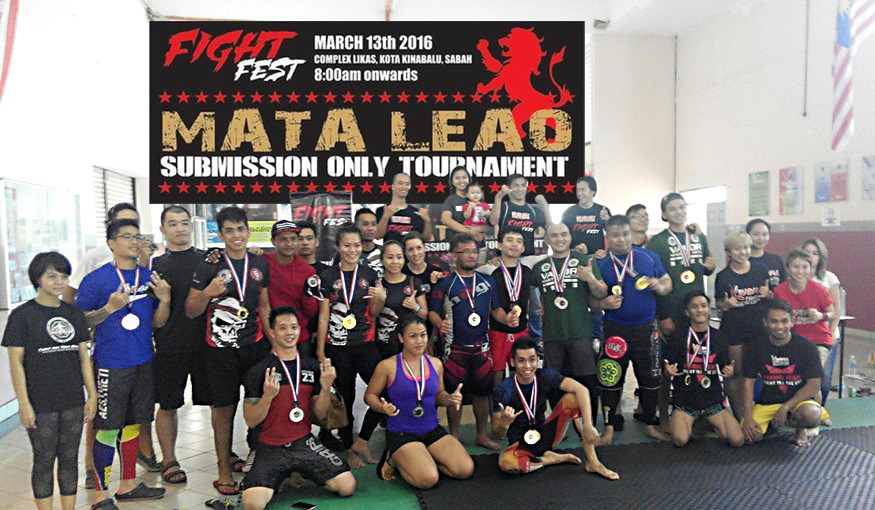 Johan Julian of Kinabalu Fighters, founder Fight Fest dream of having a martial arts carnival where multiple discipline is contested in a single event, hence the name Fight Fest. In 2015, he successfully organised the first two Fight Fest event where, MMA & Kickboxing was featured. Fight Fest Mata Leao is the further progression of his dream where submission grappling is added.
Submission grappling competiton in Sabah was pioneered by Persatuan BJJ Negeri Sabah under Allen Solomon Chong when he organised Headhunters Challenge back in 2010. He then progress to organised the biggest grappling competition in Borneo – Sabah BJJ Open last year.
Fight Fest – Mata Leao gives Borneo warriors another avenue to test their skills and gain more experience to prepare themselves for the 2nd Sabah BJJ Open in August 2016.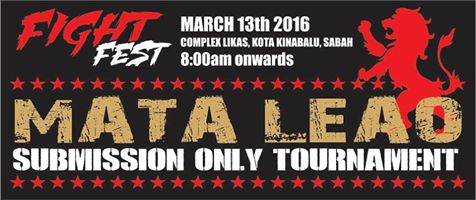 Mata Leao is Portuguese for "lion killer" a common name for a submission grappling technique used to choke & disable opponents.The tournament feature ADCC grappling rules and was held on March 13, 2016 at the Kompleks Likas foyer.
Below are the complete results.
WHITE:
**********
FEMALE Absolute
Gold – Tira BORNEO TRIBAL SQUAD
Silver – Liyana Natasha binti Ahmad KMMA


JUVENILE:
50kg: –
Gold – Mohd Rayyan KINABALU FIGHTERS
Silver – Mohd Dean Syukri Mohd INDEPENDENT


JUVENILE ABSOLUTE:
Gold – Mohd Rayyan KINABALU FIGHTERS
Silver – Arric Yap VALOR


MALE:
54.5kg: –
Gold – Felicisimo SABAH TOP TEAM
Silver – Teo Kai Xiang VALOR
Bronze – Amirul Ian Rashidee INDEPENDENT


61kg: –
Gold – Lennon Henry ALPHA MMA
Silver – Mohammad Hasbullah Sanmin KMMA
Bronze – Rio BORNEO TRIBAL SQUAD


67kg: –
Gold – Justin Lo STUDIO23
Silver – Fadzli Hisham KINABALU FIGHTERS
Bronze – Abraham Jacob Maringking KARABAW
Bronze – Lennon Henry ALPHA MMA


73kg: –
Gold – Kelvin Ong BORNEO TRIBAL SQUAD
Silver – Ericcory Love Joy Akisin KMMA
Bronze – Michel Chin VALOR
Gold – Johari Aliakbar 69kg KMMA
Silver – Jonah Masudal 71kg VALOR
Bronze – Rahman Wahid Tahir 73kg VALOR
79.3kg:-
Gold – Terrance Sak SABAH TOP TEAM
Silver – Samuel Gong WARMONGER
Bronze -Sahi BORNEO TRIBAL SQUAD
85.3kg:-
Gold – Darren Jiwan Lo VALOR
Silver – Anthonisius James VALOR
Bronze -Joseph BORNEO TRIBAL SQUAD
Over 91.3kg:-
Gold – Abdul Muiz Serakan VALOR
Silver – Freddy Billy KARABAW
Bronze -Yusop Masiludin KMMA
Bronze – Alexio INDEPENDENT
WHITE ABSOLUTE:
Gold – Muis Serakan VALOR
Silver – Anthonisius James VALOR
Bronze – Lennon Henry ALPHA MMA
Bronze – Arric Yap VALOR
BLUE:
**********
61kg
Gold – Anrian Fabian ALPHA MMA
Silver – Ann Osman 66kg BORNEO TRIBAL SQUAD
76kg
Gold – Hisyam BORNEO TRIBALSQUAD
Silver – Raphael Moa STUDIO23
BLUE ABSOLUTE:
Gold – Hj Abdul Hadi Bakir BUSIDO MMA
Silver – Justin Lo STUDIO 23
Bronze – Anrian Fabian ALPHA MMA
Bronze – Raphael Moa STUDIO 23
Participants came from fight gyms from around Sabah and also from Penang, Brunei & Sarawak.
ONE Championship fighter Ann Osman from Borneo Tribal Squad came but could not find another female in her category. Being the champion that she is, she agreed to compete in the men 's category and won herself a silver medal. Her opponent from Alpha MMA, Anrian Fabian who brought home the gold.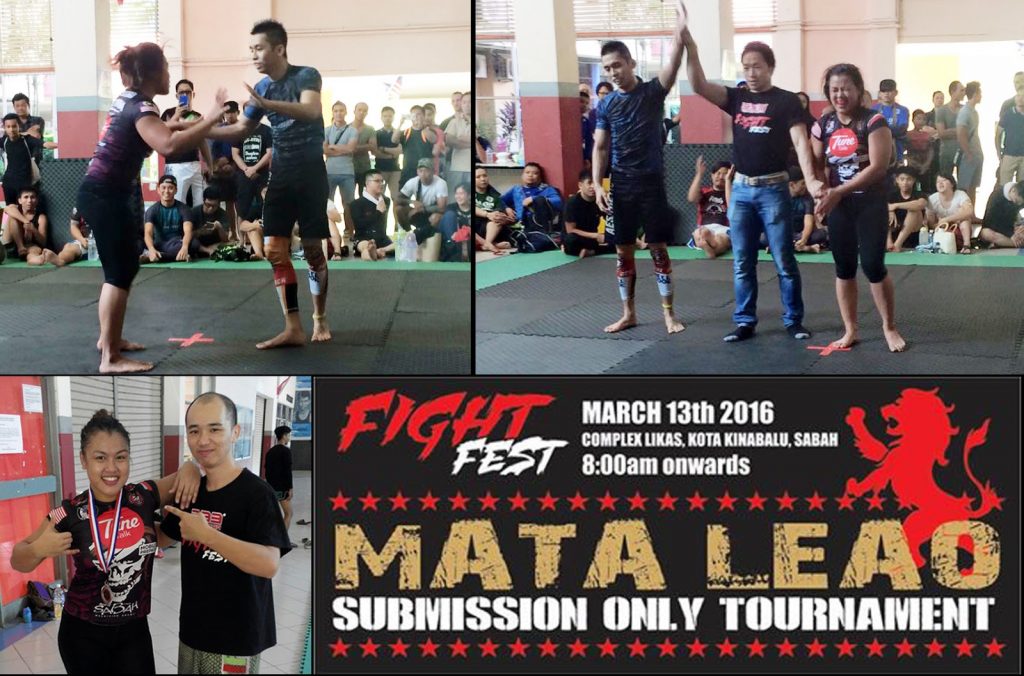 Ann's team mate Hisyam Sam who recently became the WBF Asia Pacific Light Weight Champion in boxing won himself a gold medal. Meanwhile Tira, also from BTS whom debut in her pro MMA fight in Singapore FIghting Champion 2 in Feb, also won gold.
Mohd Hasbullah of KMMA who is JFL Bantamweight Champion & Fight Fest II MMA Champion also competed to further hone his grappling skills and brought home a silver medal.
Sabah Top Team two representative, Felicisimo & Terrence Sak won gold using their Luta Livre knowledge coached by Antonnio Batistessa.
The referee of the tournament was Persatuan BJJ Sabah President & MIMMA Season 1 Champion Allen Solomon Chong.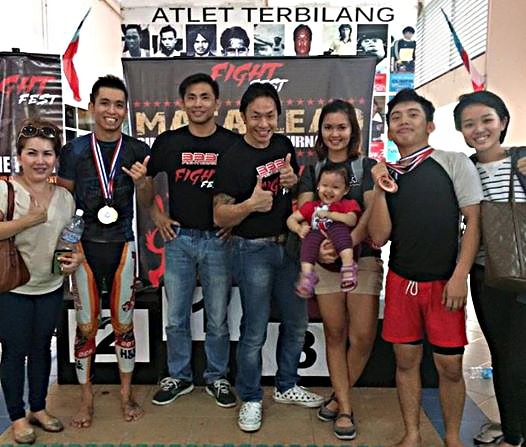 Allen Solomon Chong refereeing the tournament with the help of Michael Chong…here with their team ALPHA MMA


"I'm very happy to see the support shown by the private sector in the sport of BJJ. We are also happy that our Persatuan is tasked as a sanctioning body for grappling events and we will do our part to ensure fair and safe practices. More events equal more opportunities for the youth to develop their skills. Sabah boleh! – Allen Solomon Chong."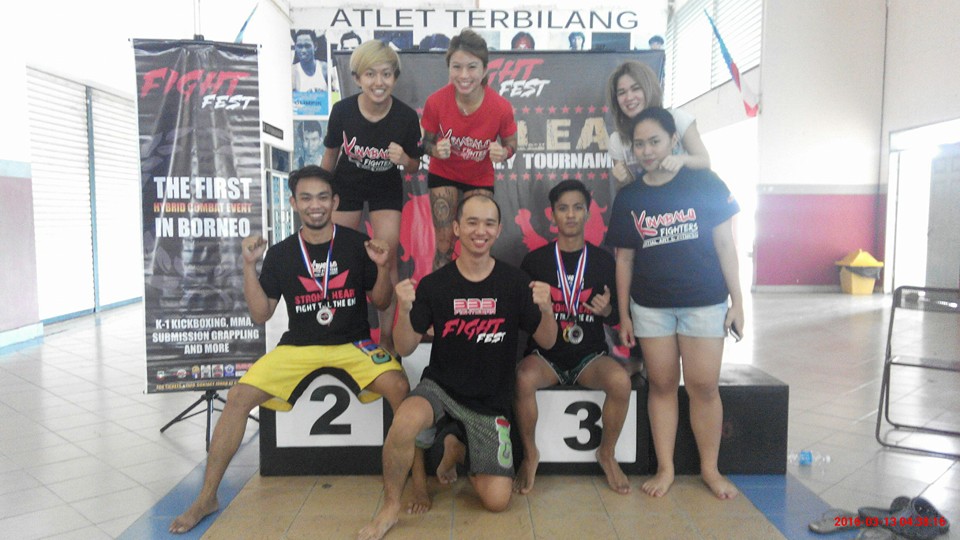 Johan and his Kinabalu Fighters team