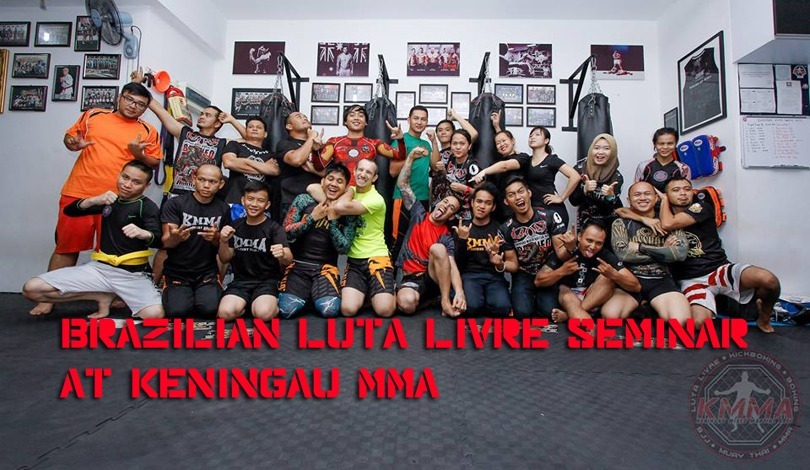 When we talk about submission grappling most of us here in Borneo or Malaysia will be more familiar with Brazilian Jiu Jitsu. But there's a another martial arts style that focus on grappling called Brazilian Luta Livre. It means wrestling in Portugal. That said, the term Luta translates to 'fight' and Livre translates to 'free'. Therefore, loosely the term means 'free fighting'. It is a complete Brazilian martial art, which is primarily a mixture of Catch wrestling and Judo.
The biggest distinction to a layman is that BJJ practitioner wears a Gi and BLL exponents don't. But when it comes to style, both arts share many similar moves, but adapting it differently due to the fact that BLL does not practice with Gi at all.
You can learn more about Luta Livre here, click on the link below
http://martialarts.about.com/od/styles/a/lutalivre.htm
http://thepoc.net/index.php/afonso-cego-brings-brazilian-luta-livre-to-the-philippines/
Last night at Keningau MMA (KMMA), a Brazilian Luta Livre seminar was conducted by Antonio Battistessa of Sabah Top Team and head instructor of BLL Malaysia and Afonso Cego , head instructor of BLL Asia Pacific Union (APU )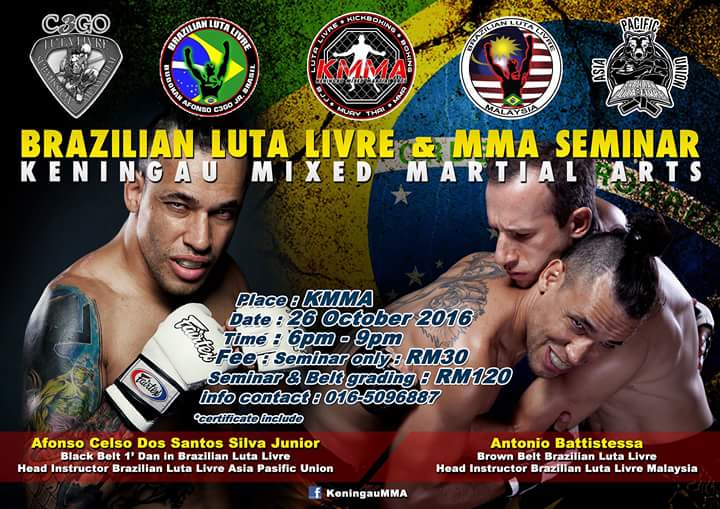 Founder of KMMA, Mohd Bakri was very glad that two of the top BLL instructor in this region were willing to go to Keningau to conduct this seminar. Bakri himself a blue belt under Anotonio said it is really a rare occasions and Keningau martial arts enthusiast are very fortunate for this opportunity, as most of the time such seminar is only available in Kota Kinabalu or other big cities.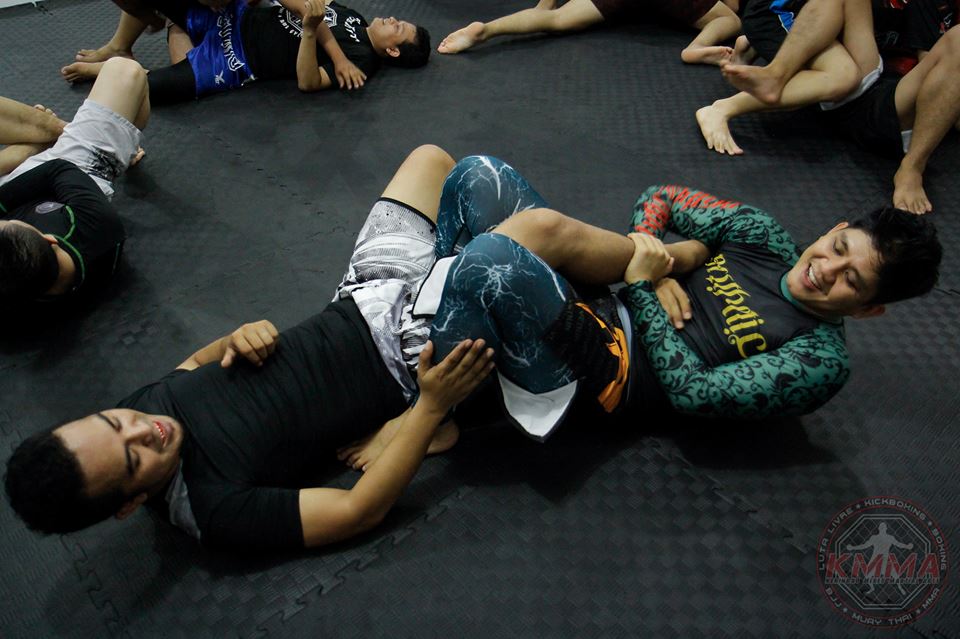 Bakri (right) testing out some of the techniques being taught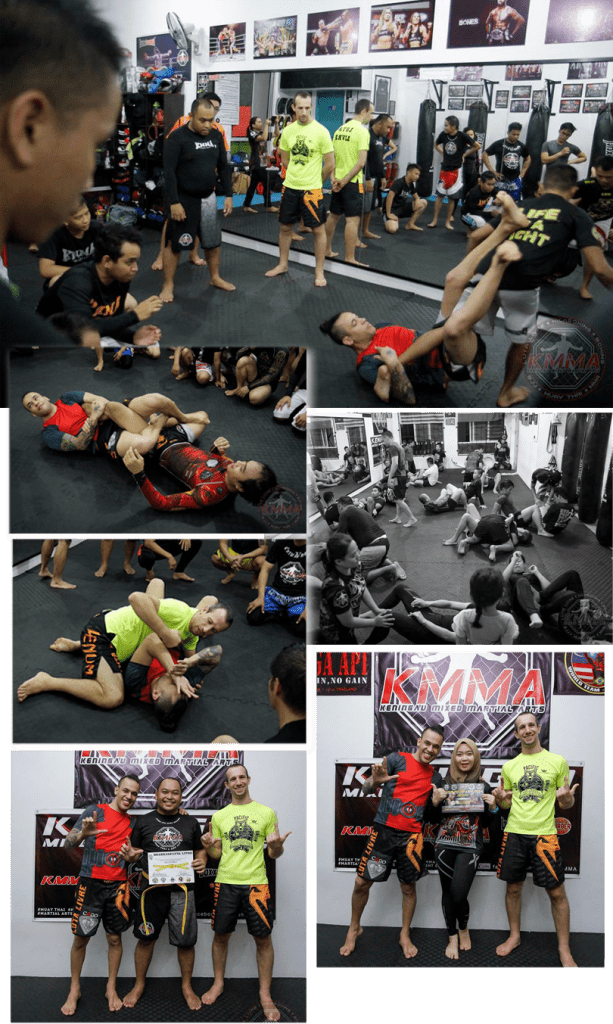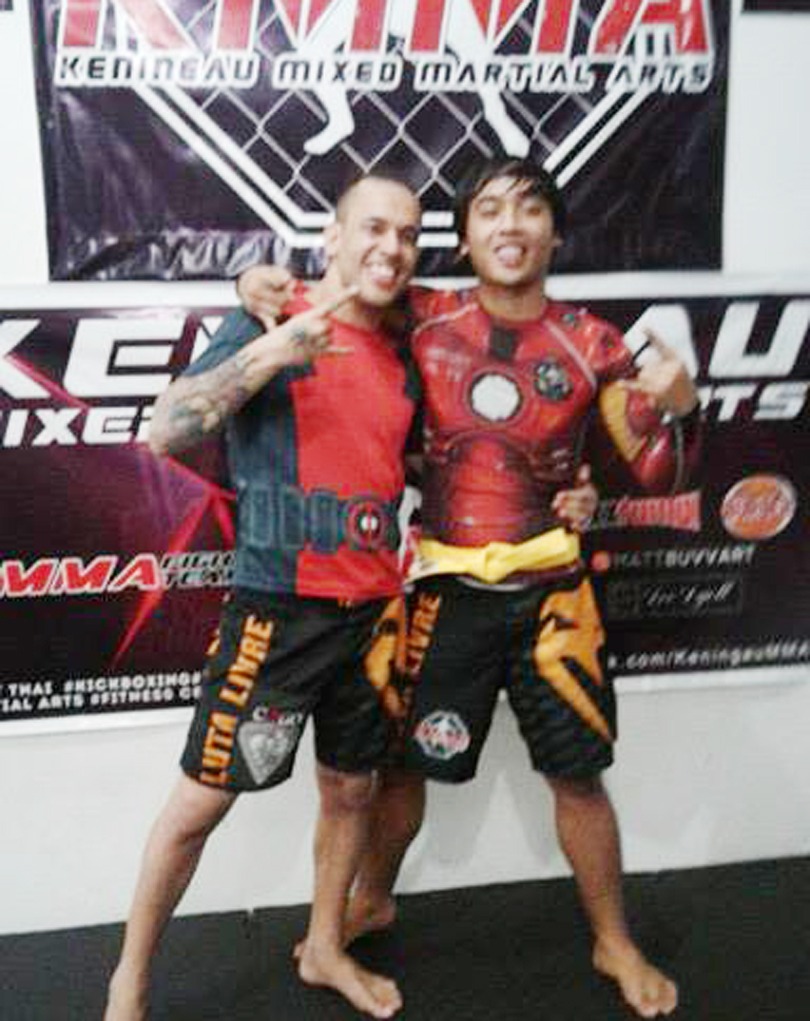 Deadpool and Iron Man spotted in Keningau practicing Luta Livre
26 people attended the seminar, including a representative from the new Innovation Gym in Lahad Datu. According to Bakri, this seminar not only introduce to new comers what is submission grappling and gave them knowledge of self defense but at the same time fine tune and improve techniques of existing fighters, some of which will be competing in Fight fest 3 this weekend at Suria Sabah.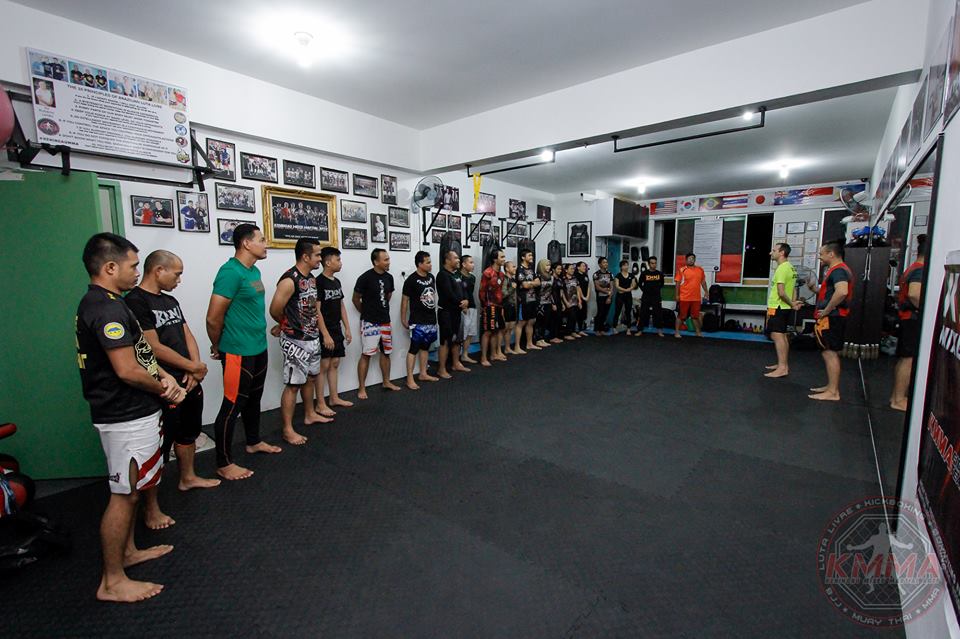 KMMA will be sending 6 participants to compete in MMA and 2 for K1 Kickboxing in Fight Fest 3
In conjunction with Fight Fest 3, the organiser has also arrange for a free BLL seminar:
Date: 28 OCT 2016 (FRIDAY) Venue: SURIA SABAH MALL Time: 7pm.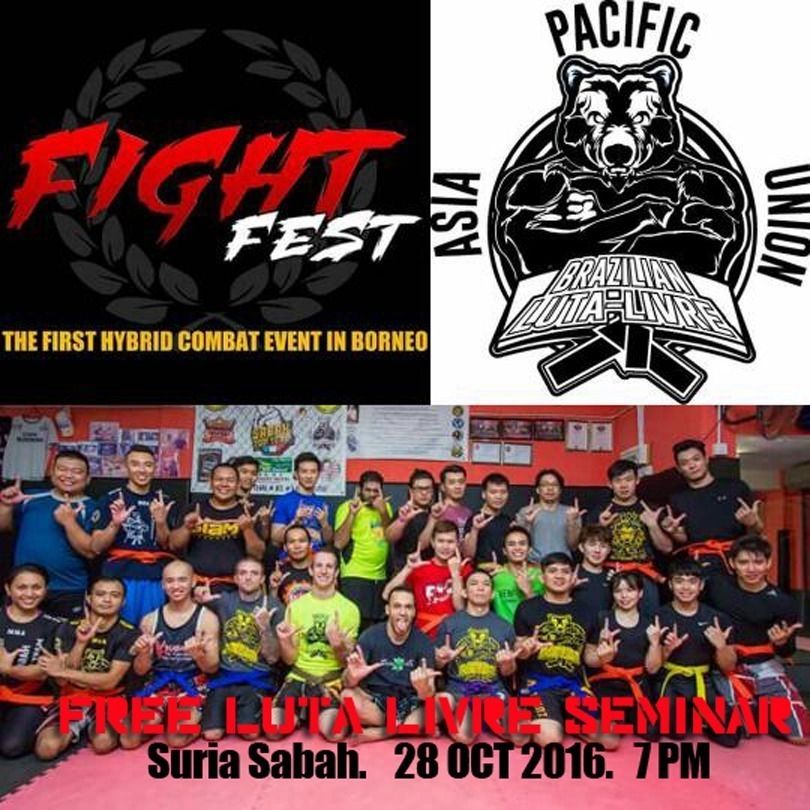 The head instructor of APU, Afonso Celso "Cego" dos Santos Silva Jr. is a 36-year-old mixed martial arts (MMA) athlete and grappler from Rio de Janeiro, Brazil, who came to Manila to introduce BLL. Afonso, who represents Academia Budokan – RJ , received his Luta Livre black belt from Joao Ricardo, is, a legendary figure of the sport in Brazil.
Afonso now resides in Manila. It was through Antonio's invitation to Aries Supremo, a Filipino Aikido master to come to Sabah for a BLL seminar conducted by Afonso that the connection was made to pave way for Afonso to further expand BLL in Philipines.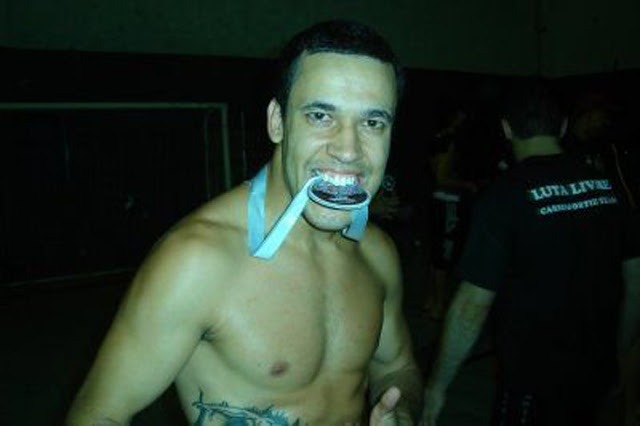 Afonso Cego
Antonio himself is a BLL brown belt. He is BLL head instructor for Malaysia. Antonio runs his own gym in Kota Kinabalu – Sabah Top Team (STT). He is a well known figure in the local martial arts scene. You can see him conducting muaythai demo in MIMMA and also regularly officiating fights as referee or judge.
He is now busy preparing his team for Fight Fest 3. STT will be sending 8 athlete to compete in grappling, MMA & Kickboxing. Warriors of Borneo manage to catch up with him out of his busy schedule for an interview.