The sun is setting and its ray strike your face but you are not bothered coz you got your shades on. Breeze from South China Sea sweeps your hair as the smells of smoked meat aroused your appetite. Hand on a cold drink, you move your feet on the soft, loose sands as your hearts thumps to the beats from a 3ft speaker. As the sky turns darks,… the sound of bell ring and the crowds roar to life as the attention shifts towards a ring where two warriors are throwing bombs at each other.
Where is this you ask? Phuket? Bali? No people…it's K.K. (Kota Kinabalu)! Yup, right here in the heart of Sabah Borneo. Bringing to you … STAND. A new concept of fight event in Malaysia, where it will combine the action of boxing and Kickboxing with the excitement of a beach party.
STAND will happen on 22-24 April at the stunning resort of NEXUS Karambunai, just ½ hour drive from KK. This award winning beach resort that has seen many international functions being held at it's sprawling 65 acres beachfront landscape. When STAND happens there this April it will be the 1st fight event with a beach party concept in Malaysia.
STAND will feature amateur boxing and K1 Kickboxing. Co-organised by 2 of Sabah's top martial arts gym, namely; Team Karabaw and Keningau MMA (KMMA), with the collaboration with Kaza Musa Fight management .
According to Rayner Kinsiong (Team Karabaw's founder cum STAND's event director) STAND will feature boxing & K1 Kickboxing matches. Both at amateur level. Rayner sees that boxing is the least promoted fight sports in Sabah currently and he hopes STAND can be a platform for amateur boxer to build their fight experience. As for K1 Kickboxing, it may not be as well known as Muaythai in Sabah but it's an upcoming martial sports that is gaining popularity due to its fast pace action.
STAND will open up lots of category for boxing & kickboxing and will be held over 3 days. For K1 Kickboxing 11 category for men and 5 for women will be competed. Meanwhile boxing will have 10 category for men & 3 for women. Day 1 will be registration, weighing in and photo shoot for fighters and team. Day 2 will see fights for all preliminary rounds and day 3 will feature finals rounds to determine the champion. Winners will be bringing back cash prizes and medals.
Fight Five is the sponsor for fight gear. This is a new high quality local Malaysian brand and it will be making its debut in a fight event at STAND. Fight Five apparel will also be available soon, with fantastic design from New York designer….witness it for yourself at STAND.
The organizer is looking forward to large participations by team. For their convenience of accommodation, venue sponsors NEXUS Karambunai is giving a special rate of RM288 per night for any team. Team with most medals collected will get to bring home a big a$$ challenge trophy!
The organizers hope to bring great fight action in the ring to entertain fight fans but around the ring too will be many entertaining activities. Auto and bike show has been planned to satisfied motor-heads. Food and drinks will also be available with a menu focus on BBQ dishes. And of course, DJ's will be in the house to spin you all the entertaining beats.
STAND's fight night beach party is inspired by BBQ Beatdown organized monthly by Tiger Muay Thai (TMT) in Phuket. TMT is the No.1 fight gym in Thailand and has produced many top fighters in Muaythai & MMA. Foreigners from around the globe especially westerners flock to TMT as the training is facilities is top notch, great trainers and also the lure of the beach party. Even in Bali now a few fight gym has been set up as they see the success of Phuket drawing in serious fighters and also lots of casual fighters and fitness enthusiast.
STAND wants to replicate the mood in BBQ Beatdown, where fighters can fight and build their fight experience, at the same time his team can stay at the resort for a weekend getaway. Casual fight fans can enjoy watching fights and enjoy a beach party at the same time.
This could be a potential new segment for tourism in Sabah. Rayner was one of the trainer in Amazing Borneo package of tour for Sabah where tourist can come & enjoy the many outdoor adventure activities in Sabah such as climbing Mt Kinabalu, water rafting, scuba diving, jungle trekking and they add in training with ONE Championship fighters which include AJ Pyro and Ann Osman. With this concept from STAND,
I believe Sabah can also be successful in fight tourism. We have great beautiful beaches and resorts in Sabah. Bringing the fights to these amazing places and throw in a great party, this could be a great recipe to boost tourism in Sabah.
Let's get to know the sponsors, giving them the support as without their support we will not be able to watch STAND for free.
STAND is brought to us by Borneo MajuBina ( BMB ). BMB has been strong supporter of martial arts event. BMB also help support JFL and Team Karabaw grand participation in Ultimate Beatdown 17 in Johor Bahru. Warriors of Borneo had a quick chat with Hisham Michael, the CEO of Borneo Majubina.
May I know your role in Borneo MajuBina (BMB)
I am one of three directors in the company. The other two is Aidil Zakuan and Mustaqim.
BMB play a big role in Team Karabaw & JFL…why does BMB chooses to support martial arts?
Me and Rayner Kinsiong used to go way back to the good old Karate days where we used to compete along side in State and National events. Martial arts gave me the proper structure to be the person I am today. And I'd like to give the younger generations an opportunity to build their character whether competing in this sport or in fighting for their career in the same way Karate has given me the opportunity too.
What is BMB's main business? Can you please give the readers some background on BMB?
BMB is actually a construction company, we've been around since 2011. Our aim is to give our clients the best in comfort and ease that our projects are completed in the best possible manner whether it is a school project, government quarters, government offices etc. Our second aim is to bring up young locals that are interested to pursue their career in the construction industry by giving them the opportunity to handle every aspects of this very tough market.
What do you hope to achieve through STAND?
The same way we in BMB are giving the opportunity to young locals to pursue their career in the construction industry, the same way we hope to achieve in the martial arts industry. We hope to be a part of building our younger generations that will eventually be an asset to our society.
When did the idea for a beach party and fights came about?
My team and Rayner had a discussion at a mamak shop in 88 Market in Kepayan. The best ideas come out of teh tarik and roti canai session. We were discussing on how for us to make it interesting enough for the younger crowds to get involved in martial arts, hence the beach party theme event came about.
ELITEZ MMA is also a sponsors for STAND. ELITEZ MMA is the 1st MMA gym in Klang Selangor. It is headed by Andy 'The Bullet' Teh, a pro MMA fighter and recently starred in local chinese movie FIST of PASSION. Sabahan Effendy Kalai & Eddey Kalai of The Kalai Borthers Boxing is also a part of ELITEZ MMA team of coaches.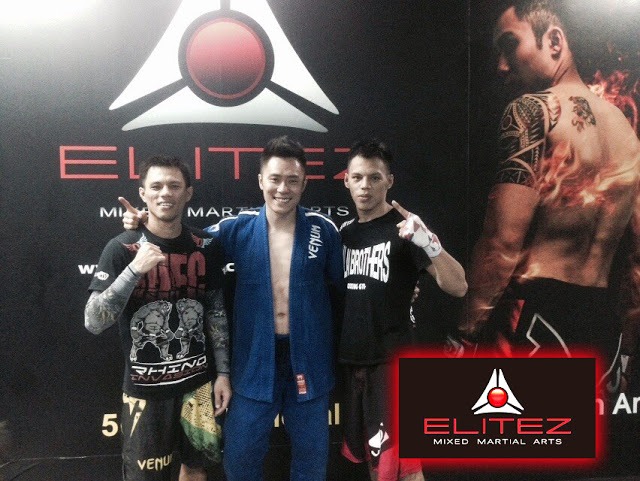 Andy Teh with the Kalai Brothers
Another sponsors is from the interior of Sabah, Keningau, the land of the legendary Murut warriors. This is where Keningau MMA ( KMMA ) is located. Headed by it's head coach Mohd Bakri, KMMA has produced a JFL bantamweight Champion 2015 in Mohd Hasbullah Sanmin. Find out more on KMMA in my previous posting here.
WARRIORS OF BORNEO supports STAND as a pioneer in fight tourism, fight fans let's support this together and make it a success. Come and enjoy great fights and good food. Entrance is FREE!
This possibly is a first step for Sabah to be on the map for fight tourism. Let's have fun and create history!
Check out STAND's Facebook for further updates, or call Rayner Kinsiong 013-888 8379 for further infor.