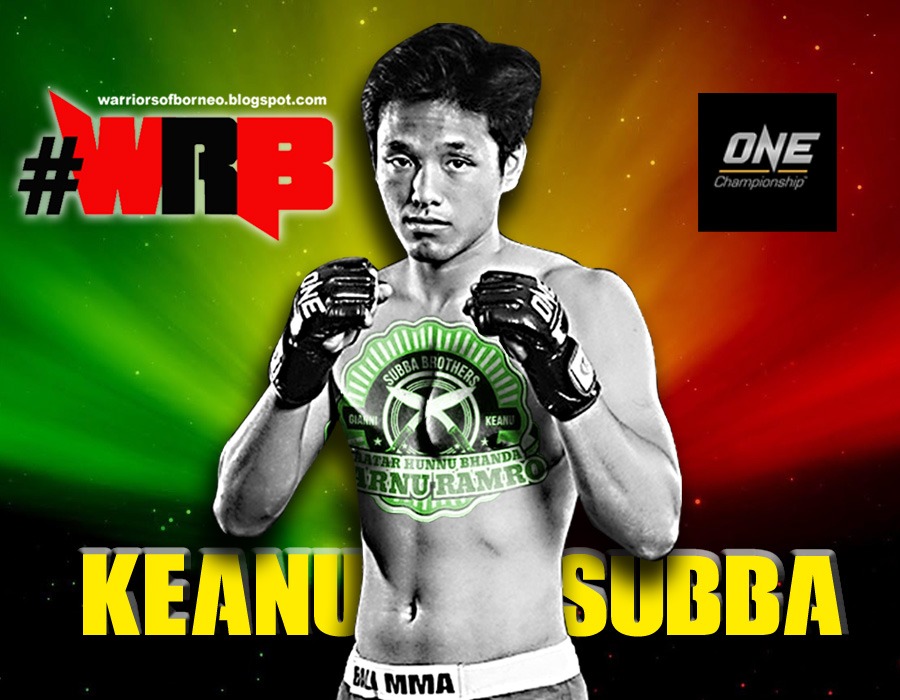 2 July 2016. 22 years old Malaysian Keanu Subba will step on to Hefei Olympic Sports Center in China. He will be challenging China's raising star Li Kai Wen in a featherweight match for ONE: Dynasty of Champion.
Keanu wears his walk-out tees with "Kaatar Hunnu Bhanda Marnu Ramro", these words blaze across the logo that carries two Kukri knifes criss crossing in the middle. Keanu explains that the motto stands for: Better to Die Than be a Coward. Which sums ups the warrior spirit of the legendary Gurkhas soldiers.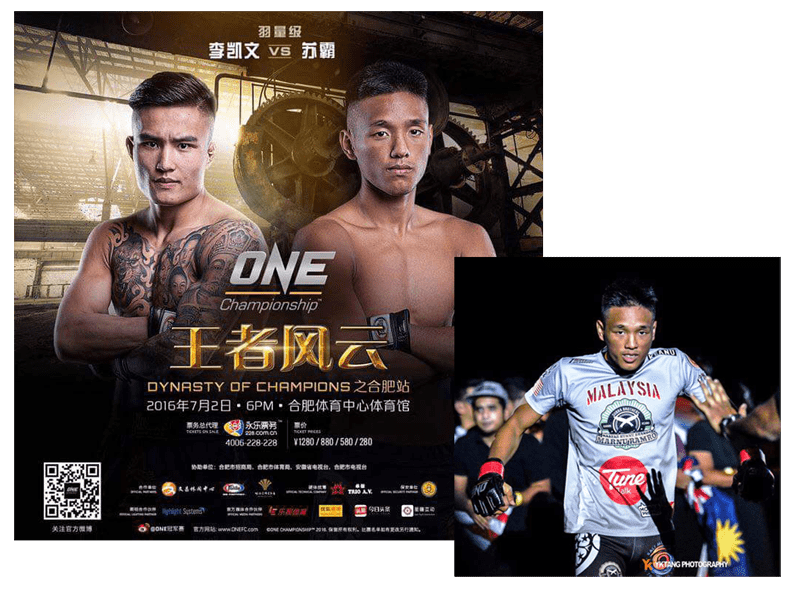 Pix credits: ONE Championship poster & YK Tang Photography
This is what Keanu live by. Proud of his Nepalese heritage from his father side, Keanu is the younger brother of Gianni, from the Subba siblings. Both of them fight in ONE Championship, the powerhouse MMA organization in Asia.
Born in Hawaii to a Nepalese father and Chinese Malaysian mother, he grew up in Kuala Lumpur and attended SJKC Lai Chee for Primary school and Sekolah Sri Bestari before moving to the USA for high school. There his father encouraged the two sons to learn TaeKwon-Do. Keanu also kept himself active by dabbling into rugby and Krav Maga.
He was already interested in MMA when he watched the 1st season of UFC: The Ultimate Fighter, way back in 2005. Idolizing the winner, who is now UFC veteran Diego Sanchez.
Back in Malaysia, he joined
TNT Kickboxing
and learned from Master Khoo Meng Yang. His competitive nature eventually led him to join F3 Freestyle Fighting in 2011 in a fight which he lost to AJ Pyro. He continued training in Kambiz Warrior for striking and learned BJJ from Samir Mrabet. The following year he won a fight in Malaysian Fighting Championship, but those were the early cowboys days of MMA in Malaysia where most matches were not sanctioned and regulated properly.
The real journey actually began for him in 2013; Under the tutelage of American wrestler Matt Pellino at Muayfit, Keanu joined the 1st MIMMA (Malaysian Invasion MMA). In the final against Muhammad Ikram, he won the featherweight belt by KO in round 1 with an explosive display of punches.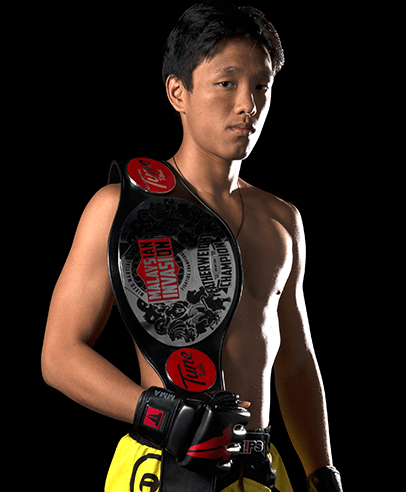 Achieveing the pinnacle of Malaysia amateur MMA as MIMMA 1 & 2 Featherweight Champion
In 2014, together with other MIMMA champion he represented Malaysia for IMMAF (International MMA Federation) World Championship. Collecting a win and a loss. In MIMMA season 2 with more fight experience and continued improvement under Matt plus the stint in Tiger Muay Thai, he defended his belt; again by way of TKO with a volley of punches in round 1 against Joshua Khiew.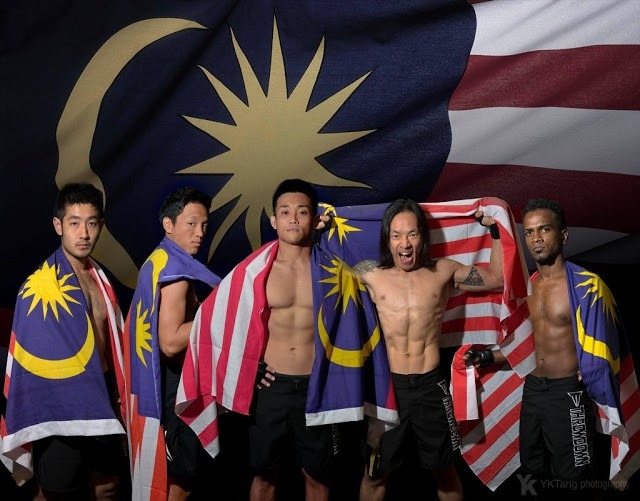 with the other MIMMA1 Champions representing Malaysia to IMMAF 2014 World Championship.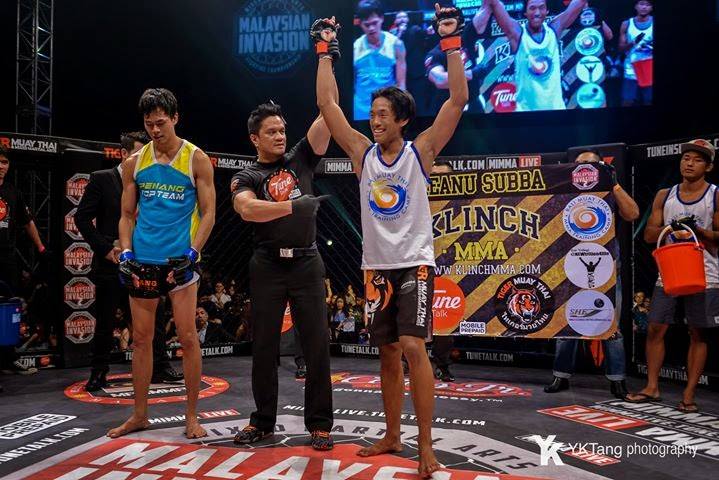 Defending his featherweight belt in MIMMA2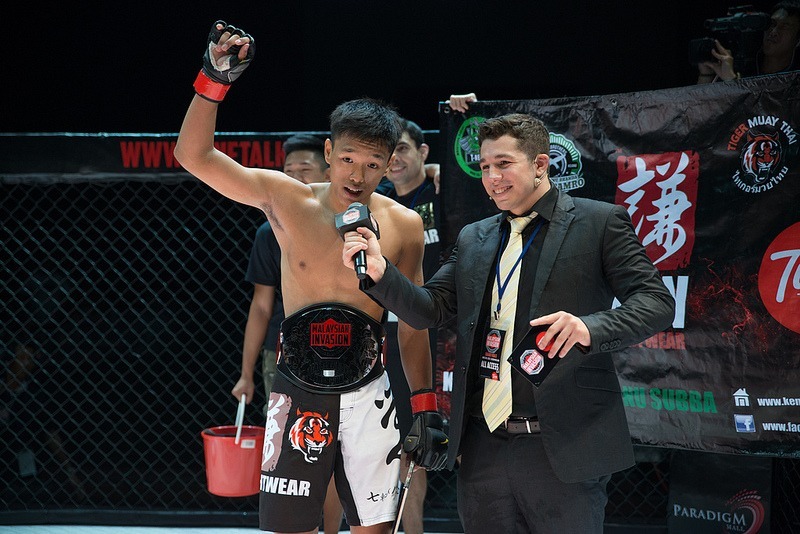 with  his wrestling and MMA coach Matt Pellino
Eventually the offer came from ONE Championship for him to turn pro. Oct 2015, ONE: Tigers of Asia, Keanu enters the ONE's oval cage vs French, fighter – Florian Garel. Perhaps nervous on his debut, Keanu was taken down two times and misses on a few strikes combo, but as the minutes goes by Keanu picked up steam and with one minute left on the clock, executed a trip, mounted Florian and rained ground and pound. Then he followed with some nasty sharp kukri like elbows. The referee stopped the fight just 10 seconds from the belt in round 1.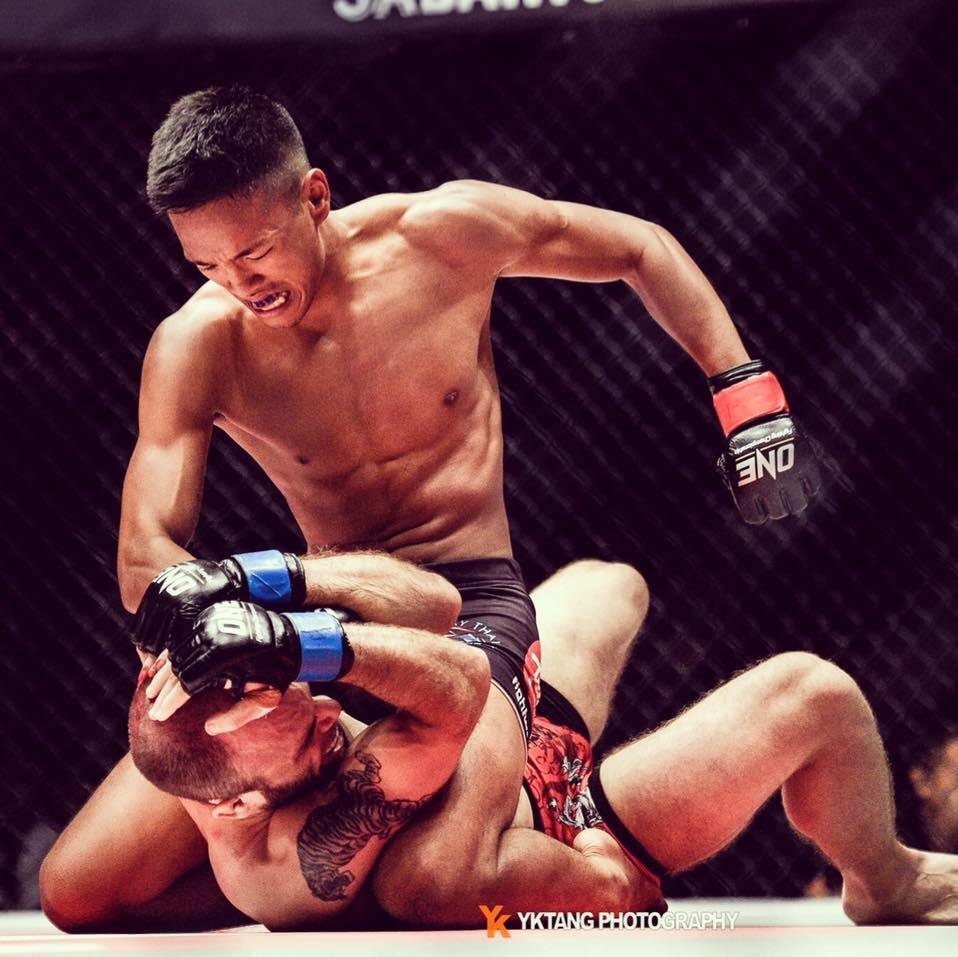 Victorious in his 1st pro fight vs Florian Garel. Pix credits: YK Tang Photography
In the same night, his brother Gianni whom already had 6 fights in ONE, was also victorious against Brazilian Almiro Barros. As an elder brother with more fight experience, Gianni has been instrumental in guiding and helping Keanu develop as a fighter. They enjoy discussing and analyzing fights and of course training and testing out new techniques together.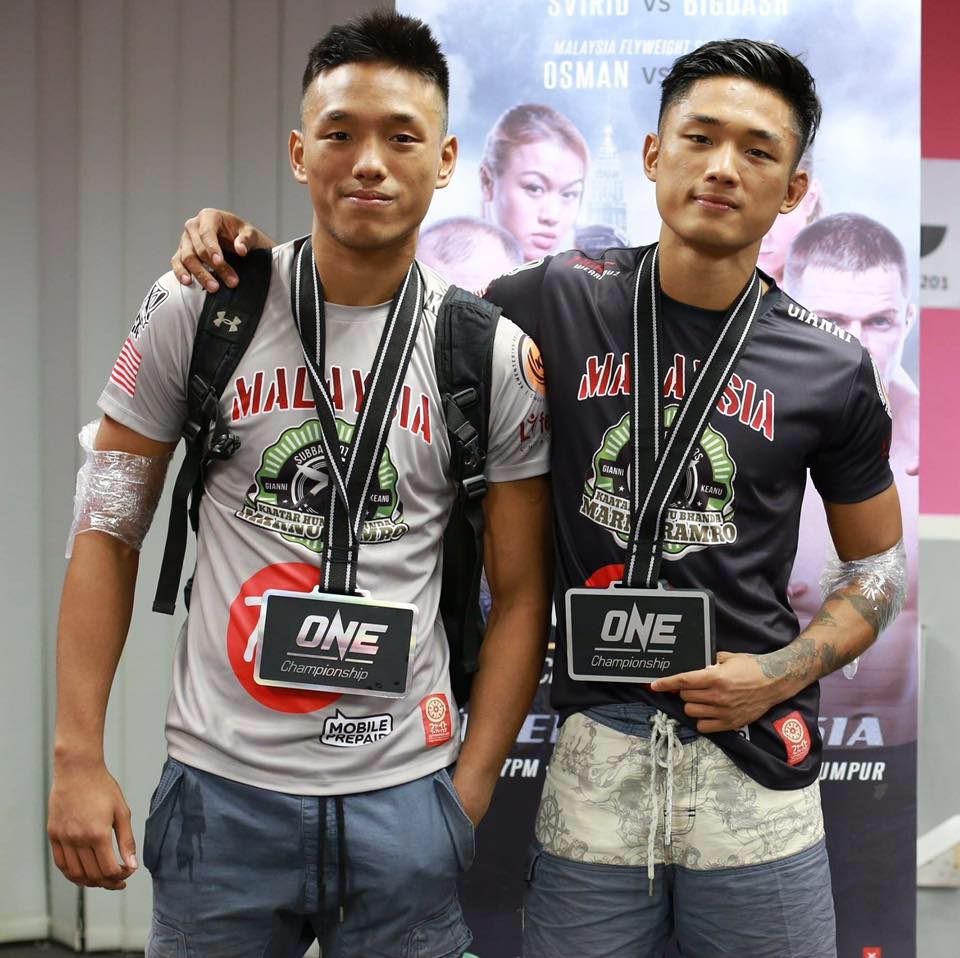 with brother and mentor Gianni Subba
For their parents, having two sons whom choose to have MMA as a career was not easy in the beginning. They were rather tentative at first because they do not like to see her sons getting hurt. But Papa Subba sees that his sons are really passionate and have a great potential to excel in this field and eventually supported them fully. He had to do the convincing to his wife for his sons.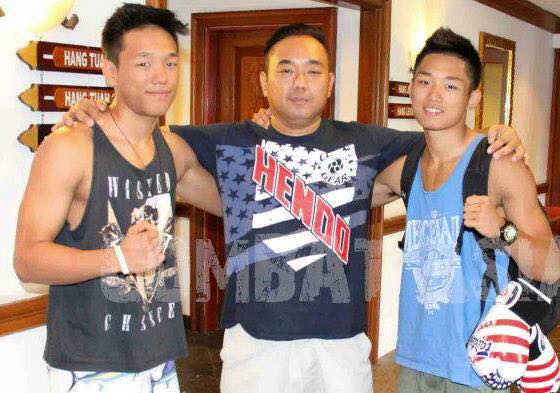 with papa Subba, giving his two sons his blessings and full support in their fight career
Keanu 2nd pro fight was against ex Malaysian Karate champion Rayner Kinsiong of Team Karabaw Sabah. They met in the cage in Jan 2016 at ONE: Clash of Heroes. Definitely looking more confident the 2nd time around, Keanu uses his range to control the fight. Ducking under Rayner's punch, Keanu shoots in and got a take down with a leg trip. In Rayner's half guard, Keanu was still able to strike down with elbows and punches and earn himself another TKO win.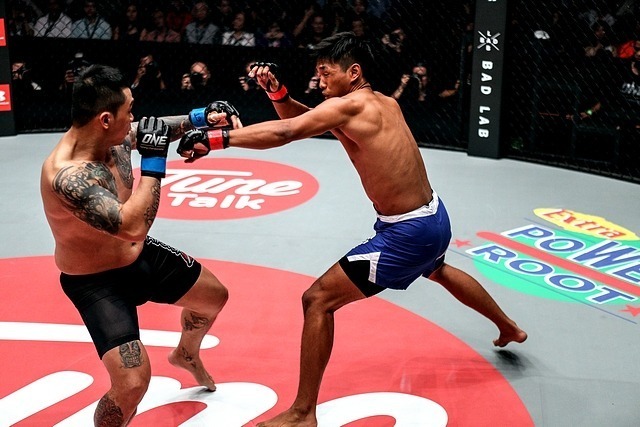 en route to his 2nd win in ONE Championship vs Rayner Kinsiong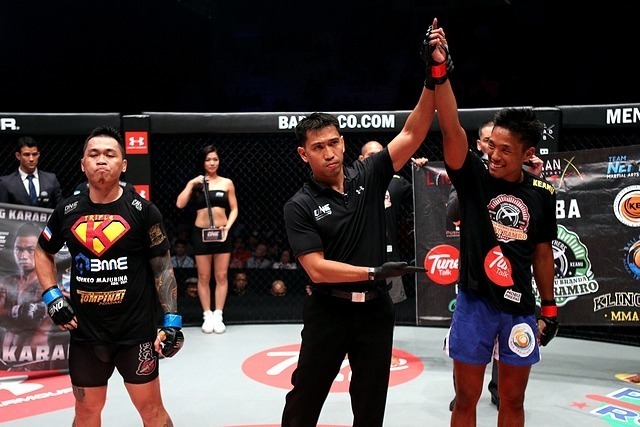 As he was on a roll, Christian Lee of Singapore was also making wave, winning 3 times in the Oval cage…the clash of these two young stalwarts was planned for Mac 2016 at ONE: Union of Warriors. Keanu was really psyche up and trained hard for this fight. But unfortunately injured his elbow and had to pull out. Keanu was replaced by Anthony Engelan whom Christian defeated by TKO.
As a pro fighter, Keanu knows that a fighter's down time is a bane. Diligently he went to therapy and do light training, in time he was able to heal quickly and got the doctor's green light to fight again. Come this Saturday, Keanu's journey towards MMA glory continue as he faces China's featherweight tournament champion, Li Kai Wen.
Warriors of Borneo managed to catch Keanu out of his hectic training schedule in
Bali Muaythai & MMA
for a short interview.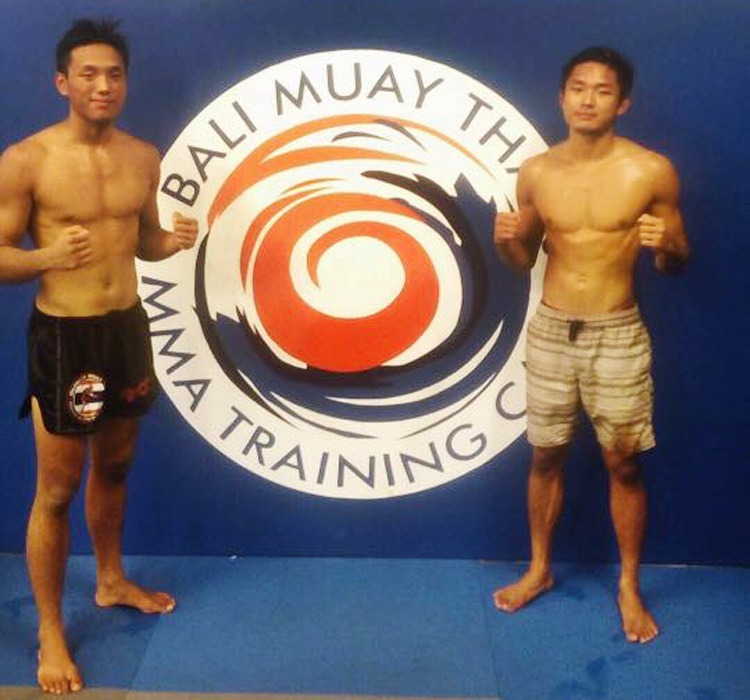 How is your arm? Completely healed? how long did you had to rest before going training again?
My elbow is about 70-80 percent healed it still bugs me here and there but I have to live with it. Initially 6 months but thanks to the professional team at TheKL Skyclinic and Lifestyle Chiropractor I was back in training in 2 and a half months.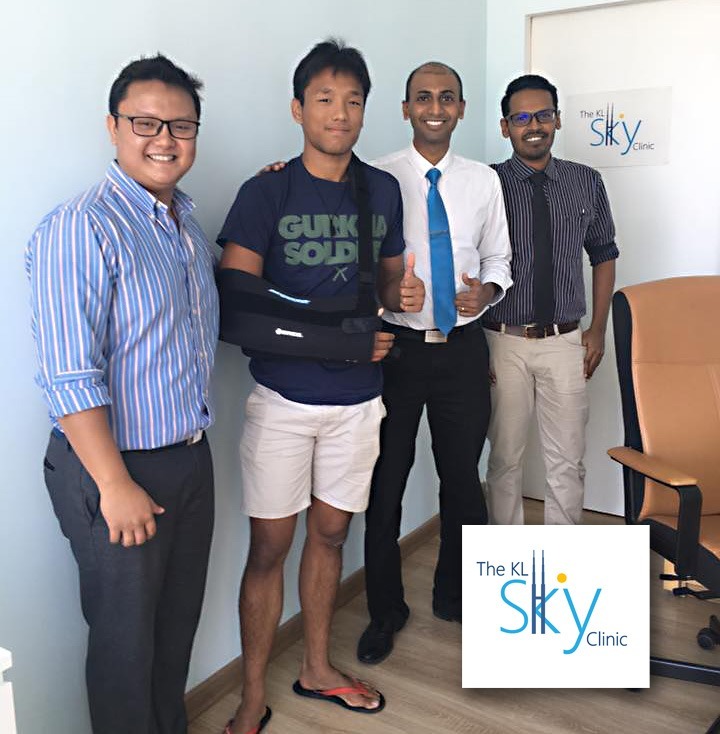 getting the best treatmement at The KL Sky Clinic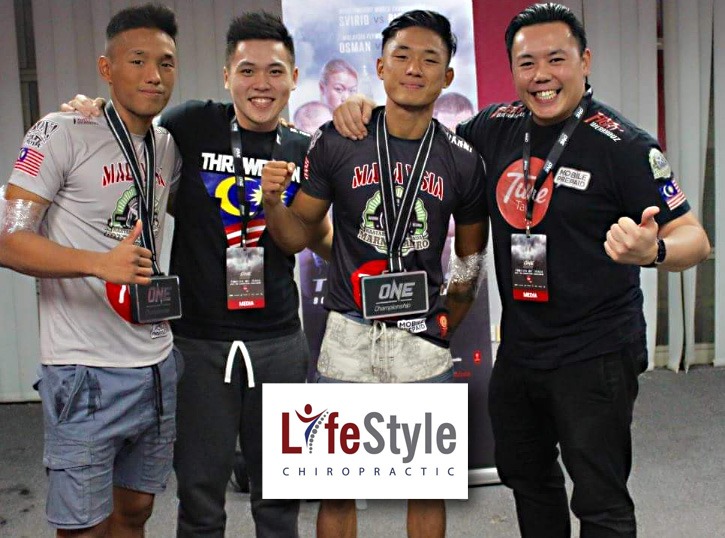 Subba brothers with Mr JC Lim owner of LifeStyle Chiropractic (next to Gianni) & Dr Ivan (next to Keanu) , 
who specially treat MMA athletes.
As a pro fighter…are you able to make a living ? Do you have to take up other job?
It depends what shows you're fighting for. ONE Championship pays better than the rest in South East Asia . It's tough but with each fight you get more money so it only gets easier.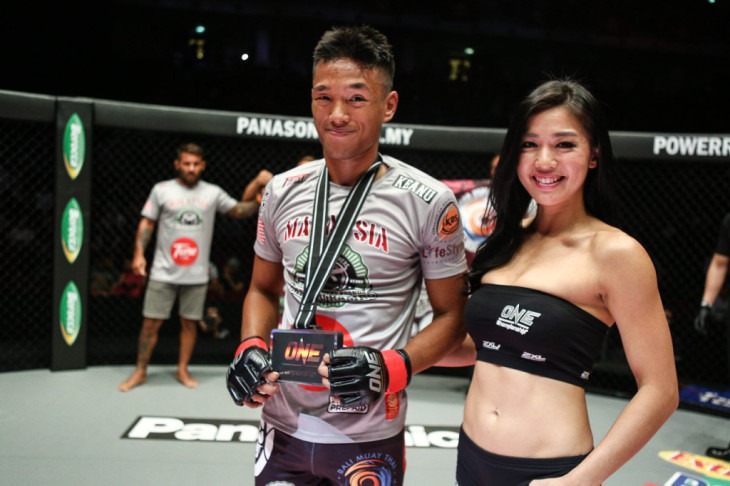 How long is your fight camp in Bali for this fight?
3 weeks fight camp short notice but no excuses!

During the fight camp how often do you go back to Malaysia?
I go back every month for a week.


What is the best part of life you like about Malaysia?
Spending time with family and girlfriend and friends for sure.

What is your favourite Malaysian food?
Nasi lemak ayam rendang, fish head noodle soup, curry laksa, char keow teow, the list is endless!

What is the food like during training in Bali? -What is your fav cheat meal there in Bali?
I eat really clean during fight camp high on good fats and good carbs with good protein and strictly no carbs at night.
Favorite cheat meal is definitely a huge burrito from Taco Casa.


Do you consider yourself a balance fighter? Which aspect of the game you would like to see more improvement?
I consider myself pretty well rounded but I have so much more to learn. The learning and growth is endless.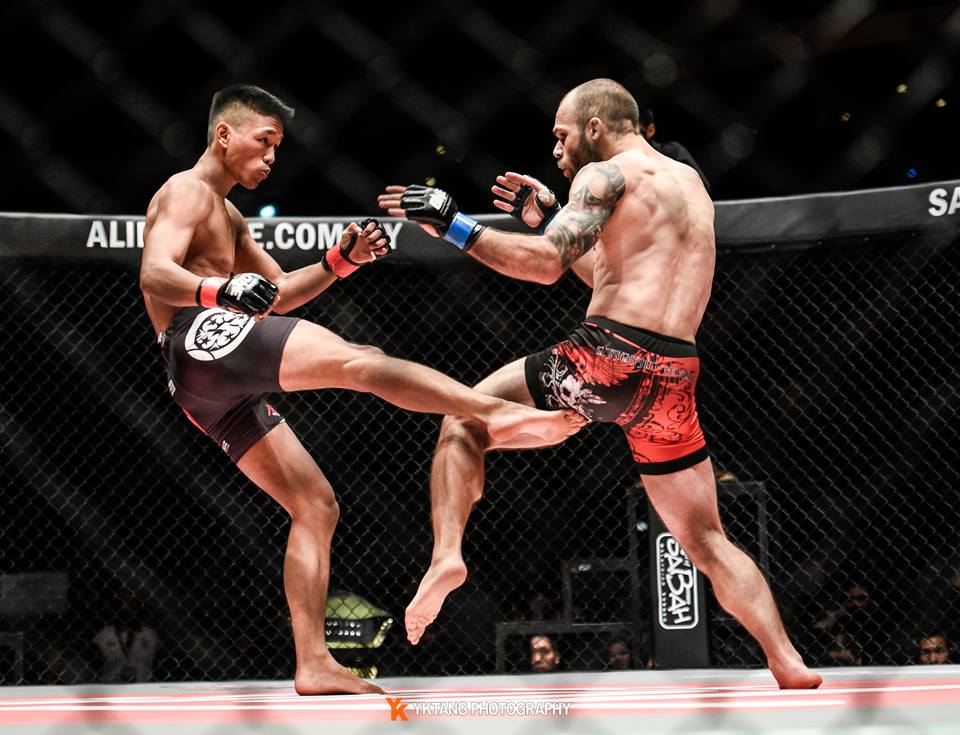 Pix credits: YK Tang Photography
After the cancel fight with Christian, he has gone on to win 3 fights with finishes, would you think this fight with Li Kai Wen tougher than facing Christian?
It's a different fight. Christian has better grappling while Li Kai wen has better wrestling. They're both good in their own ways .
Your fight vs Rayner was in a catchweight close to welterweight, you are going back to feather now…is this your natural weight?
Definitely I felt really slow my last fight. I'm definitely more comfortable at 70.3 walk around weight.
Li Kai Wen looks like a heavy hitter, what will be you strategy going into this fight?
You'll just have to wait and see in China!
The media present you as a shy and quiet person…what is the real Keanu like?
I like to observe and get to know people better before I open up more. I like to remain calm and respectful to everyone but at the same time cautious with how I deal with different individuals.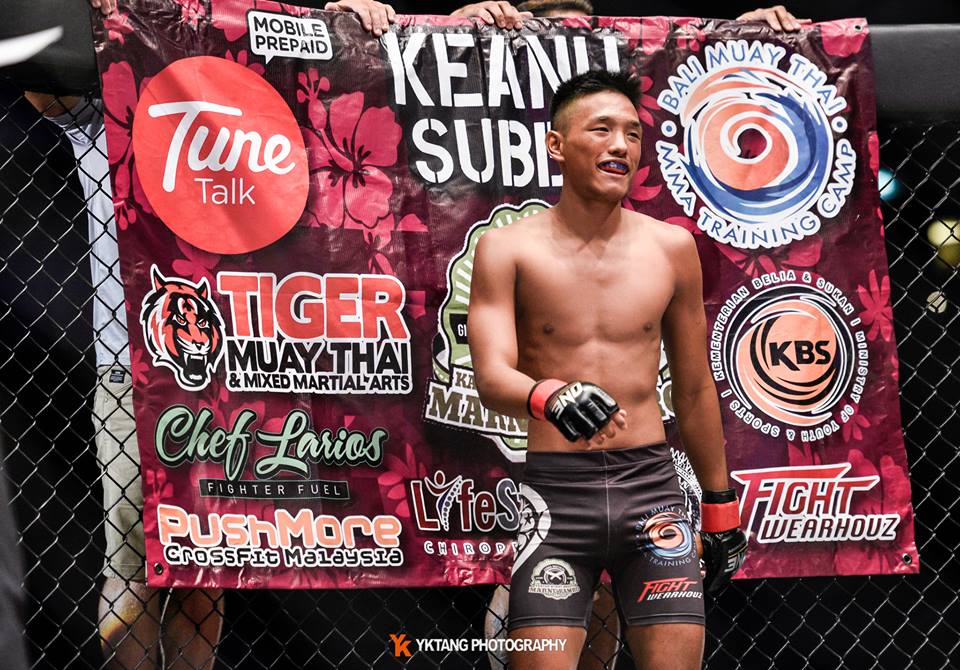 Pix credits: YK Tang Photography
How do you cope with the media attention when u were successful in MIMMA?
It was tough at first because I'm not really good with my words but eventually I got the hang of it.

Who do you see have the most potential in the current MIMMA pool?
Theeban has a really unique style much like Stephen 'Wonderboy' Thompson and Lyoto Machida. He just needs to get more loose and use his Karate more. Hui Keng Fai has beautiful timing on his punches and slick grappling skills. I can see them winning this year for sure.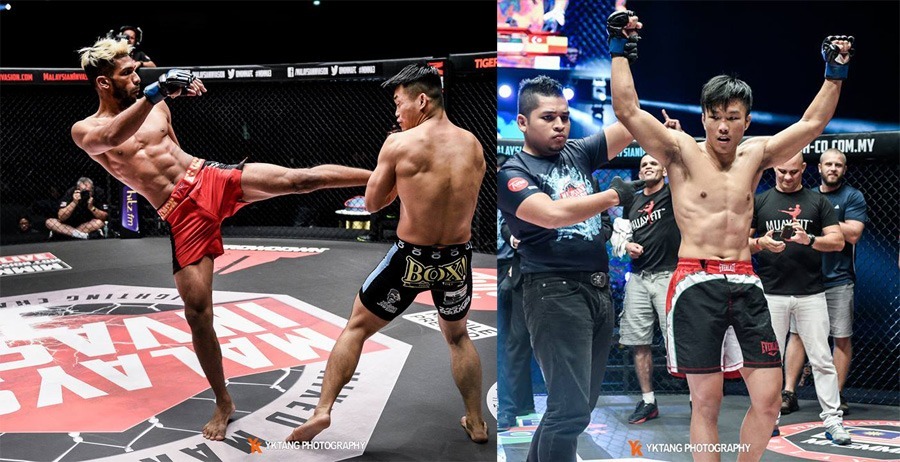 Theeban ( L ) and Hui Keng Fai ( R). Pix credits: YK Tang Photography


Malaysia already has MIMMA, touted as the best amateur tournament in Asia if not the world, what else do you see that Malaysia need to move forward in MMA?
TuneTalk/Jason Lo definitely changed Malaysian MMA forever. I would say we need more experienced MMA coaches and more cross training among fighters. It would also be ideal to have a rule where you would have to have at least 5 amateur wins before you're allowed to turn Pro.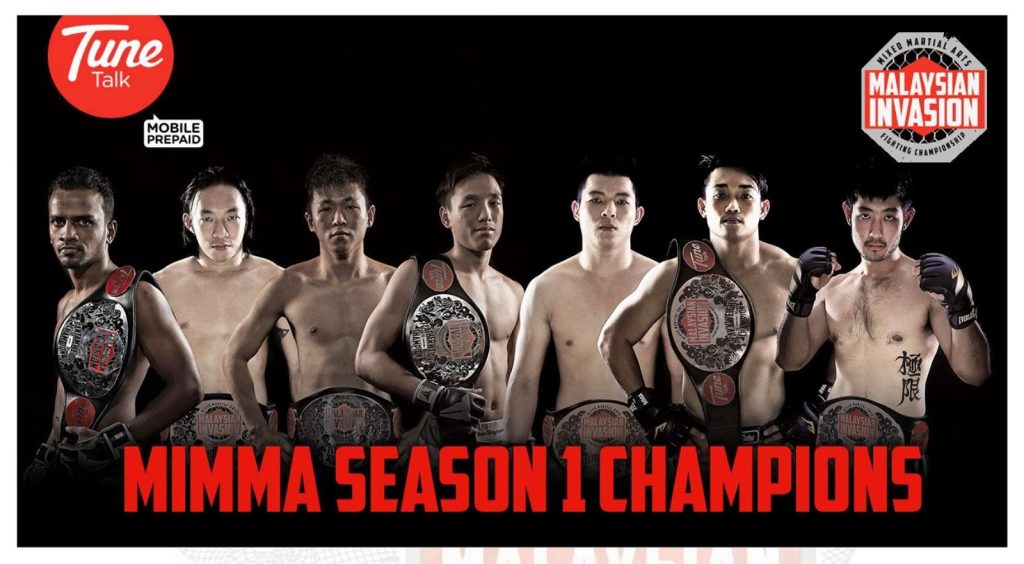 What type of music do you listen to? What kinda music motivate u when you train?
Reggae, Tibetan music, and some motivational music videos.
What is your idea of chillin' when u take a break from training?
Definitely spending time and catching up with my girlfriend and family.
Do you think ONE with the Global Rules set present a more dangerous fights compare to UFC Unified Rules Set?
The Global rule set is definitely more like a real life fight situation. You can't just lay on your back and chill. You got guys trying to kick your head off so I would say that it's more realistic.
Coming from a Nepalese & Chinese parentage, do you have any particular pre fight habits or taboo?
Not really, I just believe that I've put all the hard work in and I just have to go out there and perform. 

Who is your favorite fighter? and why?
Gianni Subba. Because he's my brother and I can relate a lot to his style.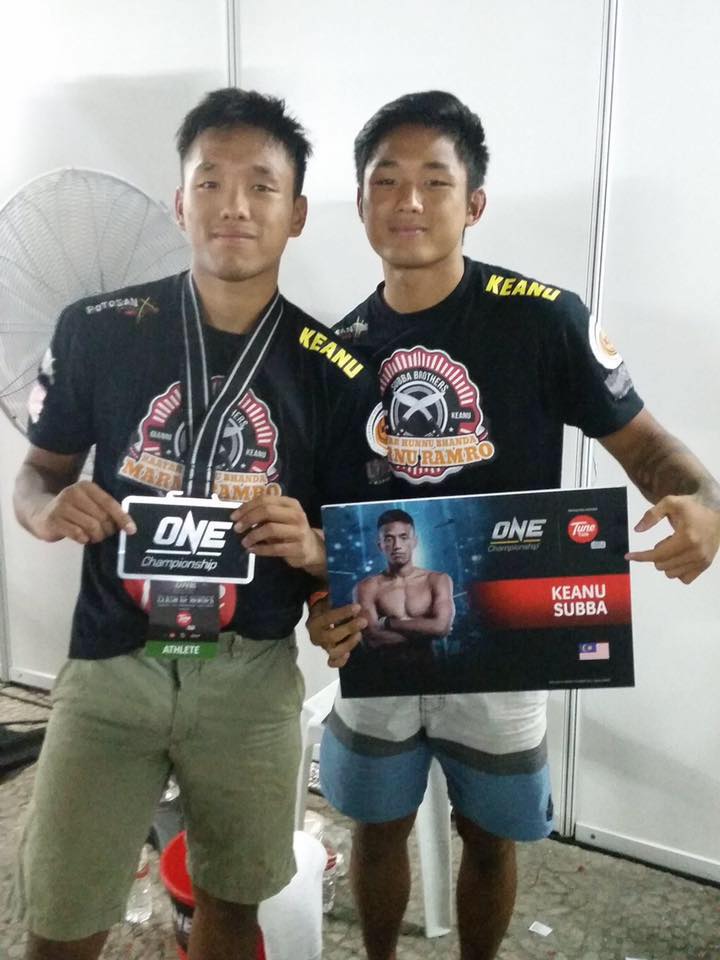 Thank you very much for your time Keanu. Wishing you all the best in China!