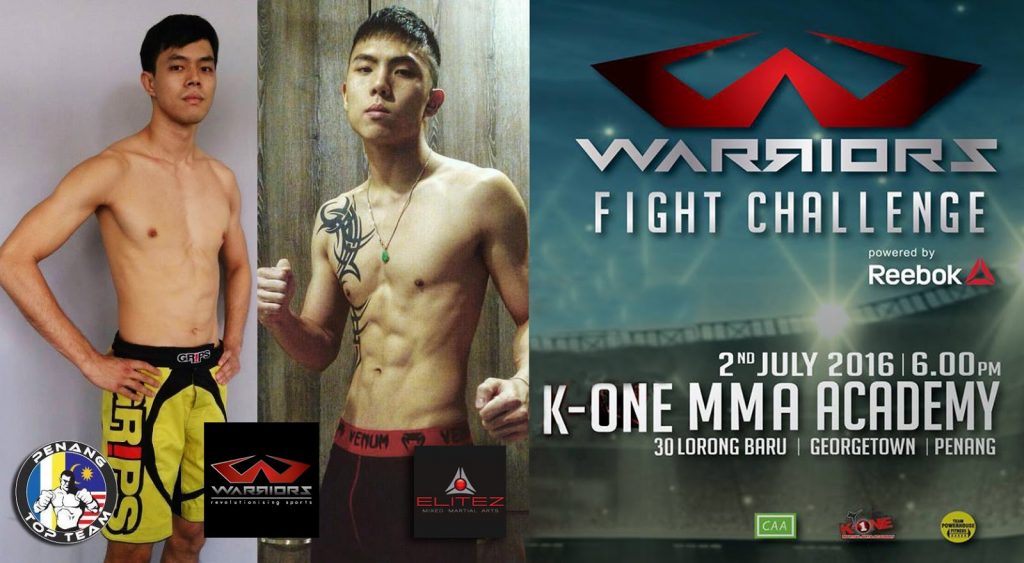 Penang is located in the northern region of Malaysia. This area in terms of martial arts wise is heavily influence by Muaythai as the borders to southern Thailand is just about 200km away, but these last three years has seen a tremendous growth of MMA. Partly thanks to Warriors FC. The pioneer of MMA scene in northern Malaysia.
Today happening at K-One MMA Academy is Warriors FC is organising its Fight Challenge. Today will see a amateur qualifiers for the first Warriors MMA Amateur Grand Prix. Today's fight will also see a ranking system being established for its fighters.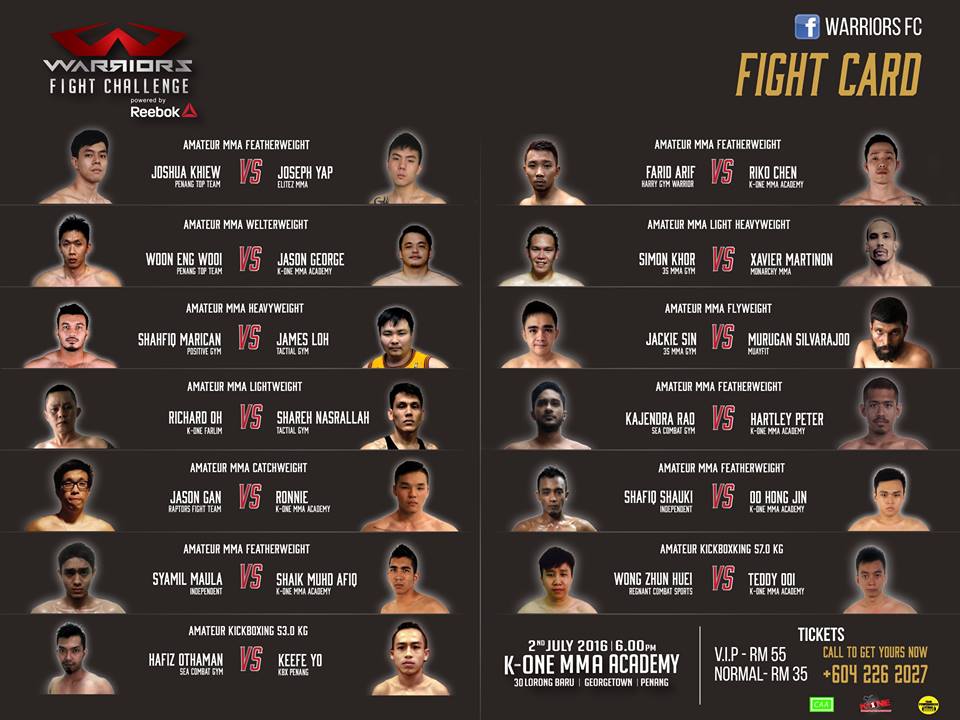 Joshua is a veteran in amateur MMA in Malaysia. Having 9 fights experience under him, his first fight was in the now defunct Malaysian Fighting Championship. But it was in
MIMMA2
that he really grew. Reaching the grand finals where he lost to eventual champion Keanu Subba. In 2015, Joshua reached the semifinals of MIMMA3, losing a 3 round decision to Sabahan finalist Effendey Kalai. Joshua is a well balance fighter and has his 6ft height as a great advantage.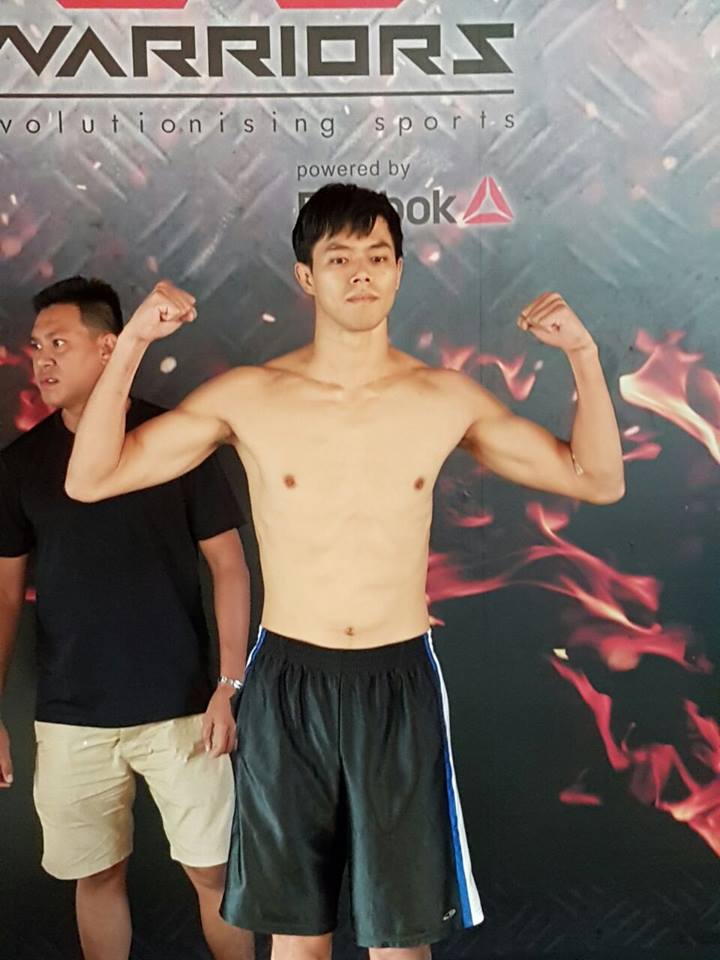 Joseph Yap is a martial arts prodigy from Elitez MMA. At 25 this year, he only started seriously training in Jan 2015. Under the careful guidance of Elitez MMA founder
Andy Teh
 teaching Joseph MMA and coach Effendey Kalai in boxing and Ngeoh Jian Cong in Brazilian Jiu Jitsu, Joseph soaks it all in like a sponge. In March 2015 he debut in his first MMA match. Going in like a dynamite in Ultimate Beatdown 15 winning by TKO with punches.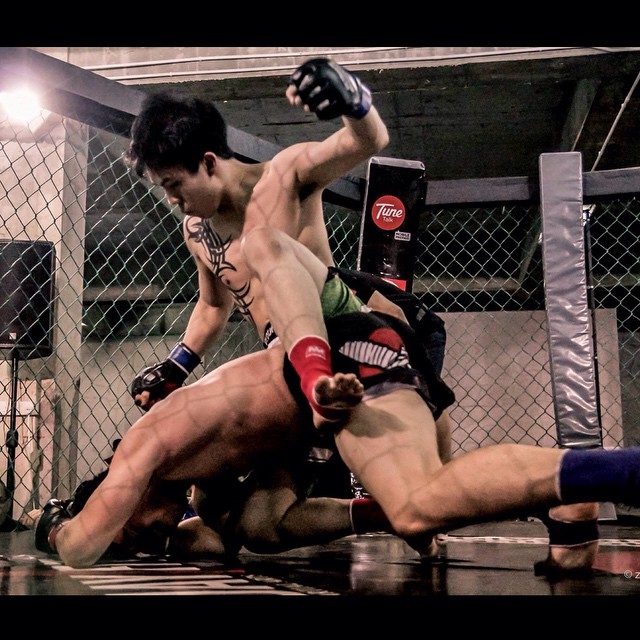 Joseph participated in MIMMA4 this year and will be in the semifinals this August. He was a feature fighter in 2015 MIMMA3: Contender Fight. Winning his featherweight fight vs Uriel Yu. He now has 6 amateur fights under him and all these fights are by TKO / submission. Joseph is looking to continue his winning streak and aimed to use his aggressiveness to win this match.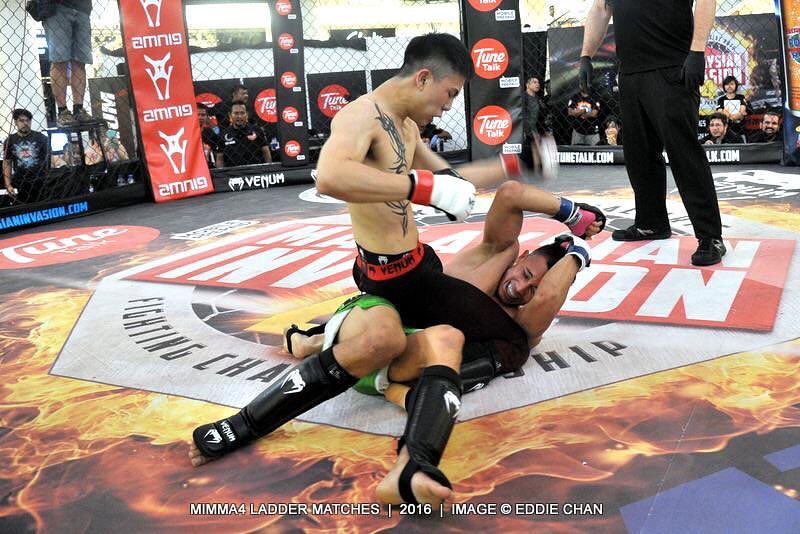 Ask on how this fight came about rather close to his MIMMA4 semifinals appearance, Joseph answered; "I planned to spar around actually. Then came Warrior FC but facing Joshua Khiew wasn't what I had in mind. Looking forward to it however because it would be a different experience to face a taller , longer reach & a very experienced fighter. 
I always consider myself as the underdog or new because like most people they have a proper background like Muay Thai, Boxing, Tae Kwan Doe & etc. I'm basically a white paper as I've mentioned I have zero knowledge before joining Elitez MMA. Not to mention he is ridiculously tall. Haha. 
Hmm.. It's a month away so there will be enough time to recover. That doesn't mean I'm letting my guard down though.
My strategy is usually the same against any other opponent. I'll take whatever that comes. Planning to be an overall fighter with no specific game plan & one thing for sure.. I never ever underestimate my opponents."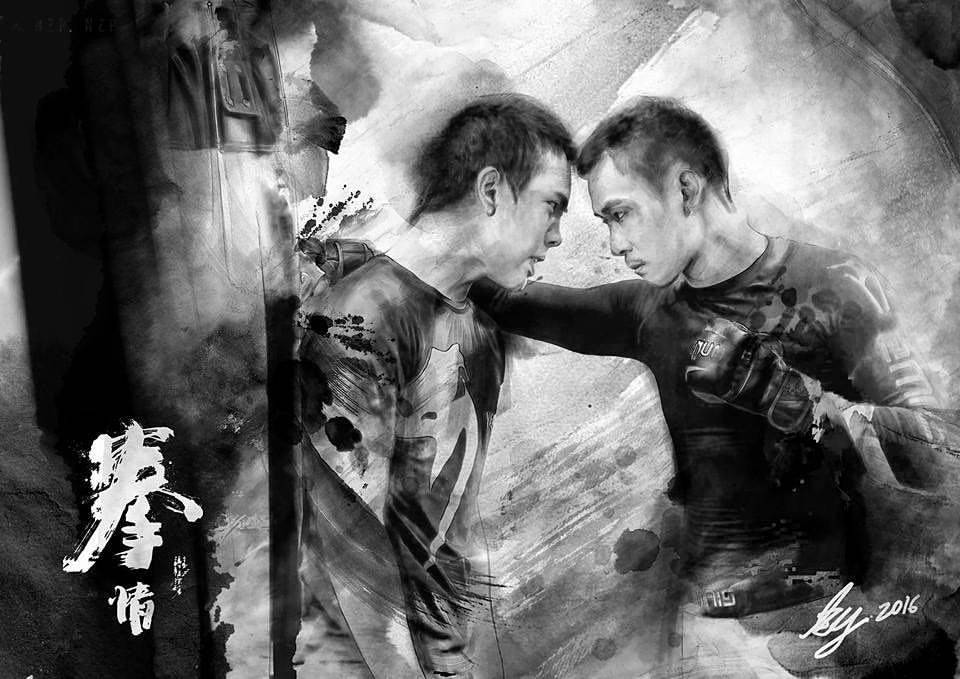 FIST of PASSION , starred by Andy Teh and Joseph Yap
Recently, aside from polishing his fighting skills, Joseph also tested his acting chops in a Malaysian movie, FIST of PASSION, a Malaysian first film that uses MMA as a backdrop. In this movie he starred opposite his coach Andy Teh as Ah Long. Also recently he completed two fitness courses at FITM and is currently working as a coach at Elitez Mixed Martial Arts Academy.
In this Warrior Fight Challenge we will also see the appearance of Borneon from Sabah.
Jason George
will be fighting at welterweight vs Woon Eng Wooi of
Penang Top Team
. Jason is of Dusun heritage born in Sandakan. He used to train with Team Karabaw in Kota Kinabalu and fought middleweight in
Jesselton Fight League
grand finals. He also has experience in amateur Muaythai tournament and boxing. His opponent Woon is a MIMMA2 semifinalist & has a MMA amateur record of 2-1-0.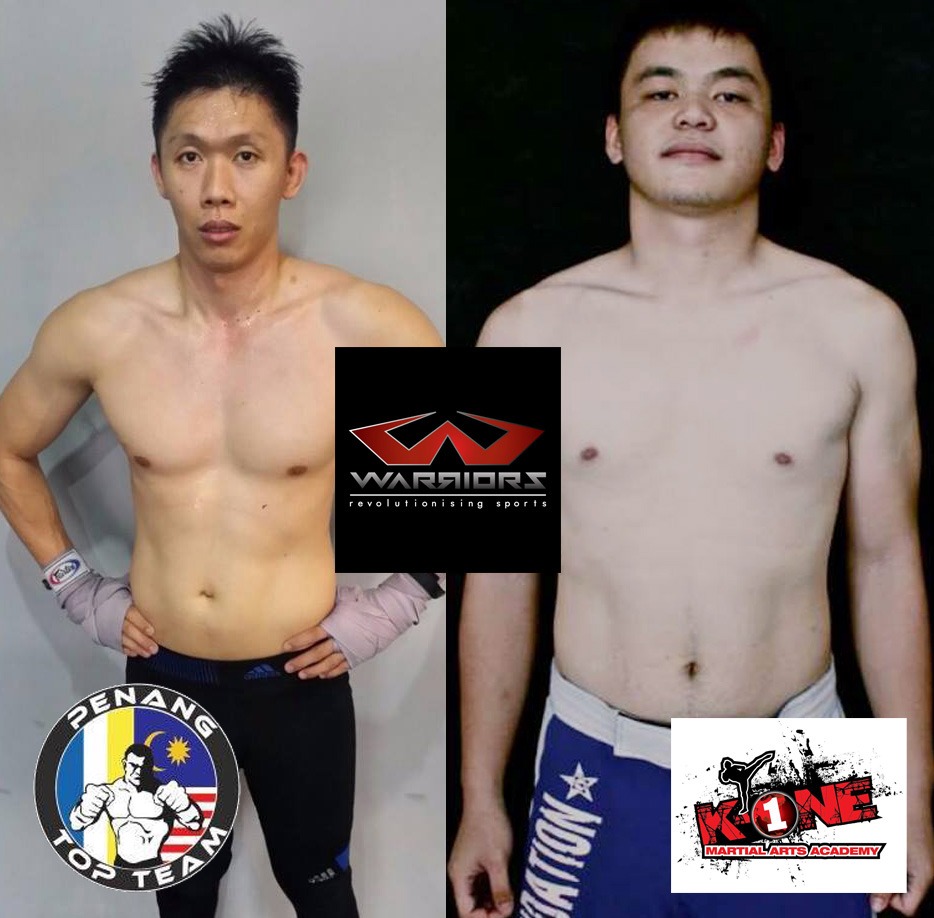 In 2015
Ultimate Beatdown 17
, he represented
Team Karabaw
and was scheduled for a pro fight card vs Brad Robinson, but it was cancelled. After that, Jason reassessed his priorities and decided to learn more and add more skills to his arsenal. In January this year, when K-ONE MMA Academy offered a scholarship program, Jason jumped on this opportunity. 30 candidates were interviewed and put through some physical tests. Only 5 were selected: 1 Brazillian, 2 Indonesian and 2 Sabahan. The other Sabahan is
Hartley Peter
, from Penampang.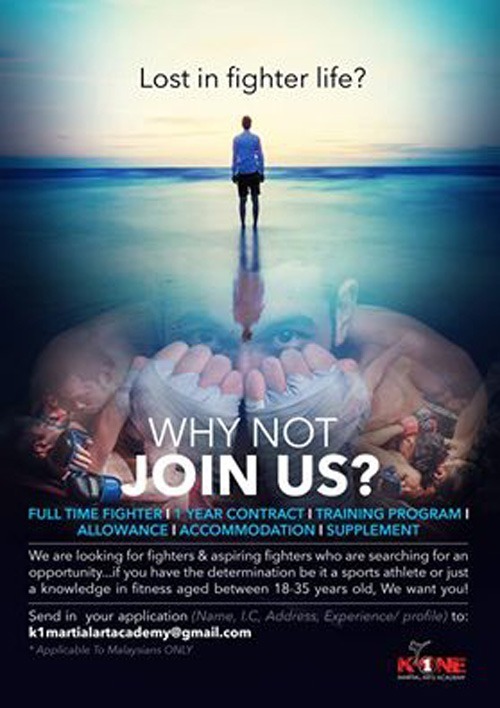 The call for fighters in January 2016
Hartley use to train at
Borneo Tribal Squad
. For tonight fight, Hartley will represent K-ONE MMA Academy and fight in featherweight vs Kajendra Rao of SEA Combat Gym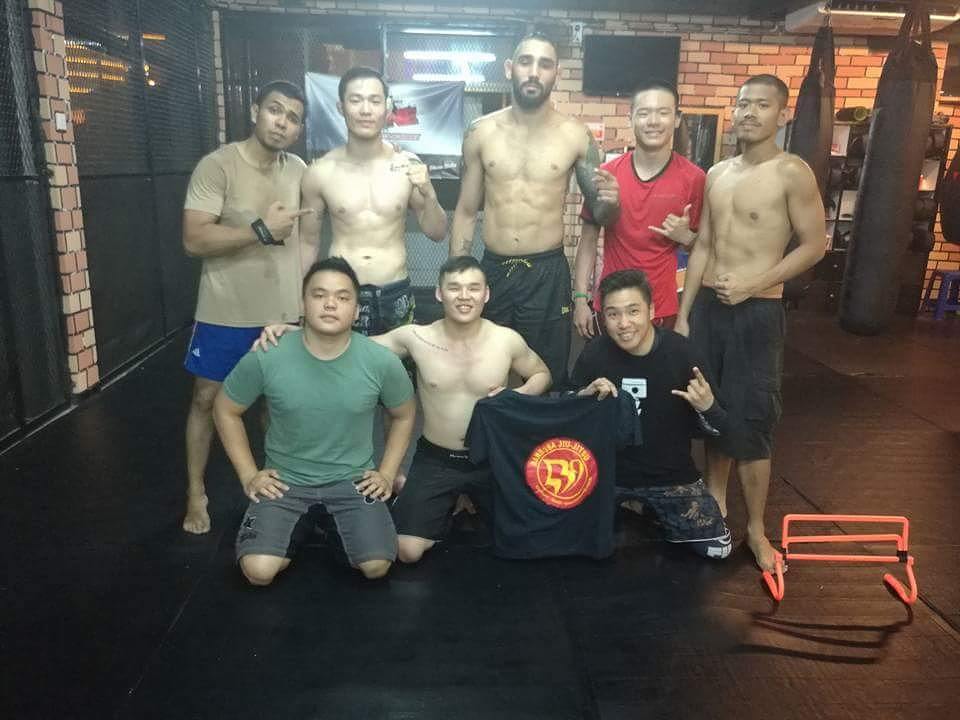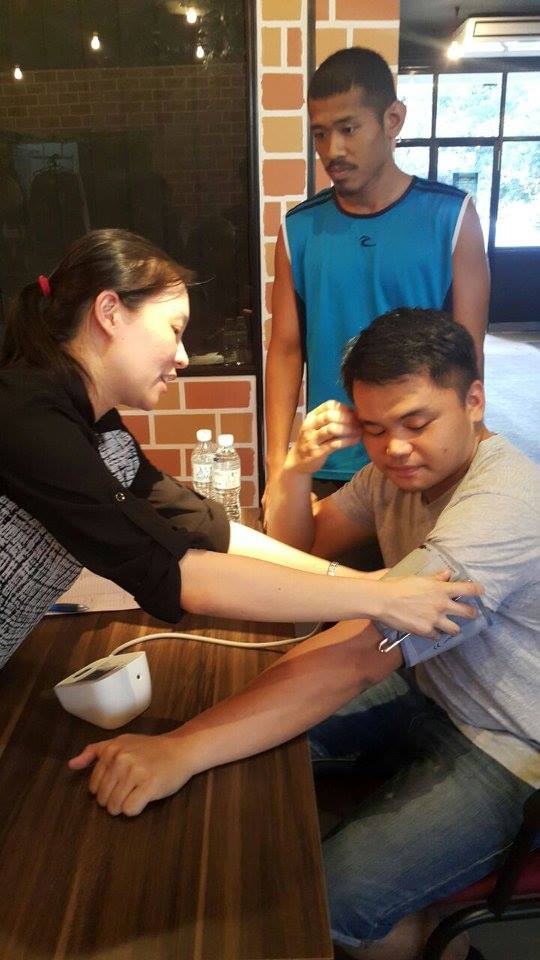 Going through the medical check before fight, together with compatriot Hartley Peter
We wish both these two Sabahans good luck! Let's bring home some medals!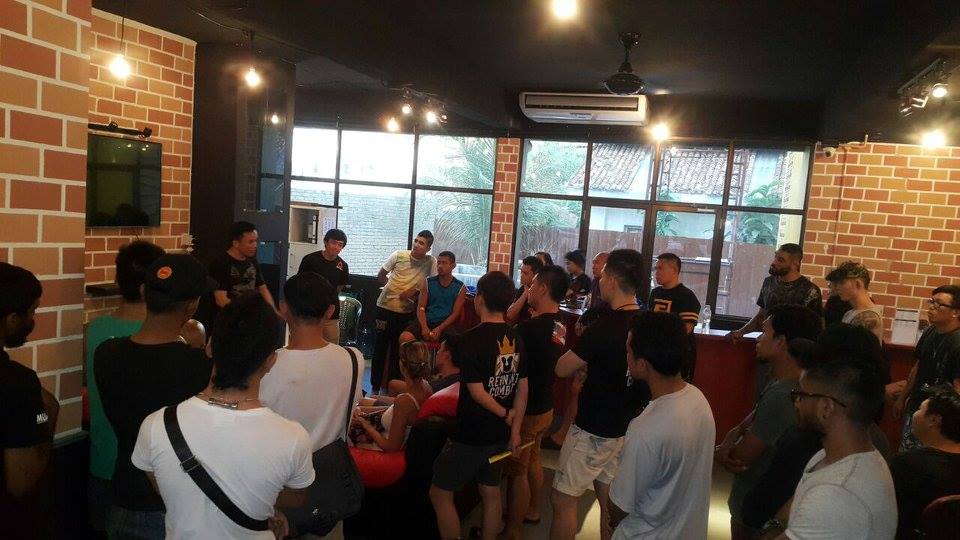 Fighters briefing by MMA pioneer Melvin Yeoh
Catch all the fights tonight at 6pm at K-ONE MMA Academy, they have a great set up where platforms are built on top circling the cage where fight fans can watch the fight with excellent view. Tickets are still available. Call: +604- 226 2027.