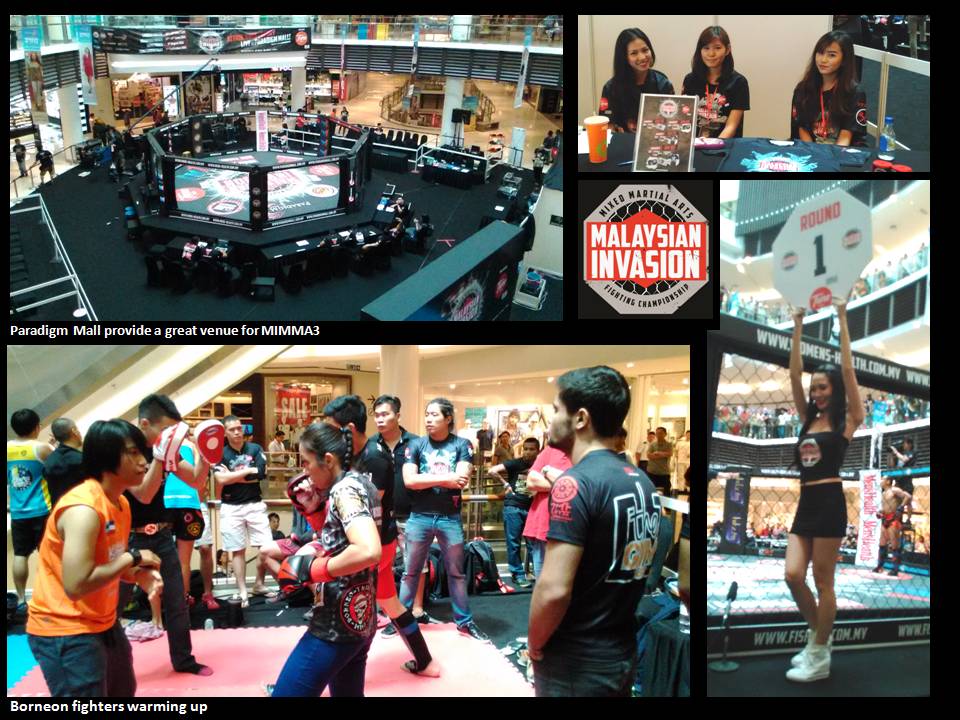 13-14 June 2015…Borneon states created an impact! Out of the 36 bouts Borneon states comprises 22  bouts which represent 61% of the total fights for two days ( these are fighters that represent the Borneon states or reside & train there ).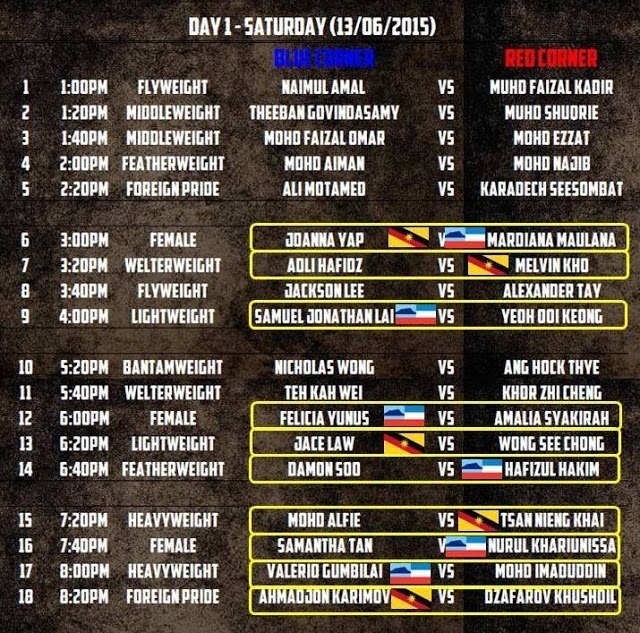 These fighters certainly came to Paradigm Mall carrying within them their Borneon Spirit and Warriors hearts.
the Borneon affairs started with …
Bout 6 ( Female catch weight )
Mardiana Maulana vs Joanna Yap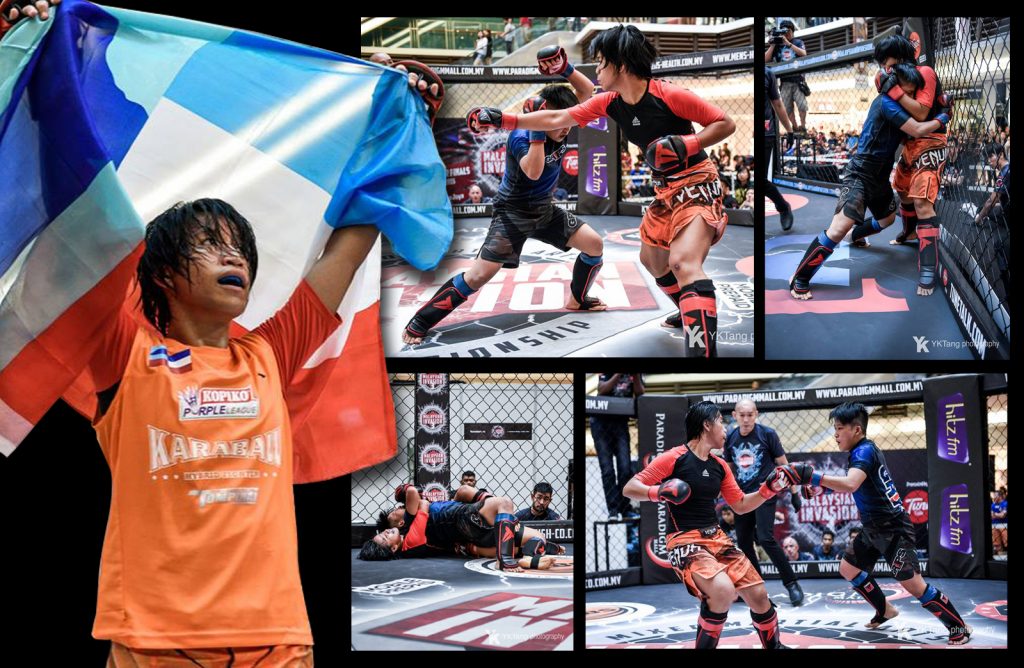 Photo credits to: YK Tang Photography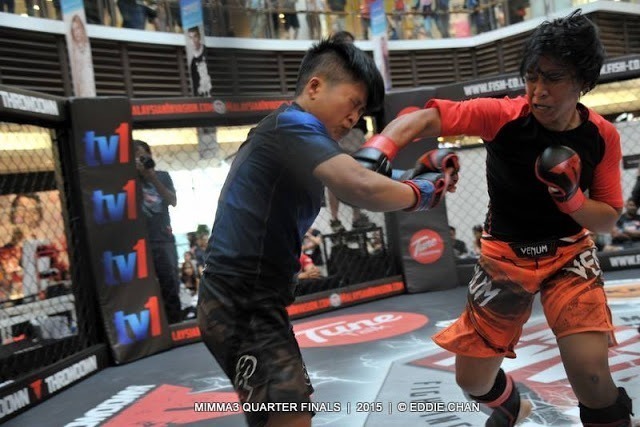 Photos credits to: Eddie Chan
Mardiana from Sabah, with pro MuayThai background lost a hardfought decision to Joanna from Sarawak.
Joana works as a feature writer that works with Borneo Post. Spark by her childhood fascination of Street Fighter games took up BJJ at Studio23, four years ago. Even though consider a late starter in her 30s, but strong determination enabled her to pick up fast and look at where she is today.
( read her story in The Borneo Post SEEDS ).
As for Mardiana, we won't see the last of her. MuayThai being her first martial arts, Mardiana has a record of 5-1-0. She focus more on fighting pro MuayThai and has participated in D1FC at Kota Kinabalu. Her 1st MMA fight was in Penang Oct 2014 – Warrior Fighting Championship (WFC).
Working at Dihnar Group in admin, under the encouragement and support of her boss Ir Hj Nazri, possibly the biggest supporter of martial art scene in Sabah, she trains MuayThai at Dihnar Muay Gym and MMA at Karabaw Gym, under the tutelage of ONE FC Fighter Sensei Rayner Kinsiong.
The martial arts bug bit her since childhood. Playing kung fu fighting with the neighbourhood boys when other girls her age played with dolls. She also likes to mimic Mohammad Ali, using her bothers as target. As an adult, inspired by Ann Osman, now she turns all these childhood dream into reality. Being the only daughter in the family of four siblings, obviously the parents worries about her safety. But they know it's her passion and are very supportive, by motivating her and praying for her.
Bout 7 ( Welterweight ) .
Melvin Kho ( Sarawak ) won via unanimous decision vs Adli Hafidz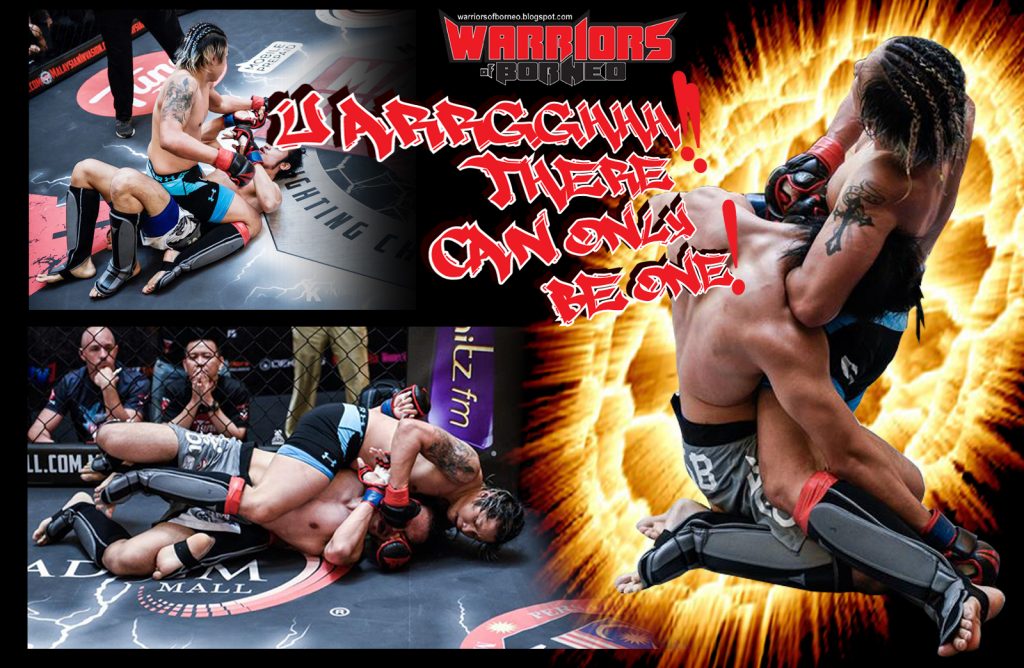 photo crediets to: YK Tang Photography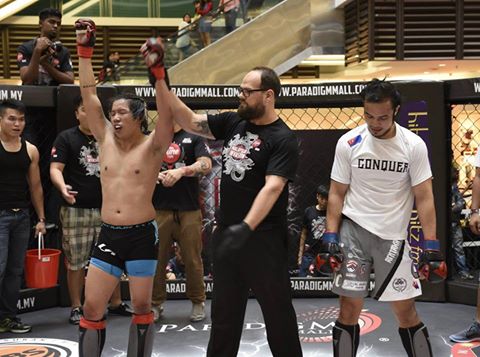 Photos credit to: YK Tang Photography / MIMMA FB page
Melvin's fight went according to his game plan set up his coach – Matt Pelino. knowing Adli is an experienced striker, the game was to keep the distance by jabs & low kicks. Round 1, Southpaw Adli threw a left cross followed by a right hook, missed, Melvin anticipating this, level change & shoot in and got double leg take down, having side control, threw G&P. Adli manage to escaped. Melvin managed to pass Adli's guard and got full mount & rained down hammer fists. Adli able to hold him and got a sweep. Melvin, from side guard moved to Adli's back. At 10 seconds mark, Melvin began to throw shots to Adli's body and head, got a seat belt control but round end.
2nd round. After ranging each other, Melvin initiated the attack with punches but missed, immediately went for a single leg, got the take down. As both fight for position, sensing Adli going to sweep him, Melvin went for a kimura, Adli defended but Melvin adjusted & positioned it tighter but forgotting to close his guard, Adli took the opening to roll & got out, but Melvin was quick to take Adli's back again. Punching to soften Adli, sinked in the choke, but Adli defended well by tucking his chin tight. Adli managed to turn Melvin into his guard and eventually got Melvin's back and landed some 6 to 7 punches to the back of Melvin head. Melvin got out of that position, shot in a double leg, landed in half guard. Adli hold him down, after some scramble, sinked in a guillotine choke but Adli was saved by the bell.
3rd round. Adli with a low kick and then a left hook connected, Melvin immediately level change & went for a double leg. Got side guard to a mount and G&P followed. Adli escaped. But Melvin got the mount again. Adli sweep him and landed some shots. Melvin defended with a triangle. Adli posture up to attempt to strike, Melvin grab his left leg and move to side control and held on till bell rang.
Hailing from Kuching, Melvin is Jace Law's team mate in Gymbox. They knew each other from street dance activities. These guys can shuffle! Later on in 2012 Jace took up Muaythai in a popular Muaythai gym in Kuching. Melvin enquire Jace about it and they started to train together there. In 2013 Jace ws gearing up for a Muaythai fight, but his gym replaced him with another fighter. Feeling dejected, both of them left and joined Gymbox and became the founding member and the pioneer of MMA in Kuching.
Still living with his parents and brother, Melvin work part time in Gymbox, this gives him more opportunity to do what he loves…training. Melvin love challenges, and MMA suits him well. He loves the intensity and the wide area it covers as a complete martial art. To Melvin, there's so much to learn and the learning never stops, everyday there are new skills to acquire and this gives him the motivation and purpose. MMA also gives Melvin direction in life, he's now very focus on training compare to the time when he just left school and feeling lost.
Bout 9 ( Lightweight )
Samuel Lai ( Sabah ) won by TKO vs Yeoh Ooi Keong.
Samjitsu went in & got the job done fast, at round 1. ( 2;10 ), winning via ground and pound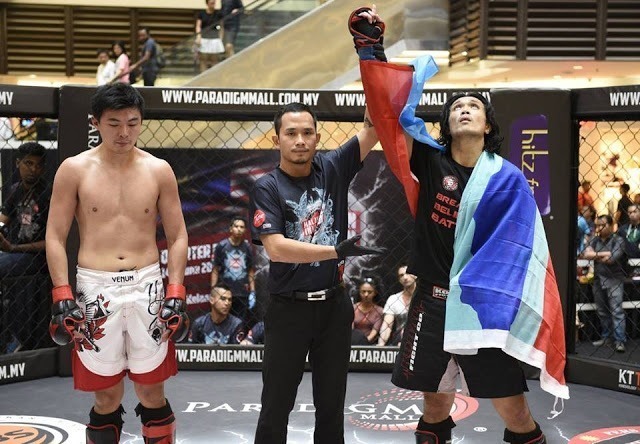 photos credit to: YK Tang Photography / MIMMA FB page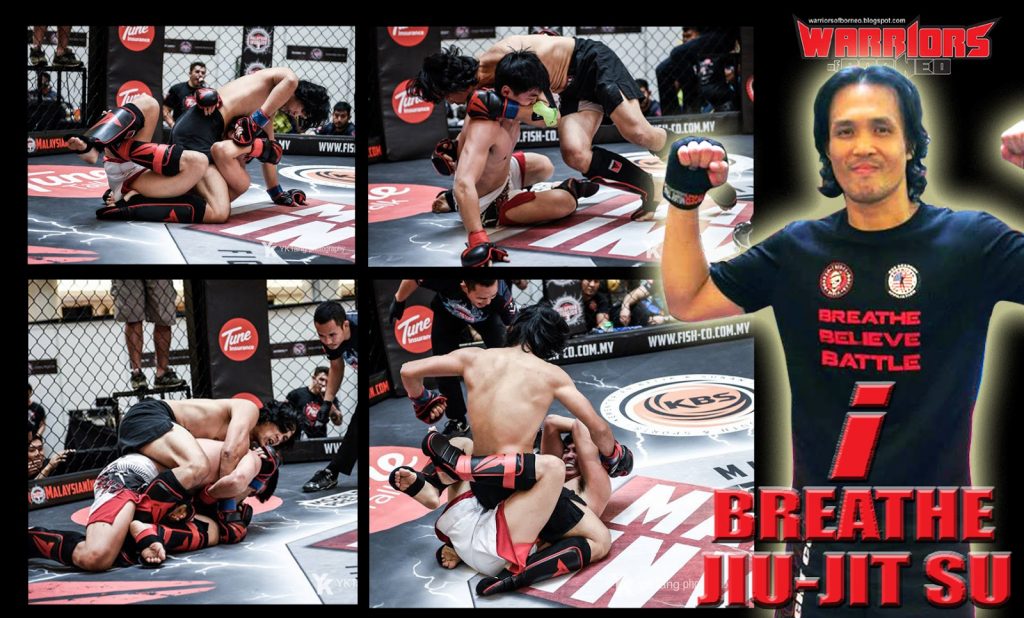 photos credits to: YK Tang Photography
Sam is an ever positive person. He's always looking to test himself to move forward in his martial arts journey. To Sam meeting the experience Hui Keng Fei at the Semis will be great for him as Hui has wrestling and BJJ and it would be good to test himself against Hui.
But the ideal outcome would be meeting Jace Law in the finals. According to Sam, he's looking forward to that, as he believe that will be a great fight. Jace is his good friend but bashing each other in the cage and having a beer together later sounds like a lot of fun.
Bout 12 ( Female catch weight )
Felicia Yunus ( Sabah ) won vs Amaliah Syakirah, by submission.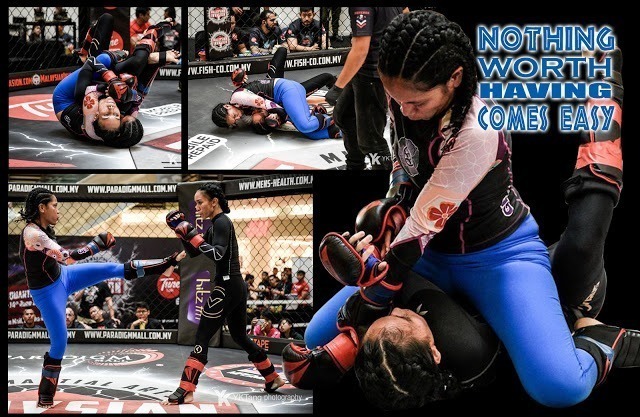 photos credit to: YK Tang Photography / MIMMA FB page
Going into this fight, Felicia knew she is up against an accomplished striker, and also Amaliah's advantage of height. Hence her game plan was bringing the fight to the ground. At first she did try striking with Amalia, but as Amalia striking present higher risk, she immediately went back to her original game plan.
Felicia has some learned Taekwondo when she was in school. She then switch to boxing, but when she found BJJ two years ago it's like an addiction  to her. The more she train, the more she wants to. Having bachelor degree in Business Admin, she works for an international soft drink company as an admin coordinator. At night she commit herself to martial traning, alternating between Aristo Fitness training boxing under coach Ferdinand Santos and BJJ at Alpha MMA coach Michael Chong and TUF ( The Ultimate Fighter ) alumni, coach Allen Solomon Chong. According to her coach and team mates, Felicia is very passionate about BJJ and boxing.
Reaching the semi finals of MIMMA3 is totally unexpected for Felicia. To think that she was initially not interested in MMA. Her main focus was BJJ. In 2014 Pan Asians BJJ, she collected silver in nogi category and bronze in absolute nogi. Focusing and preparing herself for Pan Asian 2015 in Manila to improve on 2014 results but coach Michael push her to take part in MIMMA try out. With a crash course in MMA with just one day preparation, she took up the challenge and got selected in the try out and look at where she is now. All because of the believe of her coaches in her ability.
For this, Felicia will go all out to bring back the inaugural MIMMA female title belt home to Sabah.
Bout 13 ( Lightweight )
Jace Law ( Sarawak ) won vs Wong See Chong via TKO.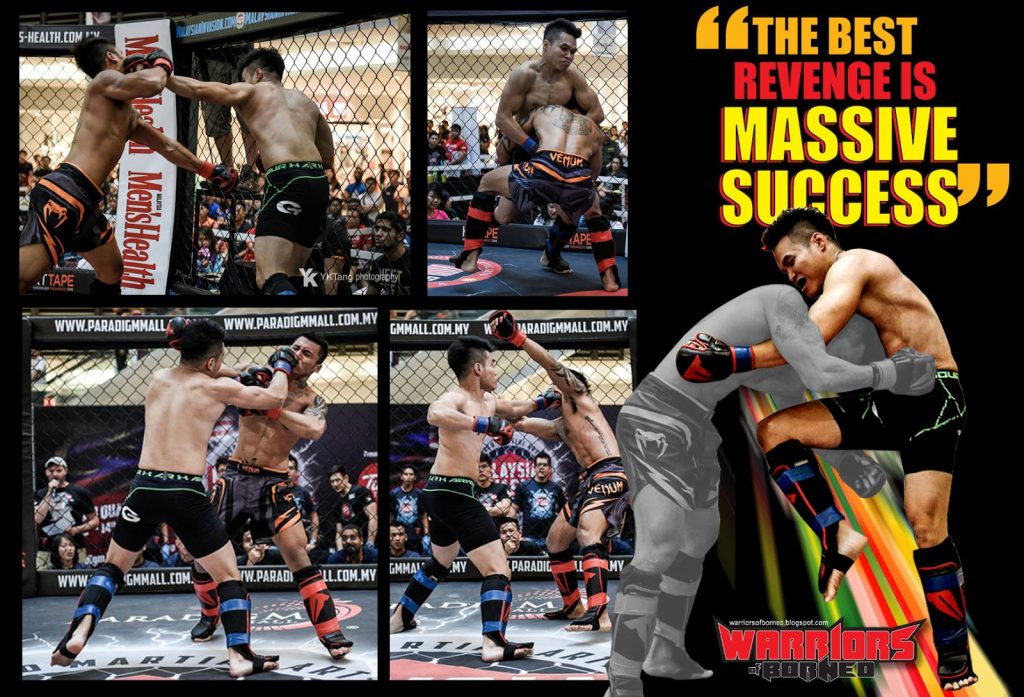 pix credit to: YK Tang Photography
Early on pressure from Wong on the cage. Then he scores a huge throw on Jace and got side control. Jace held on a guillotine. Wong freed his head…but stayed heavy on the side. He adjusted & shot a left on Jace face but in that instant Jace roll out & stood up. Wong tried for a take down but didnt drive forward, Jace now raining the blows. Wong pressured on the cage. Good knees to body by Jace. Wong pressured forward, Jace with the combos, Wong dazed, Jace with another few uppercut to confirmed the TKO as the ref came to stop it at around 1:20.
Jace is like a juggernaut . Being very confident in his stand up ability, Jace has polish and work on his ground game. Don't under estimate his ground game, with coach Matt Pelino 'torturing' him in grappling training, Jace may spring a surprise win by submission in his next fight.
on a roll, collecting TKOs on his way to the semis. He's looking for redemption after the surprise submission lost in JFL Semis.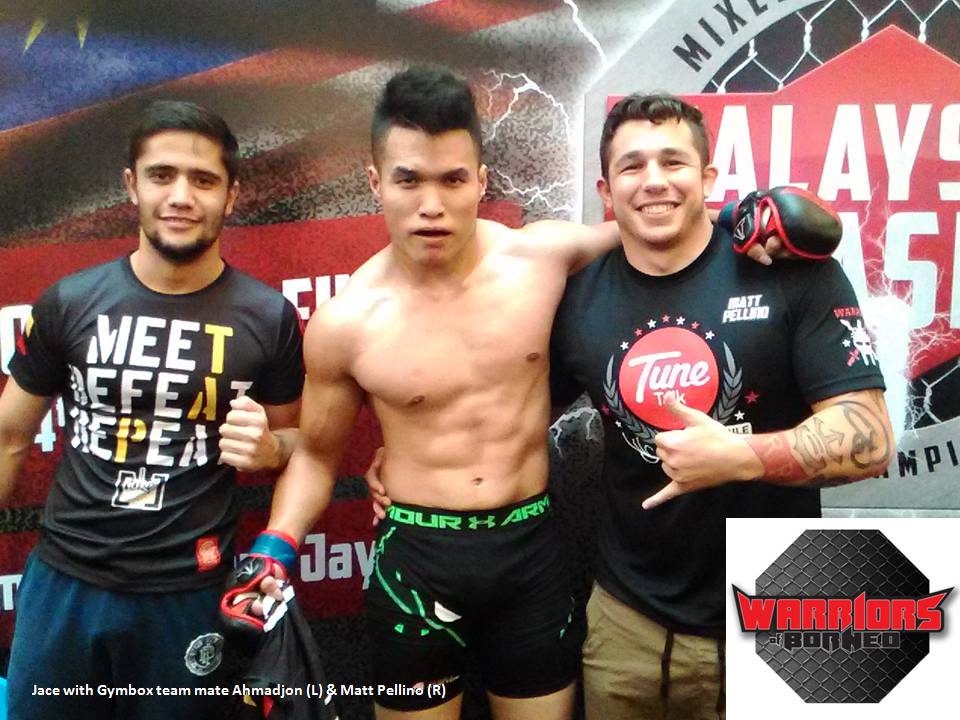 Bout 14 (Featherweight)
Hafizul Hakim ( Sabah ) vs Damon Soo.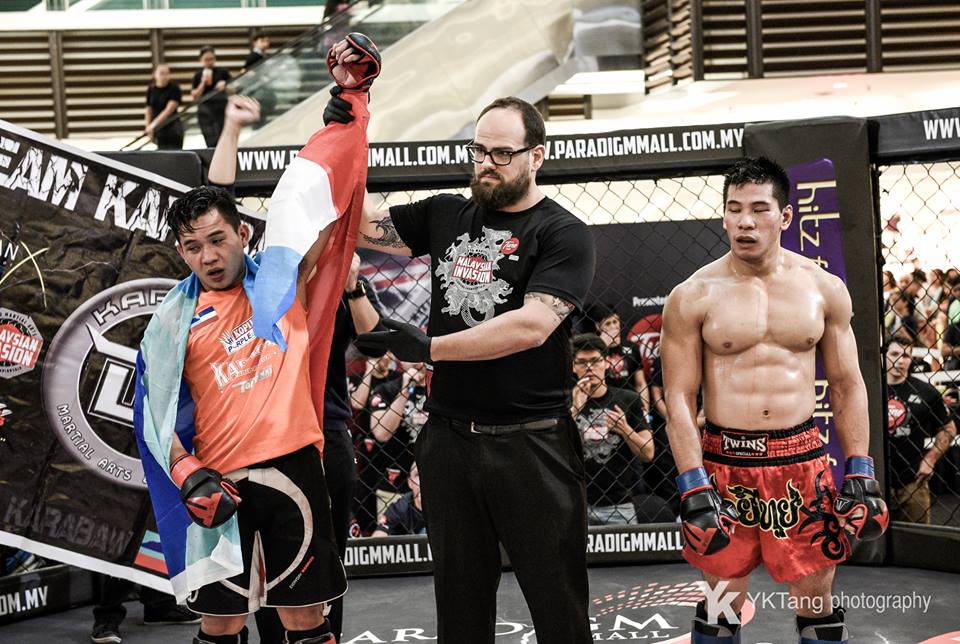 Photos by YK Tang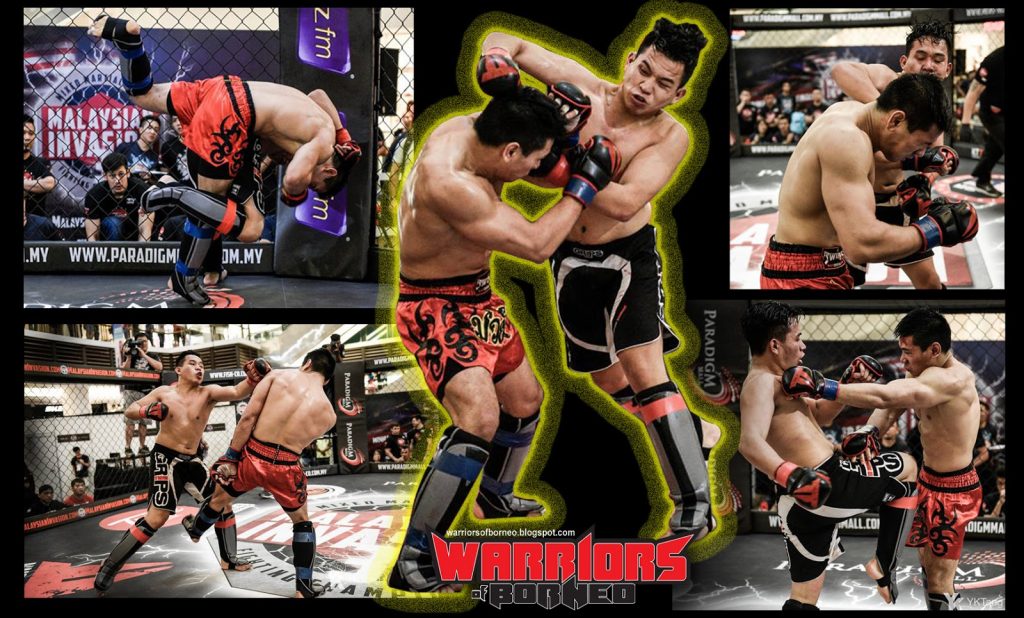 Photo credits to: YK Tang Photography
This was a great fight. Damon body's built like he is going to dish out some serious punishment. He did bring the fight, but Hafizul is a tough cookie. Back and fourth between the two.
Round 1 saw the fight halted as the ref ask the Dr. to check on Damon's cut on the forehead. Lots of stand up exchange with knees from both side.
2nd round saw Hafizul executed a beautiful highlight reel judo throw. Hafizul eventually got the win via split decision.
This 20 year old lad helm from the small town of Sipitang in Sabah. Completed his STPM at S.M Pengiran Omar and interviewed for a course in Sports Science at UPSI. He started MMA training only a year ago. He reached the Semi Finals of JFL but had to pull out as it clashed with his TESL exam. During his school days basketball was more of his things. He has heard of UFC & MMA but being in Sipitang didn't expect that training is already available in Sabah.
Together with his home town friend Ricky Cheong whom has the same interest to train in MMA, they met up with Sensei Rayner of Karabaw Gym, and he started teaching them and help them in setting up a gym in Sipitang. Hafizul and Ricky would train in Karabaw Gym in Kota Kinabalu,
back home in Sipitang these two friends trains at home and at time in school compound, one of it being SRJK Chung Hwa Sipitang.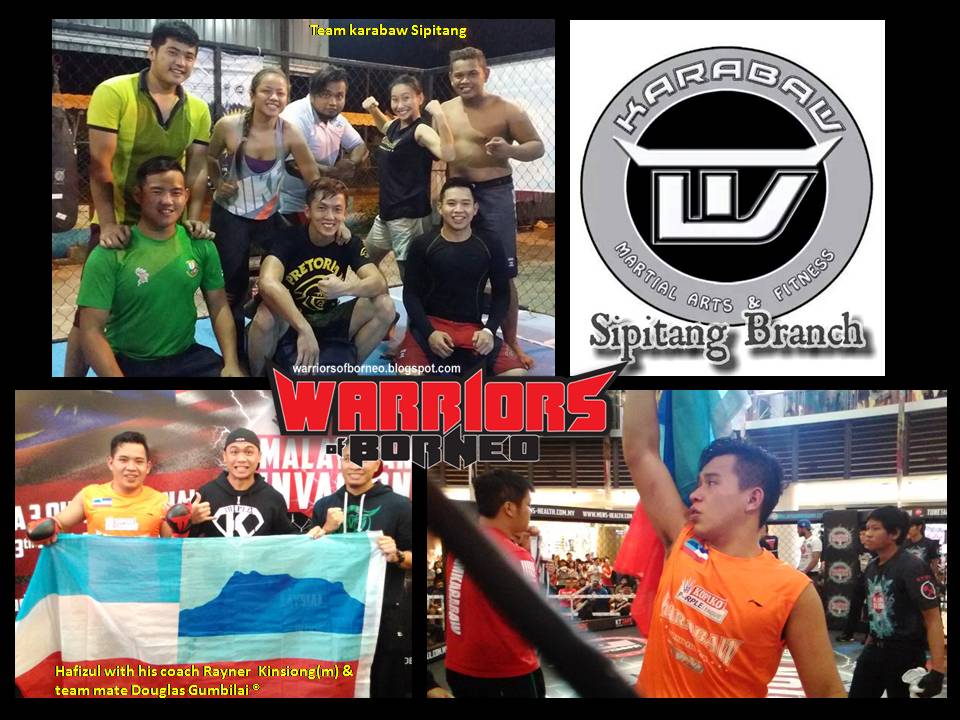 As they progress and words spread, more people came along and join. Some don't stay long as Hafizul said some of the youngsters are afarid of getting hurt. MMA training requires tough mental strenght and lots of determination. But eventually Karabaw Sipitang grew bigger and they acquired a place as a fix location for their gym. Karabaw Sipitang has produce two of Sabah upcoming and big potential female fighter, Sakinah Mazlan and Nurul Khairunisa.
Bout 15 (Heavyweight)
Mohd Alfie vs Tsan Nieng Khai ( Sarawak )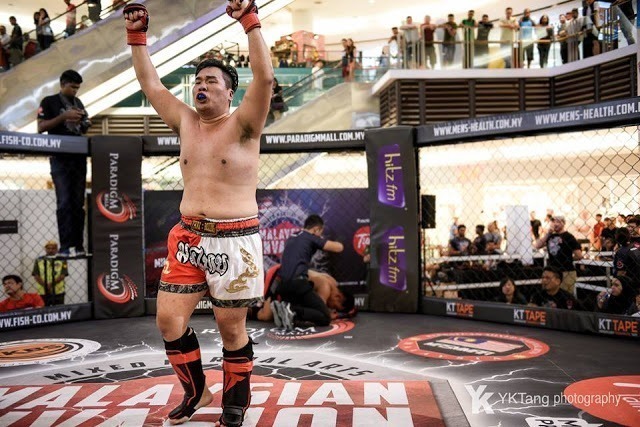 Photo by YK Tang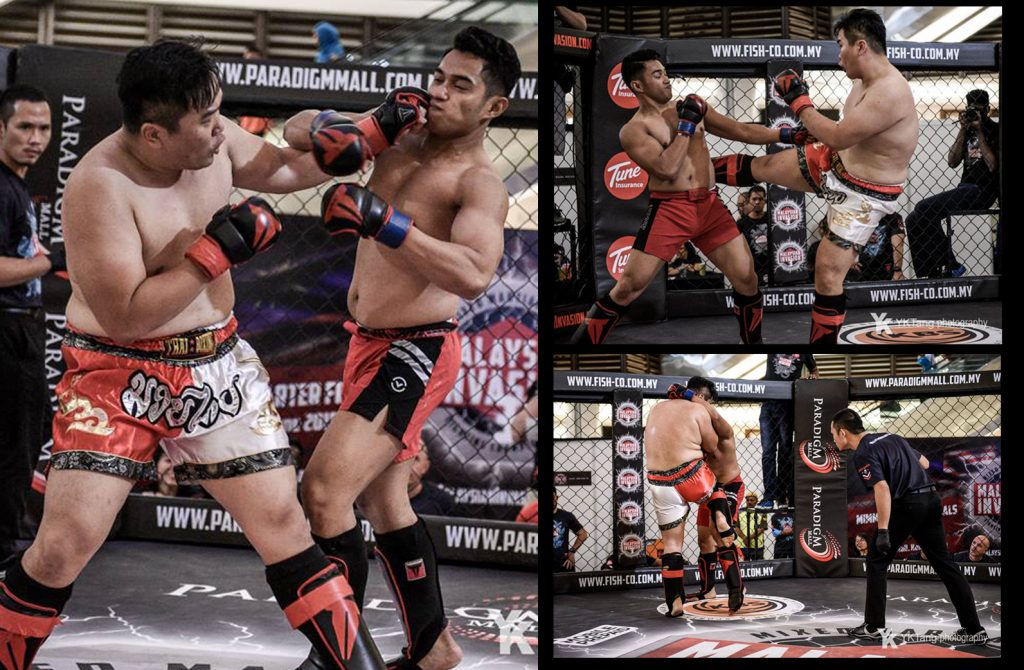 Photo credits to : YK Tang Photography


Both trading low kicks in early round 1. Alfie looking the faster one circle around the cage. Mid of round 1, Alfie strikes with a modified superman punch. Tsan was unperturbed. Last 6 secs Tsan came in with some combo strikes ending the 1st round.
2nd round started with more urgency of strikes between them. Alfie initiated more with single low kicks and occasional punch. Tsan looking to counter. At the 53 secs, as he avoided Alfie's wild right haymaker Tsan went in with combos, Alfie covered up his head & turned his back, Tsan with a round house to the body and clinch at the cage and Tsan connecting with knees.Alfie pushed to seperate. Alfie again with the wide arching right, Tsan slip it and missed with an uppercut, but Alfie lost balance & fall down. Tsan followed him to the ground. Transition from guillotine, side control, full mount, ground and pound and ended with a choke attempt,…save by the bell.
3rd Round saw Tsan counter punch and put in some combos, Alfie wildly swung back, ducking his head gave Tsan the thai clinch on Alfie, putting in two right knees, the 2nd one is the fight ender at 25 secs as Alfie drop down and ref stops the fight.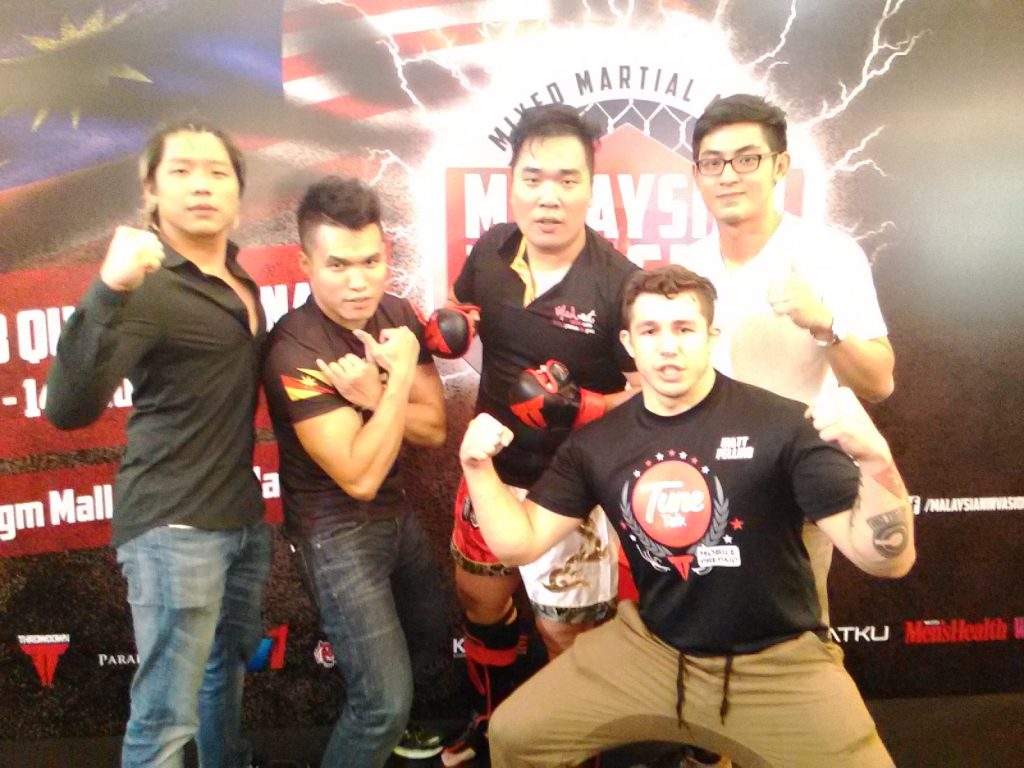 Tsan and his Gymbox Kuching team mates
Bout 16 ( female catchweight )
Samantha Tan vs Nurul Khairunissa ( Sabah )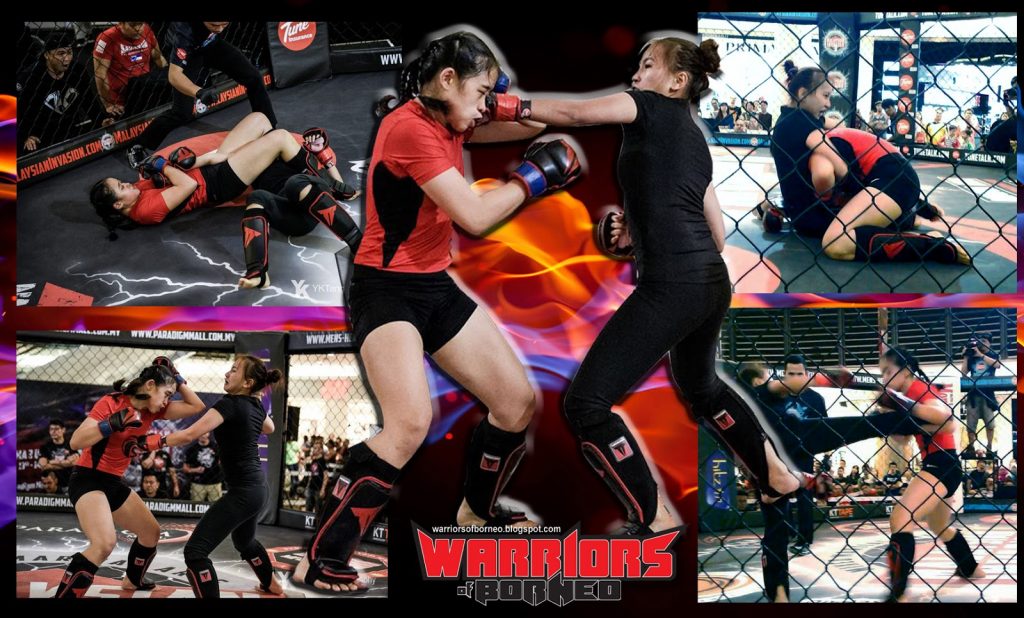 Photo credits to : YK Tang Photography
Samantha looking sharp with her boxing, bobbing high and low and connecting with jabs. Nurul stood and exchanged. But Samantha seems faster with the strikes. Samatha got the clinch move Nurul to the cage & threw knees. Nurul got underhook and they switch position. Back to some boxing exchange. Samantha darting in & out. She ducked in for a double leg take down, got Nurul on the floor. She got full mount and started to G&P , Nurul extend her arms to defend, Samantha grabbed her right arms and swiftly swung her left leg up across Nurul's head for an armbar. Arching her hips to get better leverage, but amazingly Nurul held on and manage to hook her right leg on Sam's head to ease the pressure. She managed to roll up, but arm still trapped, Samantha got back her position and this time got the armbar tighter and ref stop fight at 2:20.
Kudos to Samantha for the win but also kudos to Nurul for the fighting spirit she showed.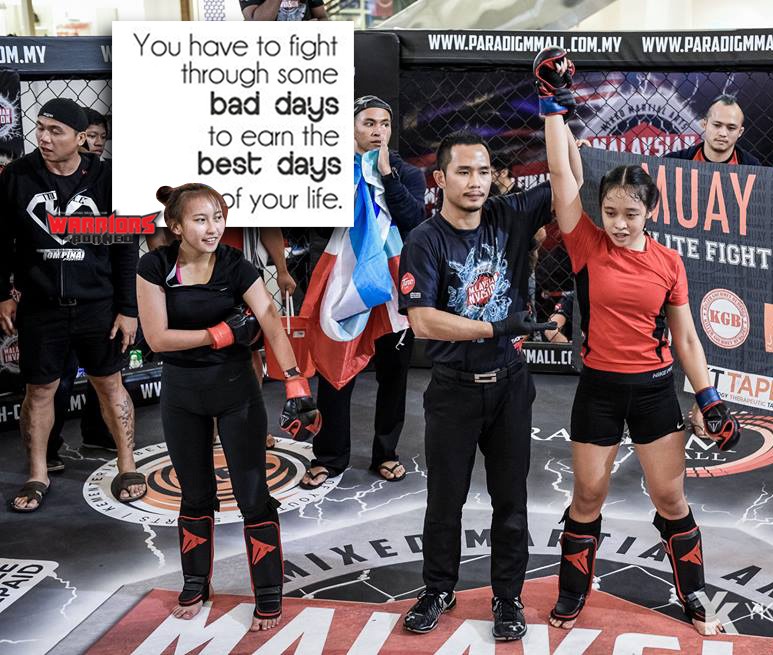 Photo credits to : YK Tang Photography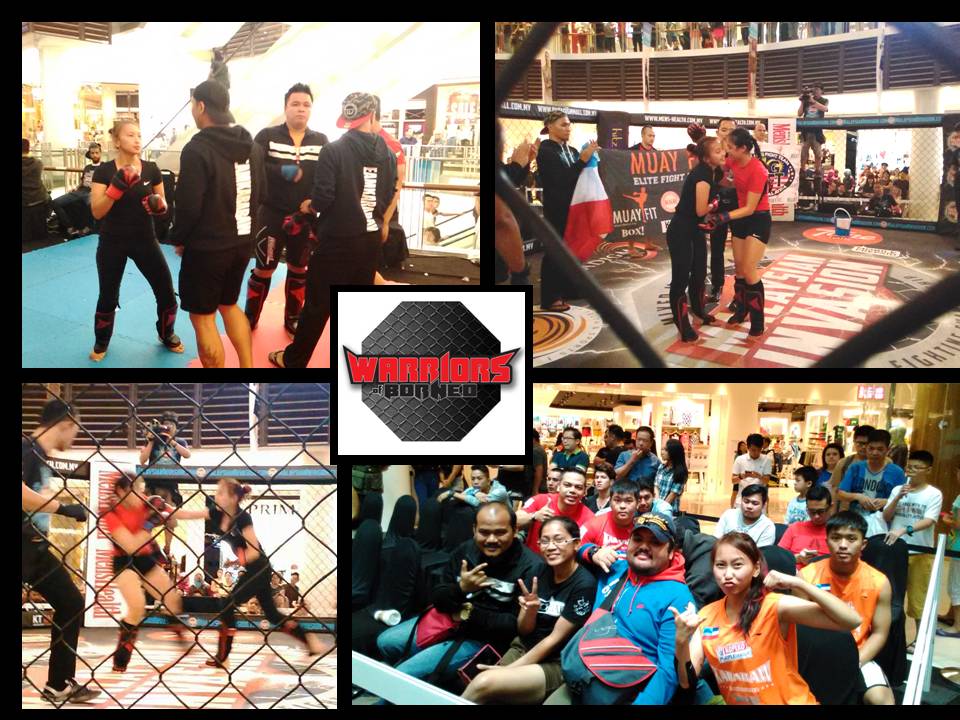 Chiko has been training for a year and the 1st
MMA competition she participated is JFL. Chiko's involvement in martial arts
started in high school. Active in TaeKwonDo and having a red black belt, she
participated in under 18 TKD competition representing her home town of
Sipitang.
Around this time a high school friend told her about his experience
in MMA. As a person whom like challenges and have a liking for extreme sports,
these stories spark Chiko's  interest in
MMA. But at that time there's no place to train MMA in Sipitang. Fortunately a
year back Team Karabaw lead by Sensei Rayner Kinsiong had an introductory
course in MMA in Sipitang which led to the setting up of
Karabaw Gym Sipitang
pioneered by Ricky Cheong and Hafizul Hakeem. Chiko joined the team and has
never look back since.
Being the eldest of four children, Chiko started work after
she left high school. Earning a living by working as a clerk in SAMUR Project in Sipitang,
she also took up part time job as a cashier during the weekend & holidays
in KFC to supplement her monthly income. All this is to ease her working
parents' burden of raising her other three siblings whom is still schooling.
Chiko has an easy going character and make friends easily.
But she is also a confident person and does not give up easily and taking
inspiration from Ann Osman, she is determined to achieve success in MMA. For
Chiko, being a newbie in MMA, she knows that there's still much to learn.
Improving on her ground game is foremost on her list of skills to upgrade on. She
is set to meet
Valerian Rosario
(another MIMMA3 quarter finalist ) in
JFL
Final
in October to determine who is the owner of the 1st JFL Female
Champion.
Bout 17 (Heavyweight)
Vallerio Gumbilai ( Sabah ) vs Mohd Imaduddin.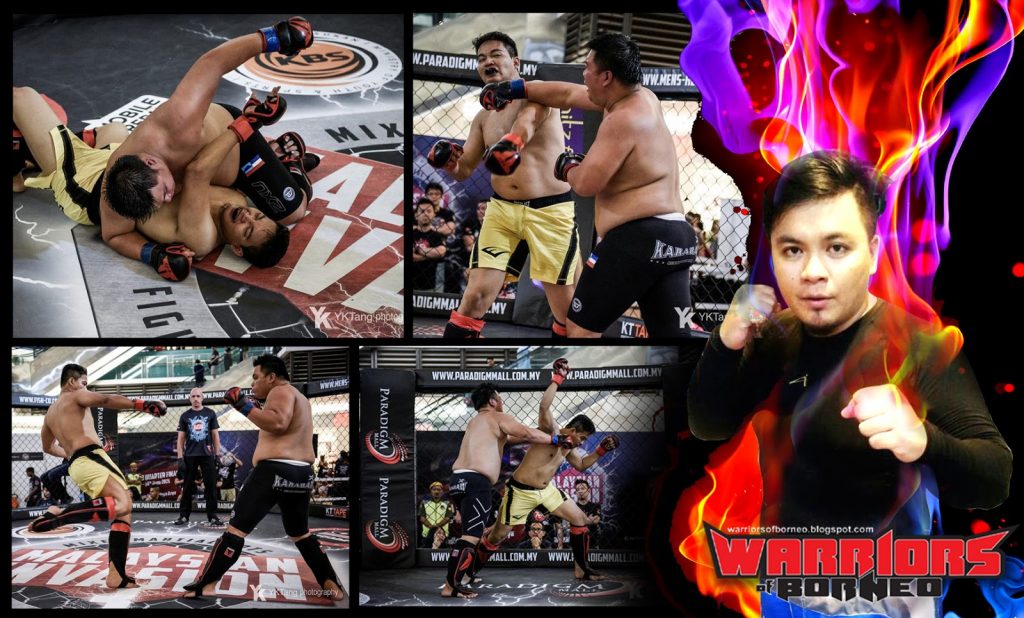 Photo credits to: YK Tang Photography
1st Round with Vallerio stalking Mohd. Mohd doing most of the counter attack, finding his mark with his jab & cross. Vallerio seems to have the heavier strikes, making Mohd back paddling a few times, but have not connect with damage. Nearing the end as both looks to be gasping for air, Mohd got the trip and took Vallerio down & mounted him, did some G&P but Vallerio defended.
The game plan for Vallerio was just to go with the fight as he didn't know much about Mohd's fighting style. Entering 2nd round, knowing that Mohd is faster, plus advantage on height and longer reach, Vallerio game plan was to keep pressuring him, keeping the distance and try to counter when there's an opening, as he knew that to wait for him is to get hit more. He was confident of winning.
2nd & 3rd round Vallerio was chasing Mohd around the cage. Both were getting tired. More so on Mohd as he was trying to avoid Vallerio. Mohd threw out his gumshield 3 times, halting the fight momentarily. He was obviously gassed out.  Surprisingly he was not penalise for these unsportmanship behaviour.
At the end of the fight Vallerio was confident of winning, but after few minutes of deliberating the judges result is a win for Mohd Immadudin. Immadudin could barely stood on his own when the results was annouced, he was so exhausted he had to be pushed with a wheel chair.
But Vallerio took the defeat gentlemanly and respected the judges decision. Inside he knew that he had given his all in the fight. He didn't quit, he lived the Sabahan spirit of fight to the end!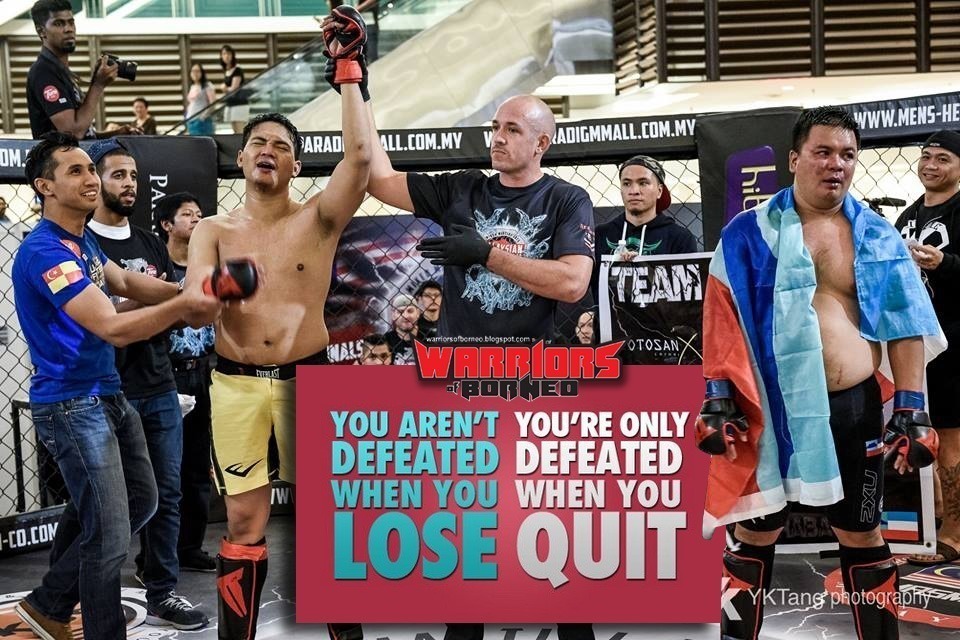 Photo credits to: YK Tang Photography
Vallerio is a graduate in Biotech but came from a family of fighters. His father was practicing Shorinji Kempo and his late uncle a karateka. Vallerio himself started Karate when he was 15 under Sensei Richard Ajak in his home town of Tamparuli. He was active in the junior and cadet Karate championship in Sabah. He made it into the Sabah state team in 2002 together with Adrian Tham ( MIMMA 1 Heavyweight champion ), both train under Sensei Rayner Kinsiong. Vallerio represented Sabah in SUKMA 2004 and 2006.
Together with his younder brother Douglas Dan Gumbilai ( current MIMMA3 Semi Finalist), they run Karabaw Tamparuli gym that teaches martial art & fitness. Vallerio plan to fight more next year with a move to middleweight, focusing on MMA & Muaythai.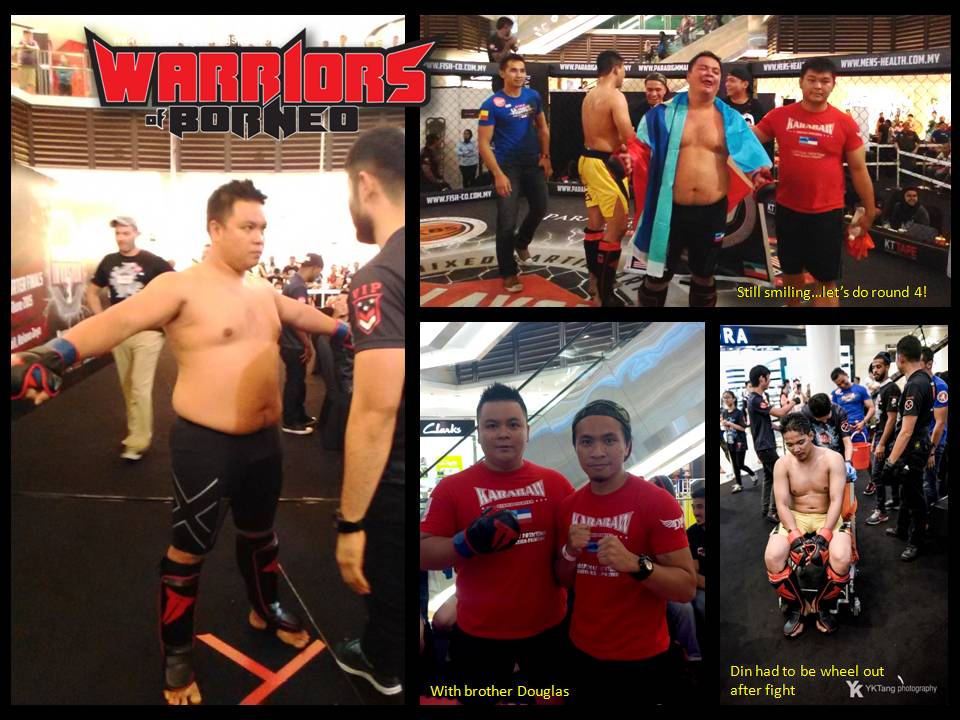 Bout 18 (Foreign Pride)
Ahmadjon Karimov (Tajikistan / Sarawak ) vs Dzadfarov Kushdil.
Ahamadjon won by walkover.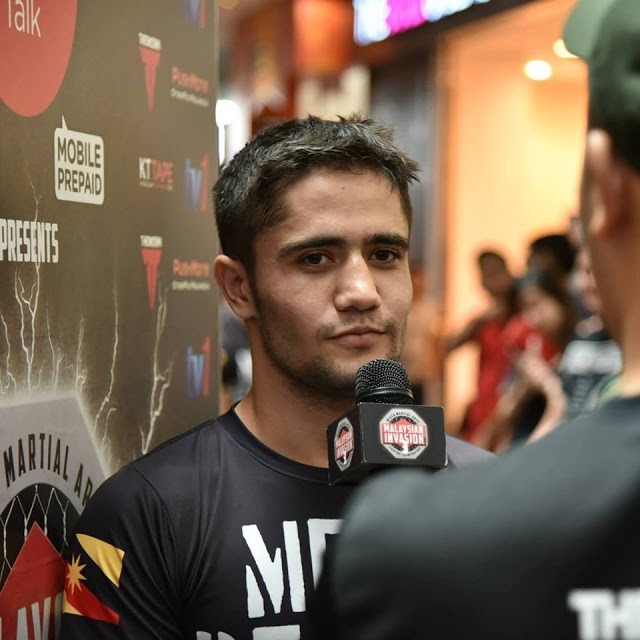 ————————————————————————————————————————-
Stay tuned for review of MIMMA3 Quarter Finals ( Borneon Day Out ) – Day 2.
Credits note to: 
 – The management team of MIMMA3 & Ahmad Alief of Tune Talk for allowing me
   to cover the event.
– To all the MIMMA3 athelete that spare their time for the interview
 – YK Tang & Eddie Chan for providing awesome photos of the action!
with MIMMA2 Heavyweight Champ -Darren Low of Sabah