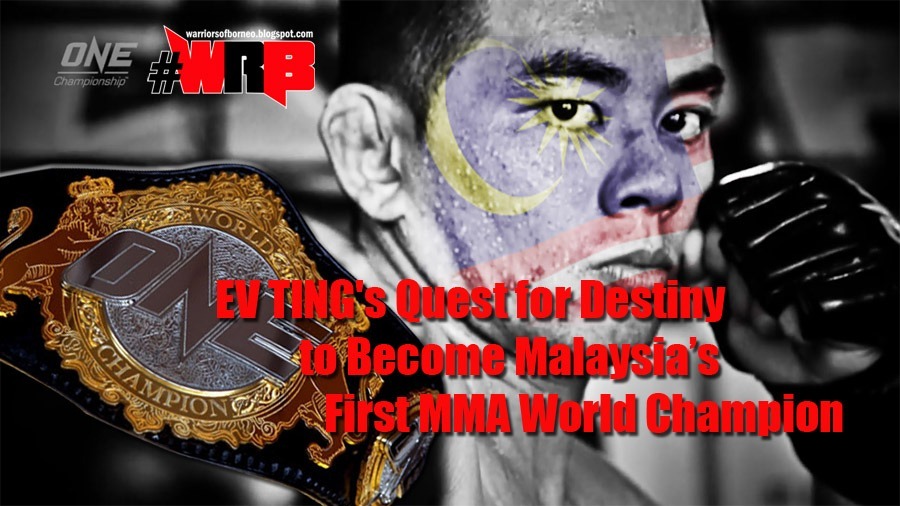 This is fight week for ONE Championship : Kings of Destiny in Manila Philipines on Friday 21 April 2017. On the line is the Lightweight belt of home town hero Eduard Folayang. Challenging him is Malaysia's MMA star Ev Ting.
It has come a long way for Ev to reach this stage and after his win over Kamal Shalorus in Kuala Lumpur in ONE Championship : Throne of Tigers (10 FEB 2017), Ev called out for the Lightweight title fight. It is now a reality and Friday will be a day to determine his destiny in becoming Malaysia's first MMA world champion.
Ev has a 13-3-0 record and going into this title fight, he has chalked up 4 win streak over tough opponents such as Kamal, Rob Lisita, Eric Kelly and Honario Banario. Meeting Eduard Folayang will be the 7th time he fights a Filipino and he only lost once, which was back in 2012 against Mark Striegl.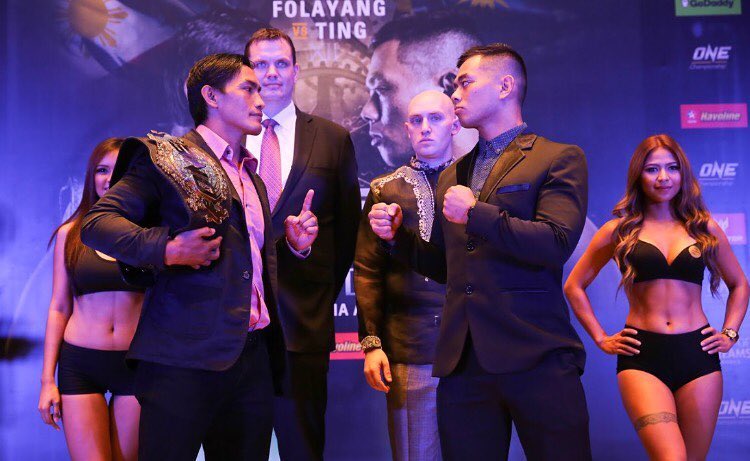 Face off with Eduard at ONE : Kings of Destiny's press con on 18 April 2017
Warriors of Borneo talked to Ev in his quest to become a Champion


WRB: Your fight vs Kamal in FEB, he look like he was confident of winning right to the time when the ref was about to announce the results, how did u think of yours and his performance that night?
ET: For anyone that really understand the game will know for sure especially with ONE Championship Global rule set. That in 2nd & 3rd round I controlled the cage and obviously landed a lot more strikes. I did more than enough to get the W. I was surprised it was such a close decision, my bad for not finishing it. (relive the fight it in ONEChampionship review here)
WRB: Did he hurt you in anyway? Kamal's thigh looks prominently bruise, tell us about your plan of attack.
ET: First round he shocked me by landing some wild punches, once I had calculated his timing it was a matter of just working around him whilst controlling the cage, action and simply doing more than him.
WRB: How did you celebrate the win?
ET: I went straight back to Auckland, took care of some errands back home and enjoyed a few buffets and got straight back into camp.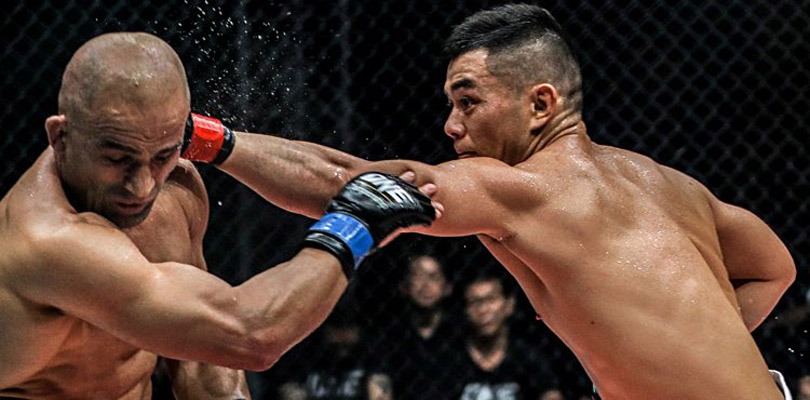 3 rounds of pure stand up war with Kamal with Ev taking the W!


WRB: Was it already your target that after defeating Kamal you call for the title shot?
ET: After 7 victories in this ONE Championship cage and 4 fight win streak, it would be silly not to call out for the shot.
WRB: What was your game plan for that fight? Was that your toughest fight? If not, which then is your toughest fight to date and why?
ET: Game plan is to always to be smart and outwork your opponent as well as capitalize on mistakes to finish. Toughest fight would be against Rob Lisita as I had never been as tired as that in a fight and I acquired an injury in the first round which I had to disguised and push through.
WRB: For Kings of Destiny…Where are you doing your fight camp? 
ET: Spent first 4 weeks at Auckland MMA, working my game plan as well as physical strength and generally preparing the body for another war. Will be finishing last 4 weeks at Bali MMA with other Malaysian TuneTalk Warriors Keanu and Aiman who is also fighting on the same night. ( as of date Keanu has pulled out from his fight vs Christian Lee due to injury )
WRB: : Tell us how is a typical day in your fight camp like?
ET: 9AM Pro Training, 3PM Conditioning, 7PM Flow Technique
WRB: Eduard seems to be a strong striker with much improved grappling, would you be preparing for a stand up war or aim for your signature guillotine?
ET: Fight will start standing and will see how it goes from there.


WRB: You have the reputation as a Filipino slayer, all that was in KL, how do u feel going into Pinoy land to challenge their idol?
ET: Philippines is a beautiful city with amazing people whom carry great values. I have been here before and I know the fans are passionate and appreciate a good fight regardless of who we are.


WRB: You have moved up from Featherweight for the last three fights, was this after ONE's new weight cut rules? Is Lightweight your natural weight? did u change your diet or training method?
ET: Yes this is with the new ONE weight policy that my normal walk around weight is much closer than Lightweight than Feather so it only makes sense.
With this new policy all athletes are performing better, looking more professional and ultimately much more healthier.


WRB: Do you ever feel the need to avenge your loss at featherweight to Marat?
ET: Sure maybe I can drop back down and fight him after this fight so I can be a two weight category Champion of ONE Championship.


WRB: Where do you draw strength from when you are in the deep end of a fight?
ET: I reflect on how far I have come and believe in my journey that I have what it takes to win.


WRB: Which aspect of your game do you think will win you the title in Manila?
ET: My years of dedication and sacrifices will reflect in that cage where I will transform into the best version of Ev Ting.




WRB: Looking back at your career, what was the most defining moment?
ET: Winning the only New Zealand Featherweight title at the time.


WRB: Fighting in Lightweight involves a perfect combos of speed strength and agility, what is your favorite training method / workout to achieve this?
ET: Simulating movements with load and Sparring
WRB: Thank you Ev for your time on this interview, wishing you all the best and God Bless for your title fight!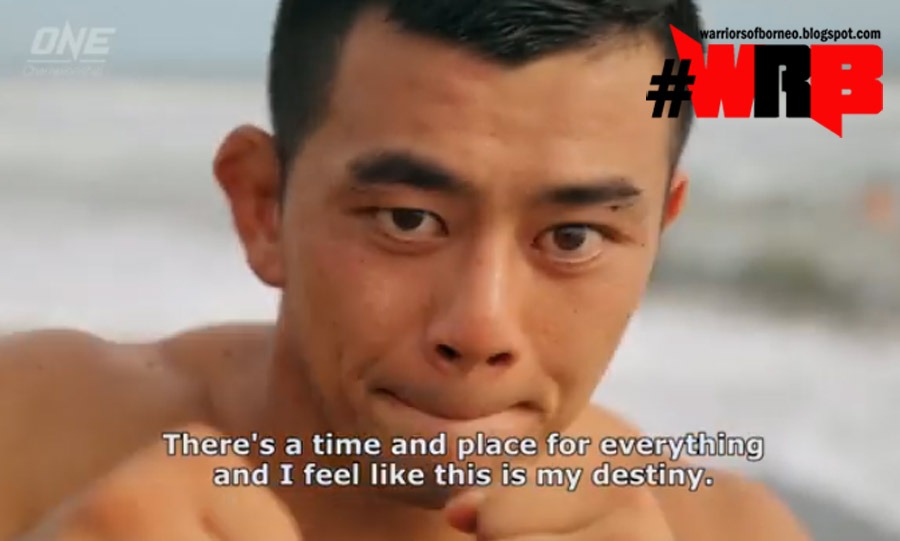 Ev will go against Eduard whom carry's the record of 17-5-0. Training out of Team Lakay, the most successful martial arts team in Philipines. Situated at the hills of Baguio in Northern Philipines provide a great place for Team Lakay's fighters to train and gain advantage in terms of building stamina.
Team Lakay head coach Mark Sangiao is a trainer of champion. An successful former fighter himself, through dedication and hard work, Mark not only has produce the first Filipino Lightweight World Champion but also has produce numerous URCC champion and many more contender for ONE Championship.
Philipines is considered ahead in terms of MMA development compare to the other South East Asian countries. Producing calibre fighter such as ONE Championship Heavyweight Champion Brandon Vera and former UFC Middleweight contender Mark Munoz. Now that Eduard has won the Lightweight belt, Ev felt that the pressure is on Eduard to defend it in front of his home crowd,
We have seen Thai champion in former ONE Championship flyweight champion, Dejdamrong and Singapore has Angela Lee the current women Atomweight Champion, now the time is perfect for Malaysia to have its own World Champion…
Don't miss KINGS of DESTINY
LIVE on 21 April at 8.30pm (Manila time)
For fans in the Philippines, tune in to ABS-CBN Sports |
For fans in Malaysia, tune in to
Astro Arena
.
Official livestream at
oneppv.com