Fighting in the flyweight category in MIMMA5, Naimul 'Convict' Amal Othman  has come a long way since his first MMA match 5 years ago and has built a reputation as a brawler and a fighter that shows no mercy.
In MIMMA 5 league matches, he only fought twice, earning a TKO win and another split decision win, another 5 times was walk over win for him, as many other fighters seems to avoid meeting him in the cage. But he still able to take the no.2 spot in the league standings. With that he qualified for the semis in Feb and took a closely contested win over Brandon Tang.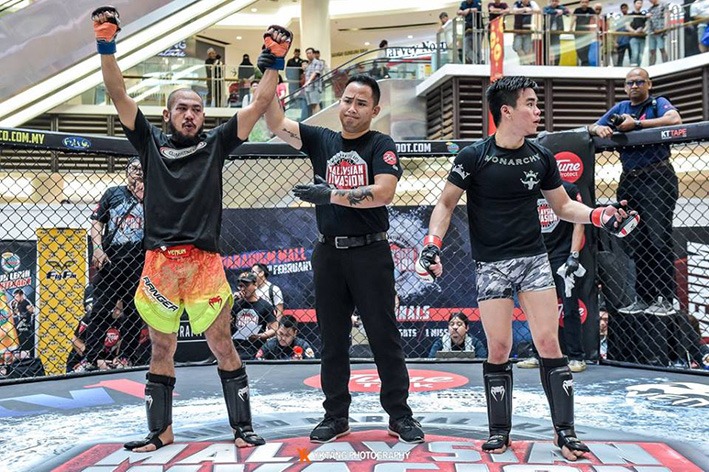 hard fought victory over Brandon Tang in the semis
——————————-
Spotting a look close to Conor McGregor, but minus the hair and the trash talk, Naimul is a veteran in Malaysian MMA scene. Fought at featherweight in MIMMA season 1 way back in 2013, losing to eventual champion Keannu Subba in the semi-finals.
Hailing from Shah Alam, his teenage years was a time of teenage angst and hot hotheadedness. Venting his energy by getting involve in plenty of street fights, resulting in police apprehending him 3 times…hence the nick name 'Convict'. Naimul's interest in martial arts started early. He took up Silat in primary school.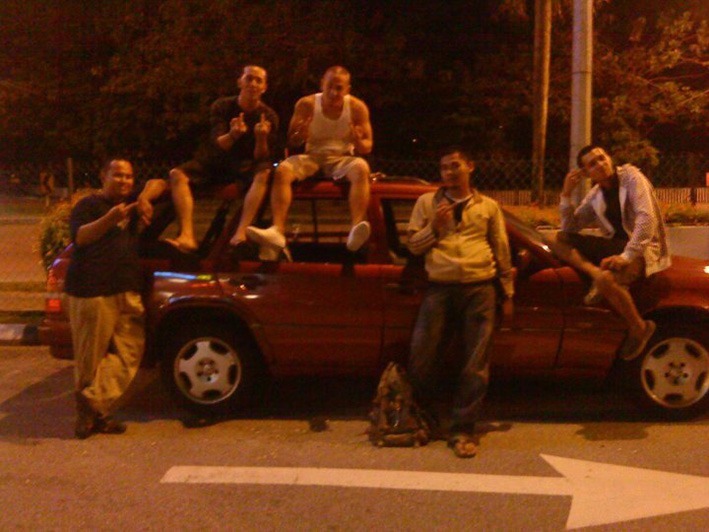 rebellious days
Progressing in high school to Taekwondo. Winning a silver medal in the school district tournament in 2005. That same year, he saw The Contender on TV, which sparks his interest in Boxing. He was inspired by the winner of The Contender Sergio Mora.
He wanted a pair of boxing glove so bad to start training, but he could not afford one. So the 'convict' did what a 'convict' need to…he took his father's money to buy one. Once he had it, it was raging bull from there and he started training like mad on his own. Later on, his brothers Dhiaaul and some other friends also trains with him, in his home's garage.
He won't forget his experience in MIMMA. Season 1, in 2013, without much knowledge of MMA, but armed with his own martial arts experience he took it head on but lost to Keannu via rear naked choke. MIMMA season 2, he participated again. This time lost to eventual finalist Jenarten via armbar in the quarter-finals.
In MIMMA 3, he fought all the way to The Contender Fight. Meeting his own brother Dhiaaul. Naimul lost in round 2 via armlock.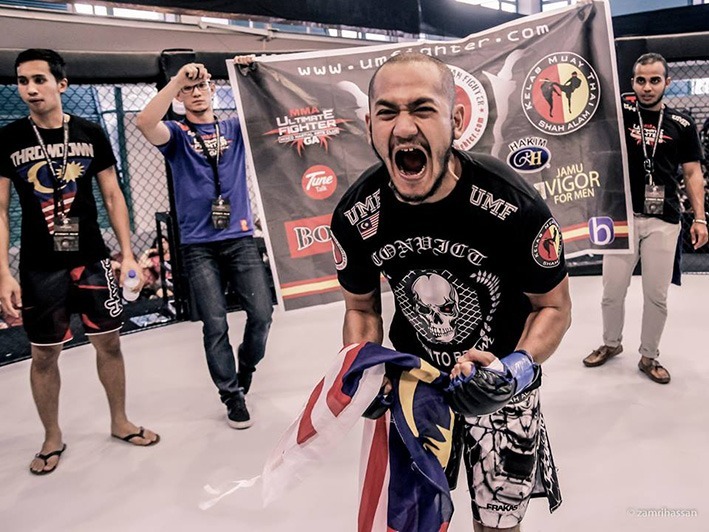 fighting in Singapore's Lion Fight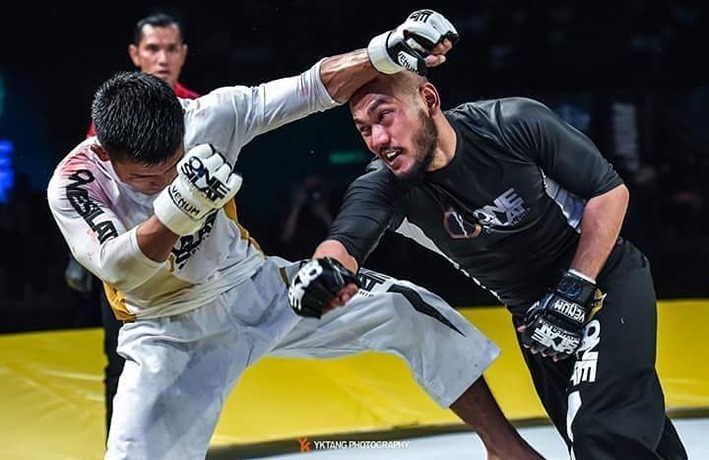 in ONE Silat
Other than MIMMA, Naimul have beaten two Singaporean before. One in Singapore's Lion Fight League vs Charles Ferroa, and another one in Johor's Ultimate Beatdown, vs Mohd Faiz. With his amateur MMA experience he was offered to fight at ONE Silat as a pro and fought for the promotions three times.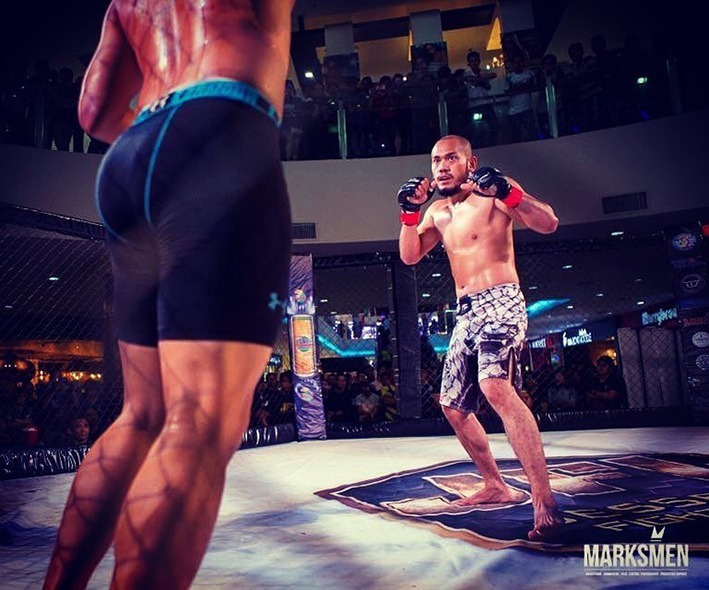 in Sabah's Jesselton Fight League
After MIMMA3 in 2015, he skipped season 4 and fought only twice in 2016. Once in Jesselton Fight League and once in ONE Silat, both time the results did not side him. Now for MIMMA 5, he is back in the game.
So what motivate you to make a return to MIMMA?
"There's always something sentimental with MIMMA as this is where my MMA path kick start and grow. So it would mean a lot to me if I can end my amateur journey with a MIMMA belt." 
————————–
His commitment to this championship is to the point that he quit his full time job to focus on training. He plans to fight in all the league matches, unfortunately 5 out of his 7 wins are from walk-over hence the allowance from fights were not able to sustain him. Hence he started to give personal training classes.
Leading up to semi-final fight, he had a high fever. That was one week before cutting weight week. Laying on the bed for a week unable to train was unbearable. Eventually he recovered and able to start training, but next come the issue with his motorbike tire. It was so worn out until the wire was exposed, it was very dangerous for him to ride to gym but he does not have enough money to buy new ones.
The night before his semi-finals fight… so many things went through his mind that he could not sleep at all. The next day even without rest he still make sure he step up into the cage and carry on his duty to fight.
"My journey in MIMMA5 has not been easy. There's so many up and down. The above are just some parts of it. But through all this ; my parents, family, wife and daughter were always there. They always give me support, rain or shine, they are really my pillar of strength."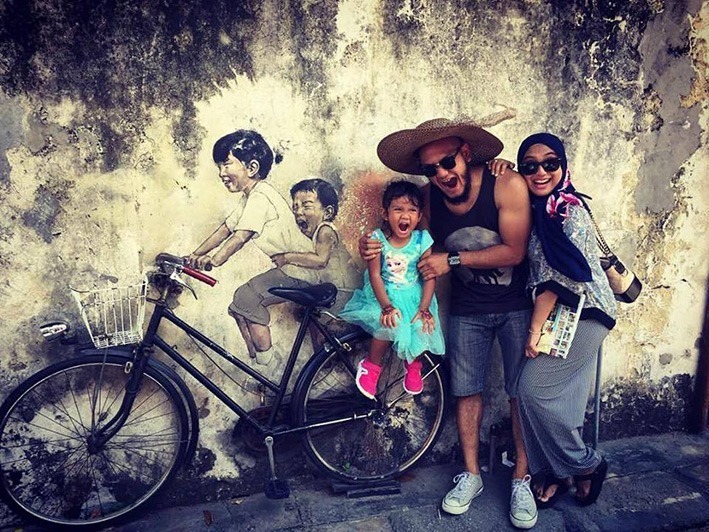 "I tell myself in whatever situation, I just ignore the negative parts and just keep on going forward. The true opponent is my own negative self. Physical challenges is no 2, the no.1 challenge is mental."


Many would have given up at the first sign of challenge. But Naimul persevere. His passion is combat sports, is his true calling. And he dream of opening his own gym one day and share his knowledge and skills to produce new generations of great fighters from Malaysia.
Even though fighting currently in amateur MMA does not provide him income, he is willing to go through this tough time to live his dream. He does not want to have a regret when he is old that he never did what he love.
Currently Naimul trains with Coach Joe Lorenzo Kitingan. Together with his brother Dhiaaul Amal (Bantamweight finalist) in the Kitingan Fight Team. They train every day, 2 sessions per day, striking in the morning, grappling in the evening.
In 2015 both him and Dhiaaul fought in flyweight and eventually the best will meet the best and they faced in other in the contender fight to determine who gets to go to the finals. Dhiaaul won that day in a very emotional victory.
This year, Dhiaaul is fighting in bantamweight. Both of them has reached the finals. This time together. This will be Naimul's motivation, his dream to go home with his brother both as MIMMA Champion.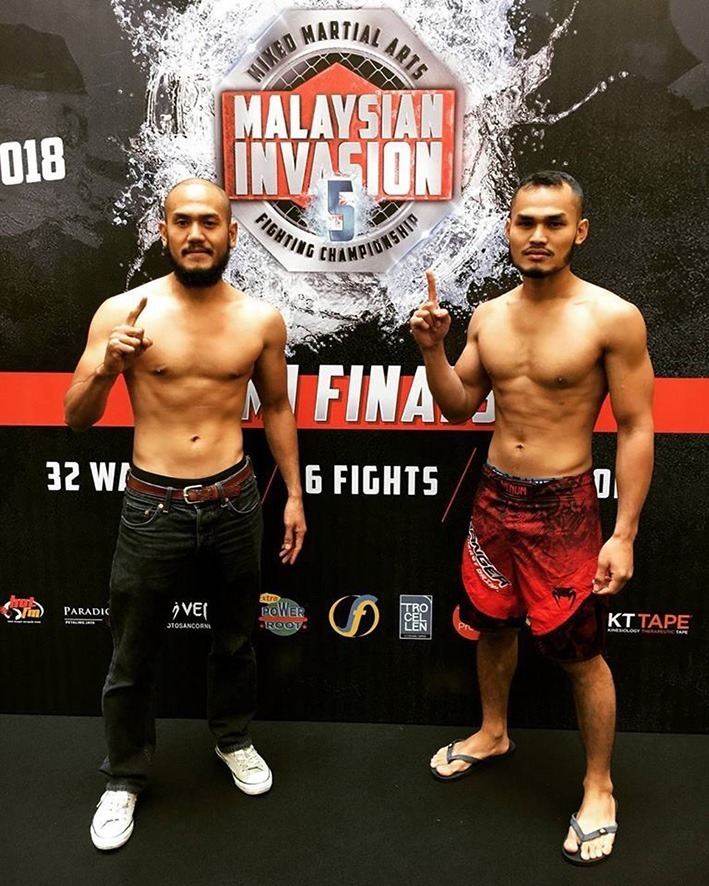 with Dhiaaul as they prepare for grand finals together
On what he thinks of his rematch with Jay in the grand finals,
"Will be interesting fight. He's a grappler. Its going to be challenging fight for me. But I will prepare for evrything.


Naimul has overccame Jay once in league 2 with a submission win and he believe he will be able to do so again in the finals