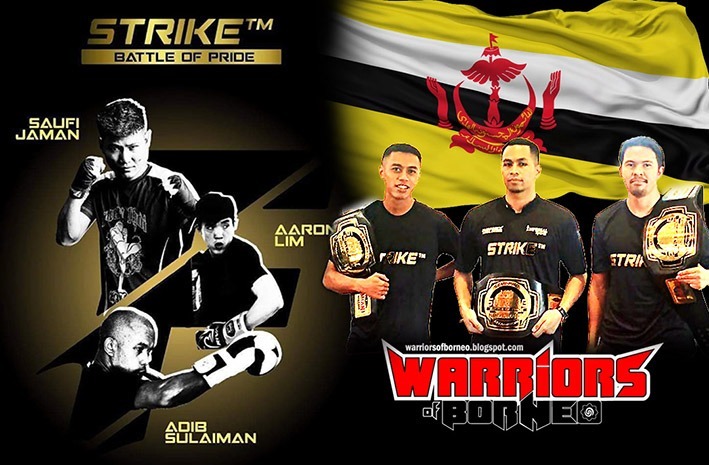 Faced with challenges, usually good people come up with solution. In Malaysia 4 to 5 years back when martial arts promotion starts to gain momentum, most of the available fights are in West Malaysia. For Borneon, these means travelling by air to participate. Accommodation and transport also becomes a concern as all these needs money.
To overcome the logistics problems, many Borneon based event was born.  Sabah in particularly have seen a boom with plenty of martial arts promotion, such as Jesselton Fight League, Rampage FC, Fight Fest, Borneo Amateur Challenge, D1 Fighting Championship, Ultimate Beatdown Borneo, Elopura Fights.
Brunei location in the center of East Malaysia means many talented Bruneian fighters have to travel out of their country to participate. We may think that it's not a problem for Bruneian to travel as they have the 2nd highest per capita income (after Singapore) among ASEAN countries. But not all have the budget and time to travel.
Having a Brunei base event will give opportunity to more Brunei fighters to join. And definitely fighting in their own home ground is something special. Usually fighters have an edge with local support and familiar environment.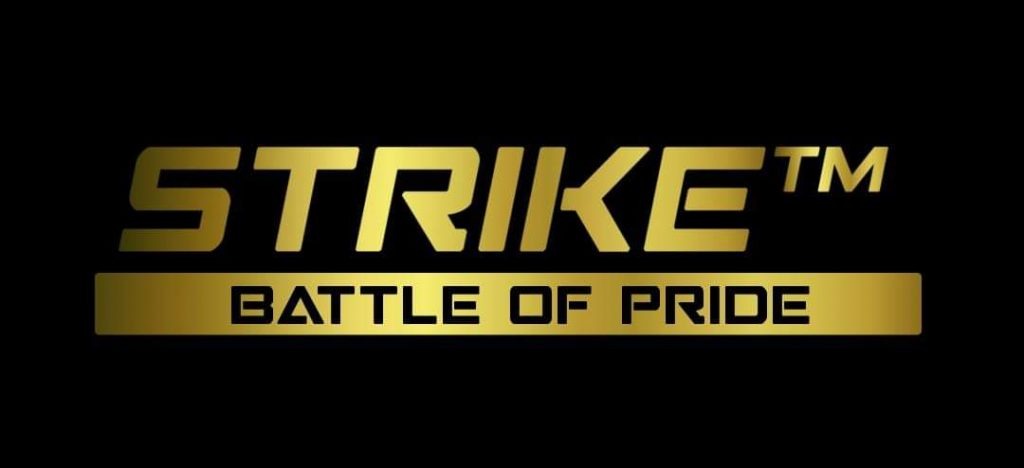 Enter
STRIKE Promotions Brunei
to solve this logistics problem. Their first event will be held on 10-11 NOV at the Atrium of Brunei's
Airport Mall
, dubbed Battle of Pride. This is good news for Brunei's fighter as they can focus on training and have less to worry on travelling,…. this time let the fighters from Sabah, Sarawak, Labuan & other parts of Malaysia do the travelling. Bringing foreign fighters to Brunei is also a way to contribute towards tourism revenue in Brunei.
With confirmed participation of 87 athletes coming from 16 various martial arts gym in Brunei and around the region, STRIKE is set to be the biggest amateur boxing and kickboxing event ever held in Brunei.
it is officially sanction by Brunei Boxing Association and ISKA and with support from the Brunei's Ministry or Culture, Youth and Sports as well as Brunei's  Ministry of Primary Resources and Tourism.
According to co- founder Younis Asmad or better known as Nate , STRIKE aims to be the premier combat sports event in Brunei. Giving a platform for Bruneian fighters to showcase their skills and to unearth & identify talented Bruneian fighters. From here skills development programmes and training schemes can be offered so that local athletes are well prepared to compete in future regional multi-sports events such as the South East Asian (SEA) Games, ASEAN games, The Olympics etc.
He said they are planning to organise 4 events next year and MMA fights are in the plan. But to do that, he needs to make sure the first event is a success. For this, STRIKE  brought in big names from around the region and matching them with top Bruneian talent.
———#WRB———
In the main card, a semi-pro fight will headline STRIKE. Brunei's own up & coming martial arts star, Saufi Jaman of Nak Muay Fight Gym will defend Brunei's pride by battling it out with a season Muaythai stylist Dean Hamsah of Sabah.
Saufi is an all rounder martial artist, from Kickboxing, MMA to boxing , he has done it all.
His opponent Dean Hamsah from Team Karabaw Sabah is back in action after a year off competition.
Dean is Jesselton Fight League 2015 finalist and a pro Muay Thai & MMA fighter.  Dean may have the experience being the fighter with more fights in his record, but Saufi is a high output young fighter with home ground advantage. These two will meet in the STRIKE ring at Light Welterweight.
———#WRB———
Co-Main event is Aaron – Aziz, haha , ok it's not the well known actor I'm referring to (pun intended) but it is between Bruneian Aaron Lim and Sabahan Aziz Hoo 'The Shantung Zhai'.
This two has unfinish business to settle as they last met at B-MAEX Labuan on 31 DEC 2017, fighting for the B-MAEX championship title. The fight was very close but decision went to Aaron. Aziz corner was adamant they won that fight, hence this rematch will be a chance for both to proof who is the better fighter.
Aaron has good fighting spirit and technically have improve over the year, with home crowd support will surely give him an added psychological edge. Aziz has been very  active after B-MAEX, fighting in various event. Recently in August, he took home the Grand Merdeka Super Fight title belt.
——-#WRB——-
Another Semi-pro fight in the co-main event is at featherweight. Brunei's MMA poster boy Adib Sulaiman will be facing Sabah's Muaythai specialist Mohd Rayyan. Adib will trade his MMA glove with Kickboxing glove this time.
Coached by Brunei's BJJ pioneer Eazy Anuar, Adib at 27 has recently open his own martial arts gym – Wolfpack at Tutong. He recently represent Brunei in ONE Warriors Series. Adib is a relentless workhorse and has good footwork.
His opponent Rayyan or better known as Black Mamba has numerous successful Muaythai fight under his belts. Last year at only 19, Rayyan open his own gym – Black Mamba, possibly being the youngest gym owner in Sabah.
Although Adib is a well known athlete in Brunei's martial arts circle & will have home ground advantage, Rayyan will not feel the pressure as he has extensive experience fighting in many different places outside Sabah.
This featherweight fight promises lots of sparks and will guarantee to keep everyone on their feet.
——-#WRB——-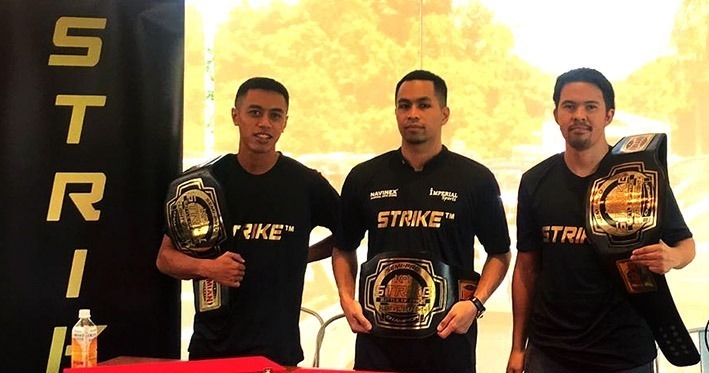 From Left to Right, Abu Qusyairi Hj Yacob (Secretary for Brunei Boxing Assocation), Firdausi Zainidi (Co-Founder of Strike), and Younis Asmad (Co-Founder of Strike).
These 3 semi-pro bouts winner will be the owner of the shiny inaugural STRIKE championship belt.
Firdausi Zainidi, Co-founder of STRIKE Promotions had this to say,
"Organizing this event was a collaborative effort which involved multiple industries ranging from sports, retail, creative, hospitality, food & beverage and logistics. 
Since it is after all a regional platform, we wanted to showcase what Brunei has to offer. One of our sponsors for instance, Mahkota Crystal Sdn Bhd, Brunei's pioneer and only Glassblowing Studio in Brunei was generous enough to sponsor us with mementos for our distinguished guests and a trophy which will be awarded to the gym/club with the highest gold medal tally at the end of the competition."
Event partner, Kaleidoscope Studios will also be organizing the Fit 2 Fight expo in conjunction with STRIKE: Battle of Pride where they will be sharing the event space adjacent to the competition area. Exhibitors will include :
Feel Good Gym, 
HJ Enterprise,
Hasilhustler
, Mini Physio,
Bruactiv
,
Poni Divers
,
Aewon
,
Café Bene
,
Barre Plus
,
The Acai Bar
,
Pure Nectar,
Kafe Krema,
Kyna
,
RDX Brunei
,
Imperial Sports
and
Mahkota Crystal Sdn Bhd.
——–#WRB———-
In terms of development, Kickboxing instructor course and referee course is being organised by STRIKE. They brought in Master Khoo Meng Yang to conduct the course. Master Khoo aka Red Dragon is the South East Asian ISKA representative and most sought after referee/Head judge in Asia.
He will be conducting the International Sport Kickboxing Association (ISKA) Ring Sport Referee Course (Level C) on the 9th of November which will be followed by two (2) days practical where participants of this course will be required to referee/judge some of the amateur bouts under his guidance.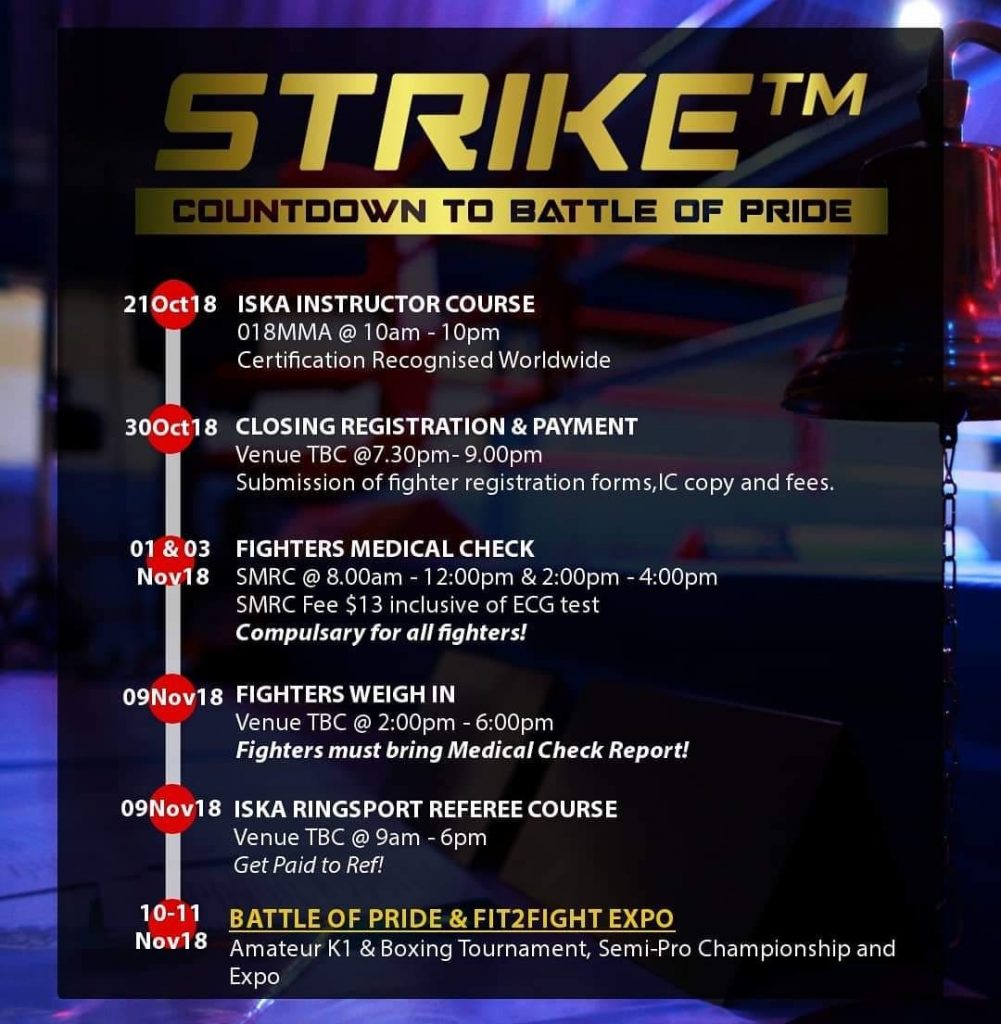 ——–#WRB——–
Fighters from outside Bruneian have concern over the expenses they will incur in terms of accommodation, transport and food as Brunei as the highest currency among all ASEAN country.
But according to Nate, rest assure he has arrange for free accommodation for those that needs it at the sports hostel. As for transport, he said it can be arrange separately as he and his management team will offer help as much as they can to ease the burden of foreign fighters and make them feel welcome.
Nate also mentioned that he has lofty plans for combat sports development in Brunei. He wants to build STRIKE as a platform to raise the level of competition and also a place to develop more fighters, enabling them to participate in combat sports to eventually represent Brunei to compete competitively outside; also to develop combat sports into a fruitful activities to improve the lives of Bruneian physically and mentally and perhaps develop talents for future project in the entertainment industry.
"We are building this from the ground-up and we hope to create an industry in the area of combat sports and entertainment. 
In one area, we are working towards a road map where our athletes can pursue professional careers in this industry, not just locally but globally."
Come and support STRIKE. Watch the action up-close by getting yourself ringside tickets. Single day passes ($15 for Day 1 & $10 for Day 2) and tickets to the main event ($20) are available for purchase by contacting 8227027.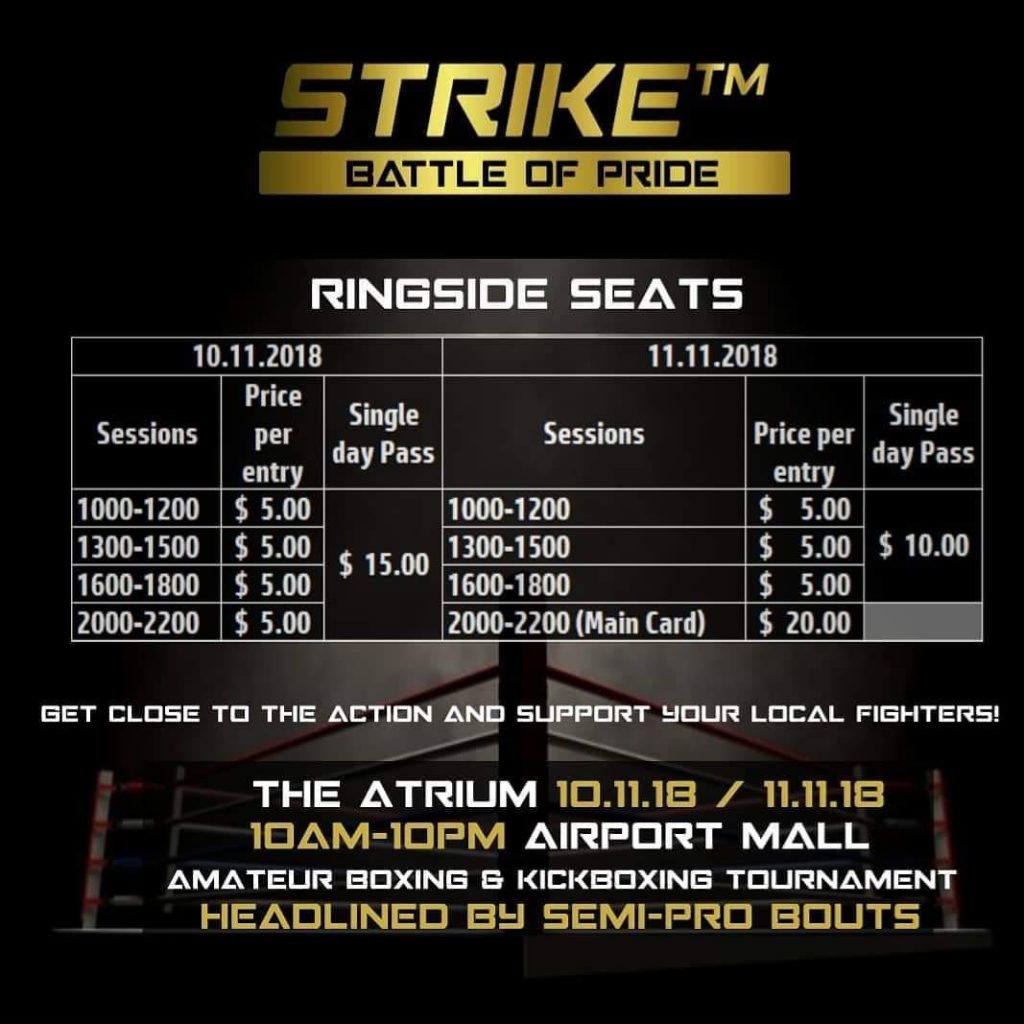 For further information and enquiries:
Instagram: Strike.bn
Facebook: Strikebrunei
Email: info@strike-promotions.com
WhatsApp: +6738227027
——-#WRB——-
This story brought to you by SISU Mouthguard. Exclusive for #WRB readers click on the picture below to get exclusive offer from SISU Mouthguard