It's 4 more days to go. 4 more days to the grand finals of MIMMA 5. This 5th edition is the culmination of 4 years of experience by the impeccable team that has made a name for Malaysia in MMA. It is very much talked about as the biggest and best run amateur MMA tournament in South East Asia, some even say Asia.
The water theme this year signify the coming together of all that experiences over the years, not just for the fighters but also for the organising team outside the cage.
Let's go down memory lane and see MIMMA's evolution through the years.
TUNE TALK introduces MIMMA to the Malaysian combat sports scene way back in 2013, when many in Malaysia were still blur to what MMA is all about. MIMMA set out to not only develop new MMA talents for Malaysia, but also to educate the general public on the beauty of MMA.
The 1st batch of champions established themselves as true pioneer. Some are still actively competing such as Allen Solomon Chong & Keannu Subba. Some has retired and go into coaching 3 pro bouts was added to hype up the excitement, which saw the face of Malaysian MMA Peter Davis losing to Ariel Sexton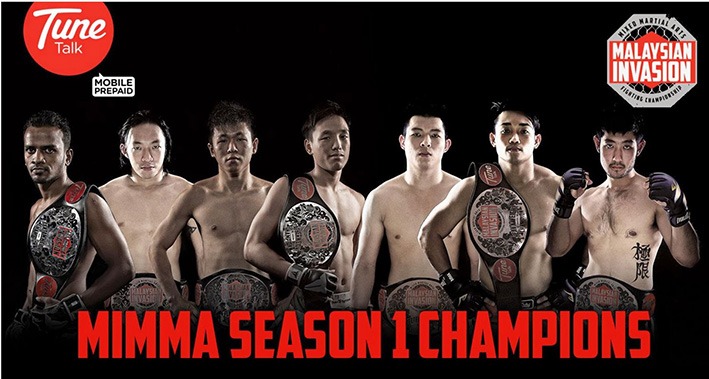 2nd seasons saw some new challenger coming into the scene and in the grand finals, which has now become household name, such as Agilan Thani, Muhd Aiman and Darren Low. Some great pro match up was also offered to spice up the mood.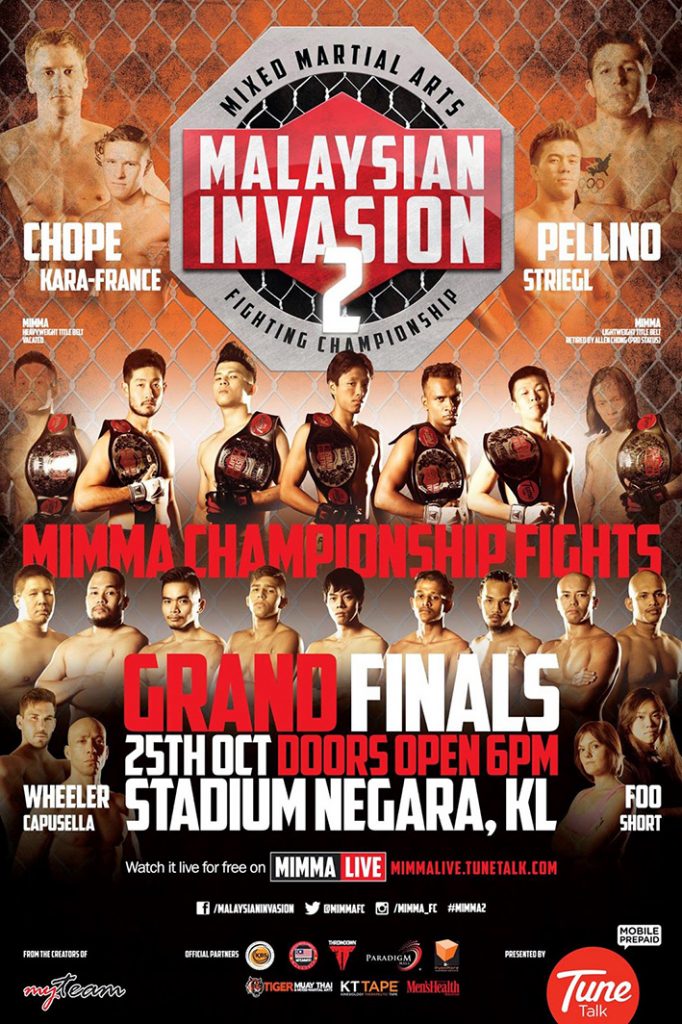 The element of lightning was use as the theme for season 3. The fights quality improved very much and saw a huge invasion of fighters from Borneo making it to the grand finals. MIMMA history also recorded season 3 as the season where foreign pride and the female category was introduced.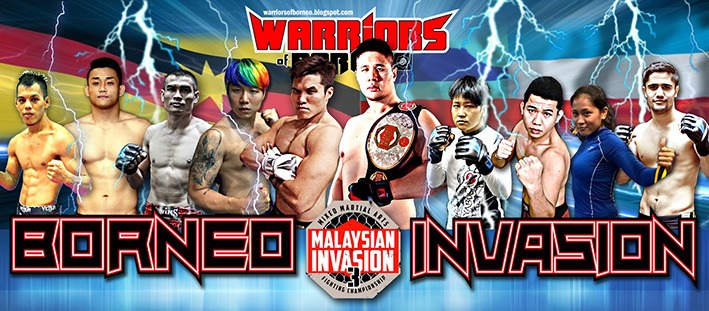 2016 heated up as a year of magnificent fights as fighters' skills was sharp and more polished. Fire theme burnt through the grand finals night where hot, hot lightweight bouts, heavyweight and flyweight bouts makes everyone jump up constantly from their seats.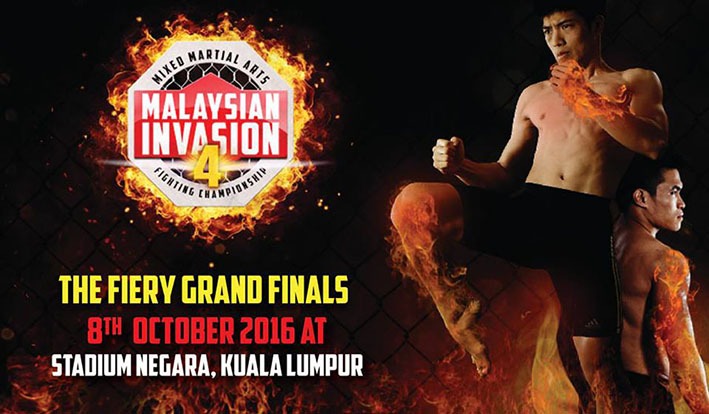 In the past 4 years, MIMMA has achieved a lot. It is one of the biggest factors in making MMA a well -known sports in Malaysia, and most of all producing high calibre fighters that carries Malaysia's name in the international stage. And after 4 years of fights in the tournament format seems like it needed a change to freshen things up.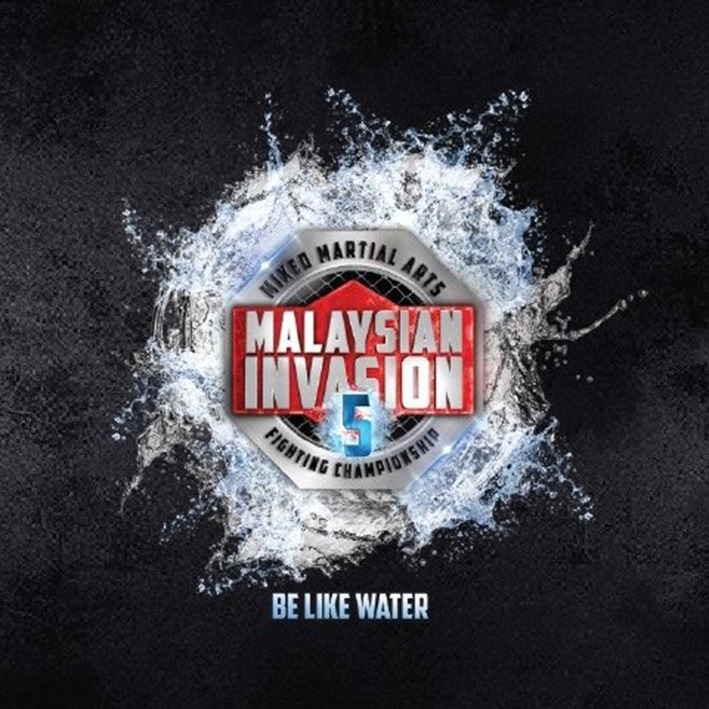 So, what could be better than to use water as a symbol of new life and rebirth anew to emerge with a new league format.
It was definitely a risk to take as many fighters have look forward to MIMMA 5 to continue its tournament format and got a little bit confused in the beginning. After the initial round of try-outs all over the country was done, 8 fighters were selected for each weigh division. Fighters have to collect points and the top 4 winners will qualify for the semi-finals.
The main reason the league format was introduced was to give more cage time for fighters. Enabling them to fight more times to gain valuable experience and also the fighters and their team need to strategized and study each opponent in their category carefully. There are grouses from athletes from East Malaysia whom has to face the challenge of travelling almost every month to fight. The kick-off for league 1 was held at MIMMA's home turf – Paradigm Mall, in July.
Many fighters said the league's match of almost 1 fight every month is very taxing. Not much time to recover and as most are not doing this full time, sometimes their schedule clash with their other commitments which causes a couple of drop-out and walk-over win. All in, 7 league fights was held before the semi-finals in Feb 2018.
This year's grand finals on 30 March will see MIMMA having a new venue in Stadium Juara in Bukit Kiara. Click here to get your tickets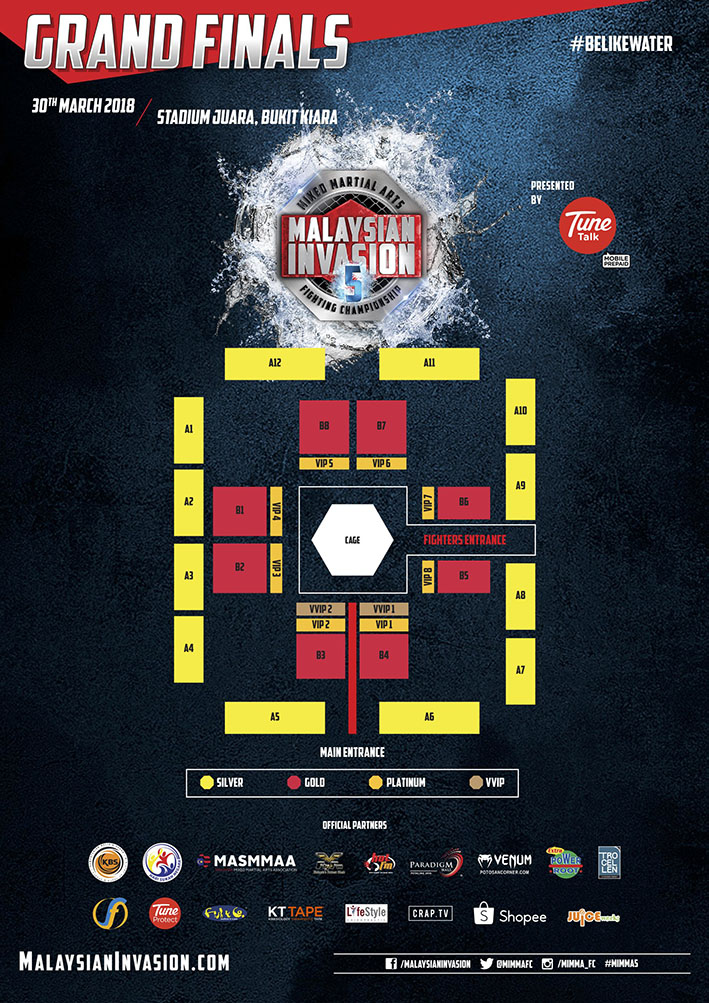 seating layout at Stadium Juara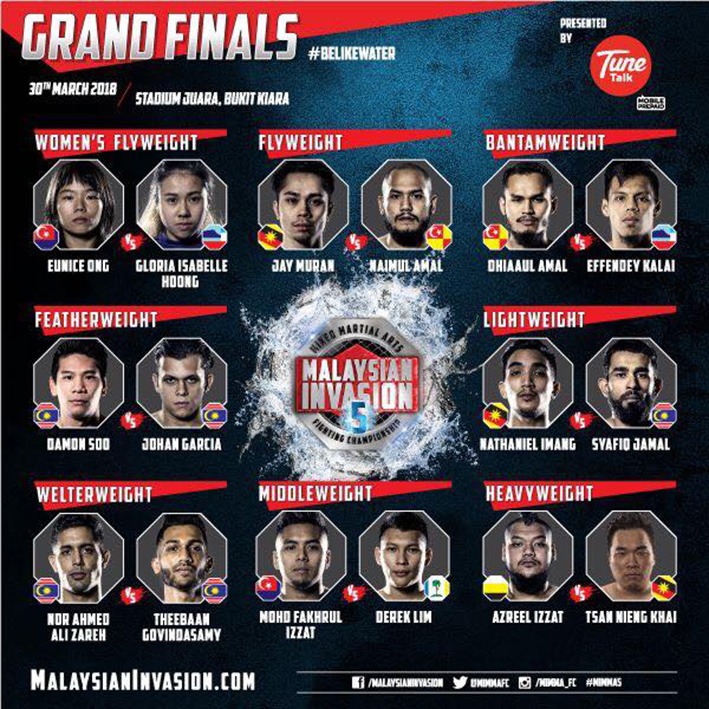 full Grand Finals fight cards
Personally I was looking forward to possible rematch of Lightweight ace Hui Keng Fai vs Jace Law, but Jace pulled out of the semis for personal reason,…and Keng Fai, initially cleared to fight in the finals has now also pulled out to his commitment to his pro boxing bout in April. Same goes to his team mate defending Middleweight champ Mohd Meeraj. Both of them will be fighting in Roar of Singapore for a IBO Oceania title belt.
8 belts will be contested, 6 title will be newly contested and 2 will be defended. Champions coming back to defend it are Damon Soo for his featherweight belt and Theebaan Gobindasamy for his welterweight strap.
Damon is a BJJ wizard and he is very determined to continue to dominate using his grappling skills to defend his belts. Damon holds a 4 fight win streak, all by submission. He will face Johan Garcia whom drop weight to featherweight division this season. In Season 4 Johan fought in welterweight division; lost to Theebaan in the semi-finals.