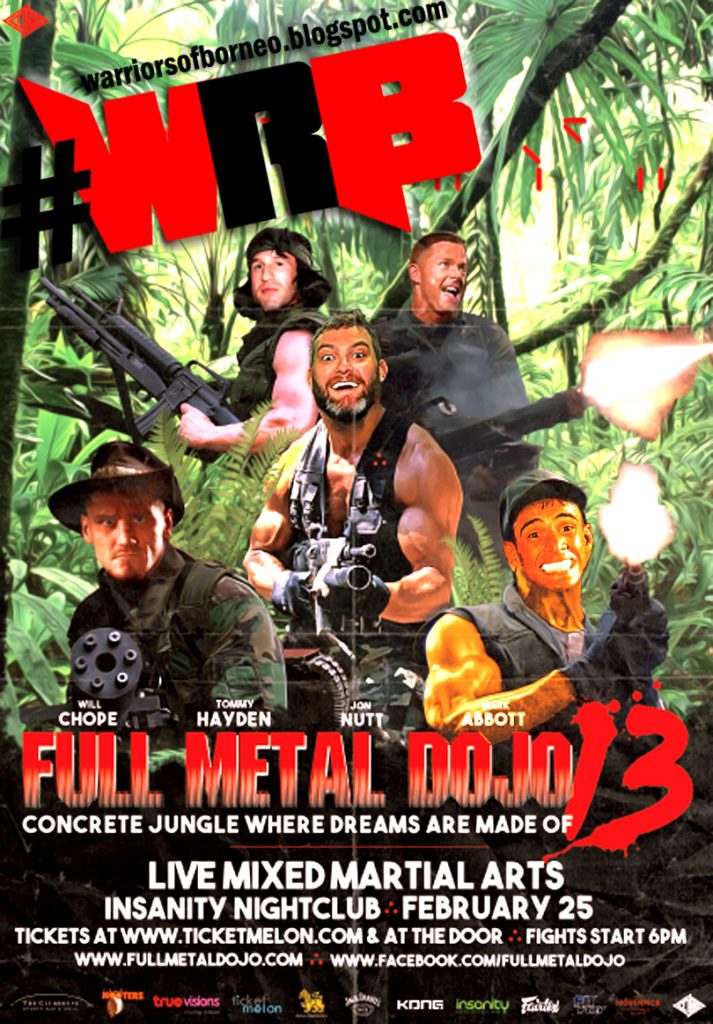 When FMD released it's 13th edition poster….using a clever play of the 1987 Predator movie starred by Arnold Schwarzenegger. It got my attention, because that movie till today is my all time favorite movie. and with this, …I know FMD 13 is gonna be awesome!
How awesome is that?…How about matching two ex UFC fighters together in the main card and a mouth watering featherweight fight. In the main event is Lightweight title fight between Will 'The Kill' Chope vs Tommy 'Wildcard' Hayden. As for featherweight, MMA standout Ali Motamed from Phuket's Tiger Muay Thai will fight American Luke Adams of Singapore's Juggernaught Fight Club.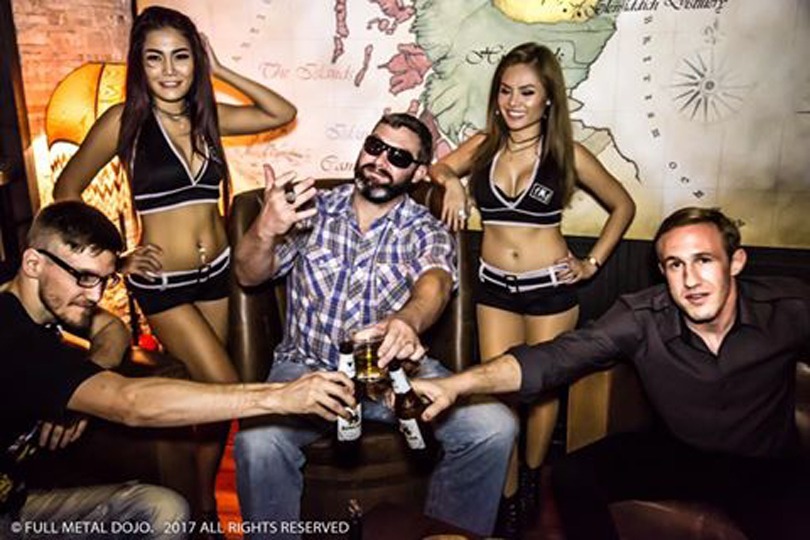 Calm before the storm…Will and Tommy having a drink at FMD's press con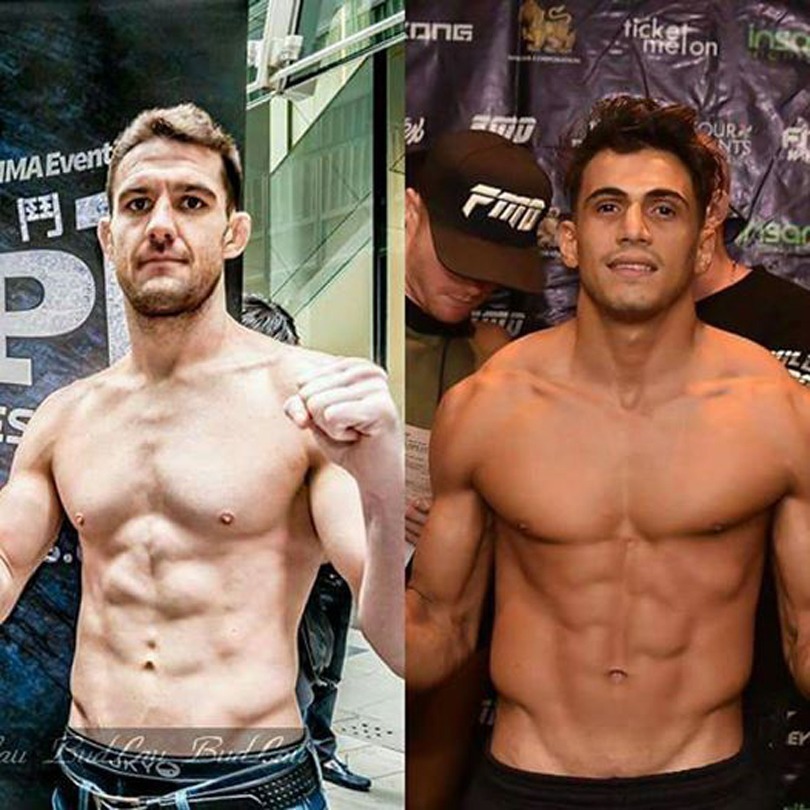 Okay before we get all excited about the fights, let's just go back a bit in time to see how FMD has developed over the years. The party theme fights started with DARE. It was the earliest MMA promotions in Thailand, started in 2011. They held a few shows till 2013. American Jon Nutt was their face, emcee and practically coordinate almost everything for DARE. Eventually he left and formed Full Metal Dojo (FMD) on his own in 2014.
Many would think MMA would not flourish in Thailand given that the Thais are very protective of their Muaythai heritage. But with clever marketing, and a passion to bring people together for a wild good time, Jon was able to combine party theme, music, tourism and fight sports into one entertaining show. That is FMD, with an attitude.

FMD also has play a huge role in showcasing the best new talents from Thailand and from around the region. Bringing more attention to the fight gyms in Thailand and growing the sports of MMA in this Land of Smiles
To date, FMD has consistently held shows since June 2014 and it has build itself to a legendary status in Asia as a unique MMA event. The fights are explosives and intense, the music is mesmerizing and hip moving, the people are cool and fun loving. If the bigger MMA organisation shows are mostly like attending a rock concert, attending FMD is like going to a underground metal or punk gig. It's trully an unforgettably enjoyable experience.
Jon is a very familiar face in Asia's MMA. Aside from his own FMD, he has hosted and involved in the very successful amateur MMA tournament in Malaysia – MIMMA, regional boxing event, Songkran MMA, Singapore Fighting Championship and emcee for Patong Boxing Stadium from for 2 years.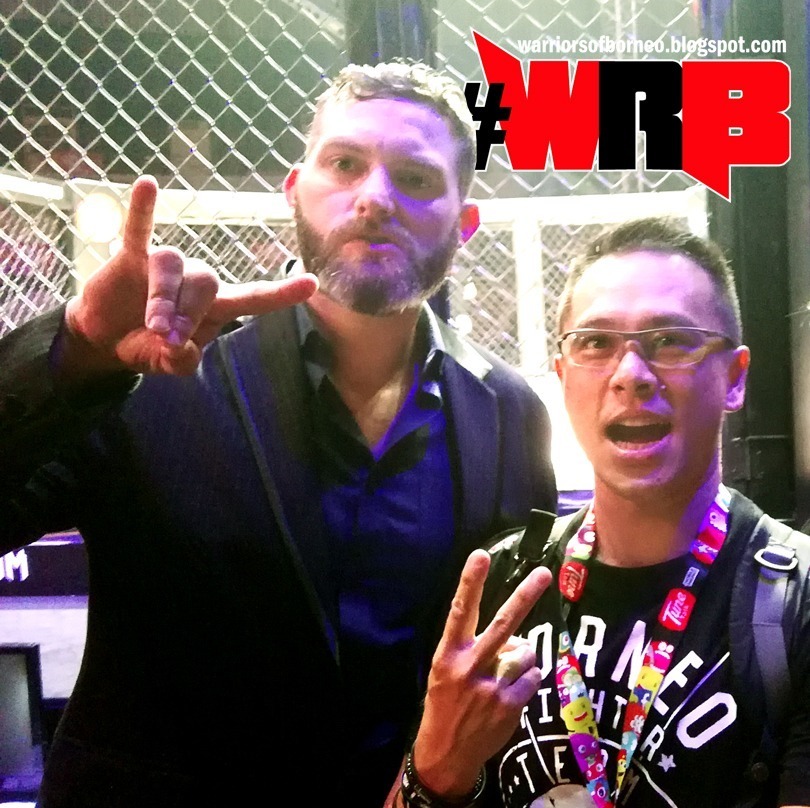 I'm with Jon at MIMMA 2016 Grand Final
His voice is distinctively macho and he emcee very well in providing the audience with bits of infor without talking too much to educate them on MMA. He always has the right things to say to draw them deeper into the fights. Sponsors also like him as he knows how to effectively promote and highlight them without being too hard sell.

Jon was having a hectic week as FMD 13 draws closer, at the same time his wife was heavily pregnant and when Warriors of Borneo talked to him, Jon was in the hospital waiting for his baby. ( He is now a proud father of a baby boy…Congratulations! )
Tell us about the concept of FMD 13: Concrete Jungle Where Dreams Are Made Of.
It's a play on the songs by Alicia Keys, New York, concrete jungle where dreams are made of. The idea from the songs was joke amongst friends actually.  If you don't know, well…my organisation are only made of 3 people, whereas other organisation ARE organisation. We're just a couple of guys that do this…me, Ree Webster and Richard Arthur.
Bangkok is where we represent. We've always consider it concrete jungle where dreams are made of, because, well New York was where immigrant used to go, all three of us are immigrants in Thailand and Bangkok is the spot where we feel most comfortable in life and hence it is the place where dreams are made of.

It's been a journey of more than 2 years for FMD since 2014, through the journey what has been the significant breakthrough?
Yea we've done 12 shows since June 2014. For any organisation, doing a steady amount of shows yearly, it Is what puts you in the next level of being a larger and more respected shows that has more integrity. Our shows are a parties. Our shows are literally party, not just MMA. You're not in a gym, not in a stadium, you're in a club! 
And the significant breakthrough was between me leaving DARE and starting FMD, realising that in all honesty, my shows and my events is different and sets apart from all other shows that just do MMA. Also the breakthrough is realising the difference between UFC fans and MMA fans. 
There are really not many MMA fans. Pretty much anybody that says they are MMA fans are actually just UFC fans and they won't go support local shows and watch other shows such as Bellator, WSOF, ONE or FMD. They just care about the UFC.
So the breakthrough that makes FMD successful is realizing that people that actually pay for shows, we realized are not MMA or UFC fans….we made our own fans, we made FMD fans. 
People that are comin' to Bangkok and they wanna party, they want to hear great music and they want to see great fights. So what sets us apart is that we have actually made our own fan base. A lot of them are actually fans and just friends of mine that just wanna come watch a great live action show, a real live 80s or 90s action movie if you will.

Jon has been trying a few times to make Will vs Tommy happened. It was planned twice but was scrapped as both fighters got injured in their muaythai fight. But this time it is finally materializing and Jon has put this main card as a Lightweight title fight, and with Full Metal Dojo style, the champion will not be awarded a big huge belt but instead a slick life size Samurai sword!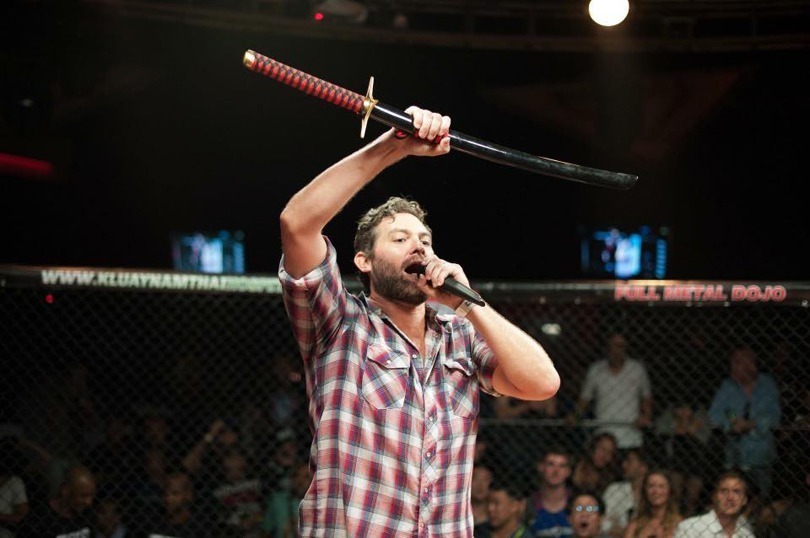 OK now back to the fights that will go down this Saturday.
At his current record stands at 33-12-0, Will 'The Kill' Chope is considered the busiest fighters in MMA. He fights almost every month. Not just in MMA, but he also takes up Muaythai, boxing and kickboxing match. Last year alone he fought 15 times, 10 MMA, 2 K1, 2 Muay Thai,1 Pro Boxing.
Will has the ambition of going down in history as the fighter with most fight…he is eyeing to beat Dan Severn's record of 101-19-7 and the still active Jeremy Horns' record of 91-23. At only 26, Will looks like a potential heir to that title.Will is based in Thailand and fighting is his full time job that puts food on his table and provides for his family.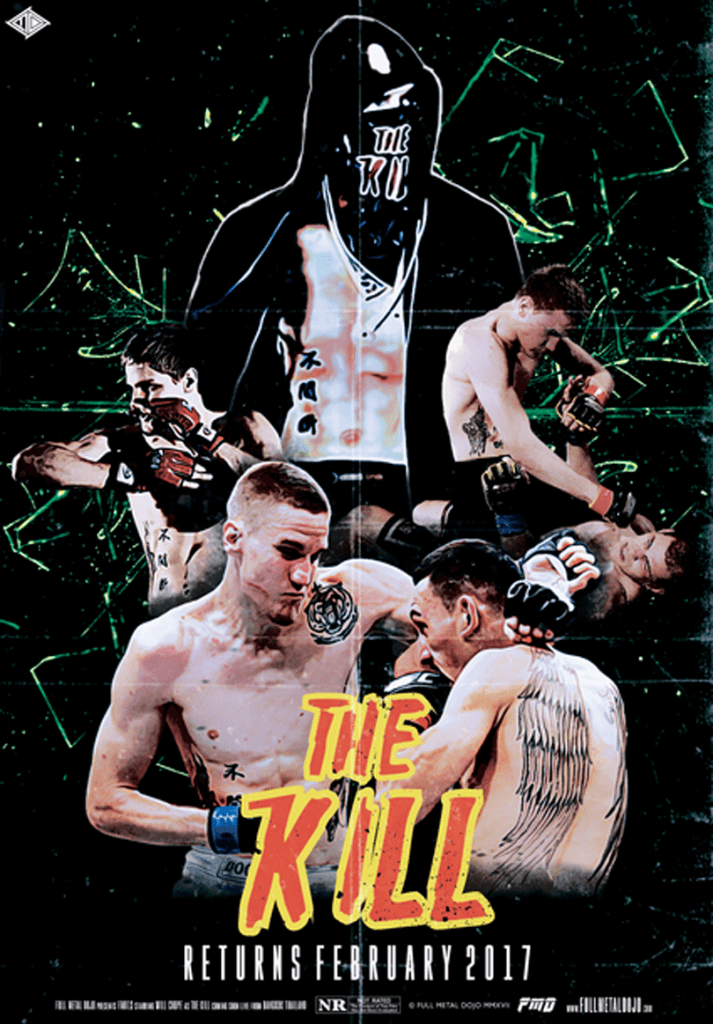 Asked on how his is able to keep injury free to fight regularly…
"Part luck, Part just training and fighting smart. I got a lot of experience and ring time. I know my limits. But accidents do happen…but I just have to recover and don't use them as excuses"
In an interview with John Hyon Ko of The Fight Nation. Will explained that there are ways to fight regularly, one just have to keep busy and take up any fights that come along. He said that a lot of fighters are like divas, they want to choose their opponent, their own timing and their choice of place…they want everything in their favor.
So if fighters want to make a living out of fighting they can't behave that way. Will said lots of fighters he met admire how he can fight every month, but most of them don't really willing to do it. ( catch the interview in this link )

Will fought in UFC in 2014, losing to Max Halloway, the current UFC Interim Featherweight Champion. Most of his fights are main event feature. In April 2016, Will became URCC's Lightweight Champion, but he lost the title to Brazilian Fabrício Guerreiro last month at URCC 29
Considered the tallest Lightweight in MMA at 6ft 4, he uses his reach advantage fully to keep opponents at bay as he peppered them with strikes using his long limbs. And when he gets in the pocket, he lets loose his knees and those long limb will also swiftly sneak in for a choke.


On the opposite side of the cage is Tommy Hayden. He has a record of 10-3-0. He is a person that likes to scrap.
As Jon Nutt puts it, …
" I personally likes a fighter that really likes fighting, not just showing they like fighting. Tommy is a type of guy that if someone punch him in the face, he just smiles, that's the type of fighters I like and I want on my card."
Tommy was active in the American regional MMA scene till he was offered to fight at The Ultimate Fighter Season 9 in 2009. He lost that fight. He was back in UFC in 2012, fought twice but lost to Fabrício Camões and Dennis Bermudez.
He came to Thailand to refocus and coach at Bangkok Fight Lab. Tommy last fought in a China MMA promotion – WKG in Jan this year wining by submission in round 2.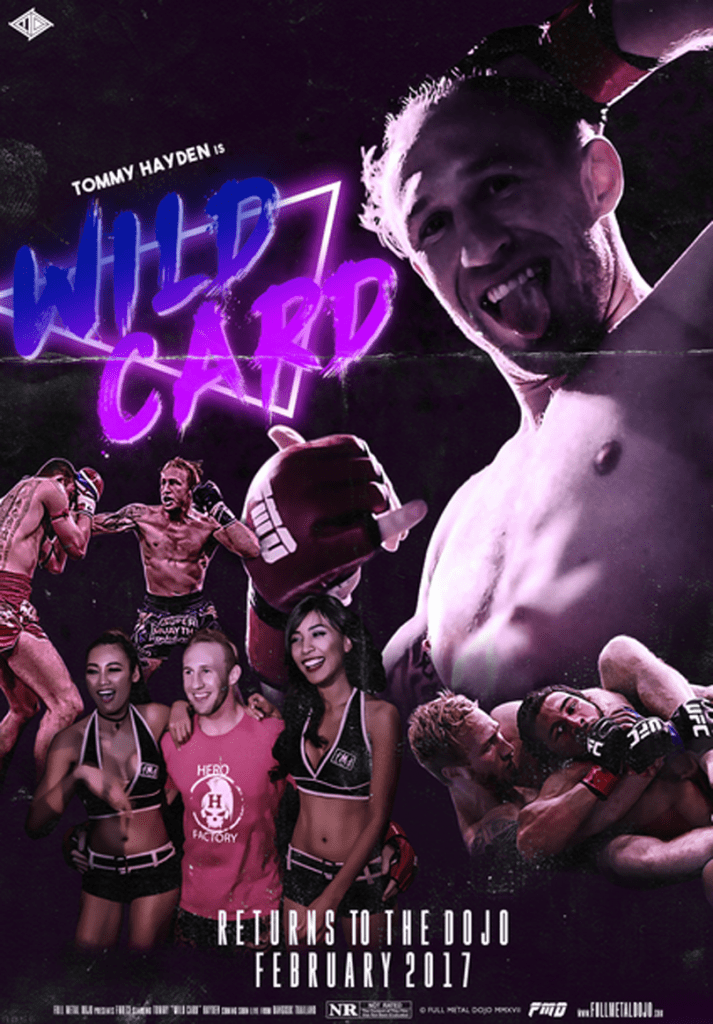 Ask about his take on fighting…
"Fighting to me is LOVE. It sorta reminds of of obsession. Honestly fighting is fear, its emotion, its anxiety, its happiness, its sadness, its everything roll into one, its life.

When I jump out of a plane with a parachute, that's fun. When I'm 100ft under water watching sharks swimming around, that's fun. When I'm doing something that could get me kill, that's fun for me. That's life for me. 
So every time I get to step in the cage, that is real life. That's when I experience my true self. That's when I get to express myself"

It's a great match and this is the card with the most experience fighters ever put up in FMD. Will is a striker and Tommy is a wrestler! Opposites attract and sure fire mayhem in FMD cage when the bell rings!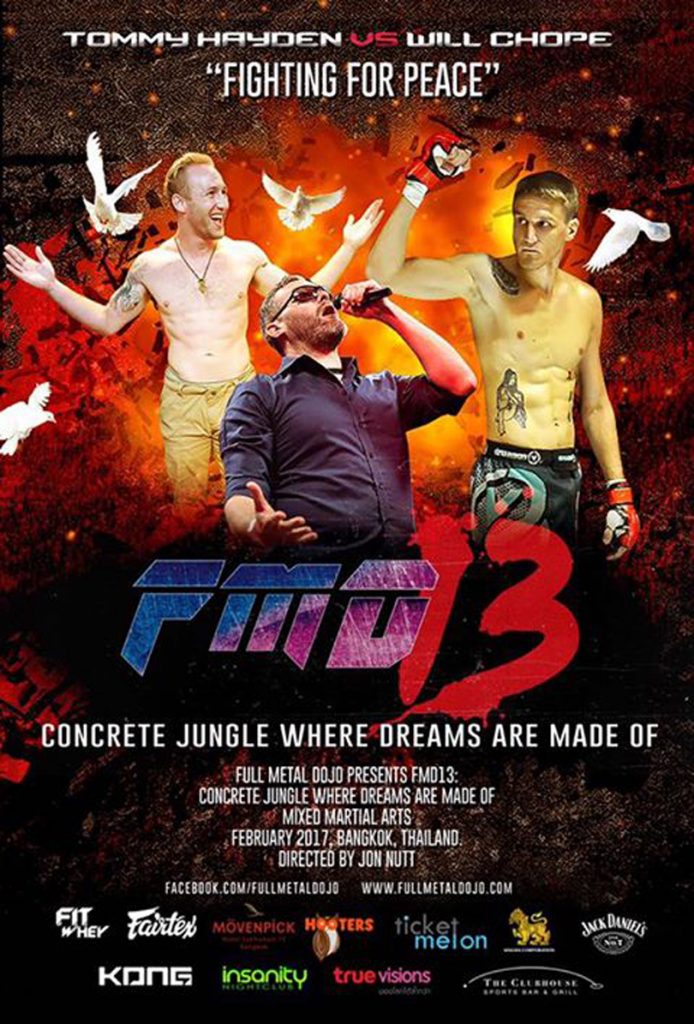 The Featherweight fight between Ali Motamed and Luke Adams is also a promising fight that will possibly be the fight of the night. Initially Iranian Ali was schedule to met ex UFC fighter Rocky Lee, but Rocky could not make it and it looks like Ali will see no action in the cage.
But a last minute arrangement materialize and the accomplished American Luke Adams stepped up to offer himself. Luke started his pro MMA career fighting in the regional MMA scene around California for 6 years.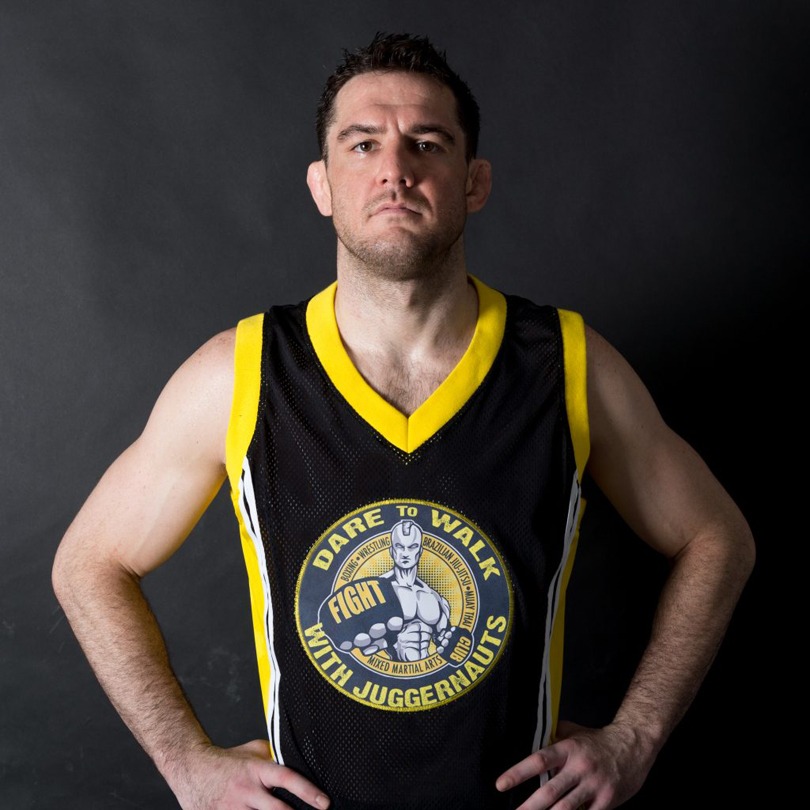 He is now a coach in Singapore's acclaim fight gym Juggernaut Fight Club. Luke is riding on a 6 fight winning streak and all these 6 victory is finishes with either strikes or submission, that never goes the distance.
Iranian born Ali is a young fighter that started his amateur MMA fights in Malaysia and Thailand. He fights out of
Tiger Muay Thai
. In all his 9 amateur fights, 8 were victorious. Ali turned pro in 2016, fighting in China's Bullet Fly FC. He is now on a 3 fights winning streak. Luke is the most experience fighter Ali has met so far and a victory over him will certainly established Ali as a hot talent for the bigger organisations.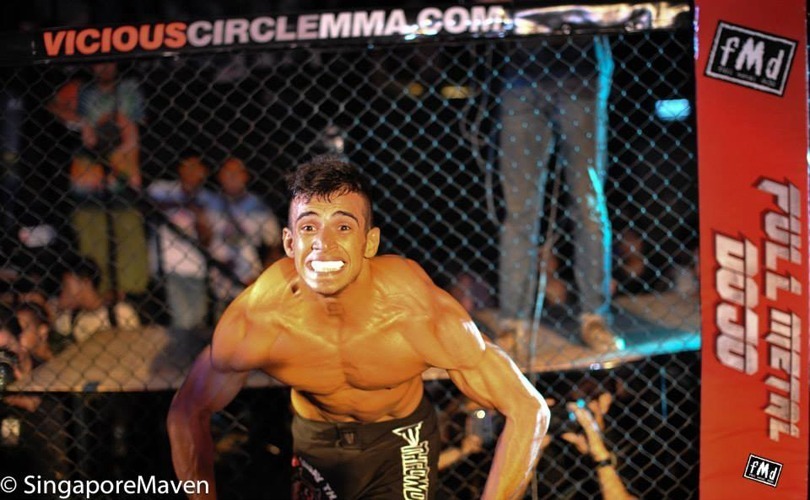 pix credit: David Ash of Singapore Maven


3 pro and 8 ammy cards are schedule this Friday. And all this will go down at Bangkok's happening night club,
INSANITY NIGHT CLUB
. Tickets is available at
ticketmelon.com
and at the door.
And if you are not in Bangkok, do your self a favor, grab yourself a cold beer or any other beverage of your choice, some chips or buffolo wings ( if you are there, you can order it from the HOOTERS girls ), glue yourself in front of your computer or smartphone and click on to Full Metal Dojo FB and watch it on live stream!
Get ready for an unforgettable night!